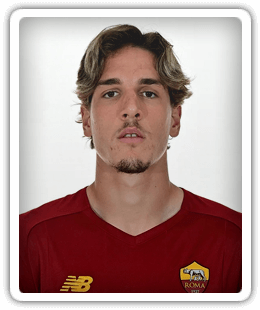 Nicolo Zaniolo FM23 Wonderkid
Age: 22
Position: midfielder (central, left, right), attacking midfielder (central, left, right), striker
Roles: inverted winger, inside forward, wide target man, advanced playmaker, raumdeuter, winger, trequartista, pressing forward

Club: Galatasaray A.Ş.
Nationality: Italy
Value: €15-45 million
Hidden Potential: 147 / 162 
Zaniolo career began in a small Italian club Virtus Entella. After that, he tried to be competitive in the Inter squad, but failed to achieve a place in the club. In 2018 Nicolo was bought by Roma and there his football status began to grow. Despite the injuries, Nicolo played almost hundred games for five years, and in winter 2023 transferred to the Turkish Galatasaray for a €15m. That's where he is at the start of the game.
Nicolo Zaniolo FM23 Wonderkid profile in 2022

Nicolo's main tech power is dribbling combined with decent first touch and good technique. This gives him two traits: he moves the ball to the left before dribble attempt and the second one has knocked the ball past the opponent. Also he is good at long shots. Mental attributes make Zaniolo a determined and aggressive player. With the good work rate you may expect, he will give all he got on the field. This is a very strong and fast player, with the lack of agility and balance that is sometimes important for an attacking role. But his main weak sides are hidden. First of them is the tendency to break the rules on the field and argue with the judges, and off the field problems with player may happen too. You will need to track player happiness more often, if you don't want problems.
Nicolo Zaniolo FM23 Wonderkid coach report in 2022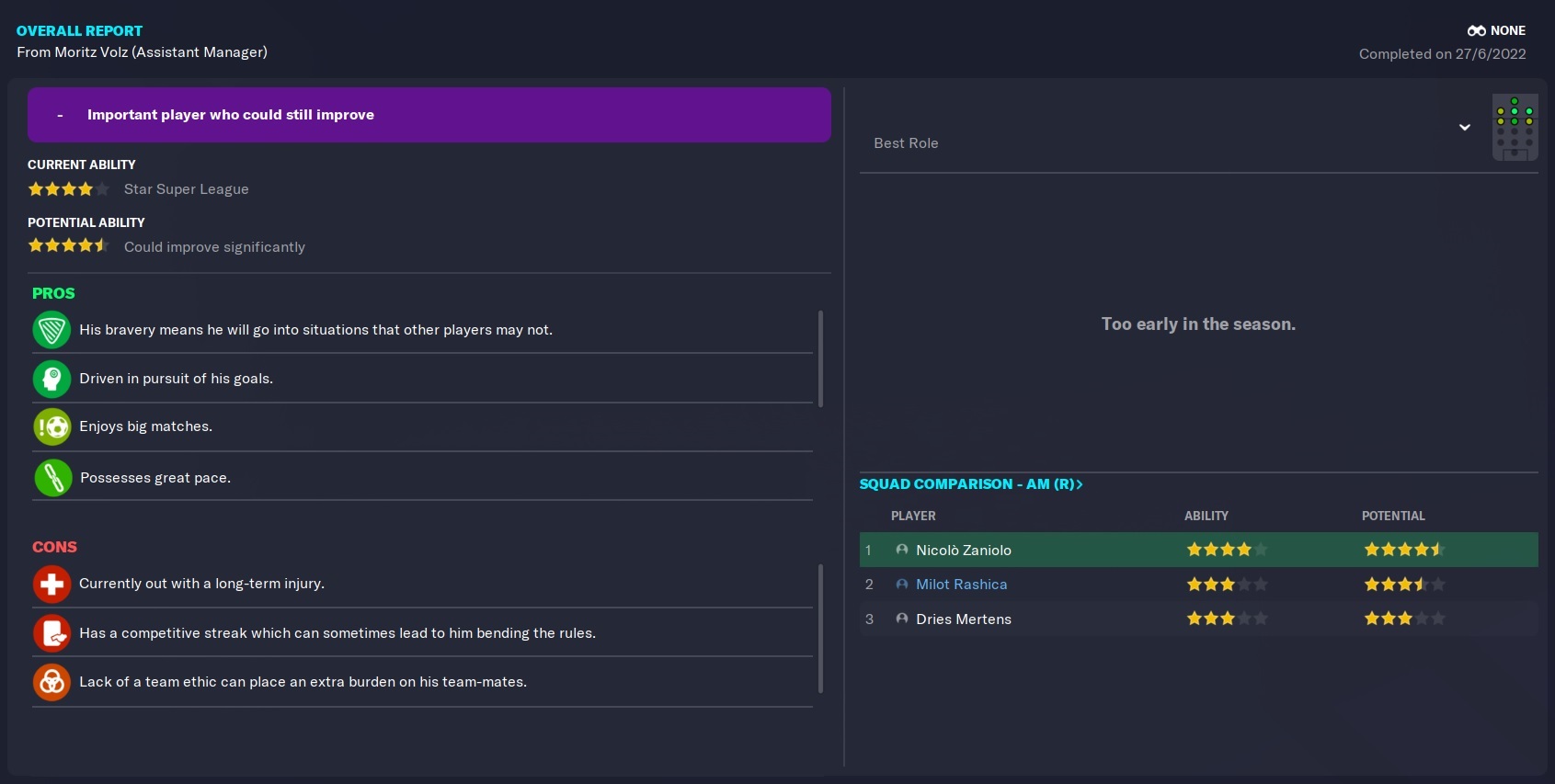 The Galatasaray assistant manager thinks that Zaniolo is a strong player, if you want to use him as a right winger. Great speed makes him a threat to opponents on the flank, solid mental is pros too. And he likes big matches, that's a very important ability. As assistant mention, the main problem with Zaniolo will be his tendency to break the rules. Also, in start of the game Nicolo had an injury for two months.
Nicolo Zaniolo FM23 Wonderkid Man City scout report in 2022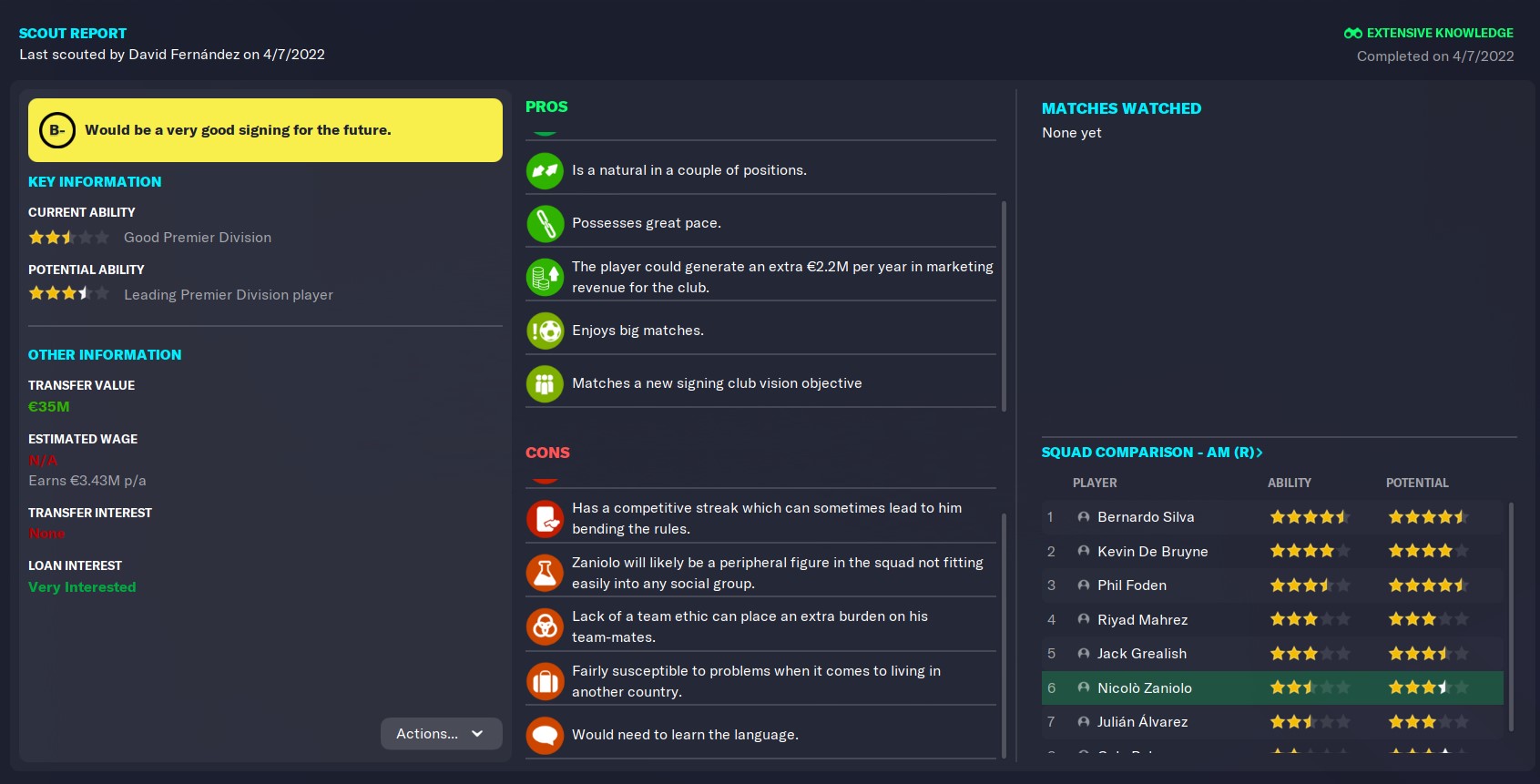 Man city scout gives this player B— mark and find almost all his strong and weak sides, of which we mentioned earlier. But also he gave new information, for example, that Zaniolo will generate extra money in marketing. Also, he points to bad adaptability and language knowledge.
Nicolo Zaniolo Agent Demand to Man City at the Save Start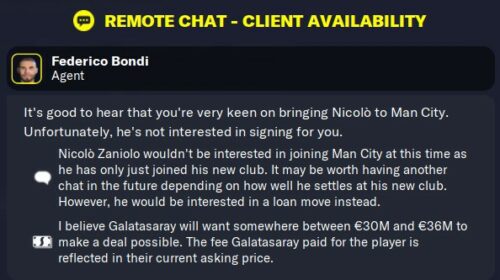 Bad
news
,
as
Zaniolo
have just arrived
in
the new team
,
he
can
'
t
be
signed
during
the
summer
transfer
window
.
But
you
may
attempt
to
sign
him
in
winter
TW
or
get
a
loan
agreement
,
as
mentioned
by
the
agent
.
Galatasaray
will
ask
about
€
35
m
but
try
to
make
the
price
lower
,
especially
,
if
your
club
has
more
status
than
Turkish
grand
.
Wonderkid Nicolo Zaniolo FM 2023 profile aged 30 in the year 2029

Nicolo Zaniolo FM 2023 Wonderkid career history until 2029

Nicolo Zaniolo Football Manager 2023 Wonderkid FMS Summary
Pros
Has a good personality (Driven)

Enjoys big matches 

Strong, brave and fast player
Cons
Poorly adapted to living in new countries
High controversy and eccentricity skills (hidden), low professionalism and sportsmanship (also hidden), awful dirt's skill
Low loyalty to the club (but Juventus in test save can argue with that)
Conclusion:
Nicolo Zaniolo is a good player for the top team, his career in the screenshot above prove it. His mark for the season will be above seven, and you can expect some goals and assists. Also he has some amount of potential ability points, you can make him stronger with time. But beware his devils inside, prepare that Nicolo will receive 1-2 red cards each season, just because he is in a bad mood. Also he needs more time to adapt to living in a new country. So, this transfer will be with some coinflip moment. Or you will receive a quality and stable player, or he can't unleash his power.
For all the best Football Manager 2023 wonderkids click here, from cheap bargains to worldclass prospects.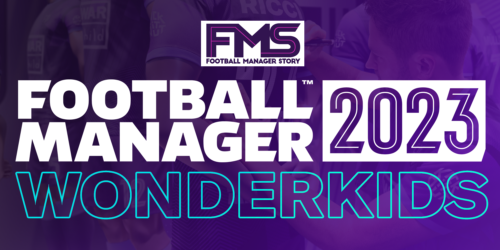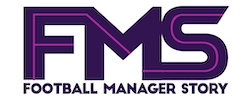 Subscribe to our Newsletter