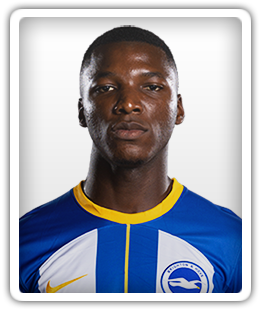 Moises Caicedo FM23 Wonderkid
Age: 20
Position: defensive midfielder, central midfielder

Roles: defensive midfielder, ball-winning midfielder, segundo volante, deep-lying playmaker, anchorman, half-back, regista, roaming playmaker

Club: Brighton & Hove Albion
Nationality: Ecuador
Value: €48-145 million
Hidden Potential: 148 / 175
Caicedo is a young star from Brighton, a tough team from the English Premier League. The Seagulls bought him in 2021 and send to loan in Belgium. Moises played 14 games for Beerschot and in winter 2022 had returned to England. He is a regular starter player in Brighton and now you can see why. 
Moises Caicedo FM23 Wonderkid profile in 2022

In perspective, this is a world class midfielder, almost without weak skills, maybe, he will need to stay at the gym a little longer than others to develop his strength. At the moment, Moises is a great defensive midfielder, capable to play a lot of roles and two positions. With solid technique he also can tackle the ball and work for defense. Caicedo has decent speed skills, which makes him a shiny diamond for top clubs. Beside that, if you want to buy him in EPL, Moises already has a work permit. 
Moises Caicedo FM23 Wonderkid Brighton coach report in 2022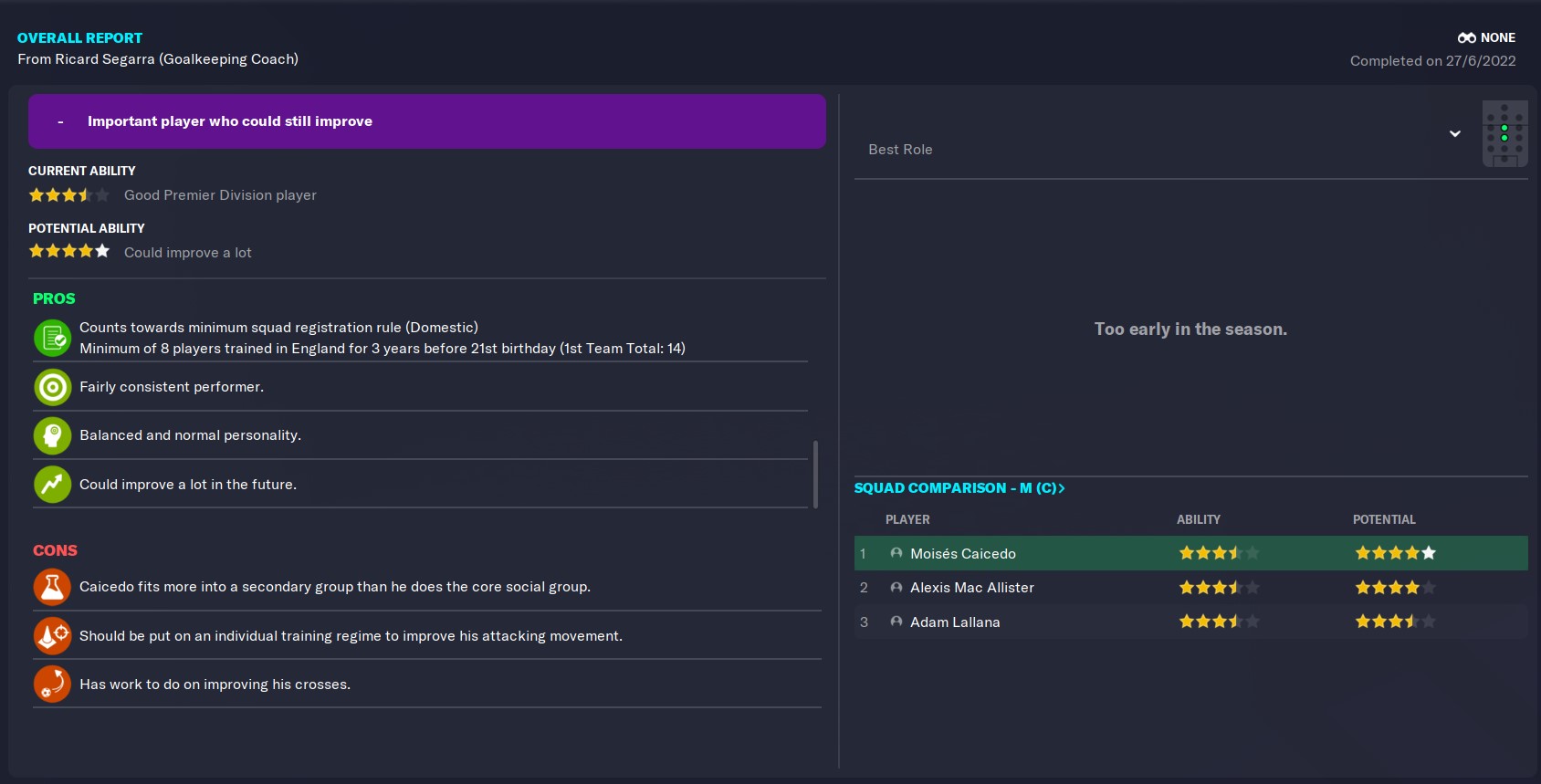 This player has no weak sides, but the coach from Brighton thinks that Moises needs to improve crossing. Researchers gave him a good consistency and hidden skills, but, big matches attribute is 12. EPL has a lot of big matches, the same in continental cups, if you aim to reach the latest stages. In some games you can't count on him, or his rating will be not higher than six point five.
Moises Caicedo FM23 Wonderkid Man City scout report in 2022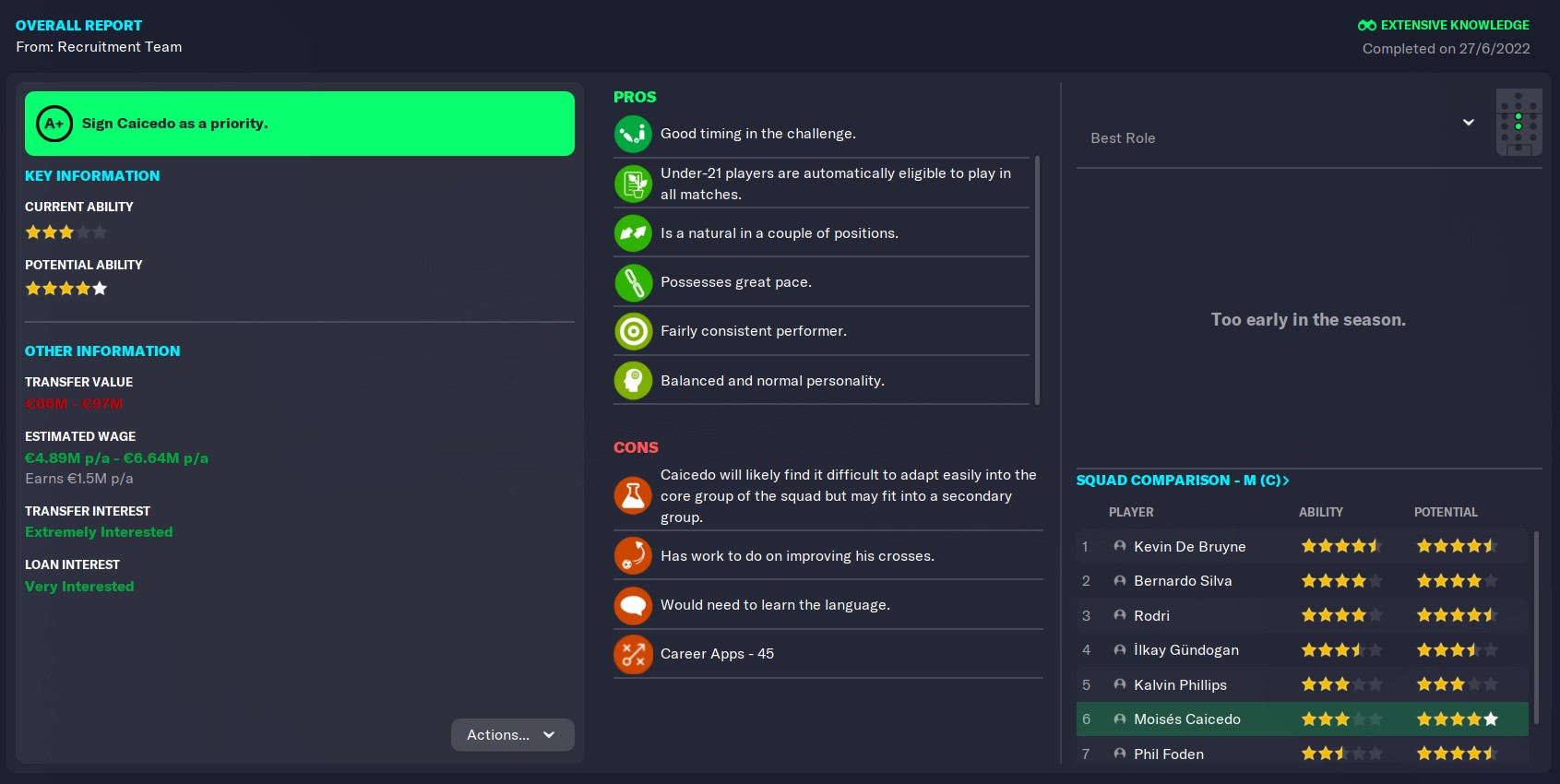 Manchester city recruitment team think that Caicedo will be a superb signing. He is already equal in ability to Foden or Grealish. 
Moises Caicedo Agent Demand to Man City at the Save Start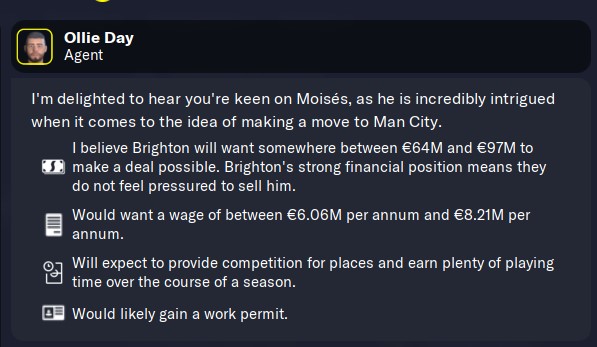 Demands high, but if you manage a top team, Moises is worth spending a lot of cash from the transfer budget. Try to break the transfer price for instalments or bonuses. 
Wonderkid Moises Caicedo FM 2023 profile aged 27 in the year 2029

Moises Caicedo FM 2023 Wonderkid career history until 2029

Moises Caicedo Football Manager 2023 Wonderkid FMS Summary
Pros
Fast speed player

Good timing tackles

Fairly consistent performance in matches

World class player in near future

Great skills for a 20 years

Ready for a move to new club
Cons
High price and wage 

Balanced personality (in some cases that can affect on player development)
Conclusion:
Moises will be a great midfielder for your team, just look at the Man City report, they are so excited. Caicedo is able to play in a couple of roles, he is a universal player and easily can take playmaker or defender duty on the field. But if you want to buy him, be fast. As you can see in the screenshot above, after the season 22/23 Tottenham bought Caicedo for €105 million. Brighton are ready to sell player at the start of the game, so don't hesitate with a bid. 
For all the best Football Manager 2023 wonderkids click here, from cheap bargains to worldclass prospects.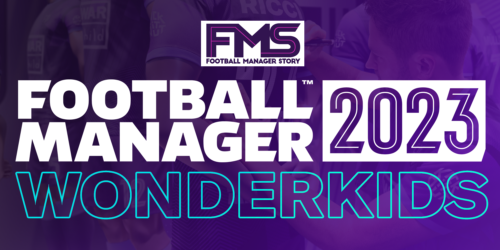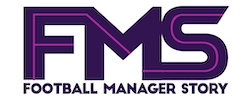 Subscribe to our Newsletter