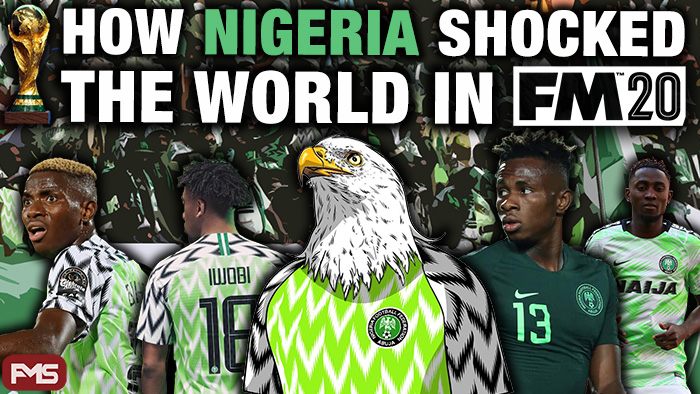 We all love a good underdog story; from European Champions Greece to Premier League conquering Leicester City, and who could forget South Korea's fairtale trip to the 2002 World Cup semi-finals, beating Italy and Spain in the process! But where will the next story come from and could Qatar 2022 set the stage?
International Football is more capable of an upset in 2022 than any other year. With Germany and Spain in transition only France look a safe bet, not to mention the plethora of talent popping up in lesser known nations. Take Belgium's golden generation for example, Colombia are capable and more obvious options include the Netherlands and England (OK, maybe scrap the latter.) Yet one nation gets overlooked, Nigeria.
The 2013 African Cup of Nations winners are ranked below Japan, Senegal and even Tunisia in FIFA's World Rankings. However, Nigeria have an abundance of World Class talent on the verge of breaking through.
This is the story of how Nigeria took World Cup 2022 by storm and became household heroes.
The Golden Generation
Take Wilfred Ndidi; a ball winning midfielder with 163 potential ability, incredible work ethic, stamina and all round ability. The 22 year old Leicester City startlet is arguably the best young DMC in World Football, defensively at least.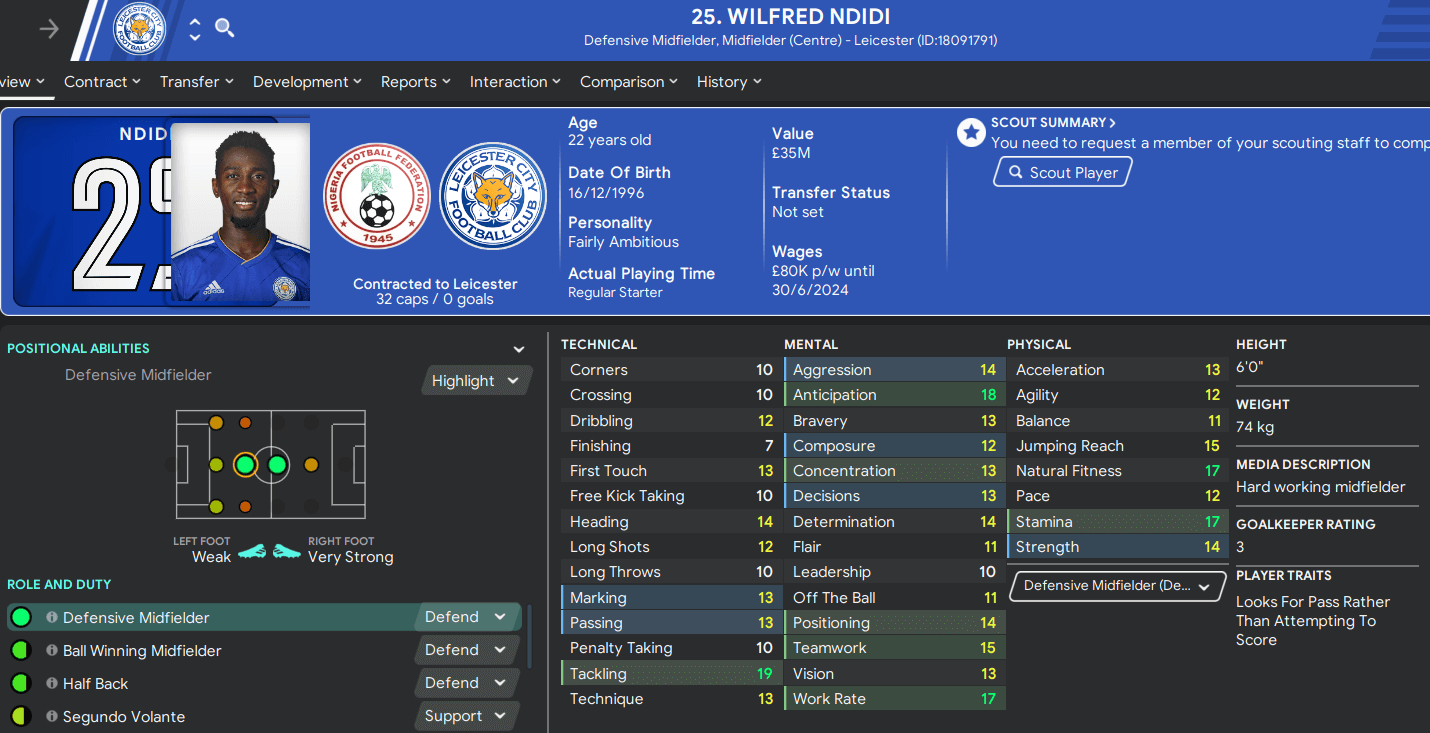 Next up an all round striker and my favourite front man, Victor Osimhen. At just 20 years of age Osimhen has made 4 International appearances but seems destined for more with a potential rating of 154 The Lille front man enjoys all round ability with great speed, aerial presence and an aggressive edge. Add technique, maturity and an eye for goal theres no wonder Victor commands a hefty fee.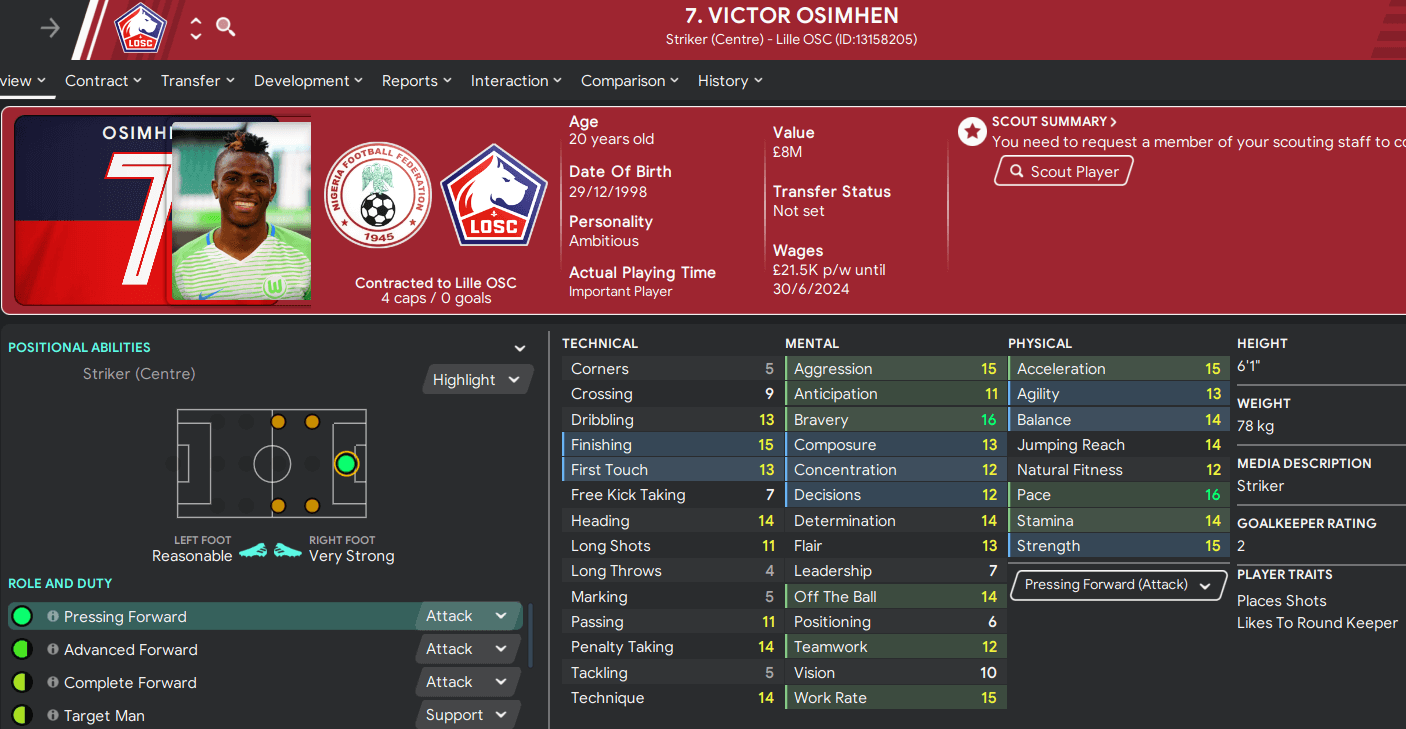 Nigeria posses speed, flair and talent from the right wing with Samuel Chukwueze. Another 20 year old prospect Samuel is explosive with potential ability varying from 150-180 and could become one of the very best wide men in FM20.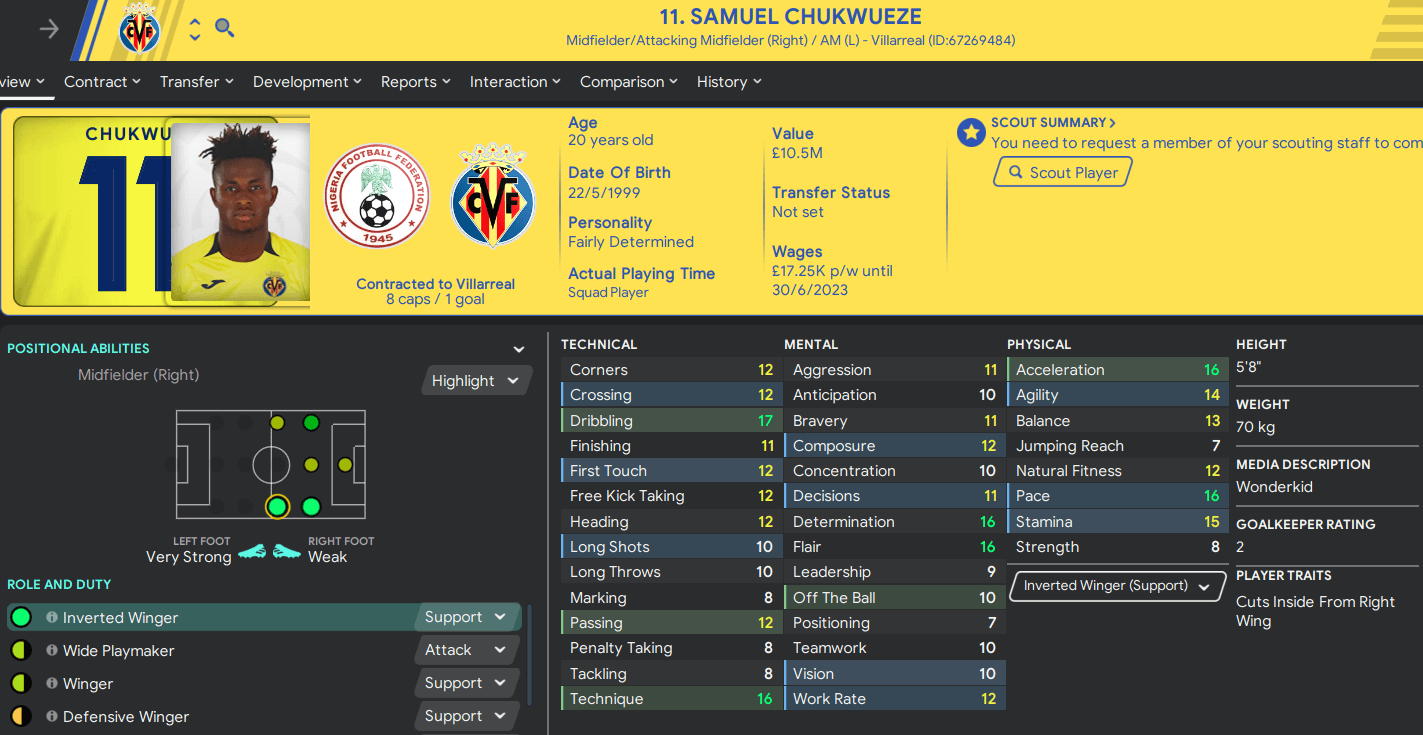 Kelechi Iheanacho could prove the ideal strike partner for Osimhen possesing more agility and killer instincts in front of goal. Another cracking prospect with 152 potential ability.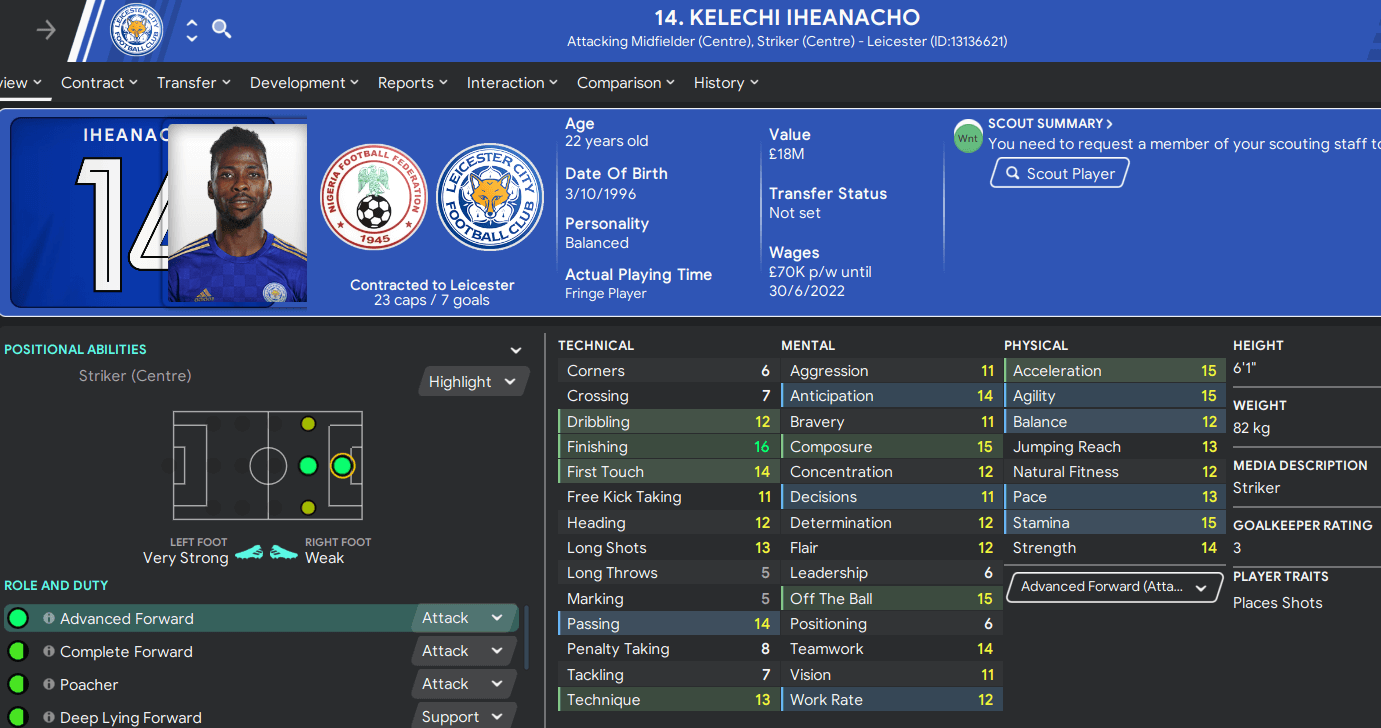 Henry Onyekura could feature from the left, a fast, dribbling maestro just 22 years of age. Alex Iwobi is the utility man capable across attacking midfield while Aribo can link up play from deep, his ability on the ball and physical presence have caught the eye in Scotland. In defence Ola Aina could feature from either side with great speed and the ability to drive play forward.
I haven't even mentioned Isaac Success, Bonaventure, Samuel Kalu and Michael Kingsley who could develop into top, top class players. Plus a host of older, more experienced players such as Okereke.
Question is; will the wonderkids a) develop and b) form a cohesive unit? As with Greece in 2004 and South Korea in 2002 teamwork is dreamwork and those who rise usually do so together. Jump inside my FM time machine and join us in Qatar 2022 to find out.
World Cup 2022 – Football Manager Simulation
Group Stages

Drawn in the group of death alongside Portugal and Germany, Nigeria were afforded little chance.
The fourth wheel, Iran, proved easy opposition sending the Super Eagles top of group F with an impressive goal difference of plus 10!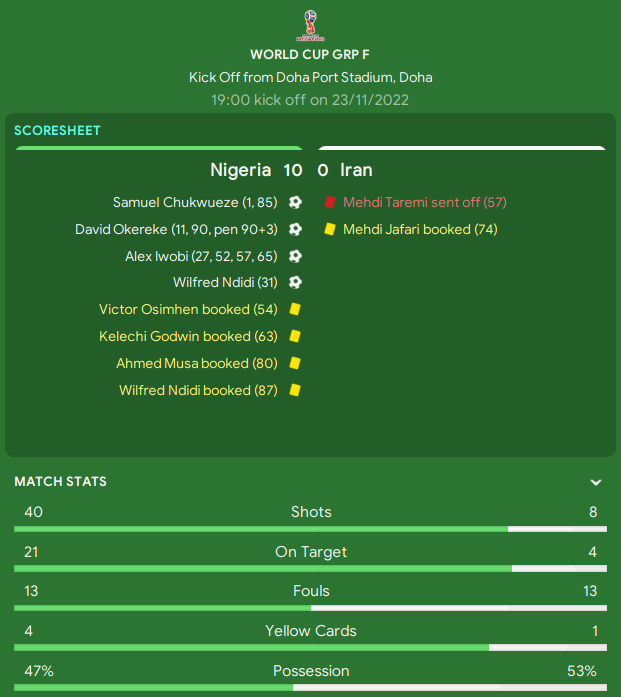 Next up the 2014 World Cup winners Germany with Kai Havertz, Tony Kroos and Timo Werner leading the line. Goals from Brandt and Havertz rounded off a display of total domination, 2-0 and all to play for on matchday three.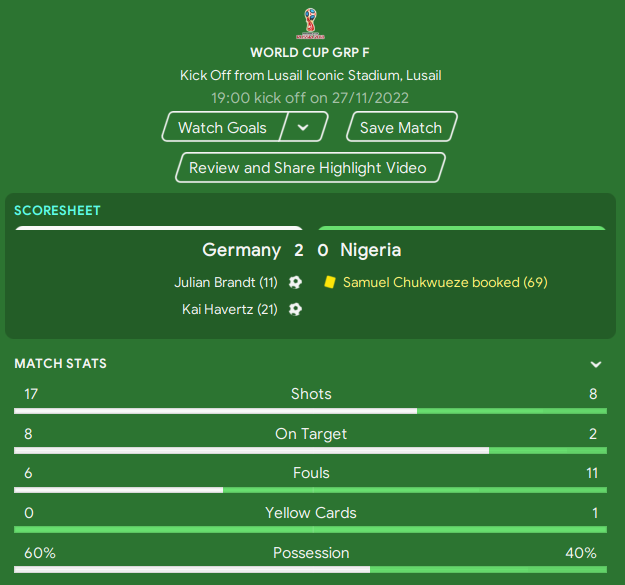 After beating Germany and Iran, Portugal seemed home and dry on six points with Nigeria three points behind in second and Germany in third on goal difference. However, Football is a funny game and anything can happen.
In the most dramatic of affairs Nigeria turned out 1-0 victors with thanks to an 82nd minute goal from Igbekeme. Meanwhile, Germany thrashed Iran 6-2 but head to head does not count in the World Cup, so Nigeria's superior goal difference sent them through in top spot. Poor old Portugal were sent packing!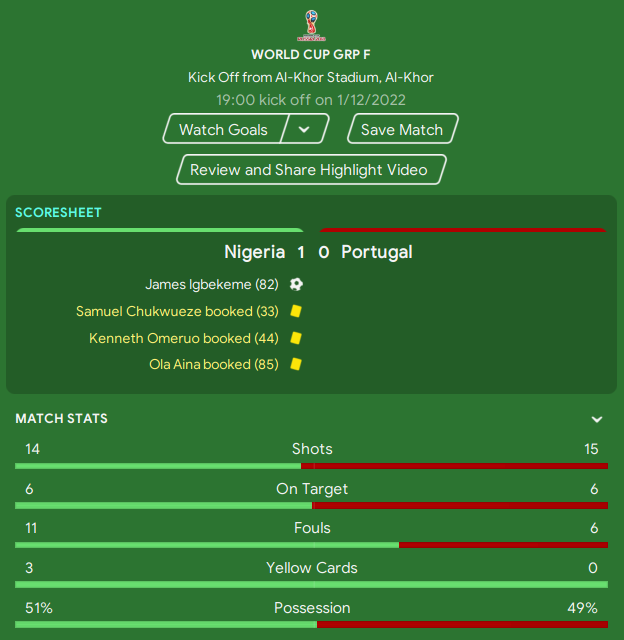 2nd Round v France
Nigeria would face the runners up from group E, France. The reigning World champions were bookies favourites and rightly so with talent like Mbappe, Pogba, Griezmann and Dembele. But Claude Puel's side could not break the deadlock despite extra-time. Nigeria ran out 4-3 victors as Mbappe and Kante could not convert.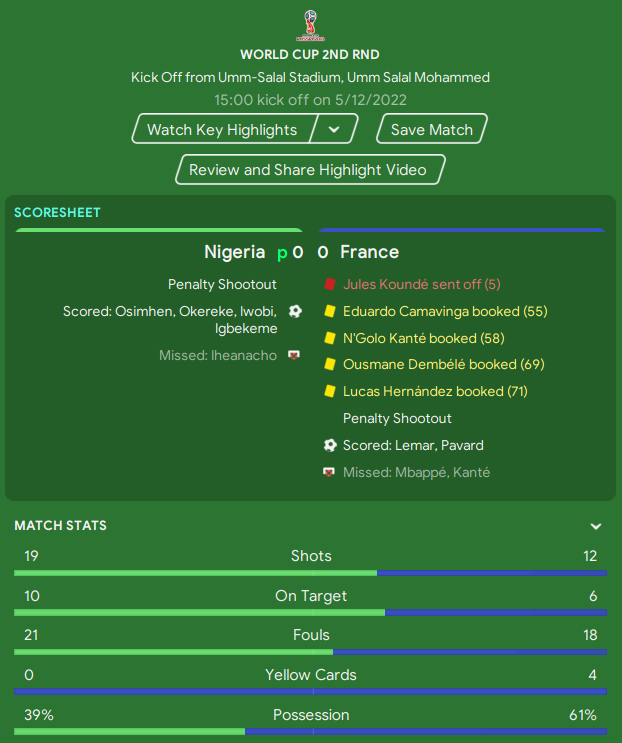 Quarter-final v Italy
Italy thrashed Uruguay 3-0 setting up another David v Goliath tie. With Esposito, Tonali, Chiesa and Zaniolo coming of age Gli Azzurri boast a sensational squad supported by the experience of Bonucci and Verratti. However, Nigeria's 4-4-1-1 held firm limiting Bonucci and co to just one shot on target, in 120 minutes of Football! Nigeria won in extra-time, Iheanacho firing the Super Eagles through to their first World Cup semi-final.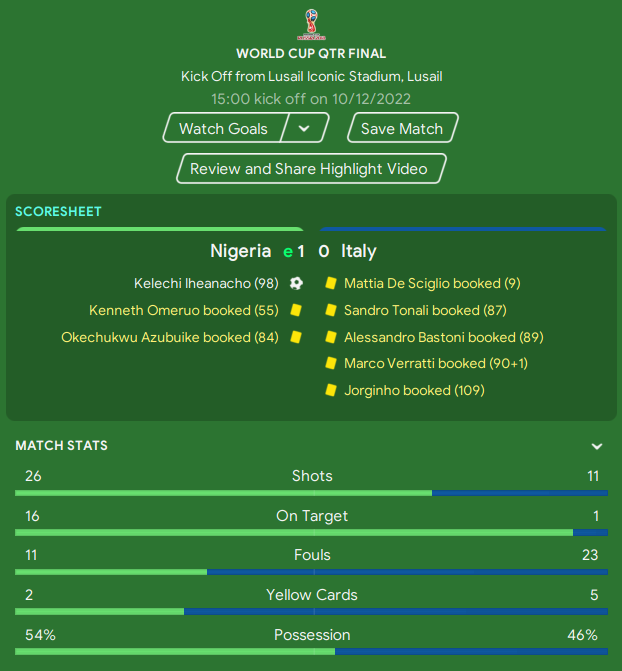 Semi-final v Belgium
Like Nigeria, Belgium suffered a tough route to the semi-final and may feel this is their last chance of lifting the World Cup. The Red Devils will soon loose De Bruyne, Alderweireld, Courtois, Witsel and Lukaku, a golden generation indeed.
Nigeria took the lead through Chukwueze before being pegged back on the 58th minute through Divock Origi. David Okereke then coverted from the spot with 20 minutes to go and despite late pressure Nigeria held out to make the World Cup final!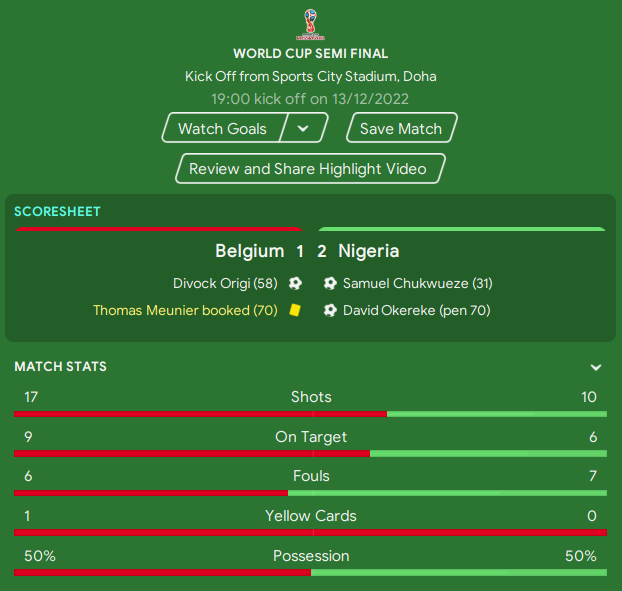 World Cup Final v Brazil
After passing Germany, Portugal, France, Italy and Belgium who could be left? Just a little team called Brazil, who thumped Spain 3-0 in the other semi-final.
A dogged display and valient effort ensued; Neymar scored a penalty on the 39th minute before Firmino added a second with 19 minutes to go. Hope remained as Okereke pulled one back in the 80th minute but time ran out and Nigeria bowed out as silver medalists.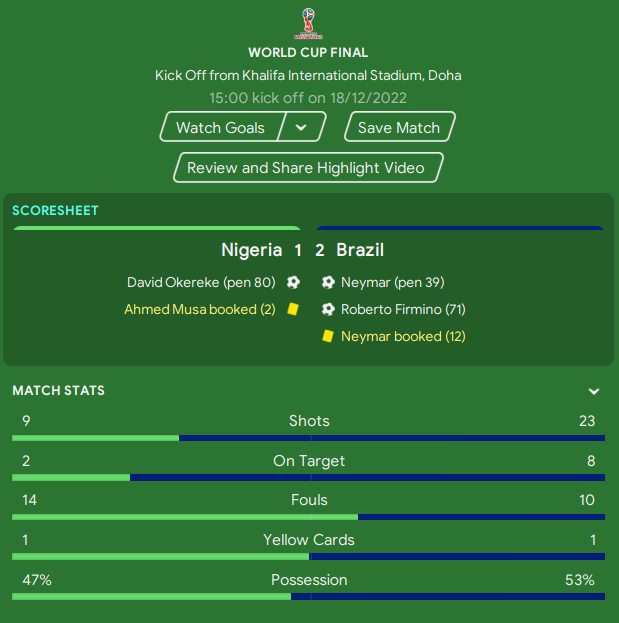 ---
Need an FM20 tactic? Try Concerto, an attacking 4-2-4, we won the Premier League with Everton, just click here.
---
Nigeria qualified for the World Cup on six occasions – the first coming in 1994 – and having never passed the second round reaching the final was a truly astounding achievement. But to do so beating the Worlds elite was even better, at first glance this seems your typical FM glitch yet on examination I can see why the Super Eagles did so well.
They possess a very hard working, physically dominant squad of players, all of which peaked at just the right time. International Football is about much more than the individual and I love this David v Goliath story. I will leave you with the team awards and proof Nigeria could hold their own. Okereke was one goal away from the Golden Boot, Uzoho won the Golden Glove and Chukwueze was third for player of the tournament.

Aina, Chukwueze, Uzoho, Iwobi and Okereke made the dream team XI matching the eventual champions, Brazil, who also boasted five players.
---
Want to develop monster Newgens? Find out which player personalities aid development here
---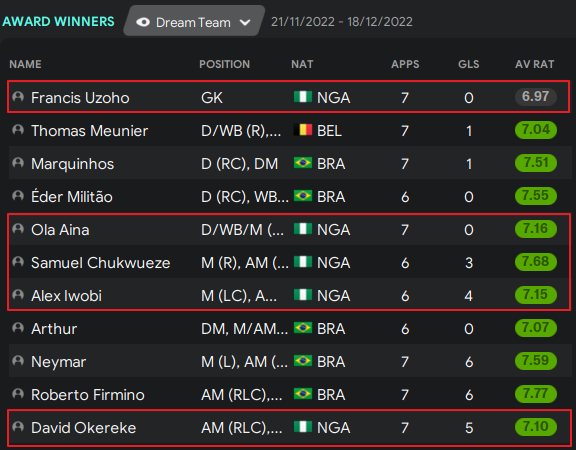 Thats all for today folks, any thoughts hit me in the comments. Why not subscribe to the FMS Youtube channel and click the alert bell button to catch in game tips and follow my 'SEADOGS CAN FLY' series. Don't forget we are on Twitter and Facebook also.

Subscribe to our Newsletter