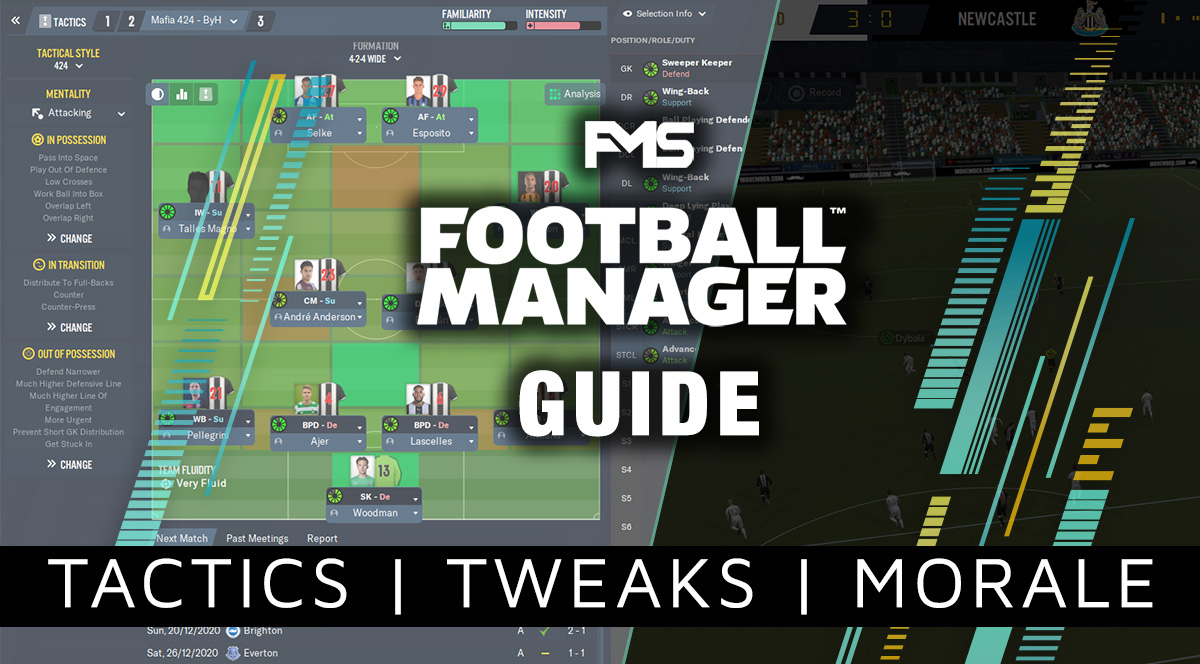 Heh guys and welcome to this Football Manager guide covering tactics, tweaks and morale. Everyone is struggling with the FM20 match engine, balls in behind and missed one on ones are proving hard to handle. Likelihood is your tactic works for a batch of games before crashing harder than Marco Silva!
After shouting at Haaland for two weeks the penny dropped, I am looking at this all wrong. Maybe I am the problem and the match engine is trying to tell me something. When our star striker misses five clear cut chances I assume the games broken. What if those missed chances are a manifestation of a bigger issue? Something completely unrelated.
This guide does not advocate SI and the match engine, it clearly needs work, but maybe we can help ourselves. If nothing changes, nothing changes and maybe we can take control of the situation. Here is a four point checklist to help assess if you're part of the problem.
1. Football Manager Guide – Tactics, it takes two baby…or 3
I am your traditional, old school FM addict. Buy a shed load of wonderkids, break the match engine, and dominate for a decade. Those days are gone my friends, the AI improved and actually has a brain now. FM will adjust not only to your recognised system but stature and form.
Using two or three tactics is the new norm for two reasons. A) keep the opposition guessing and b) allow for opposition strengths and weakness'.
NB: If you're expected to dominate, one tactic may work, but heed the advice on morale, tweaks and man management further down.
Lets delve into my approach with Newcastle. I employ three tactics; an attacking 4-2-4, stable 5-2-3 and time wasting system.
Attacking, risky 4-2-4
A tactic which creates plenty of CCC it can leak goals and utilises a risky high line but often creates 3+ clear cut chances against weaker opposition.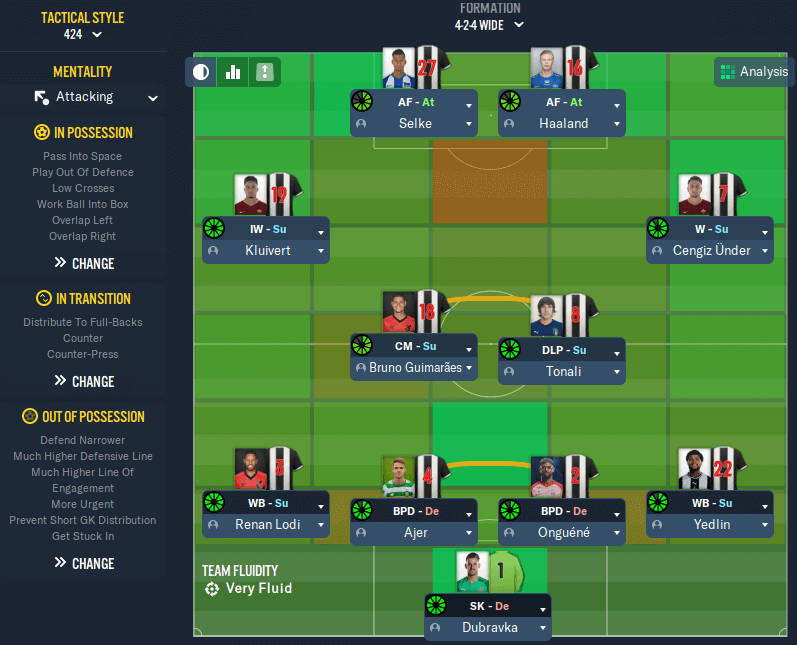 Attacking, defensively stable 5-2-3
A tactic with 3 centre backs and 2 wing backs we defend with five. It is attacking but defensively stable. I see better results as the underdog.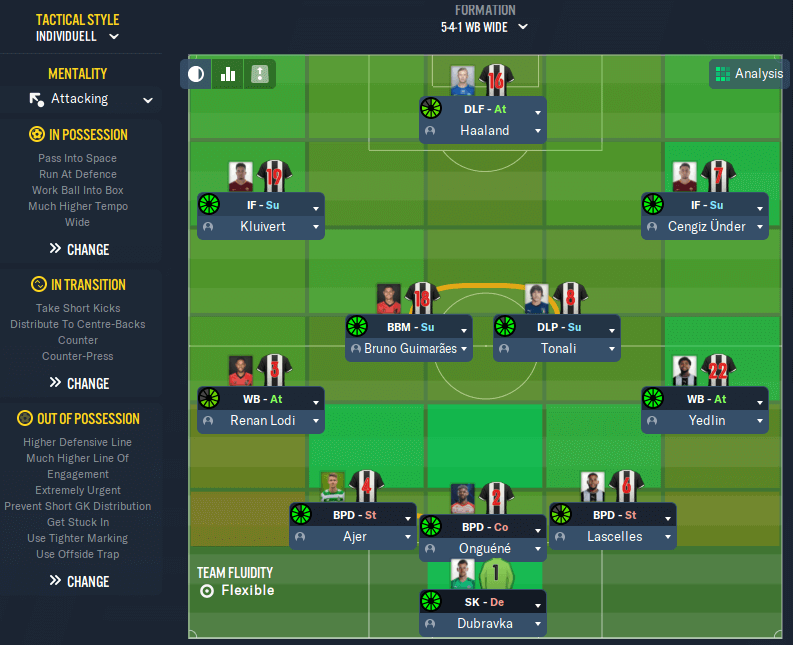 Time Wasting Tactic
Does what it says on the tin, sits deep, wastes time, plays for the set piece etc etc.
Which system when & why
Easy opposition – Regardless of form and morale we use the 4-2-4 relying on superior ability to shine through. I make an exception when against 3 DC's, such systems eat up the ball in behind and counter to great effect. In this scaenario its best to deploy the 5-2-3.
Medium opposition – I would class Wolves, Everton and Leicester as medium opposition. Such teams deserve respect and my approach will vary by team. Wolves for instance use three at the back so we match them as per the advice above. Everton have great speed in behind and can punish our high line so again I'd use the 5-2-3.
Top opposition – I generally start with a 5-2-3 and feel the game out, adjusting to opposition strengths/weakness'. Real Madrid for instance are organised, defend quite deep and possess talent to kill us on the break, they did so at the Bernabeu. I then used a 5-2-3 at home to great effect. Liverpool are more 'gung ho' leaving space to exploit in behind, perfect for my 4-2-4. This would however be too risky at Anfield.
Holding a lead – I switch to a time wasting tactic with 10-15 minutes remaining.
My point is, you may prefer one system but those days have passed. We now need at least two tactics and to think about the opposition pre-match.
I will review both tactics mentioned above but appreciate you may want to download them now. To do so use the links below;
Attacking, risky option – Mafia 4-2-4 (origanally posted on FM Korea)
Defensively stable option – FV Breit 5-2-3 (Created by AD1990)
Tip – Always check the pre-match report. Its a great tool and offers good advice with the oppositions most used tactic, and most vulnerable.
2. Football Manager Guide – Tweaks, know when to change
You cannot make a tactic for every situation, tweaks are necessary from time to time. If the system fails I follow a protocol below.
Pause the game and consider where play is breaking down. Does it feel congested, are we taking shots from range, is my striker isolated?
Not sure? I click the 'analysis' tab and check each teams average positioning.
I now adapt to a) bring key players into the game and b) pull the opposition out of shape and create space.
Lets use an example from my York City save. 1-0 down away from home, we struggled to break Carlisle down. At first I couldn't work it out, we were getting chances but couldn't convert, so I checked the analysis tab and made some notes.
Both teams are very narrow.
Carlisle's back four and midfield are compressed, with no space to exploit.
My defensive line is very high, further compressing any working space.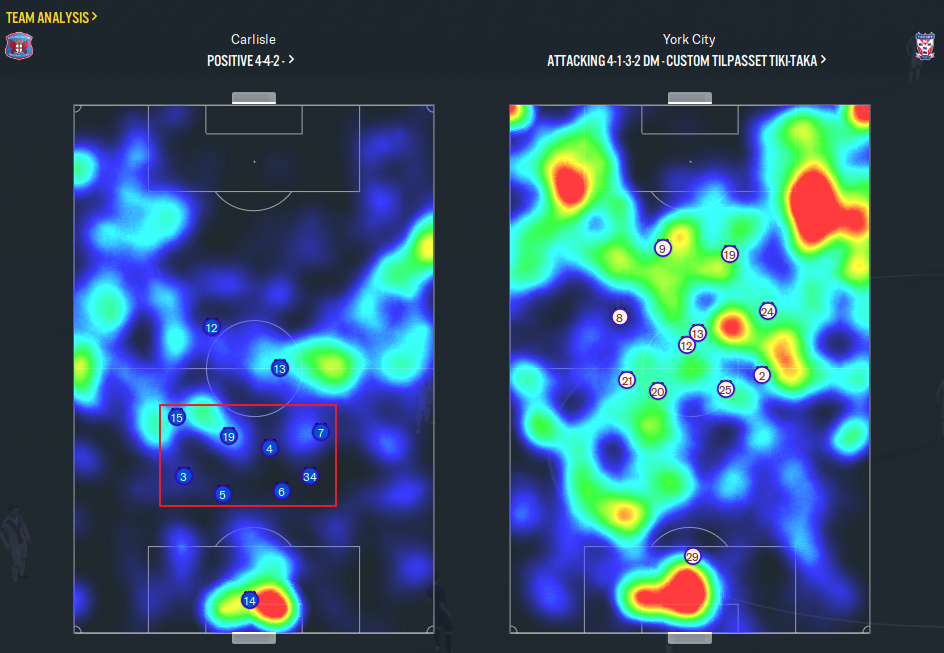 Understanding the problem is one thing, but did I fix it? Using logic I tried the tweaks below;
Switched from 'fairly wide' to 'extremely wide' attacking width. This should stretch the pitch creating gaps.
Move defensive line back from 'much higher' to 'standard'. This may open up that gap between the defence and midfield by drawing Carlisle out.
Increased tempo to transition from defence to attack quicker.
The image below shows a positive impact just before our equalizer. Both wingers hug the line, dragging Carlisle horizontally. My defence sits deep, dragging them vertically, the result is space for my MC to exploit.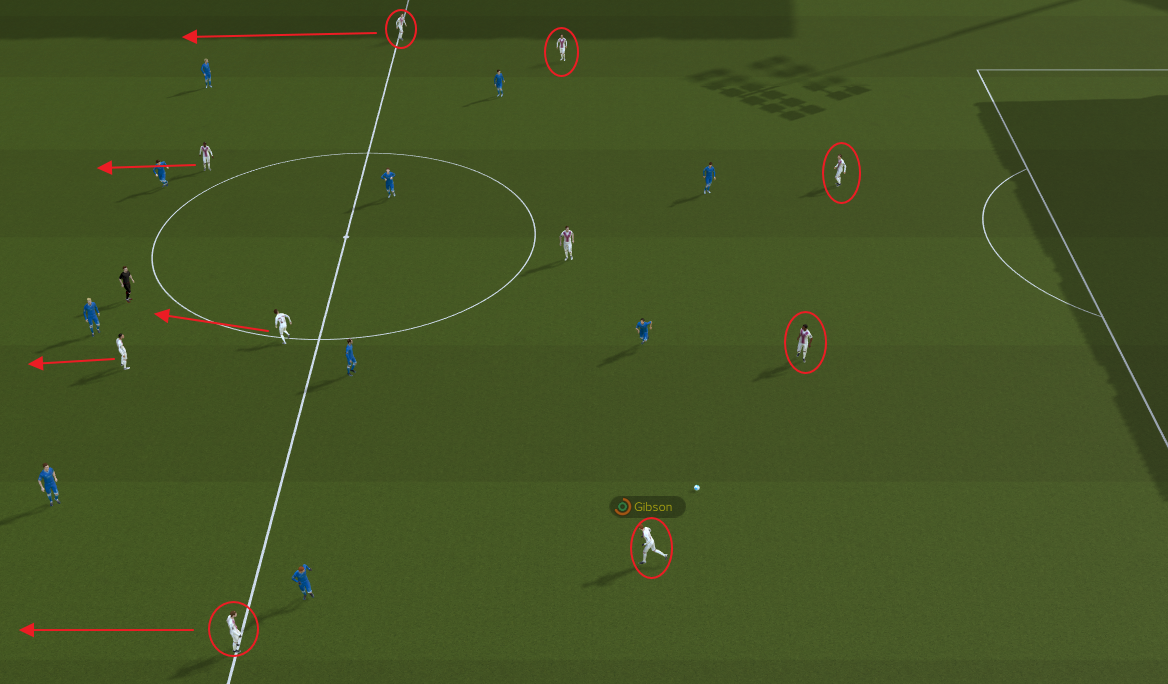 3.  Football Manager Guide – Man Management
Team Morale
An example from my Newcastle save; I was in scintilating form until resting the entire squad at home to Norwich. One draw saw my form spiral out of control and with it came the clear cut chances and one on one misses. My tactics hadn't changed, but losing momentum and not dealing with the consequences almost cost me a top four finish.
Results prior to Norwich draw

Results after Norwich draw

Below are some tips to keep morale up and manage your form.
Praise player training and performances (this will backfire if not warranted.)
Criticise sparingly but when on a poor run. Especially relevant for strikers on a goal drought.
Warn against complacency after a tight one goal win against easy opposition.
Be specific: After holding a team talk, address inidividuals who are under performing.
Play around with your tone, I like to use assertive when criticising and passionate to rowse a reaction.
Player Morale
I see man management and team morale as secondary to tactics. That is until FM 2020.
Take my Newcastle save; Joelinton was in scintilating form until the Norwich upset. He then scored once from the final seven games despite bagging 20 goals prior. What should I have done in this scenario?
Criticised each poor performance in an individual team talk post match.
Encouraged Joelinton in game through shouts.
Criticised his form post game through the interaction tab.
Form
Be wary of form. Just because you are winning does not mean the ME is broken, if your team have great chemistry and morale they will perform above your tactics normal level and probably their own ability.
If you lose after making too many changes all momentum could be lost. This happened to me vs Norwich.
4. Football Manager Guide – Player Suitability
Some create a functional tactic and force square pegs in round holes, others create a system to suit their squad. In FM 2020 you need both.
I use a tactic from FM Korea called Mafia 4-2-4. My strikers routinely missed 5+ clear cut chances and it pissed me off.
Turns out, the AMR/AML are designed to find both strikers in the air. This was not obvious at first because we also exploit the ball in behind. Knowing this I played Selke (a beast aerially with pace in behind) upfront. He then scored 12 from 12 games.
Of course the missed CCC's still happen, but they no longer cost me silly results unless I forget to allow for the opposition tactic. Lets try another example from my Newcastle save and Mafia tactic.
I used Jarrod Bowen from AMR as a Winger, not his preferred role but important to the systems functionality. Not causing a problem I accepted mediocrity from the right. I then switched sides, changing AML to the winger role and AMR to inverted winger. Bowen immediately performed and the systems chemistry still works.
The other option of course, is find a more suitable player for the roles required.
Its a balancing act, but force square pegs into round holes and you may be adding to your downfall. Next time you miss a one on one stop and ask if its just the game, or maybe the game trying to say something isn't working. Albeit very badly.
Just some food for thought guys. I have been, and will continue to bitch about the match engine but it won't change anything. We can continue to bang our heads against the screen, or help ourselves.

Subscribe to our Newsletter