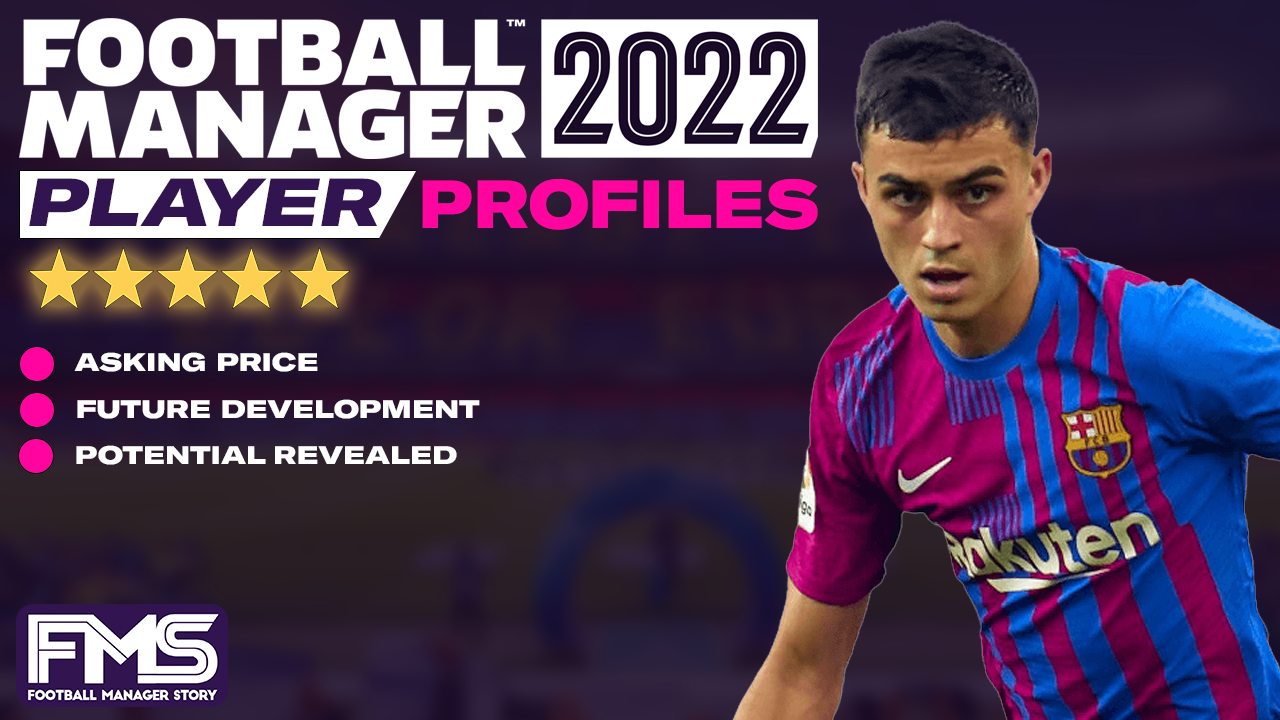 Hidden Potential: PA: 175
He was already the heir to Xavi's throne at Barcelona, but now that the former Spanish international is in charge at the Nou Camp, Pedri's place as the future metronome of the Catalan giants is almost guaranteed.
We already saw at the most recent Euros, that despite his young age, he has the passing, vision and football brain to play a part in one of the most persistent passing teams in the world. Now, with the former king guiding him through the next few years, his development should be fascinating to watch.
It says quite a lot about Pedri's potential and place in the game that SI have given him a fixed potential at just 18. Success is guaranteed, and so is his place at the top of the game.
With over 50 games already played for the Barcelona first team, his loan spells at Las Palmas have prepared him for life in starting line-up. Beside the likes of Gavi and Ilias Akhomach, he is already emerging as one of the leaders in this midfield.
Pedri FM22 profile (2021)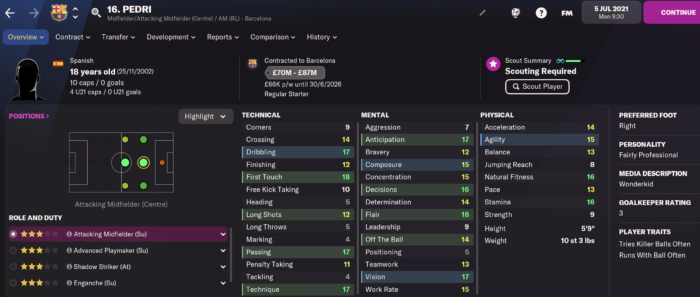 Roles: Attacking Midfielder, Advanced Playmaker, Shadow Striker, Engache, Mezzala, Central Midfielder
With so many attributes over 15, this teenager is an absolute dream. First Touch of 18, Passing and Technique of 17, Decisions of 16 and Vision of 17. He's almost perfect.
Off the Ball at 14 can be worked on. His Composure should grow too. He's never going to be the strongest, or an aerial threat, so there's no need to worry about them.
Where you play him depends on your system. Getting a No.10 to work can be tricky, but he's probably waste as a Deep Lying Playmaker. Selecting him as an Advanced Playmaker, but slightly deeper, could be a lot of fun.
Pedri FM22 Wonderkid 2026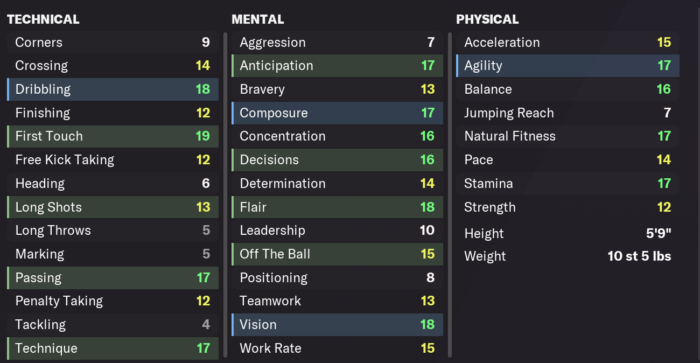 Dribbling, First Touch, and Vision are ridiculous. The combination of Composure, Concentration and Decisions, all above 16, is superb. In the areas where you need him to be, physically he's very impressive too.
Pedri is a player you could build your midfield around for 10-15 years.
PSG obviously thought the same and spent near £100 million to take him to the Parc des Princes. Looking at his numbers, he's been a threat with the ball at his feet. Both scoring and assisting.

---
For all the best Football Manager 2022 wonderkids click here, from cheap bargains to world class prospects.
---
Summary
In 2026, Pedri has it all, and although it is a shame he has left Barca for a big money move to Paris, it's clear he is one of the greatest players in Europe.
You would expect the Parisians to be sporting one of the best attacks in the game. With his attributes glowing in green, there are few players better than Pedri to be providing the ammunition.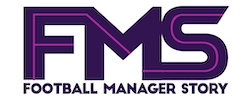 Subscribe to our Newsletter