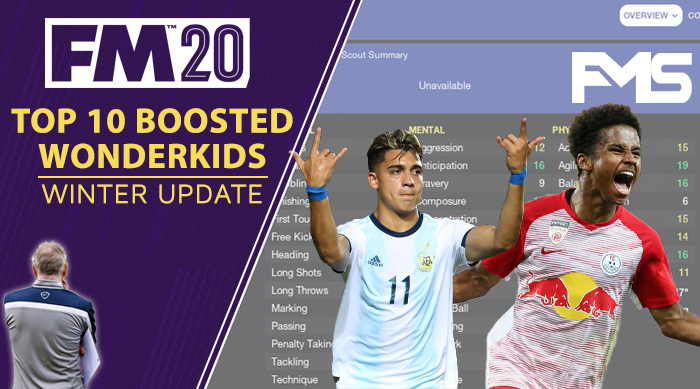 Hey guys, let me begin with our best wishes to every reader and their family during the CR19 crisis. Unlike the none gaming community we can always bury our heads in FM20 and what better time to release a guide. So heres our best FM 2020 wonderkids from the Winter update.
I will outline the top ten, most boosted Football Manager 2020 wonderkids in terms of potential ability in patches 20.3 and 20.4. Before the list let me explain how PA works in Football Manager 2020.
Potential ability is awarded out of 200 and can be fixed or flexible, players are also awarded a current ability which forms each players attributes. FM 2020 wonderkids will only develop as far as their potential cap.
Some young talents have a fixed PA, say 156 and some – usually under the age of 20 – have a flexible potential which can vary from save to save. Each flexible potential is listed below.
Football Manager flexible potential ability or PA explained
-10 PA equals variable potential between 170-200
-9.5 PA equals variable potential between 160-190
-9 PA equals variable potential between 150-180
-8.5 PA equals variable potential between 140-170
-8 PA equals variable potential between 130-160
The list goes on. Note each Football Manager 2020 wonderkids potential can only vary by save, not in the save itself. So once your game is loaded each player will not see an increase in potential, only current ability.
 Top 8-10 Boosted FM 2020 Wonderkids
We will go in descending order and share each young players PA increase, asking price and profile.
10 – Darwin Nunez | 20yo | ST | PA: 157 from 137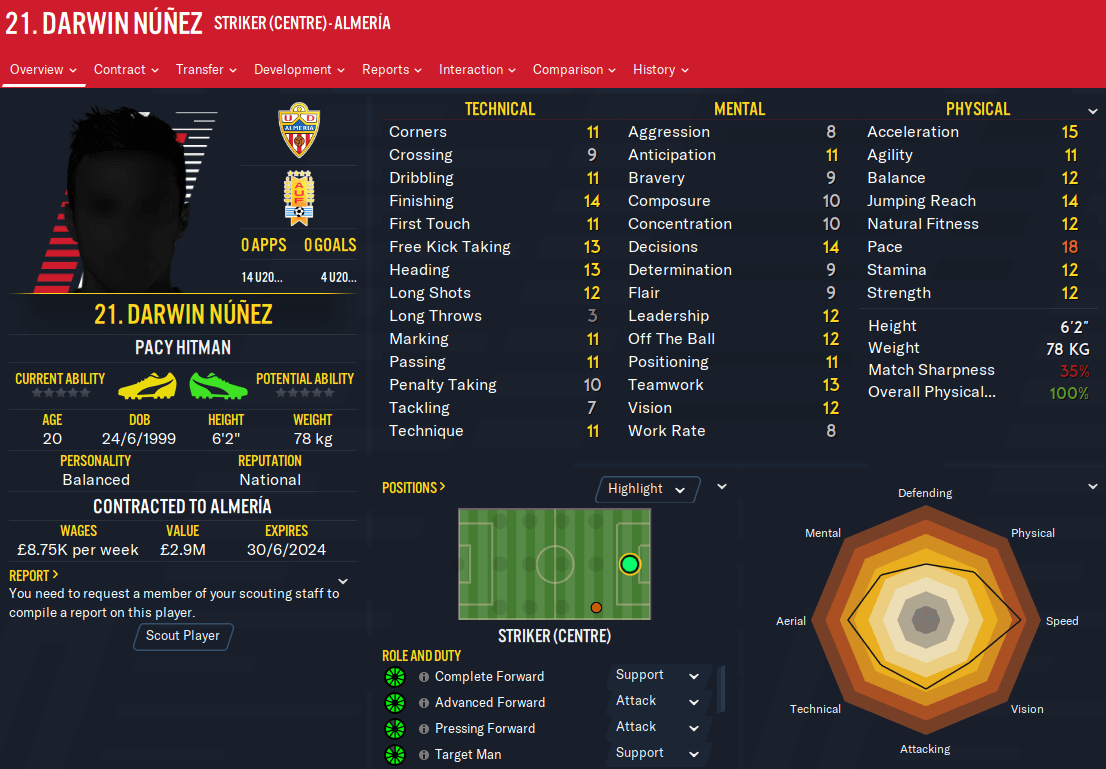 After half a season lighting up the Spanish second tier Nunez sees an upgrade from 137 to a whopping 157 potential ability. Probably one of the biggest FM 2020 wonderkid boosts we have seen, £11 million seems reasonable for such a high potential striker. Nunez is not only capable in the air but can finish and posess' ludicrous speed.
9 – Andreas Skov Olsen | 19yo | AMR | PA: 158 from 150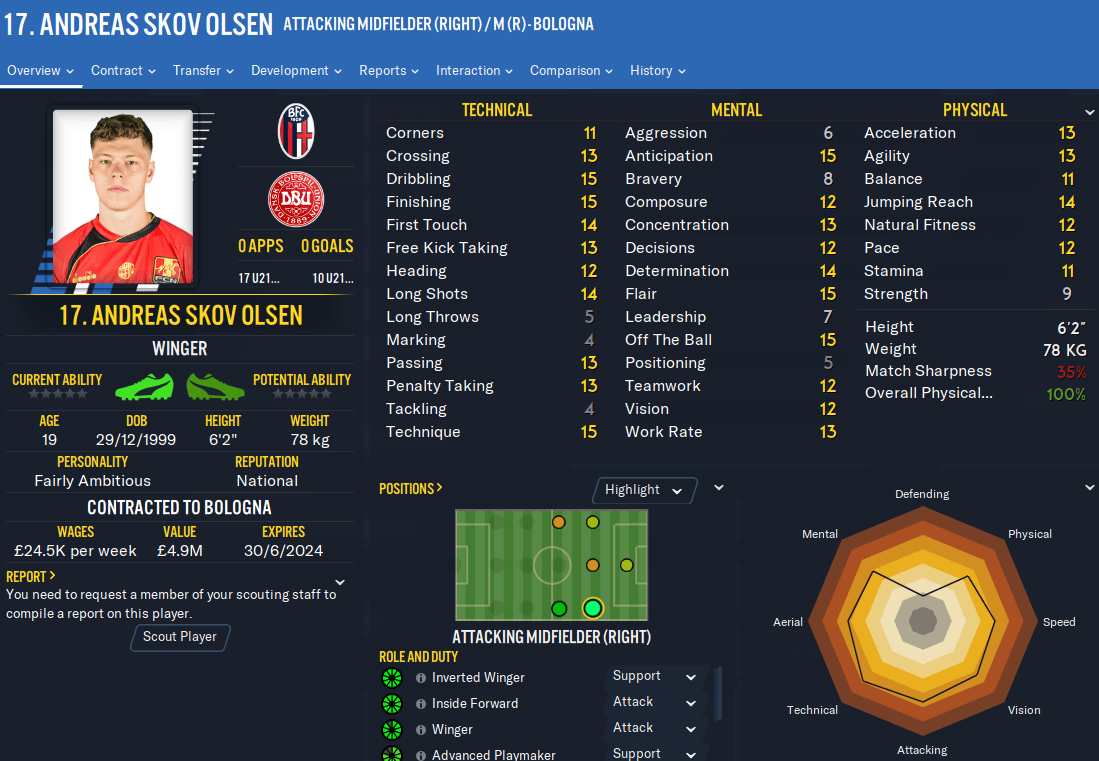 Olsen failed to catch my eye in the early edition but hes well worth a scout after the winter update. Now boasting 15 for finishing, dribbling, technique and flair the young Dane's potential increased from 150 to 158. Bologna demand £10.5 million for the inside forward and I think hes worth the punt.
8 – Takehiro Tomiyasu | 20yo | DR/DC | PA: 159 from -75 (120-150)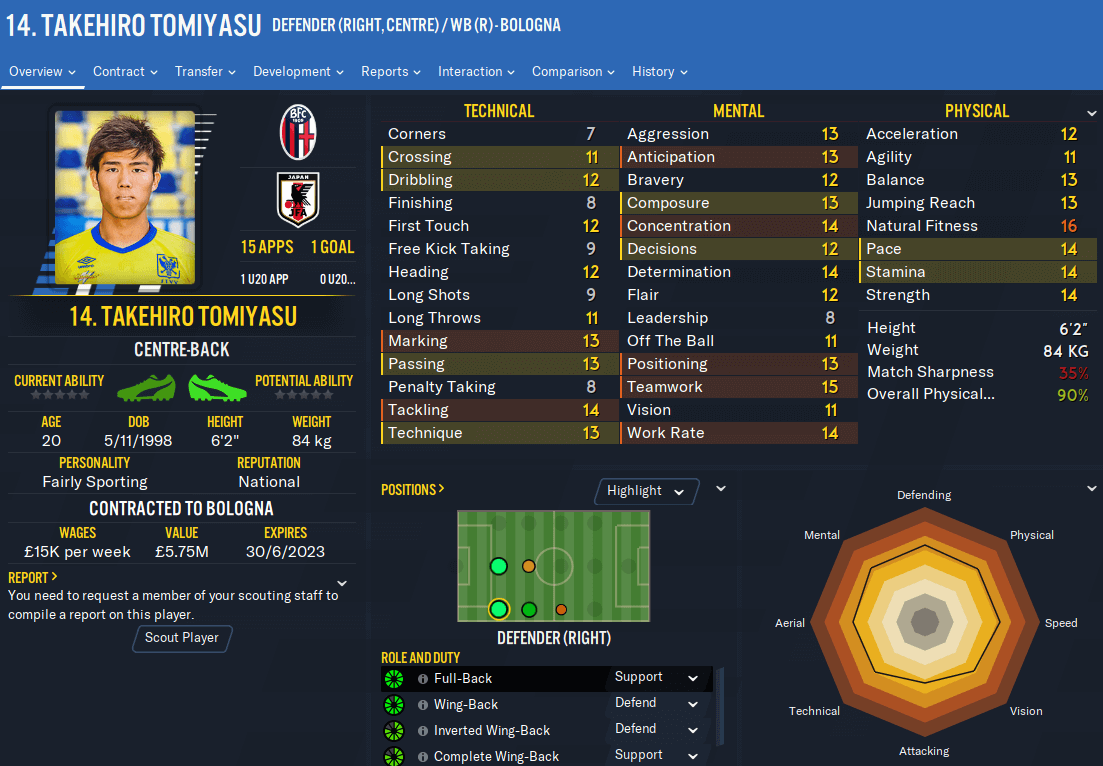 Bologna to the rescue again this time with a centre back come full back. Tomiyasu has good speed and all round physicals with decent technique, ability on the ball and good defensive attributes. He could mould into a number of roles which should be welcomed considering the lack of young quality right backs this year. One of the FM 2020 wonderkids to recieve a massive boost from -75 to a fixed potential of 159. However, £20.5 million may prove too steep for some.
Top 5-7 Boosted FM 2020 Wonderkids
Numbers 7 to 5 of our Football Manager 2020 wonderkids focus on a mix from the Premier League to Belgium and Goalkeepers to playmakers.
7 – Alexis Mac Allister | 20yo | AMC | PA: 159 from 150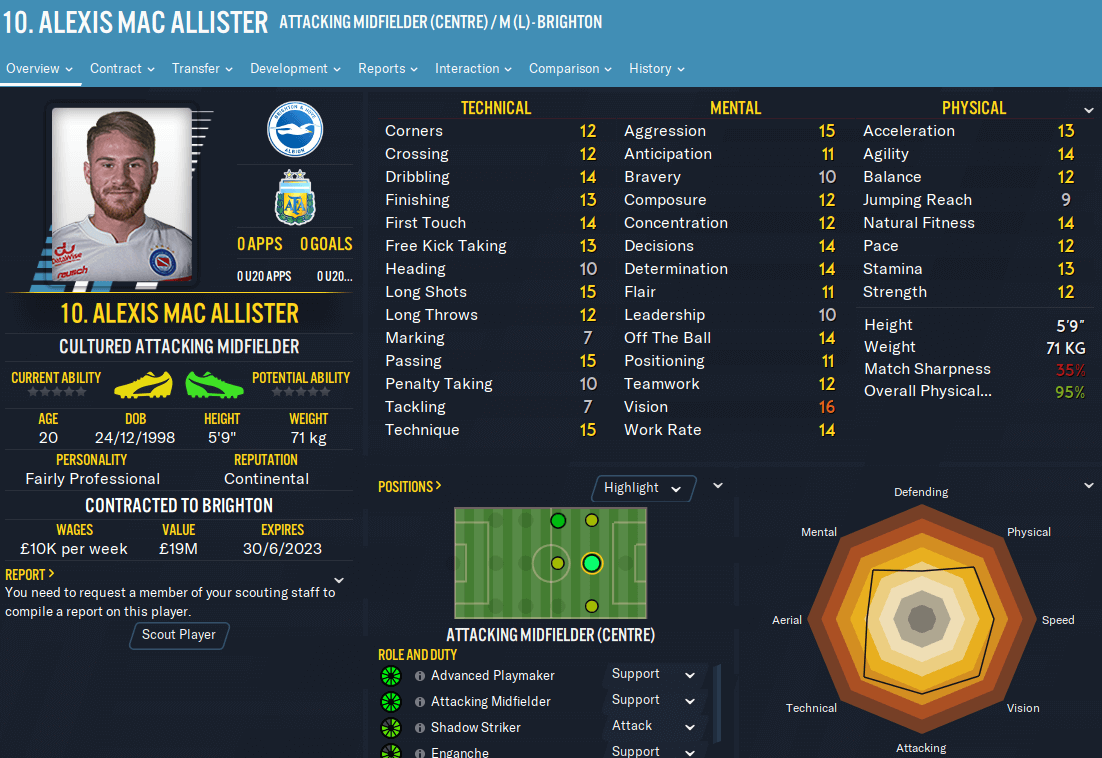 FM have upgraded Mac Allister's potential and attribute mix. A well rounded midfielder this kid can pass with great vision and technique but I like his agility, speed and dribbling also. Add a fierce long range drive and high work rate for one of the most desireable wonderkids in FM20. Many will curse the £32 million price tag but this could drop should Brighton go down.
6 – Gabriel Martinelli | 18yo | AML/ST | PA: 161 from -8 (130-160)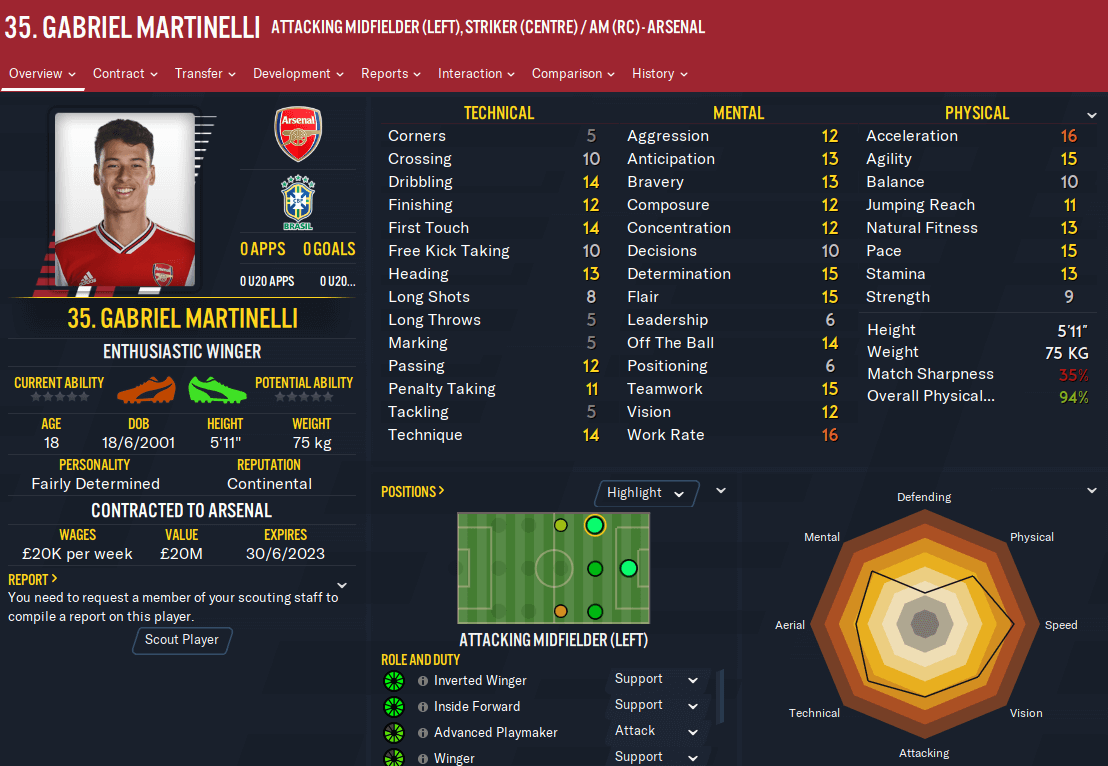 Many may have predicted this increase, Martinelli enjoyed a great spell under Arteta and sees his potential increased from -8 to 161. Some will question his inclusion but remember -8 (Gabriel's old PA) is a flexible rate of 130-160 and will very rarely hit the top end. Speed, work rate, technique, ability on the ball and flair make this kid a corker and fitting for any system. Arsenal's £40 million asking price isn't something to write home about I'm afraid.
5 – Vandevoordt | 17yo | GK | PA: -9 (150-180) from -8 (130-160)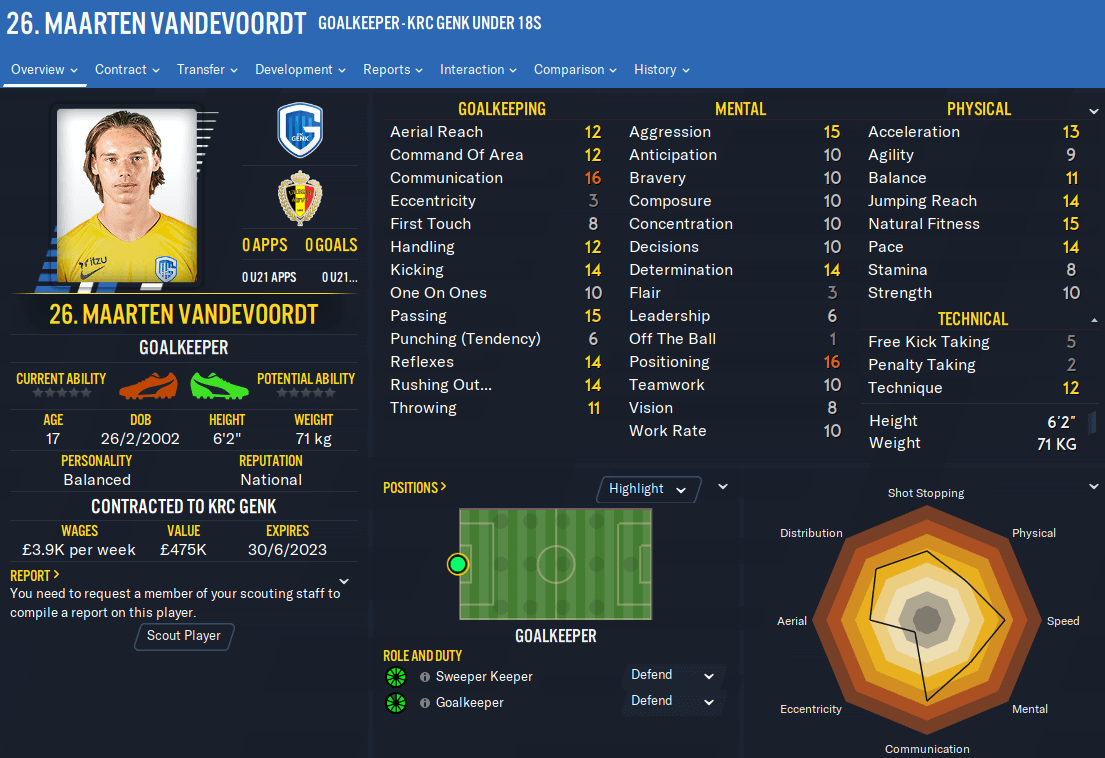 Now a kid coming from left field, not many will have seen Vandevoordt coming. A goalkeeper just 17 years of age SI must see something boosting his potential from -8 to -9. The kids got great all round ability and a balanced personality so worth the £16 million price tag in my opinion.
Top 4 Boosted FM 2020 Wonderkids
Here they are the top 4, lets begin with a player very few will know or even expect on this list.
4 – Karim Adeyemi | 17yo | ST | PA: -9 (150-180) from -75 (130-160)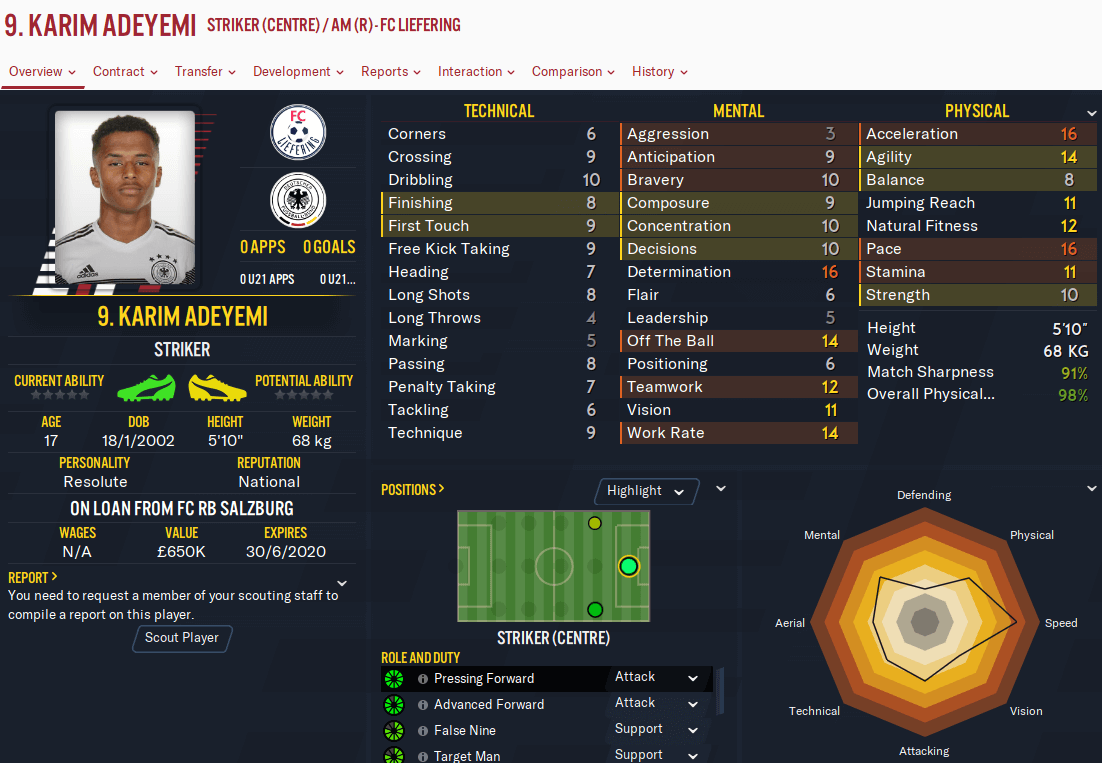 The highest increase I believe from -75 to -9 Adeyemi is a fast striker with bags of potential. His parent club, RB Salzburg, demand £17 million which could put some off but keep an eye out as this kid could be lethal.
3 – Haaland | 18yo | ST | PA: 178 from -9 (150-180)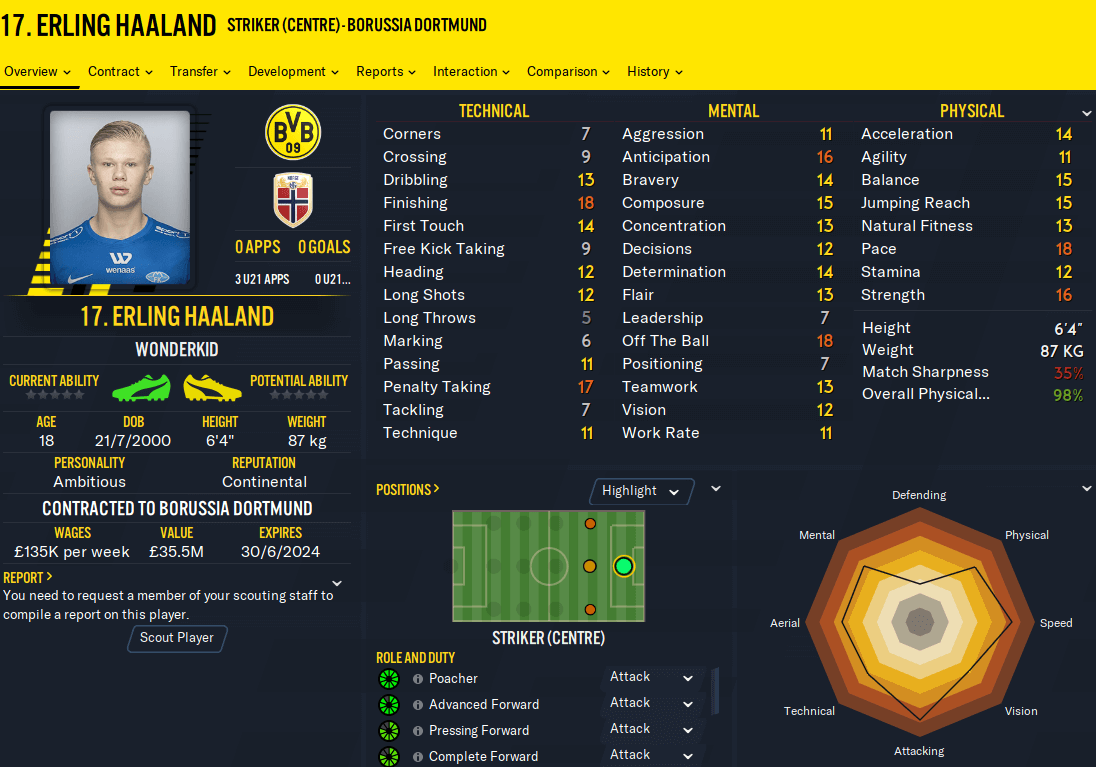 After the most sensational start to life with Dortmund its no surpise Haaland earns an upgrade. His already high flexible potential is now fixed in at 178 making him probably the most lethal player on the game. That £65 million asking price will attract the big boys.
2 – Pedri | 19yo | AMRLC | PA: -95 (160-190) from -9 (150-180)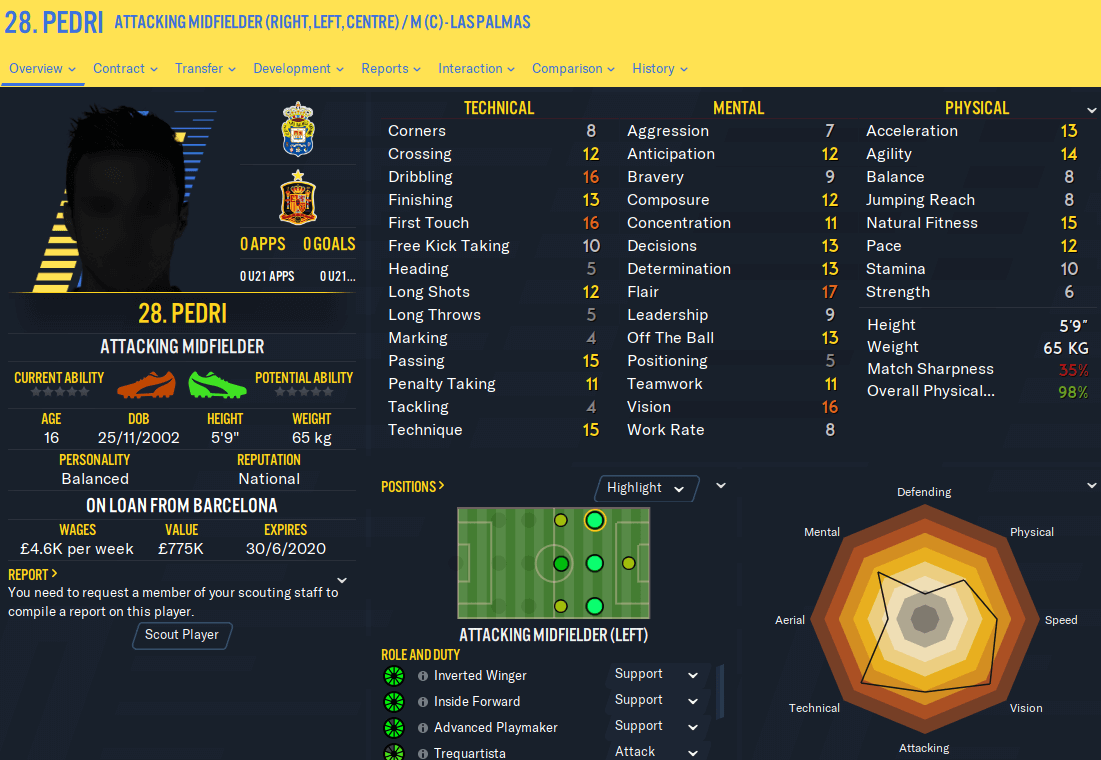 This wouldn't be an FM 2020 wonderkids list without the customary prodigy from Barcelona. Pedri's PA has increased from -9 to a lucrative -95, potential reserved for the very best of the best. Capable anywhere across attacking midfield the young Catalan has amazing flair, vision and can dribble as well as pick his pass. Amazing stats for a 16 year old and maybe worth a look for the bigger clibs at £21 million.
1 – Camavinga | 16yo | DMC/MC | PA: -95 (160-190) from -9 (150-180)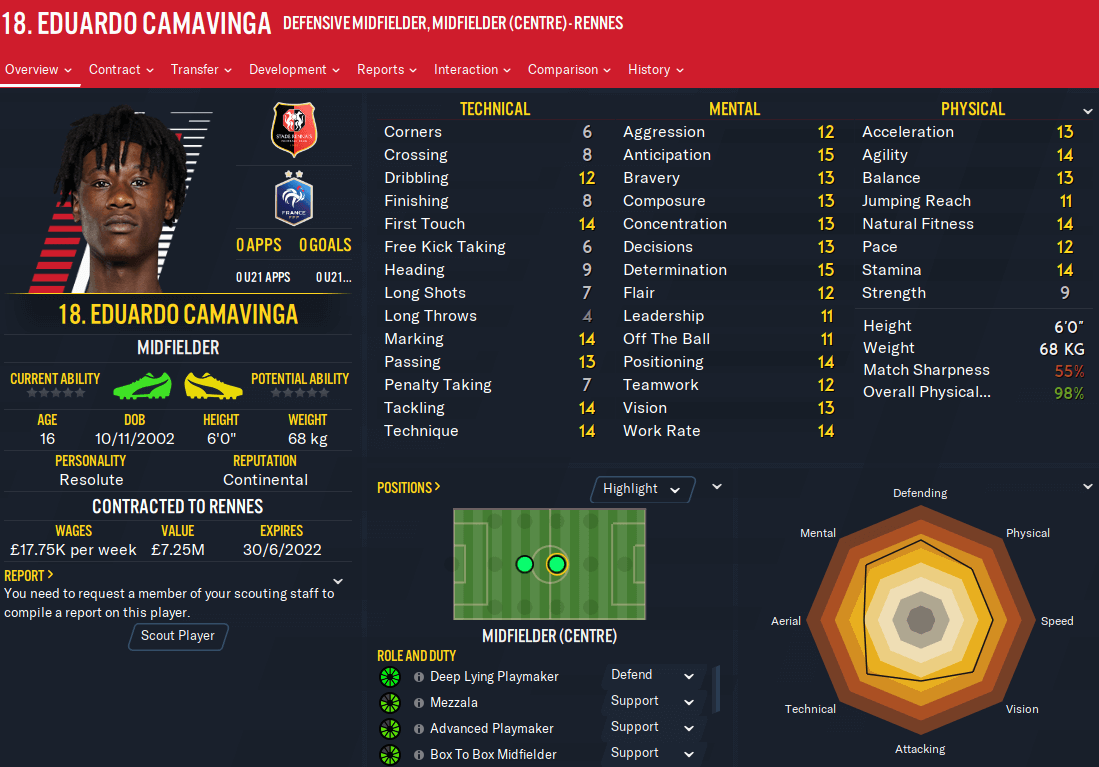 Already well known Camavinga made his breakthrough from the first edition of FM20. For such a young talent, 16 years old, to be boosted further to -95 potential is a statement indeed. Looking at that attribute wheel this kids got insane versatility and all round ability for such a raw prospect. £72 million is crazy money but Camavinga is a crazy midfielder the likes of which we have not seen for some time.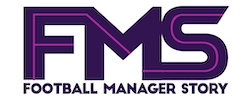 FM 2022 Latest
Welcome to this Football Manager lower league tactic guide. Intro: Hi, I've been playing...

Hi, welcome to a new episode of my save managing Gateshead from Vanarama National...

After the great first three seasons of the Gateshead to Glory story, now it's...

After the great first and second seasons of Gateshead to Glory, in which we...

Welcome to a new series, where Andrew goes Head-to-Head in a Tactics Test. This...

Here at FMS we will be testing and creating the best FM22 tactics throughout...
Subscribe to our Newsletter