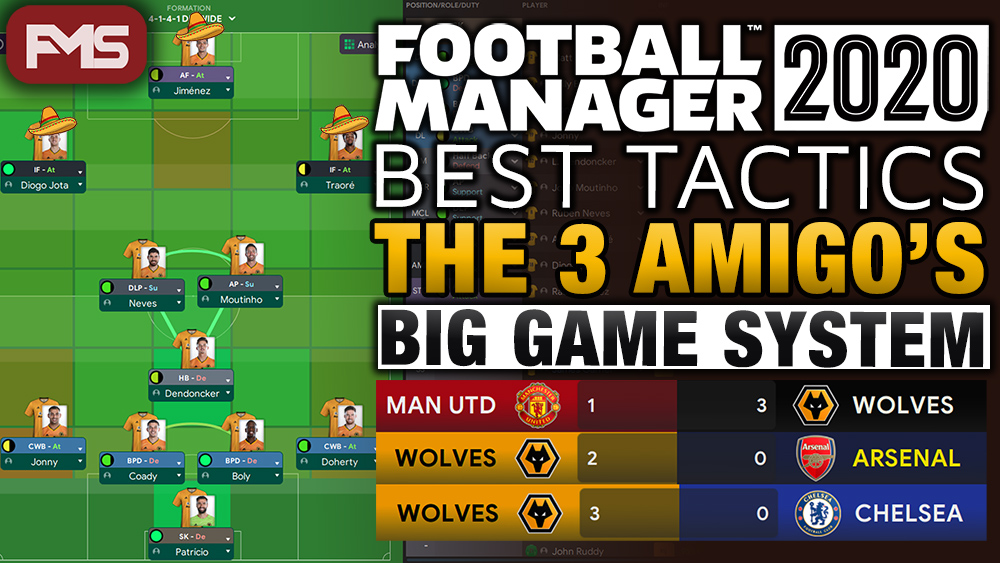 Hey guys, I'm back with another addition to our best Football Manager 2020 tactics, The 3 Amigo's. Aptly named for its three pronged attack this is a potent, high pressing system focussed around high tempo counter attacks and offensive overloads.
Created to supplement my 4-2-4 (Concerto) this FM 2020 tactic is a big game system working a treat with Scarborough Athletic and Wolverhampton Wanderers beating Man Utd, Arsenal, Chelsea, Man City and Tottenham.
I have recorded a Youtube video explaining how to use The 3 amigo's from player roles, to tweaks and player suitability plus some gameplay and test results. You can download this Football Manager 2020 tactic from the bottom of this post.
Best Football Manager 2020 Tactics – Video Tutorial
Best FM 2020 Tactics: The 3 Amigo's
The 3 Amigo's are made up of an Advanced Forward and two Inside Forwards who share the offensive strain and should be well endowed in both speed and flair. 'The 3' look to force a mistake before striking hard with an attacking mentality, extremely high tempo and urgent press.
Each attack is supported by two complete wing backs, who overlap creating width while a deep and advanced playmaker connect defence to attack and shoot from range. A Half Back is used from DMC to add stability and sit in front of the back two.
With so many bodies committed to the attack your half back is vital in holding the defensive shape and can form a back three. Such an aggressive counter can leave space down the flanks which may be penetrated by teams who sit back and counter the counter, but hard working wing backs should help. I have included vital tips at the bottom of this post, please read on.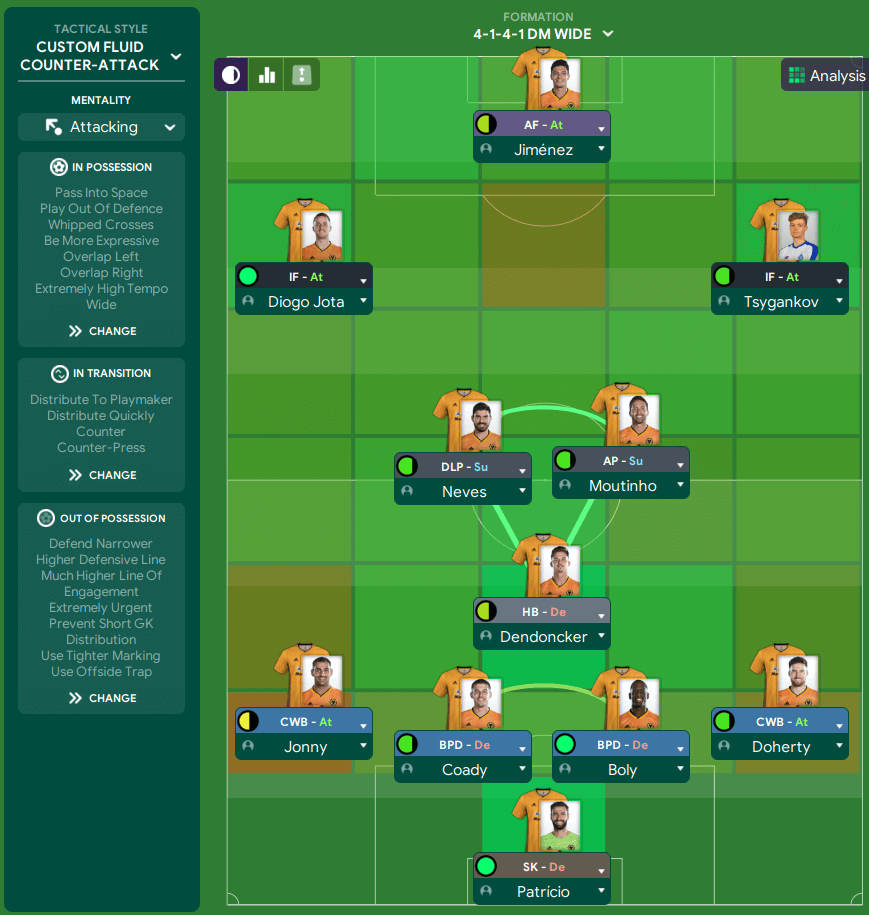 Best Football Manager 2020 Tactic – Player Roles
I have listed each role below followed by a description of the ideal player because suitability is vital to success.
GK – sweeper keeper (defend) – Just your standard goalkeeper but should be good in one on one situations and rushing out.
DC's – ball playing defender (defend) – I look for a towering presence and speed to compensate the high line. Your DC's will look to play out from the back so decent passing and composure would be ideal.
DR/DL – complete wing back (attack) – Fast, forward thinking wing backs will do very well in this system as they look to overlap. Speed, stamina and all round technicals are preferable but hard work is vital. A good wing back can transform this system. Doherty and Jonny were excellent for Wolves.
MCR – advanced playmaker (support) – The maestro, your advanced playmaker will pick out passes, work the ball forward and shoot from range. Excellent passing, vision, movement, decisions, touch and the usual green AP attributes are important. Good long shot ability will add a tonne of goals, I found Moutinho scored a number of goals arriving late in the box and from long shots.
MCL – deep lying playmaker (support) – Similar to the advanced playmaker, just more static. Your deep lying playmaker must be a true passer and able to create opportunities in behind. Good long shot ability will help, Ruben Neves was a joy in this role.
AMR/AML – inside forward (attack) – Two of the 3 Amigo's, your IF's need speed, skill, dribbling ability, good finishing and great technique. Adama Traore was amazing off the bench with his dribbling and speed while Diogo Jota acted as a wide striker always cutting inside to sniff out a goal. Interestingly, Traore was used from the right despite being right footed scoring most goals arriving late in the box. Better used as a winger he brought a different dimension to the role. I would however recommend AMR is left footed and AML right footed.
STR – advanced forward (attack) – The main goal threat, good finishing is a must but speed is even more important. If you can find an all round striker with good aerial ability, great, but don't let this sacrifice speed and finishing. Dribbling, technique, off ball movement and composure are important also. The AF needs to create his own opportunities and can be found in behind. Moise Kean, Diogo Jota or Raul Jimenez would work though the latter lacks slightly in speed.
When to tweak
You should not tweak 'The 3 Amigo's' on a game by game basis, only mid-match as suggested below.
If holding a slender lead and worried about conceding, try cautious mentality with instructions 'regroup' and 'hold position', 'time waste' more and adjust DR/DL to wing back on support.
In game, tell every player with a yellow card to 'ease off tackles'.
Substitutions could help break a deadlock; the strikers, inside forwards or advanced playmaker would be my first choice. I found Adama Traore terrorised as a sub and the advanced forward often scored off the bench.
If under pressure down the flanks switch DR/DL to wing back on support, both have a tendency to over commit but are vital to the counter.
If struggling to create against park the bus tactics using at least one DMC, try the following with 20 minutes to go; 'hit early crosses', 'focus play down flanks' and changing the inside forwards to wingers. Finally move the DMC to ST as a second advanced forward.
I used 'Concerto' as my default system, which is an attacking 4-2-4 and switched to this tactic against tough opposition like Man Utd, Man City, Liverpool, Chelsea and Arsenal. With a quality front three you could however use this system as default.
Best Football Manager 2020 Tactics Results
While The 3 Amigo's was made to supplement Concerto in my Scarborough save, I did test it with Wolves. The results were fantastic especially against big teams where the stats speak for themselves.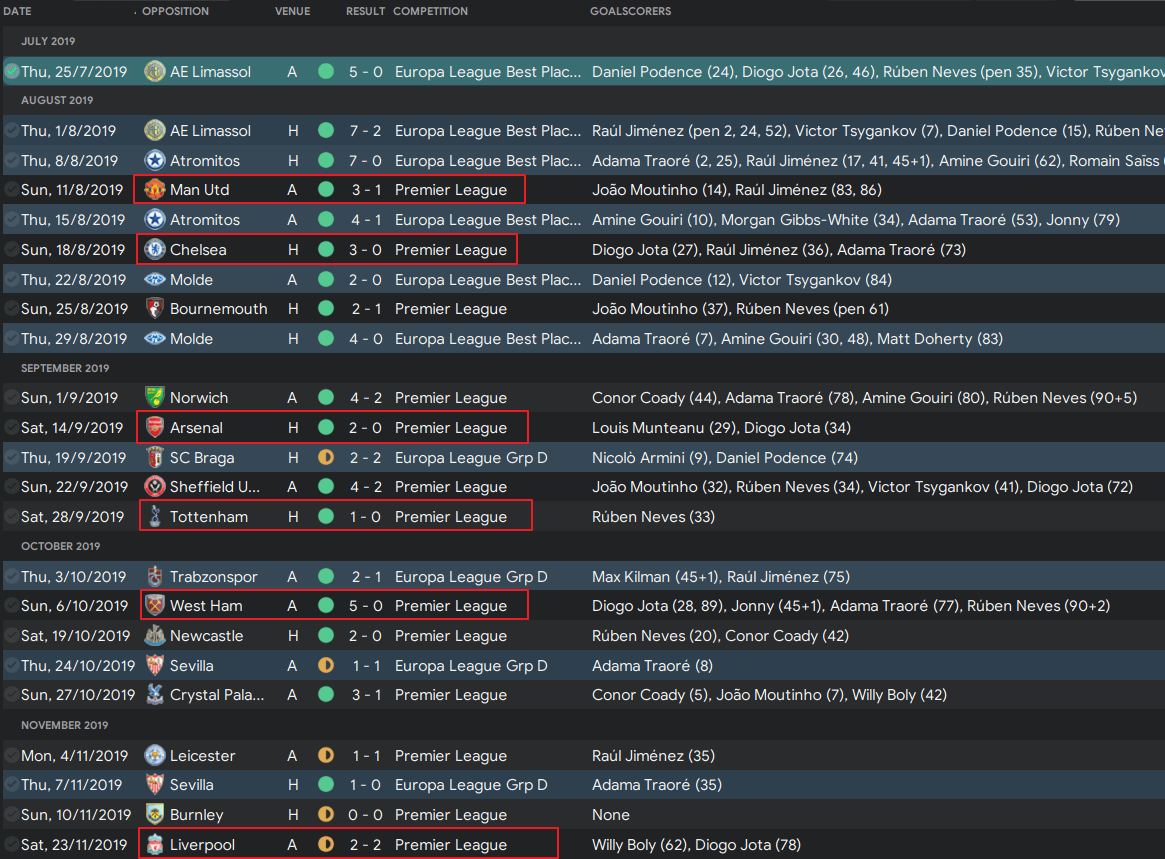 The screenshots below show our match stats against big teams which I found more impressive than the results themselves.
3 Amigo's Big Game System – Wolves Results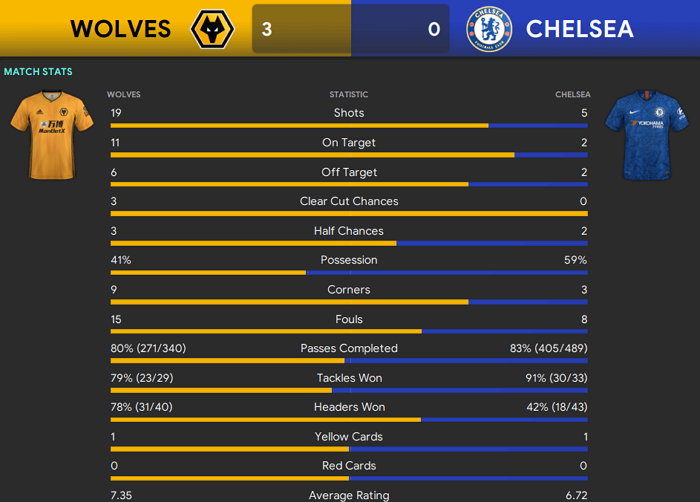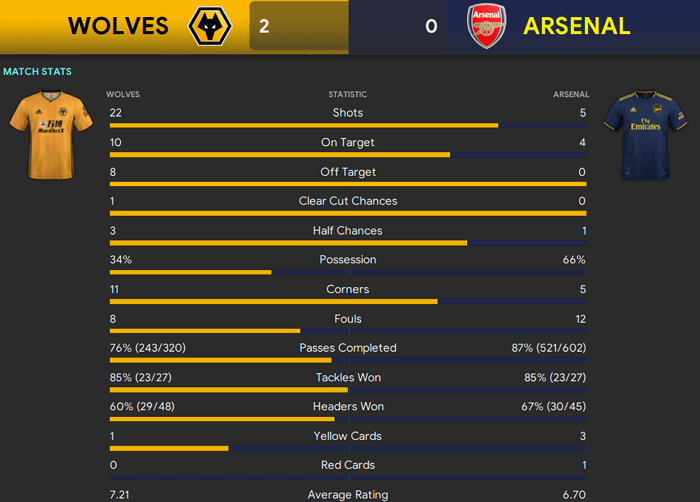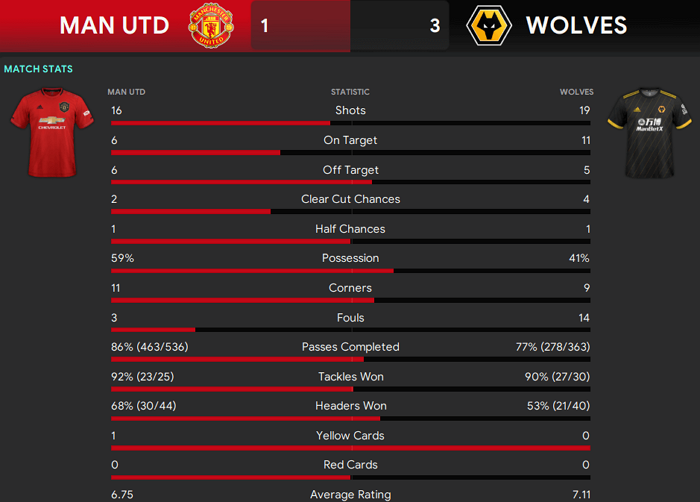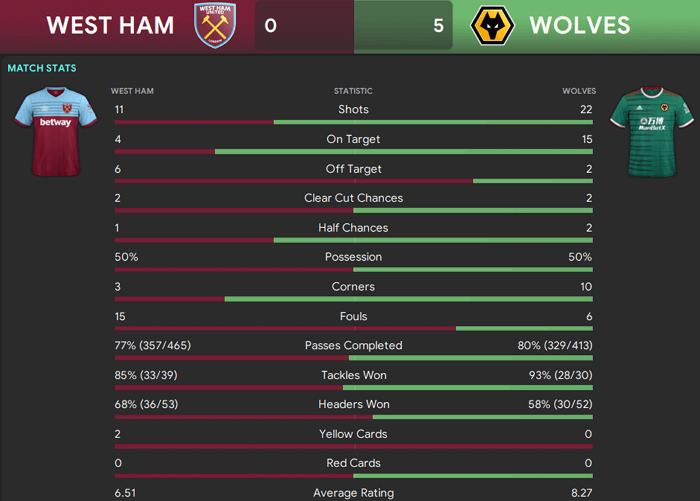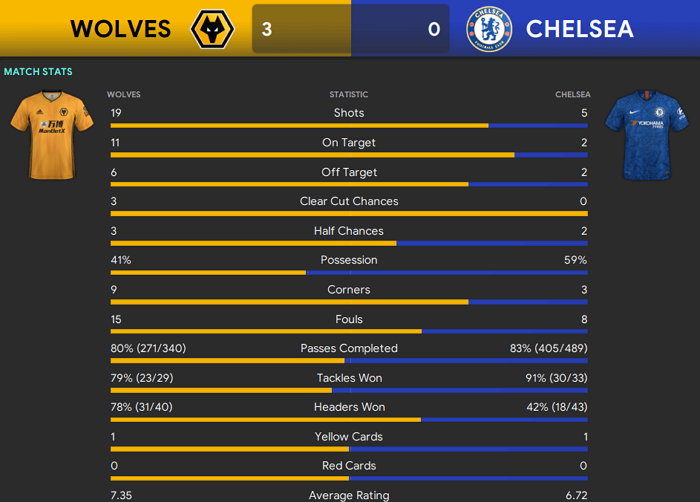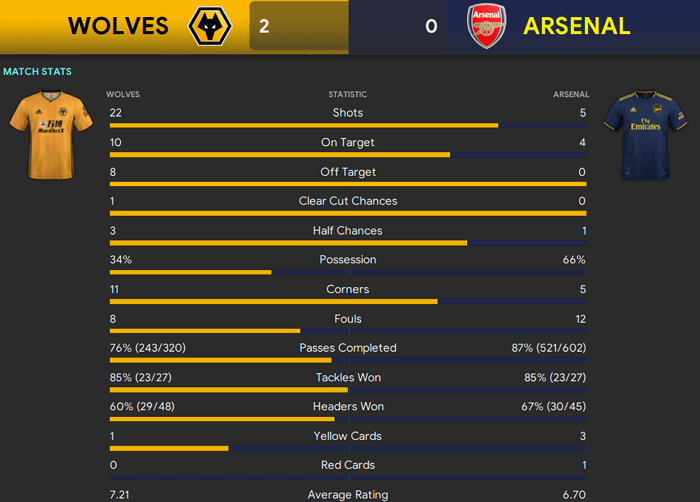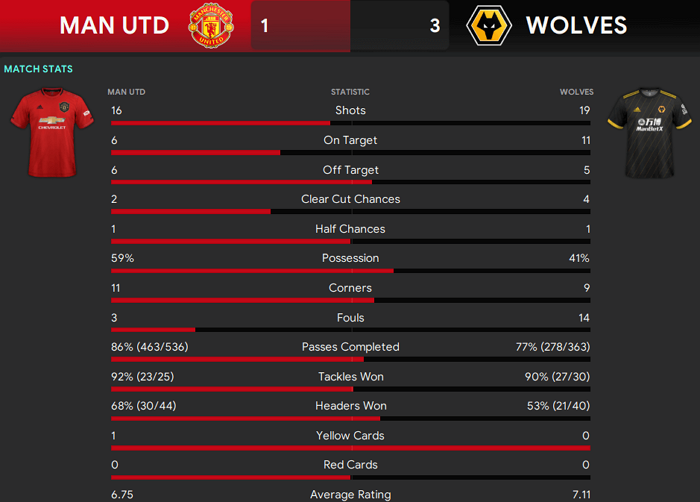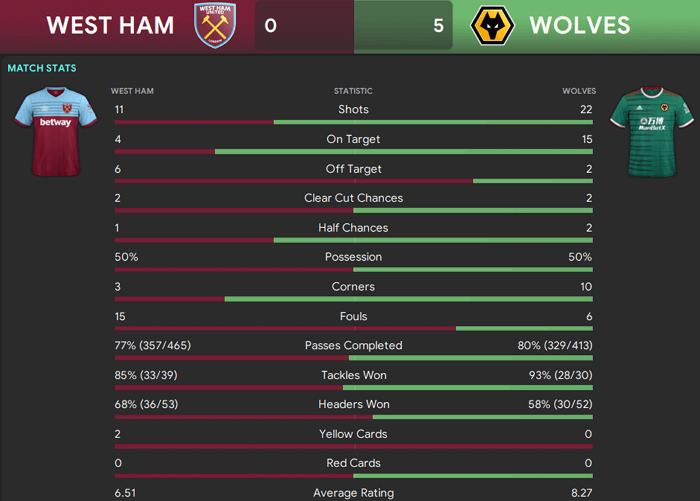 Screenshots below are from my maiden Premier League season with Scarborough. Those stats against Arsenal are insane.
The 3 Amigo's Big Game System – Scarborough Results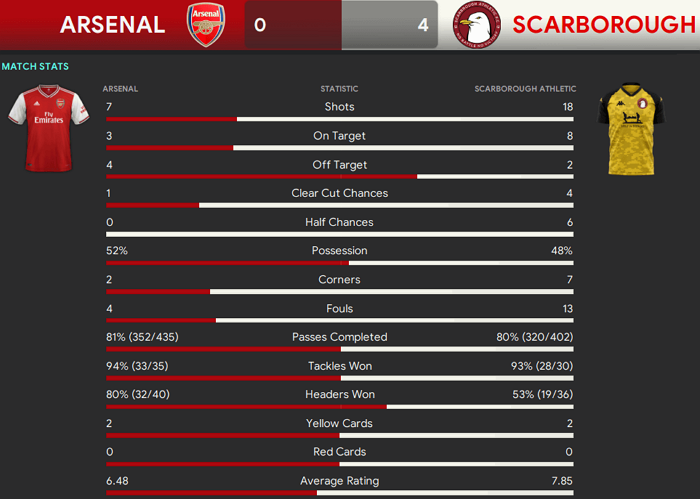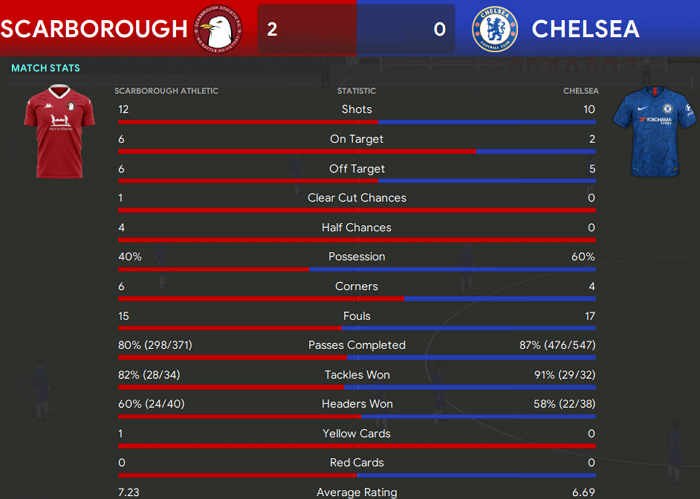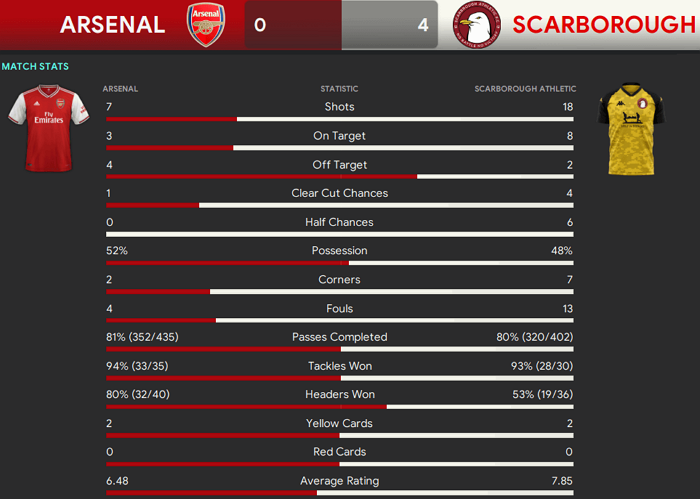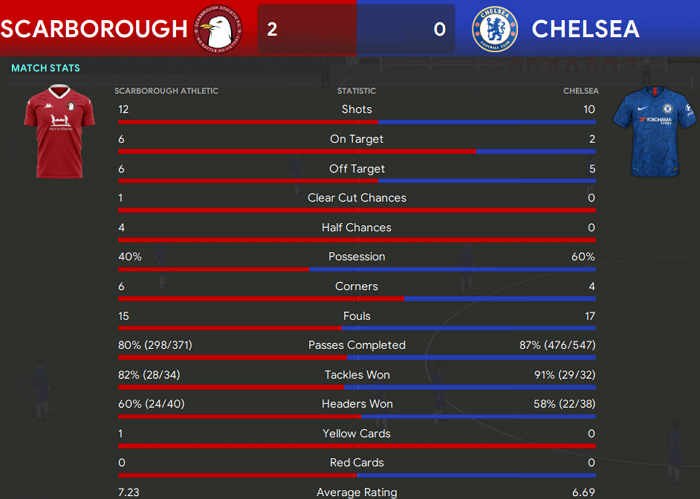 ---
Try our guides below to find, identify and develop the very best Wonderkids:
---
Best FM20 Tactics: Top Tips
Take notice of the 'when to tweak' instructions already mentioned.
Be wary of slow defenders.
As with any tactic it needs loading at the start of pre-season and avoid signing a whole new team unless you are experienced doing so.
Read this guide for training schedules which will help create chances…you do not HAVE to use this and it is not ideal for general development but should be used if the goals dry up.
You must get fast forwards who can finish, attacking wing backs and fast, technical inside forwards.
The quality of your front three will largely dictate success.
Both MC's shoot from range, look to buy players with good technique and long shots if available.
Be aware you need a decent size squad. Two players per position to allow for injuries and bans if you are in Europe.
You should download this tactic for full effect, do not try and copy it. There are individual player instructions and set pieces are vital.
Best FM 2020 Tactics: Download
If you would like to give the tactic a try, follow the instructions below:

1. Click the download links above and download the files.
2. For Windows put the downloaded file in this folder: Documents/Sports Interactive/Football Manager 2020/tactics. If the "tactics" folder doesn't exist you will have to create it. Windows users skip to step 2, Mac users read below.
Mac users put file in this folder: Users/YOUR Mac USERNAME/Documents/Sports Interactive/Football Manager 2020/tactics. To access your files on Mac open 'Finder', click 'Go' from the menubar, press and hold the 'alt' key to show 'library' in your menu, while still holding 'alt' click it, then go to 'Application Support' > 'Sports Interactive' > 'Football Manager 2020'
3. Now load the game as normal and enter the tactics screen.
4. In the tactics screen, click the tactic you currently have loaded then select 'load' from the drop-down menu
5. Select the tactic and click load.
Thanks for reading, any social shares would be much appreciated. Follow us on social media for future posts in the series.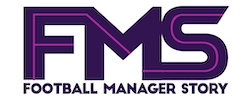 Subscribe to our Newsletter