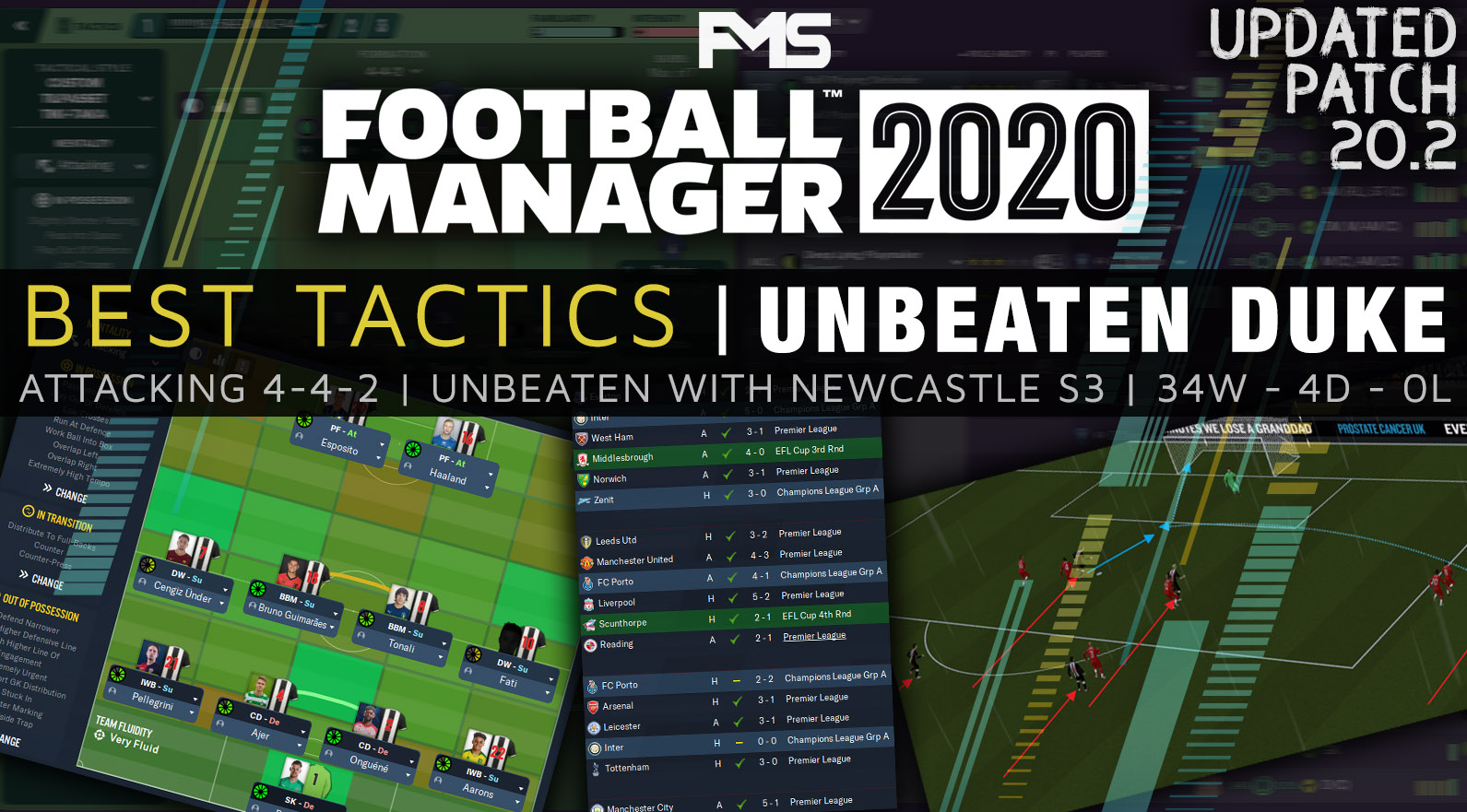 Welcome to our best Football Manager 2020 Tactic for patch 20.2 and probably the most entertaining system I have tested since BETA release. Originally posted on FM Nation, Duke Ryan is a flat 4-4-2 featuring high tempo, attacking Football. Built on a high press and high defensive line Duke creates beautiful Football and is my go to tactic at every level.
---
Since posting this tactic we have found a far superior system winning the top flight quadruple with York City! Created for patch 20.4. Try Knap's BEOWULF 4-4-2 by clicking here.
---
Now in season three, I am unbeaten across all competitions with Newcastle (tested over 38 games.) This includes beating Manchester United 4-3 away, Chelsea 4-1 at home, Liverpool 5-2 at home, Inter Milan 5-0 away and even Man City 5-1 at the Etihad! I would recommend this tactic for top, sub top and mid-table teams. Your players don't have to be worldbeaters, but should suit the system (covered later under player roles.) I even found great success in the lower leagues with York City.
Duke Ryan's 4-4-2 is the best FM 2020 tactic I have tested for one reason, consistency; Every other system has faltered after 3-4 months, Duke Ryan appears to get stronger with time.
Best Football Manager 2020 Tactic patch 20.2 — Formation
I have tested three 4-4-2's and Duke Ryan stands head and shoulders above the rest. Each role plays an intricate part and pieced together works beautifully. The inverted wing backs — when in possession — sit narrow and high acting as some sort of central midfielder come wide midfielder hybrid.
This allows the defensive wingers to act out of sorts with their role pushing forward and stretching the pitch both horizontally and vertically.
We will analyze this later but lets cover the basics.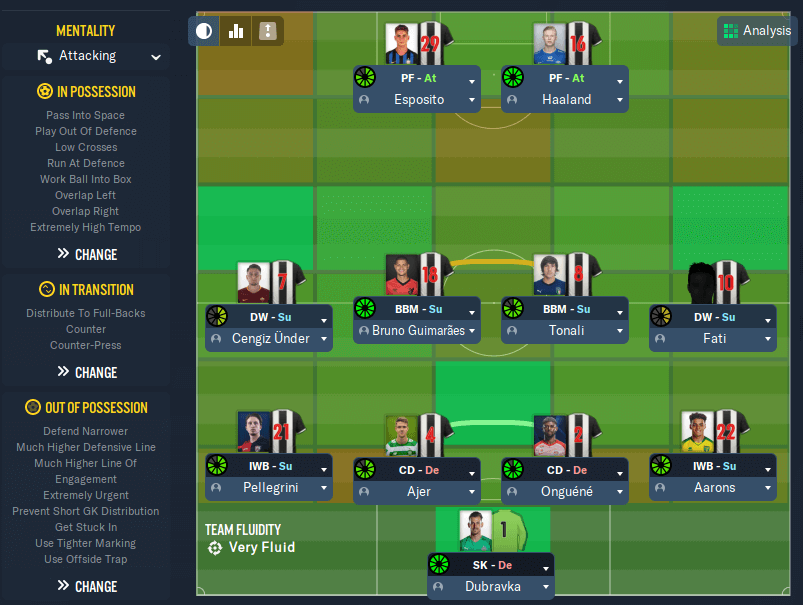 Best FM 2020 Tactic patch 20.2 — Instructions
The key instructions here are 'extremely high' tempo and 'run at defence' which translate into a deadly counter. Combined with 'play out of defence', 'work ball in box' and various 'shoot less often' player instructions we get a perfect balance between attacking intent and ball retention.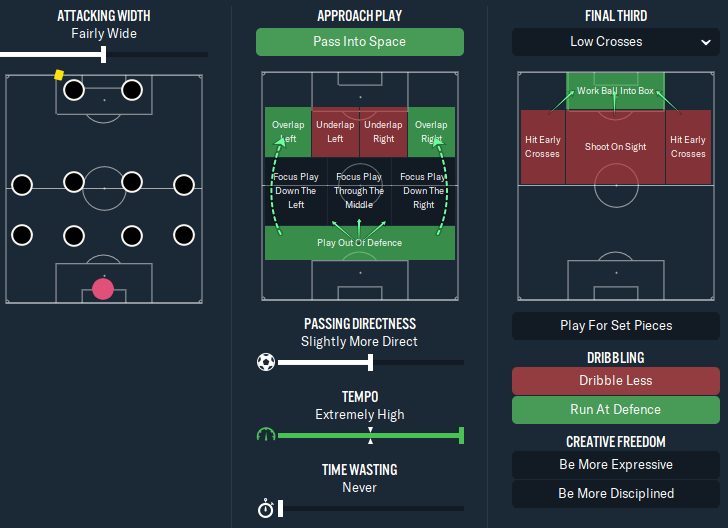 The counter and counter-press work well but nothing out of the norm here.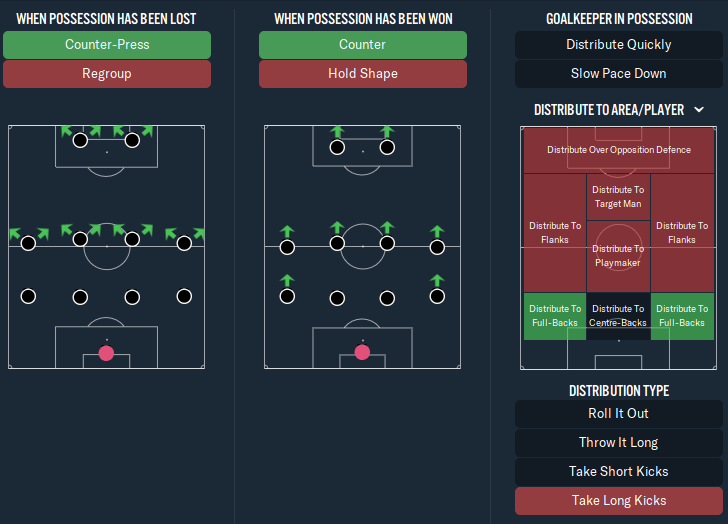 That very high line of engagement can be seen in the match engine but these instructions are standard. The player instructions and roles are where the magic happens.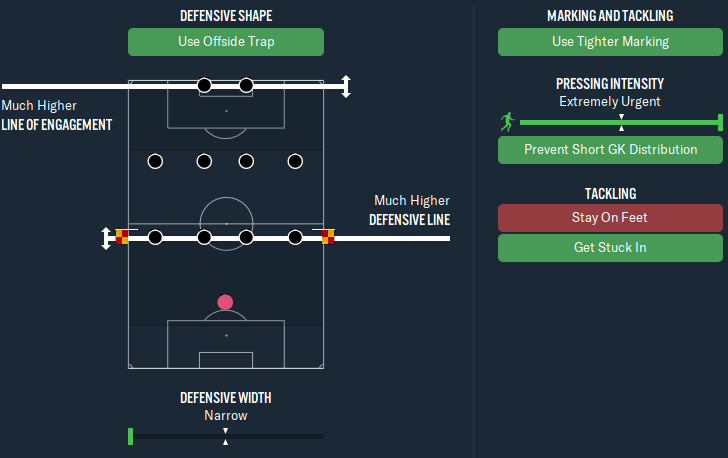 Best Football Manager 2020 Tactic patch 20.2 — Player Roles
I have listed each player role below, followed by a description of the ideal player and the player instructions for those using Stadia. This tactic does use custom set pieces which I will not upload. You really do need to download this tactic for it to work to its best.
GK — sweeper keeper (defend) — Due to the amount of one on ones in this years game I'd look at attributes in this area for any keeper.
Additional player instructions: pass it shorter, take fewer risks, tackle harder
DC's — central defender (defend) — I look for a towering presence, decent technical ability (not a must) and speed, the latter is important to counter those annoying passes in behind. Ajer and Onguene are ideal.
Additional player instructions: pass it shorter, take fewer risks, tackle harder
DR/DL — inverted wing backs (support) — Fast, forward thinking wing backs will do very well in this system. Remember DR and DL sit narrow supporting the midfield and will look for that pass in behind. Look for speed and technical ability including dribbling, crossing and passing. I found Luca Pellegrini and Zeki Celik ideal.
Additional player instructions: pass it shorter, shoot less often, close down more, tackle harder
MCR — box to box midfielder (support) — The engine room both MC's will trace play effecting your defence and offence. Find all rounders with good physical attributes but more technical if you can. Passing is very important and the box to box midfielder can score from range so long shots would help.
Additional player instructions: pass it shorter, take more risks, dribble more, shoot less often, get further forward, close down more, tackle harder, mark tighter
MCL — box to box midfielder (support) — Same as above, only difference comes in the instruction to stay wider, this pulls away the opposition leaving more space for your left side striker to exploit. I quite enjoyed Bruno Guimaraes and Andre Anderson.
Additional player instructions: pass it shorter, take more risks, dribble more, shoot less often, get further forward, stay wider, close down more, tackle harder, mark tighter
MR/ML — defensive winger (support) — I chose to use a left footed winger from the left and right footed from the right because both players cross from the byline. These guys terrorise out wide and can cut in on occasion so finishing is helpful. Technical players with great speed will do well. I enjoyed Cengiz Under, Jarrod Bowen and Almiron looked lively.
Additional player instructions: pass it shorter, cross from byline, shoot less often, sit narrower
STCR — pressing forward (attack) — The main goal threat good finishers are a must but speed is even more important. I found Esposito and Gouiri very good. Long balls can happen so aerial ability is a bonus. Hard work, aggression and general pressing attributes will boost performance as both players close down often.
Additional player instructions: pass it shorter, take fewer risks, shoot less often, roam from position
STCL — pressing forward (attack) — Same as above just note this guy is the main threat, the whole system revolves around making space for your STCL. I reckon Pellegri would work very well once that pace and acceleration recieves some work.
Additional player instructions: take fewer risks
FM20 Duke Ryan's 4-4-2 Tactic Analysis
I think its important to understand how a tactic works before clicking download. Learning its strengths and weakness' will help you in the transfer market and on match day.
Shape & stretching the pitch
Duke Ryan's 4-4-2 functions in a subtly unique way; It utilises wing backs as narrow wingers and defensive wingers as wide attacking midfielders. Not only does this solve the issue of our midfield being outnumbered centrally, it allows the defensive wingers some attacking freedom.
See below; MR and ML push up creating space for both strikers while DR and DL fill the gap. When out of possession my DC's found great support from the B2B midfielders and often knocked on aerial duels to start a counter attack.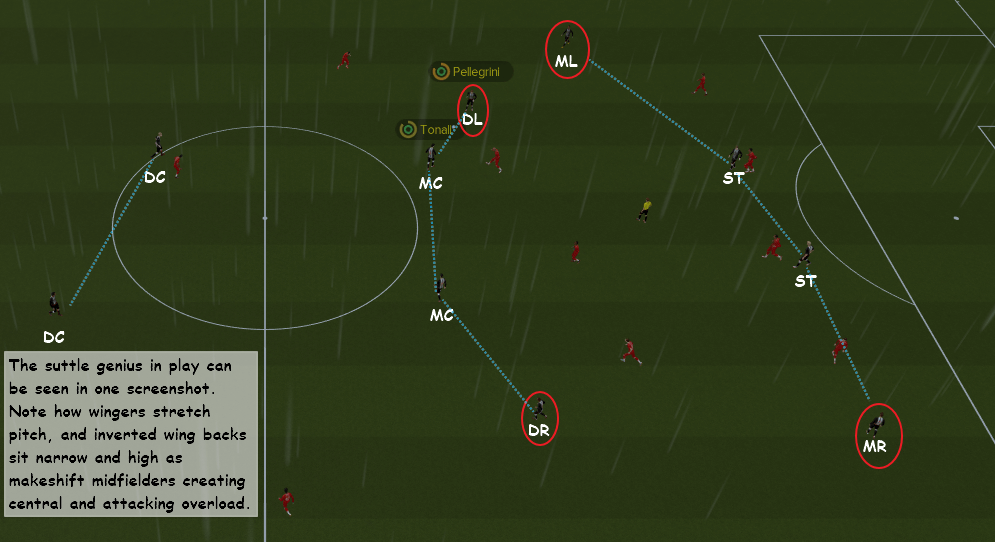 Wing play
Both defensive wingers are asked to sit narrow but run with the ball often and cross from the byline. Below is a prime example as my pressing forwards are on the shoulder and box to box midfielders lurking for a rebound. This is why fast and aerially dominant strikers work well. Missing from the image is my DR (just out of shot) who can offer a cut back.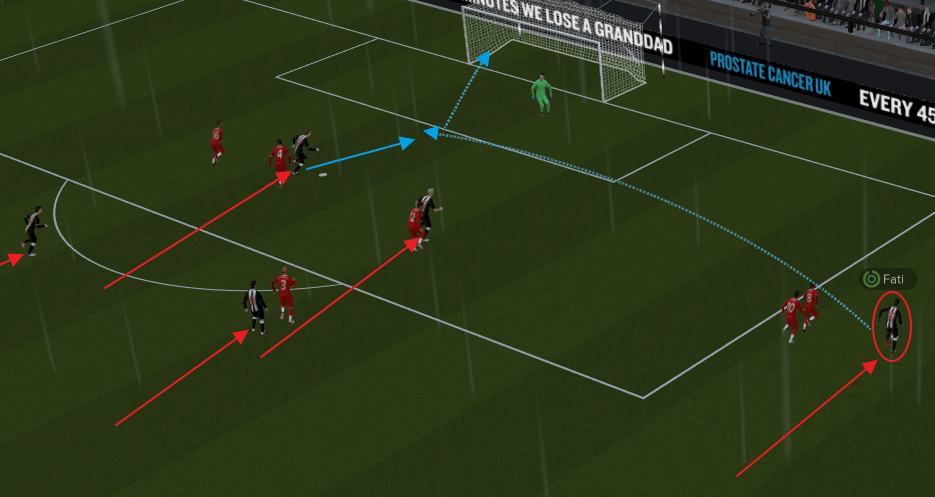 High press
The high press is important and every effective as shown below. Man City are playing out from the back but come under pressure from my strikers and box to box midfielders. Both wingers (out of picture) cover the wide passing options. We eventually squeezed City into a mistake and scored.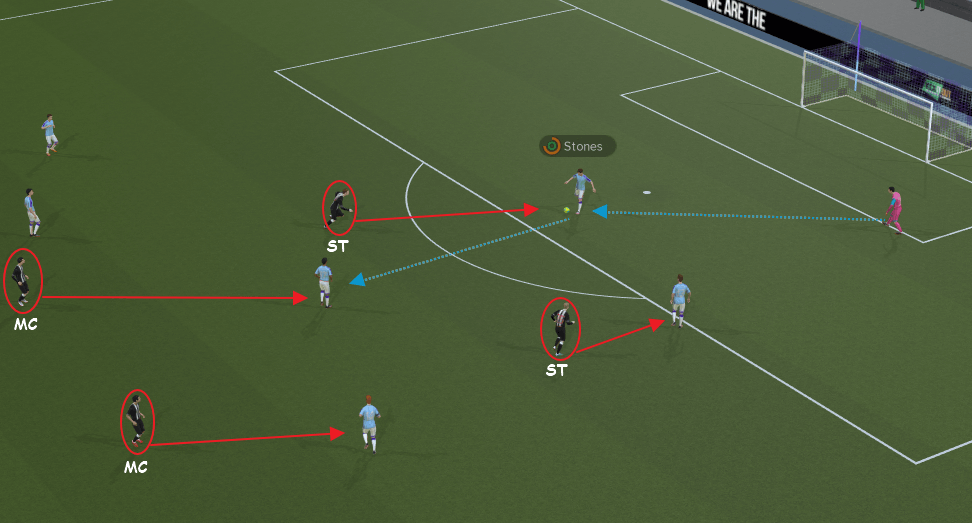 When to tweak
In my Football Manager Guide we discuss using two tactics in rotation. In my opinion, Duke Ryan's 4-4-2 is the best Football Manager 2020 tactic because it can be used alone. There are however times to tweak the system listed below.
I never use opposition instructions with this system. Exception to the rule is away from home gainst tough opposition. In this case set OI to automatic and assign to your AM.
If struggling with the ball in behind against superior opposition, switch to RDF's 4-4-2 (download here.) A deeper defensive line and altered roles should help.
If needing a goal, try get creative shout and adjust to very attacking for final 15 minutes.
If holding a slender lead and worried about conceding, try cautious mentality with 'slightly shorter' passing and 'slightly higher' tempo.
Both ST's attack set pieces, switch this to your DC's if lacking an aerial presence up front.
Best Football Manager 2020 Tactic Results
Simply amazing results, I am in season three and have a good, settled squad but not this good. Beating the likes of United, Inter, Wolves and Man City away is remarkable and the draws came with heavy rotation.
I actually managed some great results like the 3-0 thrashing of Spurs with a heavily handicapped XI.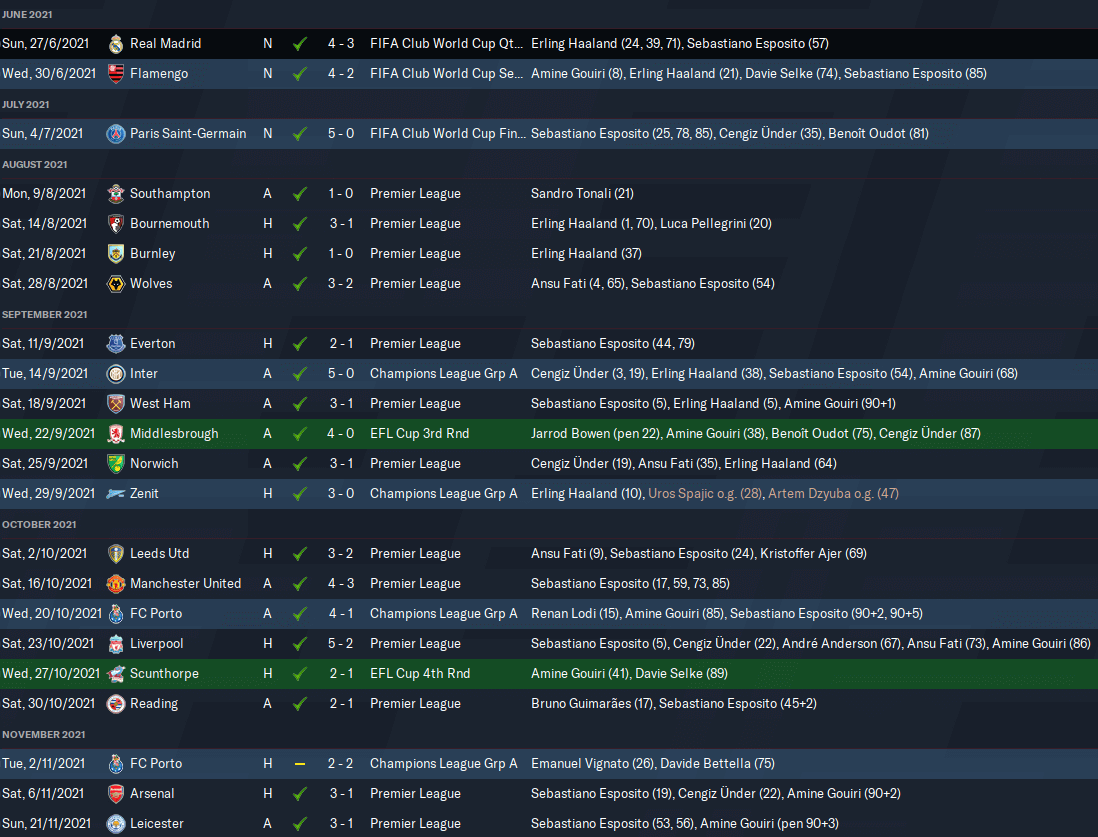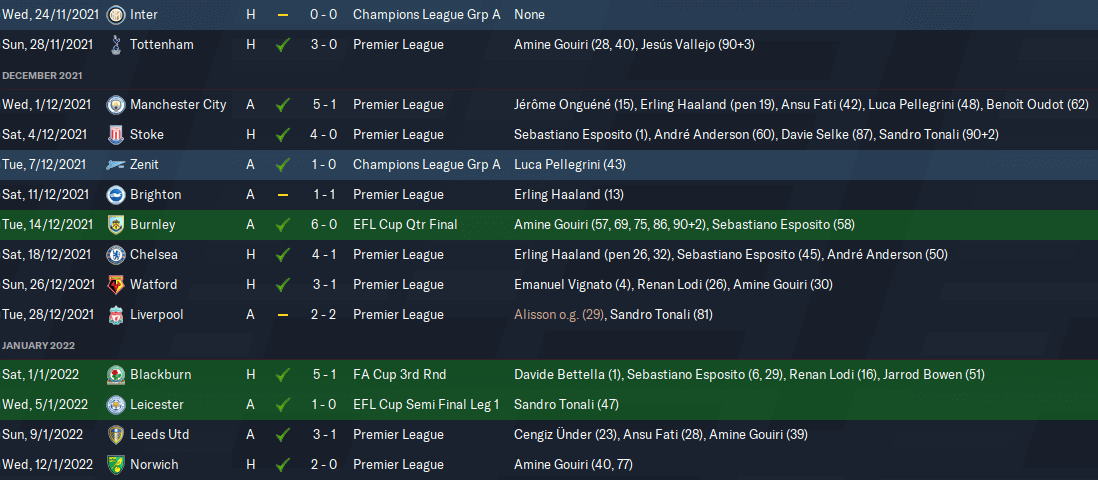 Top of the league by 16 points after 22 games having drawn twice, say no more.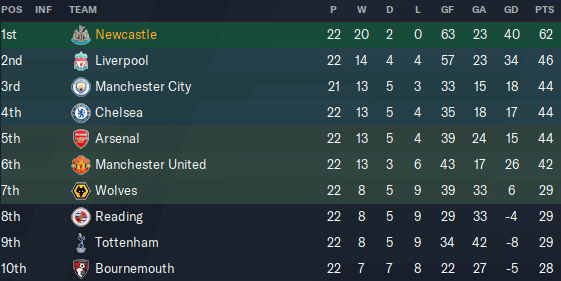 Here is my squad, note the strikers are vital but wingers could sway a tight affair. Esposito has been the standout performer by far.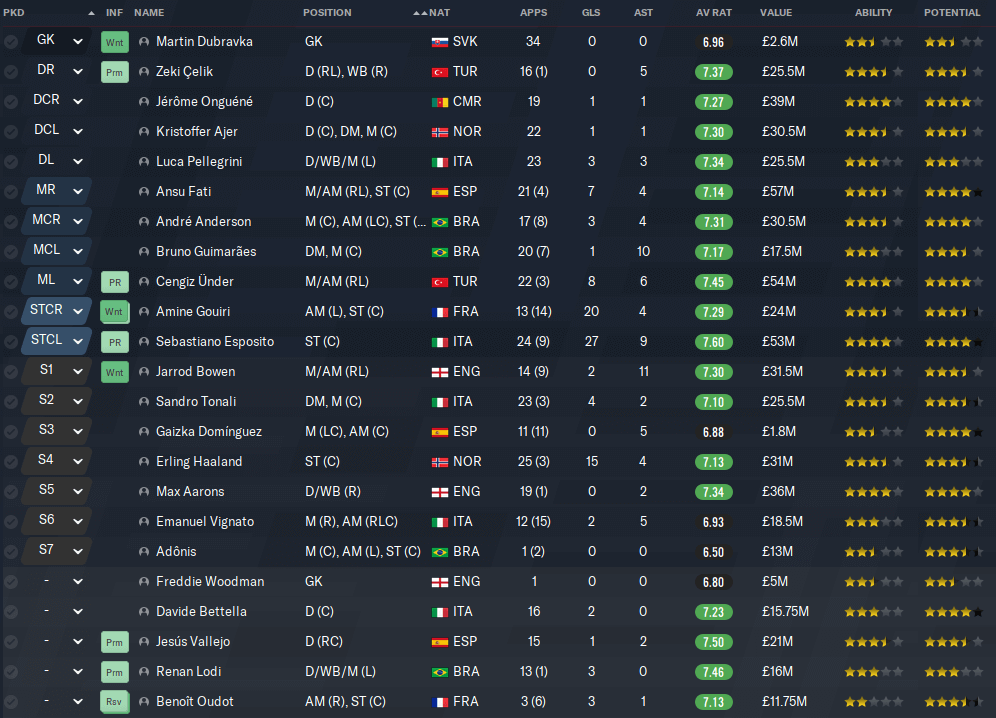 For those wondering about the lower leagues, I have gained two consecutive promotions with York City using a different tactic, then struggled in League Two. After switching to Duke Ryan's 4-4-2  we went from four points off the pace to promoted with 8 games to go. You need clinical, fast forwards but it works a treat.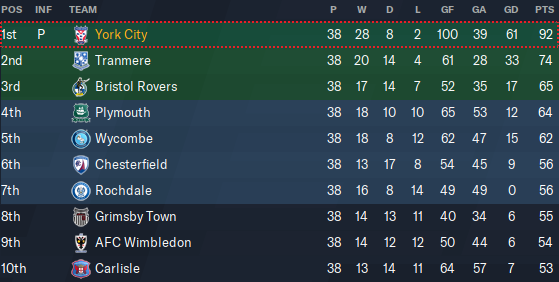 Below are the goals from York's 4-1 thrashing of Championship side Stoke, away in the FA Cup. Note the variety and quality of goals, not bad for a League Two outfit (best watched in 1080HD.)
---
Find the best FM 2020 players:
---
Best Football Manager 2020 Tactic: Top Tips
Take notice of the 'when to tweak' instructions already mentioned.
This has been tested for patch 20.2.3. We cannot predict whether this will work on later patches.
MR should be strong on his right foot, ML strong on his left.
Be wary of slow defenders, balls in behind are an issue in patch 20.2.
As with any tactic it needs loading at the start of pre-season and avoid signing a whole new team unless you are experienced doing so.
I asked my Assistant to take care of training but not opposition instructions, I leave them off all together. I took charge of individual training to set each player up in their specific role. This is vital, your MR and ML will probably need training up in this role.
You must get fast forwards who can finish, attacking wing backs and fast, technical wingers.
Be aware you need a decent size squad. Two players per position to allow for injuries and bans if you are in Europe.
You MUST download this tactic, do not try and copy it. There are many individual player instructions and set pieces are vital.
There is also a thread open on FM-base for Duke Ryan, it might be worth a read here.
Best FM 2020 Tactic: Download
If you would like to give the tactic a try, follow the instructions below:


1. Click the download link above and download the file.
2. For Windows put the downloaded file in this folder: Documents/Sports Interactive/Football Manager 2020/tactics. If the «tactics» folder doesn't exist you will have to create it. Windows users skip to step 2, Mac users read below.
Mac users put file in this folder: Users/YOUR Mac USERNAME/Documents/Sports Interactive/Football Manager 2020/tactics. To access your files on Mac open 'Finder', click 'Go' from the menubar, press and hold the 'alt' key to show 'library' in your menu, while still holding 'alt' click it, then go to 'Application Support' > 'Sports Interactive' > 'Football Manager 2020'
3. Now load the game as normal and enter the tactics screen.
4. In the tactics screen, click the tactic you currently have loaded then select 'load' from the drop-down menu
5. Select Duke 442 v2 and click load.
Thanks for reading, any social shares would be much appreciated. Follow us on social media for future posts in the series. If you would like to see this tactic live in action, we stream FM every Friday and Sunday night from 7pm, give us a follow on Twitch by clicking here.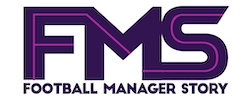 Subscribe to our Newsletter