This is potentially one of the best tests I have done for the new 21.3 update in terms of raw attacking power showing amazing end positions for the underdogs but even better is the high number of goals scored and created with top teams using it…..PSG's team stats will blow your mind.
Best FM 2021 Tactics: The Bobot | Video Review
About TookaJobs Tactic Testing
Hi everyone, I'm TookaJobs and if you already know the sort of content I do then that's fantastic and thank you for watching, if not then don't worry because here's the lowdown.
Basically I pick, choose or get recommended to do content on tactics that have made there way to the internet for everyone to enjoy and with it I supply all the necessary instructions to successfully replicate the tactic if you are unable to download with visual aid in my videos so you can manually import them yourself, but if you can download it then happy days…BIG TIME SAVER.
I always pick certain teams to be included in my tests in the form of top dog teams eg. (PSG, MAN UTD, DORTMUND) along with underdog teams eg. (FULHAM, STUTTGART, RC LENS) and many more variations in other leagues as well to show how the tactic does on a variety of different level teams in different divisions.
In order to do the testing for the large variety of teams taking part I put the pressure all on the assistant manager and only lock in the tactic then SIM SIM SIM all the way to the end of the season and then go through all kinds of stats, results, data and league positions that will hopefully show you the capabilities of the tactic and in turn will lead you to have a fantastic save in your game.
STILL WONDERING? THEN WATCH THE VIDEO ABOVE AND YOU WILL GET A BETTER IDEA OF WHAT I DO.
BUT BEWARE – As with all testing this is only a possibility of the results you can expect as everyone plays different and RNG (Random number generator) must be taken into consideration.
Best FM 2021 Tactics Shape & Instructions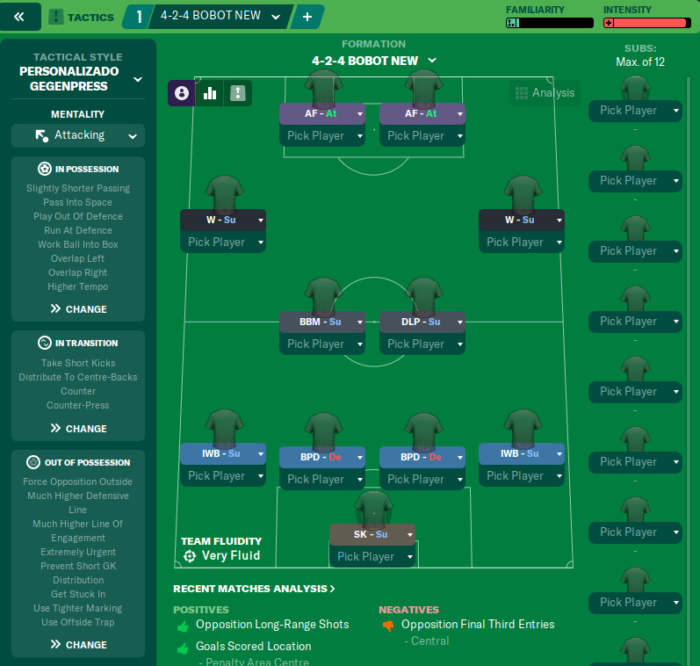 As you can see from the shape and instructions of the tactic it is a vary attacking gegenpress tactic that would suit big teams down to the ground as it allows for very high lines of play, both offensive and defensive with fast, short passing  football.
As you can see with the pass into space instruction this is where by being a small team or the underdog then it can be debatable whether your players can use this to its advantage and not give away possession because your players are not good enough to read and run onto those kinds off passes, so this is one you may want to take off if you feel it isn't working.
But in the case of tactic testing I left it on with all the teams and it worked out pretty well but once again remember this may be a different story when playing as anything can alter the results from training, player fitness/injuries and even press conferences.
The set piece instructions can be found in the video
FM 2021 Tactics Test Results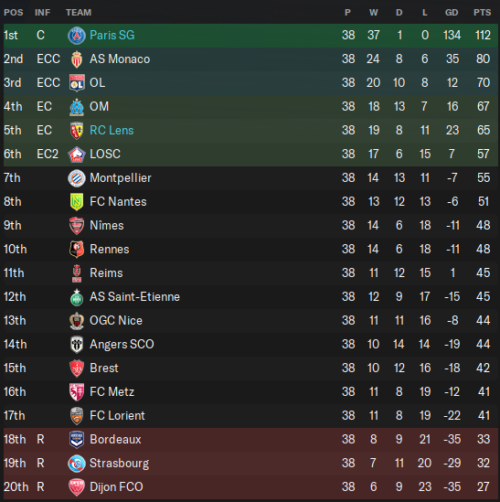 Fantastic from all 4 teams in the test showing the top teams doing very well by coming second and first(PSG always come first but we like to see the full capabilities of a tactic) and the underdogs smashing the expectations lay upon them at the start of the season with RC Lens even qualifying for European Football next season.
There's more results in the video showing a few teams from the lower divisions in England as well so check it out.
Test Stats
TOP TEAM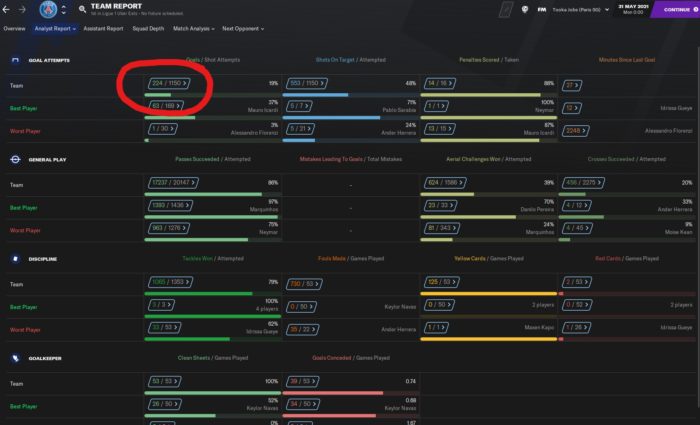 UNDERDOG TEAM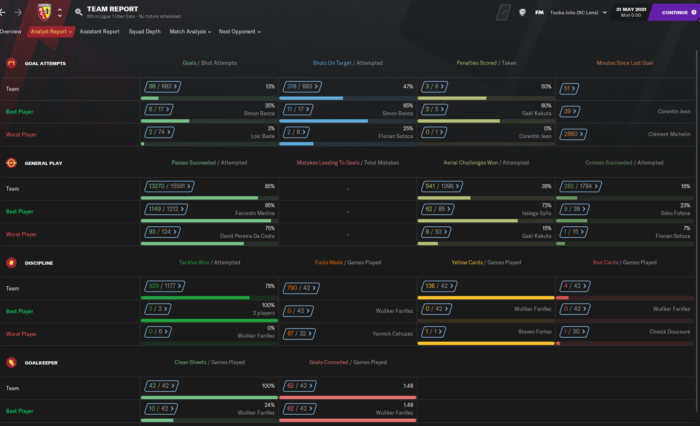 As you can see with the full stats of the teams in Ligue 1 that its showing very accurate numbers in terms of the big team doing alot better that the underdog team and so it should, the teams are vastly different in terms of quality and if RC Lens were anywhere close to PSG then something is wrong .
What it is showing though is RC Lens held there own and did an admirable job in scoring more than they let in and in the league they did well in terms of averages and PSG well……224 Goals were scored and less than 40 goals conceded in all competitions…ill leave it at that and if you want more numbers in terms of results, stats and player stats then all of that gets shown in the video.
Pro's, Con's and Final Thoughts
So all in all it is a great tactic and I'm getting some great messages on how people are doing with it and that it has dramatically improved there teams performance.
    PROS
Potentially a lot of goals can be scored with the front two and wingers, just look at PSG lol
Great for a variety of different teams as shown in the test so its versatile with minor tweaks needed.
4-2-4 is my favourite shape
    CONS
Sometimes it was showing a bit of inconsistency with score lines, you could win 5-0 against a big team then lose against a smaller team .
May need to purchase Fast defenders because of high line of defence.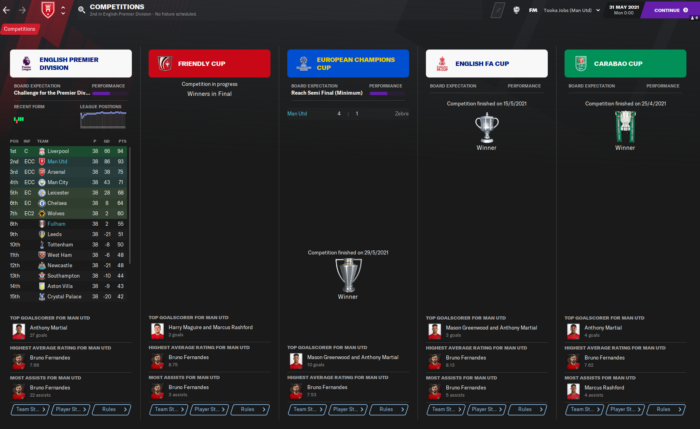 Even though they missed out on the league title by 1 point, Man Utd still managed to win everything else.
Best FM2021 Tactics: Download BOBOT
If you would like to give the tactic a try, follow the instructions below. Please download both systems and decide which suits your team:

1. Click the download link above and download the file.
2. For Windows put the downloaded file in this folder: Documents/Sports Interactive/Football Manager 2021/tactics. If the "shortlists" folder doesn't exist you will have to create it. Windows users skip to step 2, Mac users read below.
Mac users put file in this folder: Users/YOUR Mac USERNAME/Documents/Sports Interactive/Football Manager 2021/tactics. To access your files on Mac open 'Finder', click 'Go' from the menubar, press and hold the 'alt' key to show 'library' in your menu, while still holding 'alt' click it, then go to 'Application Support' > 'Sports Interactive' > 'Football Manager 2021'
3. Now load the game as normal and enter the tactics screen.
4. In the tactics screen, click the tactic you currently have loaded then select 'load' from the drop-down menu
5. Select the tactic and click load.
---
Every year we test countless tactics and review the very best. For FM21 these systems will be ranked and listed within our tactics index linked below.

---
Thanks a lot guys and I hope you have success with the tactic and a massive thanks to the creator of the tactic (BOBOT) as all I do is test it and share it though content.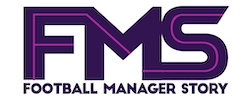 Subscribe to our Newsletter