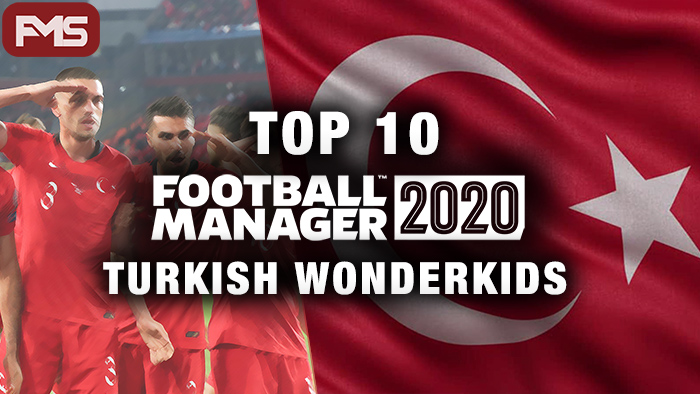 Today we're looking at the best FM 2020 Turkish wonderkids between 15-20 years old. Each prospect has Turkish nationality but ply their trade across the globe and every rating is current as of the Winter Update!
Under 21 years old
Turkish nationality
Ranked by potential not current ability.
The best FM 2020 Turkish wonderkids play for clubs in Turkey, Germany, Holland and Italy and our number one looks a tasty prospect with lightning speed and flair.
Best FM 2020 Turkish Wonderkids: Top 10-6
10 -Süleyman Luş | 18 y/o | Complete Wing Back | PA: -75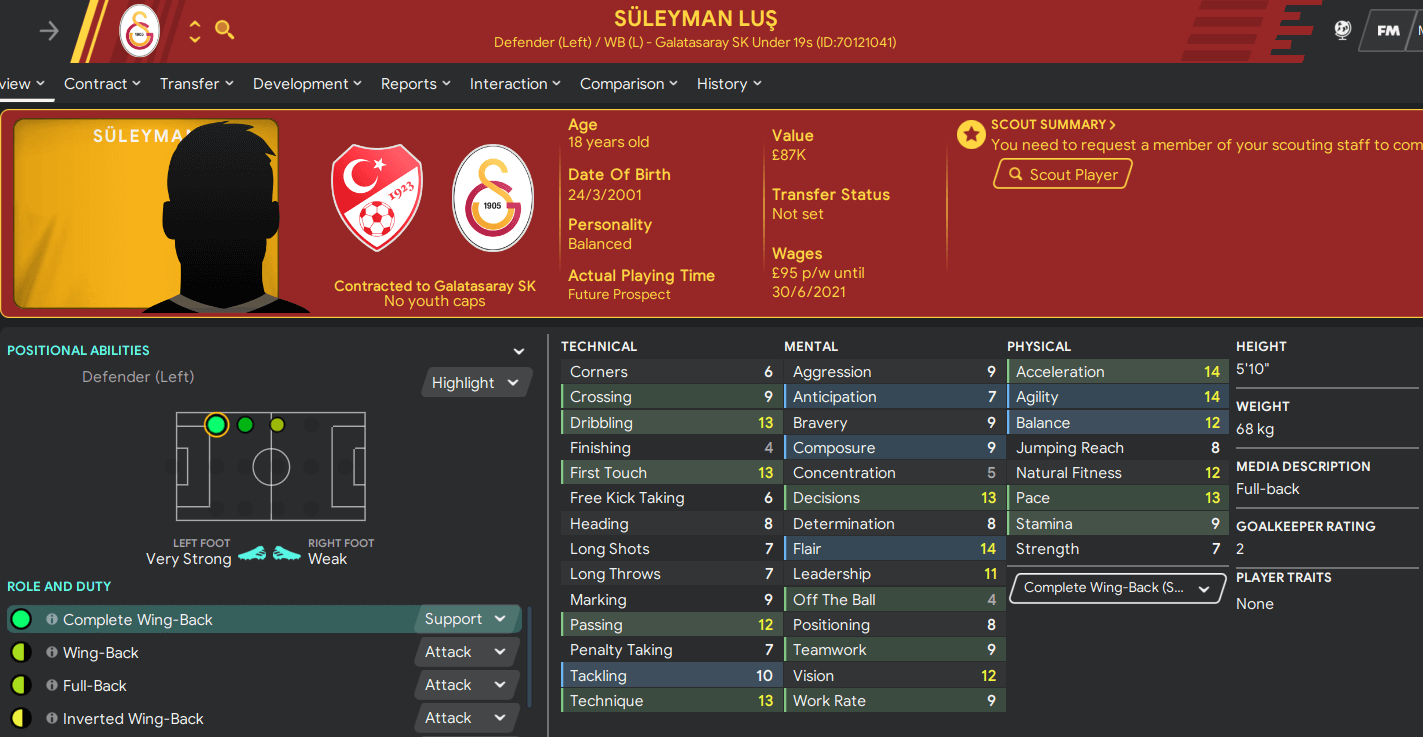 Not bad for bottom of the barrel talent but for £1 million what can we expect? If Lus could reach anywhere near that flexible potential he maybe a good wing back for most top flight clubs. However, thos mental attributes are concerning.
9 – Özcan Mehmet | 21 y/o |  Deep Lying Playmaker | PA: 135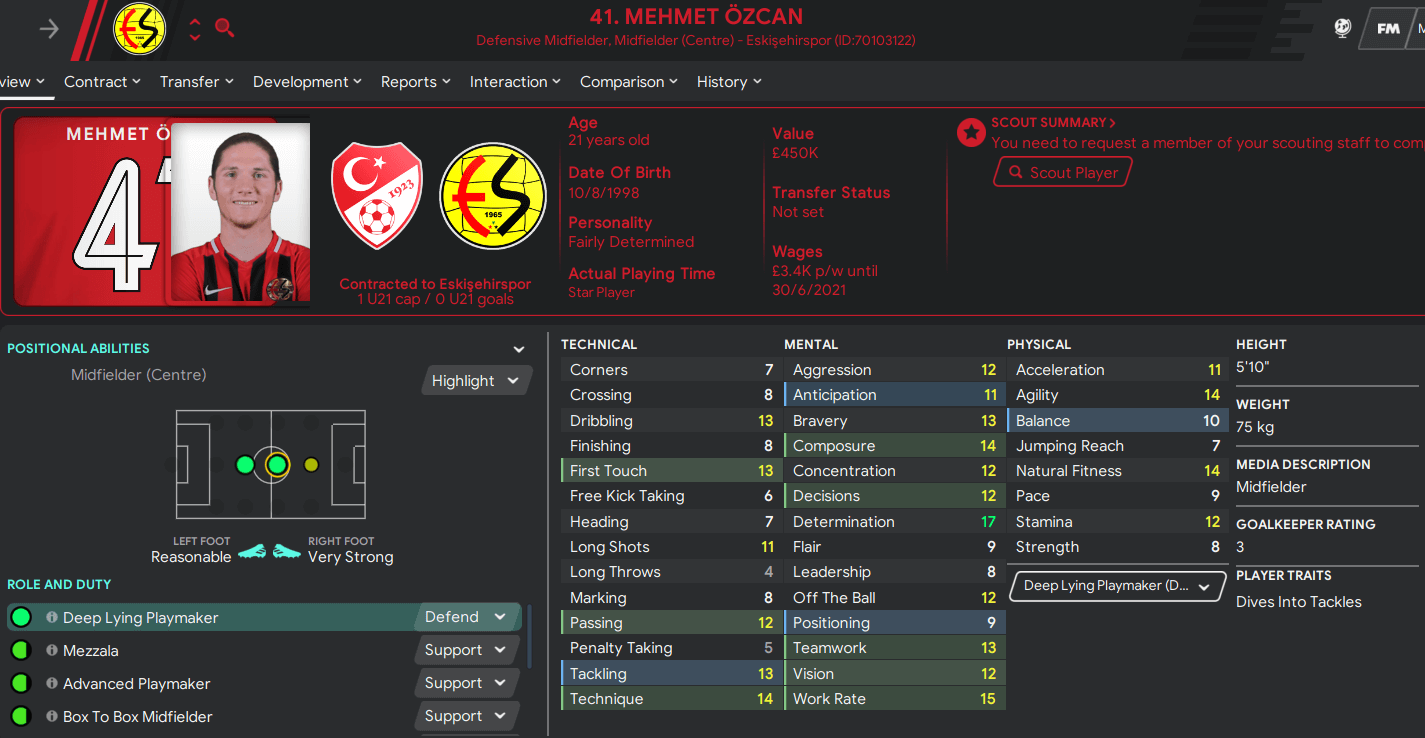 A cheap option for only £1.4 million Ozcan is determined and professional, a personality type which goes a long way to subsidizing his poor potential.
Good work rate, tackling, passing, agility and dribbling will all come in handy as Ozcan could develop into the mezzala role nicely.
8 – Müldür Mert | 20 y/o | Full Back | PA -8 (130/160)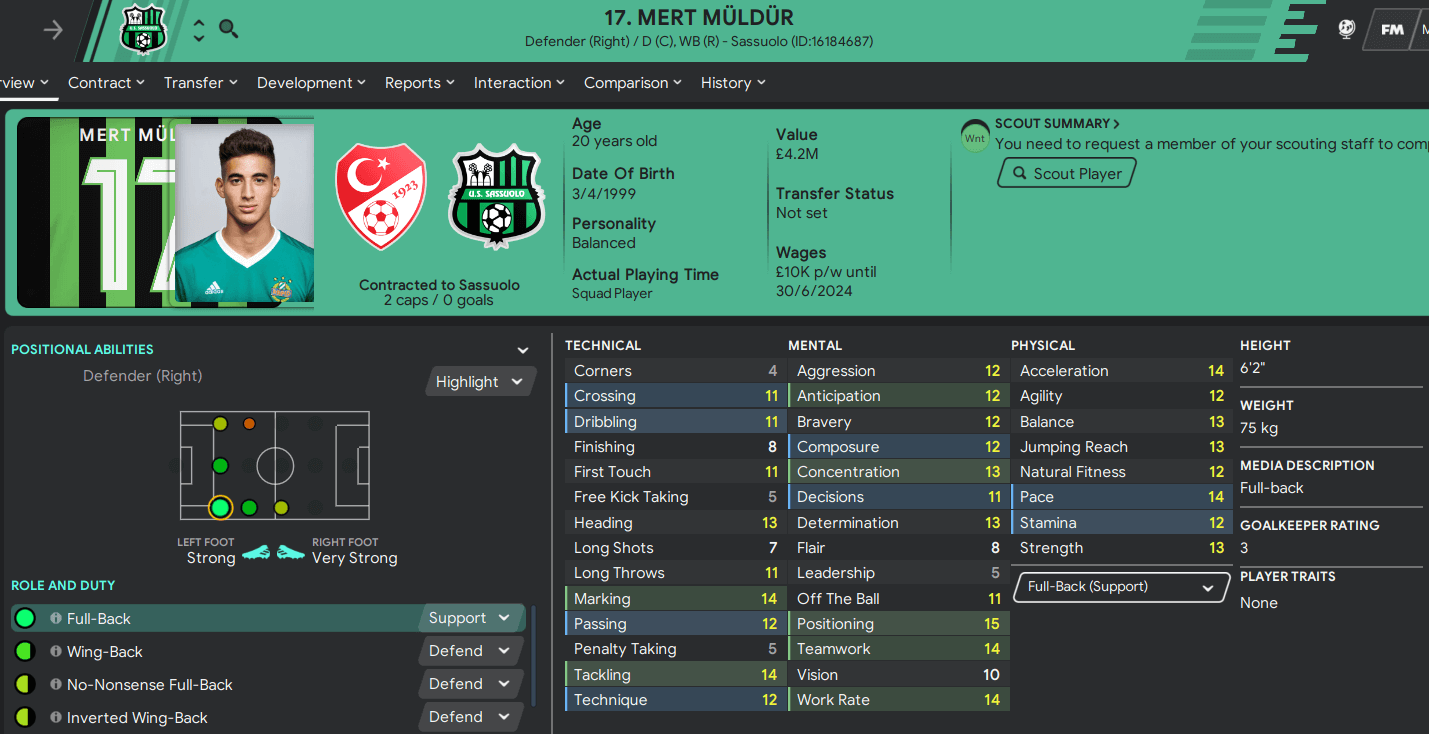 The only FM20 Turkish Wonderkid from our list to ply his trade in Italy, Muldur plays for Sassualo. A two footed full back with good overall attributes and balanced personality he was born in Vienna so has a European passport.
That crossing and dribbling need improvement but for £5.75 million he seems a decent backup.
7 – Ahmed Kutucu | 19 y/o |  Pressing Forward | PA: 142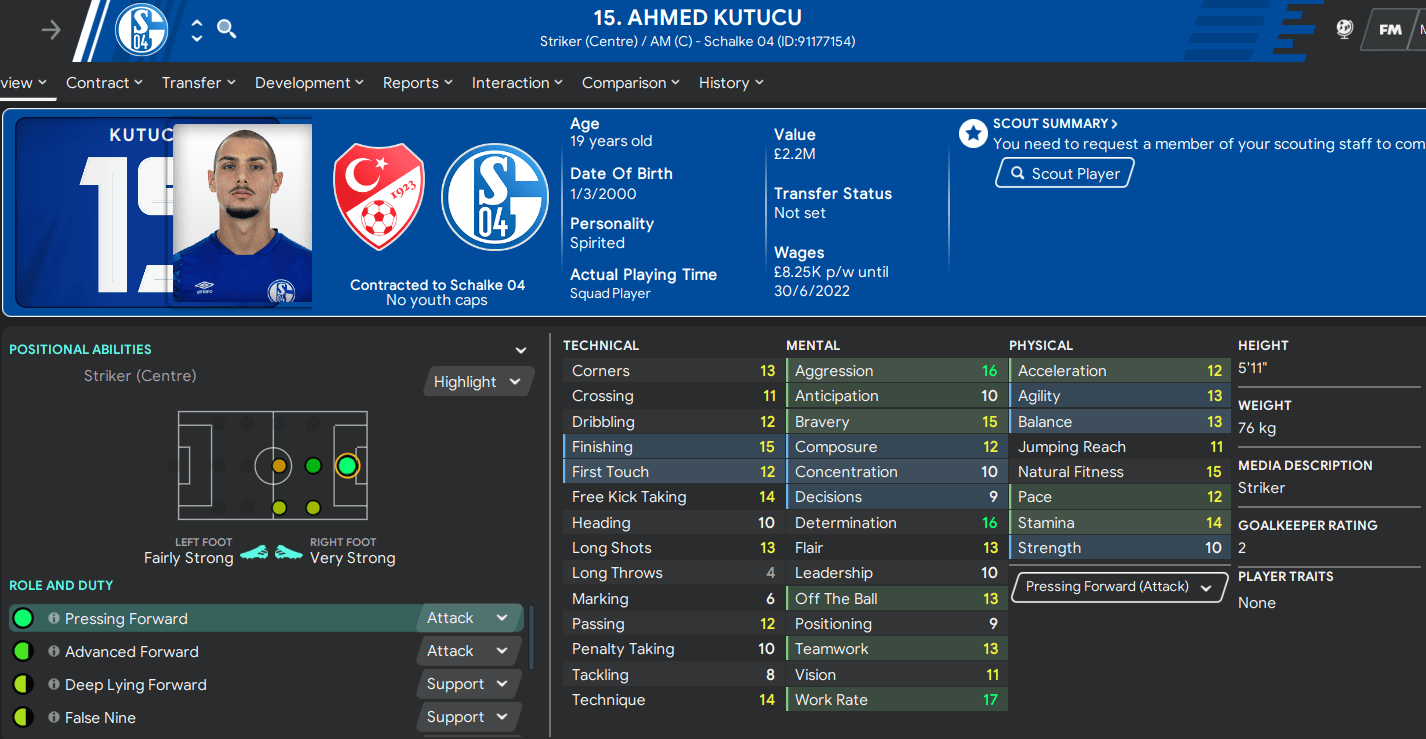 Maybe a little slow but Ahmed posses' great potential in the advanced forward role. Already a squad player for Schalke he holds a European passport and could be signed for £4 million, a real bargain.
Areas to improve are decisions, anticipation and concentration. I do like that determination, finishing, work rate, bravery and aggression. Kutucu could be a set piece specialist with good free kick taking and long shots.
6 – Ömer Faruk Beyaz | 15 y/o | Attacking Midfielder | PA: -8 (130-160)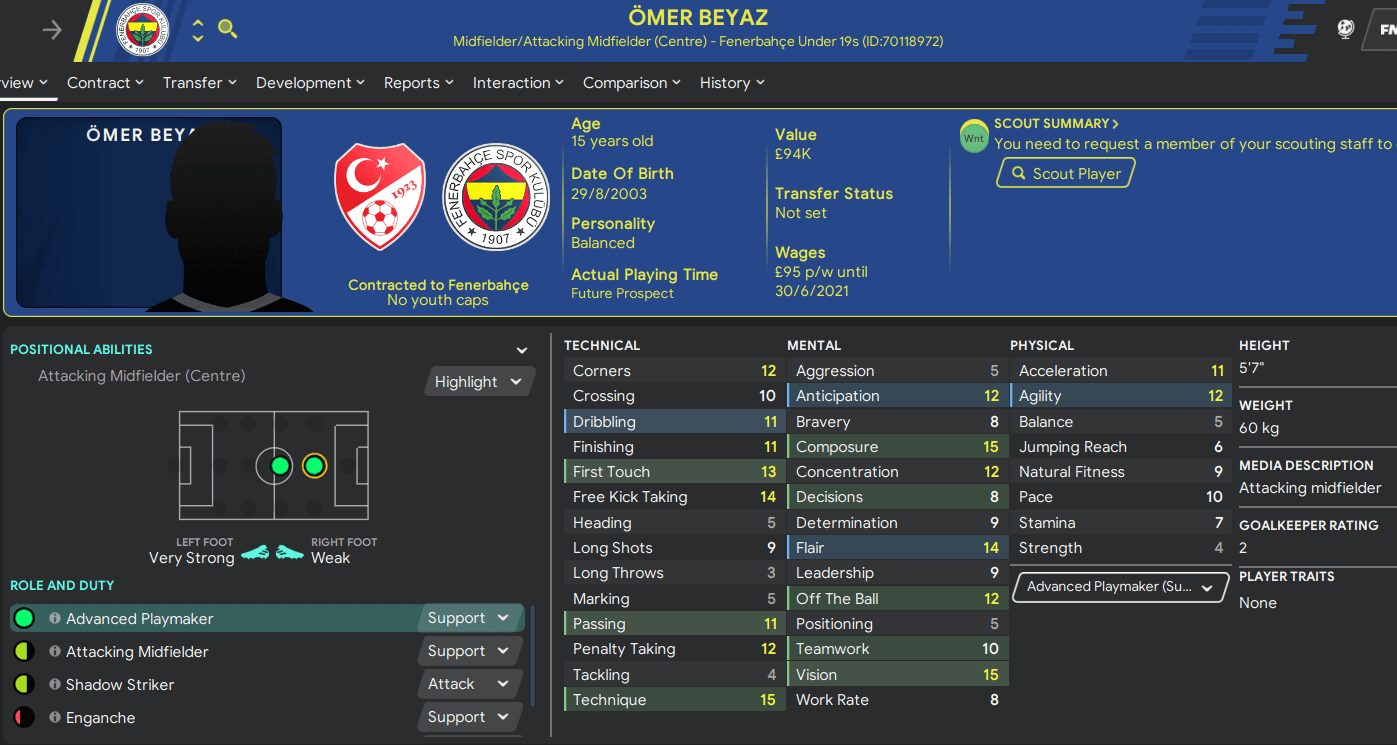 Very young at just 15 years old but great technical ability and creative attributes attract interest from PSG. A potential free-kick specialist with great mentals Beyaz does lack a little physically but at such a tender age can grow.
Omer seems a little work shy and lacking in determination but he won't cost you the earth at under £5 million.
---
Need an attacking FM20 tactic, try Knap's BEOWULF 4-4-2, we won the top flight quadruple with York City, just click here.
---

Subscribe to our Newsletter