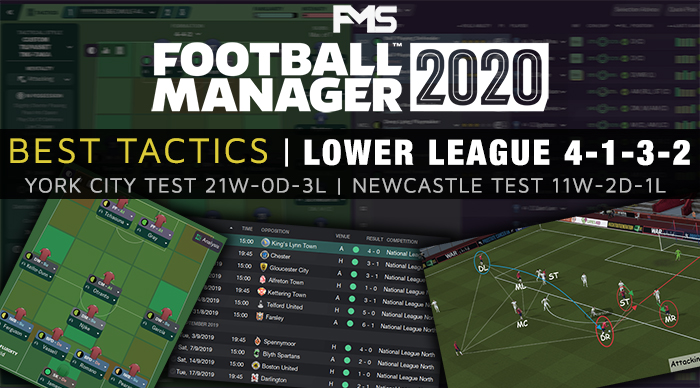 Heh guys and welcome to the second of our best FM 2020 Tactics series. Today I have a great system in the shape of 4-1-3-2, which is defensively sound and built on pressing possession play. This is the best FM 2020 lower league tactic I have tested and my go to system for York City.
---
Since posting this tactic we have found a far superior system winning the top flight quadruple with York City! Created for patch 20.4. Try Knap's BEOWULF 4-4-2 by clicking here.
---
Originally created for last years game by Knap (from the SIGames forum) I have tested in FM20 with both York City and Newcastle. A few minor tweaks brought this Football Manager 2020 lower league tactic up-to-date with patch 20.1.
However, all credit goes to Knap, the detail and work he puts into these systems is truly something else!
Best FM 2020 Lower League Tactic – Formation
Using an adaptation of the classic 4-4-2, one central midfielder drops to DMC offering defensive security while still supporting the attack. The wide men work in tandem, inverted wing backs overlap and sometimes underlap the defensive wingers who offer cover out of possession.
The central midfielder is very important, he will dribble, link up play and arrive late in the box. Both strikers sit on the defensive shoulder and haras the opposition out of possession.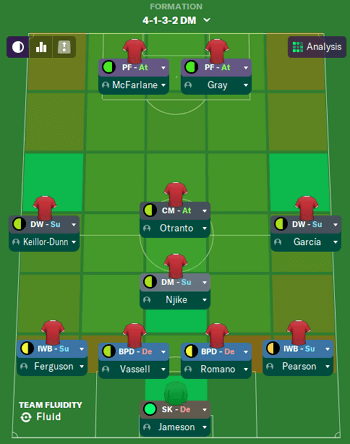 Best Football Manager 2020 Lower League Tactic – Instructions
With a focus on wing play we overlap, sit wide and run at the defence. Unlike most systems a standard tempo with work ball into box is in use. This helps retain possession and attack with purpose without dilly dallying around.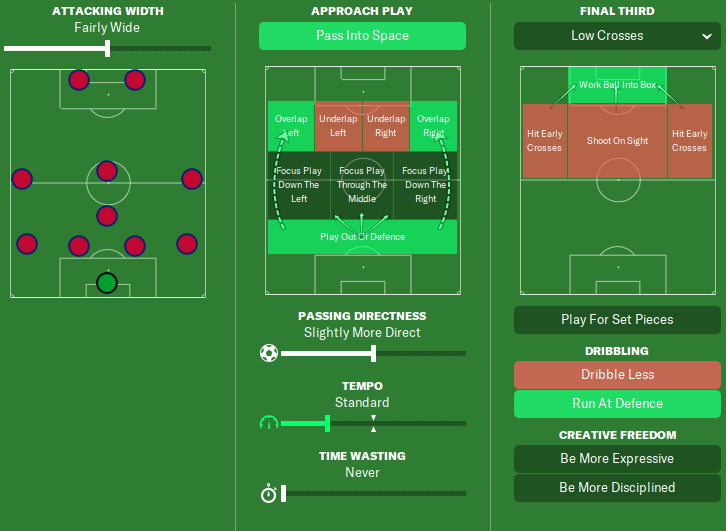 Counter and counter-press are activated, while the sweeper keeper is asked to throw out to our wing backs.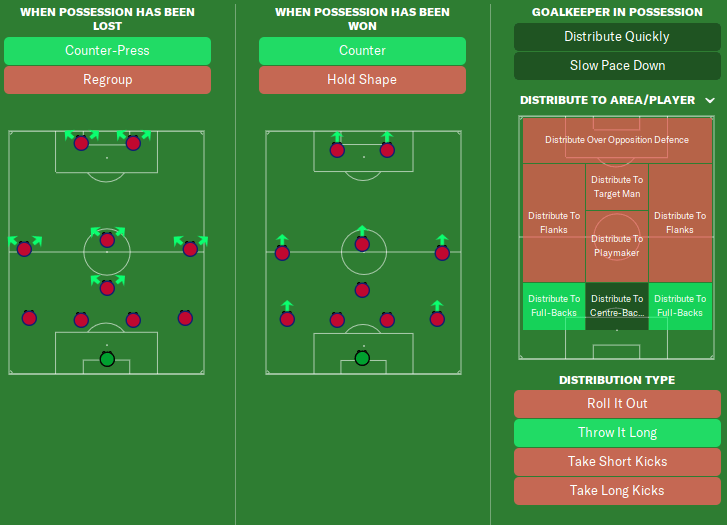 You may assume the best FM 2020 lower league tactics utilise a low line and reserved approach, not the case with this 4-1-3-2. Your defence will push up to the half way line applying an offside trap. If possession is lost, you will engage the opposition with an aggressive press.
Note: Do not try and copy this tactic, there are many specific player instructions and important custom set pieces. If you do not download this best FM 2020 tactic, it will not work.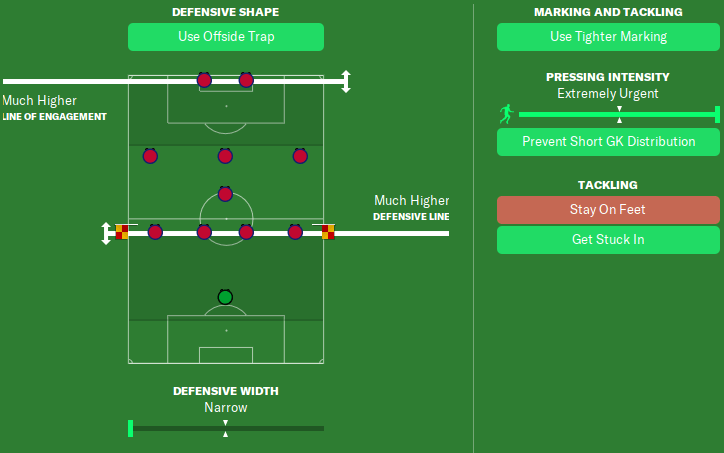 Best FM 2020 Lower League Tactic – Player Roles
GK – sweeper keeper (defend) – A high line requires a sweeper keeper hence the role, just go for the best general GK you can find.
CD – ball playing defender (defend) – Lower league technical defenders are like Unicorns, they don't exist. My ball playing defenders aren't great in possession but have handled the role well. I do highly recommend fast centre backs though, the high line will be a major issue otherwise.
DR/DL – inverted wing backs (support) – Wing backs overlap the wingers playing a major role. Fast, forward thinking defenders will do very well in this system. My wing backs were subpar and it showed in their average ratings.
DMC – Defensive Midfielder (support) – Your DMC has two roles; support the defence and support the attack. He shuttles between both and should be well rounded with good passing ability. I like physical, hard working DMC's personally.
MC – Central midfielder (attack) – The main man in this FM20 lower league tactic. Your MC will dribble, link up play, find the killer pass and shoot from range. An all rounder is best but I like technical players in this role.
MR/ML – defensive winger (support) – Fast and skillful wingers with great technical ability are required. MR and ML will instigate most attacks, often found in the box good finishers will do well.
ST's – pressing forward (attack) – The main goal threat, fast forwards with great finishing are needed. Hard workers will do well and players capable of beating their man are a bonus.
FM20 Pressing Tactic Analysis
Its important to understand how a tactic works before clicking download. Learning its strengths and weakness' will help you in the transfer market and on match day, so here is a little analysis.
Defensive shape and cover out wide
The best FM 2020 lower league tactics hold a great defensive shape when out of possession. This pressing system does just that while pressing high. The DMC makes a difference here, offering security as seen below.
The wing backs and wingers work in tandem to defend. The scene below shows our DR tracking back while MR sprints inside to cover the space. Using defensive wingers works well, making an attacking system secure.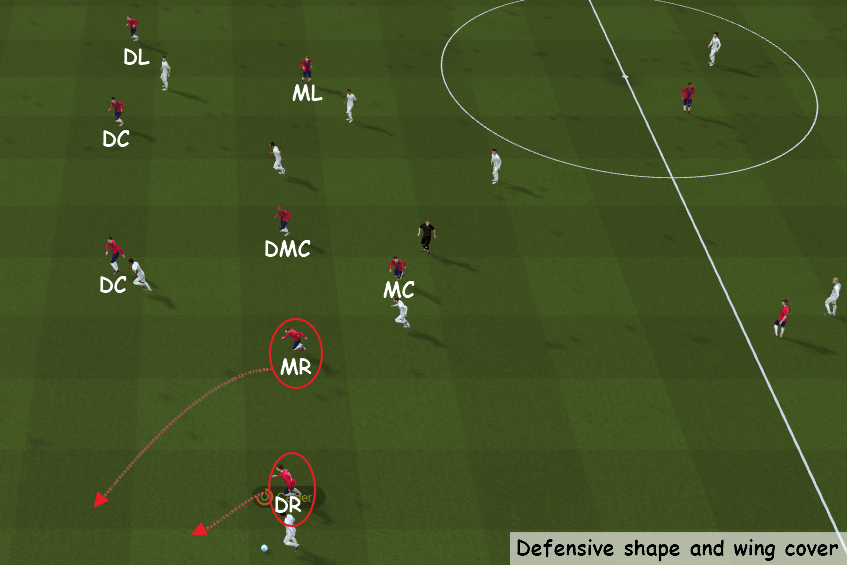 In transition
I found transitional play very effective, the scene below shows our intent after winning back possession. My striker lays a ball wide, both DR and MR sprint into space putting the oppostition in trouble. Notice my DL, MC and even DMC are moving forward. This owes to their support duty which seems to work both during the defensive and attacking phase of play.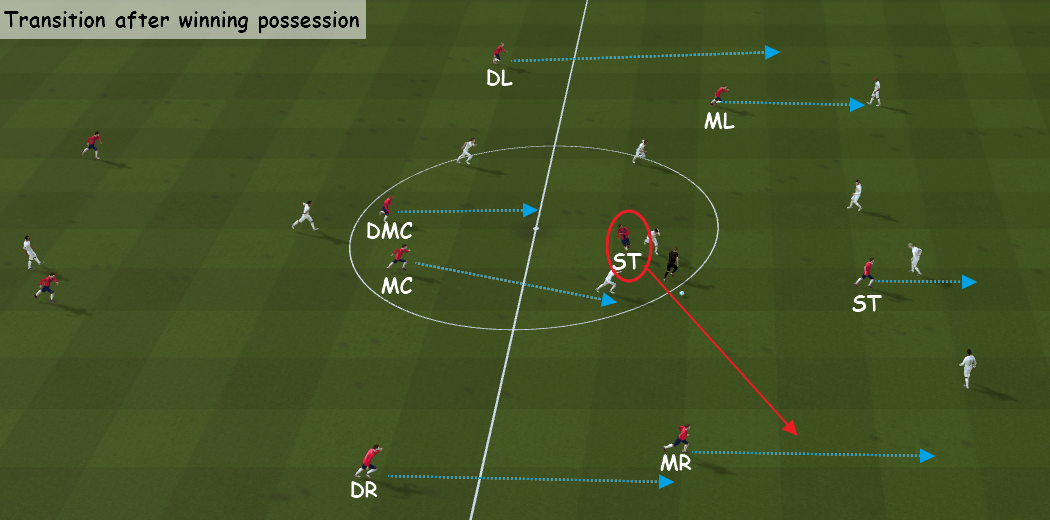 Attacking overload
An example of the attacking overload, we have 7 players in or around the box. The white dotted lines show how well we work the space and link up play. There always seems to be a passing option which leads to great possession stats.
The DR in possession ran through on goal to score, thanks to my ST and MR opening up the space.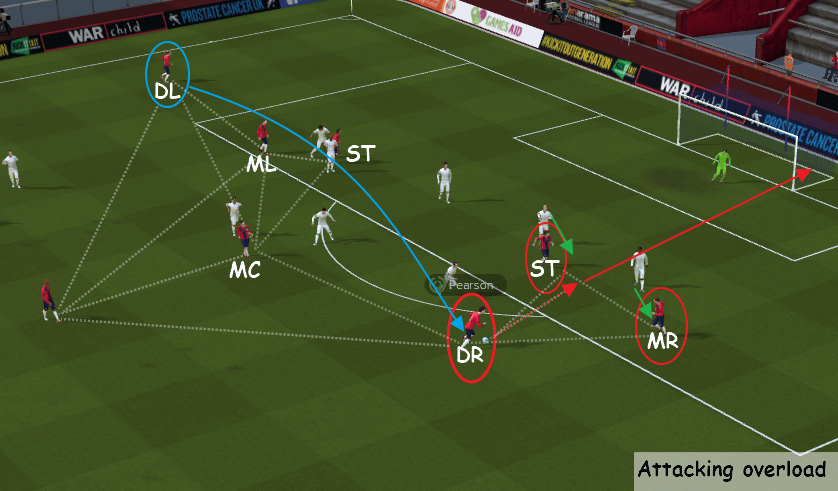 The heat map below shows how dominant the tactic can be going forward. Lots of time spent in the oppositon third with varied play.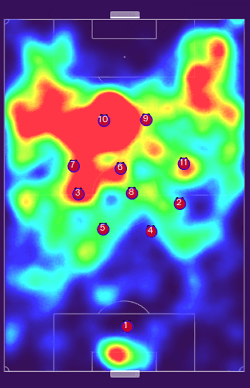 A word on mentality and tweaks
I used attacking mentality with York. The only time I changed was to cautious against higher level opposition or to defend a lead, but this is a judgement call. I don't believe in a one size fits all approach and you may need to use cautious when managing lesser teams.
View mentality as a risk and reward formula. The more attacking you're, the more open you will be defensively. If you are a weaker side and losing possession more often consider a more conservative mentality.
** If you are in front and want to kill the game off, use TFF's time wasting tactic, it can be downloaded here. **
Best FM20 Tactics Results & Table
York City
Results speak for themselves, pretty emphatic and generally when we lost it was down to squad fitness issues or red cards. Interestingly no draw.


We will walk to the title and bossed the league in terms of goals scored and conceded.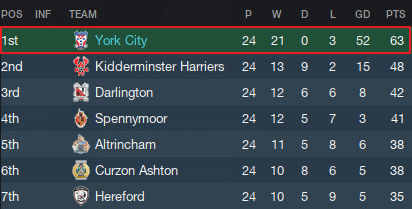 Since first writing I have continued using Knap's 4-1-3-2, below is out unbeaten season in the National League during season two.

And during the same season we enjoyed a fantastic FA Cup run, all using this system.

A great mix of goalscoring the screenshot below is from season one, everybody got involved with every phase of play. Notice how many the midfield chip in with and this is without a set piece specialist.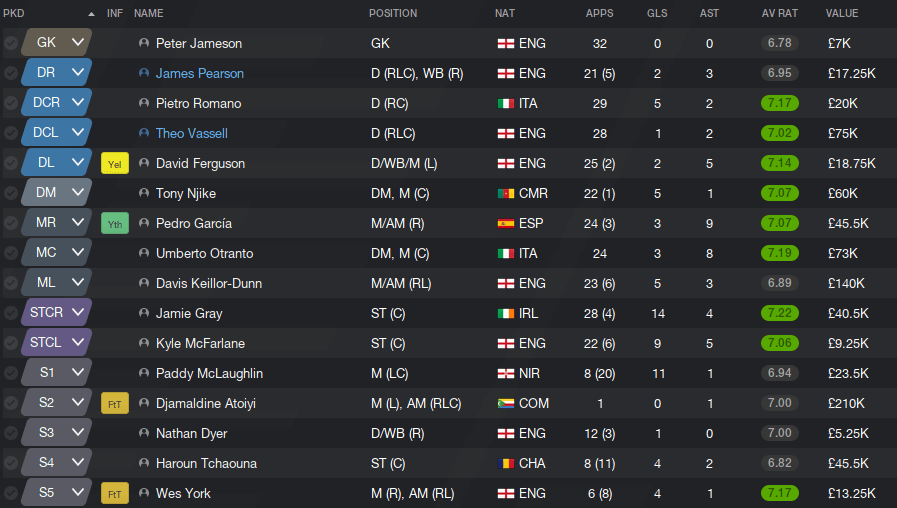 Newcastle United
I also did a short save with Newcastle as I am wary York are a dominant side in the Conference North. The Toon Army results only backed up my research, further proving how solid this system is when used well.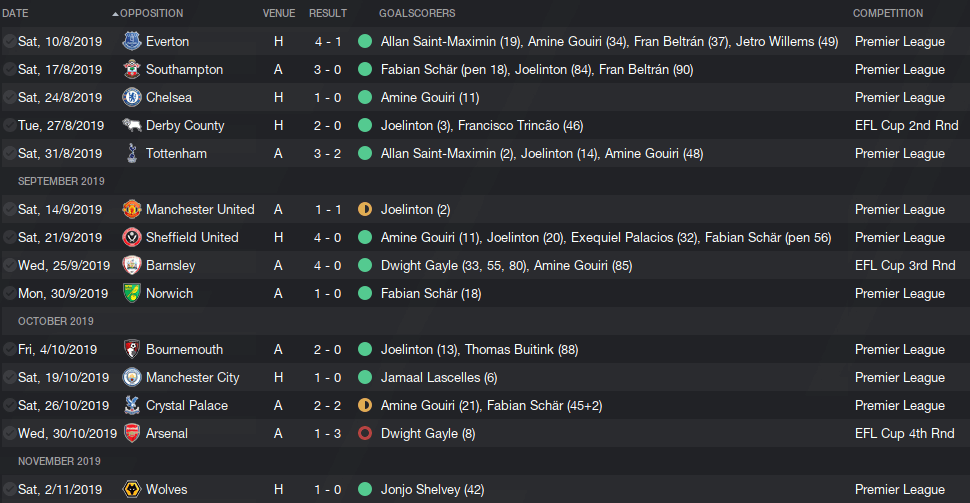 ---
Now you have the tactic, find the best FM 2020 players:
---
Tactics Guide & Tutorial
We created the Youtube video below to help you better understand how this system works and how to use it.
Best FM 2020 Lower League Tactics: Top Tips
This has been tested for patch 20.1, we cannot predict whether this will work on later patches due to potential match engine changes.
If you are in front and want to kill the game off, use TFF's time wasting tactic, it can be downloaded here
If a player gets carded change his individual instruction for tackling to 'ease off' or risk a red.
Adjust mentality to suit your team. I used attacking every game with York and Newcastle. But changed to cautious against the very best teams away from home.
If 2-3 goals up switch to cautious mentality, this will preserve the players energy for future games.
As with any tactic it needs loading at the start of pre-season. Also avoid signing a whole new team unless you are experienced doing so. These two things will see you under perform not because of a poor tactic but because of poor management.
I asked my Assistant to take care of training and opposition instructions. I took charge of individual training to set each player up in their specific role. This is vital, your MR and ML will probably need training up in this role.
You must get fast forwards and the best wing backs/wingers at your disposal for this to work.
Be aware you need a decent size squad. Two players per position to allow for injuries and bans if you are in Europe.
You MUST download this tactic, do not try and copy it. There are many individual player instructions and set pieces are vital.
Best FM 2020 Lower League Tactic: Download
If you would like to give the tactic a try, follow the instructions below:


1. Click the download link above and download the file.
2. For Windows put the downloaded file in this folder: Documents/Sports Interactive/Football Manager 2020/tactics. If the "shortlists" folder doesn't exist you will have to create it. Windows users skip to step 2, Mac users read below.
Mac users put file in this folder: Users/YOUR Mac USERNAME/Documents/Sports Interactive/Football Manager 2020/tactics. To access your files on Mac open 'Finder', click 'Go' from the menubar, press and hold the 'alt' key to show 'library' in your menu, while still holding 'alt' click it, then go to 'Application Support' > 'Sports Interactive' > 'Football Manager 2020'
3. Now load the game as normal and enter the tactics screen.
4. In the tactics screen, click the tactic you currently have loaded then select 'load' from the drop-down menu
5. Select 'Lower League 4-1-3-2 – Pressing Possession Play' and click load.
Thanks for reading, any social shares would be much appreciated and please follow us on social media for future posts in the series. Please feel free to leave a comment I'd love to hear how you get on. Likewise any questions.


Subscribe to our Newsletter