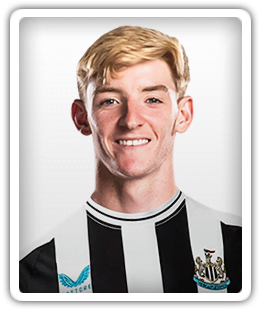 Anthony Gordon FM23 Wonderkid
Age : 21
Position: left attacking midfielder, right attacking midfielder, central attacking midfielder, striker
Roles: winger, inverted winger, inside forward, advanced forward, shadow striker, advanced playmaker

Club : Newcastle United
Nationality:  England
Value: £49-66 million
Hidden Potential: 133 / 154
Newcastle in the Premier League 22/23 is a big surprise. They almost grab the Champions league ticket and have one of the best defenses in the league. But today I want to show you a promising young player, Anthony Gordon. IRL, he is a regular starter in Newcastle, 27 games and 3 goals this season. But, what do we have in the game?
Anthony Gordon FM23 Wonderkid profile in 2022

His best roles in the field will be an inverted winger (support) on the left flank, and winger (attack) at the right side. Gordon has a great amount of speed, this is his main power right now. Overall technical skills are not so great for the Premier League, but after a couple seasons in game Anthony became stronger. With good physical and technical skills, his mentality seems to be a weak spot. Great determination grants him a proper growth, but in general all mentality is a problem, if you want to see Anthony in your starting eleven right now.
Also, he has a problem with the form. Natural fitness is quite low, and after a couple of games out of the field Anthony will lose his form quicker than others. In the Premier League he's a good rotation player, but with ambition to be a regular starter in the future.
Anthony Gordon FM23 Wonderkid coach report in 2022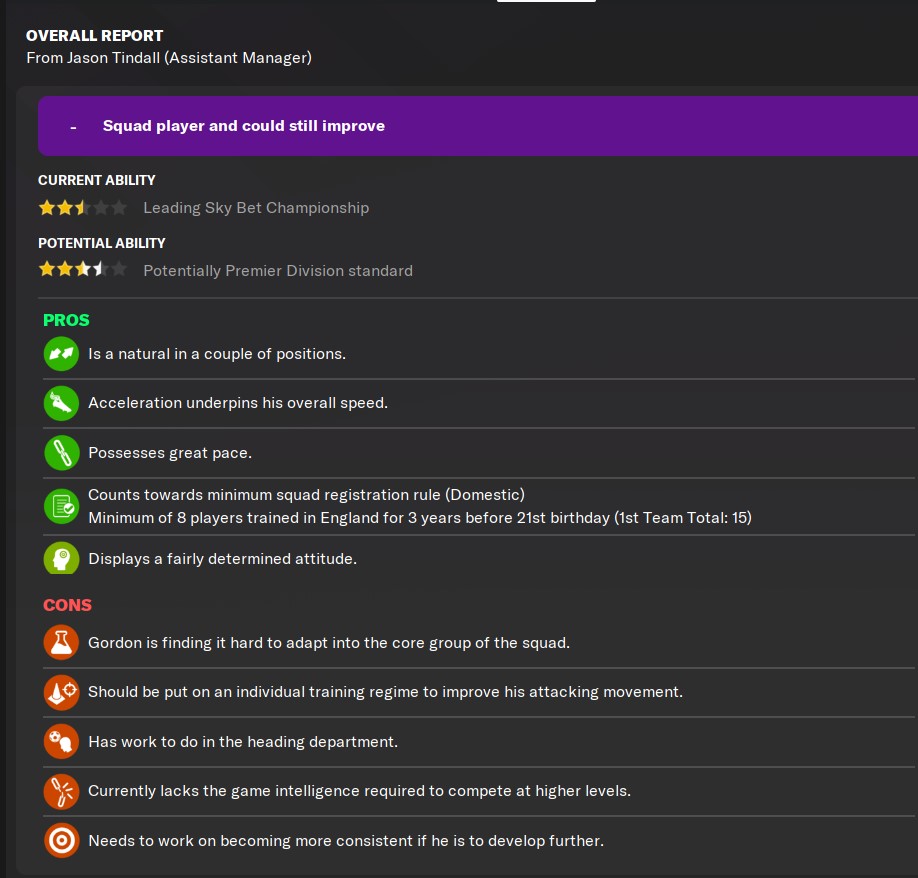 Take a look at Newcastle coach report. Jason Tindall has decent judging skills, and I think, the lack of consistency will be a problem for player development. More importantly, Gordon has a low number in important matches, it's lower than 10. This means that in big matches against Man City or Liverpool he can't help you at his max ability or show a bad performance. 
Anthony Gordon FM23 Wonderkid Man City scout report in 2022
Anthony Gordon Agent Demand to Chelsea at the Save Start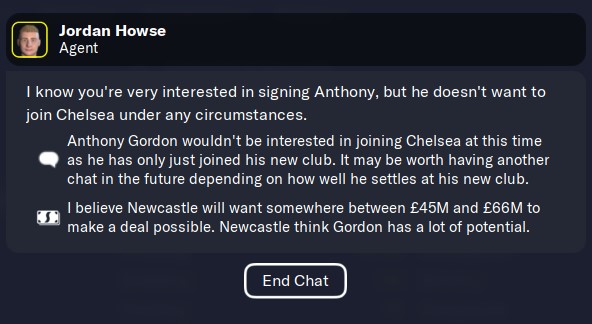 Bad news, you can't buy Gordon at the beginning of the game. He has a new contract till 2029 and will reject any bids in the first half of the season. But if you want to buy this player, prepare to give about £63 million (part of this is installments) and a solid percentage from the next deal. That was my bid as Chelsea manager, but I think the price may be a bit lower.
Wonderkid Anthony Gordon FM 2023 profile aged 26 in the year 2027

Through the years Gordon grows a little, and loses some points in skills. Most interesting here, that he gained 3 points in jumping. Maybe, under your control Anthony makes better progress.
Anthony Gordon FM 2023 Wonderkid career history until 2027

As I said earlier, low consistency is a weak spot, and his career in this save confirms it. AI gave him a chance, but Gordon doesn't show anything and after a couple of seasons in Newcastle, he transferred to Leeds. Gordon feels more comfortable in this club, but still no goals or assists. One goal in a season is a nightmare for an attacking player.
Anthony Gordon Football Manager 2023 Wonderkid FMS Summary
Pros:
Has a fairly determined personality

Can play on both flanks as a winger

Will be a decent player in the future, if he can reveal potential 

Great speed

Good technical skills
Cons
You can't buy him at the start

Big price

Bad consistency and important matches 

Weak natural fitness skill

Not so good mental at all
If you have a big transfer budget and need a winger like Godron, buy it. But keep in mind that this player needs time to become a good player. Maybe, he simply can't use his chances in your team because of low consistency, simply not showing himself in a couple of matches and losing the opportunity to be in your starting squad. And pay £50+ million for a sub it's a bad idea, even if you are a Premier League manager with a big wallet. 
For all the best Football Manager 2023 wonderkids click here, from cheap bargains to worldclass prospects.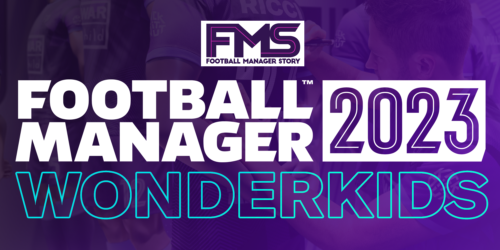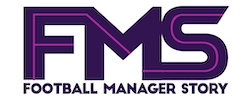 Subscribe to our Newsletter