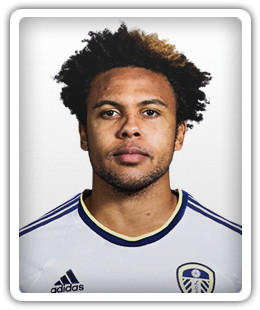 Weston McKennie FM23 Wonderkid
Age: 23
Position: midfielder (central, left, right), attacking midfielder (central, left, right), defensive midfielder, wingback (right), defender (central, right)
Roles: defensive winger, winger, wide midfielder, winger, wide playmaker, inverted winger

Club: Leeds (loan), contract belong to Juventus
Nationality: USA
Value: €12.5 – 37 million
Hidden Potential: 143 / 153
Weston is one of the current USA national team players, his football career began in Germany. In 2004 he starts playing football in Phönix Otterbach – local team from Kaiserslautern. After that he returned to the USA, progressed in the Dallas youth system, and played for the first team. After Dallas was a new German challenge, he plays for Schalke 04 from 2017 and in season 20/21 Juventus agree to buy his contract after one year loan. La Vecchia Signora sends him to Leeds in winter 2023.
Weston McKennie FM23 Wonderkid profile in 2022

He can't play just four positions on the field, including the goalkeeper. Surely, if you want to use Weston in the defense, think twice before doing that. Weak marking and jumping reach cause problems for your team, especially in the air. Better unleash his potential in the midfielder position. He can score goals, give you an advantage in tackling, and grant a decent performance in total. Weston is a player with a small amount of potential ability left and now at his peak form.
Weston McKennie FM23 Wonderkid Leeds coach report in 2022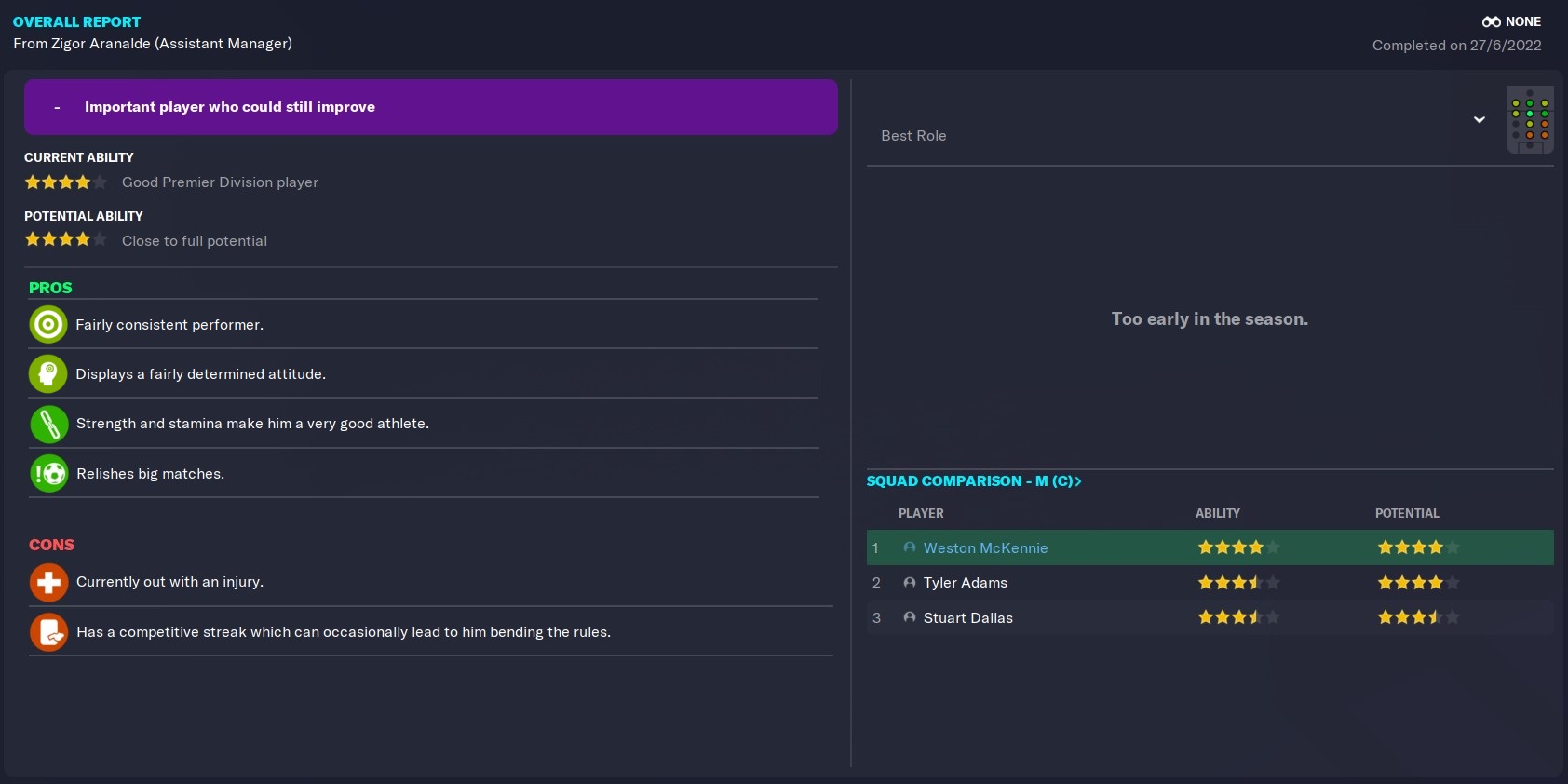 Leeds assistant manager Aranalde has great judging skills and thinks that McKennie is the best player in the team at the midfield position. Main pros are determined personality and big matches, in which Weston is relishing. But he has an injury at save start and needs a month to recover. Also, Weston sometimes does dirty tricks on the field, which leads to cards.
Weston McKennie FM23 Wonderkid Man City scout report in 2022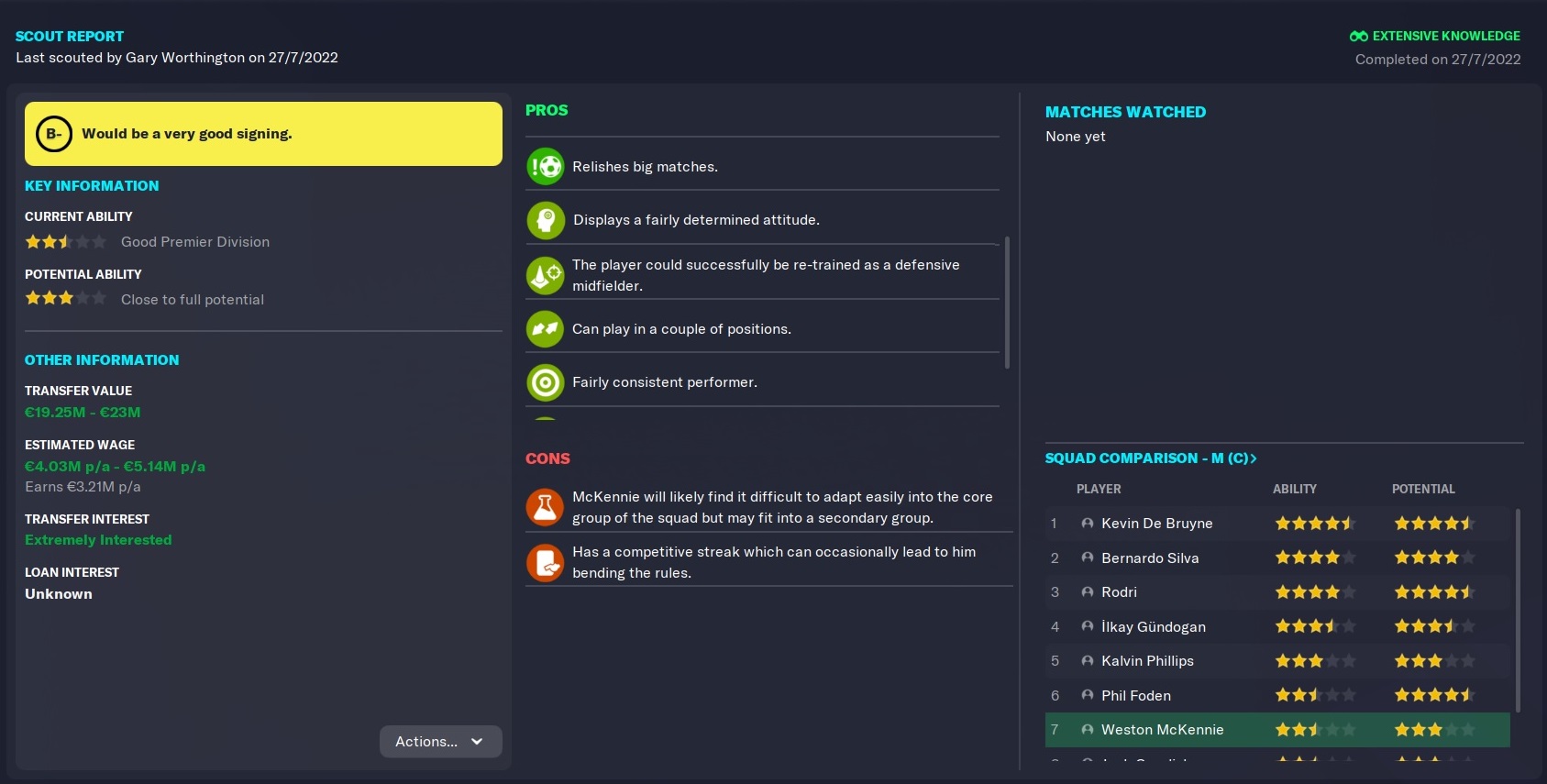 Man City scout thinks, that this player can't be in leadership roles, but as a sub he may give impact on the pitch.
Weston McKennie Agent Demand to Man City at the Save Start Weston was sent on loan with the optional fee, and while he is in Leeds, you can't buy him.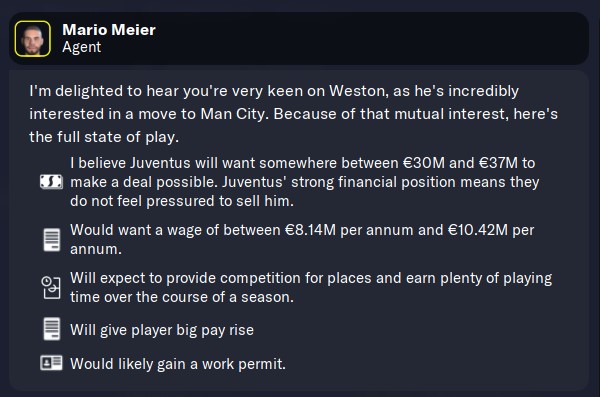 But if he comes back to Juventus, agent demand will look like that. Decent price for a midfielder, between €30 and 37 million. The agent will demand a high wage for his client, €8-10 million in a year. For example, this is the level of a starting eleven in Man City. You will need a lot of money in the wage budget.
Wonderkid Weston McKennie FM 2023 profile aged 30 in the year 2029

Weston McKennie FM 2023 Wonderkid career history until 2029

Weston McKennie Football Manager 2023 Wonderkid FMS Summary
Pros
Mature player with good skills, fit for mid-table teams from top-five leagues

Can play quite a lot positions on the field

Has a good personality (Fairly determined)

Relishes in big matches

May take a long throw

Physically strong
Cons
May have a problem with injuries

Big wage demands from agent

Can't be bought while he is on loan

High eccentricity skill (hidden)
Conclusion 
Weston is a decent player for your team, if you play for a non-top club with some money in the pockets. Cheap price for the player, as for EPL clubs, but wage demands sound scary. Also, you need to wait a year, for this time you simply can find a better player that will fit better for the team. In summary, worth for buying to improve squad here and now, but with some hidden weak sides.
For all the best Football Manager 2023 wonderkids click here, from cheap bargains to worldclass prospects.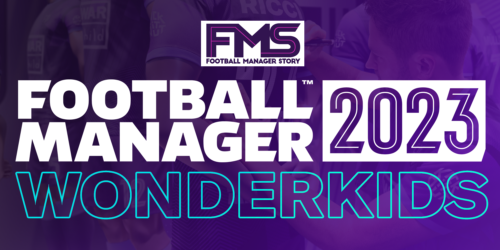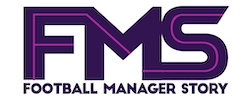 Subscribe to our Newsletter