Hello folks and welcome back to the Vauxhall Motors Football Manager 2011 story! After the most quiet transfer window in my career I was ready to face a new season with the Motormen and I can say that I felt no pressure at all to succeed as we have already won everything that was up for grabs. I just wanted to have fun and I guess I did experience quite a few moments of entertainment in the first half of the season.
Community Shield
The first match of the season was the Community Shield and we faced Tottenham, our bitter Premier League rivals from last season. The game was as easy as it gets although I was expecting more from the Spurs: we took a three-goal lead in less than 20 minutes of play and then just contained the opponents to clinch the win. It's true that the Spurs tried to fight back, mostly in the second half, but Da Silva ended their hopes by scoring the fourth goal 10 minutes after the interval. (Click here to watch the match highlights.)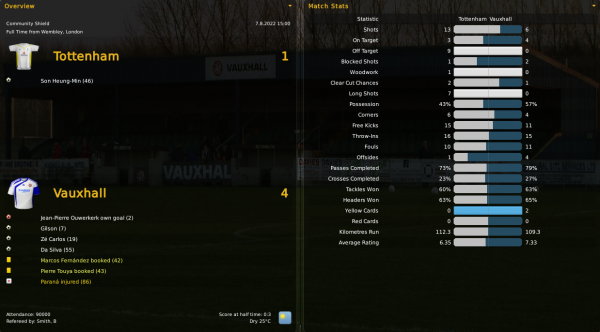 I was totally unaware of our unbeaten run before that game but I was pleased to find out after lifting the trophy that we were unbeaten in 42 games!
UEFA Super Cup
The second available silverware of the season was the UEFA Super Cup and we had to play Chelsea again as they won the Europa League for the second time in a row. The game turned out to be fairly easy, mostly thanks to World Cup hero Lucas Cuello who gave us a two-goal lead before half time. Chelsea tried to fight back after the break but Zé Carlos punished them and it was all over, our trophy cabinet just got even more crowded :) (Click here to watch the match highlights.)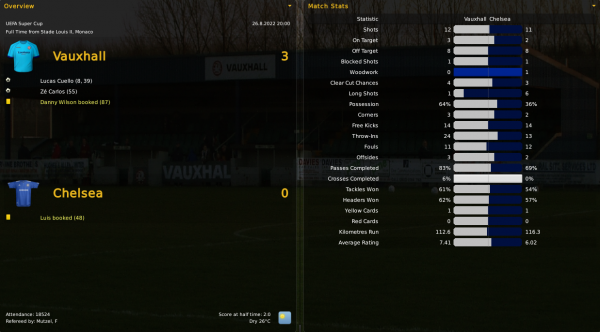 Carling Cup
Our League Cup path was easy enough, we met only Championship teams until the semi final and we cruised past them even though some reserves and backups got some playing time in those games. We will meet Aston Villa in the semi final and I think we have a very good chance of going to Wembley again.

Champions League Group Stage
We were quite lucky with the Champions League draw as well since we entered a group with Shakhtar, Olympiakos and some Danish team whose name I can't pronounce. We grabbed six wins out of six with fair ease, except the two games against Shakhtar, and we'll face Russian side Rubin Kazan in the first knockout round. If you look at the screen shot below you'll notice an unknown goal scorer: Miranda. You'll know more about him later, all I will tell you know is that he is a very tall centre back that I decided to promote from the reserves team.

Club World Championship
The intercontinental competition proved to be another easy one for my team, we battered Japanese side Kashima Antlers in the semi final before putting five goals past Los Angeles Galaxy in the final to claim the Club World Championship yet again. It was too easy though, I didn't even celebrate :)
FA Cup
The FA Cup started a bit early for us this season as we faced Chelsea on New Year's Eve. It was a frustrating match as we found ourselves one man down after just 17 minutes due to a red card but the lads fought on to record a high-scoring draw. I hope we will get our revenge in the replay.
Premier League August – October 2022
And now, finally, the Premier League results! The season started with a very frustrating away draw at Tottenham, we had no less that 8 clear cut chances in that game but weren't able to score more than a goal. Things got better after that match as we went on to record five straight wins but that streak ended in the first game of October when Liverpool held us to a 1-1 draw. We had an excuse though as we had to play with 10 men for 79 minutes as Gary Warner was sent off just 11 minutes into the game. Our autumn ended with three consecutive wins and we were top of the table at that point and our unbeaten run was still on.

Premier League November – December 2022
November was perfect, we grabbed five wins out of five, but we recorded another setback in the second game of December as Blackburn held out for a 2-2 draw. We squandered 7 clear cut chances that day but we shouldn't have conceded twice in the first place, it was a rather poor performance. Our unbeaten run was still standing though, it went up to 72 games and then… it ended… Arsenal beat us 3-2 at home on Boxing Day and there were no excuses for that result: we had a two-goal lead and things seemed to be heading our way but probably the lads got a bit complacent and Arsenal punished us severely. We ended the year with a good win against the Spurs but I felt a bit bad about losing that unbeaten streak…

The title race is still wide open at this point, we are in command but we can't afford any slip-ups in the coming months.

These were the Vauxhall results in the first half of the season but the post is not over yet, head over to the next page for some interesting statistics, awards and news about my progress with Senegal.
Go to the next page to read the rest of the story.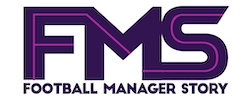 Subscribe to our Newsletter