Hello friends and welcome back to the Vauxhall Motors Football Manager 2011 story! Things went pretty well in the first half of the season as we managed to grab all the three trophies that we had played for: the Community Shield, the UEFA Super Cup and the Club World Championship. However, our position in the Premier League was not too good as we were 4th at the end of December. That was my main concern before the second half of the season but we also had to do our best in the other three competitions: Carling Cup, FA Cup and Champions League.
Let's start with what probably is the least important domestic competition, the Carling Cup.
Carling Cup Semi Final
After a fairly easy early run we had to face Tottenham in the semi final and that was not an easy task at all. We managed to grab an essential victory in the first leg and that made the return game a lot easier as we had spaces to exploit in the Spurs' defence. With room available to run Gilson and Zé Carlos did the damage and pushed us through to the final where we were going to meet Chelsea, the team that we had already beaten in the UEFA Super Cup.

I was quite looking forward to this final to be honest as we had only won the Carling Cup once, back in 2020. However, we had an important absence to worry about as Zé Carlos was suspended after being sent off in a Premier League match.
Vauxhall vs Chelsea (Carling Cup Final)
Venue: Wembley
Attendance: 90,000
Starting line up: Franck Gnahoua – Gary Warner, Gerhard Heinrich, Danny Wilson, Pierre Touya – Da Silva, Indio – Gilson, Tiago – Lucas Cuello, Parana
Team Talk: For the fans!
We enjoyed a good spell of domination right from the start of the game but we were unable to create any clear cut chances and that was mainly because some excellent defending from Chelsea. However, their defence did fail just one minute before the break, Lucas Cuello received the ball seven yards out with only the keeper to beat but he fired wide!
Half time score: 0 -0
Half time team talk: For the fans!
Half time substitutions: Javier Godoy for Touya, Robert Ackermann for Indio
Our domination continued after the break but luck wasn't on our side either as Gilson rattled the post minutes before the hour mark. That is when I decided to send in Leandro Velasco for Tiago but it was Parana who created panic in the Chelsea defence on 65 minutes and Da Silva fired home to break the deadlock. Velasco stepped up two minutes later with an awesome goal as he performed a beautiful dance around the ball before firing home from inside the penalty area. The flood gates were wide open at that point but we were unable to capitalize as Parana and Ackermann missed great opportunities. Then, right out of nowhere, Chelsea striker Neymar scored a fabulous goal to reopen the game with nine minutes left but the Blues were unable to push for the equaliser as we retained possession very well.
Full time team talk: Congratulations!
Man of the match: Leandro Velasco
Flop of the match: Indio
Video Highlights
Click here to watch the highlights.
Match Stats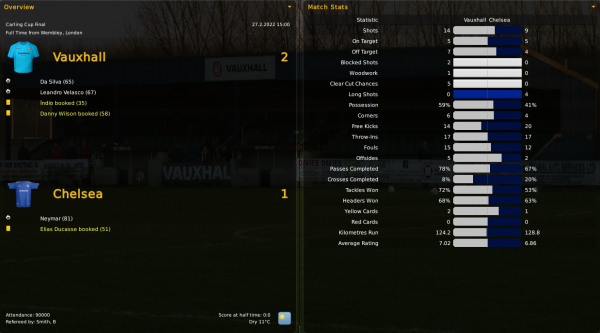 The Carling Cup was ours, now let's see how we did in the Premier League.
Premier League January 2022
The first month of the year was absolutely perfect, we recorded four straight wins, scored 15 goals and conceded none! Zé Carlos did a great job again as he scored four goals but Parana was even better as he bagged five goals! Despite the good run the situation in the league table didn't improve too much…

… as we were 3rd at the end of the month. Here is a quick snapshot of the situation at the top of the table:
1. Tottenham – 60 points (24 games)
2. Manchester United – 59 points (25 games)
3. Vauxhall – 55 points (22 games)
Premier League February 2022
February was perfect too, I admit that I was thrilled! We managed to keep a clean sheet again for a whole month and the best thing is that we did that in rather difficult circumstances. The game against Manchester United at Old Trafford was simply epic as we had Zé Carlos sent off after just 28 minutes but then fought on and ended United's 18-match unbeaten run! (Click here to watch the highlights.)

And we were finally top of the table, I was quite relieved but not too much as the race was still fairly tight:
1. Vauxhall – 70 points (27 games)
2. Tottenham – 69 points (28 games)
3. Man United – 65 points (29 games)
Premier League March 2022
March started with a narrow but deserved win at Arsenal but then we slipped up for the first time in 2022 as we were held to a home draw by Everton. It was a very frustrating match as we squandered six clear cut chances while Everton had just one shot on target, a 40 yarder from Jack Wilshere… Then we had a rough match against Sunderland but snatched the three points before ending the month with a glorious 7-1 beating of Huddersfield.

We were still top of the table but our advantage was quite slim, just two points…The good thing was that Manchester United were out of the title race at the end of March, it was between us and the Spurs at that point.
1. Vauxhall – 80 points (31 games)
2. Tottenham – 78 points (31 games)
3. Man United – 71 points (32 games)
Premier League April 2022
The first two games of the month went according to plan, West Brom and Hull were unable to question our superiority and we grabbed six points before the most important game of the season…

That's right, our next game was at home with Tottenham, they were our closest rivals so this was the game that everybody thought was going to decide where the title would go. In fact, the Spurs were top of the table before the game because they had played an extra match so we were one point behind them but with a game in hand.
Vauxhall vs Tottenham (Premier League)
Venue: Vauxhall Stadium
Attendance: 38,812 (sold out)
Starting line up: Franck Gnahoua – Miguel Angel Tomas, Phil Jones, Javier Godoy, Pierre Touya – Indio, Robert Ackermann – Leandro Velasco, Tiago – Lucas Cuello, Iain McManus
Team Talk: For the fans!
If you look at our line up you can notice that quite a few regulars are missing and that is because of fatigue as we had an important Champions League match just two days before the Spurs clash. The good news was that the Spurs were in exactly the same situation as they had played an European game the same day but they chose to send in their tired first team regulars in the league match! I thought that our fitness advantage would prove decisive and I guess it did as we broke the deadlock after just 8 minutes when Lucas Cuello ran through the middle of their defence before powering in. We were dominating the game quite clearly and we made that count again on 32 minutes when Tiago played a brilliant pass across the penalty area for Leandro Velasco who slotted home. We were taking the game to the Spurs and could have scored at least three more goals before the break but their goalkeeper did wonders to deny Velasco, Tiago and Iain McManus.
Half time score: 2-0
Half time team talk: Pleased.
Half time substitutions: Danny Wilson for Godoy, Marcos Fernandez for Ackermann, Thiago for McManus
The Spurs were just too tired to reply, the game was totally in our hands and we kept it comfortably quiet until the 86th minute when Leandro Velasco bagged his second goal of the game after receiving a brilliant pass from Indio. It was a great victory and we had one hand on the title at that point!
Full time team talk: Well done!
Man of the match: Leandro Velasco
Flop of the match: Marcos Fernandez
Video Highlights
Click here to watch the highlights.
Match Stats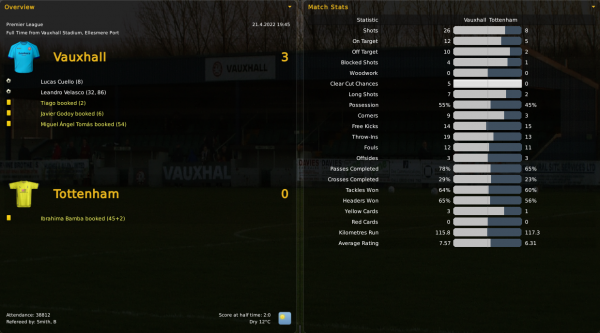 After the solid display against the Spurs Leandro Velasco scored again together with Zé Carlos to show us past Aston Villa and towards another perfect month in the Premier League.

We had three games left to play at that point and we only needed four points to secure the title:
1. Vauxhall – 92 points (35 games)
2. Tottenham – 90 points (36 games)
Premier League May 2022
Our schedule was not easy though as we had to face Chelsea and Man City in the month of May but we also had an easy game against Southampton who were already relegated. We cruised past Chelsea even though the score was just 2-1, the clear cut chances score was 7 to 1! Southampton were easy enough to beat so the title was ours with a game to spare but we concluded the Premier League season with a great triumph against Manchester City, we just had to give our fans something special in the last home game of the season ;)

We secured our fifth consecutive title and we did that in style as we scored no less than 127 goals thanks to the new tactic. It must have been quite frustrating for Tottenham I imagine, they grabbed 94 points and that is more than enough to win the title in 99 seasons out of 100.

Now let's see how the other two cup competitions went, the FA Cup and the Champions League.
FA Cup
We didn't have the easiest of runs, we conceded in every single game, but we made it to the final. The most difficult matches were against Chelsea and Manchester City but fortunately we pulled through although we were not far from being eliminated by the Blues. We will meet Tottenham in the final and I guess they will want revenge after we robbed them of the Community Shield and the Premier League title…

Champions League
Well, Tottenham have even more reasons to hate us as we knocked them out of the Champions League too! But not before cruising past Shakhtar Donetsk and beating Real Madrid both home and away, that was quite pleasing :) The semi final clash with Tottenham was incredibly nervy and that was mostly due to the first leg result, a very frustrating 1-1 draw. It was one of the most frustrating matches I have ever experienced as we wasted seven clear cut chances and hit the woodwork twice! The second leg was fierce, we took the lead through Parana but then the Spurs scored a late equaliser and the match went into extra time. Left winger Tiago scored the decisive goal in the 113th minute to avoid the penalty shoot out and see us through to the final where we will meet Portuguese giants FC Porto.

With two games left before the end of the season Zé Carlos is in contention for every award on the planet as his record so far is just amazing: 47 goals and 19 assists plus a superb average rating. Fellow Brazilian Gilson, our right winger, is also having a great season as he scored 15 goals and provided no less than 24 assists!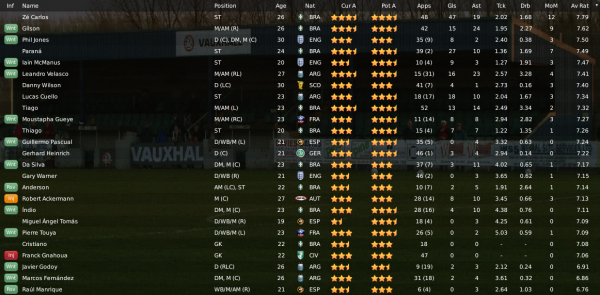 So, we have two finals left and I am hoping to perform that clean sweep that I wanted, that would make seven trophies in a season! We should have a clean bill of health before the FA Cup final so I think we have a reasonable chance of winning it and then worry about Porto in the Champions League final.
I think that it's now safe to say that the new "Bulldozer" tactic is pretty good so I am going to reveal more details about it in a special post that is going to be published this weekend. Until then, thanks a lot for reading and for your support, I'm looking forward to your special comments ;)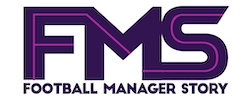 Subscribe to our Newsletter