Hello folks, I'm back with another episode of the Vauxhall Motors Football Manager 2011 story, an update that will reveal the conclusion of my 13th season in charge of the Motormen. After the end of the African adventure I was hoping for a successful season with Vauxhall and maybe another clean sweep of trophies after claiming the Community Shield, UEFA Super Cup and Club World Championship in the first half of the season.
Carling Cup
We met Aston Villa in the League Cup semi final and it was quite easy after we defeated them 3-0 in the first leg. Right winger Moustapha Gueye was the hero of the tie as he scored three goals overall, he was doing a great job in fighting with Gilson for a spot in my best eleven.
We played Mourinho's Man City in the final, a very defensive team to be honest. Luckily we managed to break the deadlock after just 13 minutes when Gilson bent in a free kick cross and young defender Keimo Landre powered in the header. We dominated the proceedings throughout the first half but our right winger was unlucky to hit the post on the half hour mark. The domination continued but Man City's Joe Hart did a pretty good job to stop Zé Carlos while Franck Gnahoua, my goalie, kept cool and denied Man City's only decent chance of the game 12 minutes from time. We won the Carling Cup again and that made it two in a row and three overall for the mighty Motormen ;) (Click here to watch the highlights)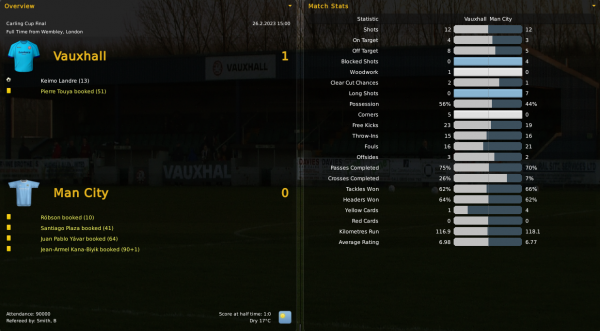 Premier League Results January 2023
Our league form was not so good in January even though we started with a flamboyant 4-2 win against Chelsea. The next game saw us getting only a goalless draw at Man City (Mourinho really parked the bus that day…) and then we got beaten 2-0 at home by Man United, our second defeat of the season! We recovered with a 3-0 win against Liverpool so we remained top of the table on 58 points at the end of the month but Tottenham had 58 points as well! We had a game in hand though…

Premier League Results February 2023
February saw us regaining our finishing touch with Parana and Zé Carlos banging them in like in the good old days. The four consecutive wins improved the table situation as we were three points clear of second placed Tottenham (with a game in hand) at the end of the month.

Premier League Results March 2023
The rampant scoring form continued in March but we were unable to keep it up as Hull held us to a home draw in the last game of the month. It was quite frustrating but the league table was looking much better as we were five points clear of second placed Man City and seven points clear of Tottenham.

Premier League Results April and May 2023
We just needed to keep winning to clinch the title and that is exactly what we did although we didn't really score as many goals as we used to. The defence was impenetrable though and that led us to five straight wins and… another Premier League title with two games to spare! It was our sixth consecutive Premier League title, I'm quite proud of that :)

The last two league games of the season were not important at that point so I decided to rest all my important players against Arsenal in the final game of the season. That was obviously a bad choice considering the shameful result but we had bigger fish to fry…
The competition was pretty tough this season as Tottenham, Chelsea and Man City managed to amass quite a few points. In other news, Newcastle got relegated again…

Champions League
We had won the last three editions of the Champions League and I was quite keen on making it four in a row. Things went smoothly in the first knockout round and then in the quarter final as we cruised past Rubin Kazan and Chelsea but then… Then we met Tottenham in the semi final and it was a complete disaster! The first leg at White Hart Lane saw a terrible performance from my team and I though that it was just an accident that could be repaired. We were on the right track to do that as we opened the scoring in the second leg but then the team reverted to the terrible attitude that they had shown in the first leg and Tottenham easily put two goals past us to wrap things up. This was a huge disappointment and what bothered me the most was that I really couldn't explain what happened there…

FA Cup
We did much better in the FA Cup as we stormed past all the opponents to reach the final and we were going to meet… Tottenham at Wembley!

It was a good chance to get revenge for that shameful Champions League exit and maybe give the fans a bit of consolation. All my players were fully fit as I kept them well rested in the last Premier League match but that didn't seem to make much of a difference as the first half saw an even and rather boring match. We could have gone into the dressing room with an advantage though but Tiago rattled the crossbar minutes before the interval. Disaster struck two minutes after the break, veteran Gareth Bale unleashed one of his trademark free kick shots and we were suddenly behind… The team reacted well this time, we were pushing forward in numbers but Spurs keeper David De Gea performed miracles to stop Gueye and Ackermann. Our persistence finally paid off four minutes from time when the referee pointed to the spot after Zé Carlos was brought down inside the penalty area and Parana fired into the top corner to convert the kick. The game was heading towards extra time but my lads seemed to resent that prospect: a superb flowing move brought the ball to Parana inside the area and he buried it on the stroke of full time! We had to hang on during the few minutes of stoppage time, I was already preparing to celebrate… But I relaxed too soon… My lads displayed some dreadful defending and basically invited former Motorman Shyamdew Weibolt to make it 2-2!
The game went into extra time and our domination was even clearer, the Spurs were barely hanging in there… A few chances went to waste but we managed to bag that decisive goal on a corner kick, it was youngster Keimo Landre who did it again and we won the FA Cup for the second time in a row and third overall. (Click here to watch the highlights. )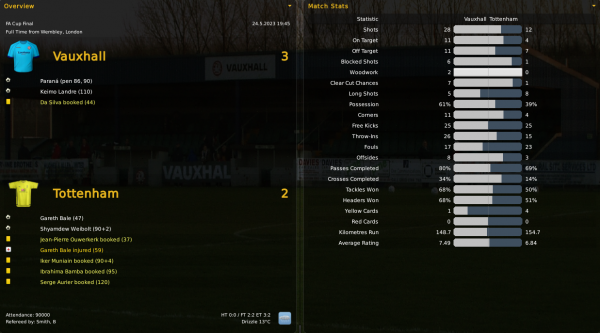 Zé Carlos and Parana, the usual suspects, were our two best players of the season as they bagged no less than 79 goals between them! Right winger Moustapha Gueye also did a wonderful job as he scored 21 goals and provided 17 assists while new centre back Landre had a fantastic first season at Vauxhall Stadium.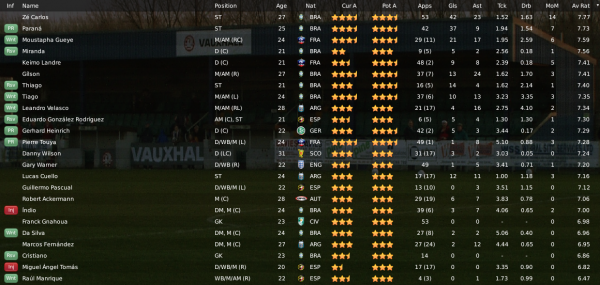 So, we won quite a few trophies again but it wasn't another clean sweep as we slipped up in the Champions League. That was quite disappointing and I also was a bit let down by our league performance as we grabbed less points than last season, scored less goals and conceded more! We won the league but when you win six in a row just winning it doesn't make you that happy any more :(

I have decided that I will play just one more season with Vauxhall in Football Manager 2011 as FM 2012 will be coming to us in just 20 days. And I want to make another experiment in that last season: I will change the tactics! I will give up on the Bulldozer and go for a flat 4-3-3 that our friend Birdy has mentioned in the forum. That means that I can sell my wingers, I think I'll get quite a bit of money for them, and I hope to witness some entertaining performances with the new tactic.
Thanks a lot for reading folks, I'm looking forward to your comments, questions, suggestions :)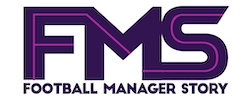 Subscribe to our Newsletter