Hello folks and welcome back to the Vauxhall Motors Football Manager 2011 Story! I know, it's been a while since my last post but I found it a bit difficult to play the game again after winning the World Cup :) It was simply amazing and most of that was thanks to you who cheered for my Argentina during last week's live broadcast of the World Cup final, I had a great time and your being there meant a lot to me. Since we're speaking about that final and the very first live-text broadcast of a Football Manager game, I think I owe you a picture that failed to upload during the live session…
That's right, behold "the battlefield"! :) My desk was fairly crowded I guess and I admit that my fingers were a bit sore at the end of it all but it was worth it :)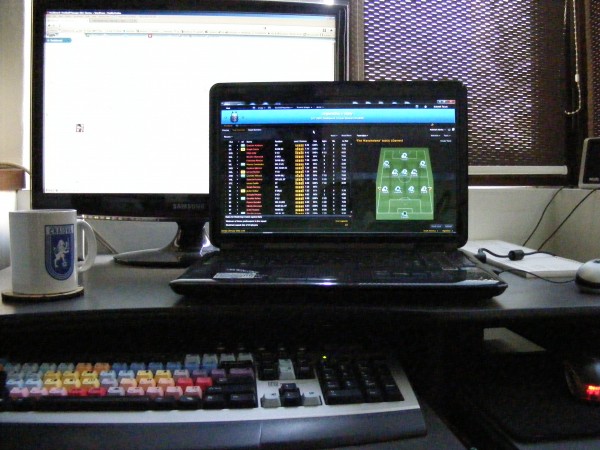 OK, enough about the World Cup and Argentina, the last thing I'm going to say is that I resigned right after the World Cup final, I had reached my goal of winning both Copa America and World Cup and I didn't want to hold on to that job. But I did hold on to the Vauxhall Motors job, I can't explain exactly why because I have already won everything… I guess I just want to play at least one more season. Or more, who knows? I just know that I still have the desire to manage the Motormen, when that desire will fade I will resign.
Until then, let's start the new season! I admit that I was a bit disappointed to see the transfer budget that I was offered, just 21 million pounds for a title promise… However, I didn't need too many players anyway so I didn't argue with the board.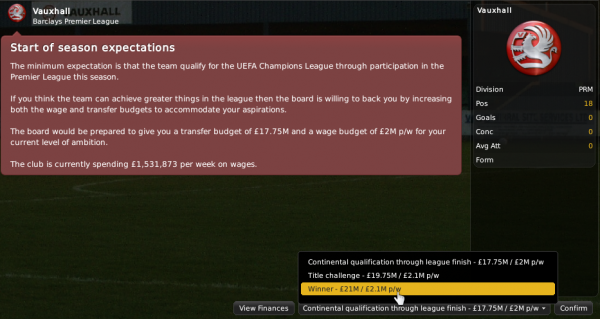 The bookmakers didn't favour us this time either, I guess they are really keen on losing money. Or maybe bookmaking will turn into charity in the 2020's :)

The transfer window was quiet enough but we still managed to get in 33.5 million pounds from sales and loan fees. The most important departure is that of Phil Jones, an awesome centre back by any means but I felt that a younger replacement was needed. Arsenal paid 10 million for him, I guess that is OK considering he's 31 years old. Two other first team players left the team but that is just temporary, I decided to loan out Iain McManus and Anderson to give them more first team football and maybe make them competitive enough to fight for a place in my squad next season.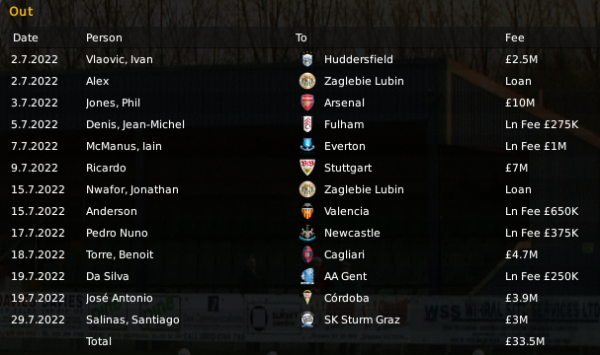 The image below must be my smallest "transfers in" screen shot ever :) I brought in just three players, two of them for the first team and one for the under 18s (you guessed right, that 500 pounds buy is for the under 18s :) )

Now let me introduce the two new faces. Keimo Landre is a promising French centre back and he is the one I chose to replace Phil Jones. He might not be as good as Jones yet but I think he will become even better given his already good attributes and high work rate and determination. I hope that he will slot right into my first eleven in the second part of the season. Moreover, the 12.5 million fee was not too much at all in my view.

Last but not least, a freebie! Eduardo Gonzalez Rodriguez has been on my watch list for years and when I saw that he didn't want to extend his contract with Valencia I jumped at the opportunity. He is a very skilful striker and still fairly young, I think that he will blossom under my guidance and alongside legendary names like Zé Carlos and Parana. He will have a tough time catching the first eleven though so I am still thinking about loaning him out for a few months, we'll see…

Here is my full 24-man squad for the season, I also have plenty of decent youngsters in the reserves to handle an eventual injury crisis so I am quite optimistic ;)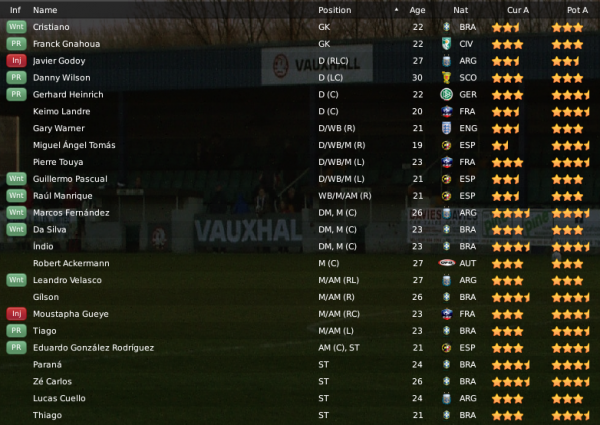 The summer friendlies went fairly well, we scored 3 plus goals in each game courtesy of the Bulldozer tactic and also created loads and loads of chances in each game (at least 7 in each game except the one against Juventus).

That's where I usually wrap up my posts but I have a surprise for you: I decided to accept another international job! I wasn't too keen on that to be honest but since the African Cup is going to take place in 2023 I thought that it might be a good opportunity to aim for another piece of silverware. The Senegal job was available and the FA handed it to me. I was hoping for a better squad though, Senegal have only one world class player (well-known striker Khouma Babacar) and just a few decent players to support him…
Moreover, the qualification for the final tournament is anything but secured, we will have to beat Gabon to get there (the top team in the group qualifies while the second placed has to go through another round). I will try my luck, I've got nothing to lose anyway :)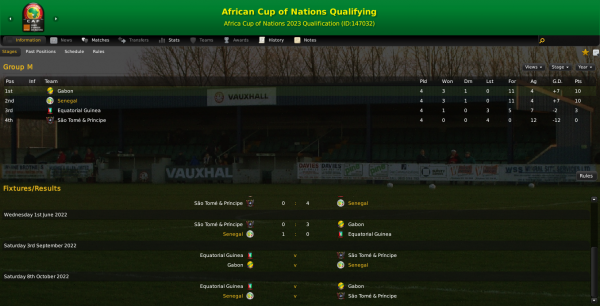 No more surprises now, that's the end of the post. Thanks a lot for reading it my friends, your support has always been nothing short of fantastic. Take care and leave a comment, suggestion or question if you feel like it :)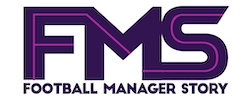 Subscribe to our Newsletter