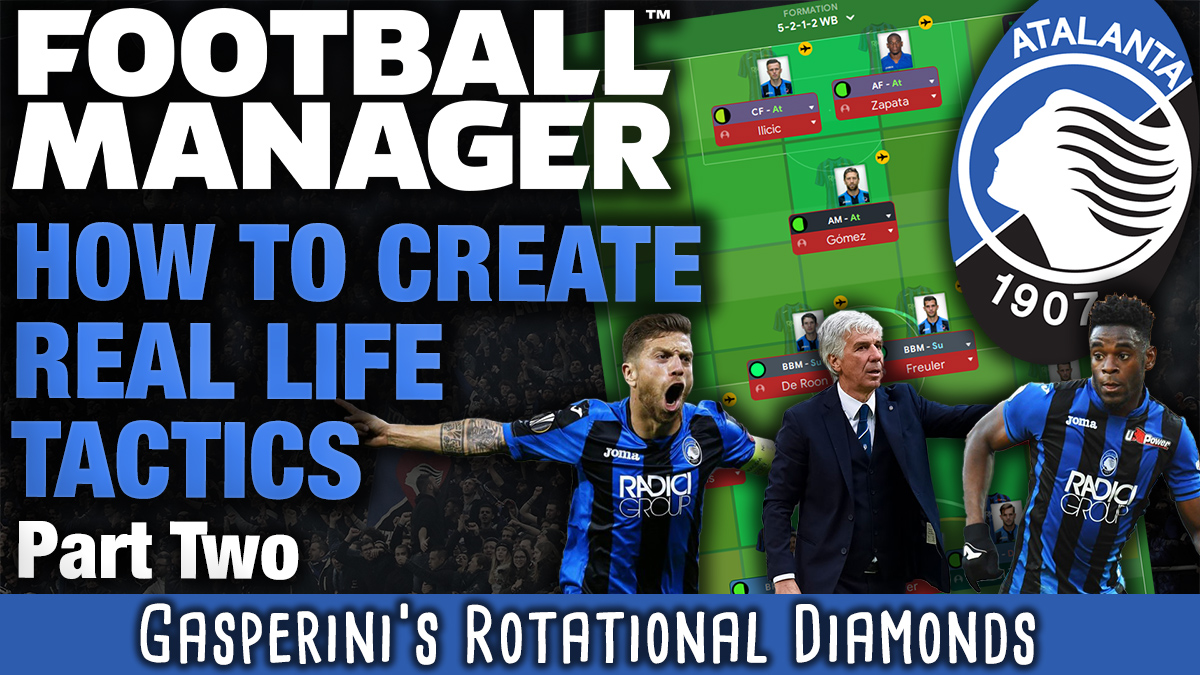 This guide describes how to create real life tactics in FM20. From Klopp's dynamic 4-3-3, to Guardiola's possession play and Bielsa's aggressive press, the systems may vary but your approach should remain the same. I will attempt to recreate Gasperini's high octane, pressing style showing you how to implement the same principles in your game.
Part one covered analysing a system; I explained how Atalanta deploy rotating diamonds to stretch the pitch and engineer space. Part two (todays article) will translate this analysis into FM.
---
If you have not done so already, please read part one by clicking here. The analysis phase is very important in setting you on the right path to begin with.
---
How To Create Real Life Tactics In FM20: What Matters
During part one I analysed Gasperini's pressing, liquid Football. We discussed rotating diamonds, the high press and how Atalanta create attacking overloads in a fluid system. We focussed less on detail and more on the bigger picture because to create real life tactics in FM20, you must think big.
Before loading FM I recommend analyzing a system as we did in part one. Write down the key features from style to shape and how each role interacts, you will use this list as a compass to navigate your way through FM.
3-4-1-2 shape
Short, sharp passing style
Aggressive, pressing play
Create diamonds throughout the pitch
Attacking roles to interchange and rotate with fluidity
Defend in a back five
Agressive, attacking Wing Backs
Step 1 – Shape & Style
Lets begin with shape and style, the most obvious of tactical decisions.
Because Atalanta play a 3-4-1-2 we can utilise wingers or wing backs, we need to create a five man defence when under pressure so lets go with wing backs on attack.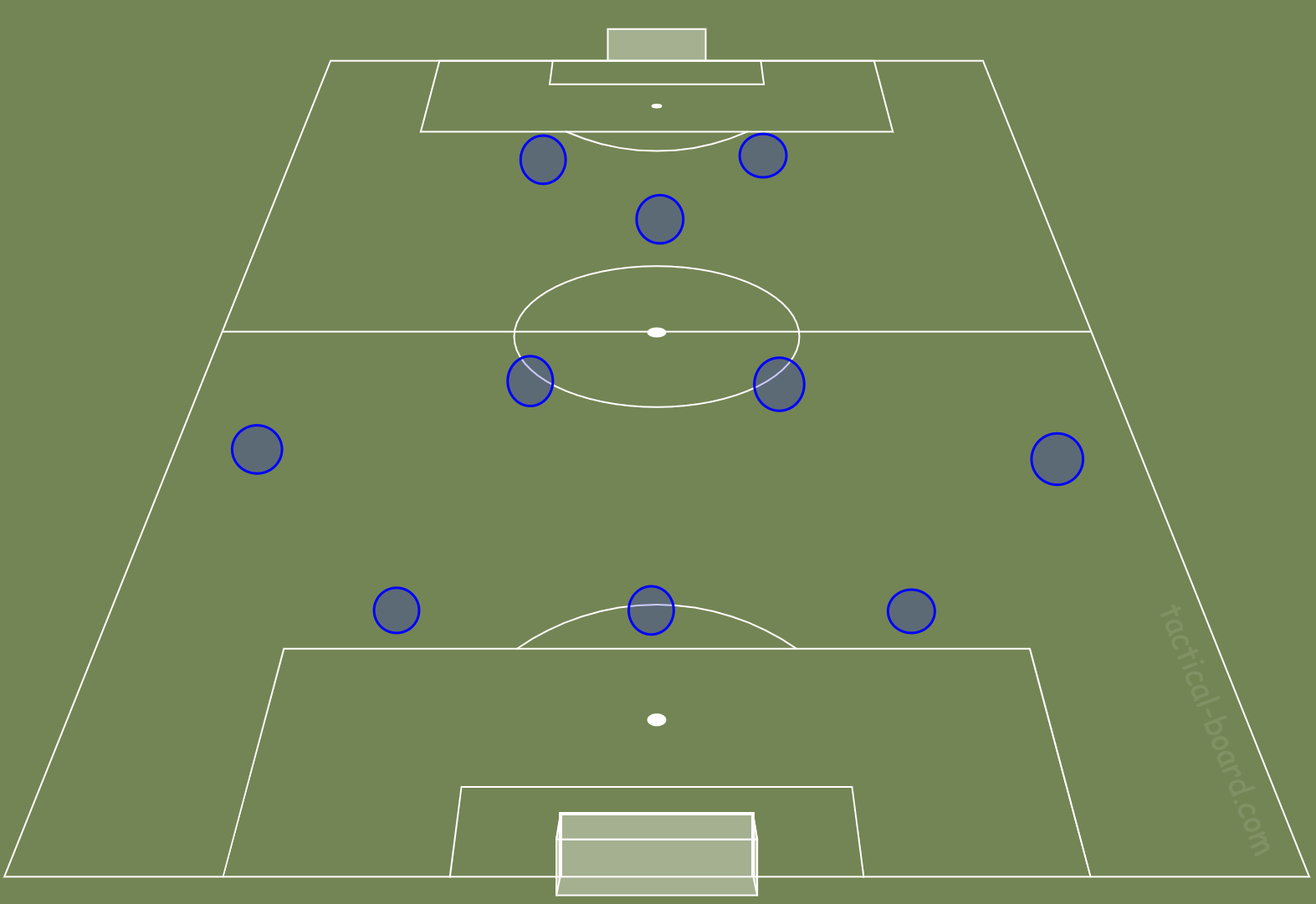 When selecting team instructions – to begin with – only choose imperative settings to replicate your teams tactic. Atalanta use a very aggressive counter and counter-press style attacking in numbers to enable those rotating diamonds we discussed.


Gasperini plays out from the back using short, sharp passes to commit players and open up space. A slightly shorter passing style and slightly higher tempo should work. We could increase the tempo but this may lead to searching passes and sloppy play.
We also run at defence. Its important to engage the opposition if these diamonds are to work; As the player in possession attacks he acts as a magnet, freeing up space for the diamond to rotate.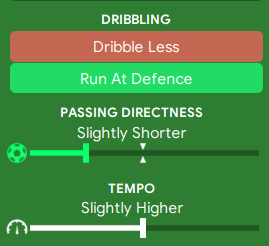 To press high we need instructions of much higher line of engagement, prevent the short kick and extremely urgent pressing intensity. A higher defensive line calls for the offside trap and should help push those wing backs forward. The word aggressive is used often with Atalanta, so get stuck in is active.

Start with minimal instructions and evolve as pre-season unfolds. I struggled with long shots and sideways passing, but once work ball into box and pass into space were added the issue went away.
Keep instructions to a minimum, add too many on day one and you'll never understand what is or isn't working.
Step 2 – Roles & Duties
Rule number one: Do not assign roles based on individual player preference, choose roles which interact to create the bigger picture. Of coure you should assign roles which suit the player but never at the cost of balance and interaction. Let me explain.
To create Atalanta's rotating diamonds I need to create movement, so each role should be selected with this movement in mind. Remember those diamonds we spoke about in part one? How can we create such movement and patterns in Football Manager?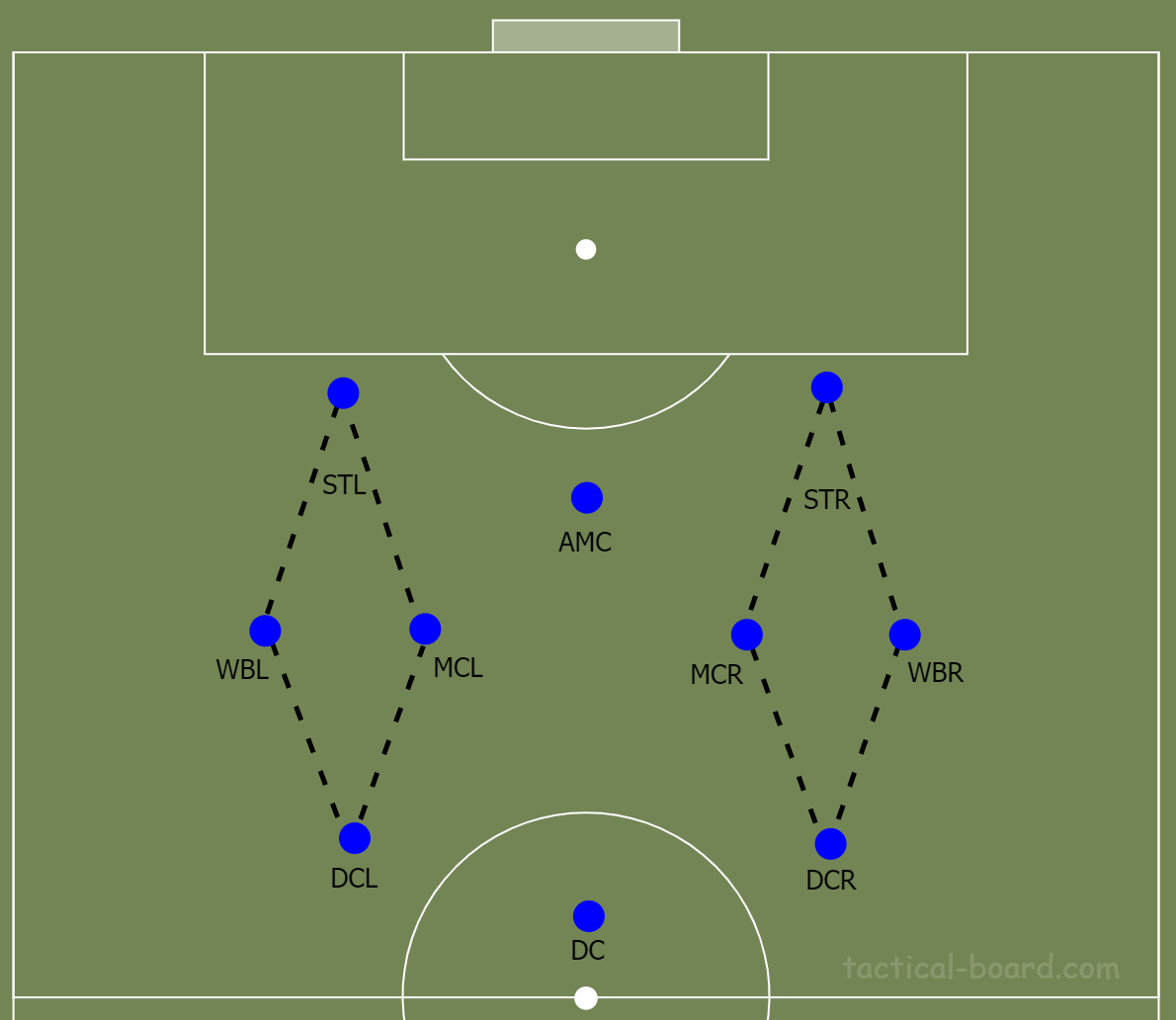 Selecting Defensive Roles – How To Create Real Life Tactics In FM20
Lets begin in defence, we already know Atalanta play out from the back so lets field ball playing defenders. BPD's take more risks and should form the anchor of our diamond as seen below.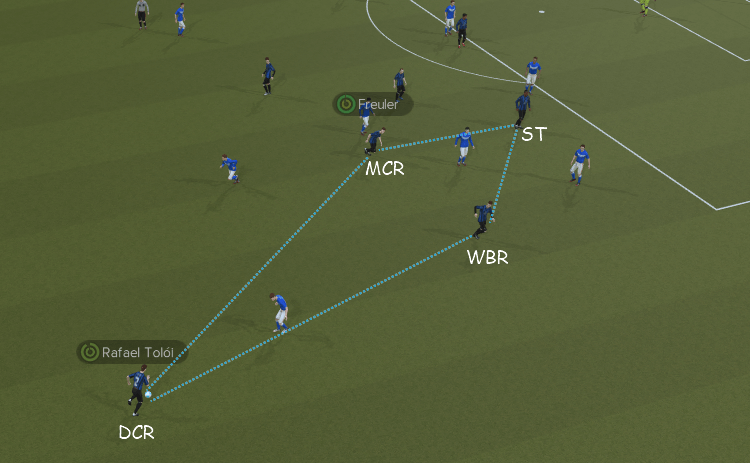 The wing backs are aggressive and need to attack the final third, yet sit in to form a back five during the defensive phase. A role of wing back on attack duty with individual instruction of sit narrower should work.
Worth noting your team mentality contributes to each players role and duty. If using an attacking mentality you should ease off on the attacking duties. Likewise a defensive approach rich in support duties may need to be more offensive.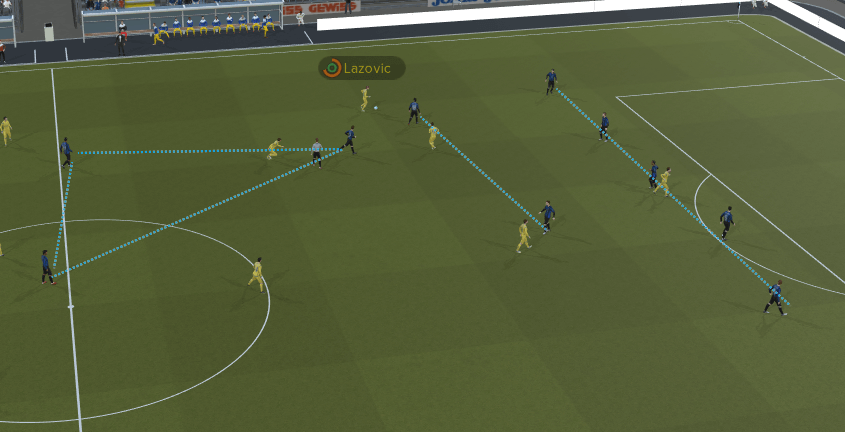 Creating Movement In Midfield
As play moves forward both DC's need replacing in the anchor. Two Box to box midfielders should create enough movement by shuttling from defence to attack.
My AMC (Alejandro Gomez, AKA genius) becomes the fifth man. I want him to run in behind but also drop deep forming a three man midfield when necessary. A role of attacking midfielder on attack duty with additional instruction to 'roam from position' should work.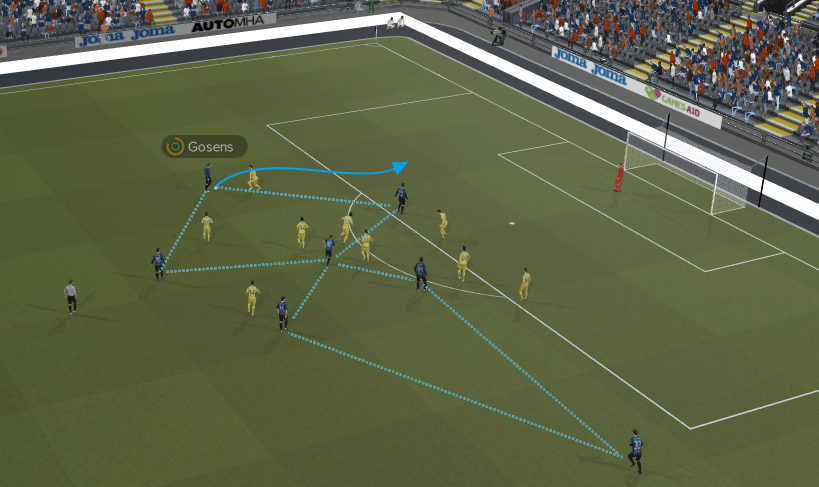 By using a 'roam from position' instruction, the AMC will drop behind my box to box midfielder picking up possession allowing the B2B and wing back to move forward. Pictured below this play creates carnage in the opposition midfield.
Imagine using 'central midfielders' and a static attacking midfielder with wing backs on support duty; Do you think we would achieve the same rotating diamonds? You may also ask why not put the AMC on support duty? Because doing so would restrict those late runs and leave my strikers isolated.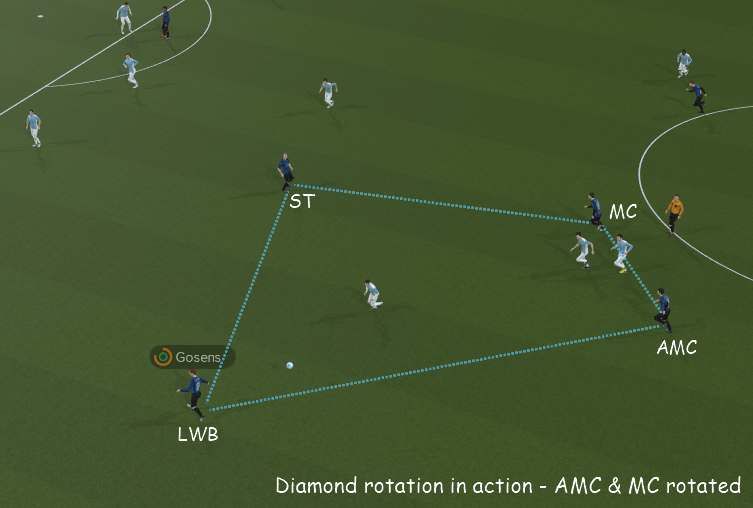 Using my AMC on attack duty helps with defensive positioning because a high press starts from the top. Two isolated strikers would simply tire themselves out. The image below shows Gomez harrasing Lyon's wing back from which we win possession, counter and score. When selecting roles think about space and how each role can connect and interact. To form diamonds throughout the pitch we need every position to act as a bridge linking play.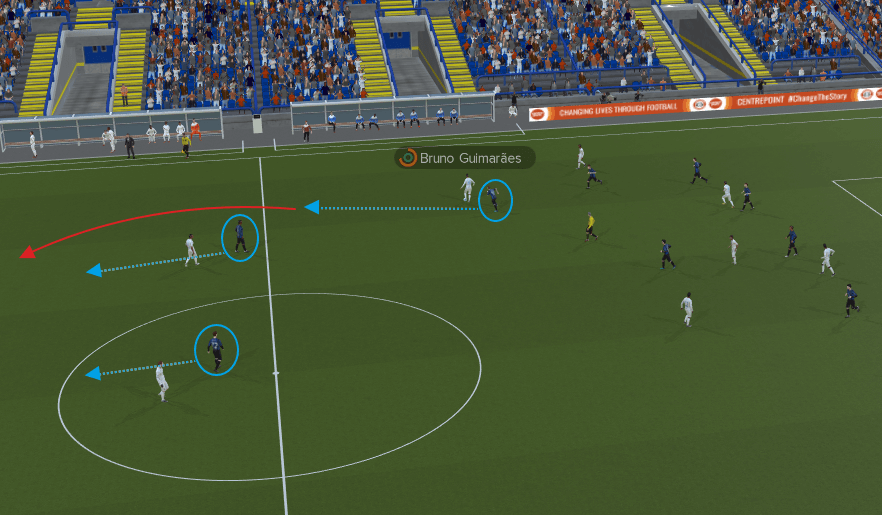 Finding Balance In Attack
Replicating the deep movement and hold up play of Ilicic and Zapata proved difficult. Ilicic constricted space as a deep lying forward while Zapata failed to make a difference in his favourite role of target man. Then FM's description of the complete forward on attack duty caught my eye.
'…he is equally adept at playing in others, fashioning chances for himself and getting on the end of team moves. Such a player transcends tactical instruction and should simply be allowed to do his own thing….with attack duty he will spearhead attacks and lead the line' EUREKA, now Ilicic can do everything!
To compliment Ilicic I use Zapata as an advanced forward working the channels and in behind. Due to his natural physicality Zapata makes a great outlet regardless of role as seen below.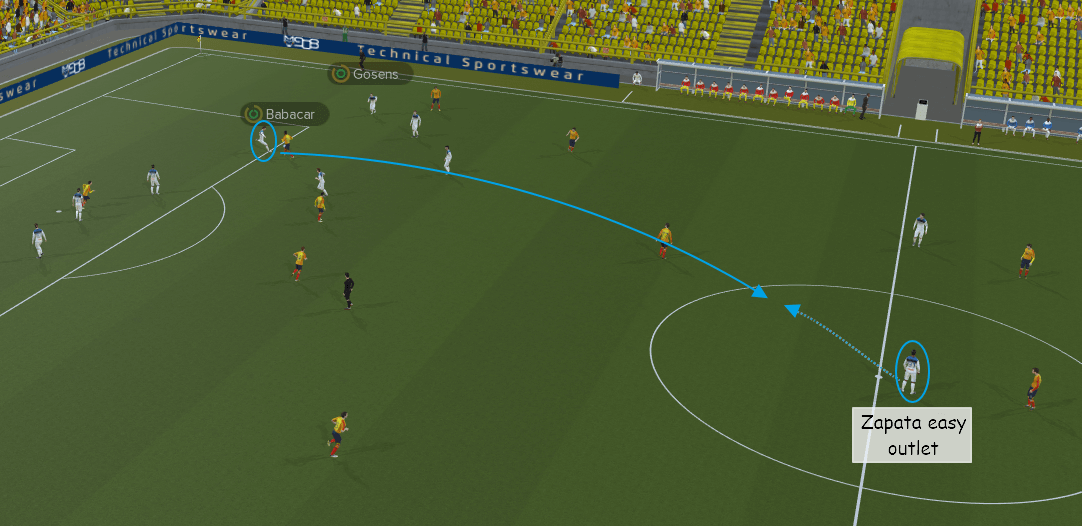 When selecting roles for your strikers consider how their movement will impact the team. Looking to stretch the pitch? Utilise advanced forwards, or almost any other striker on an attack duty. Using three up top and looking to create movement? Try a pressing forward, deep lying forward or false nine on support duty.
One striker, in my opinion, should never be played in a deep role or supporting duty. Someone has to lead the line unless you are a much braver man than I.
Step 3 – Tweaking Instructions
You should now have a system which, in theory, replicates your real life tactic. This is where pre-season comes in handy to iron out any weaknesses or bugs. The Football Manager match engine is by no means perfect and speaks its own language. I watch pre-season Friendlies on extended highlights mode with a pen and paper in hand. Here is what I changed for my FM20 Atalanta tactic and why.
1 – Set all players bar the AMC to mark tighter because our attacking, fluid style led to lazy tracking back.
2 – After two red cards I instructed both wing backs to ease off tackles. Their isolation out wide can lead to unnecessary last ditch tackles.
3 – One box to box midfielder takes more risks while the other takes fewer because both struggled to influecne the game. The more adventurous midfielder would take on pot shots so he is now told to shoot less often. This formed a great partnership as both still fulfill the role but in slightly varying styles.
4 – I wanted to replicate Ilicic rotating in the diamond and pulling defenders away from goal, so used the run wide with ball instruction.
Player instructions should enhance a role making it more specific to your vision, so use them sparingly! We've analysed the system and translated it into FM, but how did the season go? Turn to page two for the results and download link.

Subscribe to our Newsletter