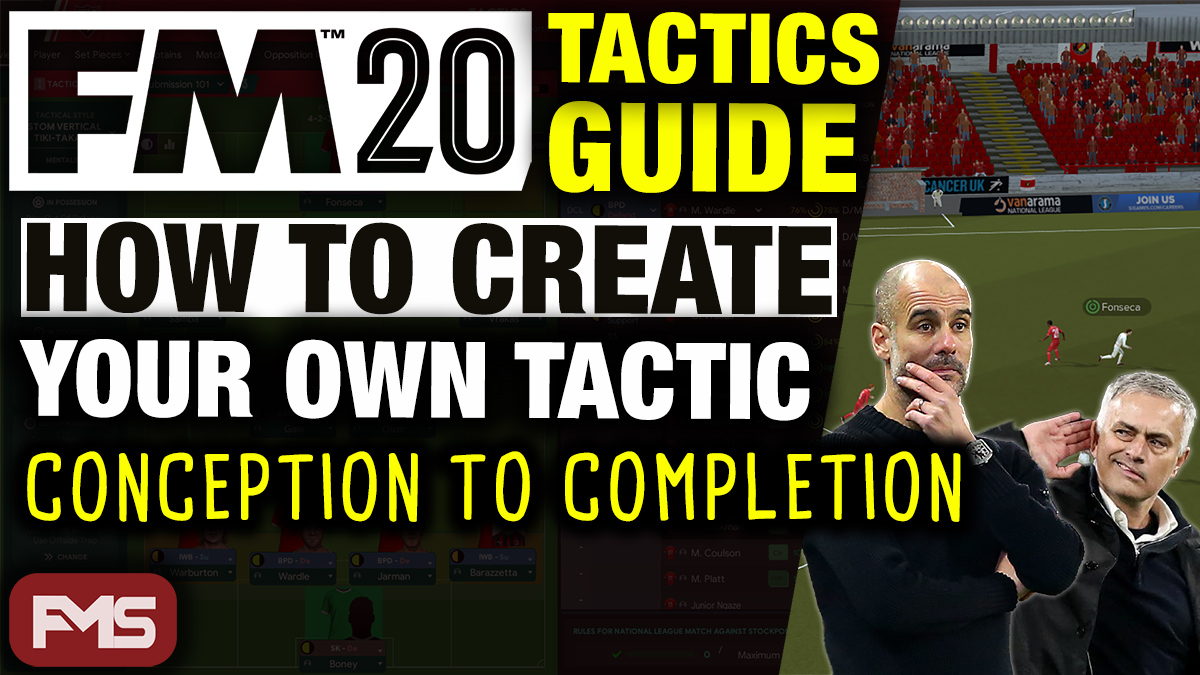 We recently shared an FM20 Tactics Guide on Youtube covering how to create your own Football Manager 2020 tactic. 5 tips from this video have transformed the way we view tactics and helped us move forward with an ever changing game.
You can view the full FM20 tactics guide on Youtube below, or continue reading for the key takeaways. Don't forget to subscribe to our Youtube channel for future content by clicking here.
Football Manager 2020 Tactics Guide – Top Tips
Tip #1 – Consider Role interaction
Player roles do not stand alone they interact and picking a poor match can ruin even the best of tactical setups. For example: Inverted wing backs may not work with inside forwards.
Try envisage each roles movement both defensively and offensively. Where will they move on the pitch and which roles/positions may clash? Do you have enough players covering in all areas? All vital questions when creating your own Football Manager 2020 tactic.
Consider your mix of roles and duties. Playing all your attacking minded players on attack duty is a terrible idea and may create imbalance.
Try and view any system in the whole as one cohesive picture. I for instance play AMR/AML's on support duty to ensure we're not over committed out wide but on attack duty for MR/ML to encourage more attacking play but this will vary on your full back roles…balance is key.
Tip #2 – Embrace Inverted Wing Backs
An often mis-understood role Inverted Wing Backs will sit narrow making up numbers in midfield. Used alongside Wingers this can be a powerful combination and help overload the centre of midfield when in possession as shown below.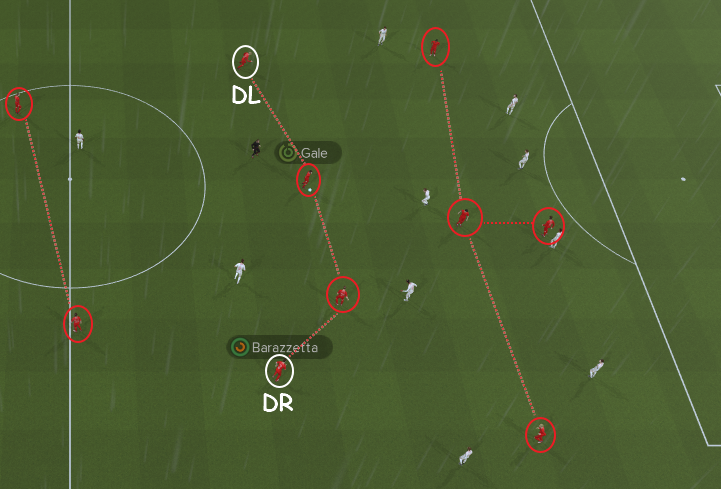 Remember tip #1 from this FM20 tactics guide, consider role interaction. When using inverted wing backs, if they sit narrow you may need to avoid narrow wingers such as the inverted winger.
Tip #3 – Stretch the pitch
Creating chances is about movement and movement is best achieved by stretching the pitch. Consider this in your setup, stretching the opposition will create space and chances.
Maybe use Advanced Forwards as opposed to deep lying forwards. Use Wingers where possible instead of inverted wingers. Visualise how each role could utilise every blade of grass.
Team instructions can help but avoid whacking attacking width to maximum, its in the roles you can make progress. Worth remembering your defensive width should still be specific to how you'll defend…I stick with narrow.
Avoid using a deep defensive line; despite the obvious end result of stretching your players you may lose possession more often and this may add unnecessary pressure on your backline. I personally prefer to camp as high up the pitch as possible…best form of defence and all that!
Tip #4 – The tried & tested approach
A counter press with counter attack and attacking mentality is the most effective, tried and tested approach. Almost every master tactician within the community would agree.
This approach feeds straight into the match engines weakness and while you're free to play any style, most successful systems include these settings. That I have tested at least.
FM20 Tactics Guide Tip #5 – Stop those balls in behind
If pressing, attacking Football leads to balls in behind switch to hold shape and regroup, I only use these instructions to see a game out or if absolutely necessary due to the opposition setup.
Still not sold on creating your own tactic? Why not try the best FM20 tactic for patch 20.4? Knap's BEOWULF 4-4-2 by clicking here.

Subscribe to our Newsletter