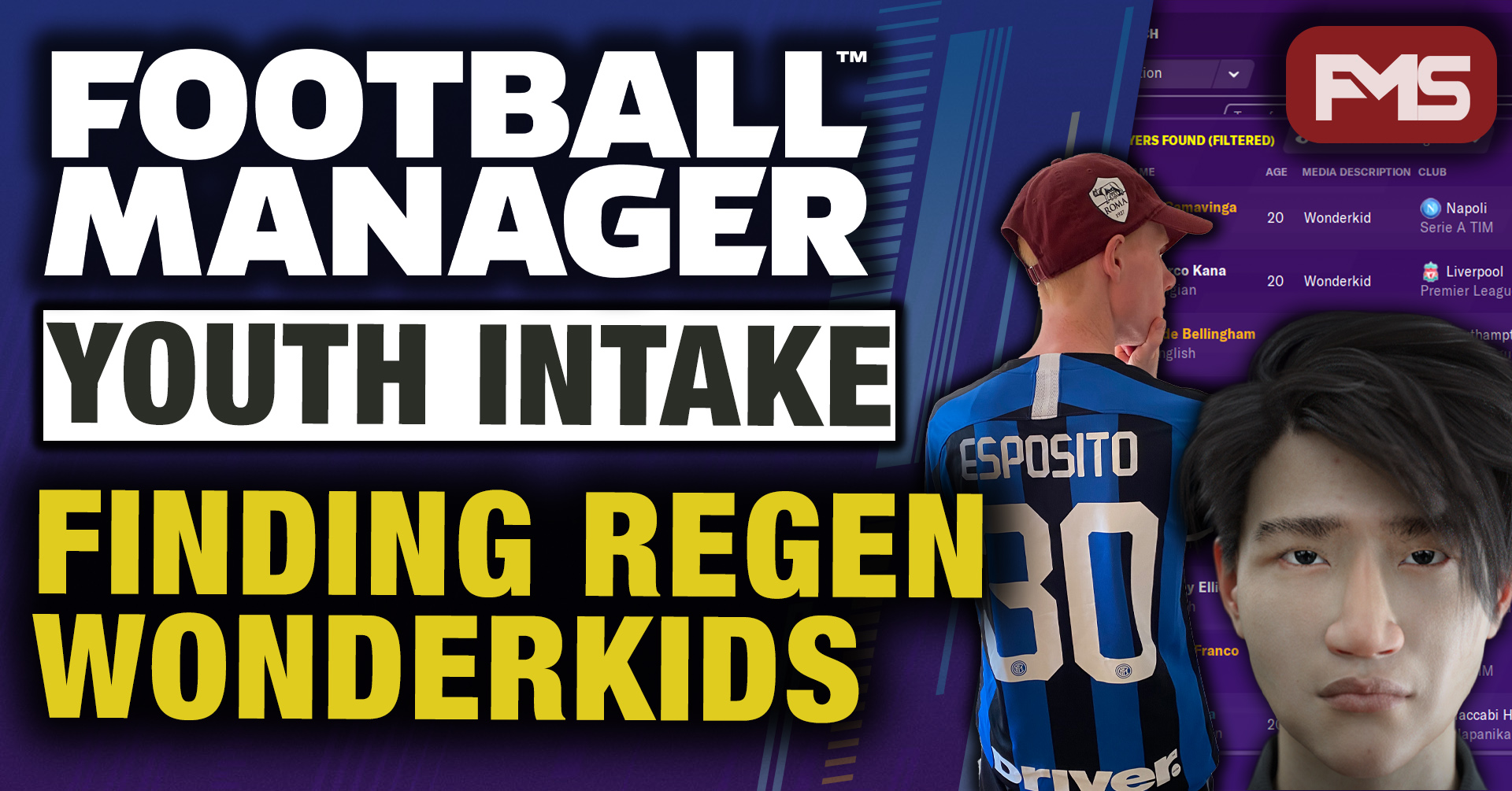 Hey guys and welcome to our FM 2020 regen youth intake guide. Today we cover, in great detail, how to find the best FM20 wonderkids. Yes I am referring to those funny faced players FM gives birth too month by month.
FM 2020 Regen Dates – Have Youth Intake dates changed?
Finding regens is harder than ever with the release of FM20, something Sports Interactive hinted at during pre-release. In the past we could predict the exact day every regen would be generated in every country, this is no longer possible. FM 2020 youth intake dates now vary by club, not just country, adding an extreme level of randomness to the equation.
I could create an FM 2020 regen dates list with a date range, but it would be useless. Instead why not try our approach to find the best FM 2020 regens. We have a structured system for not only finding FM20 wonderkids but refining the search to suit your own personal tastes.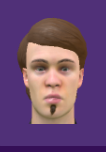 Football Manager 2020 Regen Youth Intake Guide
Note: We recommend playing with attribute masking disabled. this should be done from the start screen of a new game and cannot be disabled once the game has loaded.
OK lets start with the end and the aim of this guide; To get you a shortlist with the very best wonderkids, that is easy to manage and filter. Below is the 4 point plan we will use, the detail will follow.
1 – Add every regen to a shortlist, every month.
2 – Delete the trash.
3 – Filter your shortlist down to the best FM20 wonderkids, for you.
4 – Scout and buy the very best or assign them to a long term targets list.
Stay with me guys, we are getting to the good stuff! Using the techniques below I found this cheap wonderkid within 10 minutes.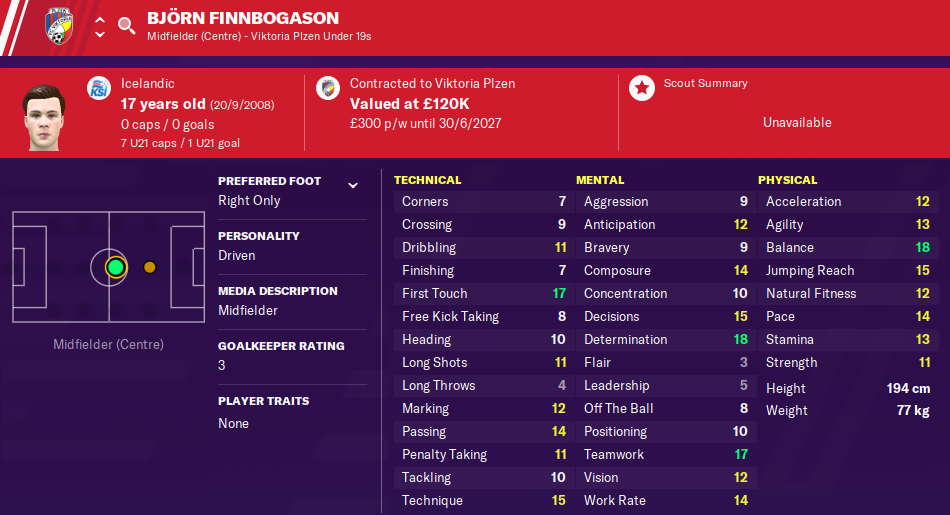 FM 2020 Regen Youth Intake Guide Video Tutorial
While this method produces some exceptional results it can be hard to follow, so we have created the video guide below:
Step 1 – How to find FM 2020 regen youth intakes
Start by creating a shortlist and name it 'Youth Intake'.
On the 1st of every month we need to add every newgen from the previous month to your shortlist, this takes seconds. If you are trying to add regens to your shortlist from multiple intake months this may not work due to size, you need to do each month individually. Follow the in-game instructions below to find every Football Manager 2020 regen by year.
Click the globe icon in the top right corner.
Select 'world' from the top options, not the left side.
Select 'transfers' in the 'general' list.
Now click the 'all transfers' drop-down menu and select 'youth intake'.
Select your first player for the months intake.
Now scroll to the last player in that month, hold down 'SHIFT' and select that player. You should have highlighted each player from said month.
Now right click, hover over 'add to shortlist'>'Youth Intake' and click 'indefinitely'.
Right click again while all players are still highlighted and click 'unfollow all'. If you miss this, your news feed will become a problem.
Repeat this for any months you have missed or would like to add. If you're in March 2023 for instance, this may take a very long time, so you may want a fresh start or to just do the last 4-5 months of intake.
Step 2 – Optimise your shortlist
We need to use a custom view when scouting FM20 regens, but I have uploaded one to save you the hassle, download it here. To add this view to your game follow the 2 steps below;
1 – For Windows put the downloaded file in this folder: Documents/Sports Interactive/Football Manager 2020/views. If the "views" folder doesn't exist you will have to create it
Mac users put file in this folder: Users/YOUR Mac USERNAME/Documents/Sports Interactive/Football Manager 2020/views. If "views" folder doesn't exist create it. To access your files on Mac open 'Finder', click 'Go' from the menubar, press and hold the 'alt' key to show 'library' in your menu, while still holding 'alt' click it, then go to 'Application Support' > 'Sports Interactive' > 'Football Manager 2020'
2 – Go to your shortlist which is located in the scouting sidebar. Select the view drop down menu (could currently be overview), hover over custom, click 'import view' and select 'FMS Youth Intake view'. Your shortlist view should look something like this.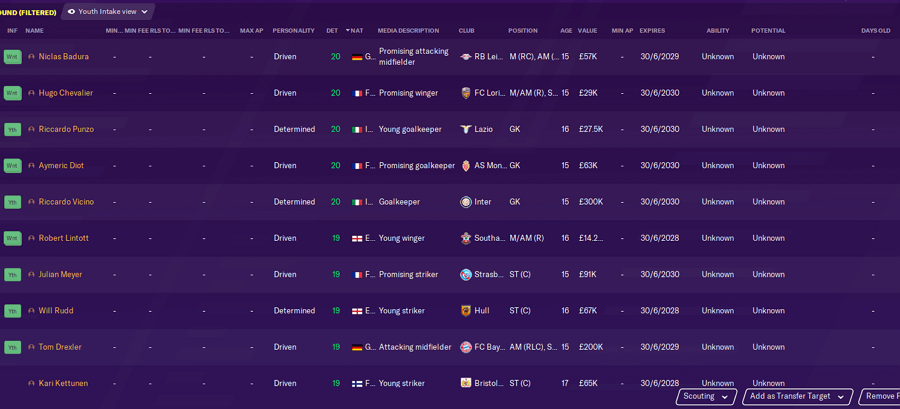 With our custom view scouting is made much easier. Heres a breakdown of what we use the view for:
Personalty: A big factor in development, crappy personality = crappy growth.
Minimum fee release clause: There are three of these, the standard, domestic and foreign clause. Pretty obvious what they are for, to find potential bargains. Note when checking South American regens the foreign minimum fee release clause can be very handy!
Media description: Easy way to spot 'wonderkids' and 'promising' talent.
Min/max asking price: For when you have assigned scouts and recieved reports. You can easily see who is affordable.
Ability/potential: Again for scouting so you can easily see which are the best wonderkids. We'll move to scouting in a second.
Days old: Purely to see if your scout report is oudated.
The key to this FM 2020 regen youth intake guide is in the detail. Before we move on I now delete players with determination below 10. To do so order the list by determination, highlight every player with less than 10 determination, right click and select remove from shortlist.
Before moving on, if you find lots of notifications enter your inbox about regens, you can fix this in the social feed. Set as few notifications for the shortlist as possible. Otherwise your inbox will go crazy. Go to inbox>social feed>manage (bottom right.) Now click 'all followed' which is next to 'follow' and select your shortlist. Now adjust as you see fit, if you want no notifications at all enter custom mode and click the top right cross to uncheck all.
Step 3 – Filter your 'Youth Intake' shortlist to the best FM 2020 regens
First enter your shortlist, go into the search filter and adjust maximum age to 17. Otherwise this shortlist will become too big as the years tick by.
Now lets filter and search our regens, we do this at least every 6 months. Lets filter by position/role to find the very best newgens. To do this click 'new search' and click 'pick' situated below attributes. Now either select the core attributes you look for in any given position or choose from the roles on offer. The minimum attribute you look for in each area will vary, but when searching regens 17 years and under I would start with 8 or 9 as a minimum across every attribute.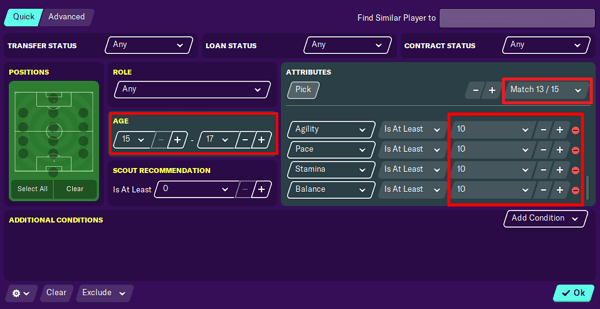 If you have selected the role advanced forward for example, you will filter out any player with less than 9 for all 15 attributes selected. Your list will now be sparse because requesting EVERY attribute to be higher than 9 is too high.
To solve this click 'match 15/15' and play around with how many attributes must be matched. I find 10-12 matched attributes is about right. You can also lower and increase the individual attributes, I for instance hate slow strikers, so would bump pace and acceleration upto 11 or 12. You could up the attributes which don't increase much over time, such as determination, work rate, flair and bravery.
I usually tweak things until the list has filtered down to a viewable amount, say 20 players. This does take some fiddling.
What to look for in a wonderkid: personality and media description
I would now check every player and assign a scout to any of interest. Let me explain what I like in a wonderkid, other than pure attributes. Certain personalties and media descriptions catch my eye. I would not rule out other players, but below are clear markers of potential and growth opportunity.
 – Personalty types: professional, ambitious, driven, determined and born leaders
 – Media description: promising or wonderkid.
 – Determination attribute: Not directly linked with development, but I do see better success with higher determination personally.
This is where the custom 'FMS Youth Intake view' comes in handy. We have all this information at a glance, making it easy to form a rounded opinion.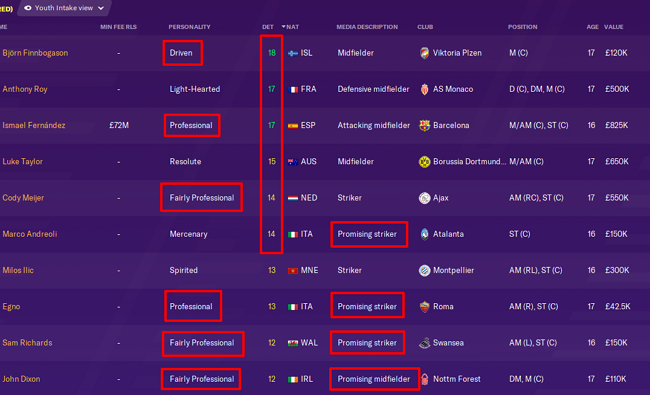 Repeat the process for every position/role filter you like until your eyes water! Now sit back and let your scouts earn their keep.
---
Need an attacking FM 2020 tactic, try Duke Ryan's 4-4-2, it went undefeated with Newcastle beating Liverpool, Man Utd, Man City and Arsenal, just click here.
---
Step 4 – Scout, shortlist and buy!
Once all scout reports are complete, head back into your shortlist and re-order by 'potential' scout rating. Add the highest rated players you like to seperate 'targets' shortlists by position. These should look like this – 'GK targets' or 'ML targets' for example.
I now make a decision on which players to buy right now. Using the custom view we have a wealth of information in one place. Make your decision based on asking price, rating, personality, media description and attribute mix. Over time you will develop a trained eye for how to find the best FM20 regen wonderkids. Again, note the importance of our custom 'FMS Youth Intake view', do not skip this step.
I hope this Football Manager 2020 regen youth intake guide has helped. If so please do share on social media and spread the word. Likewise if you have any questions the comments section is below.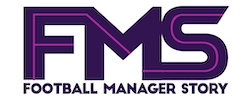 Subscribe to our Newsletter