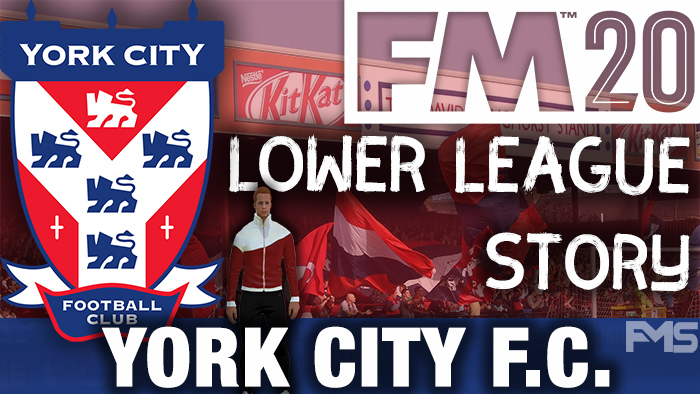 Heh guys and welcome back to my FM 2020 lower league story. Last episode we covered my transfers, squad and tactics with York City, today we bring the curtain down on season one.
After a great pre-season the new arrivals look fresh and hungry. I have tried to assemble a young squad and hope to bring the majority with me beyond season one.
To recap, the goal was always automatic promotion and general domination during season one with an eye on preparing for season two. Looking at results for 2019 we are on course. Jamie Gray has been lethal in front of goal, Otranto a dream from midfield and Romano a rock at the back.
York City Results 2019
We came flying out the traps with 11 wins from our first 11. Scoring goals for fun it wasn't until a weird game against Leamington the run came to an ubrupt end. Our FA Trophy results pleased me also, beating a National League side in Halifax away from home was no mean feat. Winning all bar 3 games in 2019 is a great record and all three losses came away from home and by the one goal.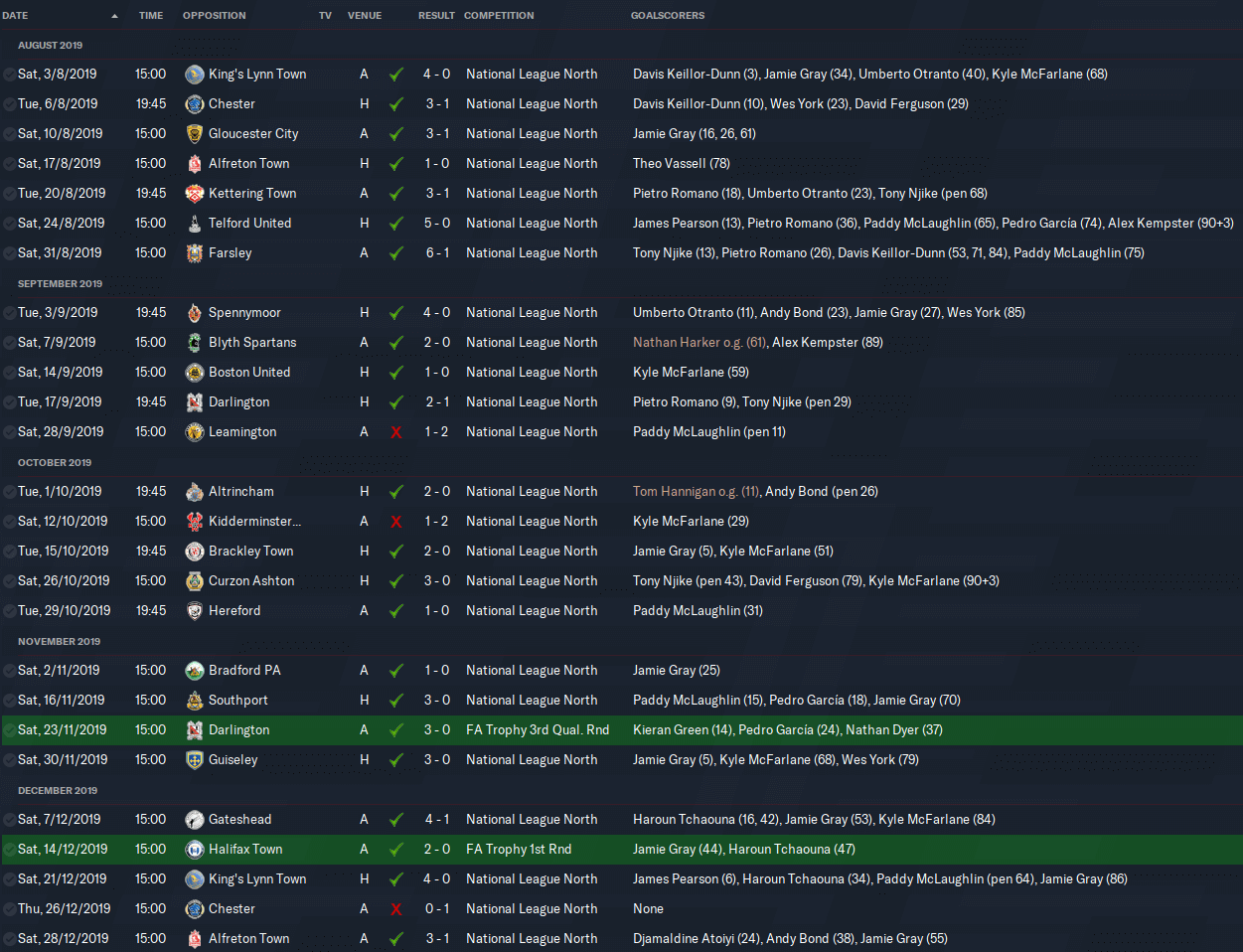 Robbed of an FA Cup fairytale
After beating Barrow to reach the FA Cup 1st Round proper, I was excited to face League Ones Peterborough and hoping for a small payday. Holding the Posh to an away draw was a proud moment and we were robbed in the replay. After dominating parts of the game, it went to penalties. Gray missed the 5th kick which should have won us the game, followed by a further wayward effort and our exit from this historic Cup.

Mid-season signings
With promotion likely my mind turned to the future and preparing for a charge on the Football League. Many hours were spent manually scouting as I found two cracking players. Both were available for free owing to their amateur status with Thonon Evian FC.
Djamaldine Atoiyi
A fast, technically gifted left winger Atoiyi is a right coup! A long career bouncing from Ligue 1 to 2 with Troyes in France lead to little game time. The kid can finish, dribble, pass and moves well off the ball. To have a player in the Conference North with such ability and 15 technique is barmy. My biggest challenge will be hanging onto such a talent. At only 22 he also fits my mould of buying young.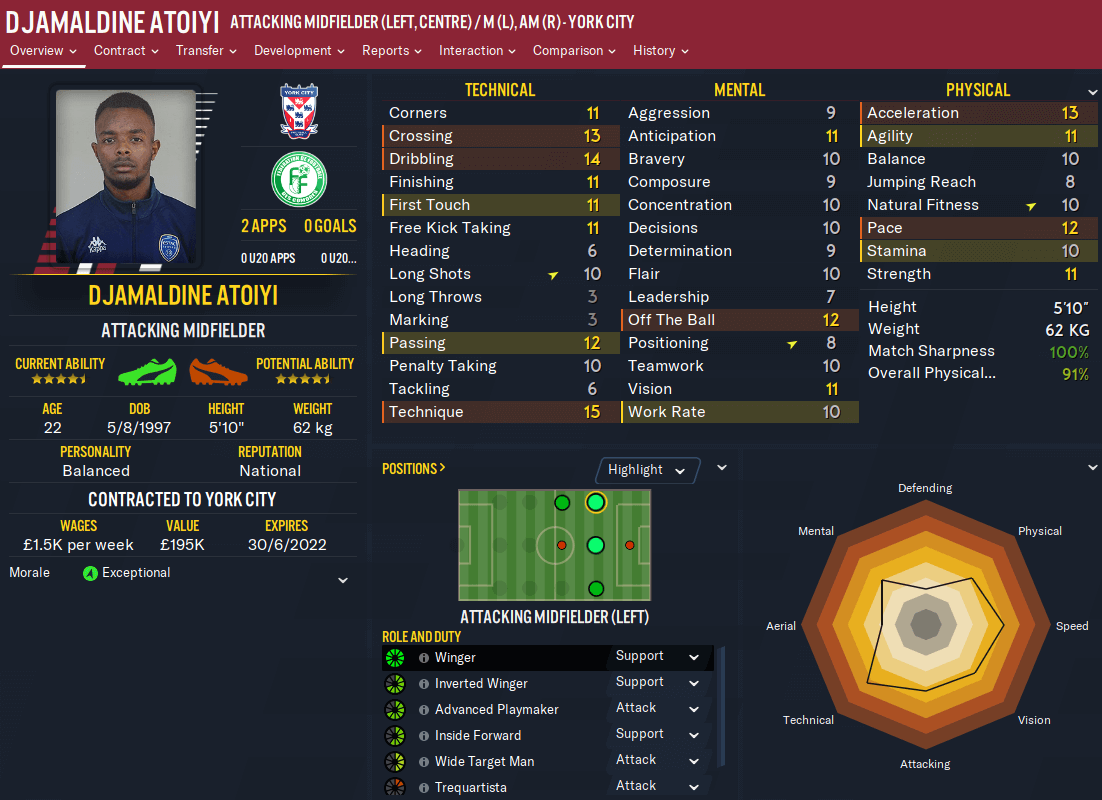 Ilyes Chaibi
What to say about Chaibi, this kids amazing and well above our current level. Signed by Monaco in 2014 the striker went on loan to Ajaccio during 2016/17 playing 17 games in Ligue 2. It was all downhill from there finishing with Amateur side Thonon Evian. His steady demise stops with York City.
I love a technical forward and Chaibi has it all, finishing, technique, touch, passing, dribbling and even long shots. I was initially drawn in by those physical attributes which make Chaibi a complete Athlete. I have been stalking the 22 year old all season, waiting to make my move. With only 6 games to go my new season budget was announced, allowing me wiggle room to pounce.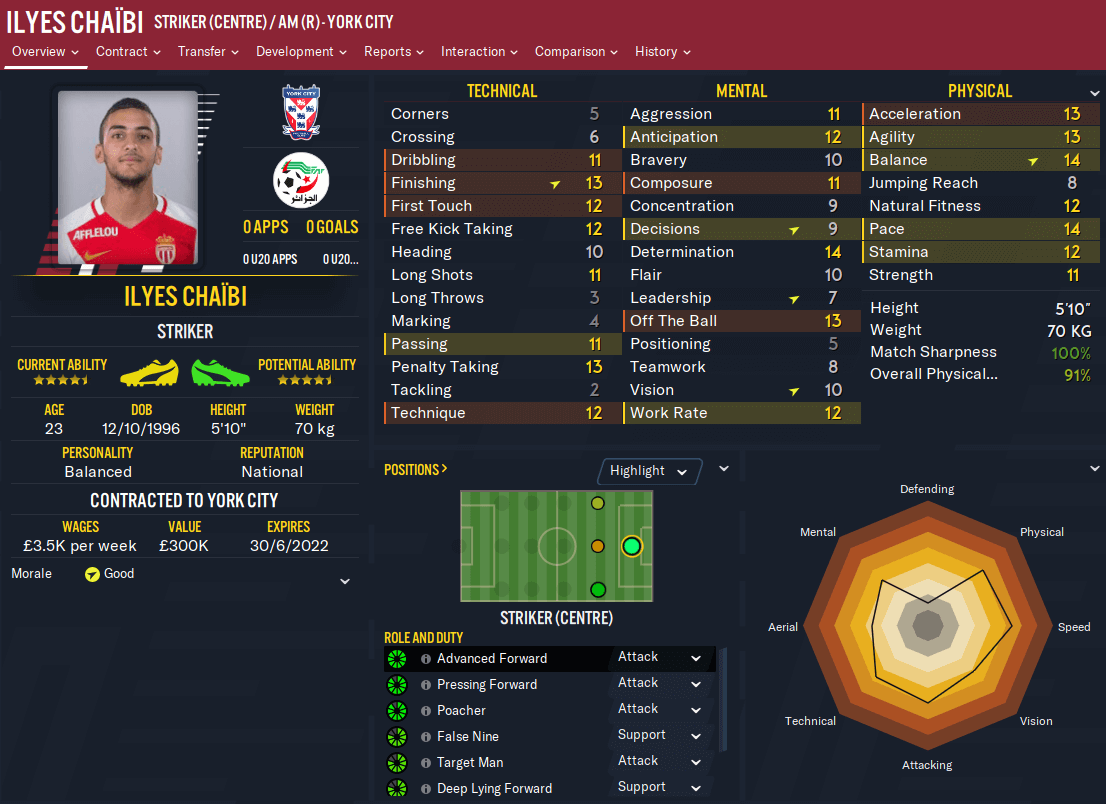 Second half of the season
Easy peasy, with promotion secured early I could concentrate on the FA Trophy. We faced tough opposition every round including four National League sides. Notts County proved a stern test and gave me a feel for next season.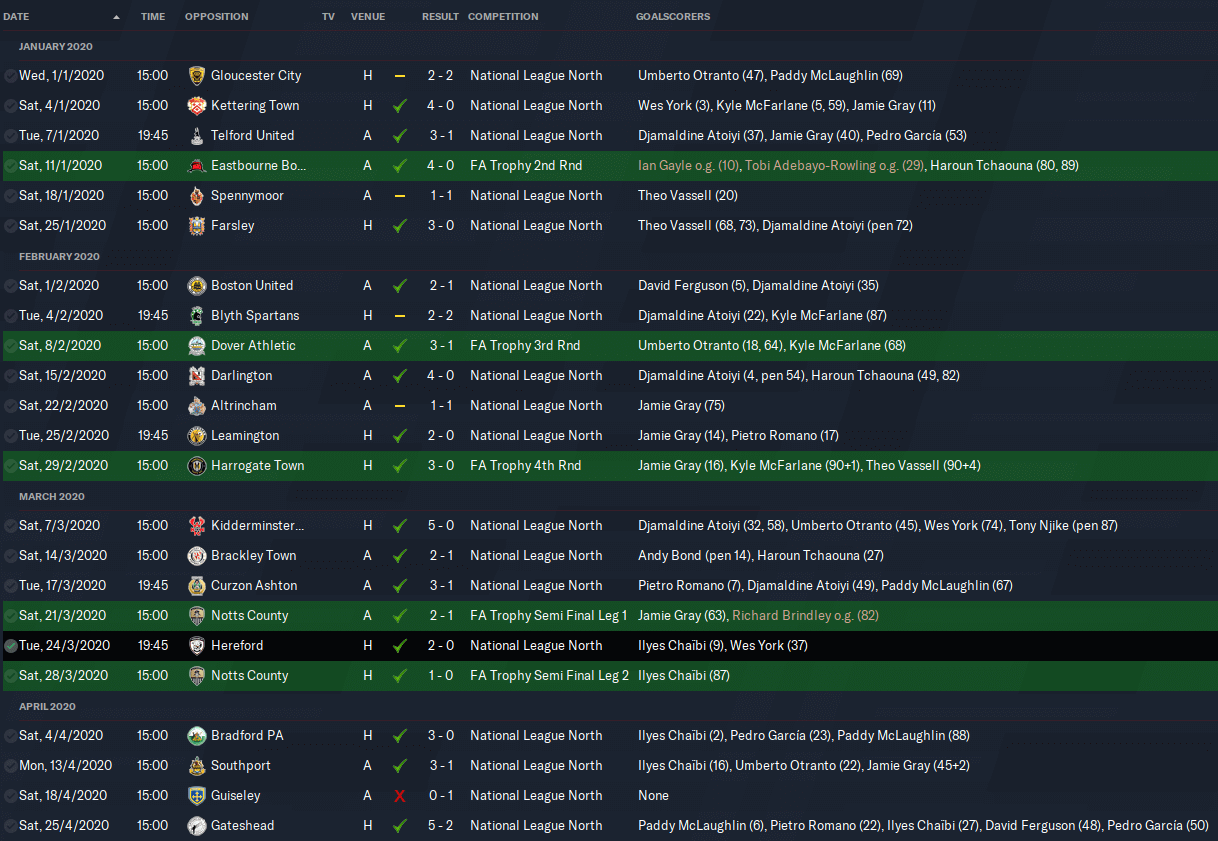 The Minstermen go marching on, Vanarama National League here we come. Just look at that goal difference.
We reached the FA Trophy final and I actually played this game while live streaming. After bossing the league all season and beating better opposition in the cup, I expected an easy win. Telford had other ideas. We created chances but couldn't take any.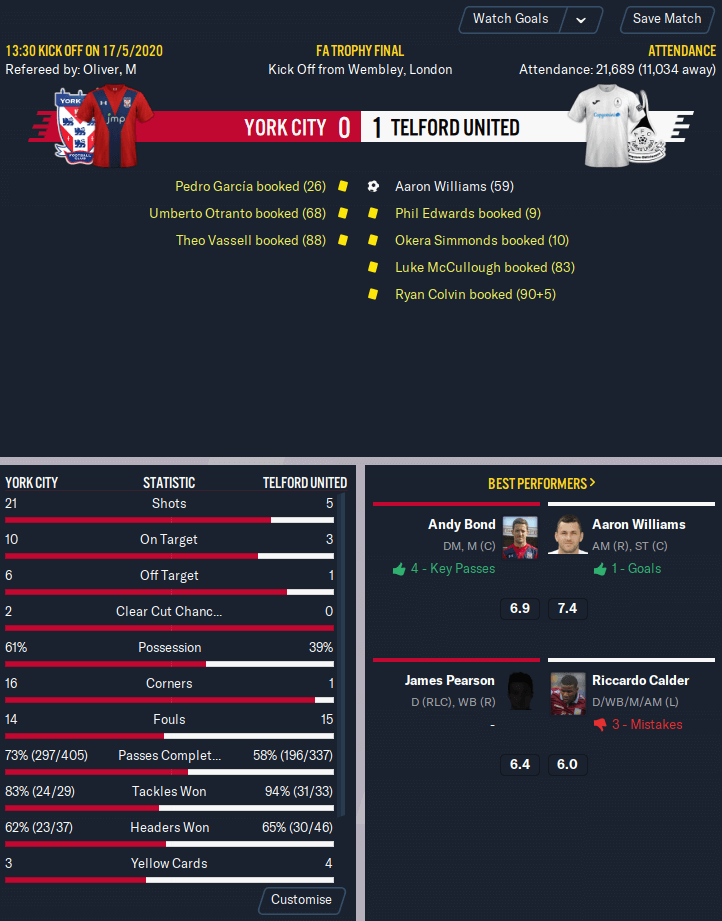 ---
Want similar results in your lower league save? Download our tactic, the 4-1-3-2 here.
---
Key Players & performances
As shown in the graphic below, York's key players form the spine of my time. Otranto, Gray and Romano have been brilliant. Gray with 22 goals, Otranto 22 assists and Romano a rock in defence and threat from set pieces. Atoiyi made an instant impact scoring 10 and assisting 2 from just 19 games.
Garcia has not developed much, I had high hopes for the 16 year old but blooding youth in the lower leagues isn't easy. With crap facilities and even worse coaching staff I'm not sure what I expected. In fairness he has done a job from the right wing with 6 goals and 13 asisst, but I may need a more potent threat next season.
McLaughlin proved a pleasant surprise, the 29 year old scored often from the bench and worked as a utility man from the left wing and central midfield. Those 15 goals were very welcome from a source I tried to offload pre-season.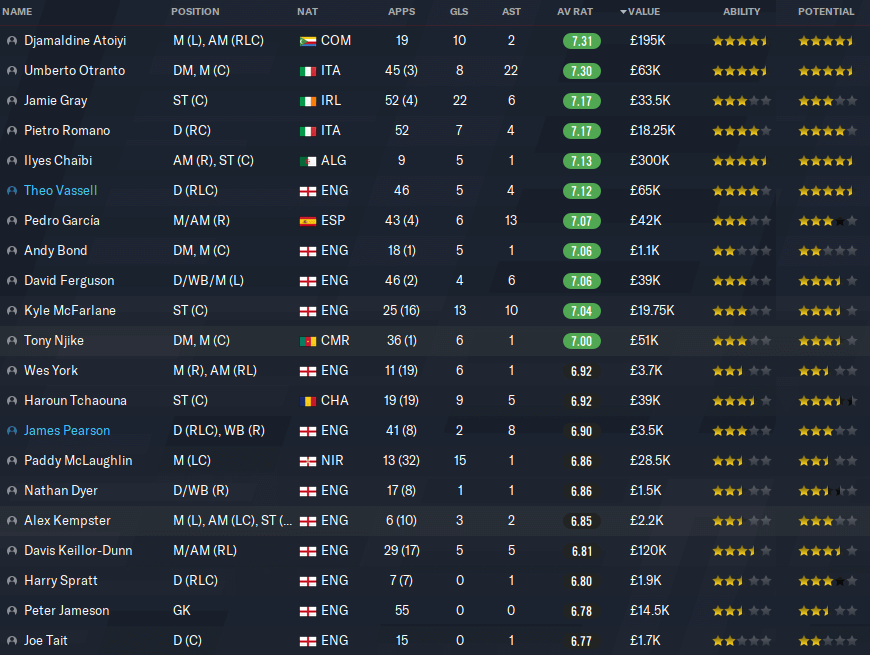 I will be gutted to lose Vassell who has been brilliant at centre back. On loan from Macclesfield I cannot afford a permanent transfer. Scouting has begun for his replacement and I have my eye on a young centre back from Norwich.
A word on tactics
I have two tactics for FM 2020, an aggressive 4-4-2 and connotation to the shape of 4-1-3-2. The latter has more conservative roles for defensive stability. I have used the 4-1-3-2 version this season and found it very secure, the 4-4-2 wields better attacking play but falls foul to the odd shock result and concedes too many clear cut chances for this level.
While one on ones remain heavily biased in the keepers favour, clear cut chances are not an issue, but the match engine will be improved. I would rather not rely on a system which works with match engine glitches…I may get three seasons in just to realise I have built a team around a system which is broken after SI release the next patch.
I will be talking about my tactic Sunday night from 6.30pm on Twitch during a live stream if you're interested. We'll discuss how it works, what players are required and why I use it. Click the link previous and follow me on Twitch or get notified by following us on social media.
The future
We have built a great young team capable of challenging for promotion to the Football League. The plan for season two is to build on this and add quality. I reckon 4-5 quality signings will make the difference but the stats from season one tell there own story.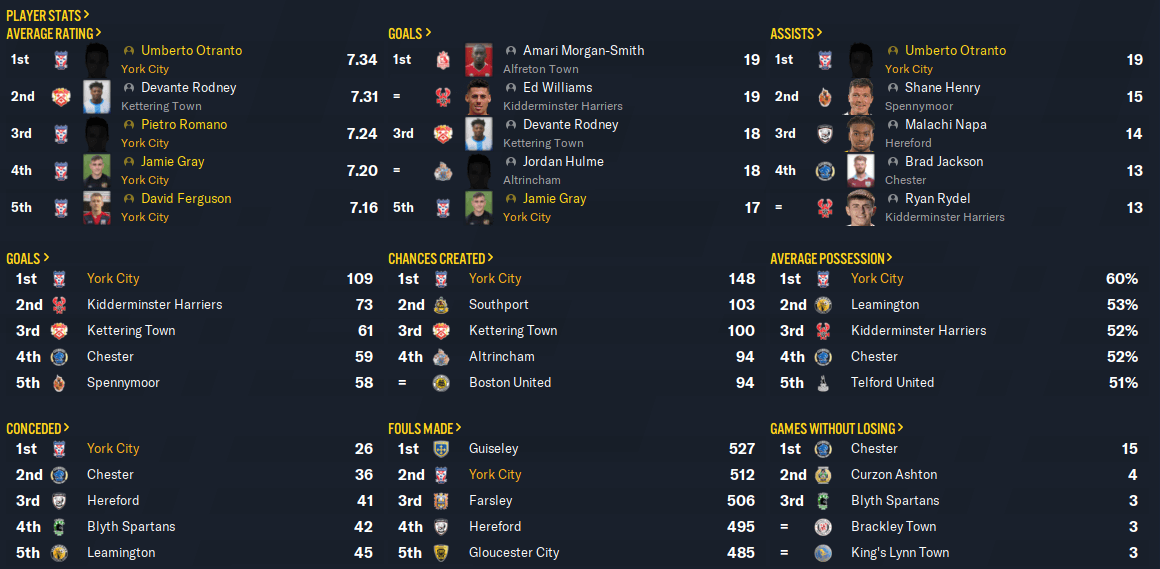 If we can get promoted to League Two the pool of players available and budget to boot will expand. My plan in the meantime is to build a stable squad capable of holding their own over the next two seasons.
Thats all for today folks. As always I really appreciate the support, remember we have live streams every Friday and Sunday night and the next written story will feature pre-season and transfer activity from season two.

Subscribe to our Newsletter