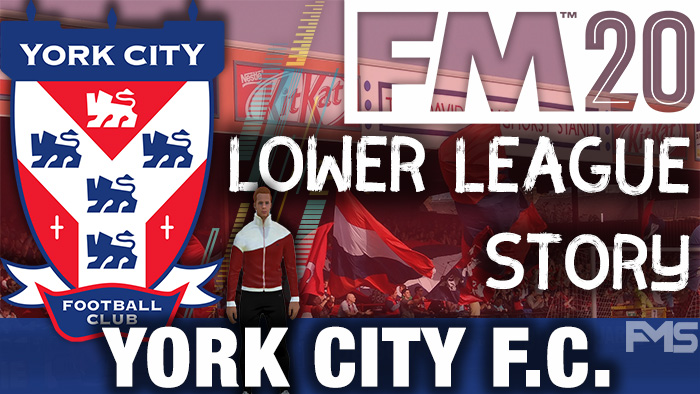 Heh guys and welcome to season three of my FM 2020 lower league story. Last episode saw York City go unbeaten in the National League, lift the FA Trophy and reach the FA Cup Quarter-finals. You can catch up on our giant killing campaign here.
Today our focus turns to transfers, facility upgrades and scouting in preperation for League Two.
Season three goals & news
The boards expectations are uninspired yet again, suits me. We should be gaining promotion to League One and I am planning another cup run for 2021/22. Some interesting additions to my club vision though; we are expected to play attacking, entertaining, possession orientated football.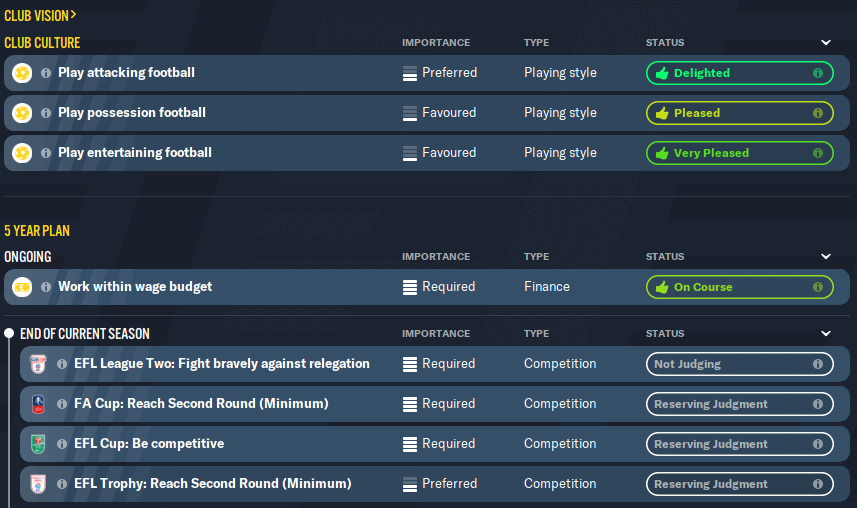 The title odds have slipped in with every signing. We're now 3-2 favourites but Bristol Rovers and Rochdale provide a threat. Both clubs have spent a lot of money during pre-season.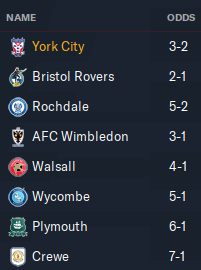 We ended last season with £1.8 million in the bank, and I spent it all on improvements. By Crimbo the new training and youth facilities will be complete. Our youth coaching budget has been leveraged also. Finally, to my surprise the board agreed a stadium expansion costing £1.8 million, once complete the Community Stadium will host almost 10,000 of York Cities finest!

Transfers
Every transfer had League One in mind as I strenghtened almost every area. I am also scouting newgens and trying to fill the clubs academy with talent. Highlighted red are the new regens but tonnes more will follow.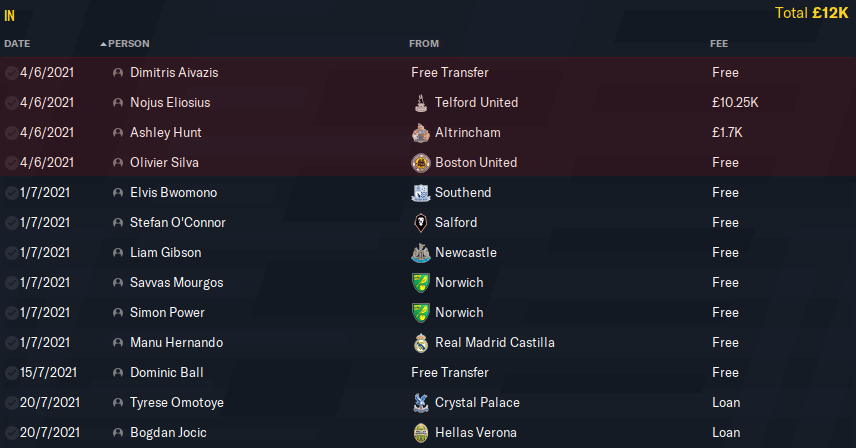 Newgens for 2021/22
Dimitris Aivazis is a left winger with great speed and excellent potential. Ashley Hunt will offer long term cover in goal and seemed worth a punt. Olivier Silva was a poor piece of business but Joe Hook should be a decent addition in the coming months. I am very excited about two newgens in particular. The first, Nojus Eliosius (pictured below) is just 16 years old joining from Telford and plays central midfield. I wasn't put off by a lack of yellow attributes, his all round ability is good and this kids got potential.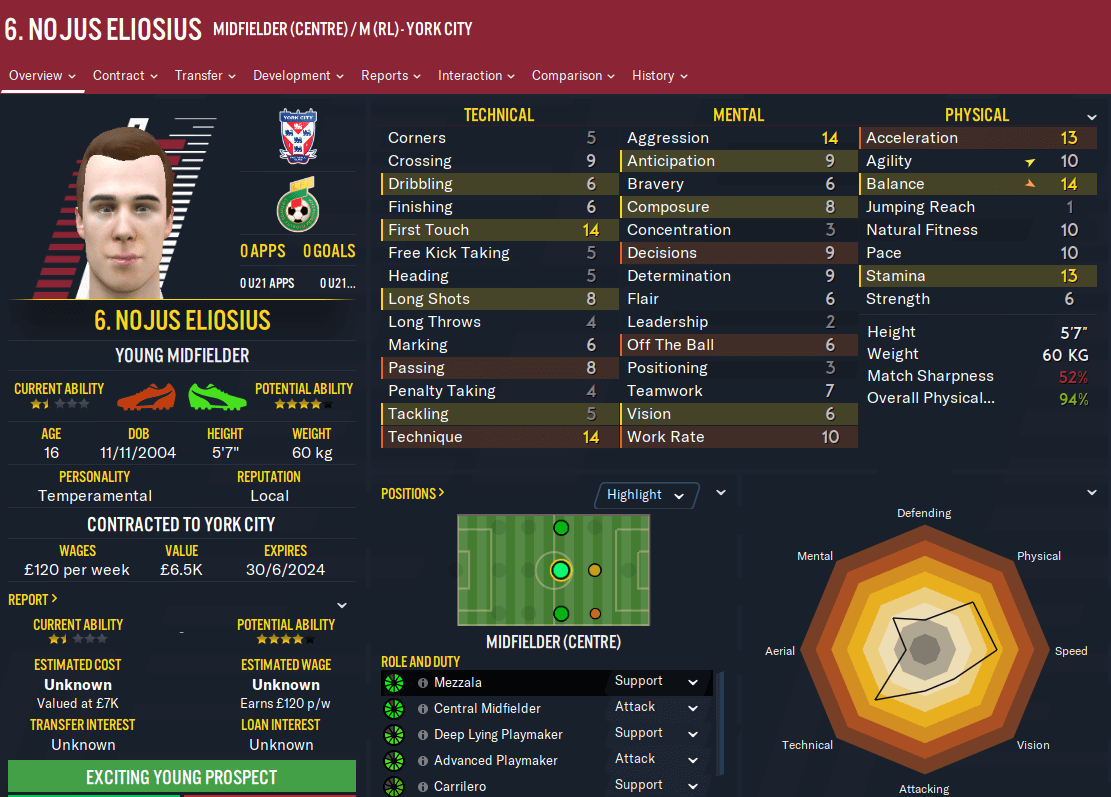 Andy Goss will sign in October and feature from January. Great physical attributes with exceptional work rate and team work drew my eye. He can dribble, pass and posses' good technique and skill. I have a good feeling about this kid.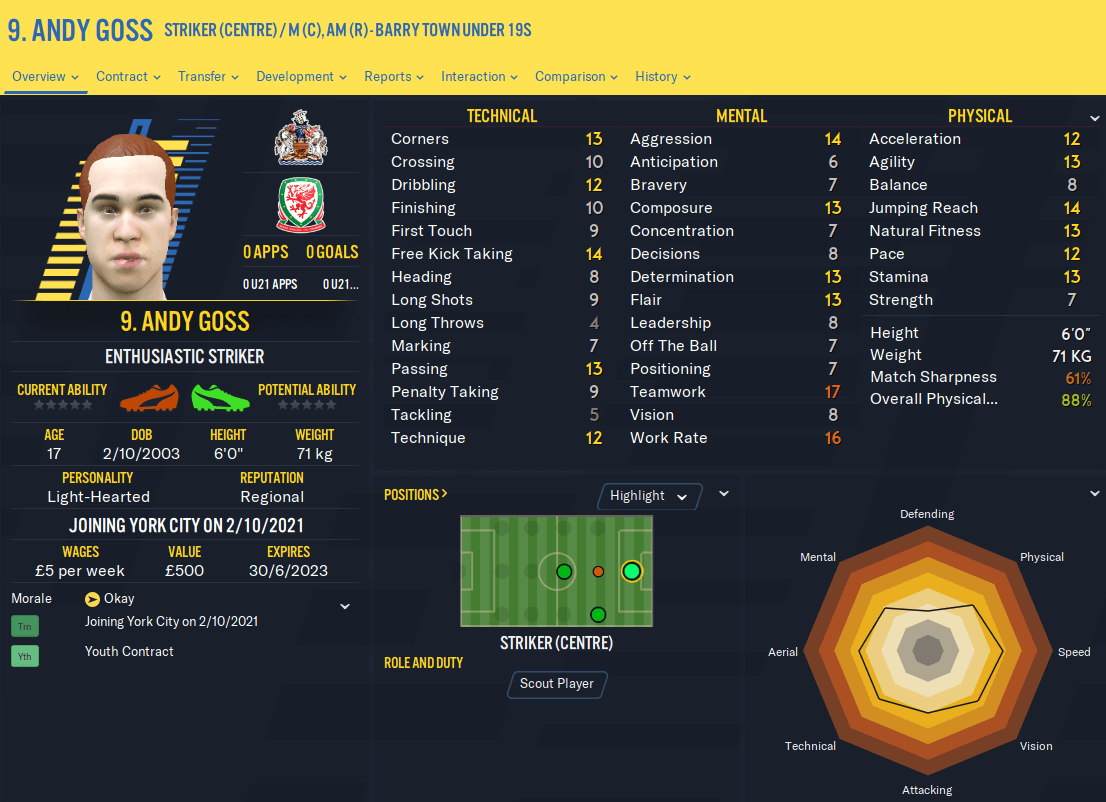 Finally a centre back lacking in technique but fast and very, very talented. Mills professional personality swung me as he can maximise any potential and looks a determined chap.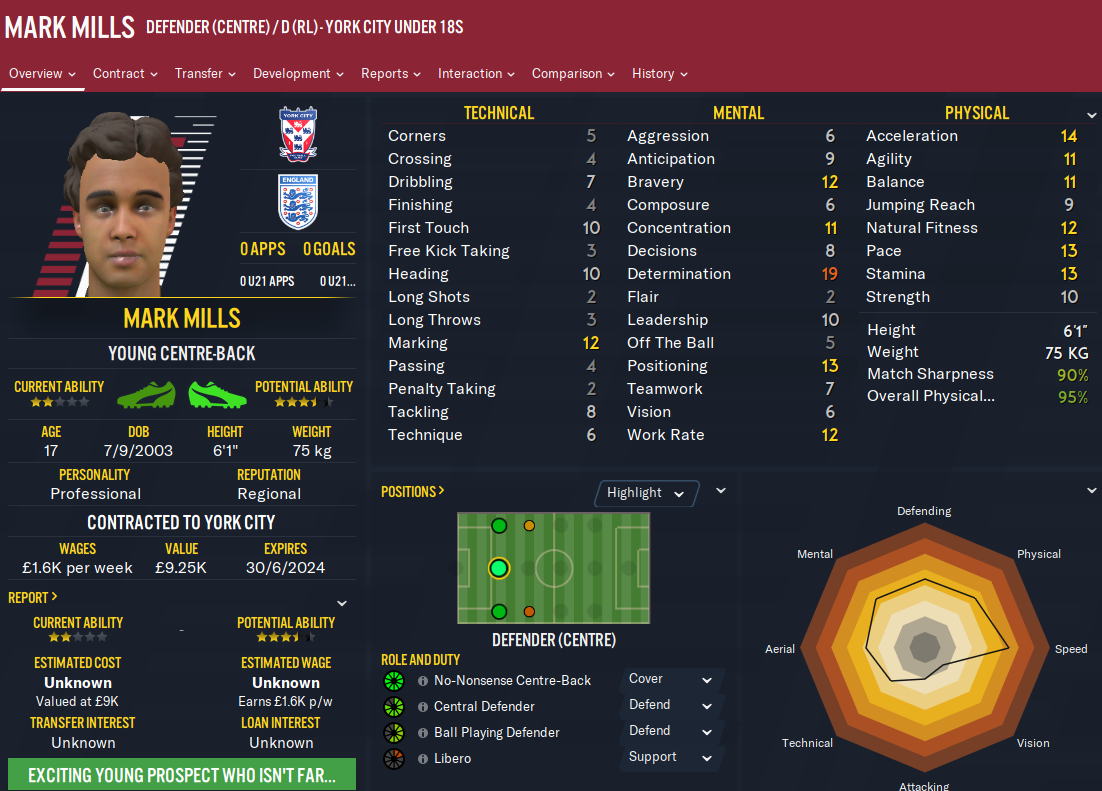 Lets move onto first team transfers in order of position.
Manu Hernando – DC
We established my centre back pairing as a possible weakness for the future, cue Hernando, joining from Real Madrid! Manu would grace League One and could develop into a Championship star.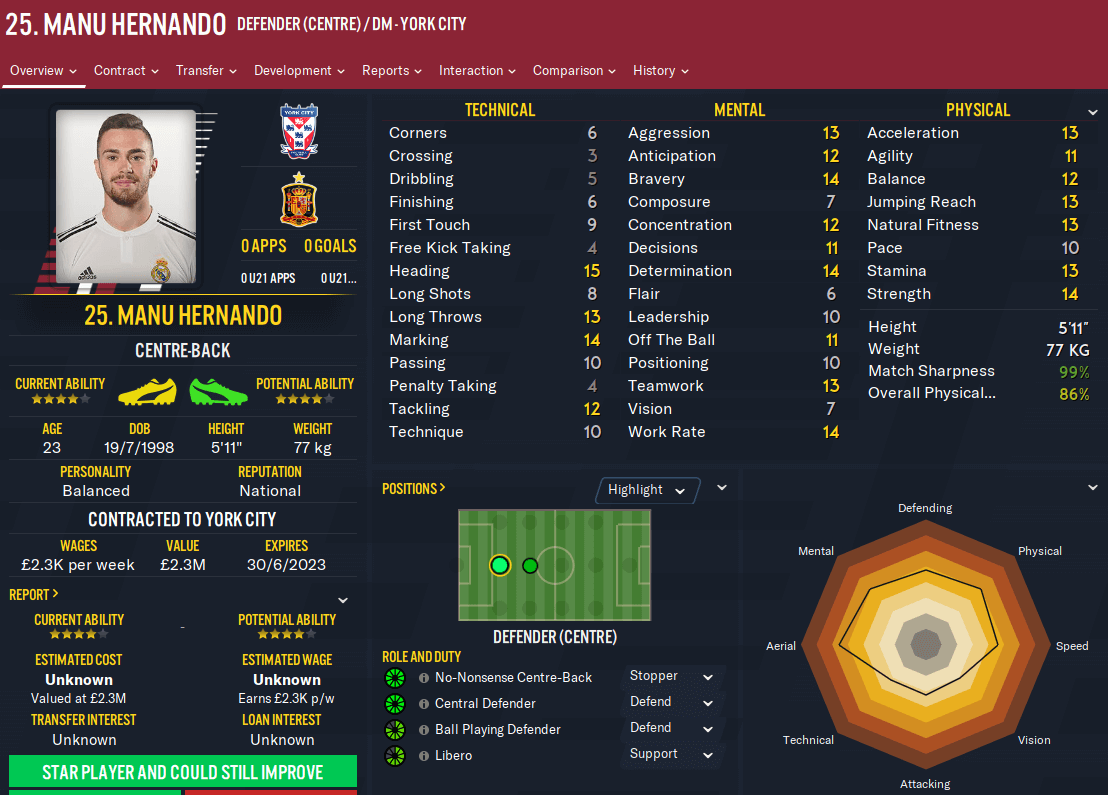 Stefan O'Connor – DC
Joining from Salford O'Connor will be rotated with Odusina. Great in the air hes no slouch and should be reliable.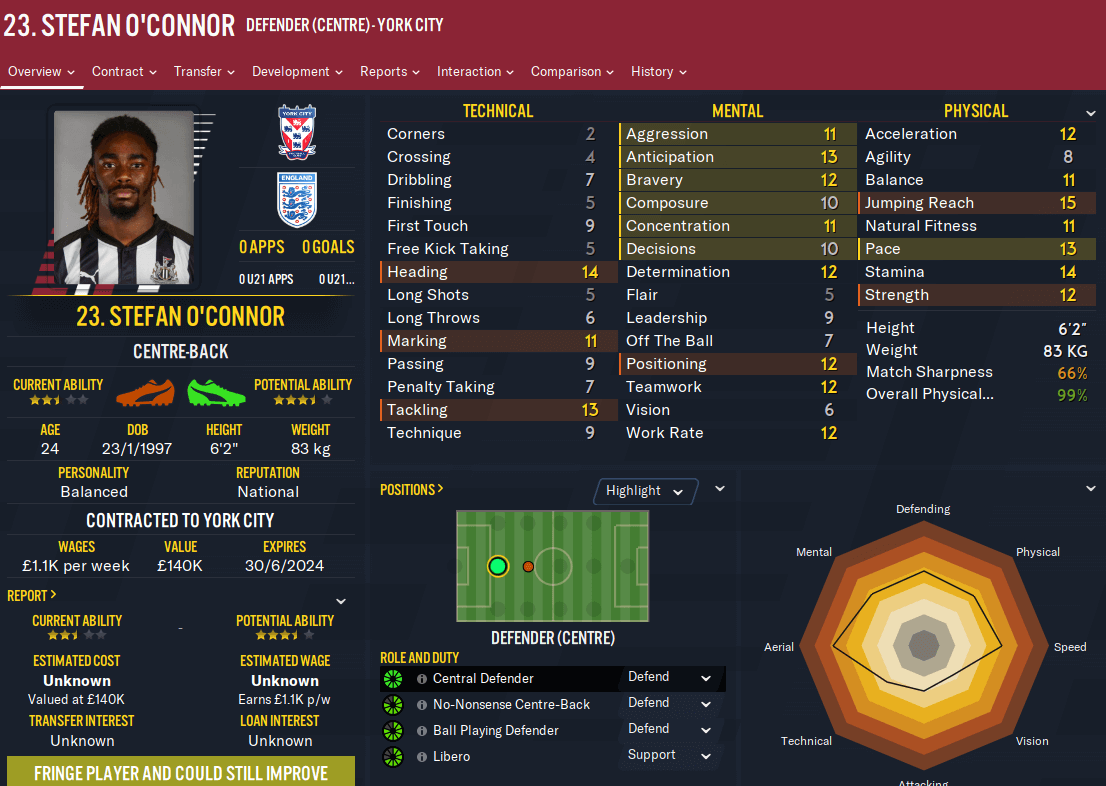 Liam Gibson – DL
Our new first choice left back, for now. The plan is to buy a full time replacement in January but Gibson will be consistent and reliable, can't resist a Geordie.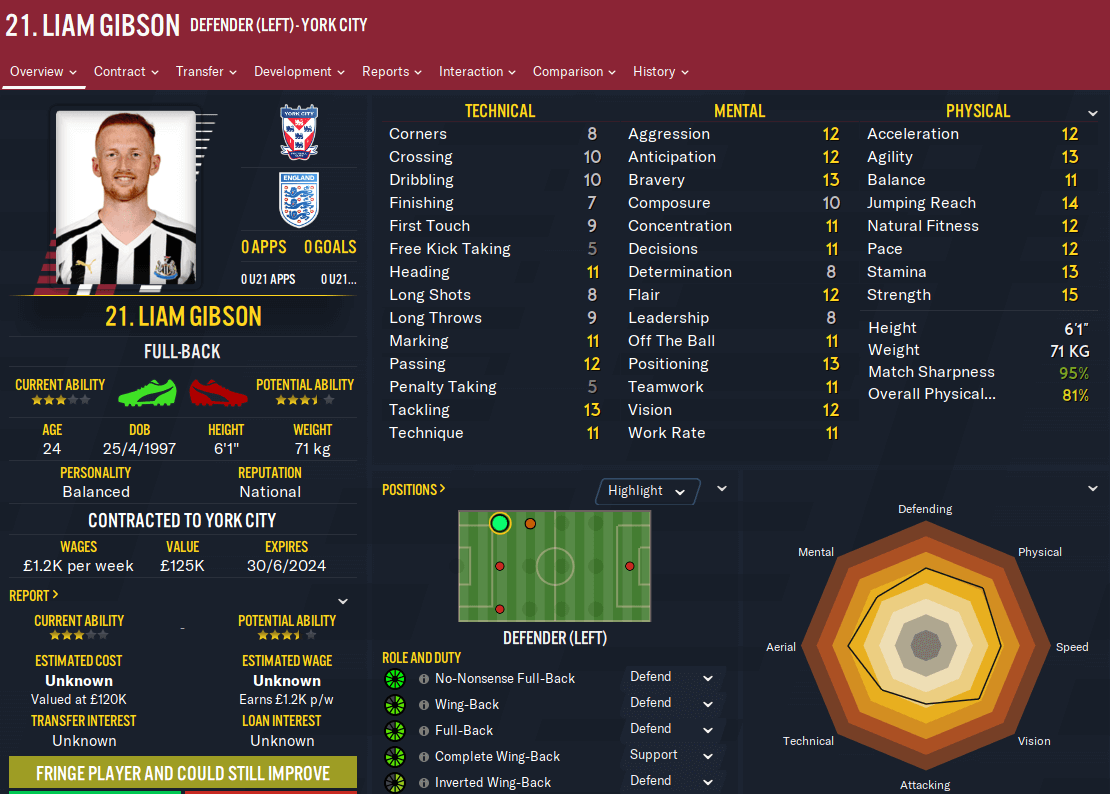 Elvis Bwomono – DR
Elvis has entered the building ladies and gentlemen. Not the ideal right back but Bwomono will act as backup to Titov. He is fast and mentally very good, but those technical attributes leave much to be desired.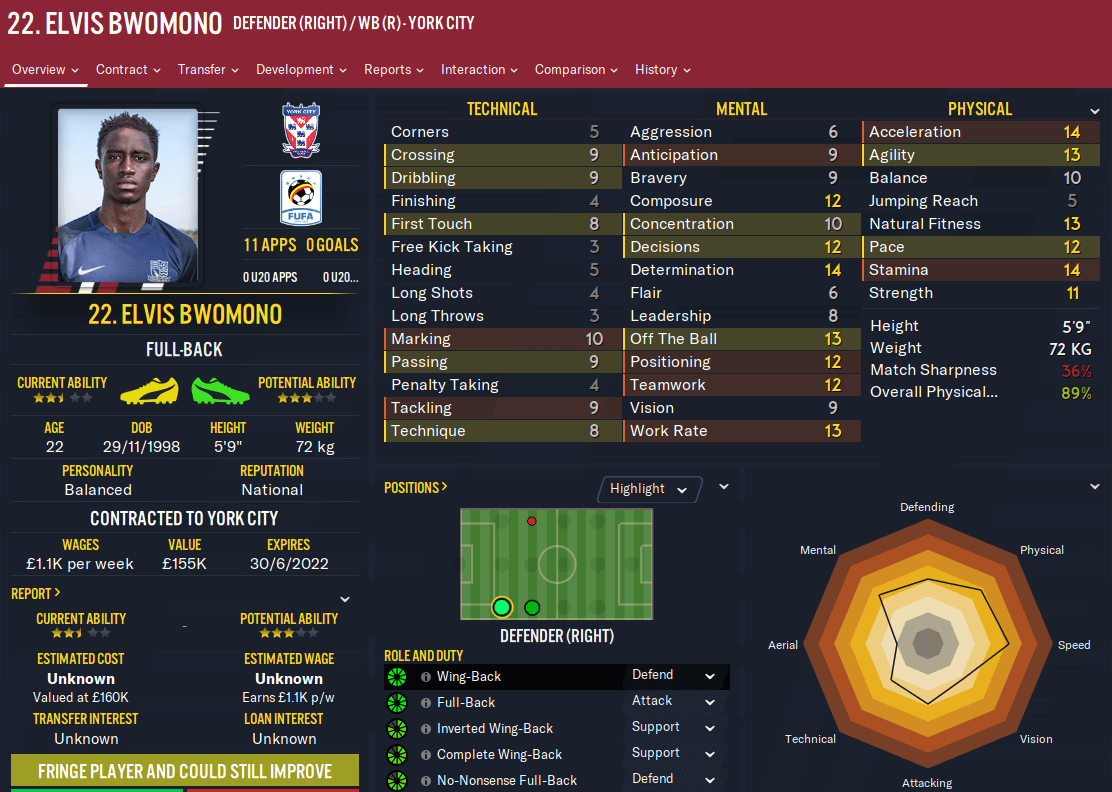 Dominic Ball – DMC
Butcher will remain our number one DMC, Ball was bought as backup and will cover a number of positions from the bench.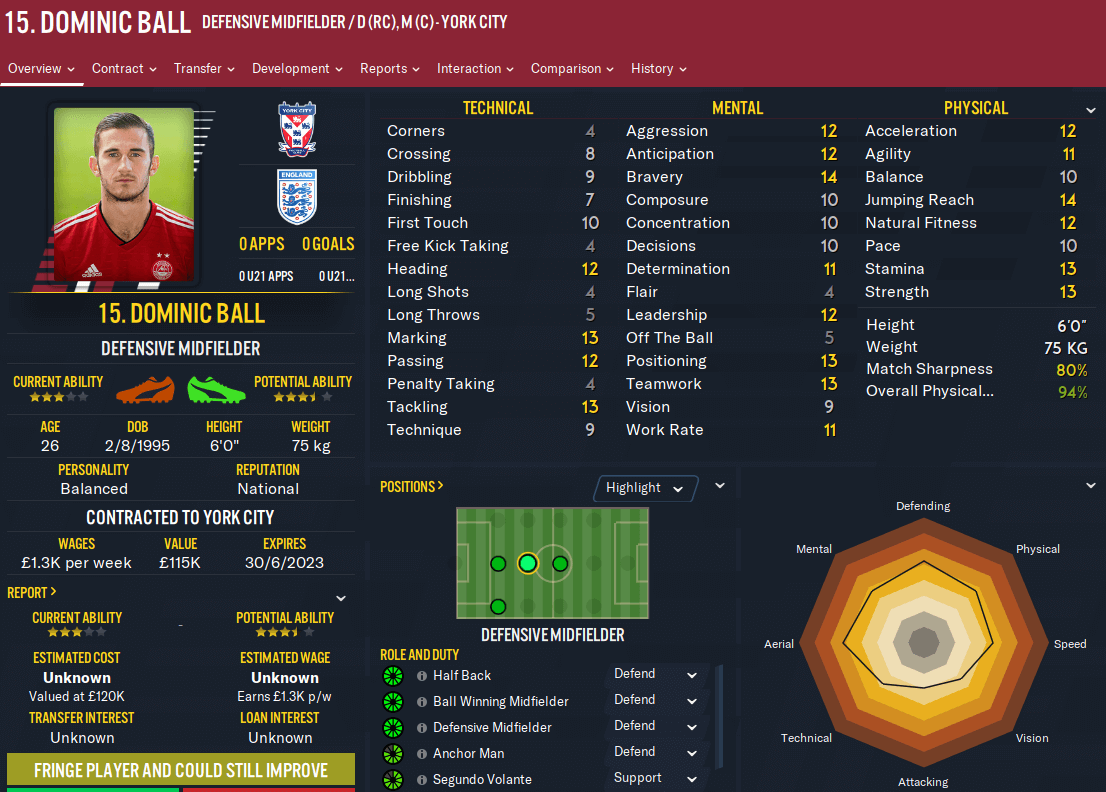 Savvas Mourgos – MC
I had concerns about Ortanto last season. Our central source of assists the Italian may struggle in League Two but after hours of scouting I found this lad. Fast and technically proficient Mourgos offers us an extra dimension with his set piece deliveries.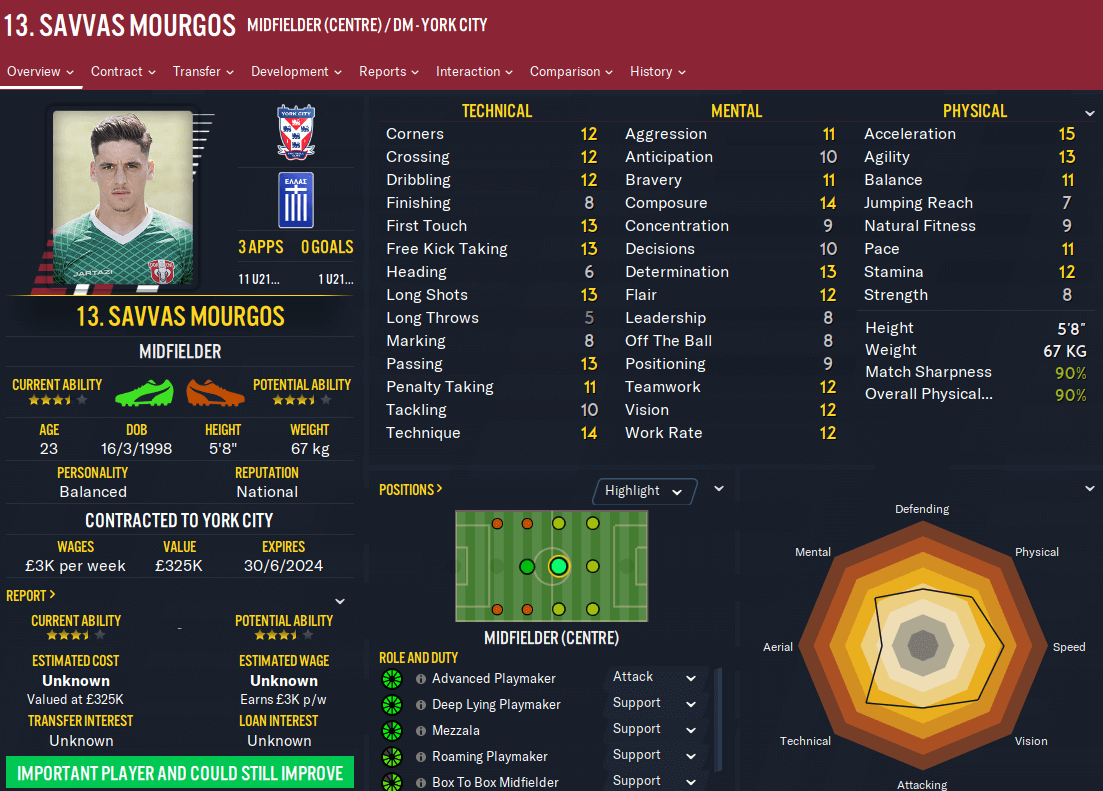 Simon Power – MR
Possibly my most important signing of the season, Simon Power should fill that gap on the right. This kid would light up League One with his speed, skill and ability on the ball.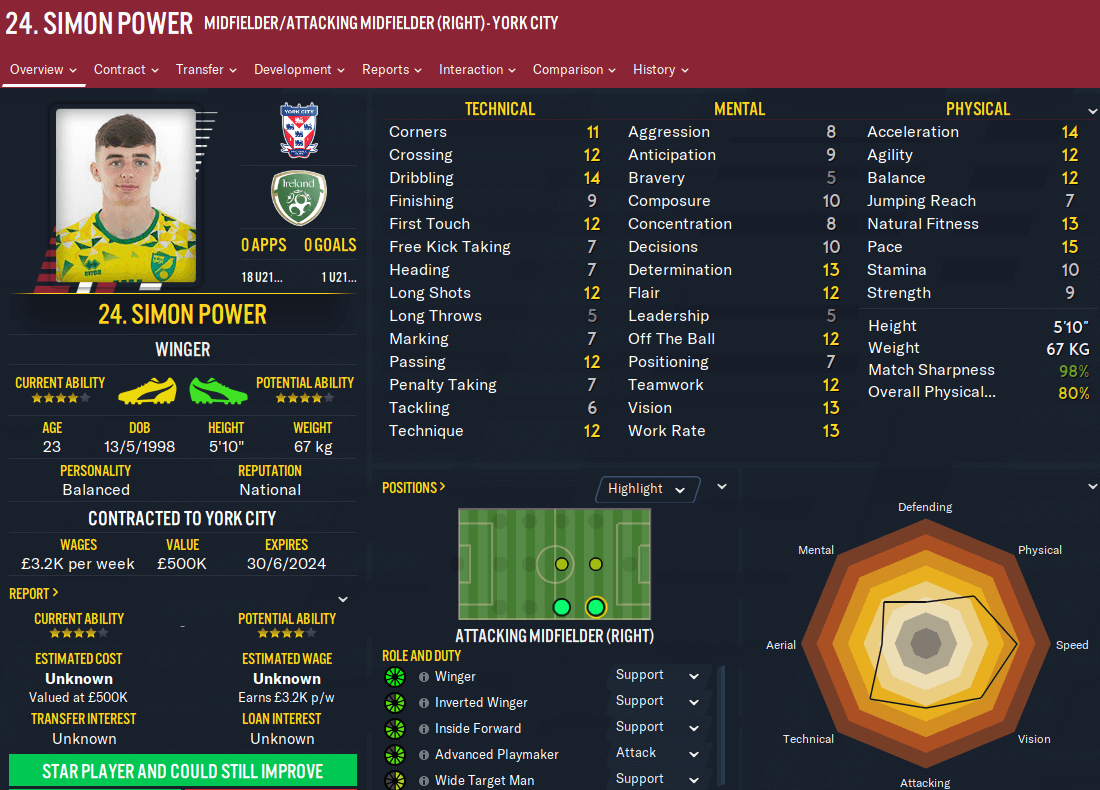 Bogdan Jocic – MR
Jocic is a central midfielder by trade but can do a job from MR. I need speed and ability on the ball but didn't want to waste money on a sub standard transfer, so Jocic seemed a good compromise on loan.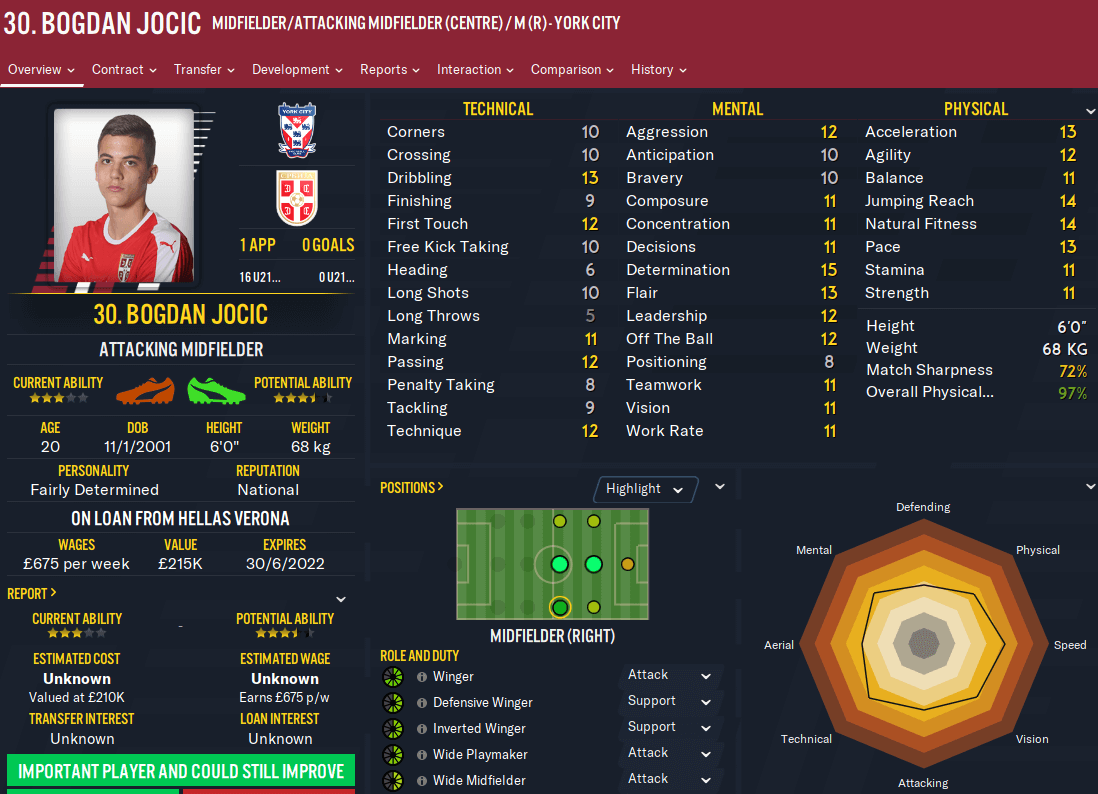 Tyrese Omotoye – ST
With Goss joining in October I am short of a strike partner for Chaibi. McFarlane will play but I want extra quality and Omotoye is just that. My scouts think he is capable in the Championship, the 18 year old is certainly fast and can finish. On loan Omotoye's contract expires in the summer, so we may make a move then.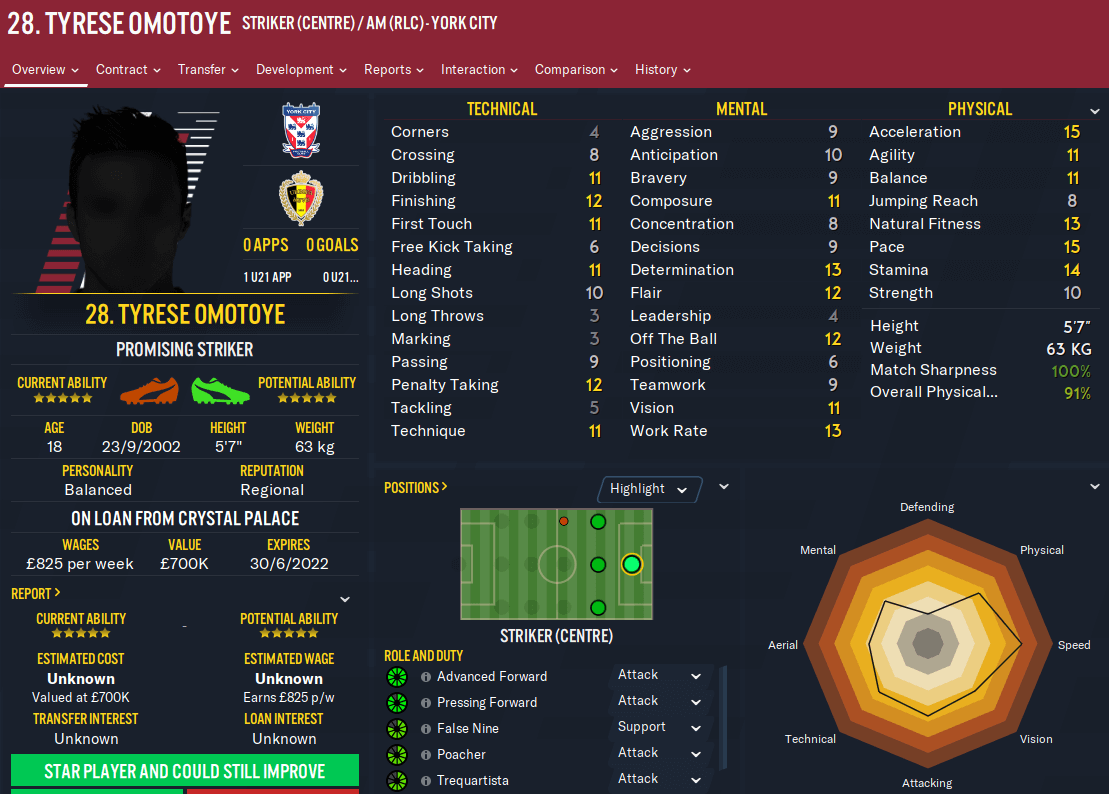 Squad
A big squad we need to trim back eventually, at least 5 players are surplus to requirements. We may have added one or two older players but that average age has dropped. I am happy with the overall mix and confident leaving pre-season.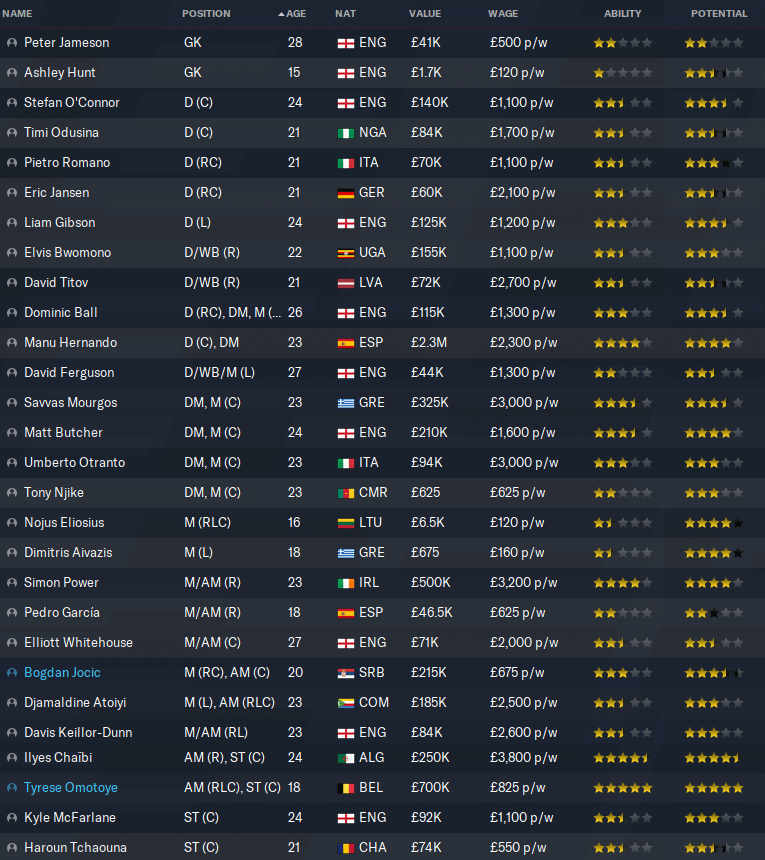 Tactics
I am sticking with the same system which gained us back to back promotions. You can download and learn all about my FM 2020 lower league tactic here. I will deploy a time wasting tactic this season, as the level of play increases I will need to be more cautious. That system is also mentioned in the linked post.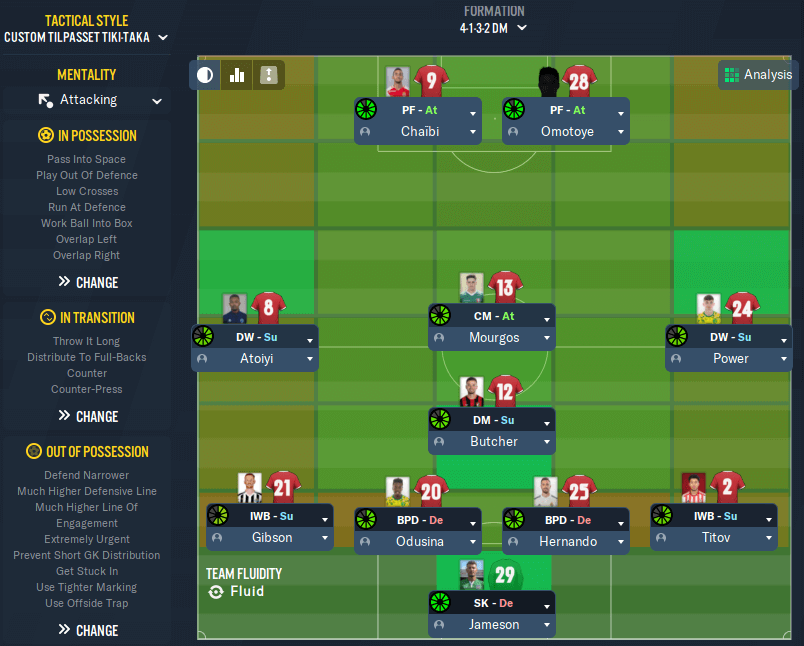 Pre-season results
Not a bad pre-season all in all. So engrossed in scouting I checked the Friendly schedule too late and wound up with too few fixtures but those results aren't bad.

Finances
After spending a fortune on facilities my balance fell £250K in the red. We did however raise a shed load from season ticket sales and now sit almost half a million in credit. With the new stadium and a possible cup run I am hoping to increase this.

Thats all for today folks, next episode will be our season 3 report. If you fancy watching me live stream, head over to Twitch and give us a follow by clicking here. We go live Friday and Sunday at 6.45-7pm, until next time thanks for reading.

Subscribe to our Newsletter