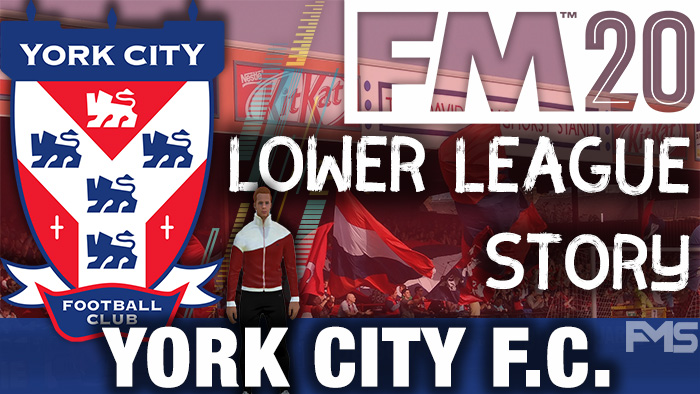 Hey guys and welcome back to my FM 2020 lower league story with York City. Last episode saw an active transfer window as preparations began for life in League Two. A jump up in quality meant 8 first team additions and a boat load of Newgens, one of which forced his way through the ranks and could become a club legend but more on that later.
The short term goal is promotion but won't hamper my long term vision of building a young, hungry squad. Can the Minstermen attain a third consecutive promotion, what of the bountiful FA Cup run and why did we change tactic despite an unbeaten run?
League Two Results – Something Smells Fishy
After an unbeaten season I held high expectations for Yorks return to the Football League. After the ideal start, beating Rochdale 5-1, we struggled to create clear cut chances, drawing 4 of the next 7 games. Six points off the pace the signs clearly suggested my 4-1-3-2 had gone stale and a bad run may follow.
Despite avoiding defeat our play was lackluster and uninspired. This usually results in a dip in form and morale unless dealt with so action had to follow.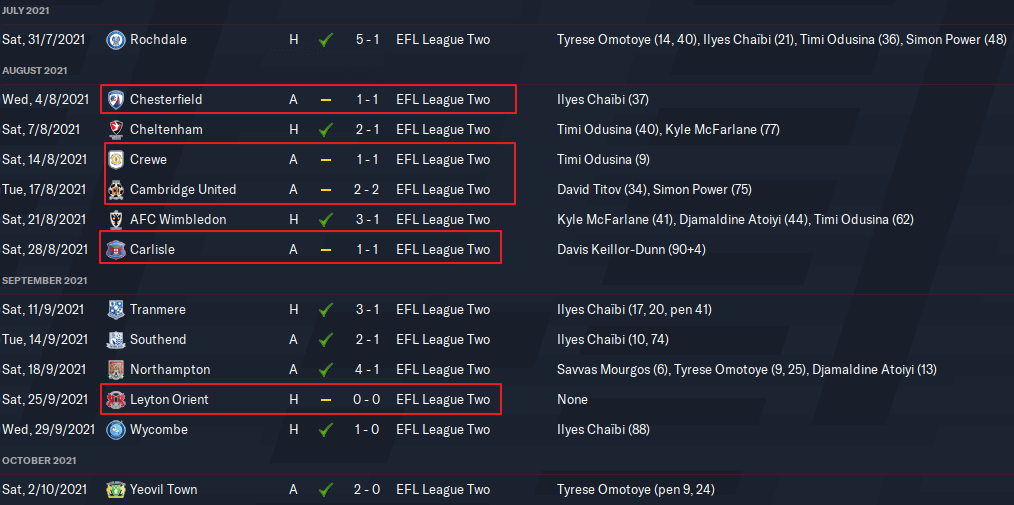 FM 2020 Lower League Tactic – Duke Ryan's 4-4-2
You can read about and download Duke Ryan's 4-4-2 in full by clicking here. I'd seriously recommend taking a look, its the first consistent tactic I have found since the lower league 4-1-3-2 and it works to great effect in top flight saves also.
The philosophy is high pressing, attacking Football using creative role assignment to plug the inevitable gaps. For instance, both defensive wingers can push high because the inverted wing backs sit in making up the numbers in midfield. For a full review click the link above.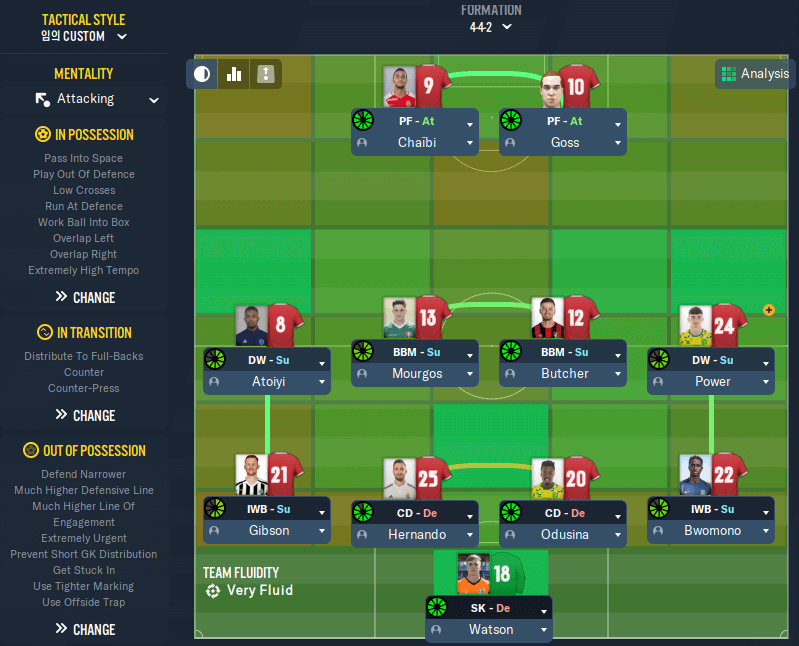 Bedding In The New System & A Newgen
Duke Ryan's 4-4-2 took some bedding in but showed early signs of promise. Take Walsall away for instance, we shipped three goals but created 7 clear cut chances. The Football on show was attacking and fluid, something we'd lost using the lower league 4-1-3-2.

As our form spiked a newgen called Andy Goss played centre stage scoring 10 goals from 11 games. I really like this kids attitude, his aggression, work rate, teamwork and determination work well in a pressing forward role.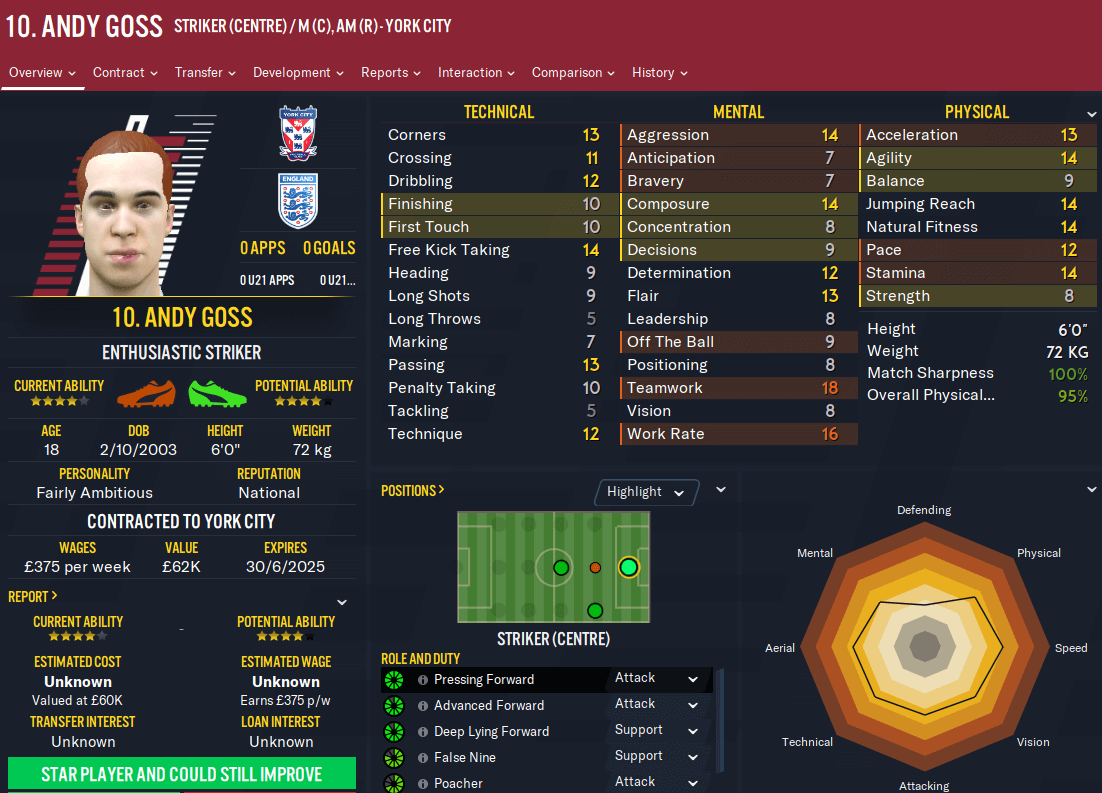 The goals kept on coming as Chaibi and Goss formed a great partnership leaving us 4 points clear at the top. Onto January and some reinforcements for a final promotion push.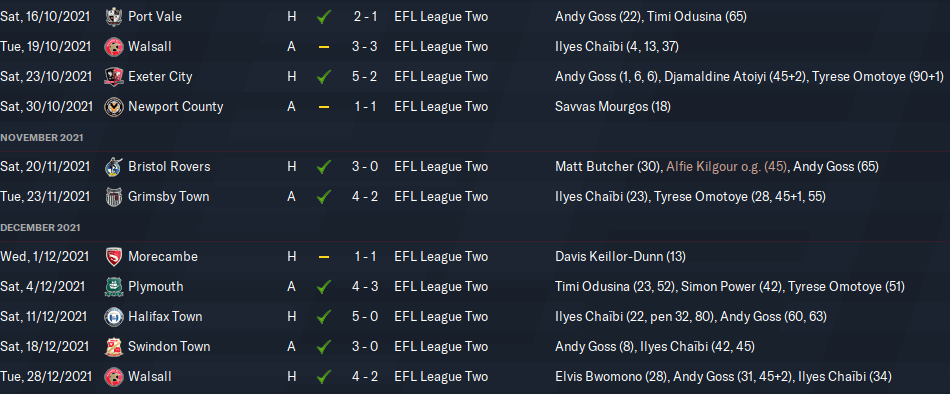 January Transfers
After losing Atoiyi to injury and Keillor-Dunn to Inverness I was forced to enter the transfer market. With no ML I signed Valverde, unfamiliar with not only the role but the position this was a risk. I also signed Bicho who can double up as utility man for ML and MC.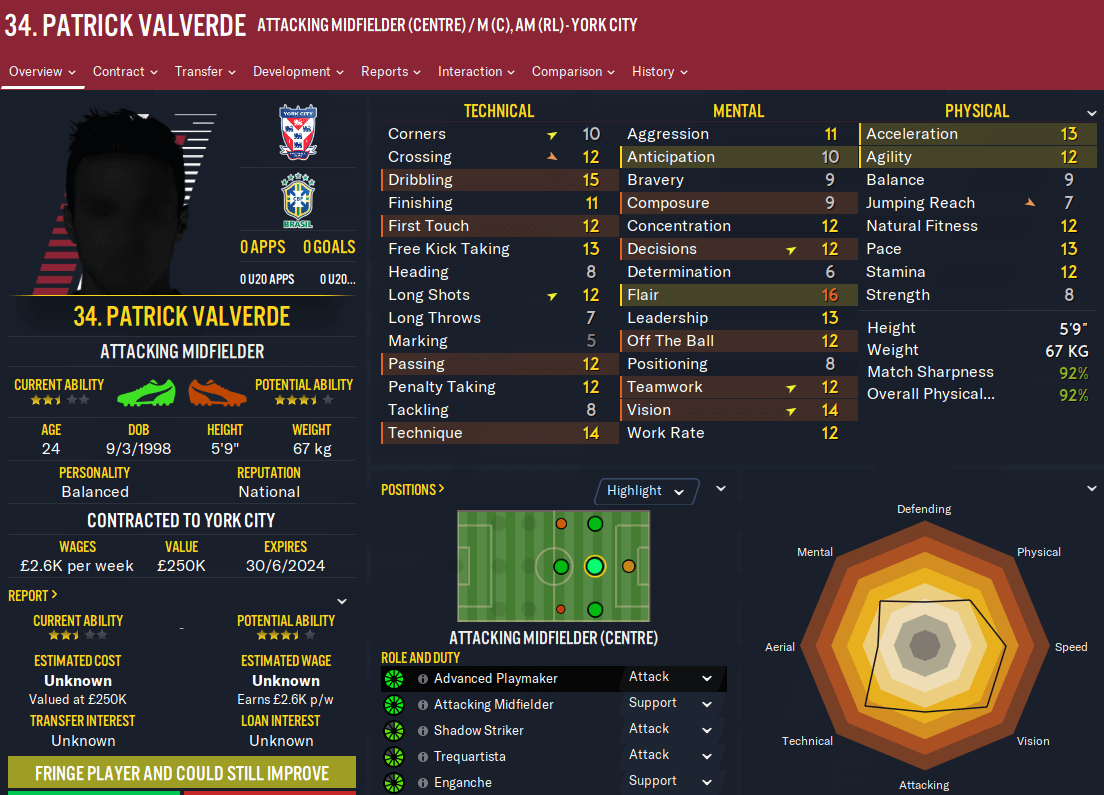 My Goalkeeper, Jameson, is the lone survivor of our very first National League North side. We have progressed since then and its fair to say he is a little out of his depth. I spotted Rory Watson of Scunthorpe and pounced at a bargain price of £9K.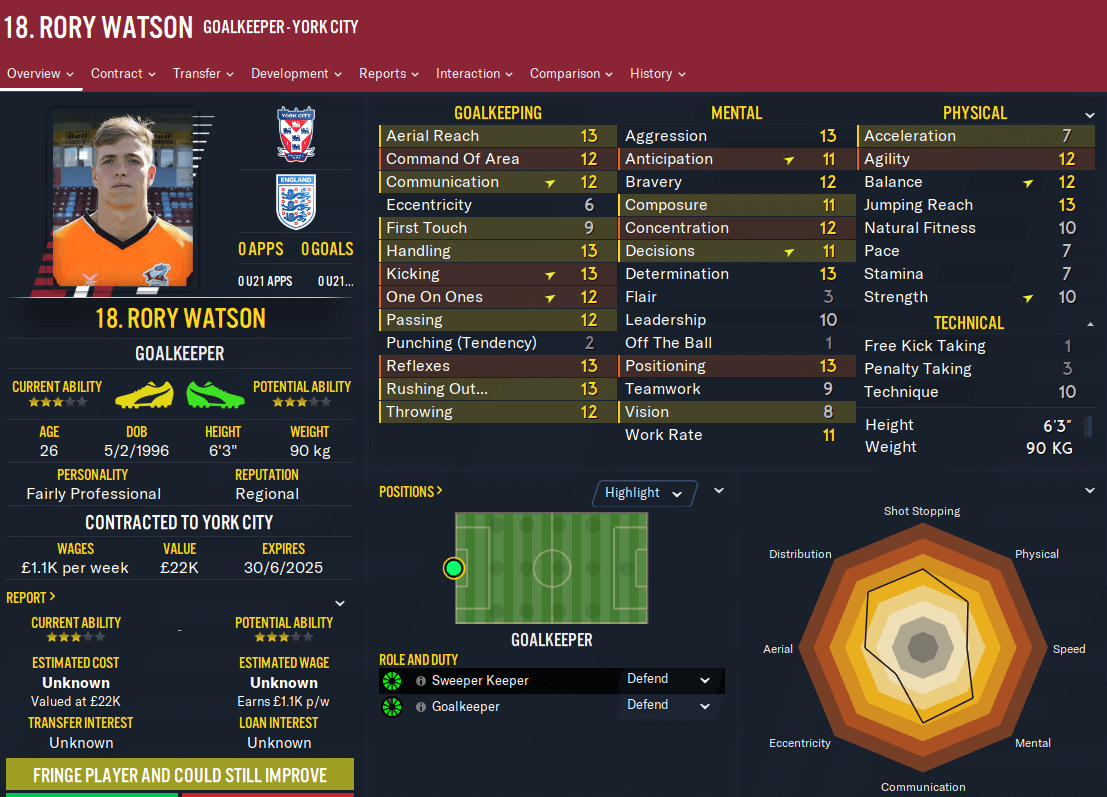 Liam Gibson is first choice left back at present but I found this kid, Rony, for the future. With bags of potential he should offer ample cover on the left.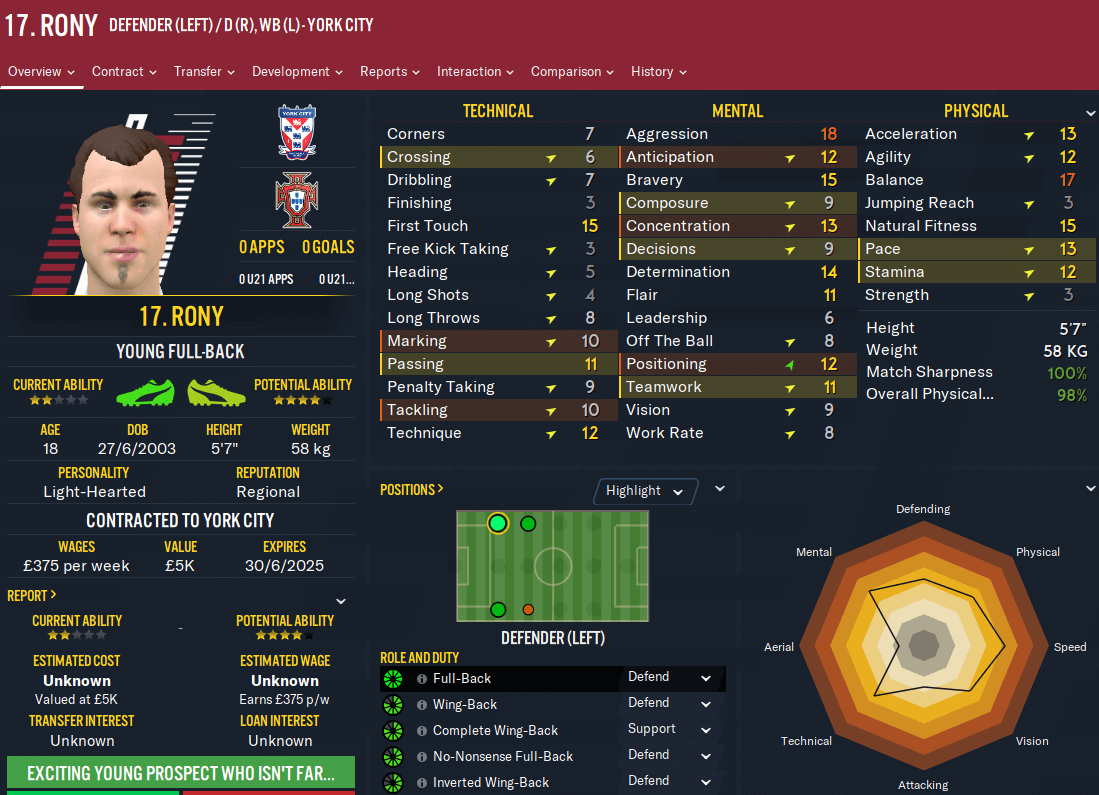 EFL Trophy
We enjoyed some fine displays in the EFL Cup before losing to Liverpool U23's in the semi-final. Thrashing Leicester and Manchester Utd showed promise for the new system.
League Two 2022 Results & Table
With the new system in full flow we waltzed through 2022 winning 18 of our remaining 22 matches. The only losses coming away to tough opposition or in times of heavy rotation.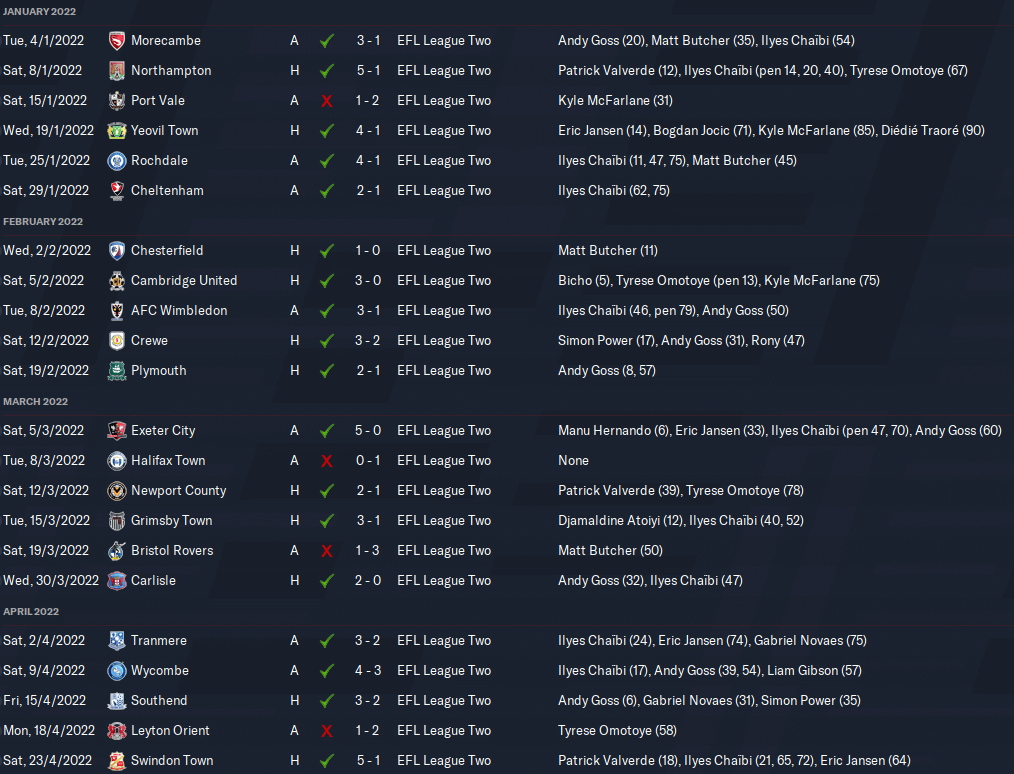 As you'd expect York won the title with a record 34 wins and 110 points. Our nearest rivals Tranmere lagged 25 points off the pace.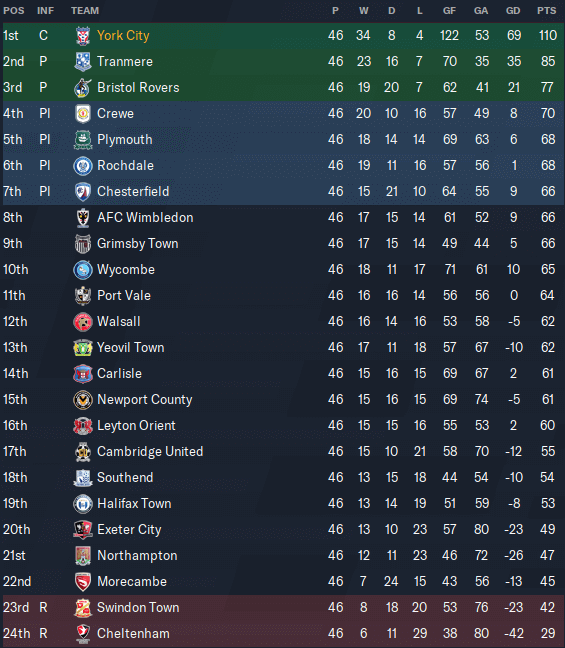 Chaibi set a new average rating record for League Two scoring 39 goals in the process. My 18 year old Newgen, Goss, scored 20 goals after joining in October. We outscored the league by 51 goals and created 153 more chances than any other team.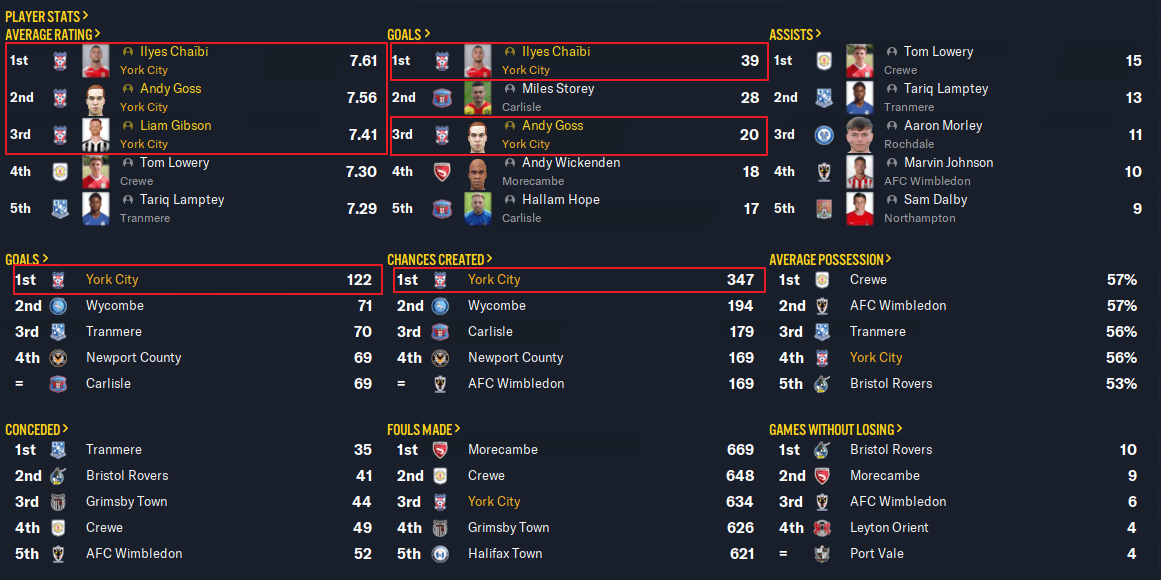 FA Cup Results
With Duke Ryan's 4-4-2 we marched into the FA Cup 3rd round beating Luton and Accrington Stanley in the process. Swindon Town proved tough to beat but we booked a 4th round tie away to Championship side Stoke. This was one of the most enjoyable FM games I have played in a while. My Newgen, Goss, scoring a hattrick seemed untouchable. You can catch the goals below (best watched in 1080HD)
Unfortunately the run ended in Wales as Cardiff beat us 3-2 after extra-time. Still, the 5th round is not to be sniffed at.

Squad & Key Performers
Some very notable performers, obviously Chaibi and Goss scoring a combined 76 goals and assisting 16. My right winger, Simon Power will attract interest after scoring 6 and assisting 8. If you look acorss my entire midfield four you'll find a combined 22 goals and 35 assists but Mourgos proved vital. I found Omotoye frustrating but effective from the bench scoring 24 goals and we could go on.
I may strengthen in the Summer but a chunk of the team will remain.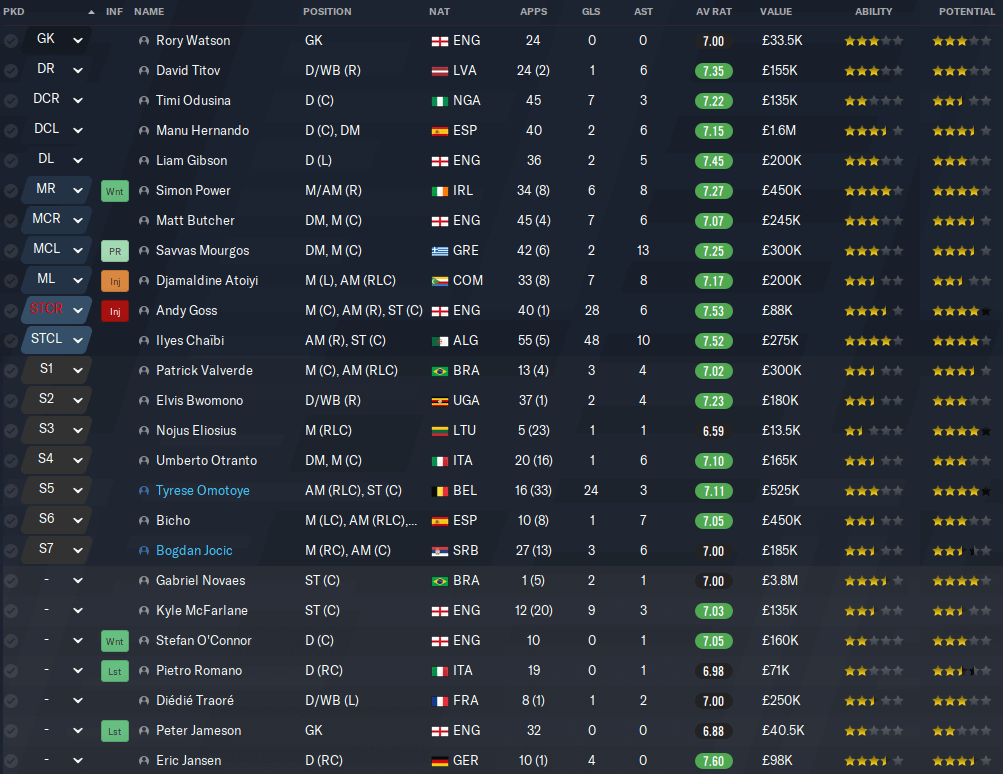 Finances
Shortly after taking the screenshot below my chairman injected £2.3 million, boosting our finances. I am not concerned by the balance and expect us to reach the Championship within two seasons bringing with it additional revenue.

That is all for today folks, thanks for reading and remember to follow us on Facebook and Twitter for future posts. The next episode will feature pre-season, transfers and my expectations for what should be a defining season as York look to progress beyond League One for the first time in their history.

Subscribe to our Newsletter