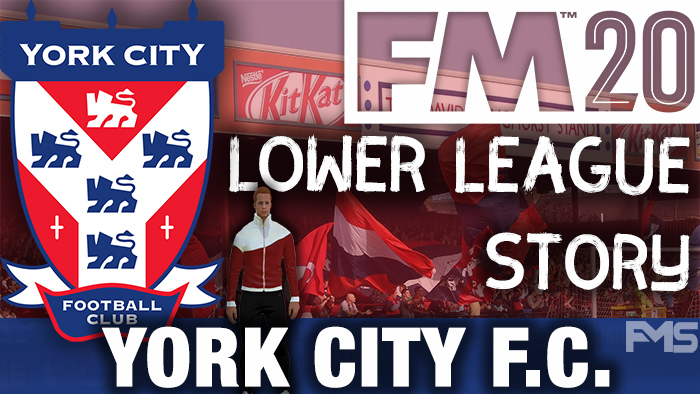 Heh guys and welcome to season two of my FM 2020 lower league story. Today we discuss pre-season transfers, friendlies, finances and how I am building for next season. Yes, I mean season three, not two.
Success in lower league management is about planning and preparing. With small budgets you need a pool of scout reports to call on and a clear squad vision to work towards. Without that you are simply pissing in the wind, and that stinks.
Season two goals & news
After gaining promotion from the Vanarama National League North my board expect survival in season two. I want automatic promotion but if we have an absolute shit show would settle for the play-offs. We need to spend as little time as possible at this level so all transfers will be made with League Two in mind.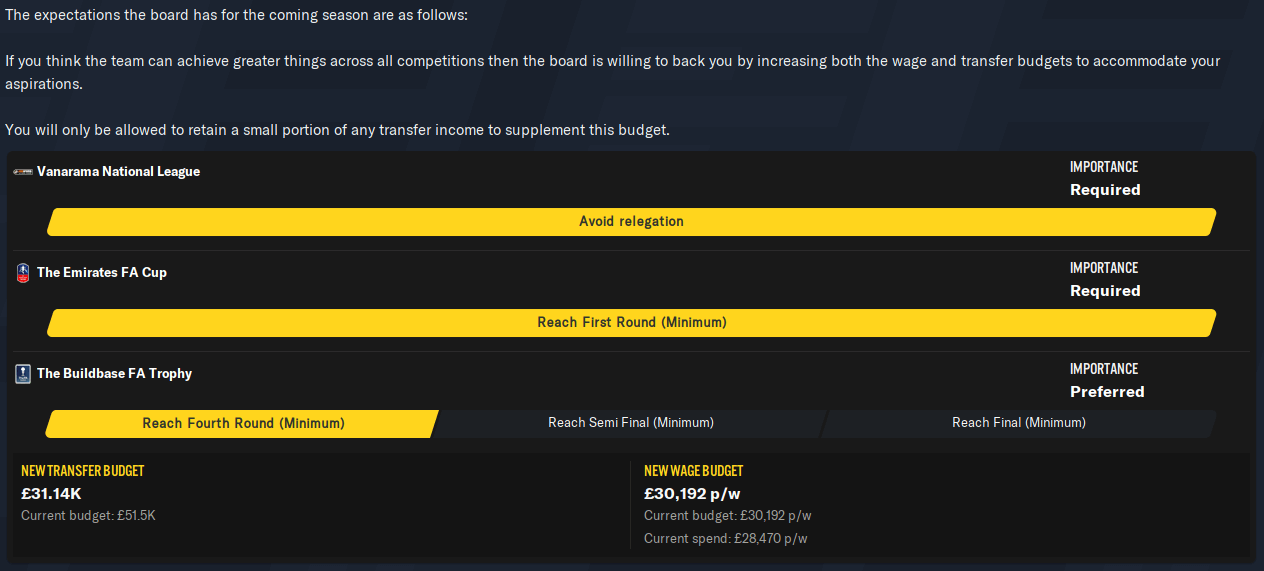 The same guidelines I promised from season one apply to season two, I am determined to maintain our strategy of buying young.
Buy under 25's.
Develop a young hungry side.
Play attacking, pressing Football.
The media pitch us as second favourites behind newly relegated Scunthorpe but there is little in it. Notts County could pose a threat but I am again hoping to dominate the league.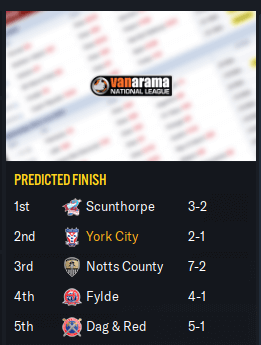 York City are in the process of completing a new stadium build in real life. Turns out completion is Summer of 2020, so welcome to 'The Community Stadium', our new shiny 8,113 all-seater! Colosseum…OK that is dramatic.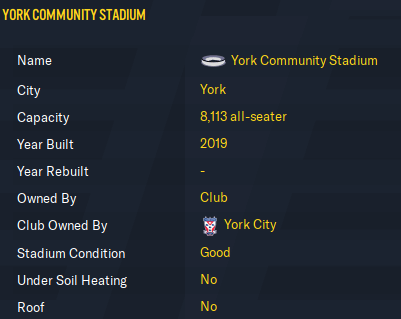 Spring cleaning
Last season was spent building a National League squad, every player bought should have a role during season two. We now approach phase two, building a squad capable for the Football League. To help I have released a section of the current squad who would be fringe players at best. These guys sap my wage budget and offer little in return.
After writing out my targets and guessing their potential wage demands, I assessed the current wage/transfer budget and calculated the difference. This is not an exact Science but the act of forcing some thought into the process can help avoid calamity.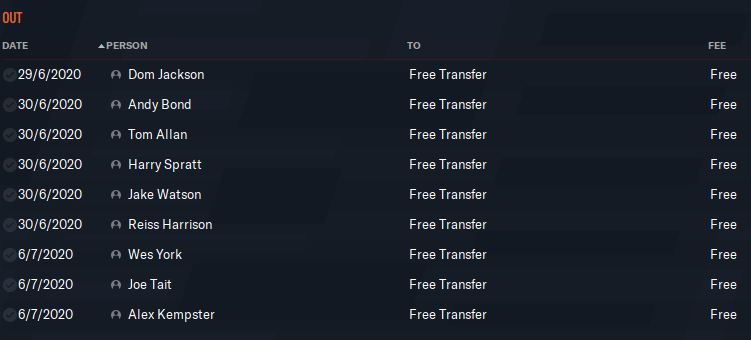 York City transfers
Right back and centre back are the priority, but additions are needed throughout with the exception of my frontline.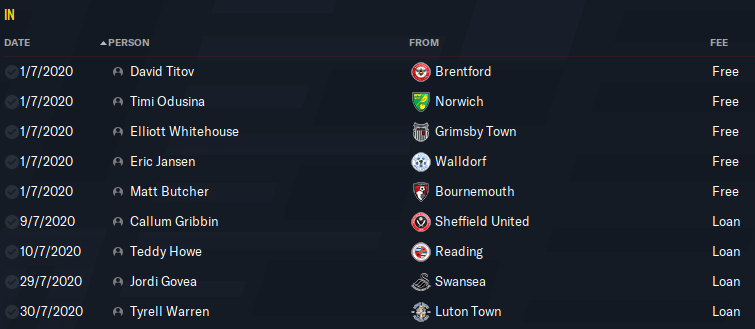 David Titov
A brilliant all round wing back, Titov is technically gifted with good speed, great mentals and most importantly, capable on the ball. At 20 years old I am hoping to see plenty more goals like this one from the first game of the season.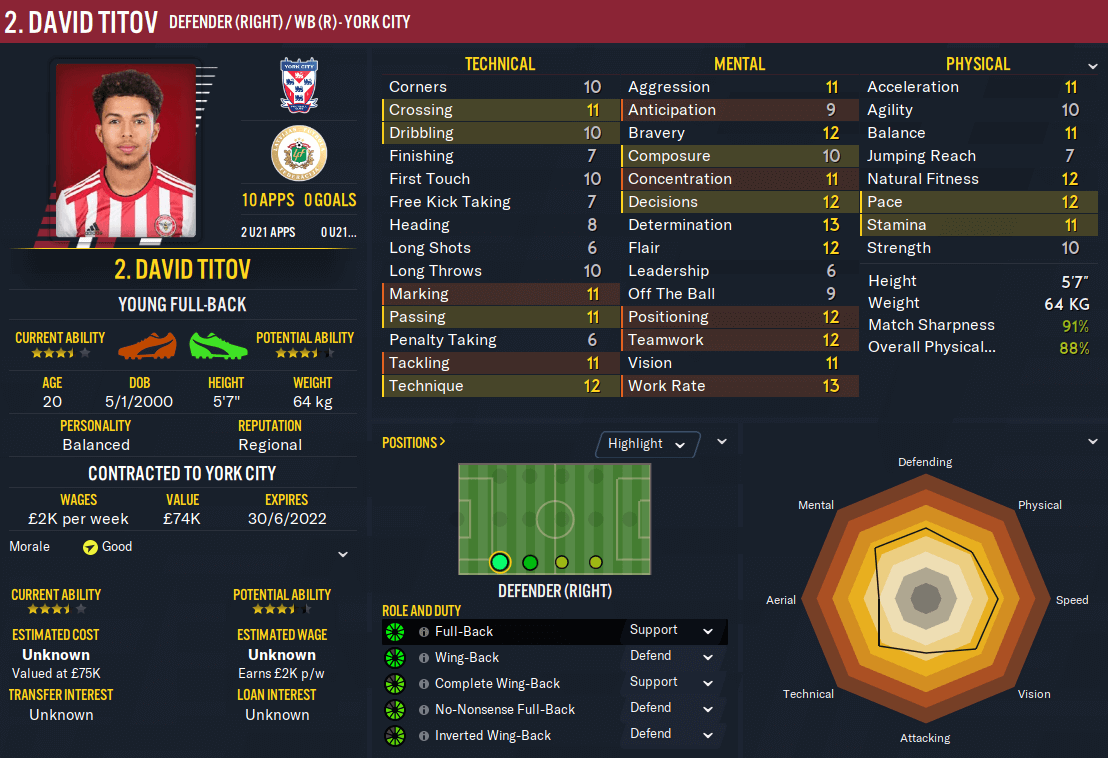 Timi Odusina
After stalking Timi for months I finally pounced as Norwich failed to tie him down. My tactic requires speed in defence and Timi has it in spades. I use ball playing defenders so that passing and composure will be a bonus. For just £1.3K per week Odusina is a bargain.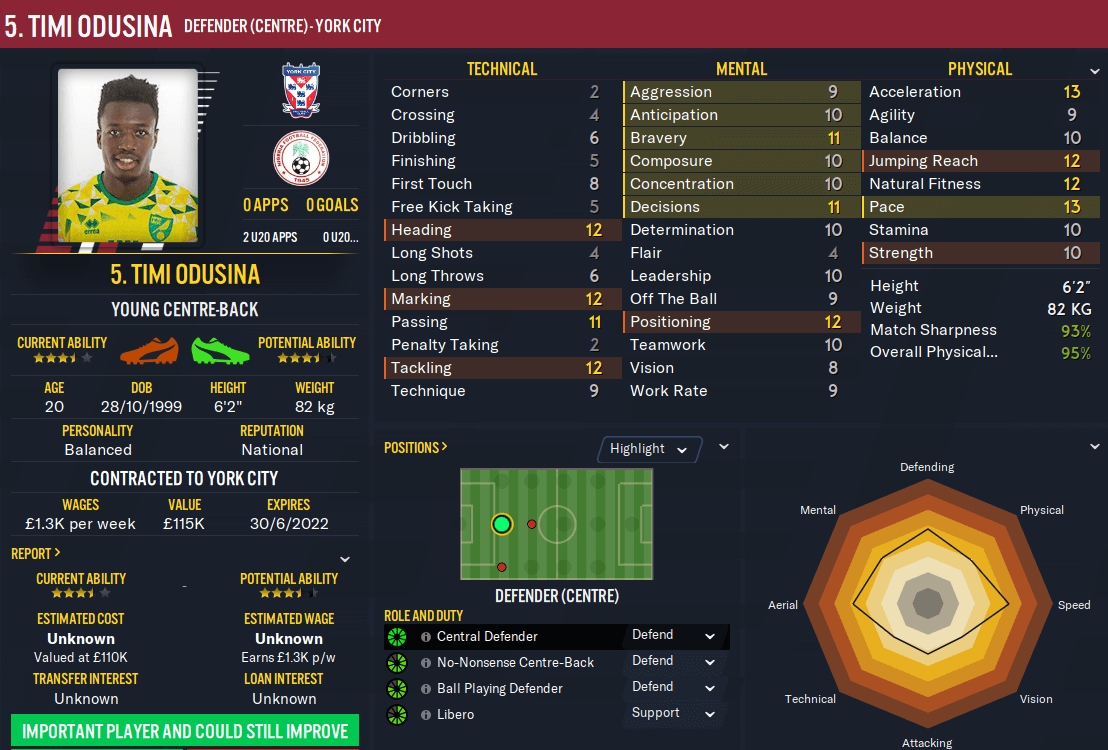 Elliot Whitehouse
Otranto will be great for the National League but I may need to strengthen next year. Short on cover I decided to break my age rule to sign Whitehouse. Other options would have demanded first team Football which I can't promise and sapped my wage budget. A great finisher and passer of the ball Whitehouse has my type of mentals; Aggressive, determined and hard working.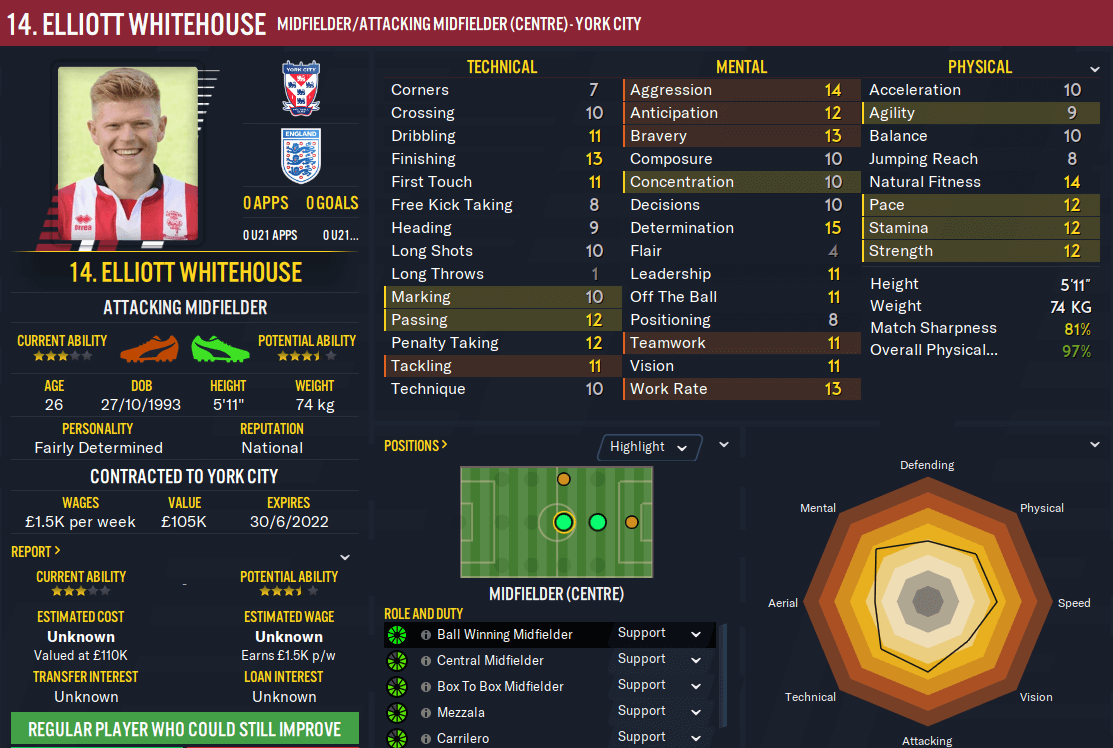 Eric Jansen
Eric Jansen falls outside of my defensive mould with poor acceleration, but I think his other physicals and OK anticipation make up for this. A backup ball playing defender he will be reliable when called upon and fits my philosophy of developing a young squad.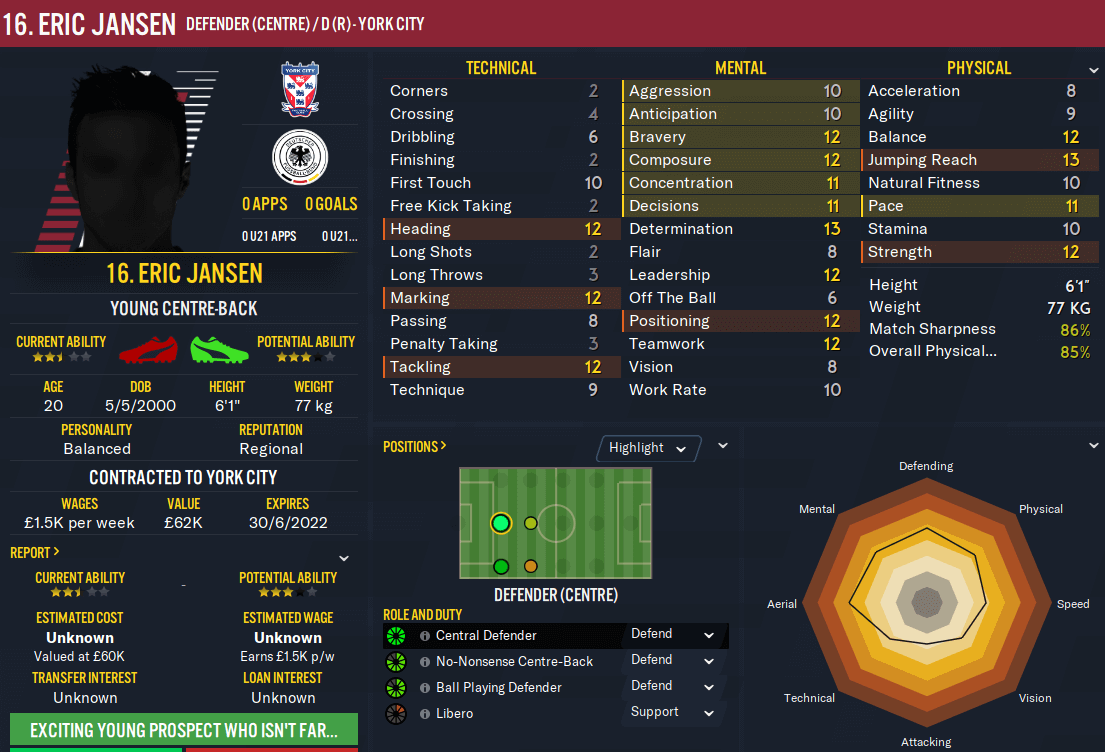 Matt Butcher
How I signed Matt Butcher I will never know, this kid is absolute quality yet accepted a shitty £1.1k per week contract. After January I always search the top two divisions for young players with expiring contracts – it paid back big.
Butcher will start from DMC for many years to come and maybe even move forward to MC. Complete midfielders are hard to find yet Butcher is an Athlete with ability on the ball and good defensive attributes.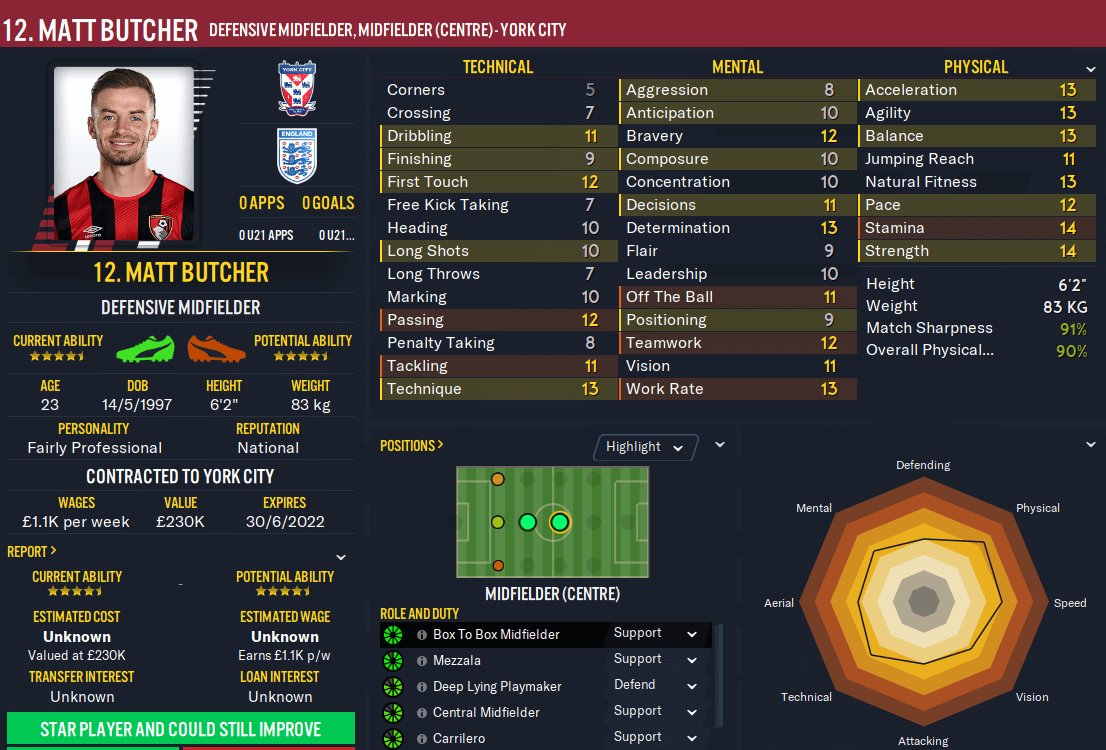 Callum Gribbin
You may remember Gribbin from FM18, he was a wonderkid with Man Utd and I believe his potential was -8 or -85. Playing for Sheffield United we have Callum on loan but his contract expires at the end of this season. A starter from the right wing Gribbin is quick, very skilfull and a set piece specialist.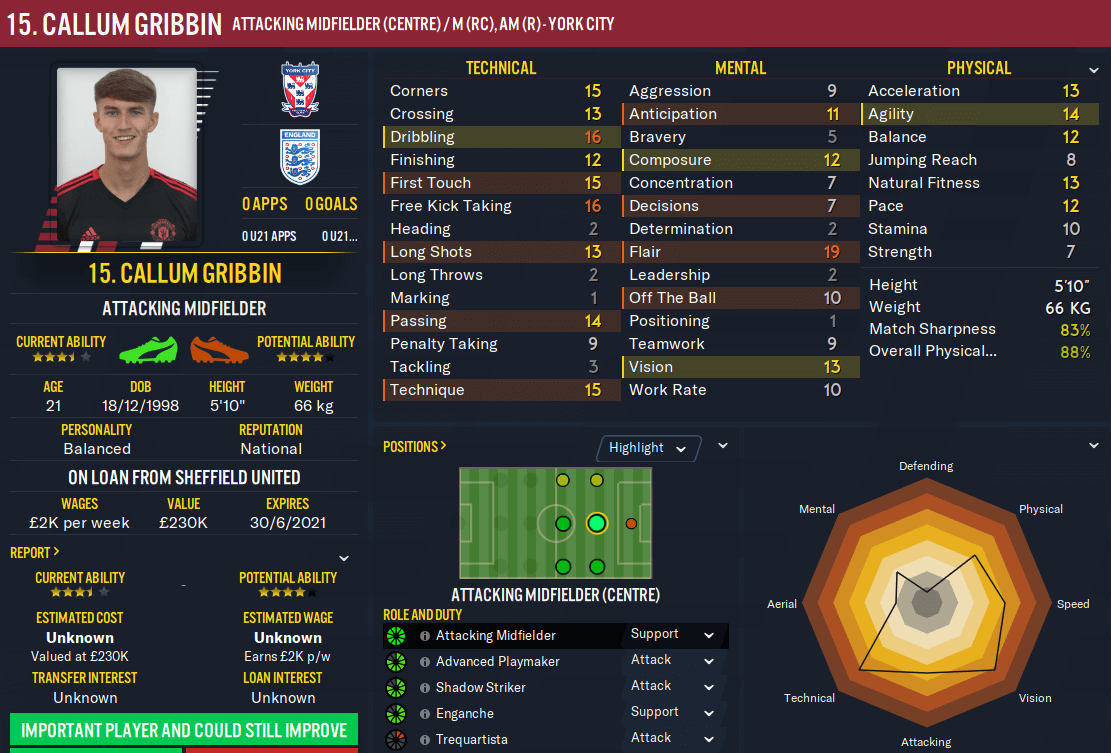 Teddy Howe
Titov is my first choice wing back but Teddy Howe will be rotated in and out. His amazing speed and work rate boost those decent all round attributes. Another young prospect we may try to sign at the seasons end when his contract expires (assuming it does.)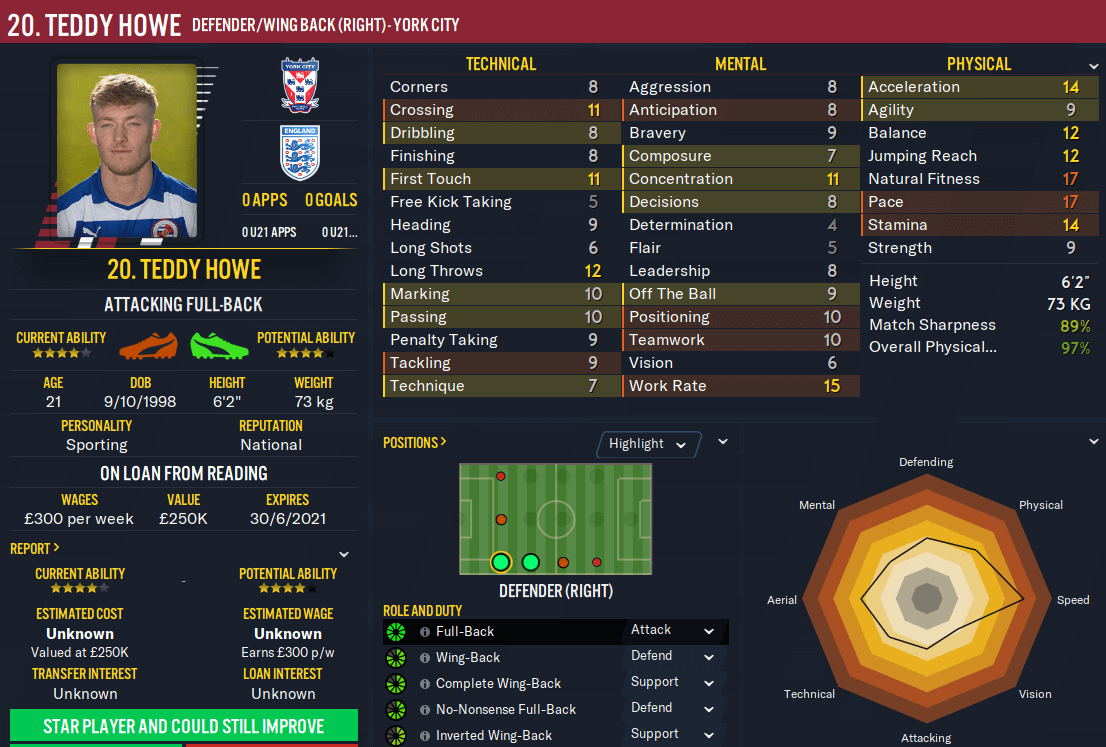 Jordi Govea
Govea should be our first choice left back, with less than desirable mentals I was unsure at first but couldn't resist his crossing, speed and ability in the final third. Another loan signing we may shortlist for the summer.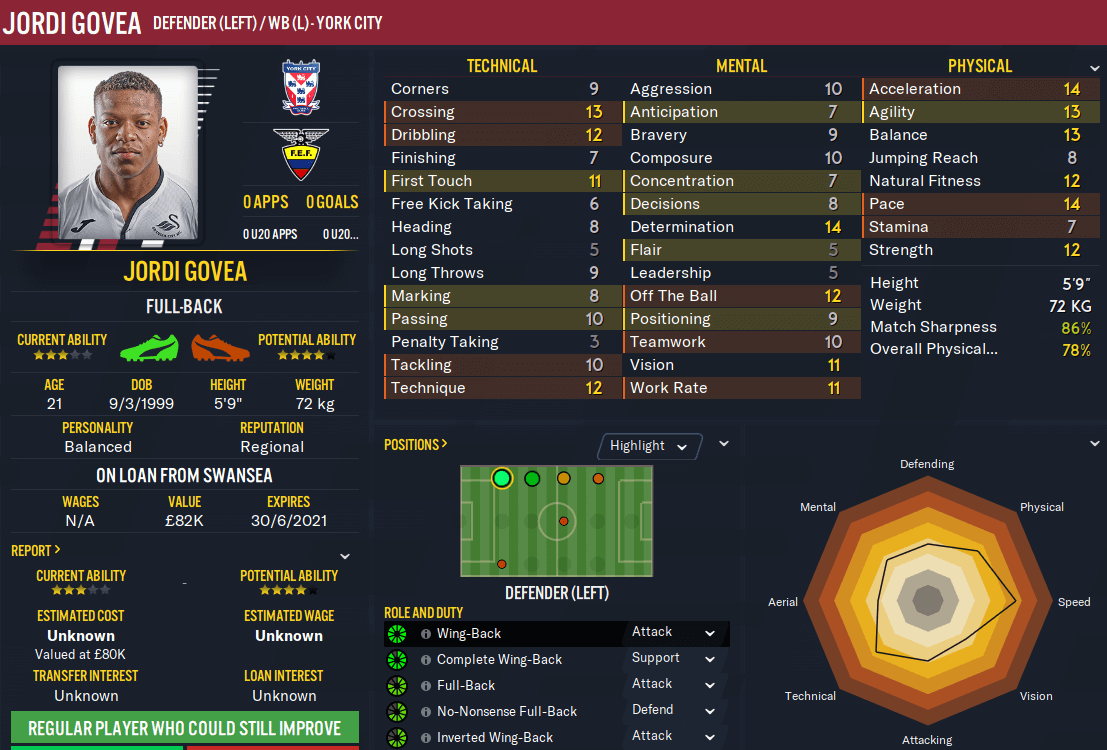 Tyrell Warren
I almost settled for three centre backs but on reflection realised we are involved in a lot of cup matches. Warren is fourth string and on loan from Luton who pipped me to his signature during season one. Fast and reliable he fits my mould of quick, young central defenders.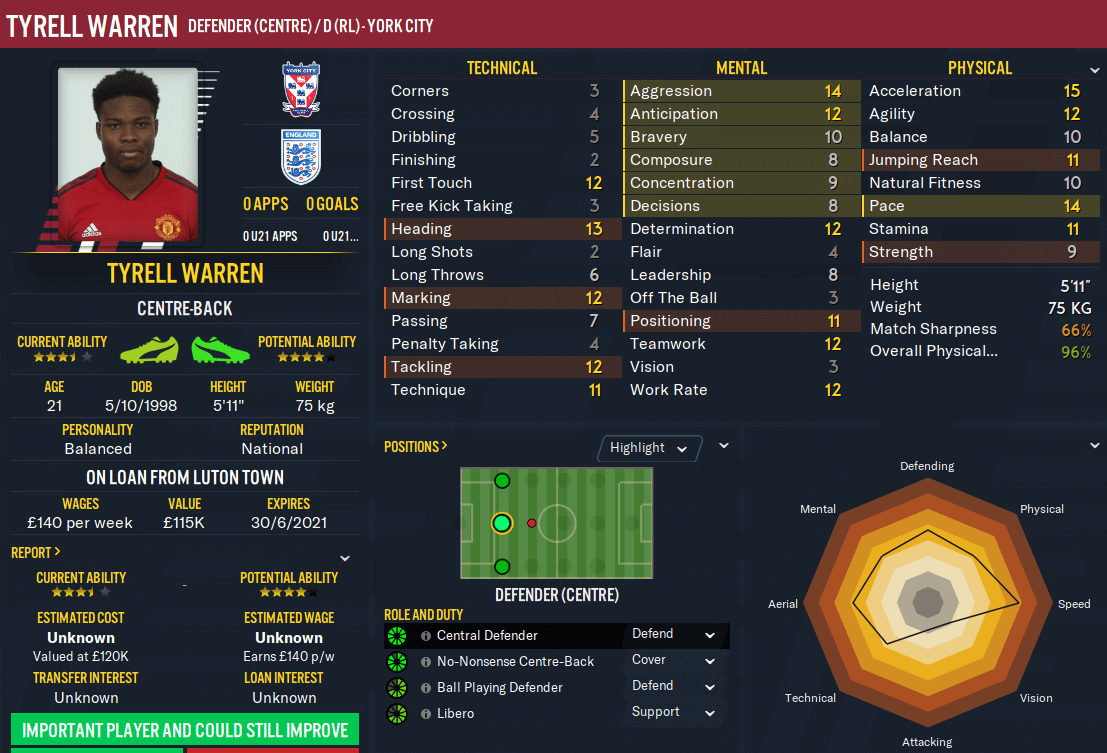 Squad
With only 3 of my 24 man squad over the age of 23 the future is bright. We have 4 five star potential players and seven 4.5 star potential players. Chaibi, Butcher, Odusina, Otranto and Atoiyi are my best players (not on loan.) All of which cover almost every area of the pitch so no real weakness'. We have built a great squad with depth and great strength even for League Two in my opinion.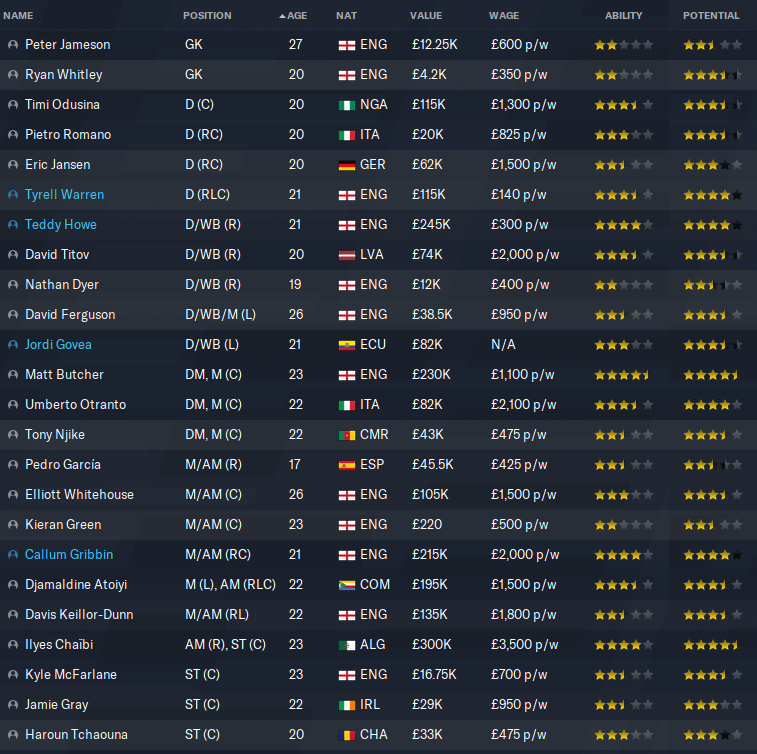 Player of the Season odds tell a story, Matt Butcher, Chaibi and Callum Gribbin have been touted by the media. I can't see Gribbin getting it and Butcher will feature too deep in my system, however Chaibi should score for fun.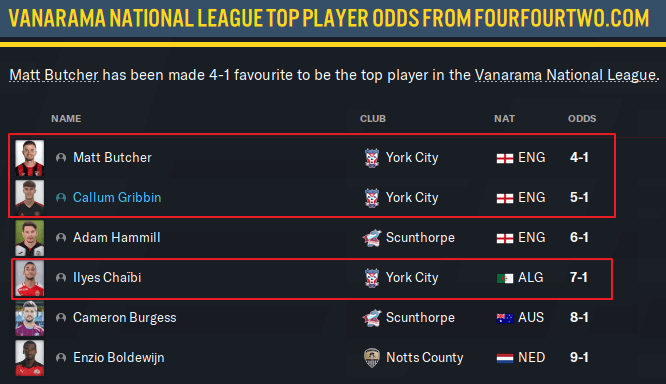 Tactic & approach
I am using the same tactic which won us the National League North. You can download it here, or watch our tutorial on how to use this system and what makes a good tactic in general here.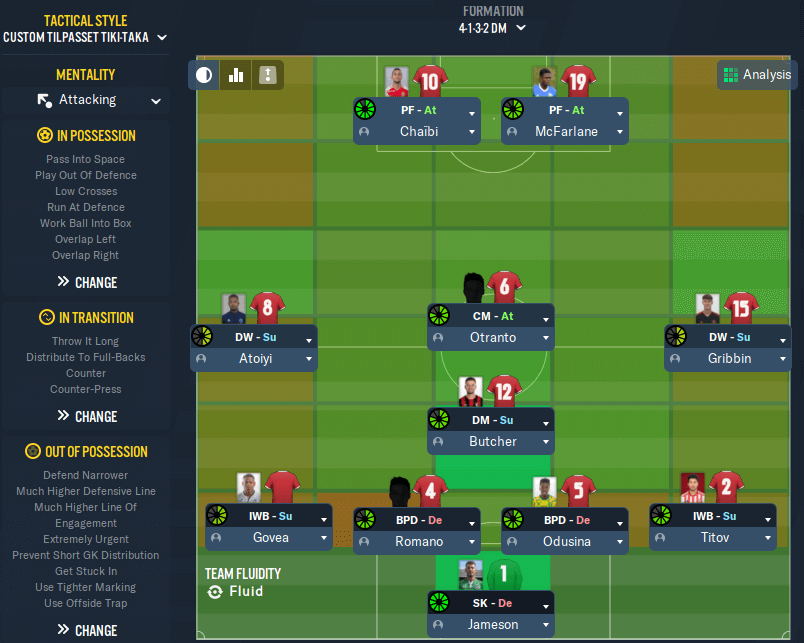 Pre-season results
What a start to pre-season beating Villa at home. I assumed this was a fluke but the lads did good beating Millwall, Twente, Fleetwood and Derby. These may not be competative games but the starting XI's were actually quite good, so I am chuffed with the early signs.

Finances
The Financial spike must be from Ben Godfrey who signed for Norwich from York back in 2016. With landmark clauses in place we have recieved £500K, a welcome surpise. A viewer of my stream suggested we can sell the Godfrey sell on clause for £4 million half way through season two. I am looking forward to that.

Thats all for today folks, thank you so much for following. Why not try watching my live stream too, we go live every Friday night from 6.45pm and Sunday from 6.30pm (times can vary.) Head over to Twitch and give me a follow. Its worth following us on Twitter too for notification of when Streams go live.
So far the stream has been great fun, you missed our first game of the new season against title favourites Scunthorpe…what a result!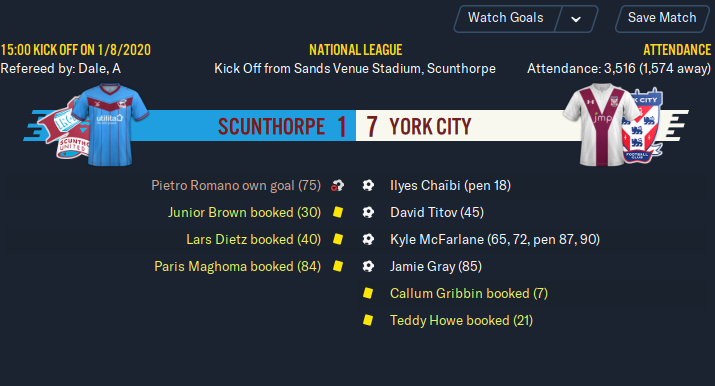 Subscribe to our Newsletter