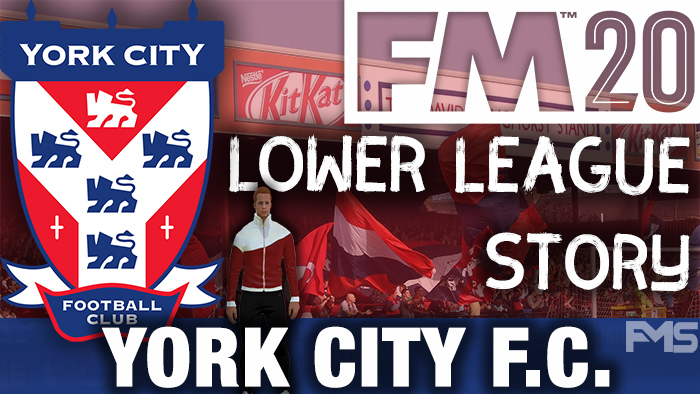 Heh guys and welcome back to my FM 2020 lower league story with York City. Last episode featured a summer shopping spree as we prepared for the future and potential promotion to League Two.
Season two kicked off with a 7-1 thrashing of title favourites Scunthorpe. We carried this form over to the cup competitions, and by Christmas, the City of York was enthralled by FA Cup fever.
National League Results & Table
Our success in the league bordered on laughable at times. With just two draws and zero losses we gained promotion breaking every record in the process.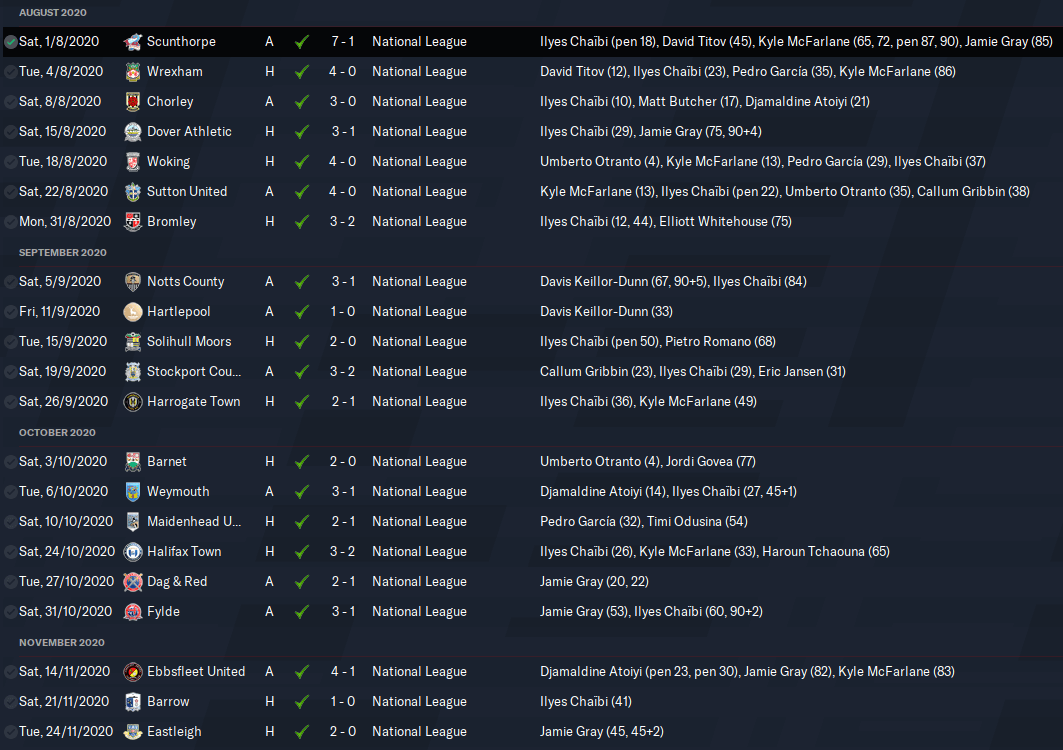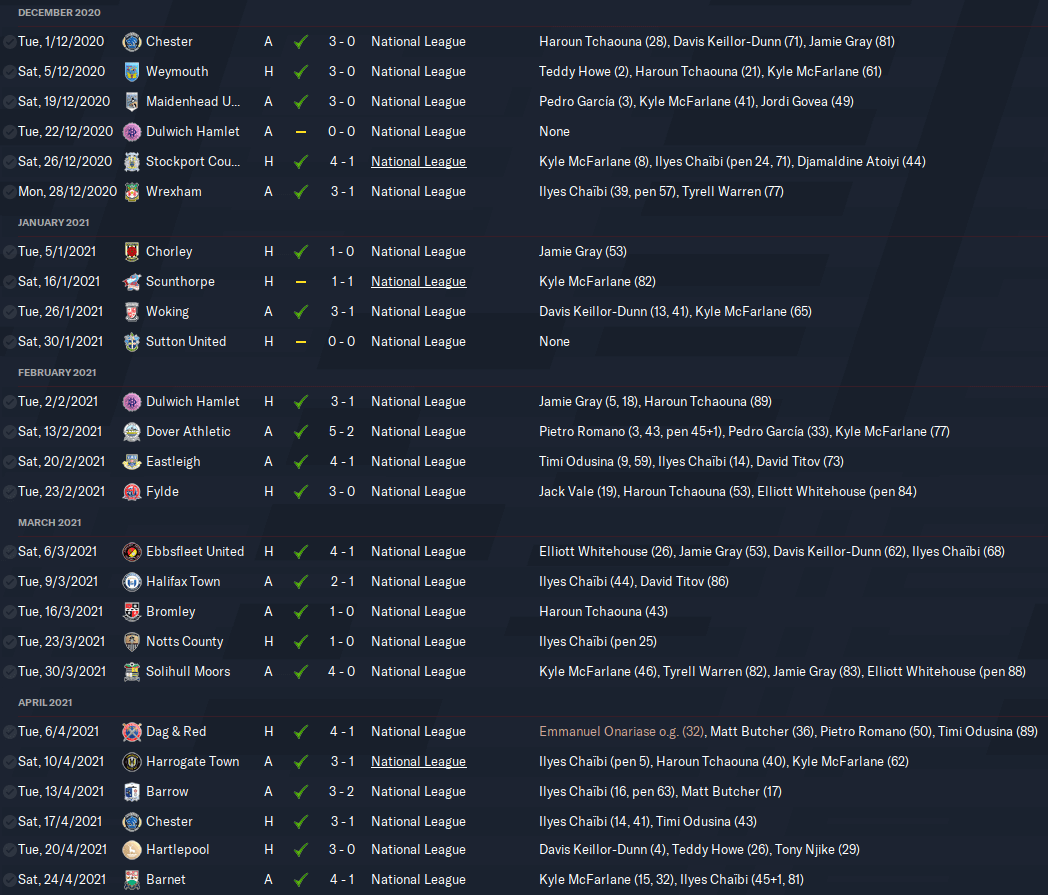 I have never managed a clean sweep of wins and this may be the closest I ever get. 129 goals scored and just 31 conceded.

Our dominance was clear to see, 58% possession and 258 chances created compared to the next bests 186. Otranto performed for a second season with 13 assists but my frontline were the standout players. McFarlane almost lost his contract during pre-season before scoring 20 goals. Chaibi was on another level scoring 33 league goals.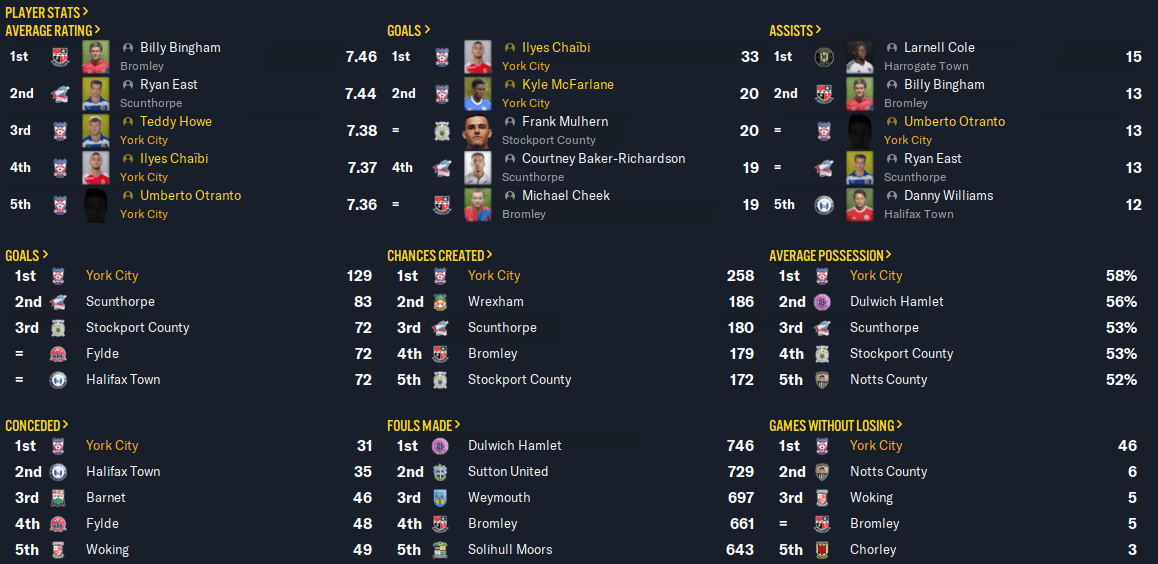 FA Trophy Results
Another year another FA Trophy final, lets hope we can finish the job this time. Torquay should not pose a threat.

Magic Of The FA Cup
I have a secret love affair with this competition. There is nothing like your local side pissing all over the top teams party. We opened with victory against National League's Gateshead before beating Eastleigh. The 2nd round saw a shock result away to League One's Burton Albion sending us through to the coveted 3rd round.

FA Cup 3rd Round – Reading at home
A sold-out Community Stadium witnessed some real FA Cup magic. Not only did we beat Reading, we walked all over their Champiobnship ass. 30 shots, 14 on target, 10 clear chances and 56% possession.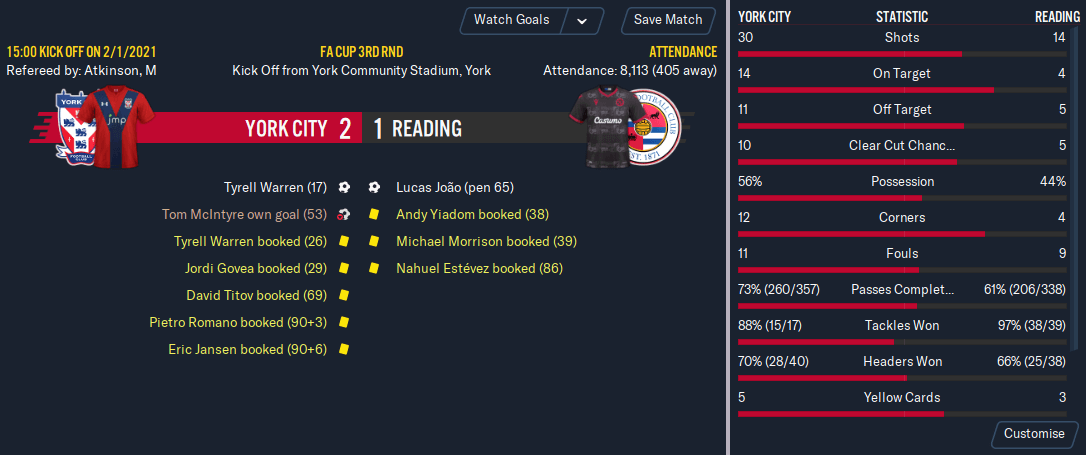 What a moment to live on camara. You can watch the game highlight below.
FA Cup 4th Round – Watford away
Our most dramatic tie to date this game had it all. After a tentative start left back, Govea, was sent off for a second bookable offence. We then rallied to take a two goal lead before half-time.
Watford made their numerical advantage count in the second half scoring on the 50th and 56th minute before seeing red themselves on the 57th minute. I switched tactics returning to two upfront and scored a last minute winner.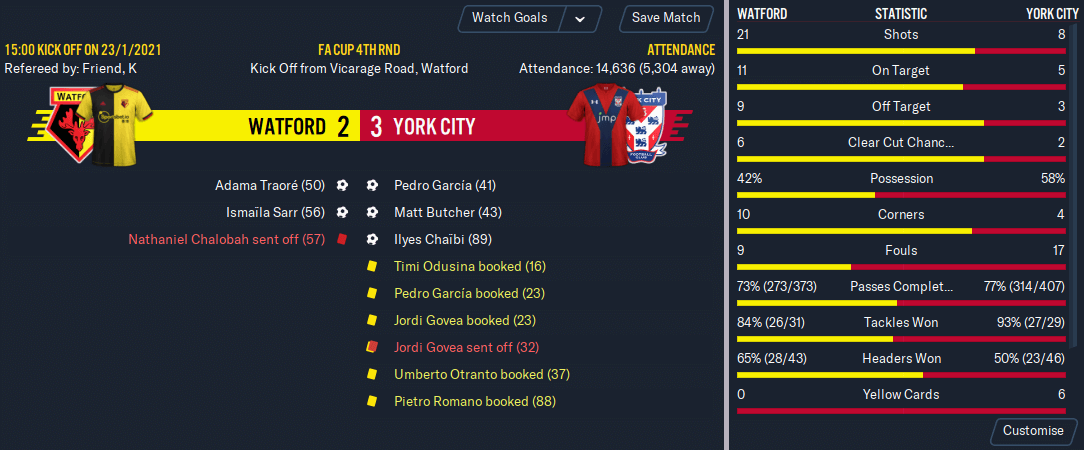 If you want to watch our live streams they are usually 6.45pm on Friday and Sunday night. Give us a follow on Twitch here.
---
Want similar results in your lower league save? Download our tactic, the 4-1-3-2 here.
---
FA Cup 5th Round – Bournemouth at home
We were drawn against Premier League 6th placed Bournemouth in the 5th round. Callum Wilson created havoc in behind but McFarlane opened the scoring after 11 minutes. Wilson eventually equalized in 1st half injury time.
Finely balanced at 1-1 the game was decided by a moment of sheer class. McFarlane finished off a wonderful team move before injury forced us to survive the last 10 minutes with ten men, again.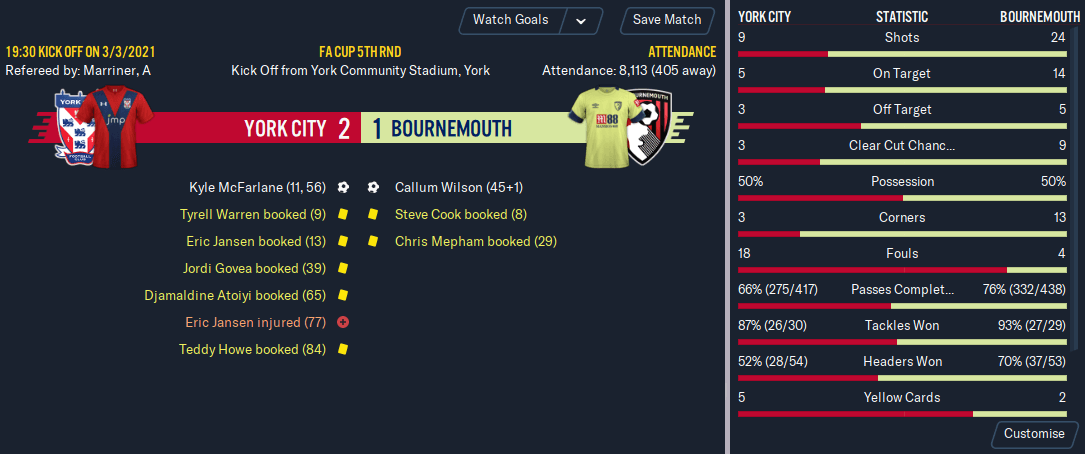 The tension was palpaple, another great moment caught live.
FA Cup Quarter-final – Norwich at home
Another round another Premier League clash, Norwich proved my toughest tie to date. Mario Balotelli of all people had me walking for the tunnel, all but ending the tie with just 29 minutes remaining.
2-0 down I tried one last throw of the dice, changing system saw Chaibi through on goal to score in the 70th minute and 77th. I comtemplated shutting up shop, then decided to go for the kill, you know what happend next! Fool!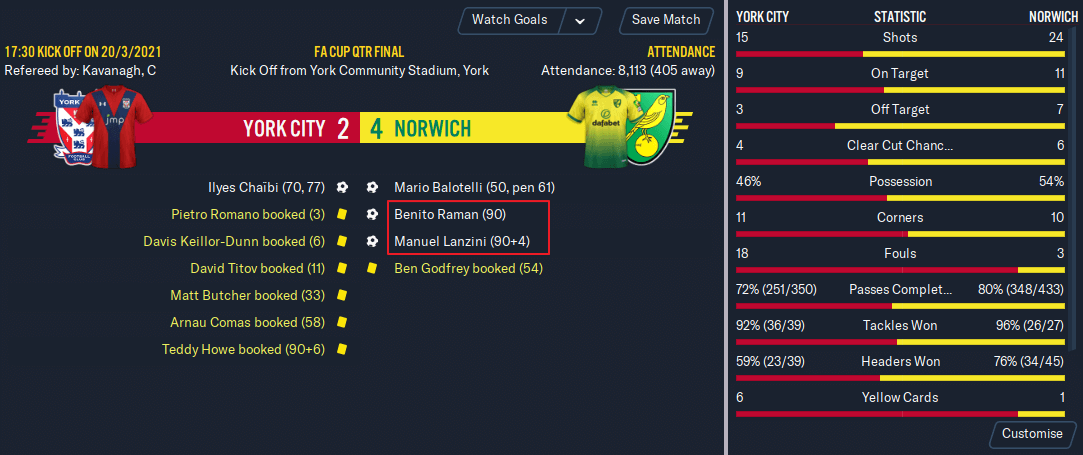 Another dramatic tie, I went from deflated, to elation to devastation. All caught live yet again.
Watch York S2 | FA Cup Quarter-final vs Norwich (Cup upset) from FMStory on www.twitch.tv
FA Trophy Final v Torquay
Losing last seasons final bothered me, it may be a minor cup but a cup all the same. Thankfully my demons were laid to rest after York won 2-0 at Wembley in front of 33,000 fans.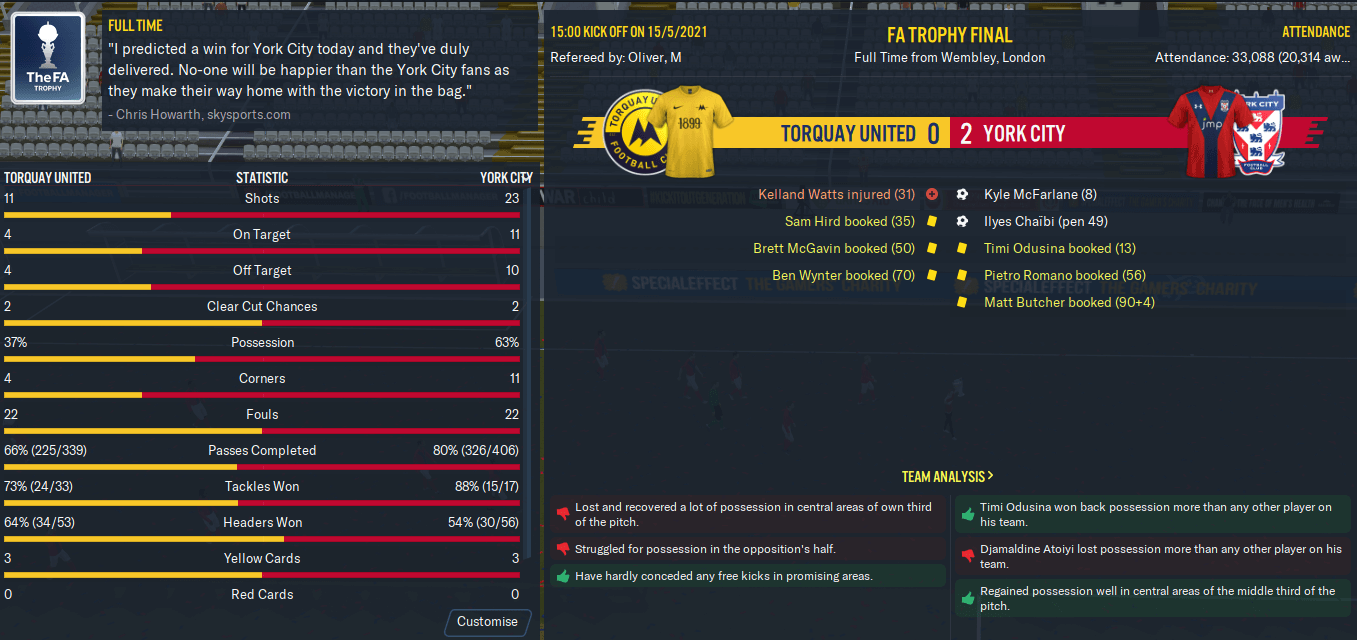 Key Player & Performances
What a season, what a squad. I don't know where to begin, so many deserve a mention.
Defence – Our right back, Titov had a solid season scoring 5 screamers adding 5 assists. Romano and Odusina were solid at centre back scoring 11 goals between them averaging 7.3 per game. Govea was my surprise performer at left back with 2 goals and 10 assists.
Midfield – Otranto made the step up with 7 goals and 18 assists. Butcher was impressive from DMC scoring an impressive 4 and assiting 9 from deep. Pedro Garcia may be short on quality but chipped in with 9 goals and 13 assists from MR. Atoiyi and Keillor-Dunn scored a combined 16 and assisted 18 to make ML a threat.
Forwards – Two players stole the show, Ilyes Chaibi with 51 goals and 11 assists was my player of the season! Kyle McFarlane was the suprise of 2020/21 scoring 28 goals after almost being released in Spring.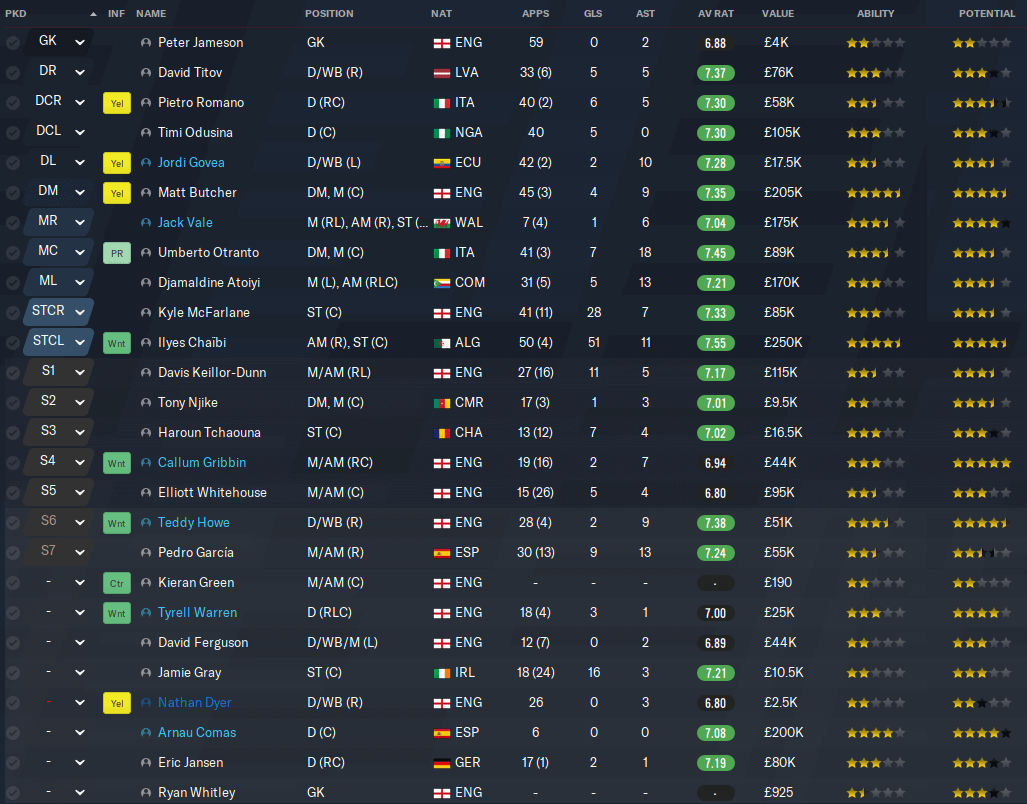 Planning For The Future
I have spent many hours scouting the monthly Youth Intake to establish a Newgen targets list. We have signed more than 12 players on future deals already! Some of these kids are cheap punts, others are excellent talents. You can read about our Youth Intake process here, its arduous but I highly recommend it.
Below is a sneak peak of my favourite addition, joining in the summer. This kid will start next season and joined for £500, god bless regens every one! We will go into more detail in episode 3.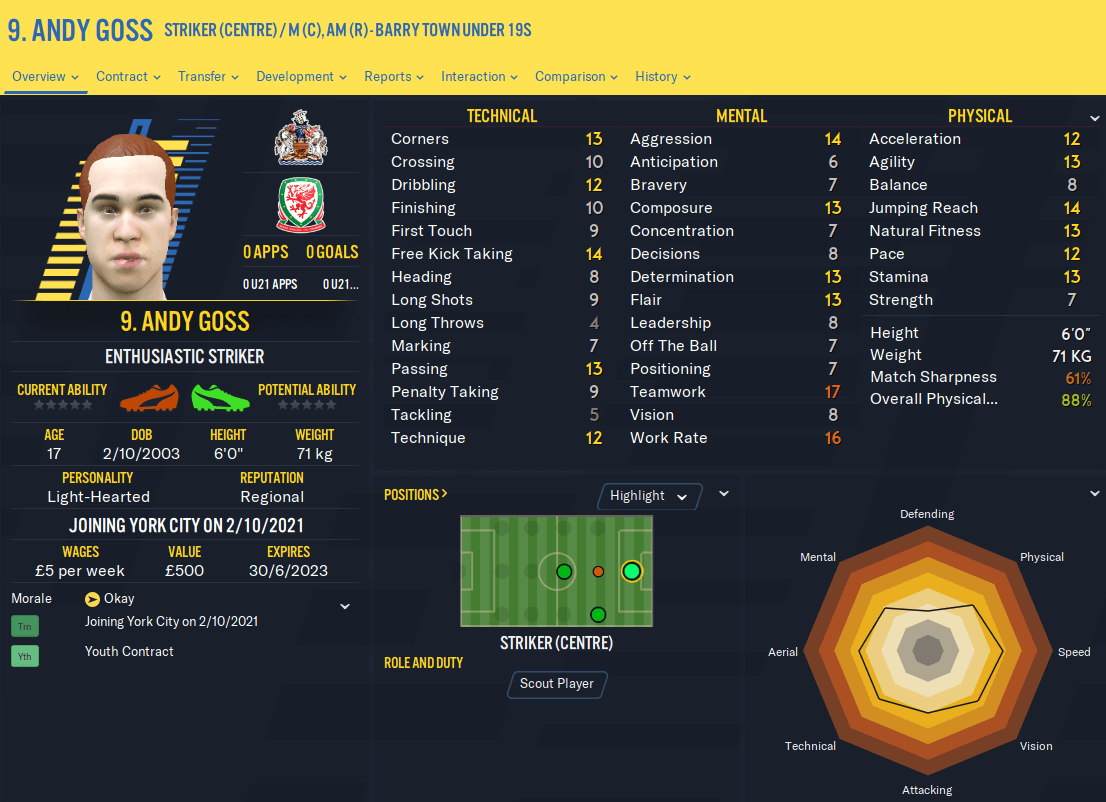 Financial Windfall
Owing to a great FA Cup run our finances were superb. With £1.8 million in the bank I attained a £1.1 million transfer budget for the coming season! We are also improving the clubs training and youth facilities. Once work began my bank balance dropped to zero but a great investment!
Thats all for today folks, thank you so much for reading and please do follow us on Twitter and Facebook. Those who have watched the live streams have given great feedback. We usually stream from 6.45pm on friday and Sunday, I'd love to see you there for a chat. Follow us on Twitch here.
The next episode will feature our transfers, pre-season and my approach to building a bright future!

Subscribe to our Newsletter