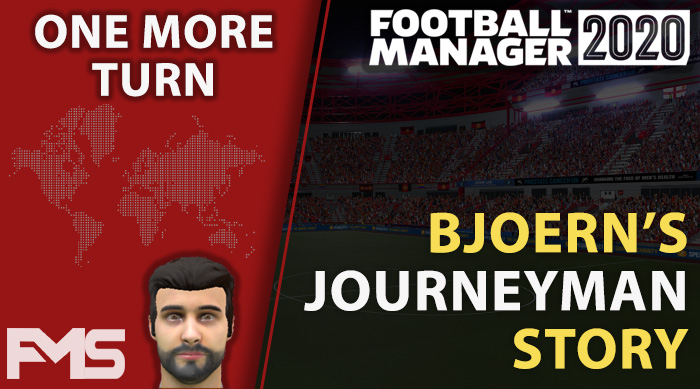 Gabriel's Diary
Duesseldorf, July 12th 2015. — The rumours started spreading soon after my penalty miss. Germany's major yellow press magazine BILD were running a new story that went like this: Ameobi's contract is running out this summer. He sees his future elsewhere. Perhaps even in Dortmund! Maybe this is the reason he didn't fully concentrate on his penalty against them.

Fans were furiously responding to the news. Social media were running memes with my face after the penalty. Supporters visiting our training ground were calling me names. Safe to say, the rest of the season went downhill and I didn't get back on the pitch. Likely the manager wanted to protect me from further criticism. And he was right: I wasn't at my best and others were simply kicking the ball better.
The manager — great guy. He and the team fully understood that the rumours were nothing but lies. When we finished the season in 6th place way off the Champions League qualification we had aimed for, the boss was sacked. And in the turbulent days between this and the appointment of a new boss, people seem to simply have forgotten about me. And on his first day in office, the new guy called me in and informed me that my services were no longer needed. He understood my situation well, but … you know … public pressure and all … cannot do this. Goodbye. A rather unceremonious farewell. No one in the club even bothered to take note of me leaving. I haven't heard of any of them for more than a month now.
And here I am now. An unemployed footballer at the height of my career. But it seems no German club will even look at me, given the smear campaign of the last few months. I tried reaching out to other teams, but as things stand, this summer will be the first time in more than 10 years that I will not go through a professional football preseason. I'm itching to set things straight, but I feel dependent. I have to wait for someone to give me this next chance and as things are, this someone is nowhere in sight right now.
2028/29 Pre-Season
Last time round I talked about my new favourite FM country (South Africa) and my first two seasons in charge of Mamelodi Sundowns. One of the learnings of this post was that our board were going to get upset if we just splash all the transfer cash as they wanted us to make profits in the transfer market. So this time round, I did not try to keep people together at all costs, but was willing to listen to offers if the prize was right. As a result, there was some dealing that I would not have pushed for myself, but that helped us financially.

Koapeng had played most of our previous title season in the MEZ position, but 4 million EUR were a lot of profit for us. The other sales were regular squad players, but no real star players. With all the cash flowing, we made some investments. One was an upgrade to the youth and training facilities to help the Sundowns long term. Other money went into transfers.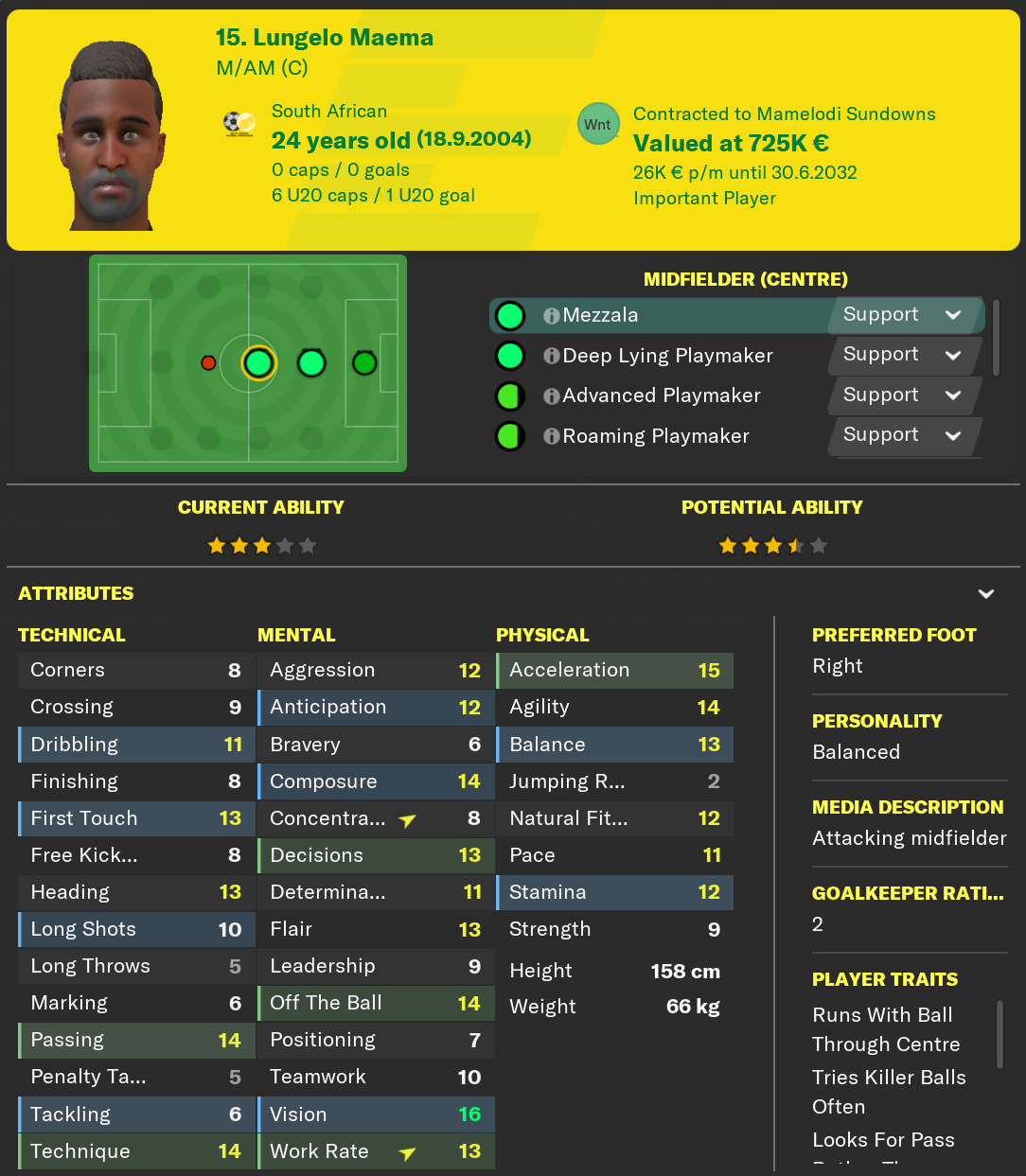 Lungelo Maema joined from Orlando Pirates as a 1:1 replacement for 4 million EUR boy Koapeng. Cost us 1.2 million and was going to play a great season. Unfortunately, he was already cup-tied for the Champions League when he joined because he had already played in the preliminary round for Orlando.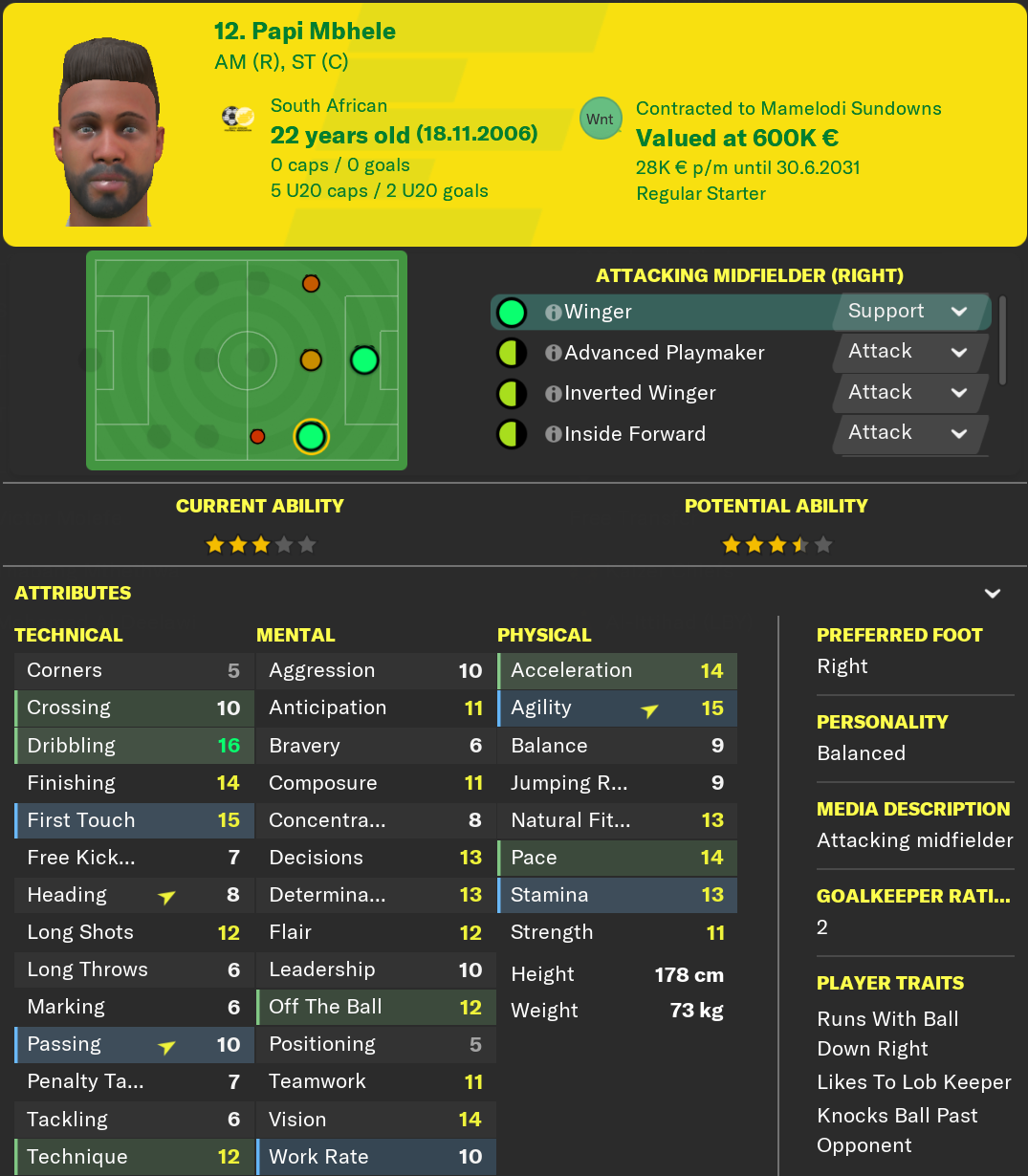 Papi Mbhele joined from Kaizer Chiefs where he had played okay, but not great. He looked like a great addition to our offense and still fairly young.  If I'm honest, this was an impulse buy and I then found myself with too many options in the front (Ben Abda was normally set in AMR, 30 goals guy Musa Khumalo for the ST position). So I figured, perhaps someone would be willing to pay us a lot of money for Musa, given his success on the pitch in the last year. I was expecting a multi-million euro bid from some Arab country, but none manifested at all. So Musa stayed with us. And he might have been a bit upset about me offering him out. But that was only for a couple of months until we were buddies again.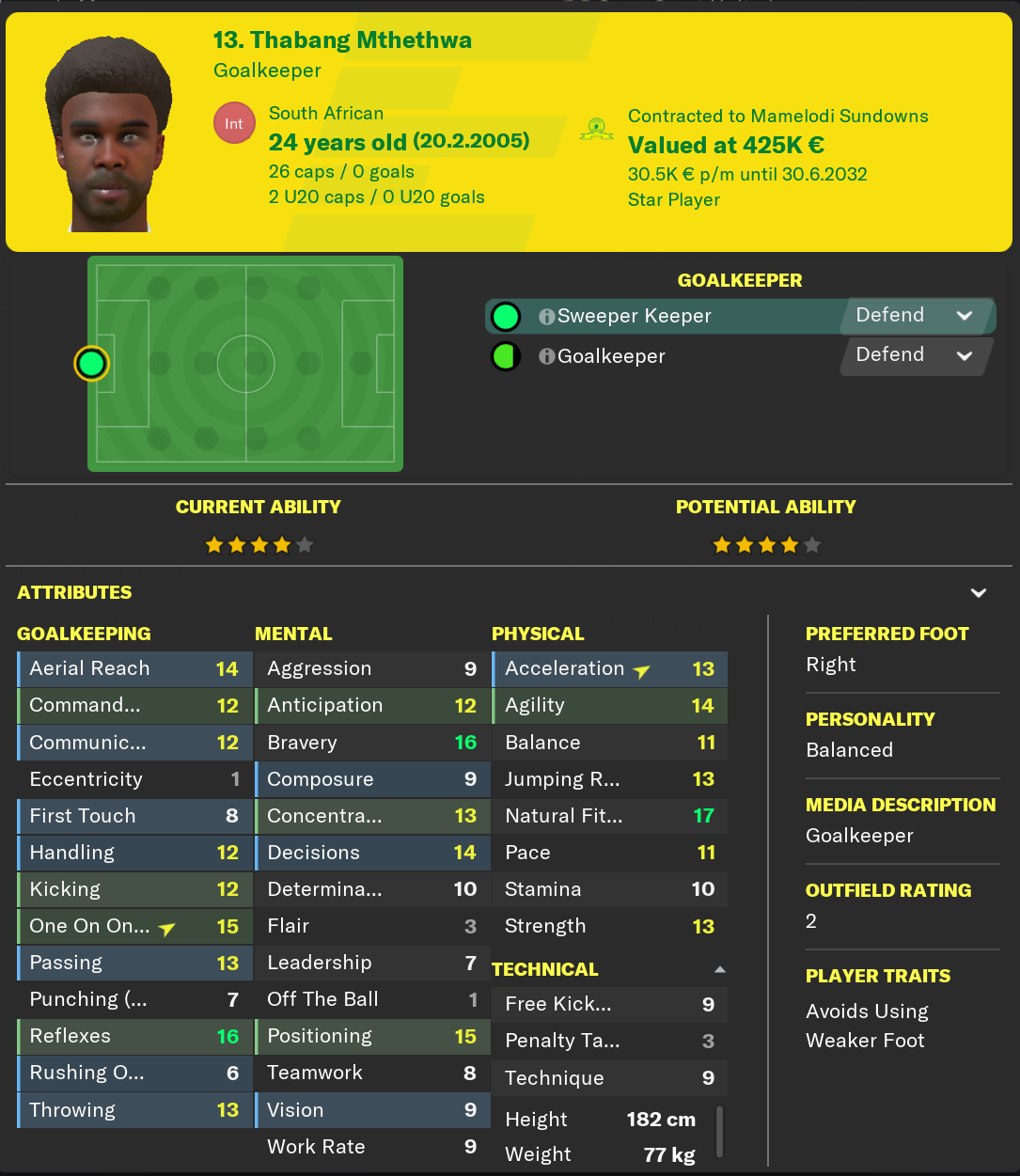 Thabang Mthetwa was arguably one of the best South African goalkeepers around. He was Kaizer Chiefs' first choice goalkeeper in the 27/28 season, which saw them win the CAF Champions League title. Fun thing: his contract at Kaizer Chiefs was running out and for no explicable reason they didn't bother to extend it. Their pain, our gain. Thabang joined us on a free transfer. As a testament to his quality he ended up conceding 11 goals in the 28 league matches he played for us this season.
2028/29 ABSA Premiership
Last year we defeated Kaizer Chiefs only on the last day of the season. Obviously, I was hoping to repeat this achievement, but the first month of the season indicated it might not be easy. We lost our first match of the season against newly promoted Bloemfontein Celtic and then drew two out of the next three matches.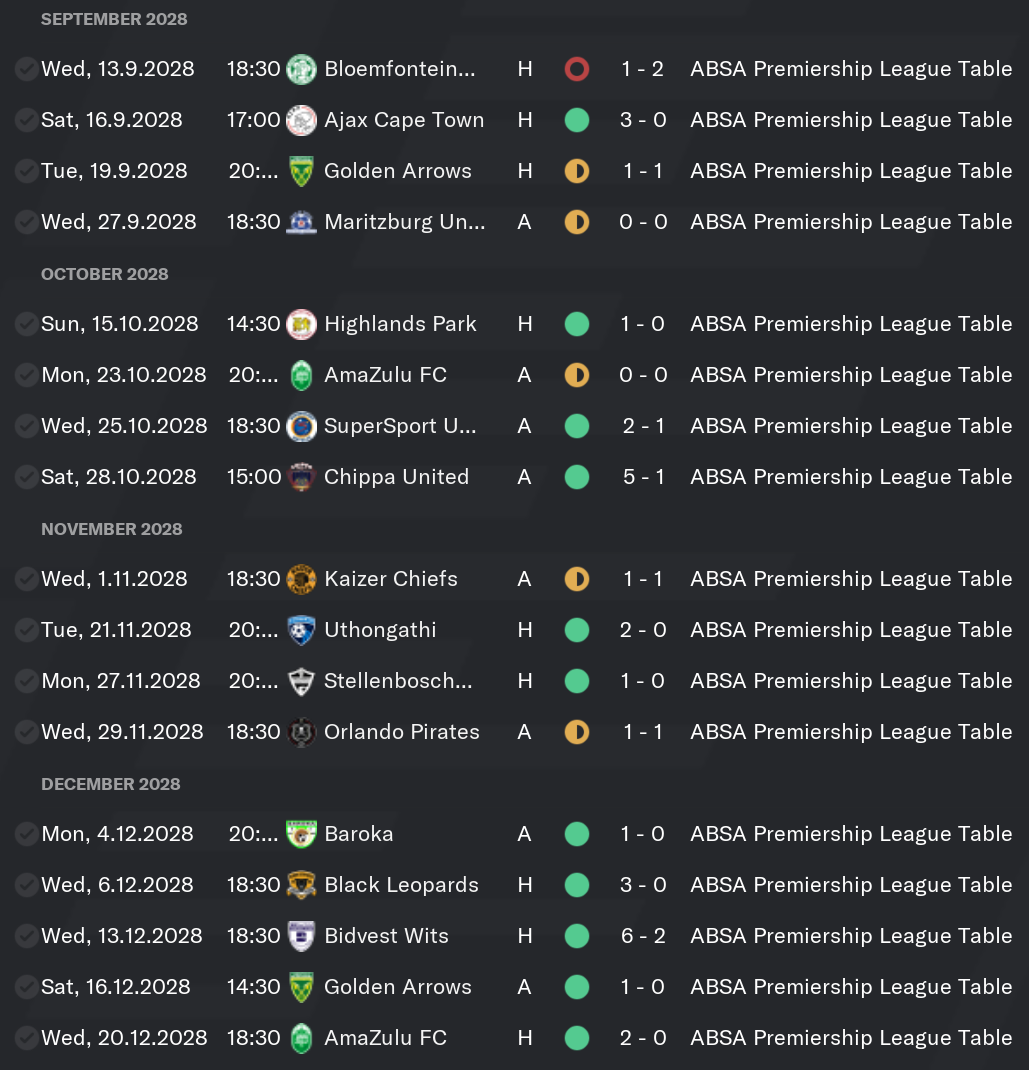 Sure, some of this can be attributed to us trying to compete in a few other competitions (see below) at the same time. But I only started relaxing in October when we actually started winning multiple games in a row. We kept our form until the turn of the year and even in 2029 were close to unbeatable until the last match of the season, where we honestly did not bother to compete anymore. ;)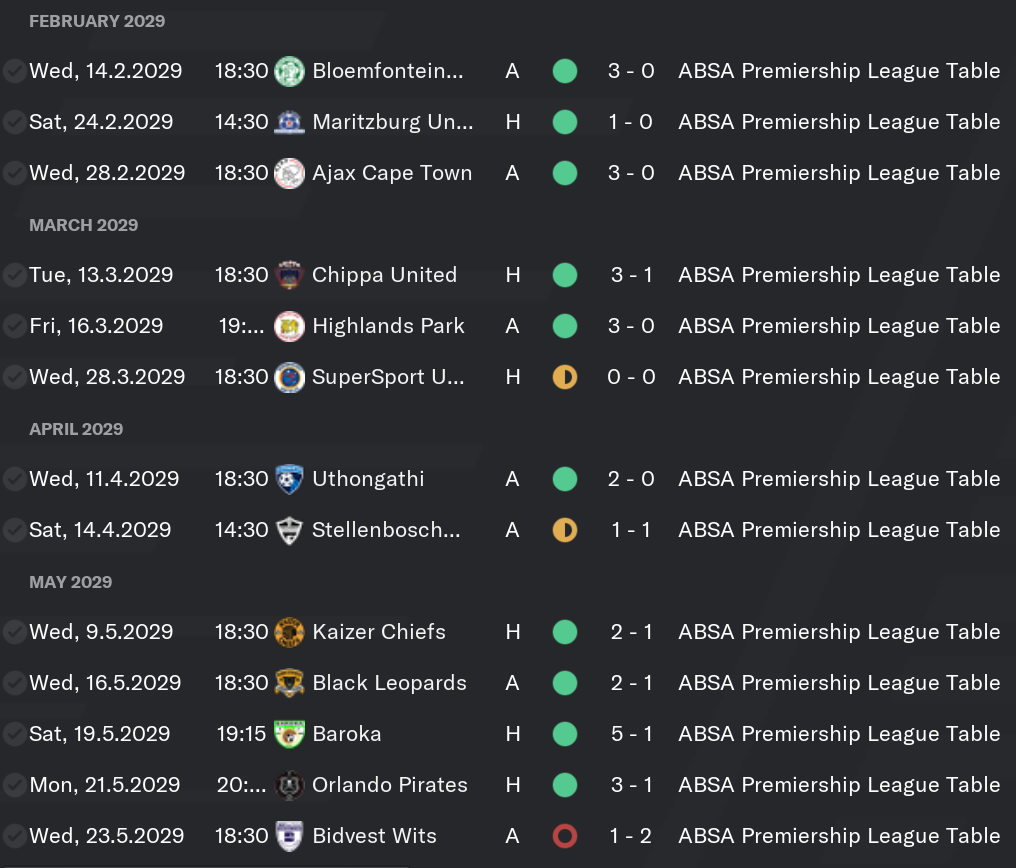 In the end we won the Premiership with a considerable 10 point lead and it was actually our 2-1 away victory at Black Leopards (who were the only ones still having a chance at the title) that sealed our second consecutive premiership title.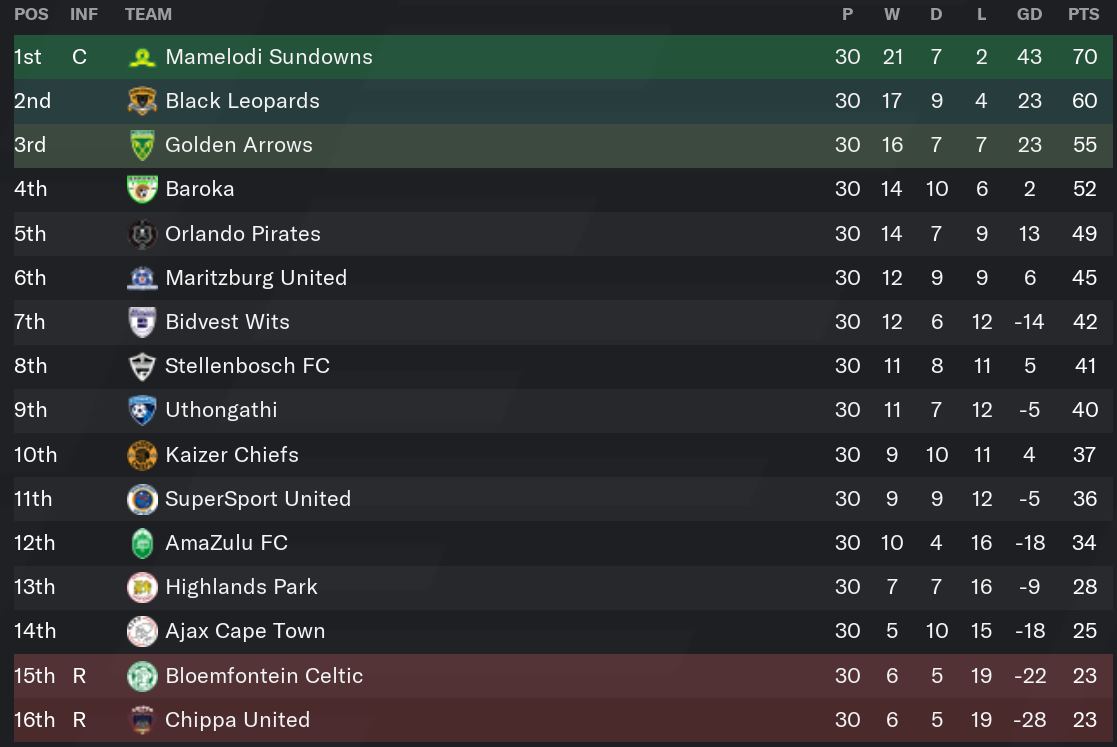 Snarky side note: Kaizer Chiefs had a terrible year! They were sitting 15th at one point in December and only managed to pick themselves up towards the end of the season. Shouldn't have let Mthetwa leave, I guess…
2028/29 Cup Competitions
As noted last time round, our board was more eager to win cups than the premiership. (This year they at least had expected a title challenge.) They wanted us to reach all finals possible.
Pre-season started with the MTN8, which in the past two years had always set us up for a semi-final against Kaizer Chiefs that we eventually lost. This time we had at least until the final before we met them. And as I already indicated in the premiership section, they were having a really bad year. This included a 4-2 beating by us in the MTN8 final. At this point I had won every national competition Mamelodi were eligible for at least once. But we were not done yet.

The Telkom Knockout followed right after MTN8. We reached the final through a dirty semi-final against Orlando Pirates that we only won on penalties. The final against Uthongathi should have been a no-brainer against a rather mediocre team. But they fought back and managed to pull us into extra time. Luckily, we didn't need penalties again and won there. (Are you counting? This is title #3 this season.)

Last, but not least, we had the Nedbank Cup in early 2029. Even more penalty shootouts, and at some point luck will finally run out. We unceremoniously dropped out against Baroka in the quarter final.

2028/29 CAF Champions League
With all the fun I was having in South Africa, I had to remind myself that there is an ultimate goal to this save. We are here to win a Champions League title and now in my 3rd season at Mamelodi we finally had our first shot at it. As usual, we had to go through two qualification rounds before reaching the group stage. And we nearly missed out here already.

While everyone else (hi Orlando Pirates and Kaizer Chiefs!) were getting the random back-of-the-country African clubs in the qual rounds, we were playing our second round against Egyptian side Al-Ahly. This felt like the toughest draw among all qualification matches and they proved stubborn in defense. We were extremely lucky to win the penalty shootout to move on to the CL group phase. (If you're still counting, this is one of four penalty shootouts this year, and we won three of them.)
As a consolation, Al-Ahly dropped into the CAF Confed Cup and then went on to win it.
The group phase had a new surprise as it set us up against title defending Kaizer Chiefs. But again, they had a terrible season, so we were able to coast past them and win the group.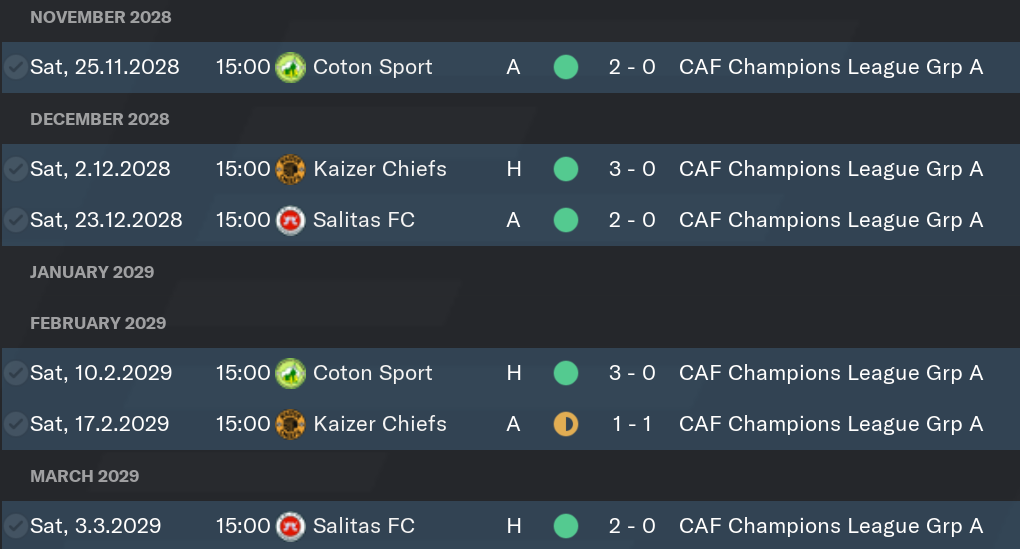 Off to the knockouts we were! The quarter final was still straightforward. We bet JS Kabylie from Algeria 1-0 and 3-0. This set us up for a semifinal against our eternal nemesis Orlando Pirates. We had drawn all games against them so far this season (1-1 in the league, 2-2 in the Telkom semi final that we won on pens). We also drew 0-0 at home in the first leg and when the second leg was still 0-0 after 45 minutes, I was mentally preparing for yet another round of penalties already.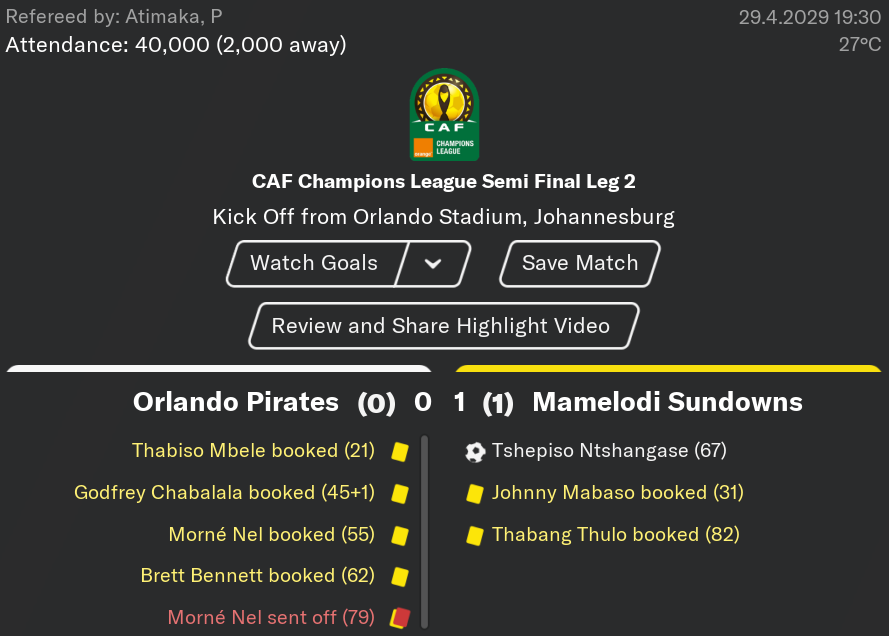 Luckily, central defender Tshepiso Ntshangase was having none of it. He nodded in a corner kick after 67 minutes and then we just put 20 feet into our penalty zone and blocked every shot they threw at us. This was enough to reach my first CAF Champions League final! Here we would meet ES Sahel from Tunisia. We had not yet forgotten our 0-1 defeat in the Confed Cup final against Club Africain last year, so we were wary of a tough match. And a tough match it would become, indeed.
We went down 0-1 early in the second half and things only went down from there as in the 73rd minute our right back Nick Jousse was sent off for an arguably terrible tackle. Was all lost?

No! Musa Khumalo, who I had not been able to sell after his successful previous season, came to the rescue and scored the 1-1 in the 86th minute. As this seemed to be the season of penalty shootouts for me, you know what I was thinking about at this point…
Now we remember Lulongo Maema, who we had brought in last summer to play the MEZ role in midfield. He was cup-tied for the CL, so all CL games went to his backup, Thabang Thulo. And it was this Thulo guy that ended up writing Mamelodi Sundowns history in stoppage time. He simply hit one last long shot on the goal, the ball breezes past Sahel's keeper (who had been a giant so far) …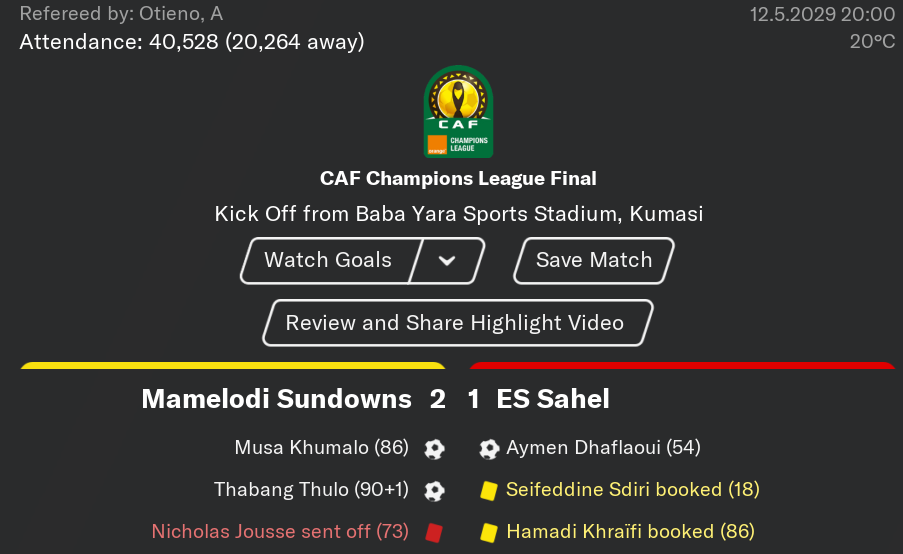 … and then the game is over. We have won the CAF Champions Leauge! On our first try!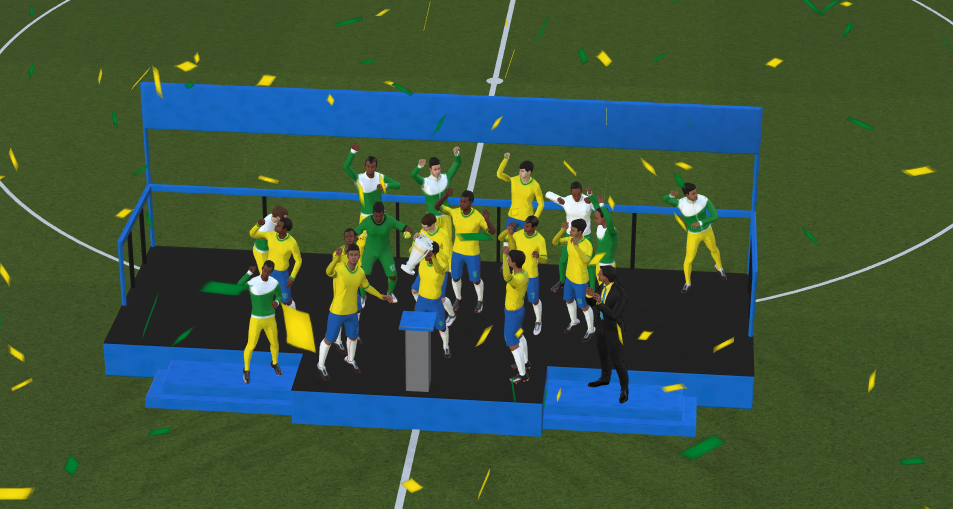 Coming Next
As I'm eager to point out (mostly to myself) throughout this save, I'm here to finish the hexagon challenge. It took nearly 8 seasons in Africa and even though I loved South Africa and the Sundowns, this is the time where I will be stepping down to move to another continent. Next on the list is Asia, where I'll be trying to land a job in China, South Korea, or Japan.
What remains of these 8 years? Ameobi has moved from a National B licensed coach to one with a Continental Pro License. Top tier clubs will no longer be snubbing him, which makes me hope that the next CL win might not be another decade ahead. Let's see how that goes. I will let you know!

Subscribe to our Newsletter