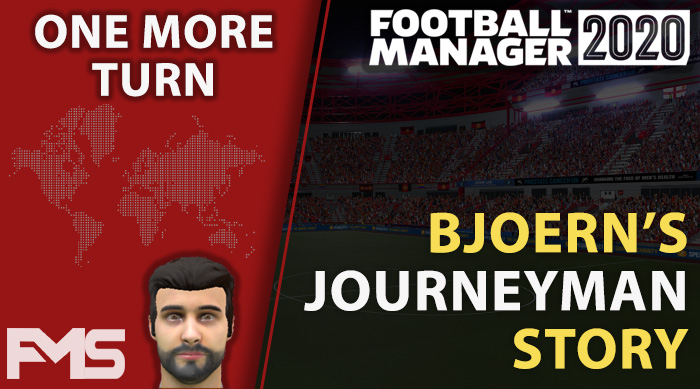 Gabriel's Diary
San Nicolas de Garza, Mexico, May 4th, 2033 — Cruz Azul. I can't see their logo anymore. They have beaten us once. And twice. And thrice. Close every time, but they have been our bogey team. If we want any success going forward, we MUST rally together and succeed against them next year. We have a good team after all the transfers in the past 12 months. If we get past Cruz Azul, we will dominate country!
Getting into the Right Mood
Some words just trigger something in my head and then the music starts playing. (I'm sure I'm not the only person in the world having these issues? You can also hear the voices, right?) "Mexico" is such a word. Mostly, because there is this song of the same name by semi-controversial German rock band Boehse Onkelz. Coined for the 1986 World Cup, it is to this day one of the regularly sung songs when Die Mannschaft is out on the pitch:
Moving to North America
In the previous installment of this series, we helped Shandong Luneng win the Chinese Super League as well as the AFC Champions League. With our job done and the club's finances in shambles, it was time for Gabriel to move on to the next continent. I really did not want to get tangled in the complexities of MLS player rules, so I firmly set my eyes on Mexico. Given the reputation Gabriel Ameobi had earned in his career so far, he was able to land interviews with some of the top clubs. While Club America decided to pick a different manager, Tigres UANL and  Cruz Azul offered me the position. Both clubs were fairly similar in terms of facilities and available budgets. Tigres were predicted to finish 2nd in the league, while Cruz Azul were tipped 6th, so I settled for the better prediction and took the Tigres job.
Financially, Mexico is quite a bit different from the experience I had in China before. The club gave me a 10 milllion EUR transfer budget and a monthly 3.3 million EUR in wages. There was still some wiggle room when I came in with around 700,000 EUR in wages still available. After surveying the squad I was quite happy with the quality of available players.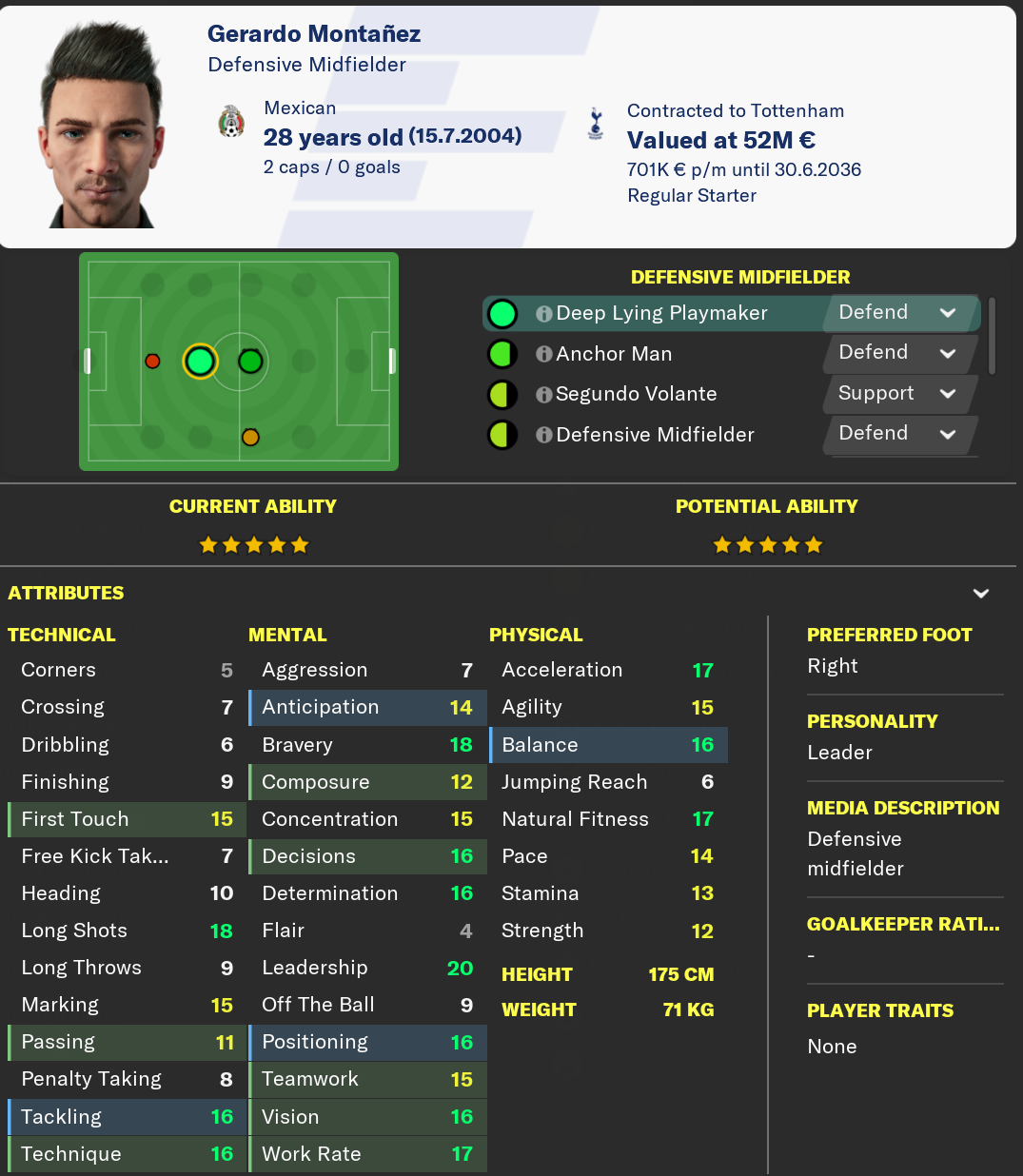 With Gerardo Montanez the club had a world-class defensive midfielder on board. Unfortunately, he only was with us for the first half of the season. In winter, Tottenham drove by and triggered his 20,000,000 EUR release clause. But what a half-season it was to be! See below.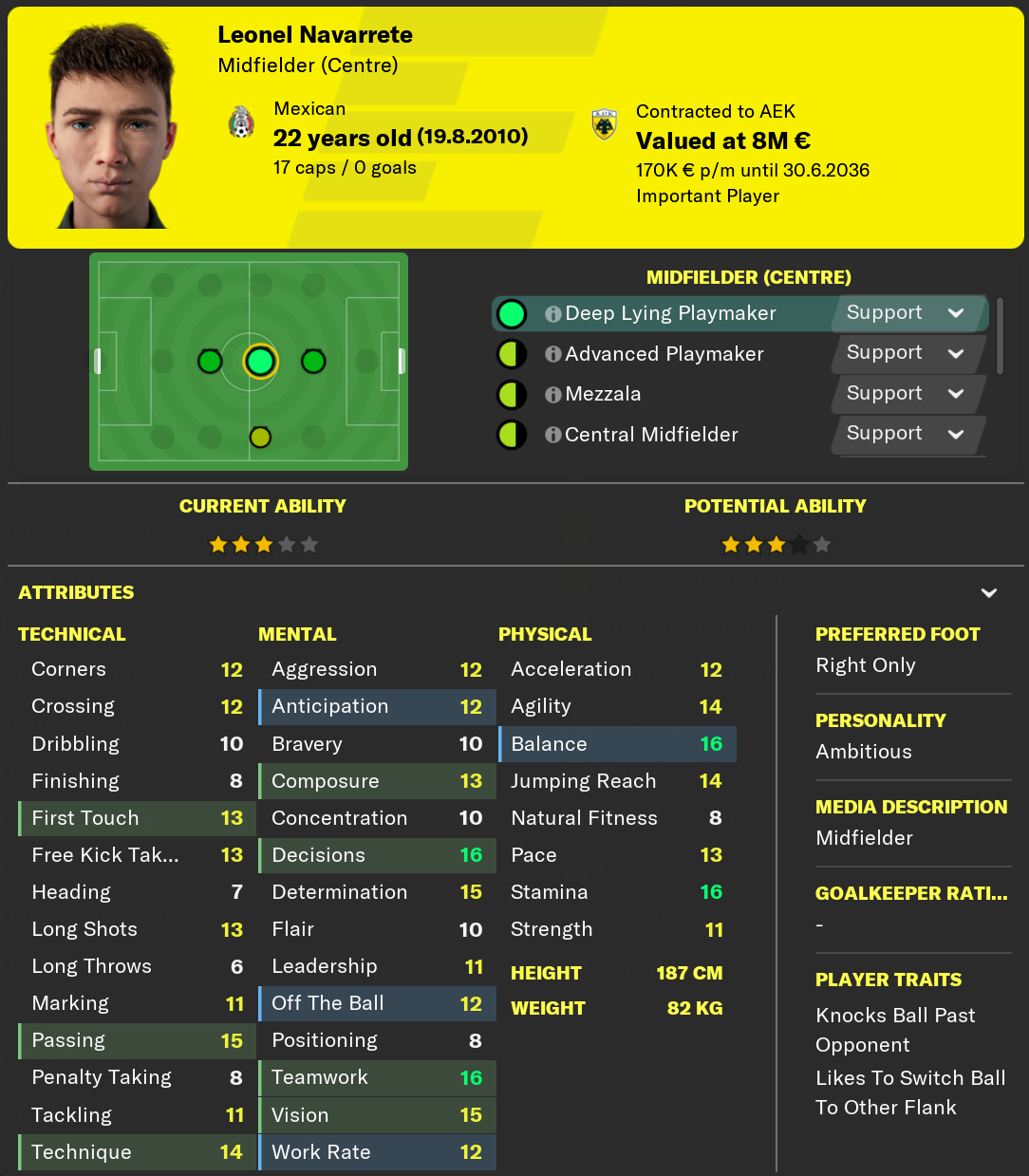 Leonel Navarrete was my first choice for the central midfield position in front of Montanez. Still fairly young, but he made a decent Box-to-Box midfielder. Until the winter break (there is a pattern here!), when AEK Athens decided to pay his 12 million release clause.
This was kind of a bummer: until now I had not paid extremely close attention to player contracts when starting at a new club. I was thus taken by surprise when Montanez and Navarrete were gone as I of course had my plans for them. Nevertheless, here's another awesome player: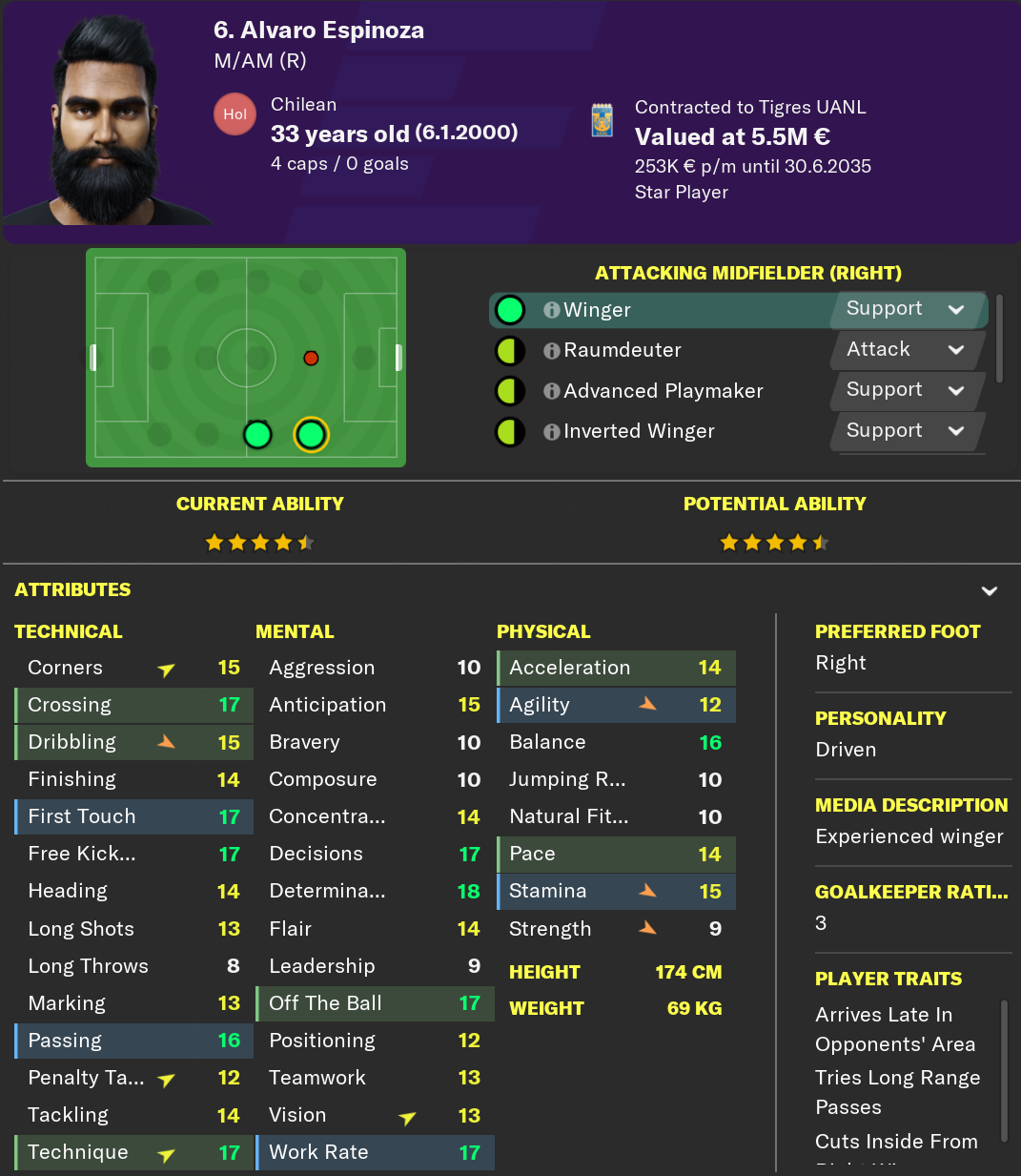 Chilean winger Alvaro Espinoza is already 33 years old, but arguably at a level with Montanez. Surprise: he is still with the club as I write this! I played him as a Wide Midfielder on the right side and he has been my most prolific assist provider this year. While he is aging, I hope to still get one or two great seasons with him.
Fun fact about Espinoza: He is Chilean, but wasn't capped for his country when I arrived. Then in September 2032 he has spent 5 years in Mexico and takes on the Mexican citizienship, making him eligible to play for Mexico as well. And right for the next international window in October he then gets called up for Chile. Can't make this up.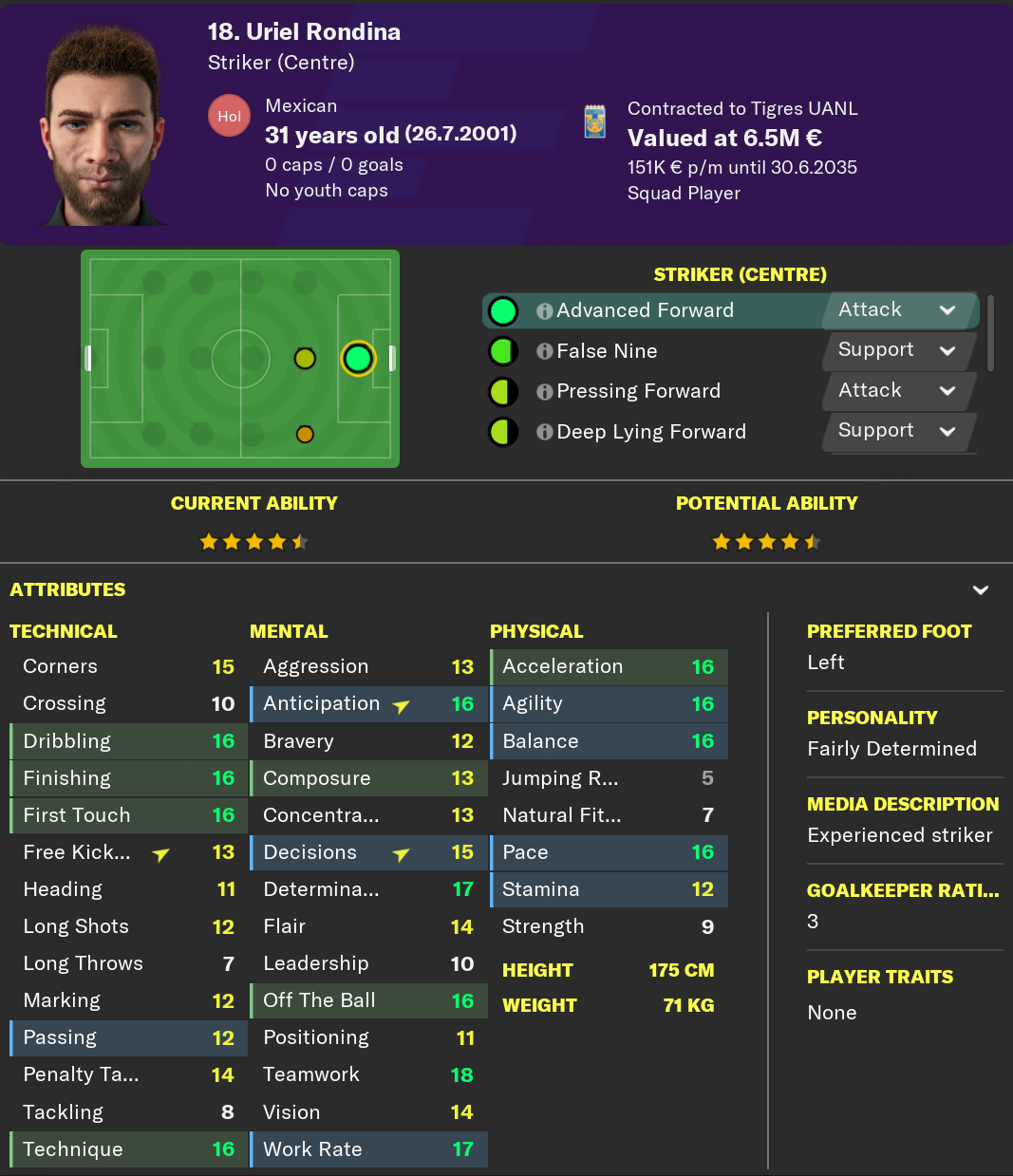 I have one more player to mention with Uriel Rondina. 31 years old, fast-paced scorer god, I played him as a poacher and I'm not spoiling results too much when I tell you that he netted 29 goals over the course of the 2032/33 season and won the Liga Bancomer MX Top Goalscorer award for that.
Mexican Football – An Overview
For those of the readers that – similar to myself – haven't seen Mexican football yet, here's a quick rundown of the competitions we'll be facing. The Mexican League is called Liga Bancomer MX. There are 20 teams in the first division and they play two half-seasons, the Opening and the Closing stage with 19 matches each. The 19 matches are followed by a two-legged knock-out round between the top 8 teams to determine the eventual champions. As a result, there are two champions each year. The two champions face each other at the start of the next season in the single-match Champions Trophy (Campeon de Campeones). At the end of a year, one team is relegated to the Liga Ascenso MX, while the Ascenso's champions are promoted to Liga MX. Relegation is determined by the average points per game a club earned in the past 3 seasons. (That's another taste of Latin American league rules here!)
Foreigner rules in Mexico exist, but are relaxed. You can register 12 players not born in Mexico for the squad. 9 players in the 18 man match day squad need to be Mexican-born.
Mexican football keeps close ties to the MLS (as the one other major North American competition). Four teams from each country play a single-legged knockout tournament between August and October, called the Leagues Cup. On top of that, the winners of the Mexican Champions Trophy face the MLS Champions in the single-match Campeones Cup. (Naming is hard!)
Internationally, Mexico sends four teams into the CONCACAF Champions League, which is played as a two-legged knockout competition. Usually, these four teams are the semi-finalists of the Opening and Closing stage of the Liga MX. Special rules apply if a team reaches the semifinals multiple times.
There is also a national cup competition, the Copa MX. It is slightly devalued by the fact that only teams that haven't qualified for the CONCACAF Champions League participate. But at least they're trying to do something about match congestion.
Liga Bancomer MX 2032/33
When I arrived at Tigres, we were tipped to finish 2nd in the league behind Club America. I wouldn't have made changes about the squad, but West Ham wanted my first goalkeeper for 7 million EUR, so I brought in a reliable replacement for 5 million: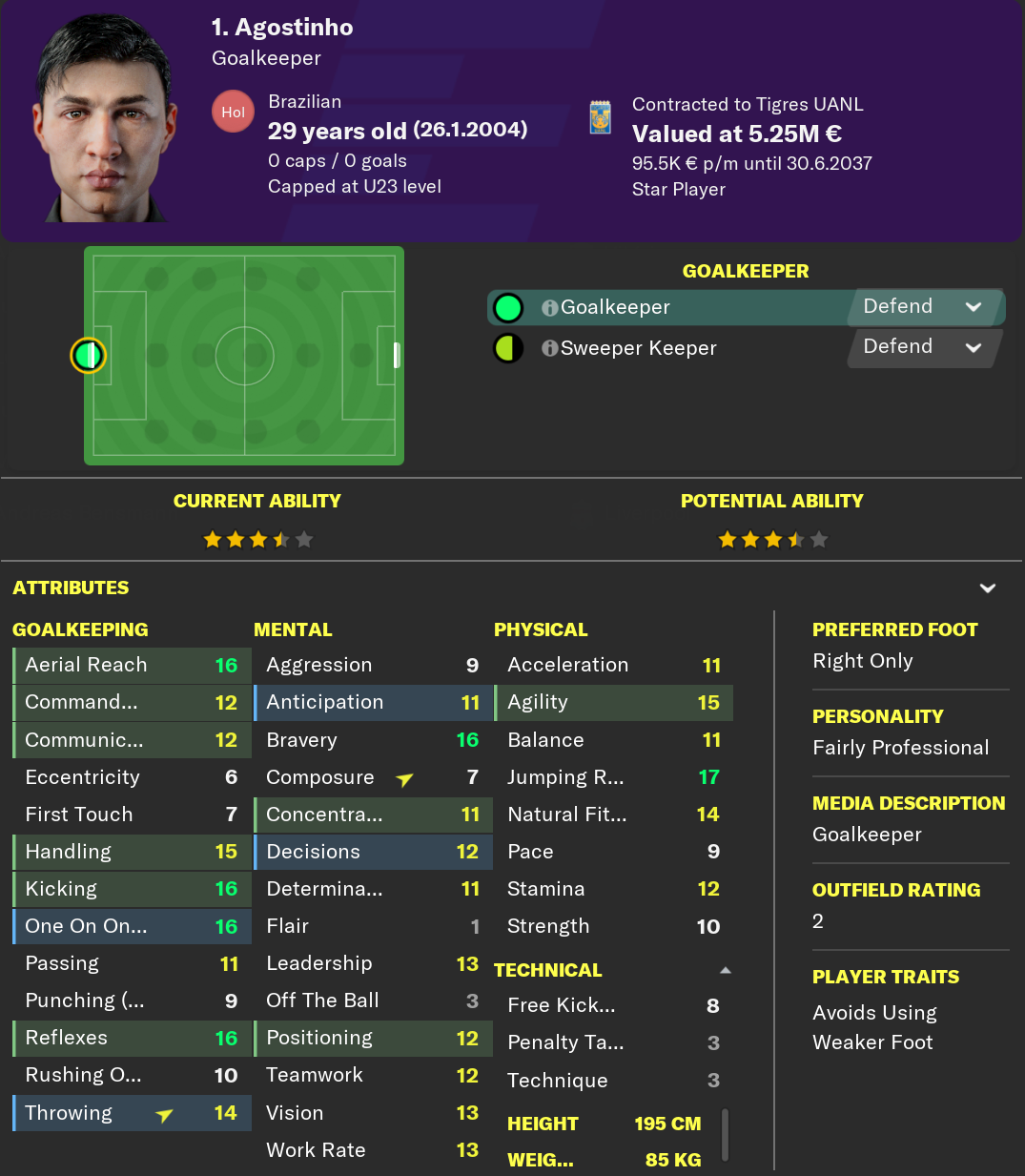 I set up a somehow asymmetric tactic based on the available players in the squad.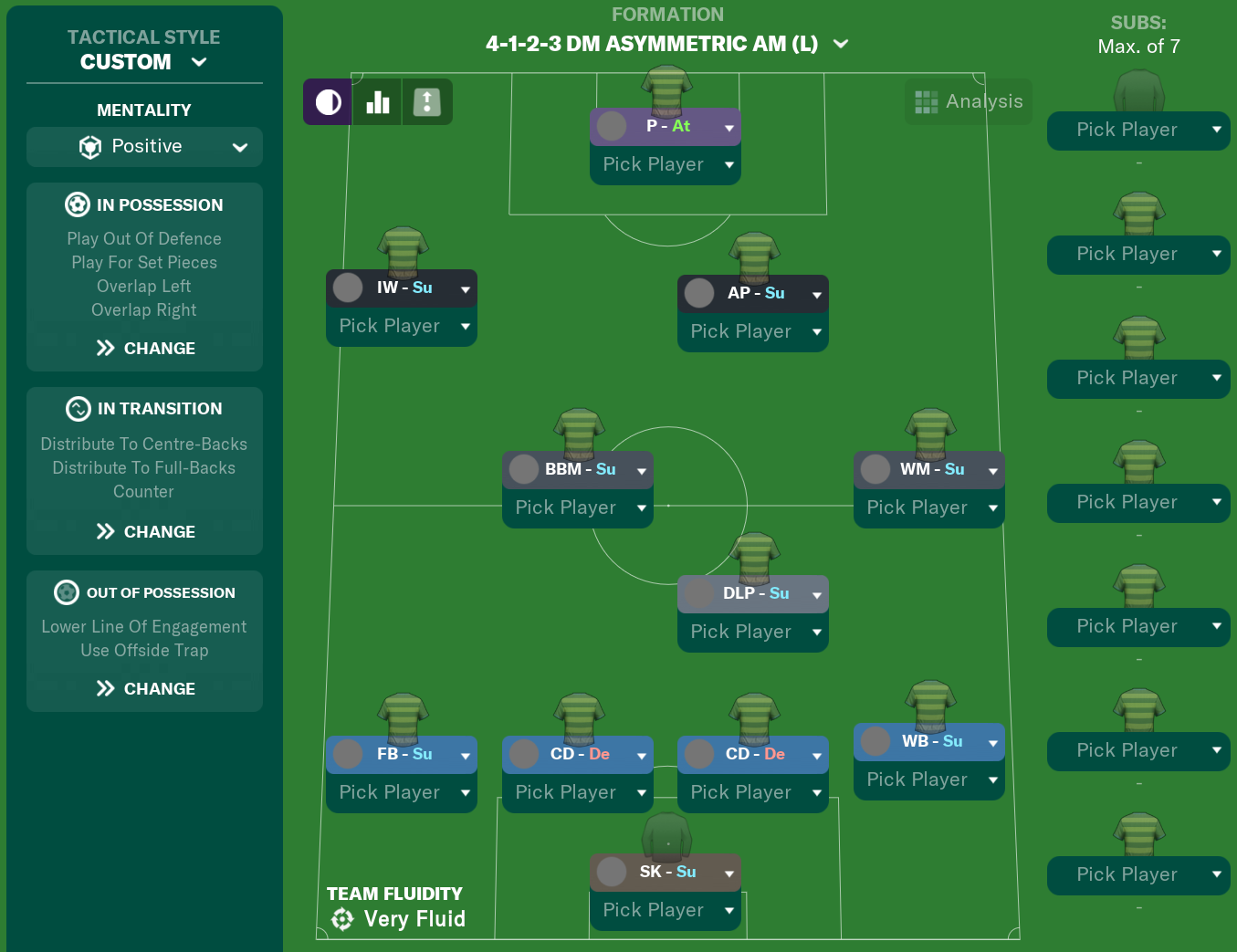 We took our first few weeks to gel together and got mediocre, but not entirely bad results.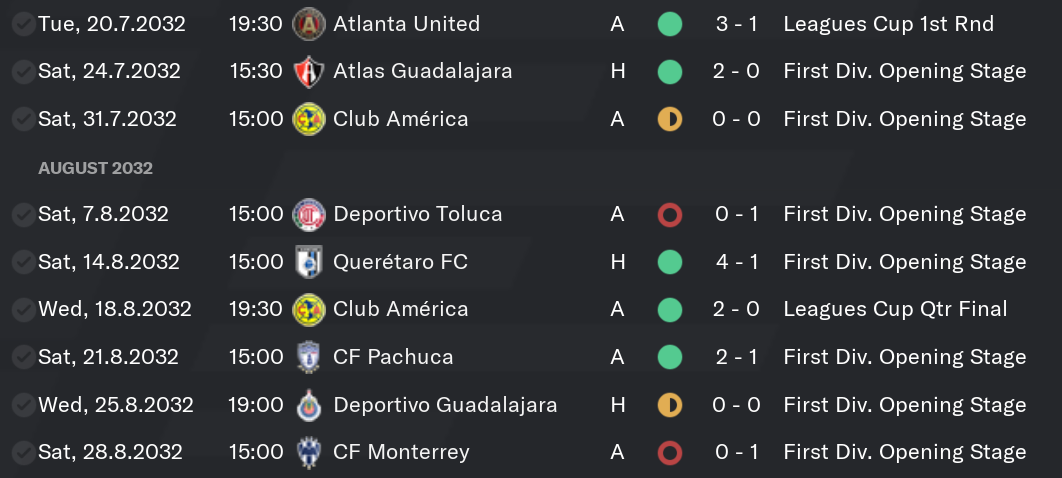 We eliminated Atlanta United and Club America from the Leagues Cup and got a few points in the league as well. We lost our derby against Monterrey and another unlucky match against Toluca. September then went quite well:

We picked up a couple of wins and reached the Leagues Cup final, which we lost on penalties against Cruz Azul. I wasn't thinking too much of this at this point. September was followed by positively uneventful October and November matches.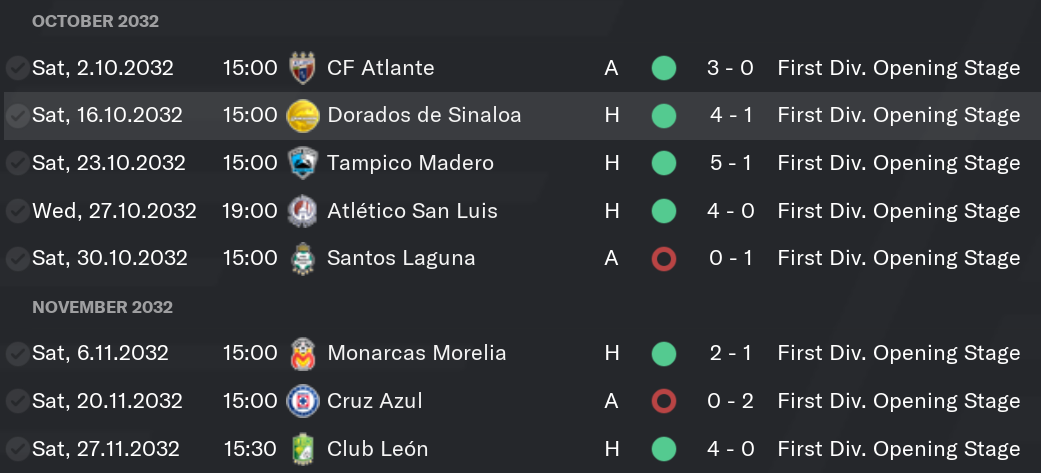 Even losing another Cruz Azul match did not prevent us from finishing 1st in the 2032/33 Opening Stage and we thus entered the playoffs.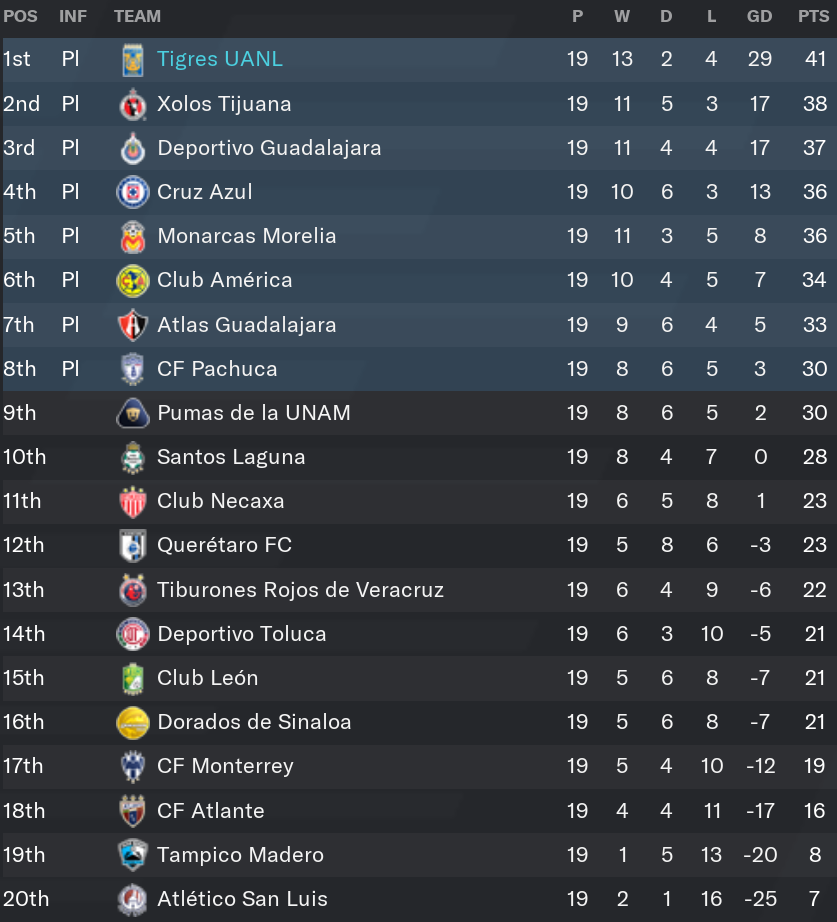 December then was playoff month. We dispatched CF Pachuca in the quarter finals and then faced Cruz Azul again! We lost the away match 0-1 and then were able to gain our first win against them with a 1-0 at home. And as I was preparing my team speech for the extra time, I learned a new thing about Mexican playoffs: if both teams draw after two games and they both have the same number of away goals, the team that placed higher in the league table advances to the next round. Take that, Cruz Azul!
This win set us up for a final against Xolos Tijuana, which we won and thus were crowned Opening Stage champions 2032. Caramba!
International Dealings
We only had a quite short winter break, but all hell broke loose. Multiple players went to China or Europe for their transfer clauses. I somehow replaced them with younger players that still might need development. Those changes did not deter us too much for the Closing Stage, though.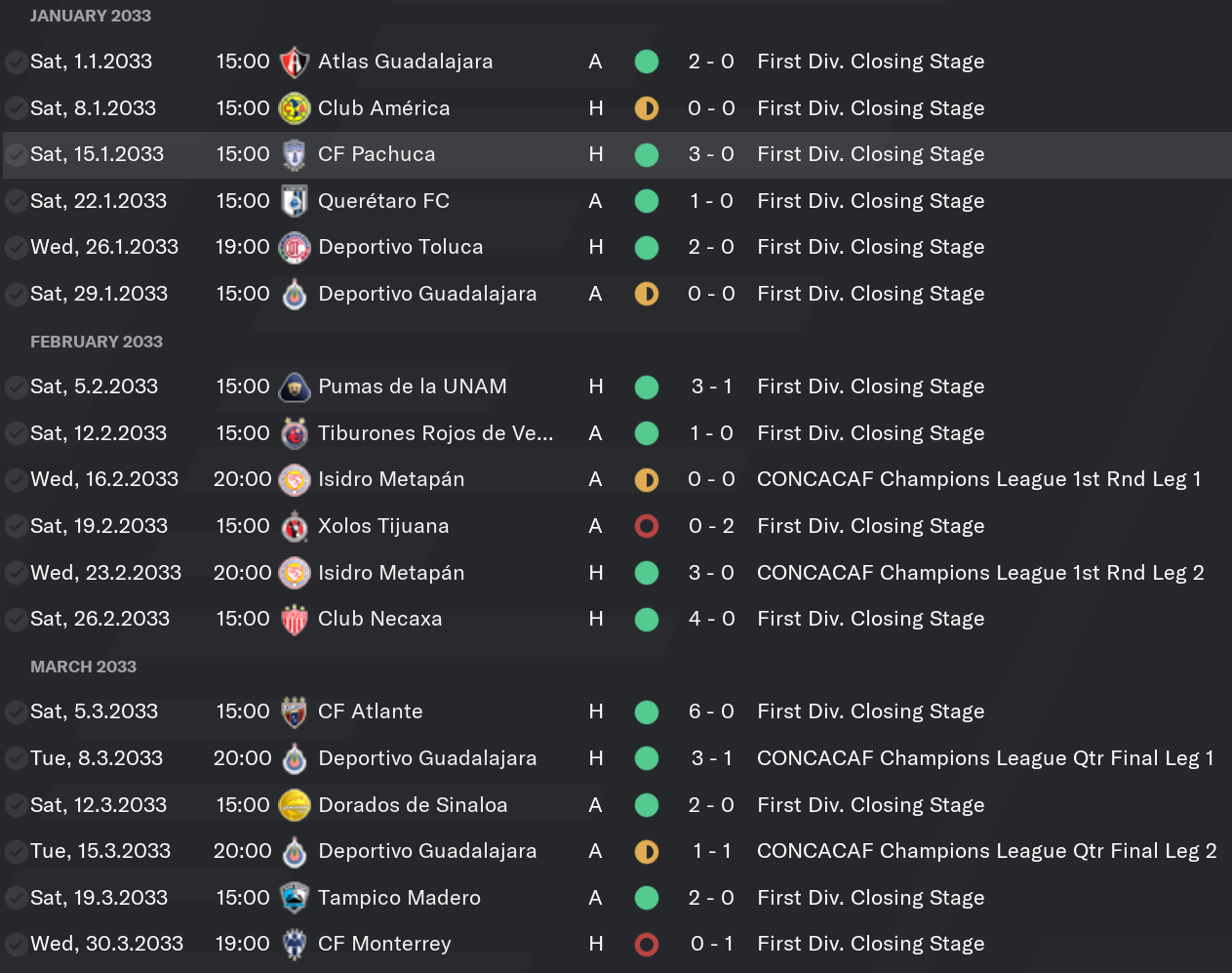 While not unbeatable, we played quite well in the league and also went through to the semifinals of the CONCACAF Champions League. Things got nasty in April and May: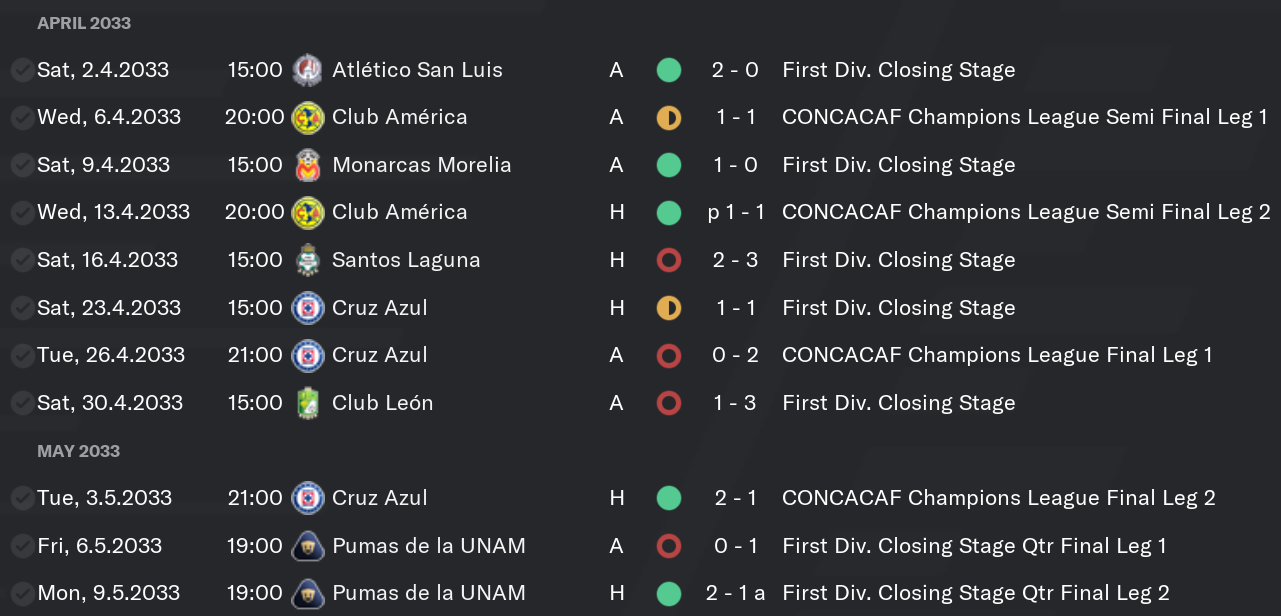 We faced Cruz Azul three more times: we drew in the league and then lost the first leg of the CL finals. And even though we won the return leg, it wasn't enough to lift the CL trophy. This is the first time I've actually lost a Champions League final (apart from having lost the African Confed Cup final back in the days…). Sad.
The whole Champions League run has drawn out our players and thus I wasn't too surprised when we were out of the league playoffs in the first round by losing to Pumas on away goals.
Now what?
The first season in Mexico wasn't too bad. We did as expected in the league and playoffs can be a bit unpredictable. Espinoza won Player of the Year, Rondina was the league's top goal scorer. I'm quite happy with the players I have right now, so I won't be investing too much in the transfer market, although the board are giving me another 20 million to spend. But there's one thing I noticed: while we did quite well financially this year, this is mostly due to losing a bunch of players for high release clauses.

We raked in 69 million EUR in transfers. Still, we only made a profit of 11 million EUR over the season. Why was that? — First, of course I had to invest some of the incoming transfer money in replacement players. Second, I used the full bank account to convice the board of upgrading training and youth facilities for roughly 5 million EUR. But still, crunching the numbers, I estimate that I will need to make 20 million EUR a year out of thin air in order to keep Tigres afloat financially. So either we cut costs or we aim to sell players on a regular basis. Cutting cost won't be simple: our total wage bill is 23 million EUR for this year, we cannot afford to save 20 million there. I expect I could technically cut about 5 million but anything below that would drastically impact our chances to win anything.
So there's some financial food for thought. Let's see how we'll do next year.
Some promotional note: You may notice that player images look totally awesome in this episode. This is because I'm using Laura's hand-crafted player faces these days. I'm totally happy with the new look and definitely recommend you check these out as well!

Subscribe to our Newsletter