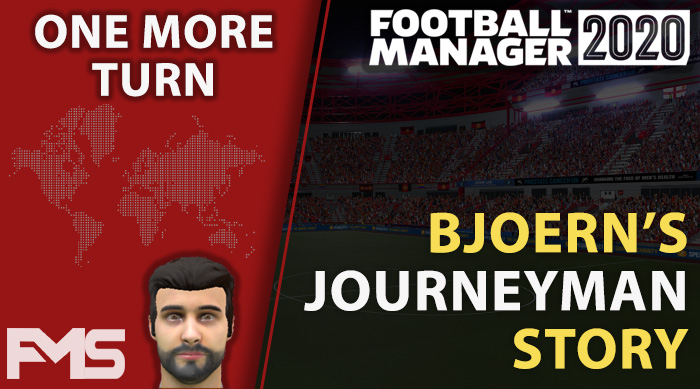 Gabriel's Diary
Gelsenkirchen, February 28, 2015 – We played Dortmund away today. The Revierderby. The one match that every single one of our supporters values more than any title we might win. Sometimes even more than his wife and extended family. And this time there even was something to gain: sitting in 4th, we needed a victory to maintain our position and be in contention for next year's Champion's League. We were ready.  Training went well, the manager had given us multiple rundowns of the tactics they would employ. When we entered the pitch, the stadium was buzzing. Both sides burned some fireworks, we were roaring.
Dortmund were afraid. Their first half of the season hadn't gone well. Any other club would have fired Klopp already, but they had some attachment for him. I still think, he's not going to be here next year. But neither side got a lot of great chances all through the first half. Aogo and Barnetta tried to assist the Prince, but he struggled with the Dortmund defense. Early in the second half we play an attack over my right wing. Reus misplaces a pass, I intercept the ball. I dribble down the right. Sahin is too slow, Schmelzer tries to tackle, but I pass him. I am free on the wing. I kick the ball. The cross flies into the box. I see Choupo and the Hunter run for it. Hummels jumps as well. The referee blows the whistle. Penalty! Apparently, Hummels had hit Huntelaar in the stomach.
This is my moment. The boss had appointed me to kick those penalties. I enter the box. No sounds reach me anymore. The ref says something, and I just nod my head. Weidenfeller does some crazy things with his face. I don't care. The ball is on the spot. I take a step back. Two. Three. One short run and then I hit the ball with all the power I can muster. Weidenfeller doesn't even have to move. The ball flies wide to the left. I sink on the spot. The others try to console me, but I see their faces. Their hearts are broken as are mine. We don't get back into the match. Dortmund score 3 in the last 10 minutes. Seeing Reus and Aubayemang do their Batman/Robin taunt after their goal was the dreadful conclusion to this day. I feel I could have won it. I feel this was the worst day in my professional life.
The Need to Prove Something
Welcome back to my journeyman story! Last time round I started my career with Ba FC on the Fiji Islands and we won 3 titles within the last 5 matches Ba had left to play. While I cannot claim full responsibility for this success, the board drew their expectations from these results. We were now supposed to win the league and reach the finals of every cup competition. Including the OFC Champions League!

Okay with me. I had brought in a few new players to improve the team and show the world that last year's successes were not just some fluke.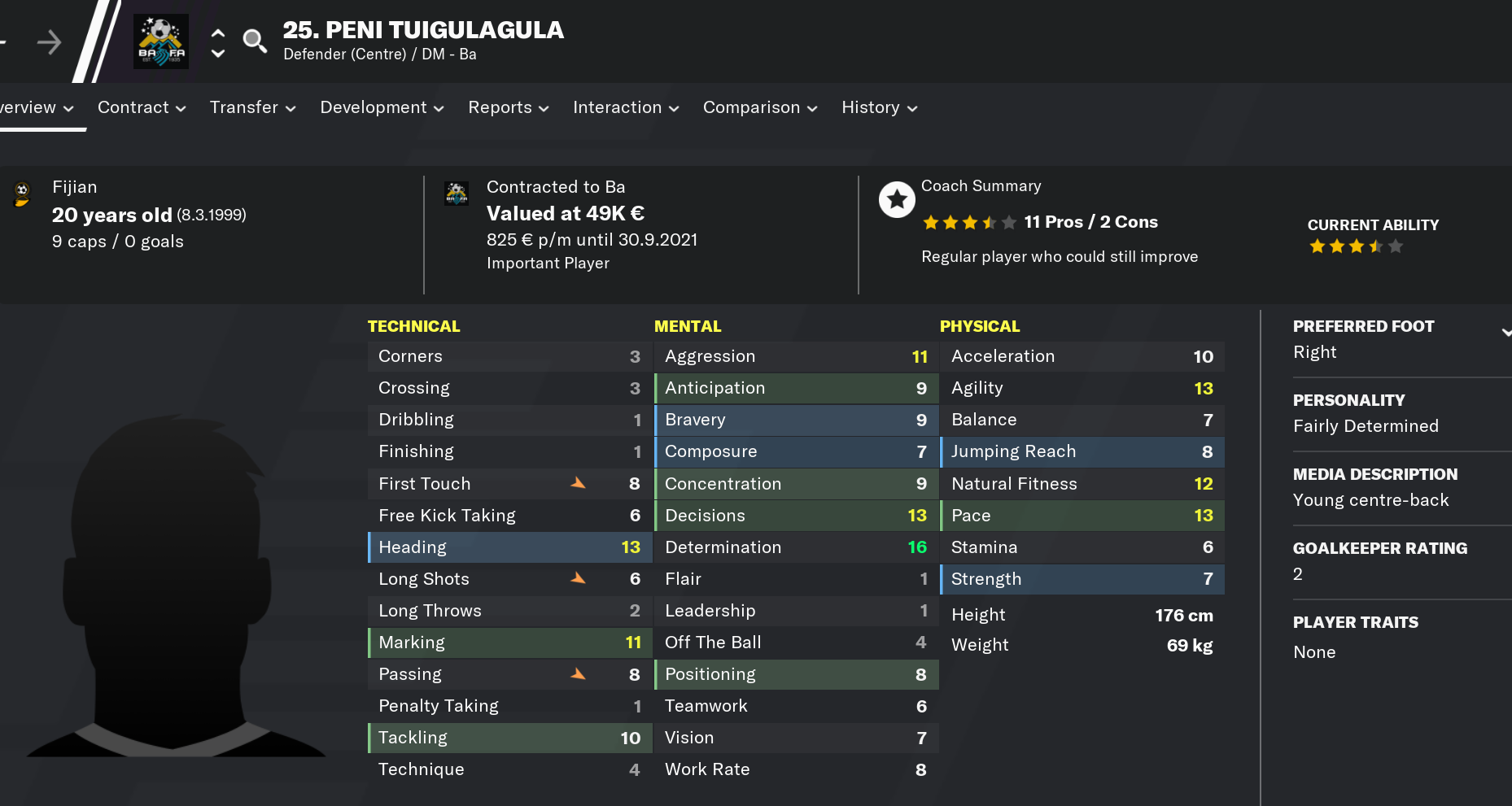 Peni Tuigulagula seemed a promising addon to our central defense. He had played his first senior season at Nadi last year and was now in for some silverware.
I like to imagine that Diego Castaneda and Leandro Paradiso were two young students from Argentina. They were enjoying their vacation in the South Pacific when they bumped into Gabriel in a bar on Fiji. He invited them over for training next day and for one reason or the other, they thought that joining a local semi-pro outfit as footballers would be a wise career decision. Little did they know what they were about to experience…
Starting the Season
While I hadn't been happy with the results last season, I decided to stick with the general tactics, hoping the team would glue together during pre-season and then be able to play football the Ba way.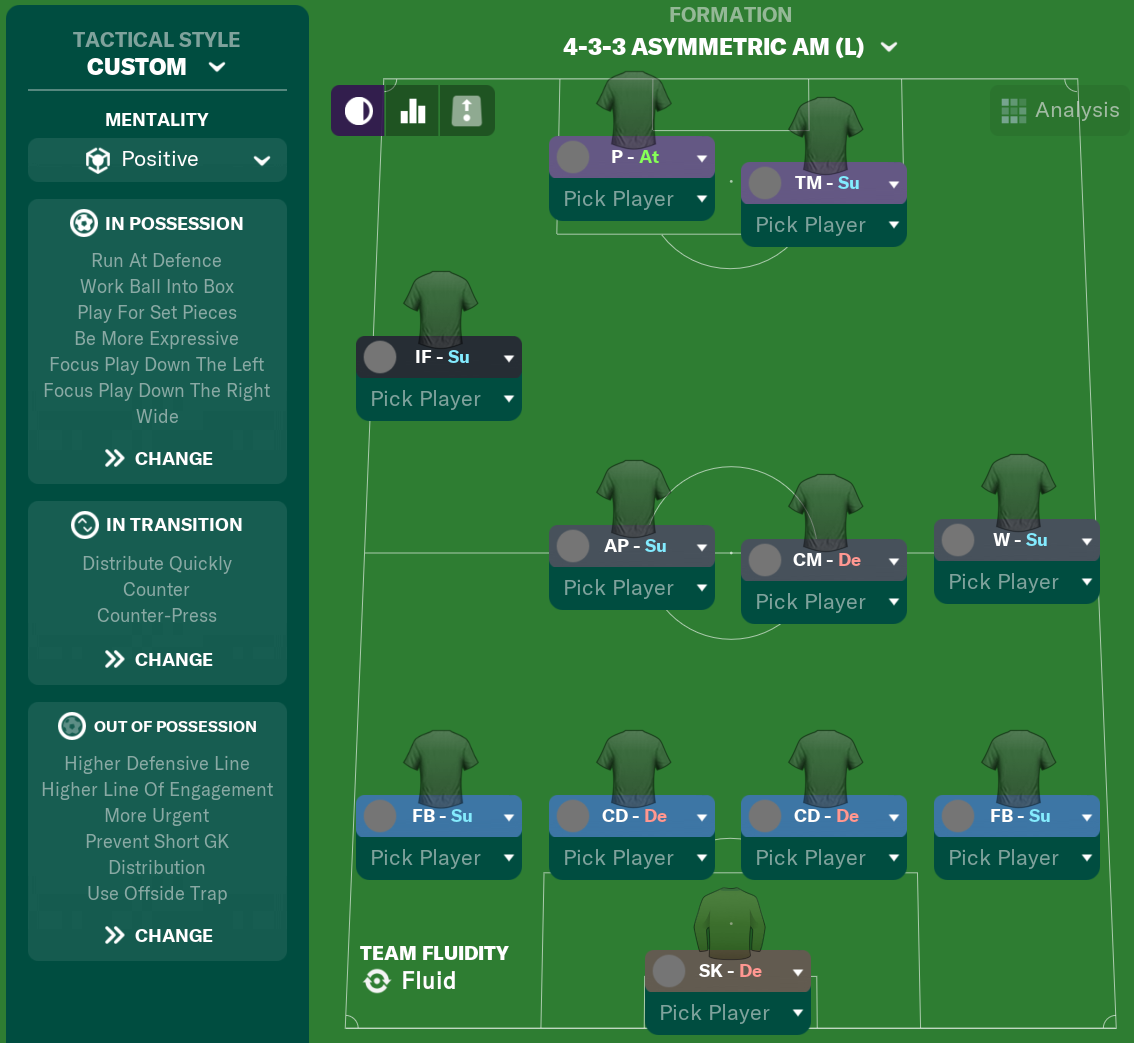 I based my tactics on a standard 4-4-2 and just moved the left winger to be an IF as I had Paulo Buke there with very good skills. My plan was to exploit the flanks and generally play offensive football. Given that we were expected to win everything, I decided to play wider, push higher up, and just score as much as we could.

Things went okay. We were dominating Labasa and won 1-0. Then we went to meet our rivals from Lautoka and drew. This one didn't feel good as we had to come back from behind three times. But then we won the next match against Nadi, who were sitting 1st in the table, so perhaps we were doing fine. The 1-2 against Suva made me think again, but I did not act as we once more went on to win away at Tavua.
Interlude: OFC Champions League
We then took a break from the league to play in the OFC CL Group Phase. We had been drawn to meet Kiwi FC from Samoa, Marist Fire from the Solomons, and last year's CL winners Hienghene Sport from New Caledonia. We went ahead against Kiwi and Hienghene, but had to suffer equalizing goals in the last minutes in both cases. This meant we'd have to win the final game against group leaders Marist Fire in order to safely qualify for the quarter finals. We did not score. Neither did they. I screamed in agony, feeling I just dropped out of the competition.

But fear not! The other teams drew 0-0 as well and failed to capitalize on our miss. Thus, we made the quarter finals of the OFC CL without winning a single group match:

Our next matches would see us the two local cup competitions, interleaved with two more league matches. Within a week, the okay-ish start to the season turned into a real crisis. We dropped out of the cups, losing 1-2 against Nasinu and getting ourselves beaten up 0-3 by Lautoka. In between we were not able to score a goal against Rewa, another match we should have easily won.

It's Your Tactics, Stupid!
It was at this point that I started revisiting my tactics. We were conceding goals mostly either through set pieces or through counters over the top (which others like @fmFutbolManager believe to be an issue with the current FM20 match engine). I tend to think that our defenders were too slow for a high-pressing system. And although we dominated most matches with respect to chances, we did not score a lot of goals. Every opponent just had to sit tight and park the bus against us. Our attackers lacked the individual skills to still win this kind of games. I made a few changes to be a bit more cautious in my team's approach: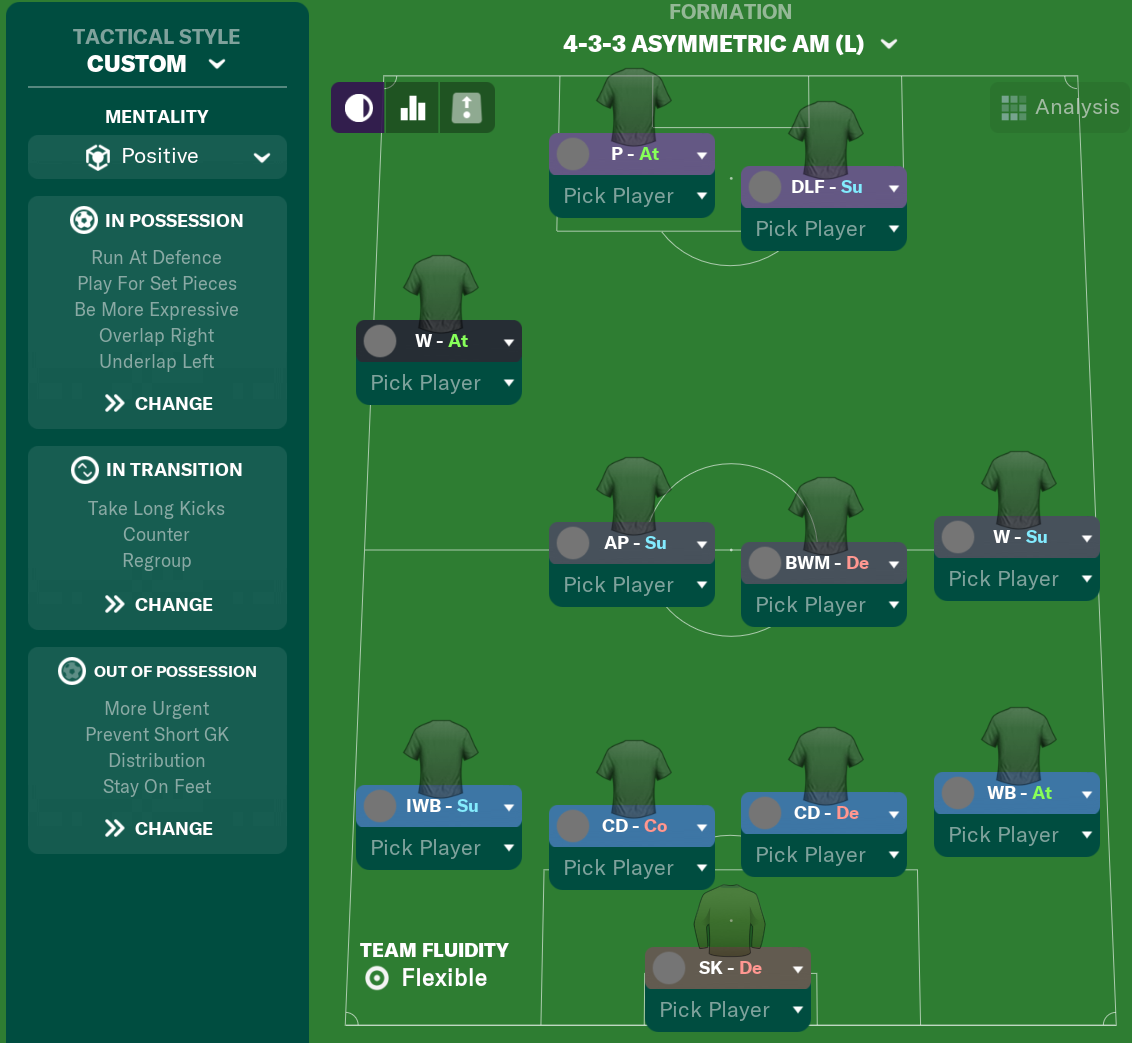 Relying on pure wing play had not helped, so I turned the left defender into an IWB to have more manpower in midfield during attacks. I also turned the CM(d) into a BWM(d) to have a more aggressive tackler protecting my defense. I also felt the strikers had been too far off the central midfield at times, so I made my TM up front a DLF, hoping he'd come deeper to get the ball. Other than that, I usually started games with a balanced or at most positive mentality now and actively asked the team to regroup after losing the ball and tackle less to maintain their shape.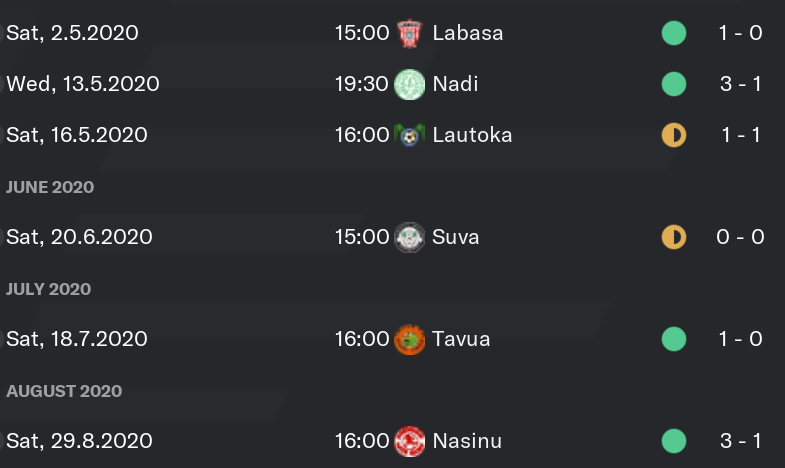 The results improved! We did not lose another league match after that and also stopped conceding annoying counter attacking goals!
OFC CL Knockouts
You may observe in my previous results that there is some gap in between end of March and beginning of May. This was the time the OFC had scheduled a few more knockout matches for their Champions League. Having qualified for the quarter finals by sheer luck I did not expect too much. Our first opponent were Veitongo FC from Vanuatu. The first leg was played away and in line with our previous form we drew 2-2. However, we eventually won our first CL match in the return leg and bet Veitongo 2-0. This saw us through to a semifinal against Toti FC from Papua. Here, we won the home leg easily with 2-0, but had to put up some fight in the return leg until we managed to sneak away another 2-2 draw.

You are reading right. The team that had not won a single group match had somehow managed to push their way into the OFC Champions League Final. Stupid Football Manager! This would never happen in real life! ;)

As things are in Oceania, the other team in the final came from New Zealand. We would face Waitakere United. (Remember? I had applied with them less than a year ago and they had not even invited me for an interview!) Their approach was suited to our team — finally we met an attacking side and had to sit back a bit ourselves. Leandro Paradiso stuck in a lucky goal to make it 1-0 early on. We went down 1-2 afterwards and somehow were able to equalize to 2-2 again in the middle of the second half. At this point, Waitakere were going all-out gung-ho attacking to break us down. This did not happen, though, and instead we were able to pull two subsequent counters and score them. Ba FC have won the OFC Champions League!

Back to the Regular Job
There wasn't a lot of time to celebrate because the final was right in between a few busy league matches (and before the Fiji Premier League would switch to a mode where we'd play a single match each in the months of June, July, August, and September).  As I said before, our new tactics was getting us results. The final day of the season came. We topped the table with 28 points, 2 points ahead of Nadi and Suva with 26 each. A win on the last day against 6-th placed Rewa would seal my second league title in Fiji. To make things even better, Nadi and Suva met each other in the final day. If they drew, we could even draw or lose against Rewa and still win big.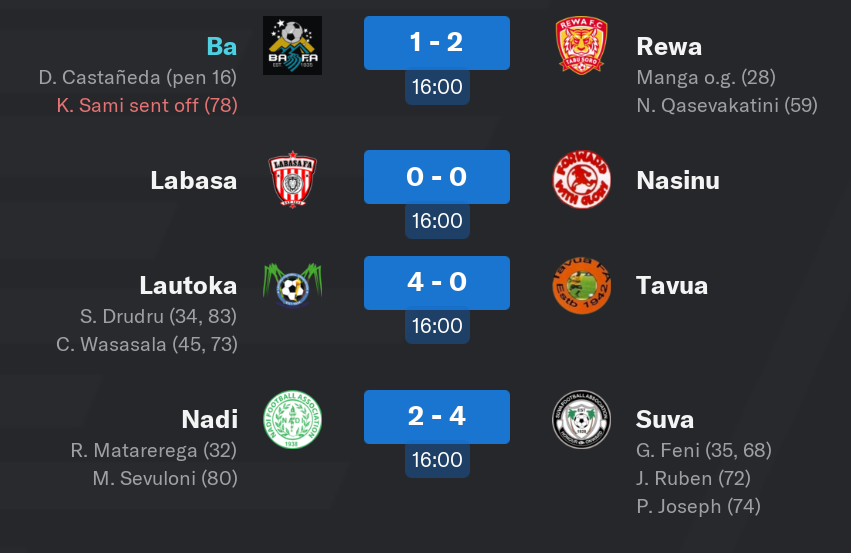 Alas, this journeyman save is not going to be a sequence of wins only. Diego Castaneda brought us 1-0 up front against Rewa early on. They equalized soon by forcing an own goal at our end. Rewa then managed to score from a corner in the 2nd half. We tried to fight back, but did not manage to score another goal. We lost, and at the same time Suva won 4-2 away at Nadi. The amateur outfit were counting their lucky stars, while we were licking our wounds.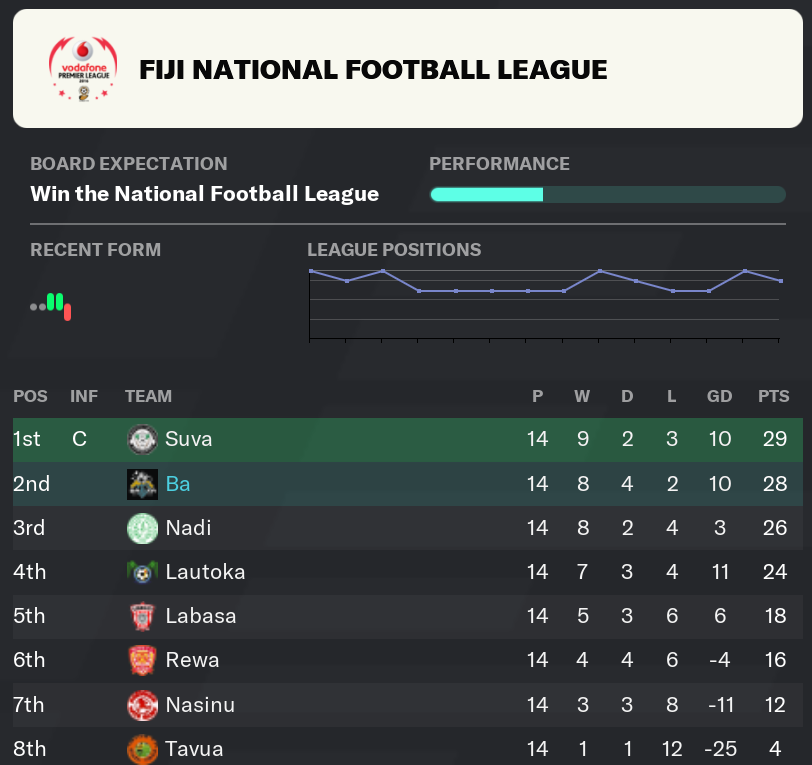 What now?
Even if we did not win any national title this year, winning the OFC CL is a jackpot for Ba. 100k for the CL title, 900k for appearing in the qualifiers for the FIFA club world cup (which we lost 1-0…) — overall we're a million EUR richer than a year ago. The board already increased our wage budget by 50% and even gave us an extraordinary transfer budget of 30,000 EUR. If we don't squander the money, we should be up for further success locally as well as internationally.
However, this is not a one-club-from-rags-to-riches story. My main goal is to win all the titles. And having won everything I can with Ba, this means I'm going to leave the shores of Viti Levu to look for another job. I added a bunch of African leagues (South Africa, Morocco, Egypt, Ghana, Kenya, Nigeria, Angola), which will come into my game by summer 2021. Until then I'll tag along with Ba FC. Maybe I can even win a few more games before I finally land a job in Africa. I will let you know … next time. ;)
(Also, full disclosure: In my introductory post I had promised to roll the dice on additional local rules each time I switch clubs. I decided to abandon this part of my house rules as nation lock-in and the hexagon challenge itself are challenging enough.)

Subscribe to our Newsletter