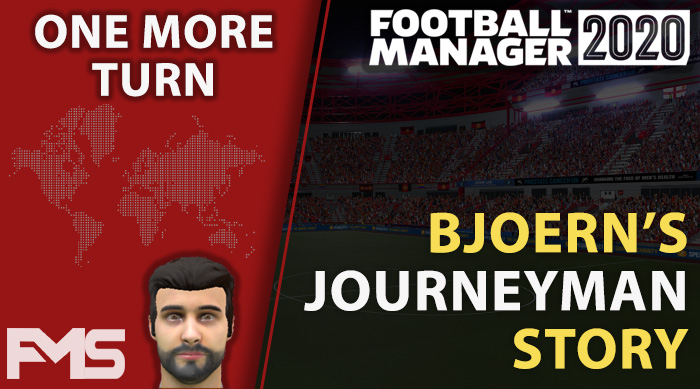 Gabriel's Diary
Moenchengladbach, Germany, February 2nd 2043 — February is coming. Since I arrived here in Gladbach, February and March have been difficult months. In the last 3 years, we played well in the first half of the season, but then struggled with match congestion and often lost our form and some players to injury. And then we dropped points and positions in the Bundesliga table. And now the 4th try: Bayern in the DFB Pokal, Bayern, Hoffenheim, and Dortmund in the Bundesliga – I'm seeing history repeating. We must find a way to keep our momentum.
Moenchengladbach: Where we are
Welcome back to another episode in Gabriel Ameobi's quest for the Hexagon Challenge. After a moving to Europe, Gabriel had a rather uneventful stint at AC Milan, before moving on to German side Borussia Moenchengladbach, where we eventually managed to qualify for the 2041/42 Champions League. In this post I'm going to summarize three more seasons in Moenchengladbach. The reason I'm going to cover three seasons in a single post is that things are going slowly.
German football is heavily dominated by Bayern Munich – they won all but 4 Bundesliga titles between 2019 and 2044. (The other four: Hoffenheim 2022, Schalke 2031, Leverkusen 2038, Dortmund 2041). Similar statistics apply to the DFB Pokal, although Bayern only won that about half of the times. They also have 1 Champions League title and 5 additional CL final appearances in that time frame. Being the absolute top club in Germany and playing in the newly built 100,000 seat Franz Beckenbauer Arena, Bayern are galaxies away from everyone else financially. (They are one of the few teams in Europe that have around 360 million EUR / year wage budget.)
Bayern are closely followed financially by Dortmund. Dortmund benefit from their huge stadium and can pay around 240 million EUR/year in wages and appear to be the one Bayern contender. Closely after those top two, we have Schalke (not doing great, but apparently having great sponsorship), Bayer Leverkusen (playing attractive football, winning the occasional DFB Pokal and Europa League), and us, Borussia Moenchengladbach. Our wage budgets are similar somewhere between 120 and 140 million EUR per year. The media predictions usually also count Hoffenheim and Wolfsburg into the upper third of the Bundesliga, as they can at least afford nearly 100 million per year in wages. After that, there is a significant gap to the rest of the division.
There are 4 Champions League spots, 2 Europa League spots, and one Euro League II spot in the Bundesliga right now. With 2 CL spots for Bayern and Dortmund, this leaves another two for the remaining 5 teams and this is roughly what the Bundesliga has been about in the 5 years I'm at Moenchengladbach right now. The Moenchengladbach board are rather conservative in their spending: they will make any money available that the club racks in through prizes, TV, and transfer income. But they are unwilling to invest to get the club into higher spheres. So we need to take a more organic approach: 1) try to be as good as it gets in every competition to increase club reputation and as a result sponsorship income. This progress will be measured in years or decades. 2) we need to be successful in the transfer market. This will create budget to improve the squad step by step. Ideally, step 2 is accompanied by step 2.5 — get great players through our decent youth setup.
So let's see how we did in those goals in the three year period 2041-2044.
The Bundesliga
We had definitely over-achieved in 2040/41 by finishing 3rd. This was also due to blatant underachievement of Schalke, Hoffenheim, and Wolfsburg, but hey, we'll take the Champions League prize money every time!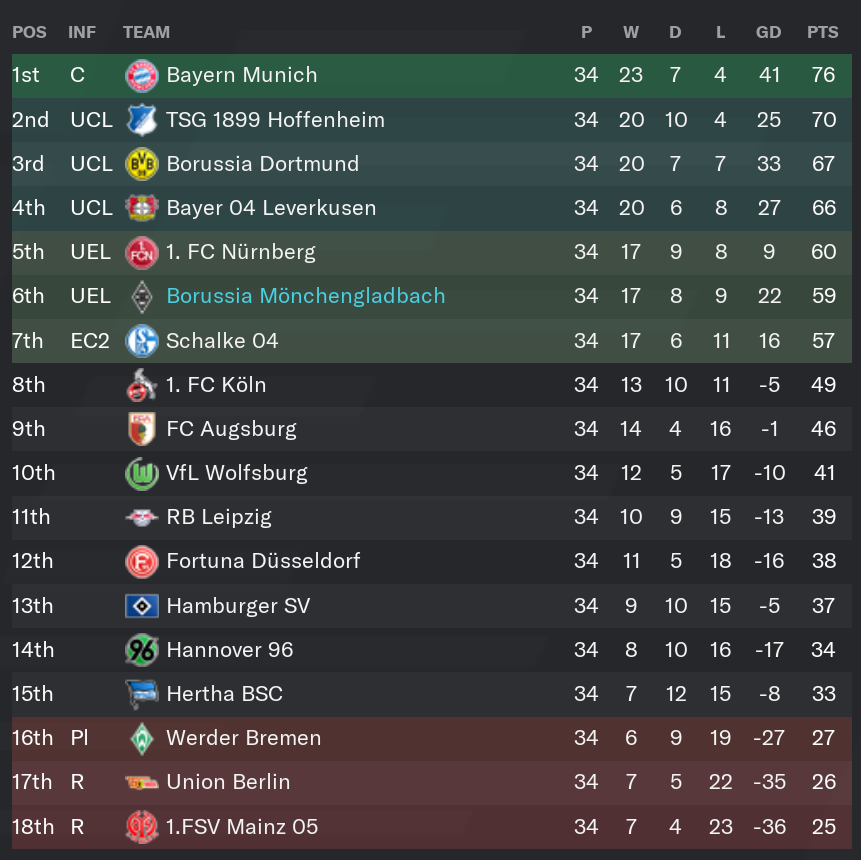 As we'll see further down, we struggled a bit in the league this year due to pushing over our weight in the Champions League. Being seeded third in the group phase, we faced two strong teams. This made us lose concentration in the Bundesliga (we lost a couple of matches against lower-end teams like Hertha BSC) and it was actually a last-day effort to even qualify for the Europa League ahead of Schalke.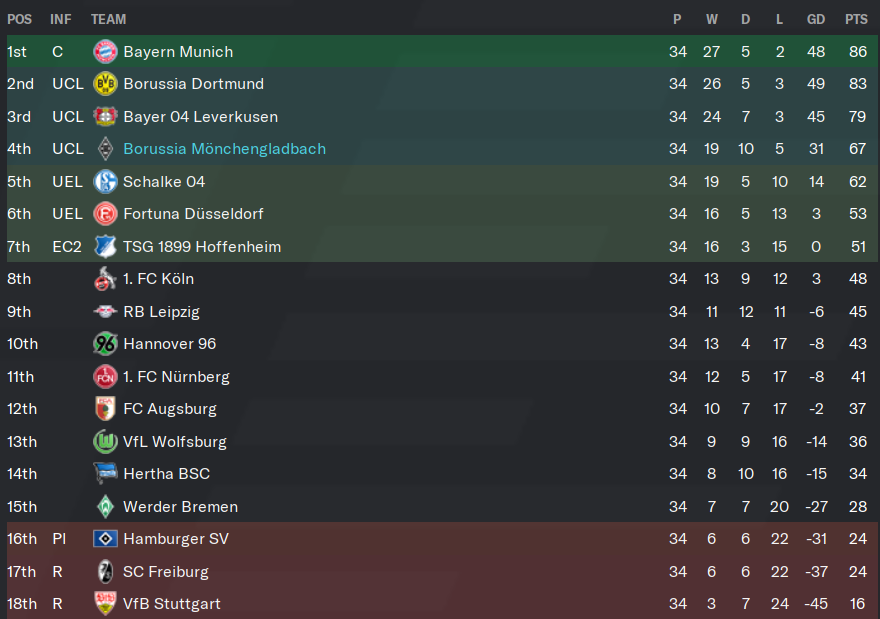 2042/43 went better. We had a blast in all competitions and only lost one match between August '42 and February '43 (An unlucky 0-1 away at Nuremberg). In January we even managed to reach the 2nd place in the Bundesliga. Unfortunately, a *very* bad February and too many draws in the subsequent months made us lose ground again and we eventually finished significantly behind Leverkusen. Still, we were back in the Champions League by our own merits. Good progress.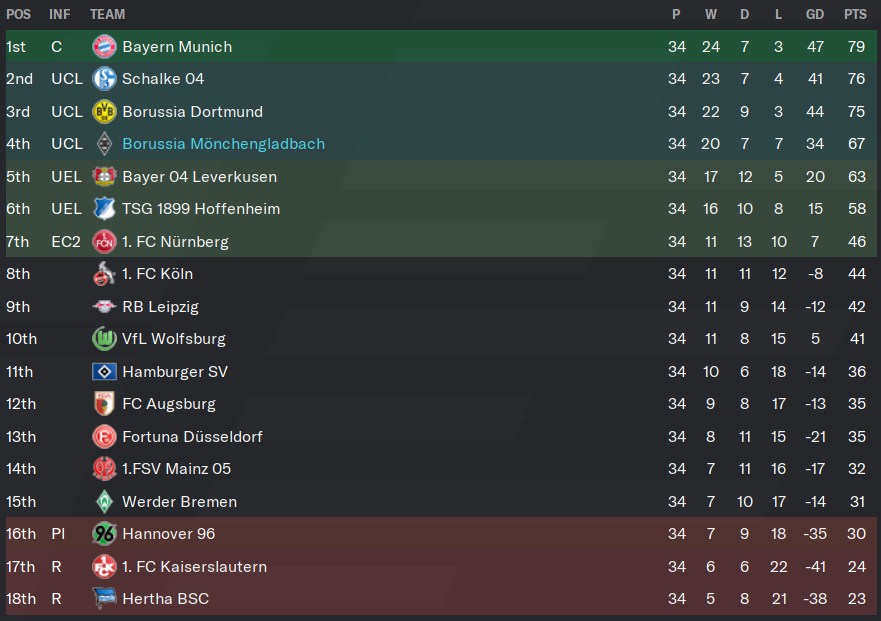 We managed to maintain the 4th position in 43/44. In contrast to previous years, we did not have a 1-2 months period that went really badly. However, we encountered a bunch of unnecessary draws against minnows like Hamburg and Dusseldorf. Still, this is the first time in 20 years that Moenchengladbach accomplish to qualify for the Champions League in two subsequent seasons. If we can get this once more, I am willing to interpret this as progress in establishing ourselves as one of the top 4 sides in Germany.
DFB Pokal
We're really not good at it. While our board and fans want us to reach the final, we only gave them a 3rd round loss against Bayern in 2043, and two quarter finals against Leverkusen (1-4, 2042) and Augsburg (0-0, lost on penalties, 2044). The Augsburg one was especially annoying – they were the easiest opposition to go out against and we just didn't manage to score in regular time.
2041/42: 3 rounds without conceding, then we sink without a trace in Leverkusen.

2042/43: Early out. Soooo close to getting an important result against Bayern Munich.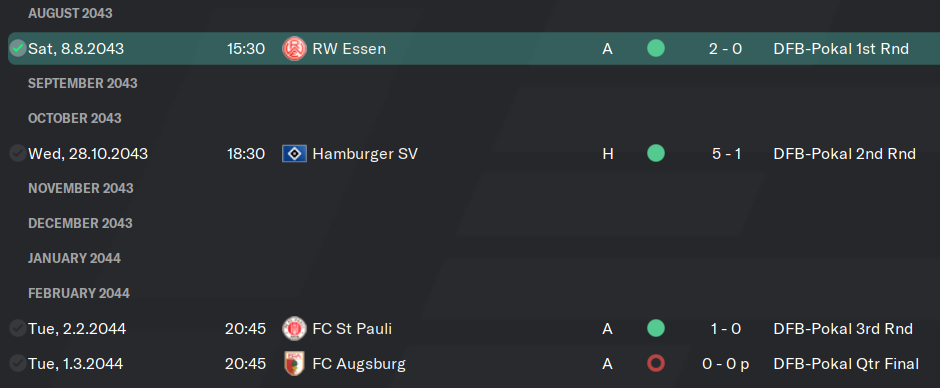 2043/44: Come on! Losing against Augsburg!?
European Football
Spoiler alert: We haven't won the Champions League yet. By far. Still, we made a good impression at times.
2041/42: Champions League
Our CL adventure started tough. We were seeded in 3rd place, meaning we got 2 huge teams to compete with: Manchester United and Real Madrid (add Trabzonspor to make it four – haha). Which resulted in this set of matches to be played across all competitions in the autumn of 2041: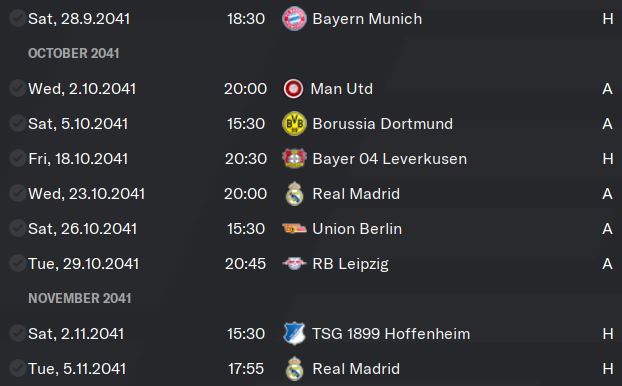 As you already know, this didn't do us really good in the Bundesliga. We actually lost against all of the bigger teams in these 1.5 months. But you know what? We won the group!

Nothing better than a 3-0 away win at Santiago Barnabeu! I think United and Real thoroughly underestimated us there. This cost Manchester the qualification for the knockoff stages. They made up for this by reaching the Euro League semi-finals afterwards.
Having won our group, I had some hopes for the first knockoff round. We were drawn against Villareal, which sounded like a doable task — if such things exist at this level of the game.

Unfortunately, our hopes after a 0-0 away were crushed as we lost the home leg 1-2. Out in the first knockoff round.
2042/43: Europa League
As we had struggled in the Bundesliga, we were down to the Euro League in 2042/43. We got a doable group with Young Boys, Stade Brestois, and Krasnodar. And we breezed through the group stage without giving away a match.

Once more, I was afraid going into the knockout rounds: our first opponents in there were fellow Bundesliga side TSG Hoffenheim and we were traditionally struggling against them.

Not this time. A single free-kick goal away saw us through to the quarter final. Where we met no one else but last year's CL opponents Villareal. This time we got the better of them. In the semifinal we faced another Spanish team with Athletic Bilbao. A lucky 1-0 win after a 1-1 at home brought us to our first Euro League final since 1979! And if you remember our South American stint, Gabriel Ameobi has a hand for bringing back cup glory after decades.
The final was spiced up by the fact that we were up against my previous team, AC Milan, who were still fielding 6 first-team players that I had brought in. I didn't expect us to succeed, but we made it!

Milan struggled to find the way into our penalty area. We missed a penalty early on, but luckily struck their goal 14 minutes in. Then we defended our lead as good as we could and had the better part of it. Not only does this bring European Cup glory to Moenchengladbach after 64 years, it also brings Gabriel Ameobi his first title win since moving to Europe. May the good times go on!
2043/44: Champions League
Back in the CL after  a year's break. And this time the seeding went better (we were seeded 1st place), giving us a manageable group with AZ Alkmar and Krasnodar, paired with Liverpool for some challenge.

While Liverpool proved too strong, we easily dispatched the other two and made it to the knockoffs once more.

Here we went all-out defensive again in the 1st round against Arsenal. We were lucky enough to get through with a single goal. It turned out to be our final CL goal for 2043/44 – we deservedly lost 0-4 on aggregate against Manchester City in the quarter final.
The Players
This post is already becoming huge, but we didn't even look at our player progression yet.
Even though we had qualified for the CL in 2041/42, the board were only allowing us to spend 40 million EUR on transfers. With no player to sell, I decided to use this for exactly one purchase to bolster our defense.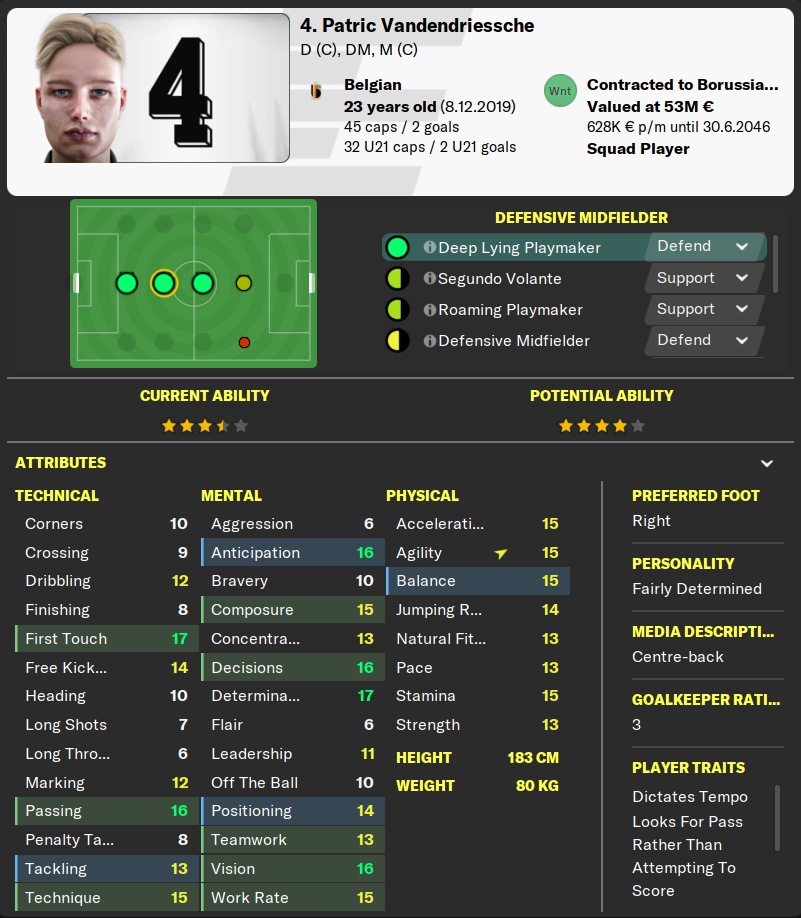 Belgian defensive player Patric Vandendriesche joined us, aged 21, from FC Nantes for 38 million. He played his first season as a BPD before moving into the DM strata where he served both as a DM as well as a DLP. He was with us for 3 wonderful seasons before Liverpool came calling and paid us 75 million EUR for him – setting a Borussia Moenchengladbach transfer record.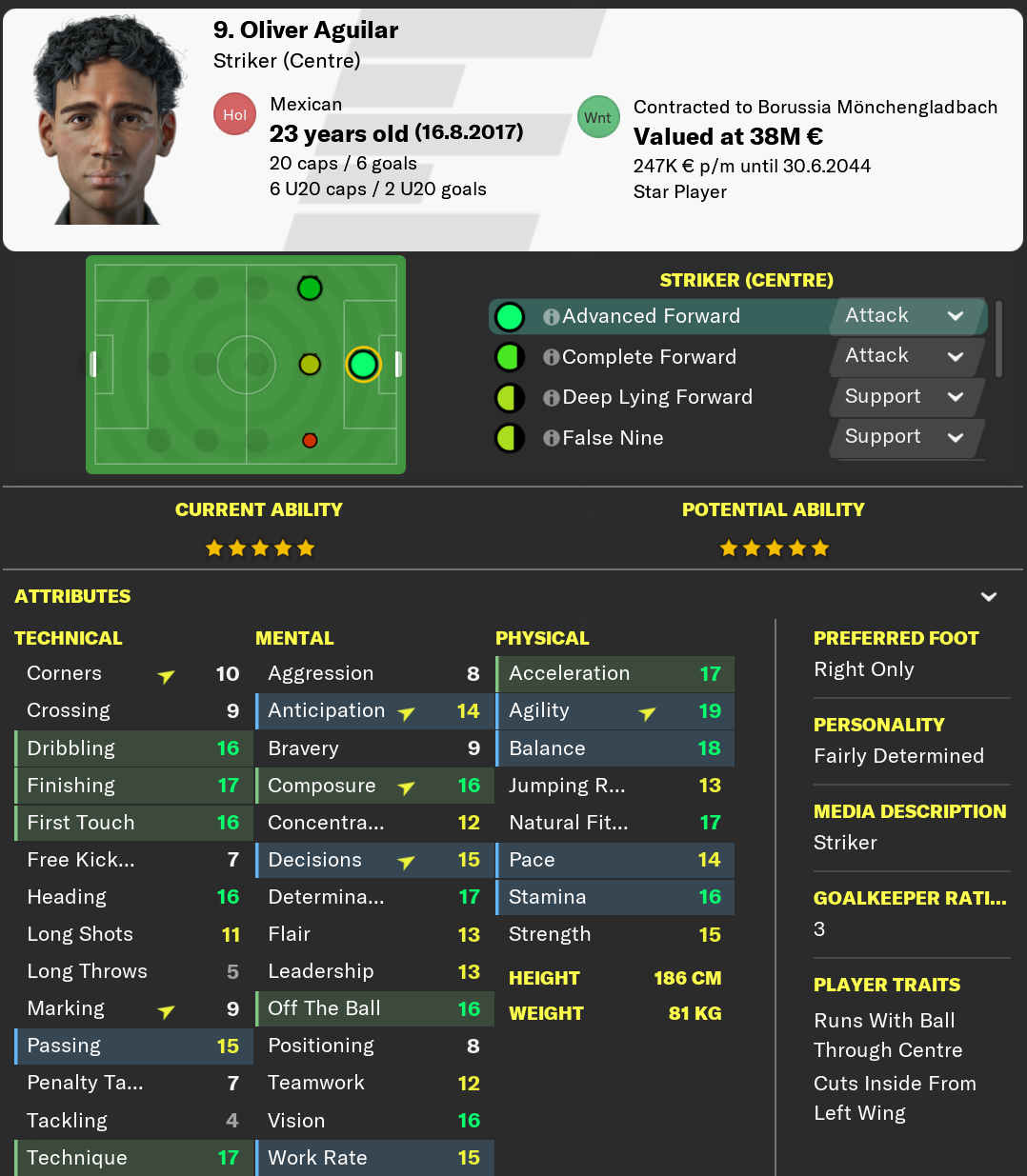 Oliver Aguilar in 2041.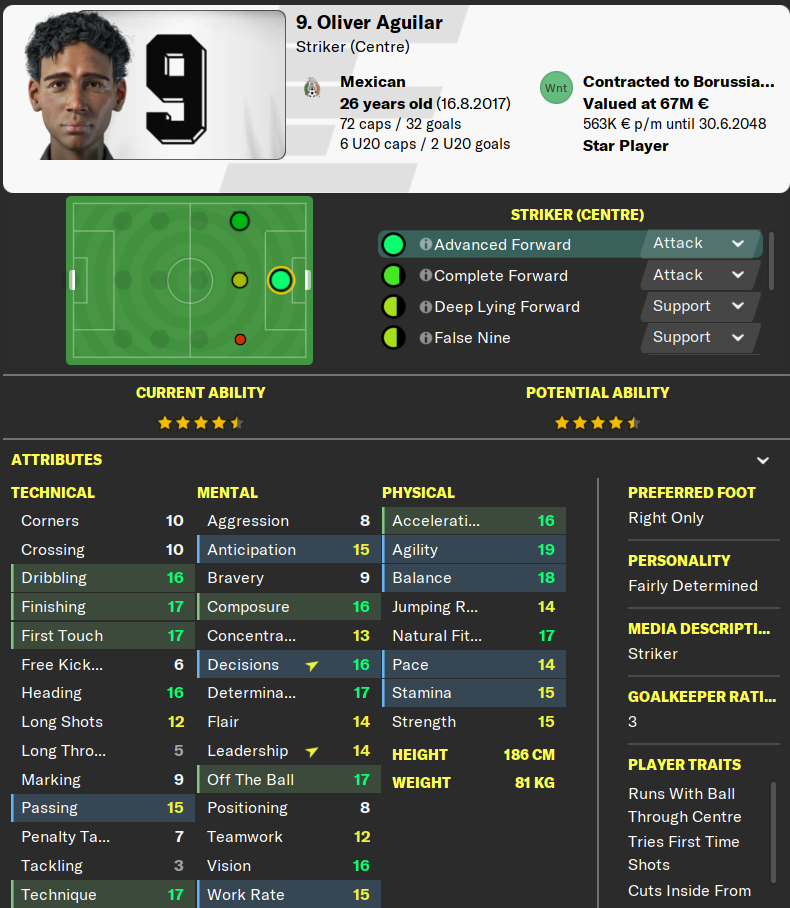 Oliver Aguilar in 2044.
I had talked about Oliver Aguilar before. (In fact, he was giving our previous episode its title.) He cannot be mentioned too often. In his 5 years at Moenchengladbach he has scored 113 competitive goals for from 194 appearances. He finished 2nd in the Bundesliga top scorer list three times before finally winning it in 2043/44. I'm not going to sell this guy.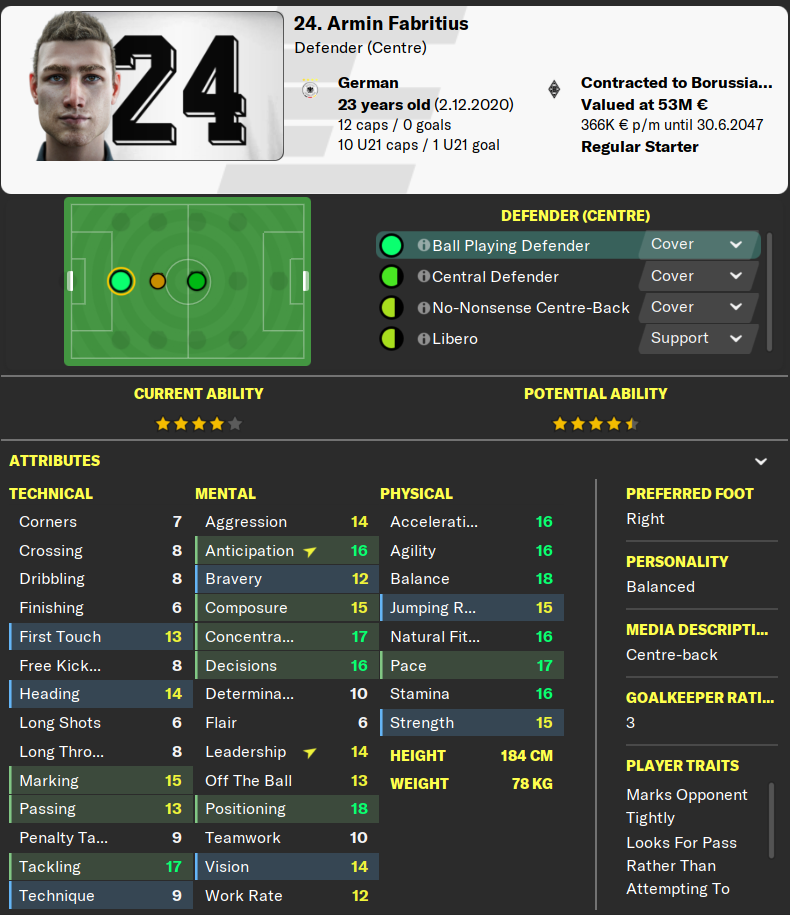 Armin Fabritius joined us for 40 million EUR on 2042/43 from VfB Stuttgart, where he had successfully led their defense in their bid for promotion to the Bundesliga. He has been a rock in defense and likely is one of the reasons we managed to qualify for the Champions League twice in his two seasons so far. I'm planning on keeping him as our defensive leader for the next years.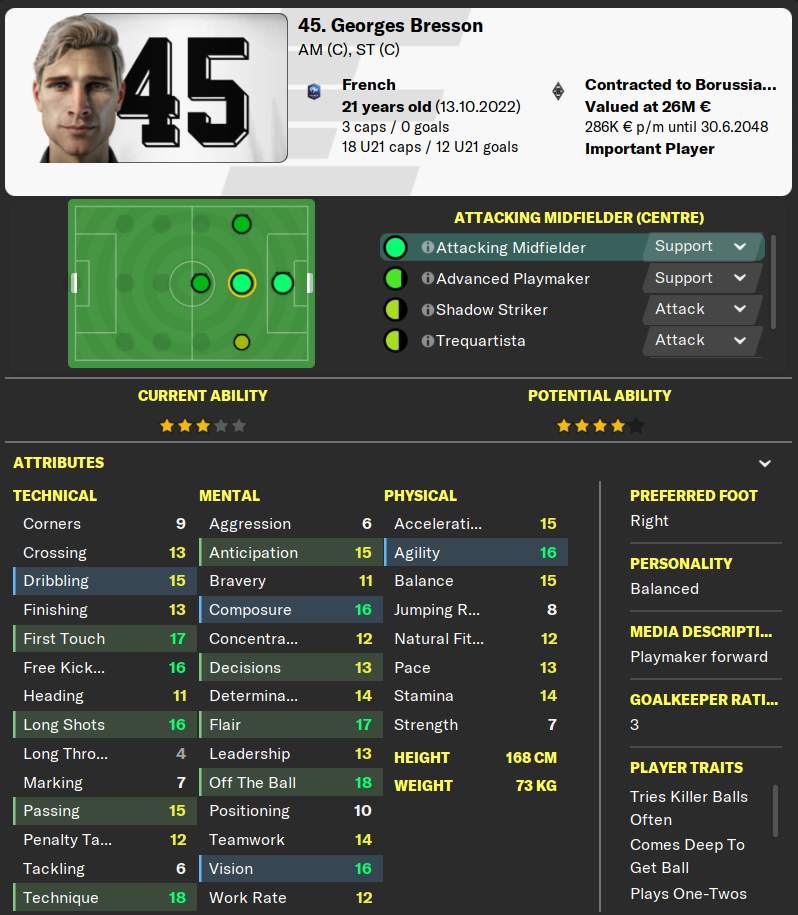 Georges Bresson is a yet unfulfilled promise. I found him in Serie A side Empoli where he had a long-running contract and an insane release clause close to 100 million EUR. We struck a bit lucky there as Empoli got relegated from Serie A in 2043, allowing us to trigger his 34 million EUR relegation release clause. I planned for him to be retrained as IF on the left wing and this is still ongoing. He made 26 appearances in his first season, often coming from the bench. Still, he scored a few important goals already, including the one goal against Arsenal that saw us through to the CL quarterfinal. Let's hope he continues improving.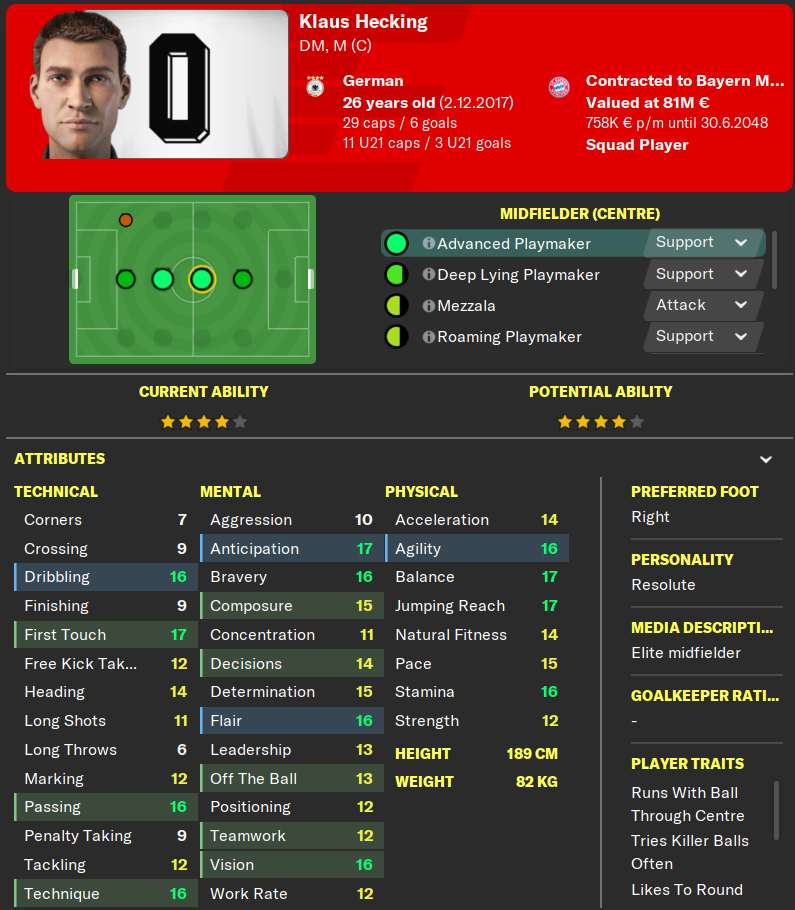 Last, an example for making a quick buck – Klaus Hecking played for Schalke, who struggled in the Bundesliga in the past few years. Being out of the Champions League for some time, they had to get rid of a few expensive players and this is where I brought Hecking in. He joined us in 2043 for 40 million – seriously under-priced, but Schalke could not afford his wages. He played 30 matches for us as a playmaker in midfield before Bayern came calling at the end of the year and paid us 65 million for his services. Given that I already had my eye on new prospects, I took the money and ran.
Outlook
Europe is a tad more difficult to succeed in than I had remembered. If you are not part of the big teams, you'll struggle as their quality is so much higher. Nevertheless, I feel we're building something in Moenchengladbach. That's why I so far have turned down offers from the big teams like Bayern, Lazio, Manchester (City and United), and most recently 2044 Champions League winners Atletico de Madrid. While moving to one of these clubs would seriously improve my chances in finishing the Hexagon challenge, I'm having fun where I am right now, so I'll keep trying with Gladbach a bit more, before I maybe revisit my decision.

Subscribe to our Newsletter