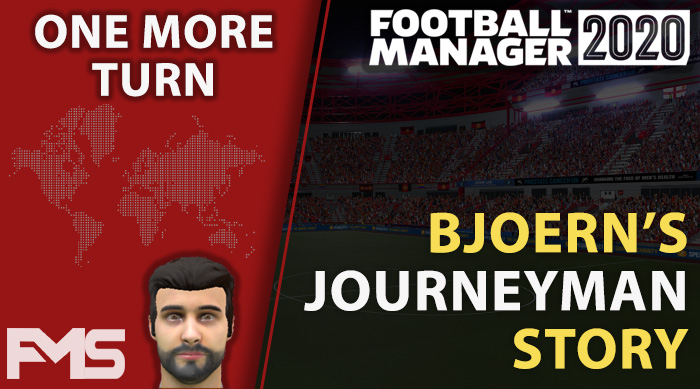 Gabriel's Diary
Milan, Italy, May 21st, 2039 — Ah, Milan. I like the city, the people, the football here. I could imagine making this place a home for a long time. Alas, the love hasn't been reciprocal. We had big goals when I started here, and haven't achieved them so far. Right now, I'm afraid that 20 years from now, when people look at AC Milan's history, there will be a tiny chapter called "The Ameobi Years". And this chapter will be titled "Largely Uninteresting."
Off to Europe
Gabriel Ameobi's Independiente side won the 2036 Copa Libertadores and Copa Argentina, as well as the 2037 Primera Division. At this point, it was time for us to move to Europe and aim at winning the ultimate missing Champions League title for the Hexagon challenge. Aiming high, I sent applications to Real Madrid, FC Barcelona, Liverpool, Olympique Marseilles, and AC Milan. All these jobs were available in the summer of 2037. But even having won 5 Champions League titles across the world doesn't qualify you for an interview with Real. There's only one Champions League that counts for them. Liverpool at least talked to me, but then gave the job to a guy called Zidane. But eventually, I got job offers from Marseilles and Milan and decided to move to Italy.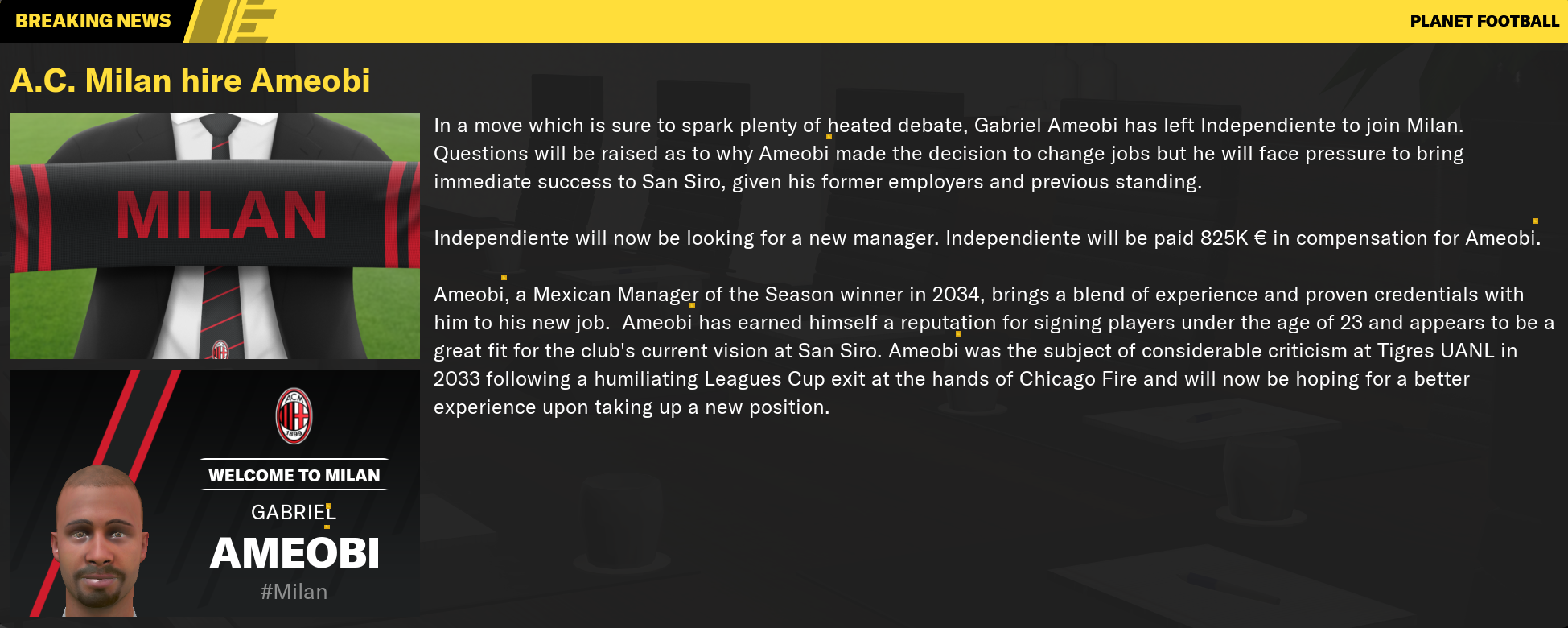 Milan had finished the last season in place 6 and had over the past couple of years considerably lost pace in their race with the other Italian big guys: Lazio, Inter, Juventus, and Roma. Upstart clubs like Bologna were challenging their place and for the first year the board only expected us to qualify for the Europa League. However, they wanted to use this year to get back on track, so that we could aim to win Serie A starting from the 2038/39 season again.
Getting the Party Started
Having had some success with a strikerless 4-2-4-0 formation in the Americas, I planned on establishing the same formation in Serie A. A couple of players were required to help with that.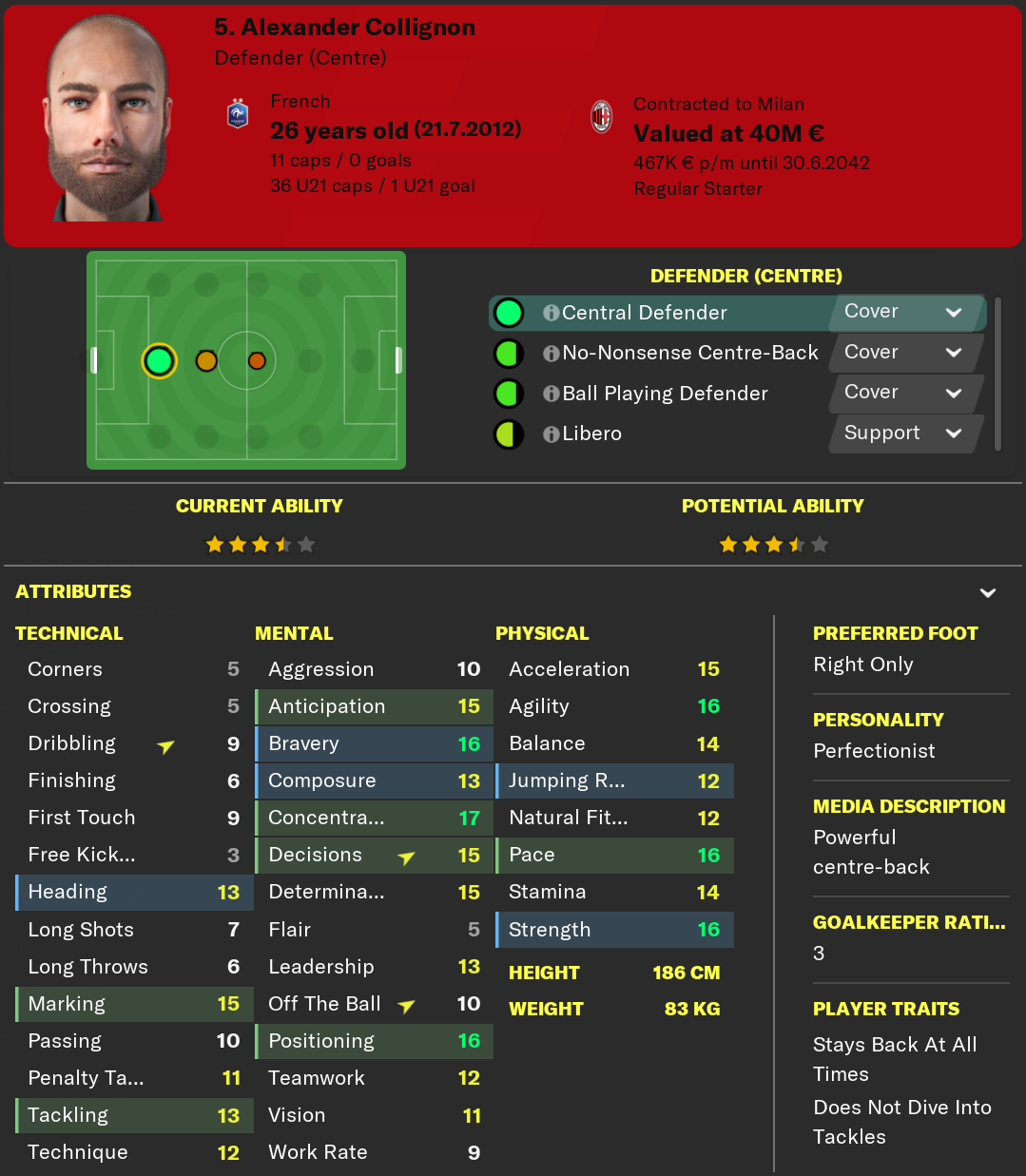 Milan's defence sucked and we definitely needed upgrades. I therefore decided to spend 27 million EUR on Alexander Collignon and brought him in from Manchester City. He would play 66 games for me over the next two years and rake in 7.04 and 7.20 average ratings in the 2037 and 2038 seasons. Certainly a good purchase.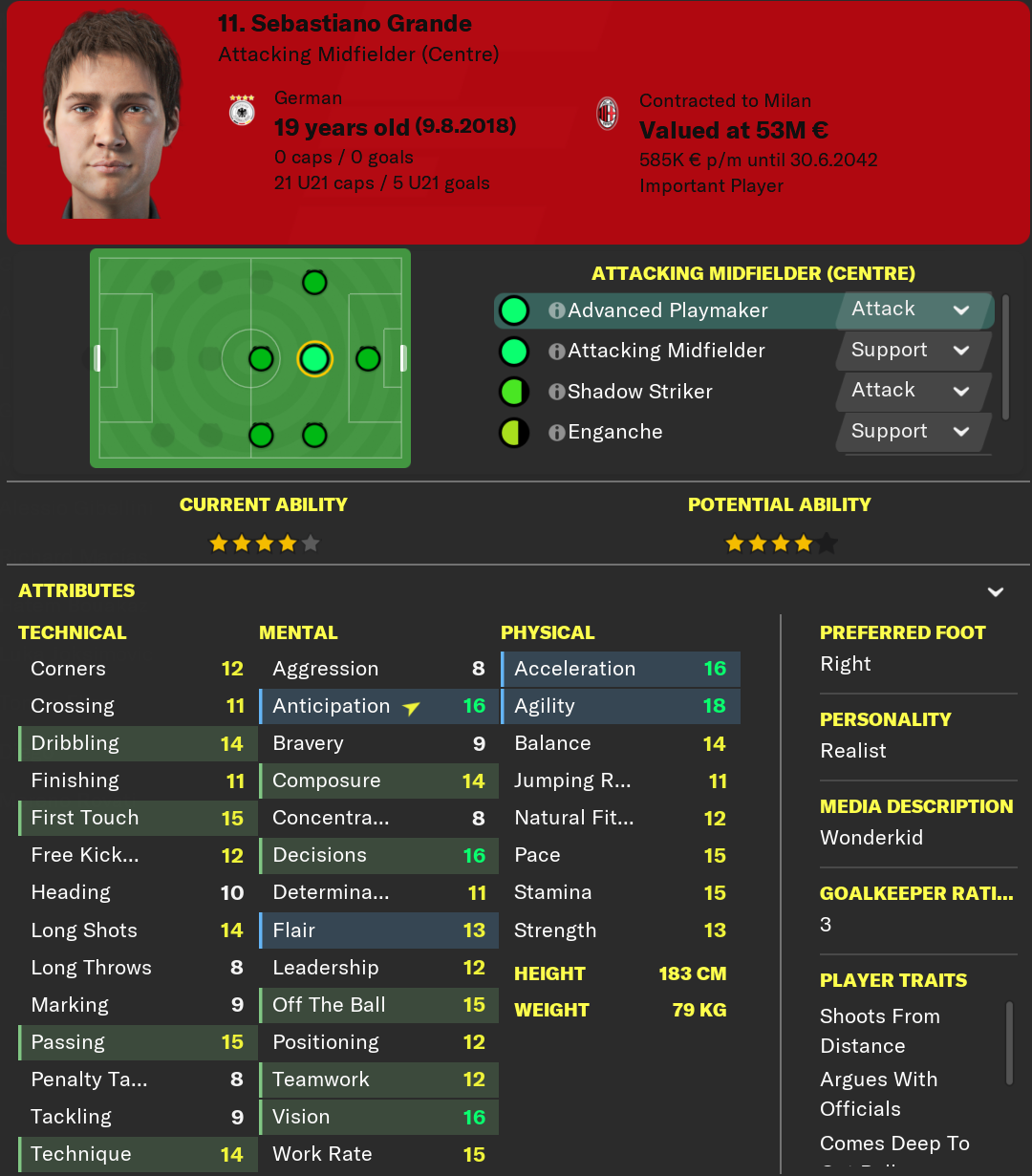 Hamburger SV had transferlisted wonderkid Sebastiano Grande. He had only just turned 19, but already looked promising, so I spent 19 million on him. He would bounce back and forth between the AP and MEZ positions. Two seasons with him meant 62 appearances, 15 goals, and 9 assists. Not bad for a teenager.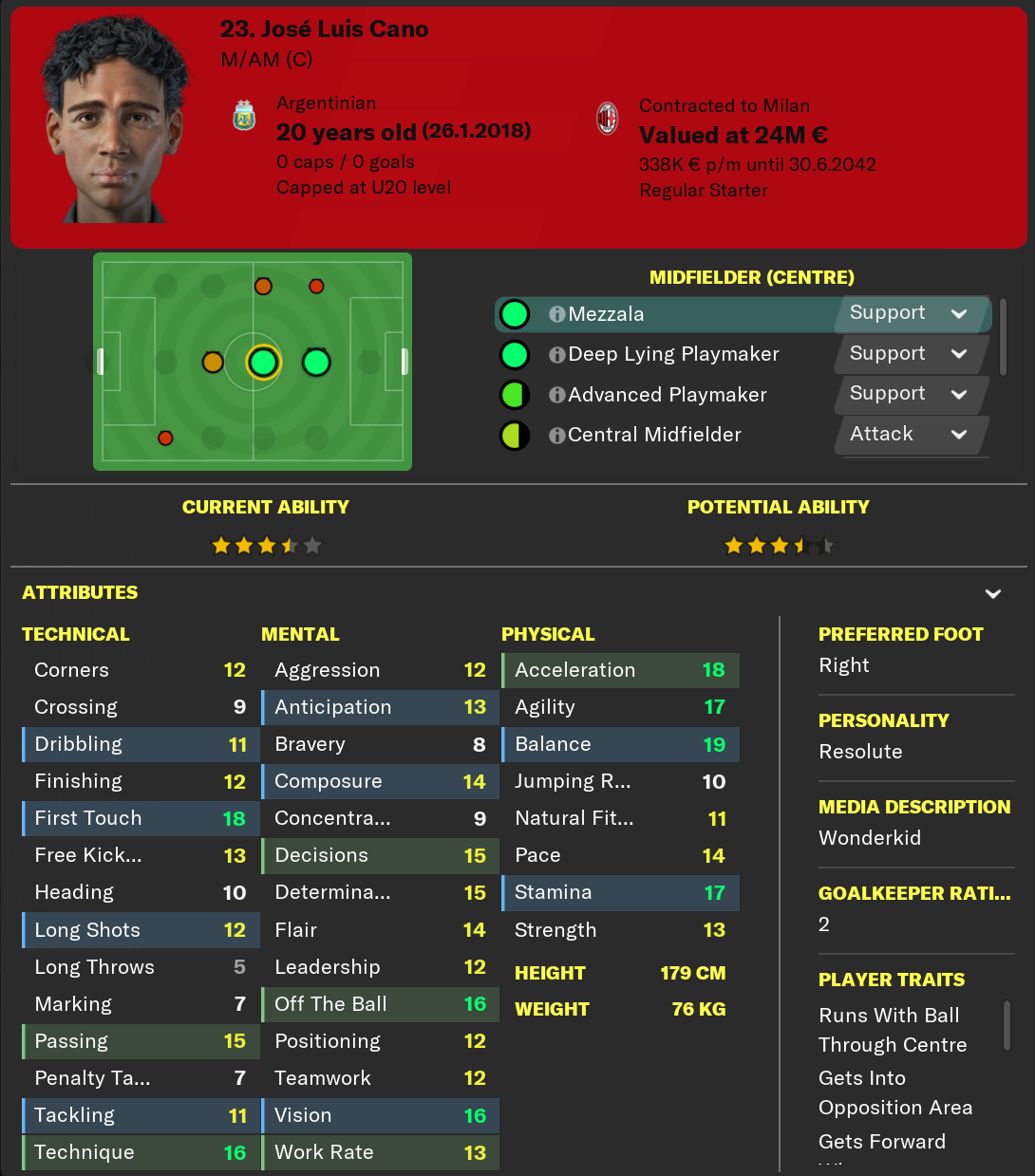 Argentinian midfielder Jose Luis Cano basically followed me.  I brought him in for a mere 8 million in my first winter transfer window and he would also go on to play 48 matches in the Mez and BBM positions, getting 6.97 and 7.09 average ratings in those two years.
So much for the good news. Turns out, implementing my strikerless system in Europe would take some time.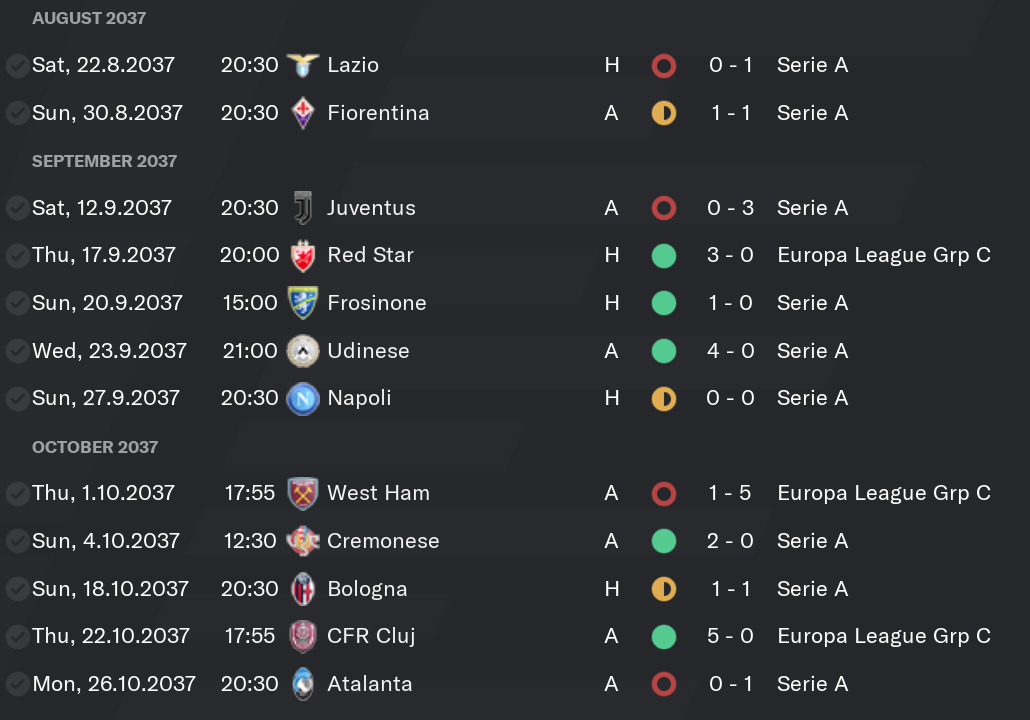 We had a rather bumpy first few months. Among expected losses against top sides Lazio and Juventus, we also had less convincing draws against Fiorentina and Napoli. And in the Europa League we were obviously only second to West Ham, who managed to beat us 5-1. And while we quickly recovered from that shock, we ended up losing against mid-table Atalanta in the league at the end of October.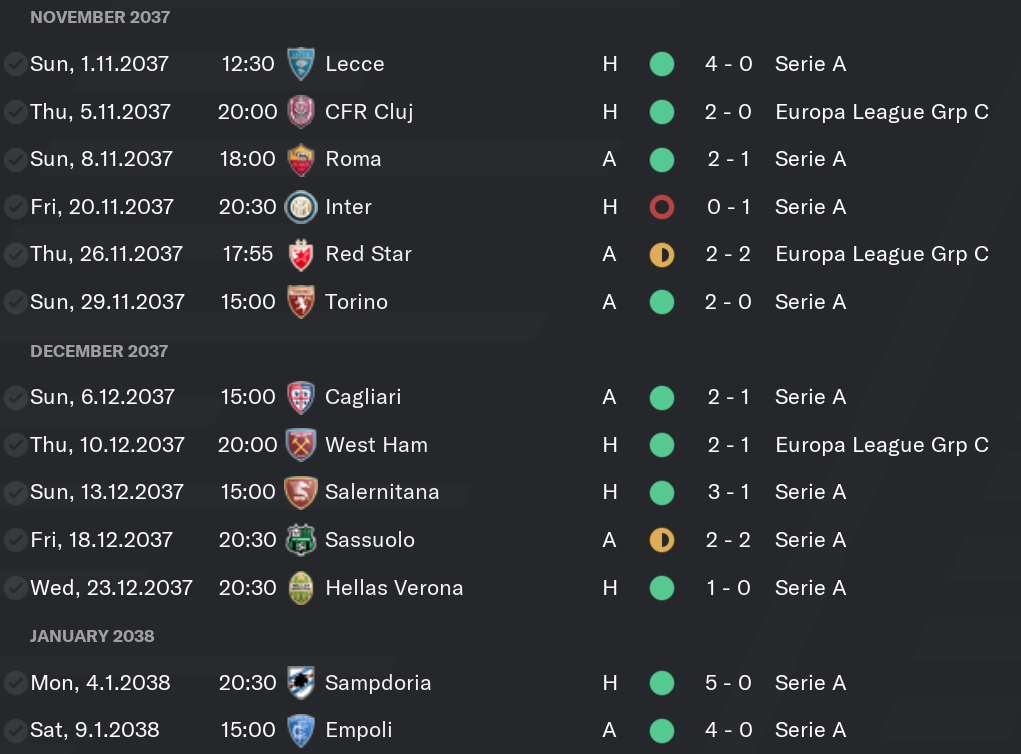 By November, tactics started to work and we had a pretty impressive run from early November until January. We only lost one against Inter, and on the positive side managed to beat West Ham in our return group match, although at that point both of us were already through to the knockout phase and they likely did not play their best 11. I was in a really great mood when we scored 9 goals in the first two matches of 2038.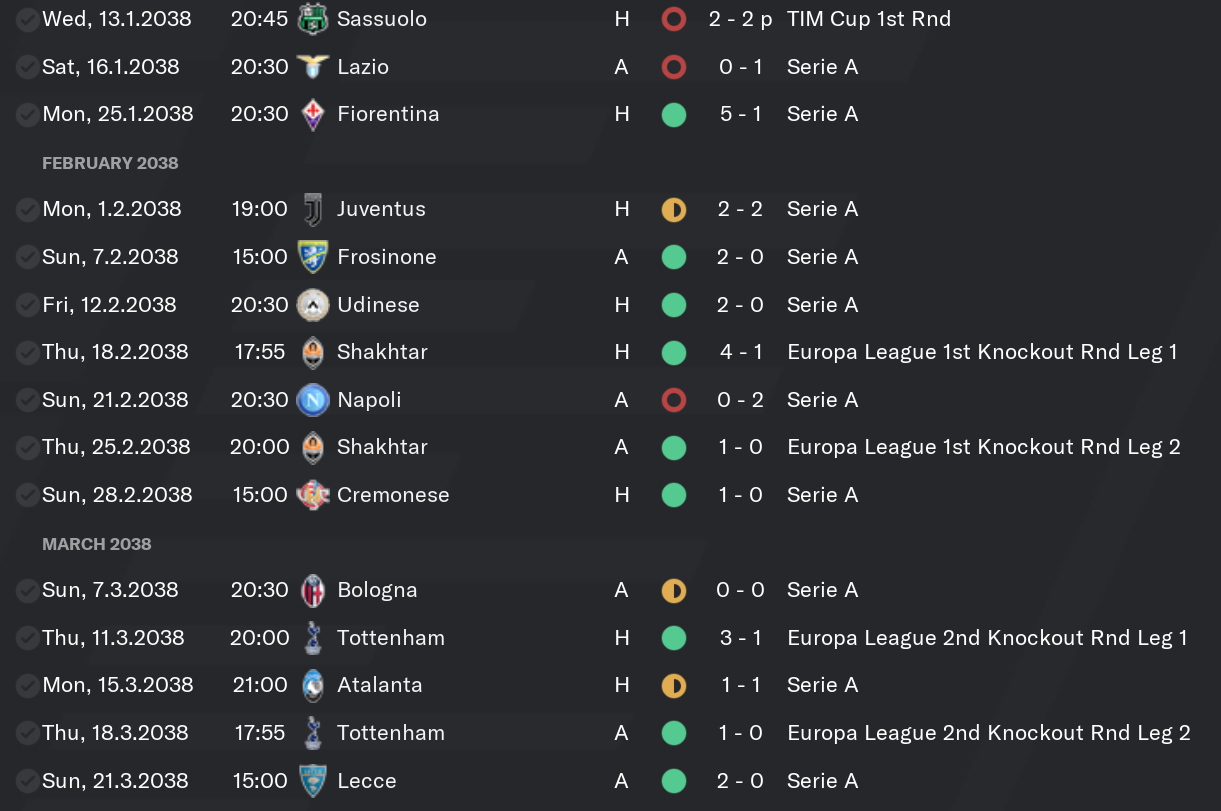 The board were less impressed by our (entirely deserved) penalty out in the first round of the Italian cup. We also lost against Lazio once more in the same week. But then we started kicking. We bet Fiorentina 5-1 and that started a pretty good run into early spring. We also dispatched Shakthar and more importantly Tottenham in the Euro League, while making our way up through the Serie A table.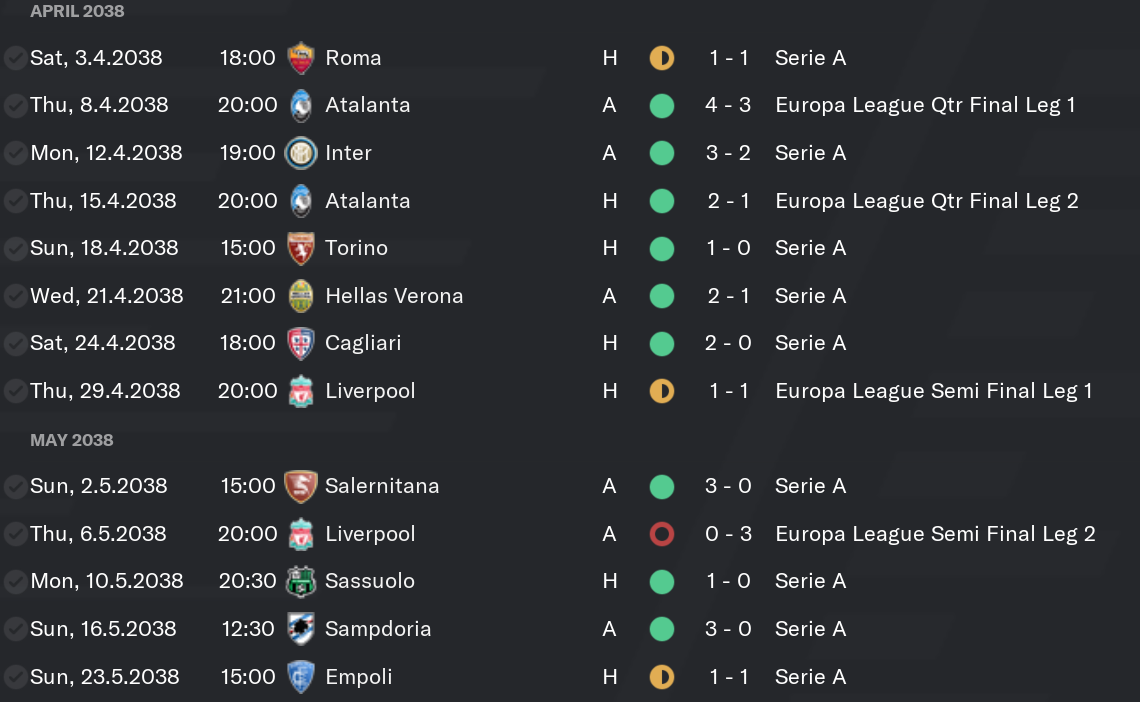 Our great run continued. We went unbeaten for the rest of the Serie A season and only had to concede to Liverpool in the Euro League semifinals. (Liverpool would then go to win the trophy.) Our great form in the second half of the season was enough to offset the slow start we had. Instead of making the Euro League as expected by the board, we even finished 4th and qualified for next year's Champions League group stage!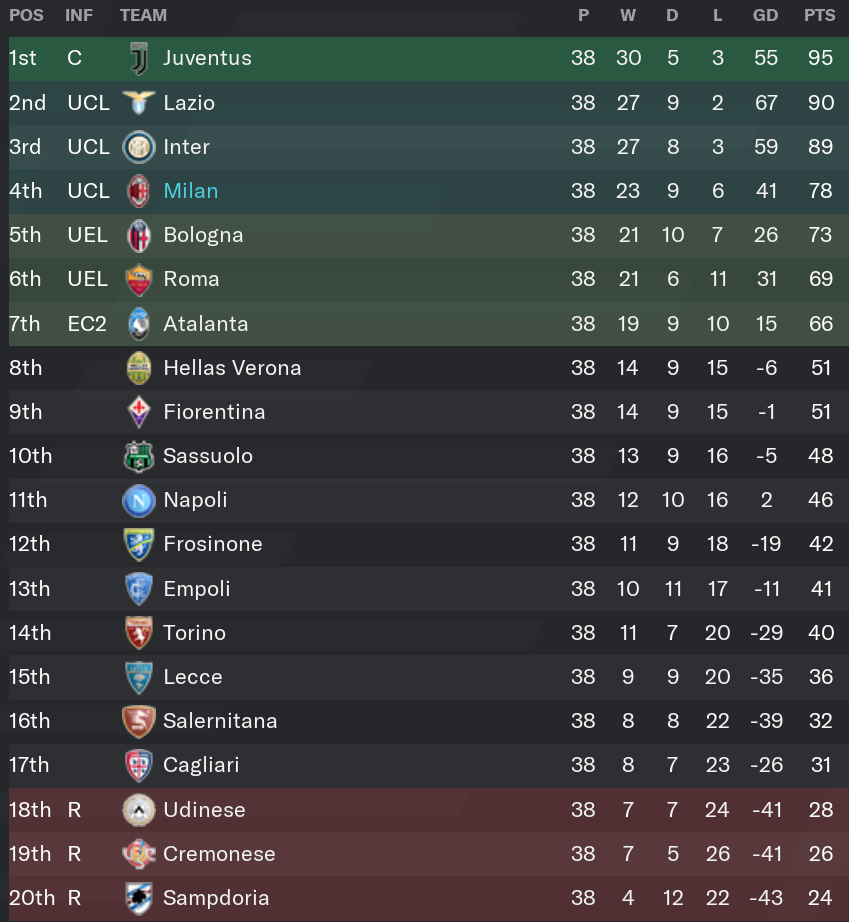 This result was especially harsh for Bologna. They had sat in 2nd place most of the early season, but at the end of the year started dropping points only to be overtaken by us 3 matches before the end of the season. Despite finishing 4th we were 17 points short of the title, but the board expected us to mount a title challenge next year. This was going to be interesting…
A Tale of Mediocrity
Even with Milan's currently limited resources, we still had a wage budget of 14 million EUR per month and a 65 million EUR transfer budget. Milan are rich. But there was a substantial gap to European and Italian top teams, so I tried to win by playing the wheeler-dealer. Selling a player here, loaning a player there, bringing in aging or disgruntled players from elsewhere. I'm sparing you the details, because it didn't work out. We had some great performances in the league, but never managed to achieve consistent form. I would have liked to see us achieve Champions League football at least, but come the end of the season the press were rather speculating about me losing my job.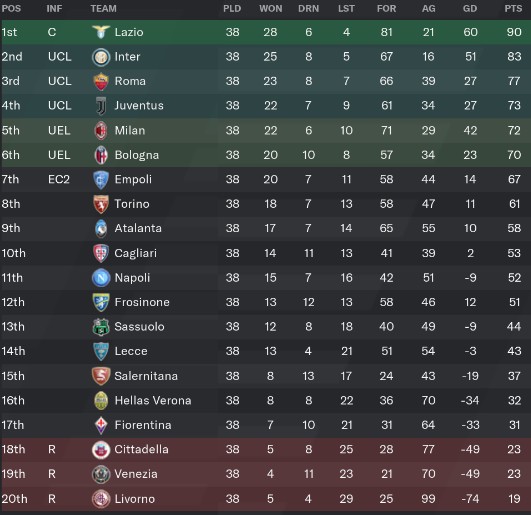 We lost out to Bologna and Atalanta in the run towards the end of the season and failed to remove Juventus from the 4th CL spot.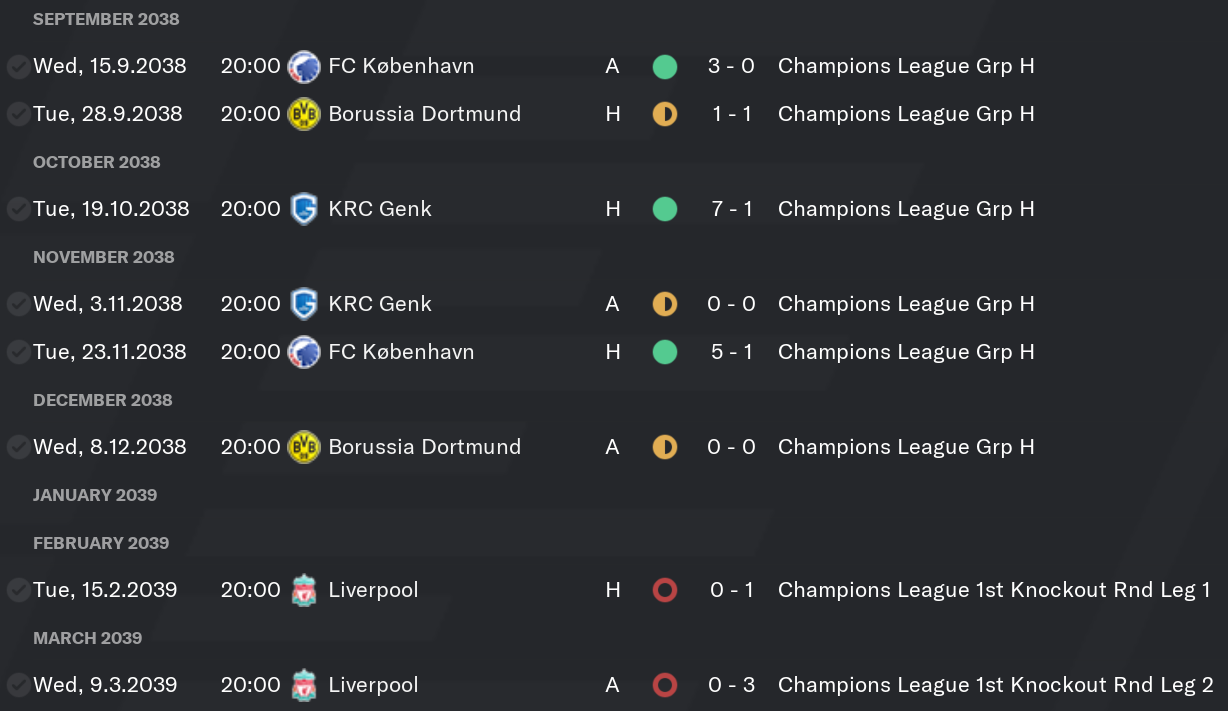 The Champions League drew us into a group with Dortmund, Kobenhavn, and Genk. We survived without a loss (!), but then got drawn against Liverpool in the next round. It became a repeat of last year's Euro League semifinal, only that this time we never stood any real chance and went out early.
So what happens when the board wants you to challenge for a title and you don't even make it to qualify to the Champions League? Right, Mr President wants to have a word after the season ends.

I had the option to beg for mercy, but having won 5 international Champions League titles, Gabriel is not a person to beg anymore. I told the board to stick up with me or let me go. They chose the latter.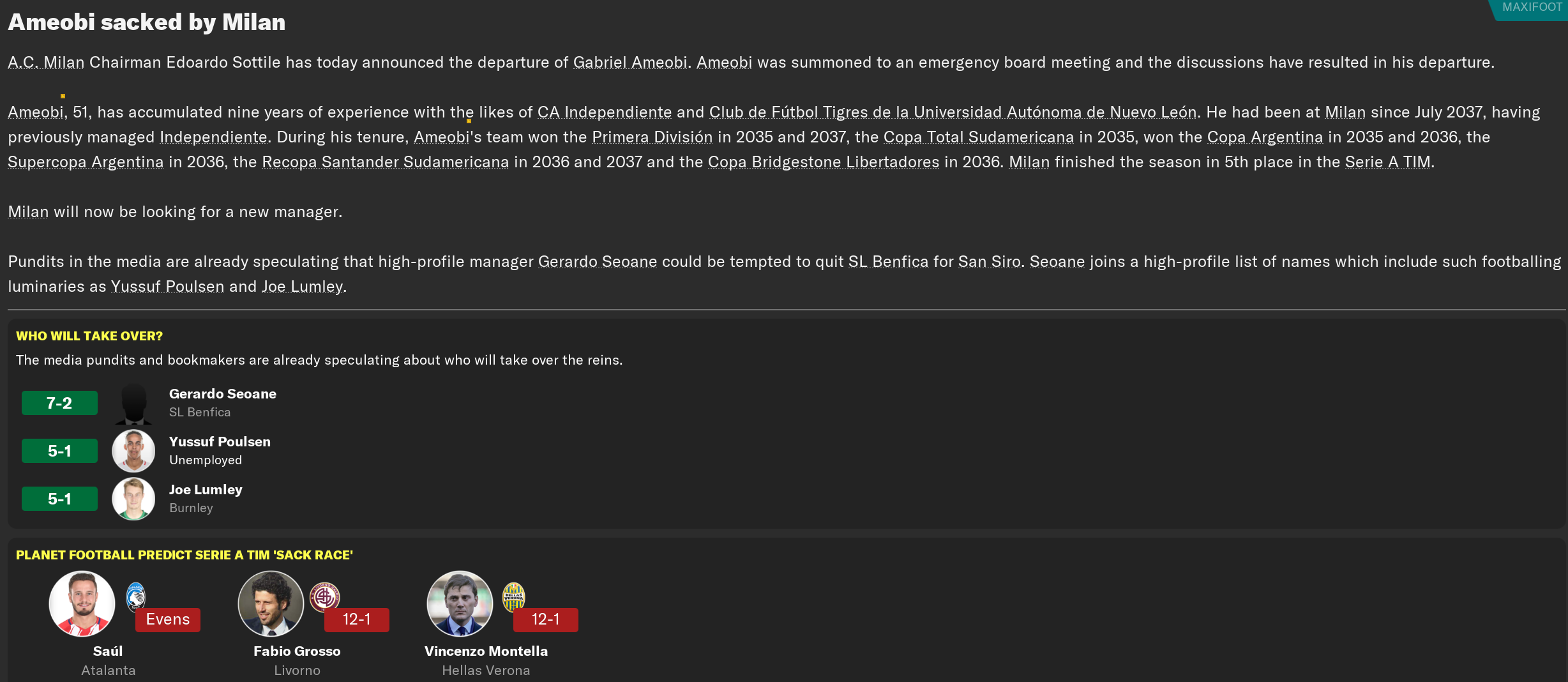 What went wrong? I think it was a combination of sticking to my tactics (and being unable to adapt them — I suck at tactics!) and trying to bring in too many new faces in a short time. I'll aim to have stronger partnerships on the pitch wherever I go next.
And without further fanfare, this wraps up Gabriel Ameobi's time in Milan. I'm unemployed and waiting for whatever jobs will become available this summer. Stay tuned for more in our next episode…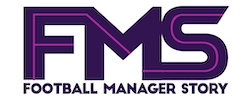 Subscribe to our Newsletter