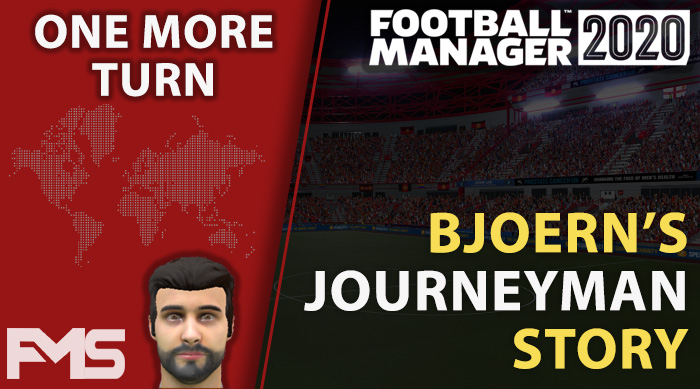 Gabriel's Diary
Alexandria, Egypt, May 9 2023. Feels like my fate is taking me down again. I cannot even fathom the idea that only two years ago I was leading the Ba FC boys into their second subsequent OFC Champions League final. We were that good. The national division and cups won in a breeze. A young squad full of motivated players.
But me, Gabriel? I felt I had outgrown the club and the island. I felt I deserved new challenges and trophies elsewhere. Sent out CVs to the big leagues close by. Argentina. Japan. Korea. When the only replies I got were from African clubs, it should have dawned upon me: the world was not waiting for yet another manager with the experience of two years of semi-professional management in a tourist football division. But I wanted to push on.
Little did I know about the harsh reality of Egyptian relegation fights. About trying to find anyone willing to help me and the club struggle. About motivating players that week in week out would go on the pitch, give their best, and return with another beating under their belt. I pity those guys more than myself.
I've been unemployed for a year now. I'm not starving – my previous career has made sure of that, but I'm bored. I had two interviews in this year. Nothing materialized out of them. I feel lonely. Unnecessary. A waste of blood and meat. But I won't quit here. The bottle of whisky is still half full.
Transitioning out of Fiji
We ended our last episode with the outlook that come the summer of 2021, a few African leagues would become available to play and I would start looking for jobs there. As Fiji's league starts in January and sees most of the action in the first six months of the year, I figured I could as well play another season in Fiji before moving on. And boy, what a triumph it became!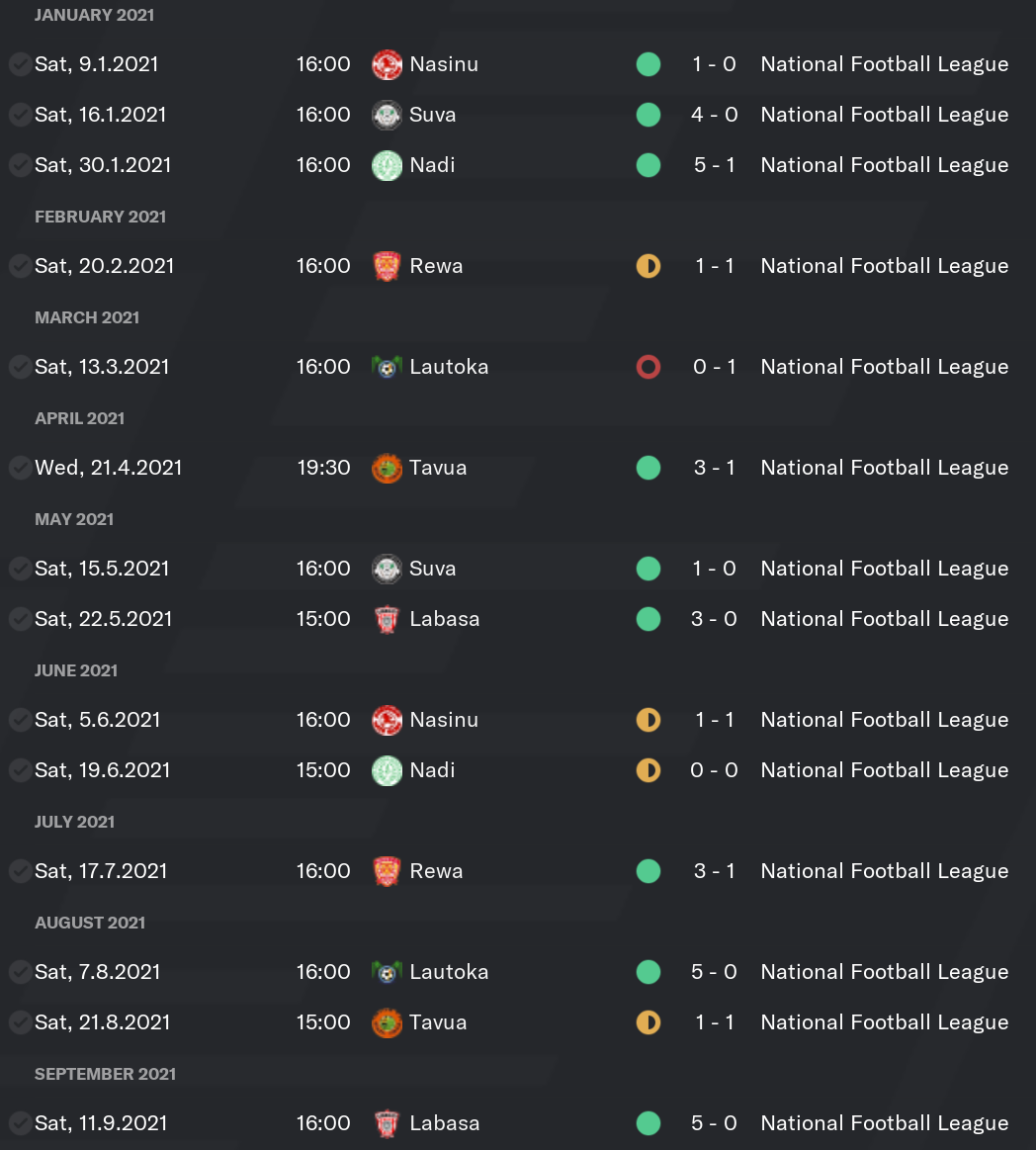 We lost a single match all season and were seriously dominating lots of our winning matches. Even when our Argentinian students Castaneda and Paradiso in summer decided they wanted to move on with their careers, that did not stop us. We brought in two other foreign youngsters to take their places and simply carried on. The final league table looks tighter than it ever felt throughout the year: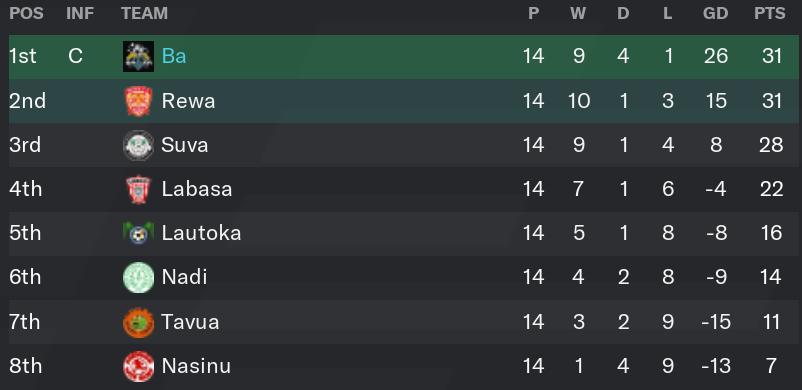 That might be some misinterpretation on my side in hindsight. Mostly, because in between all those league victories, we also played two awesome cup runs.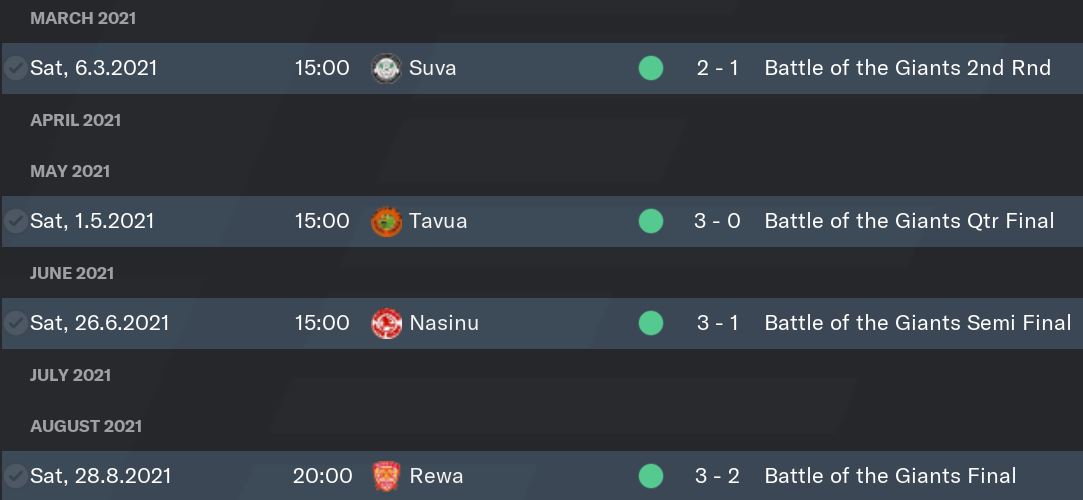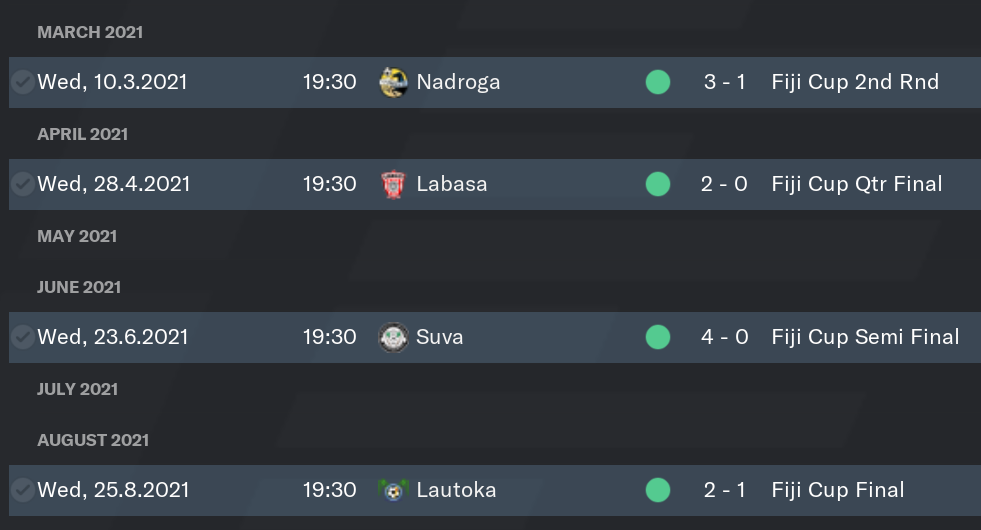 We won both national cups without any problems. Even from the three matches against vice champions Rewa that we played this year, we won two and drew one. And for the first time ever, our awesome form went over to the OFC Champions League. We did not move forward on luck, this time. We thoroughly deserved our spot in the final, although the group phase showed that we were still no match for teams from New Zealand. Nevertheless, we met last year's runners up Waitakere again. This time they knew much better and did not underestimate us. Consequently, we only managed to finish runners up.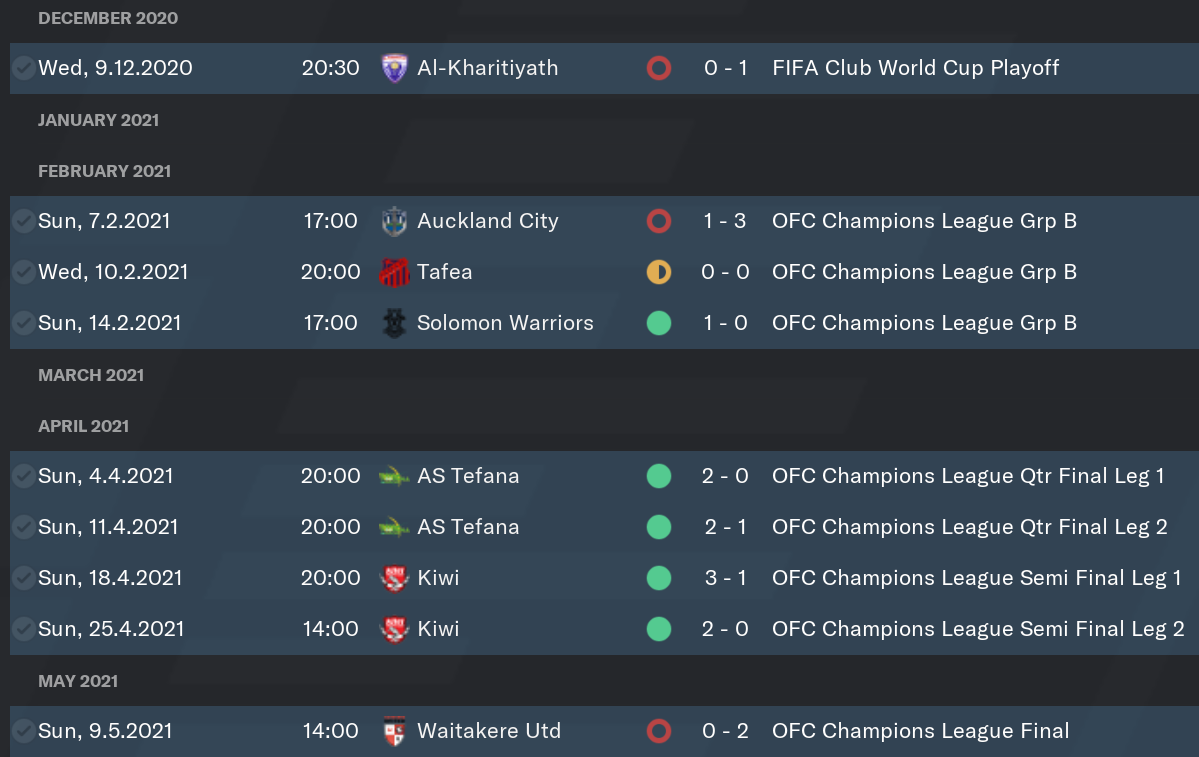 Looking for Opportunities
In the past two years, I had successfully convinced the Ba FC board to allow me to take four coaching courses, netting me a Continental C License. With this, I hoped to be good enough for a spot in one of Africa's top teams or at least divisions. Little did I know…. Orlando Pirates from South Africa and Enugu Rangers from Nigeria "lost" the email with my CV apparently. At least I never heard back from them. Angola and Kenya did not seem very promising starting points, in contrast to Egypt. While Egyptian football is dominated by Cairo clubs Al Ahly and Zamalek, I hoped to get a job in their first division that would eventually allow me to demonstrate my skills and land one of these positions.
Eventually, after months of job applications, I landed a job: Haras El Hodoud were willing to gamble on me.

At this point, gambling seemed to be the only thing left. Promoted to the Egyptian Premier League in the summer before, El Hodoud were struggling and sitting at 14th with 10 points from 15 matches so far.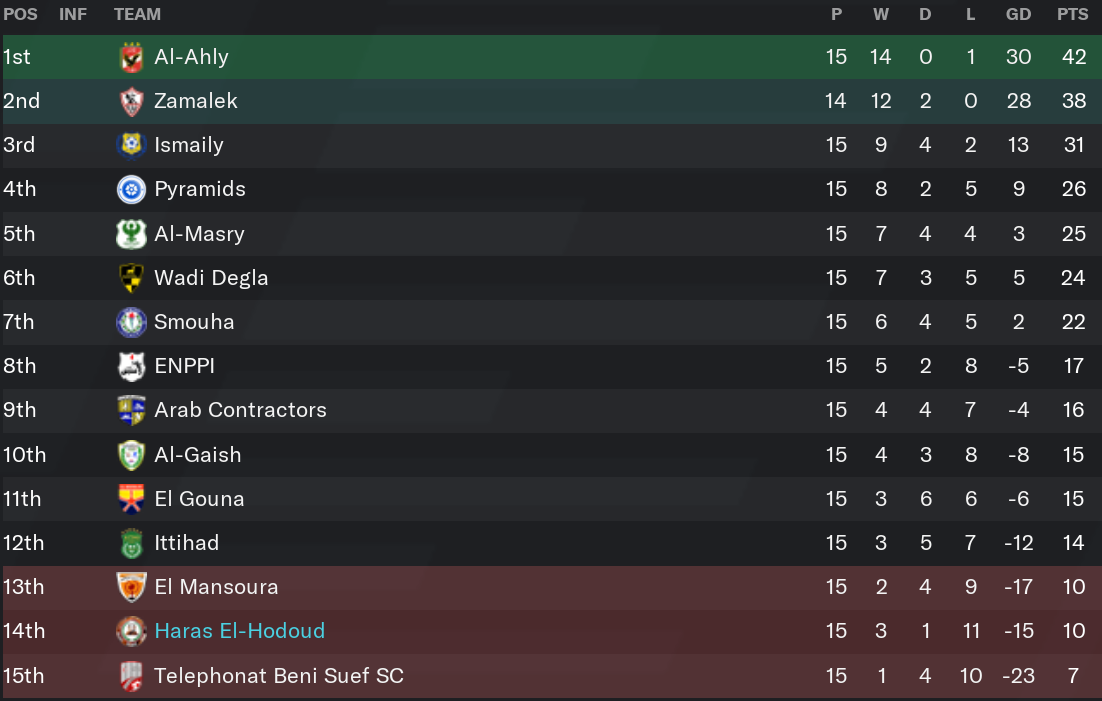 While certainly not a good position to be in, it also did not look too devastating. 13 games left to play, 4 points from the safe zone. It felt that something could be done here. So, I got to work on January 1st of 2022. Short meeting with the board members. Shake hands with the president. Now where do I meet my assistant manager…?

Yes, you're reading this right. There was no assistant waiting for me! Nor any other kind of coach. Or scout. Or physio. Not even a janitor. Oh, and our first match was in two hours… I did a quick review of the squad. There were some promising players, like Stephane: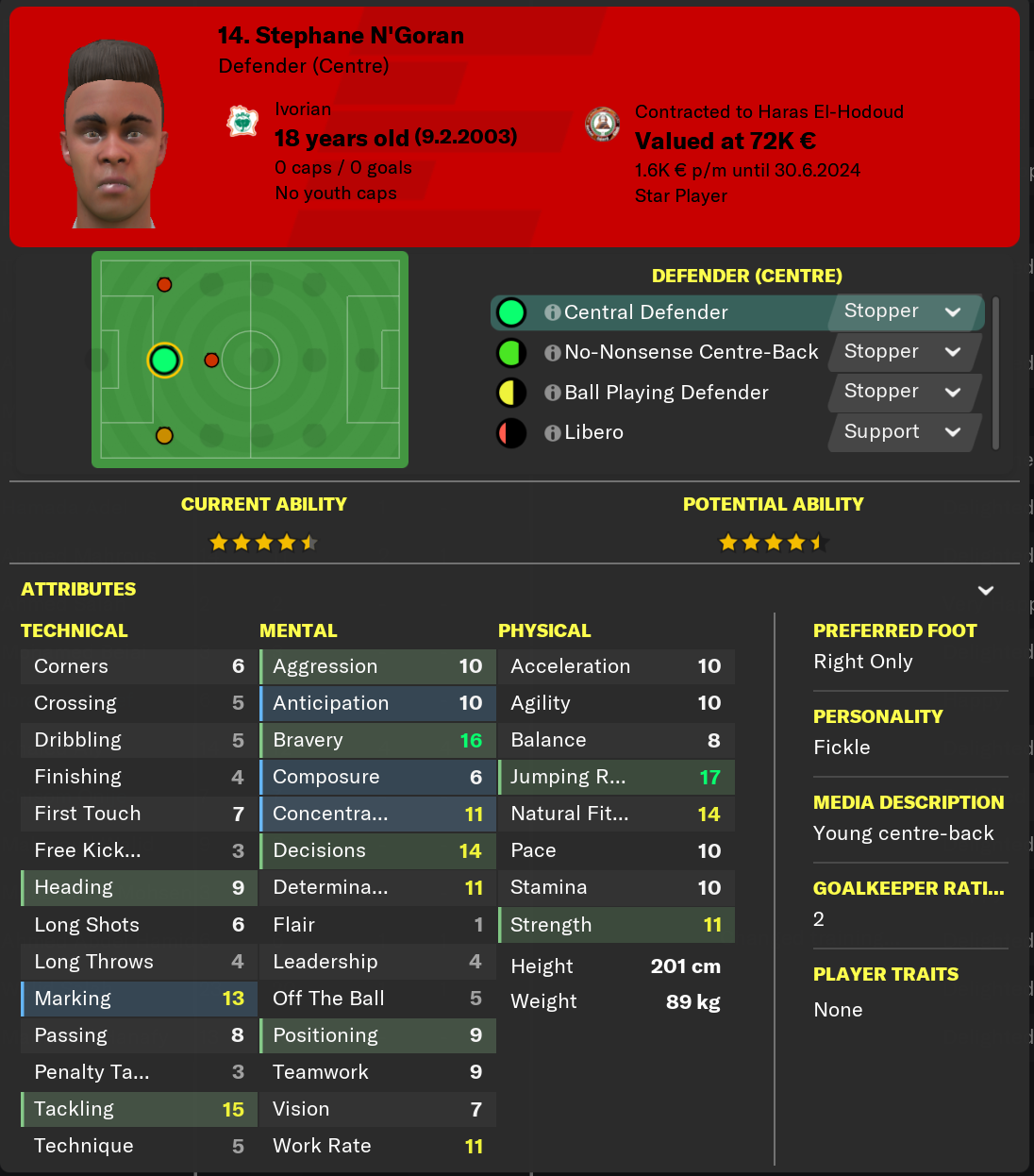 Yes, indeed, this 18 year old boy from the other end of Africa was our hopeful leader of defense. And in contrast to some of the other players he earned low and would contribute a bit. As a random counter-example, take my friend Seifeddine here: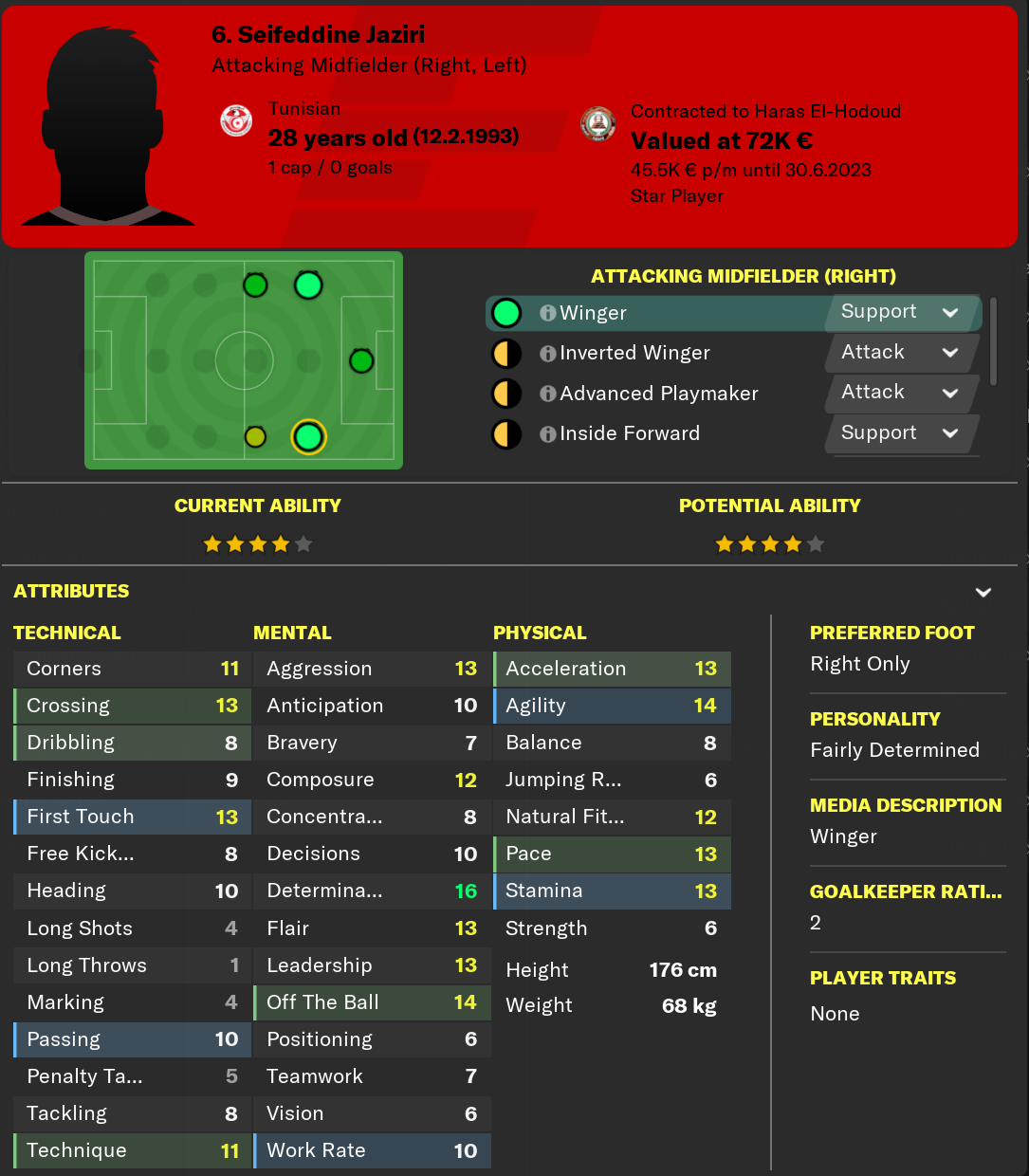 Looks like a decent winger attribute-wise, right? And note how we earns 45k EUR a month. At a time where the club's wage budget is 150k per month in total. Looking back, I should have saved those 30% of the wage budget when I still could. He had made it clear on my first day that he felt this club was below is standards. Never contributed anything useful, got himself suspended multiple times. A manager's worst nightmare.
But as things go … you can't win anything with kids, especially if the kids are not actually that good. I tried shaping the team into a defensive, counter-attacking formation. We played our first match against Pyramids FC who were actually fighting for a spot in the international competitions and things did not go too bad given this setup.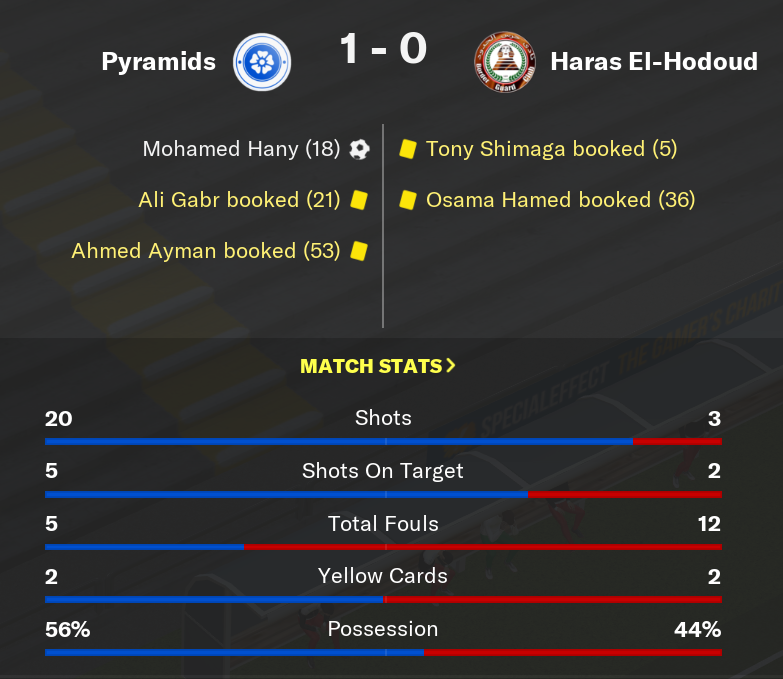 Sure, we lost the match. But we managed to stay rather tight at the back. Looking back at the result now, our problem became obvious as well: in the subsequent matches we would try to defend the best we could. We did so at the cost of not getting too many chances of our own. And for one reason or the other, most opposition was able to sneak in the odd corner, free-kick or long-range shot. We did not score a single goal in the first 8 matches under my reign. And yet, we still had chances of staying up going into two season-deciding matches against Telephonat and ENPPI.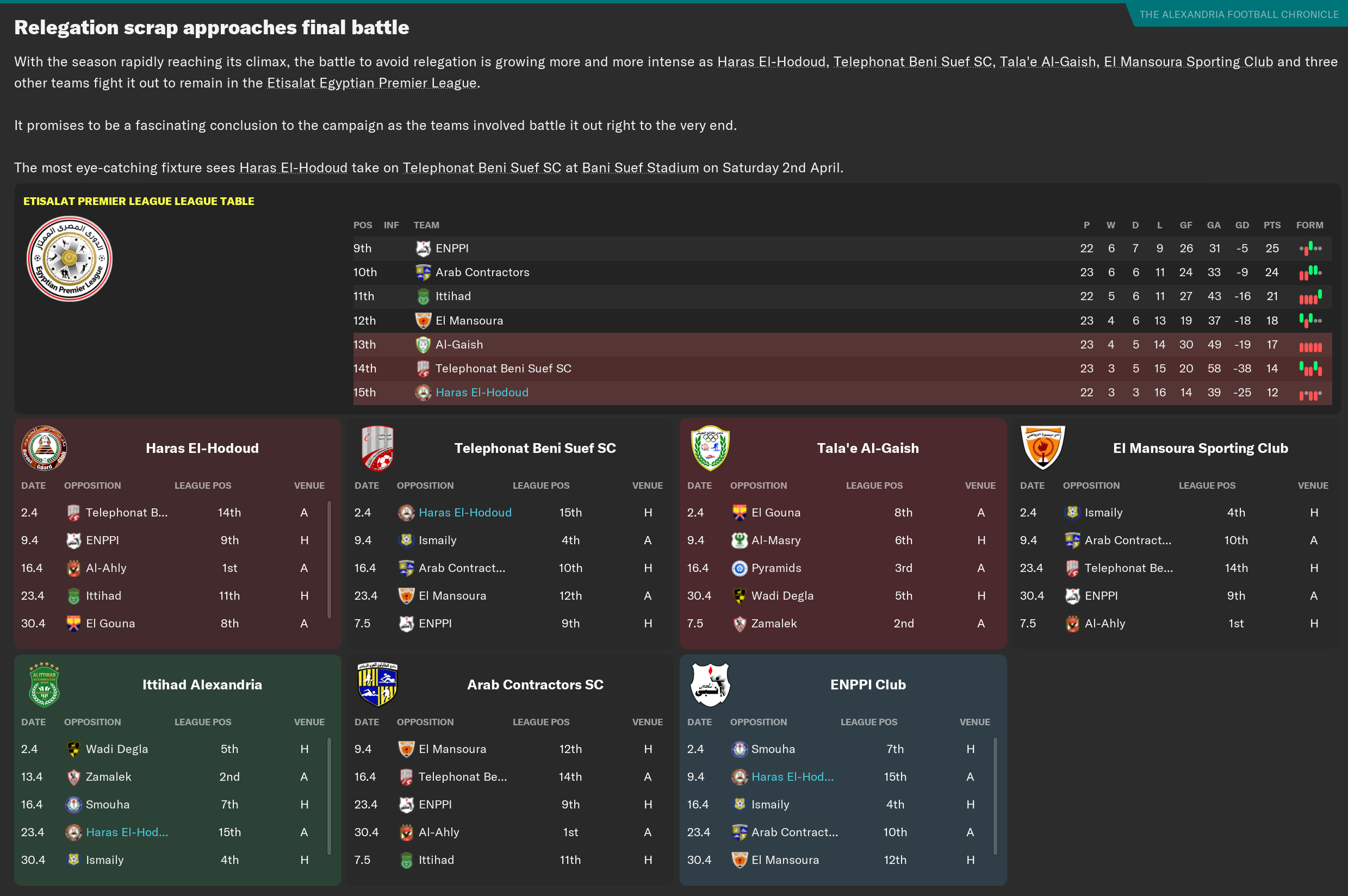 Telephonat were sitting behind us in the table and we finally won a game! Joyful celebrations on and off the pitch ensued! I'm utterly convinced that multiple mothers from Alexandria this night named their first-borns after Shokry Naguib!

The team suddenly appeared happier in training. We were on a euphoric trip and the next match against ENPPI gave us a chance to move out of the relegation zone.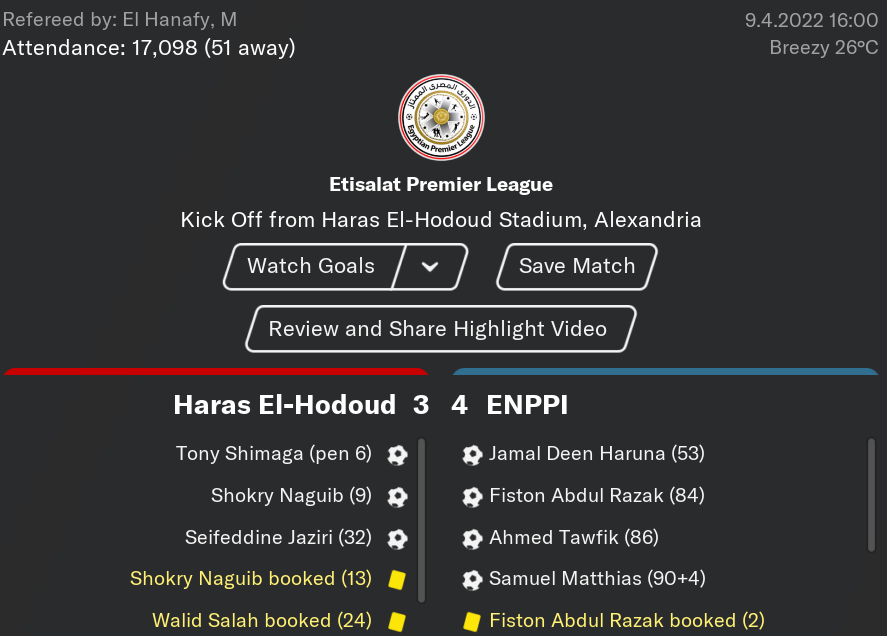 This game broke us. We went up 3-0 before halftime. I praised the team to bump their morale. Can you become complacent having won a single match 1-0 and leading yet another one at halftime? I would not think so, but apparently, my boys were not composed enough to stand their ground. We caught the 1-3 short after half time and then had to watch them score 3 more times in the final 15 minutes of the match. Screw it … after this match we were without any real chance and sealed relegation one match ahead of schedule. The board informed me that my services were no longer needed.
In Between Jobs
And thus, for the second time within 6 months I was out on the road, sending out applications to other clubs. There are not a lot of clubs in Egypt's first division. I had shown all of them that I am unable to avoid relegation with a struggling team. Now, even newly promoted sides found it a hard time imagining me as their manager given my obvious failure at avoiding relegation. Can't blame them…

So another full disclosure ahead: I spent the entire 2022/23 season trying to get a job in Egypt.  I had two interviews with El Mansoura and Nogoom. Nothing materialized and they rather went down to the second division without hiring me. Researching further, I discovered that the DB I'm using is broken for the Egyptian 2nd division — it exists, but only as a league with 40 teams and 78 matches over a season. I'd rather not go down that road. Therefore, I decided to kill off another of my personal rules: nation lock in. For the next season I'm going to enable the second divisions in South Africa, Tunisia, and Morocco and try landing a job there. How will this end? — I will tell you another time.


Subscribe to our Newsletter