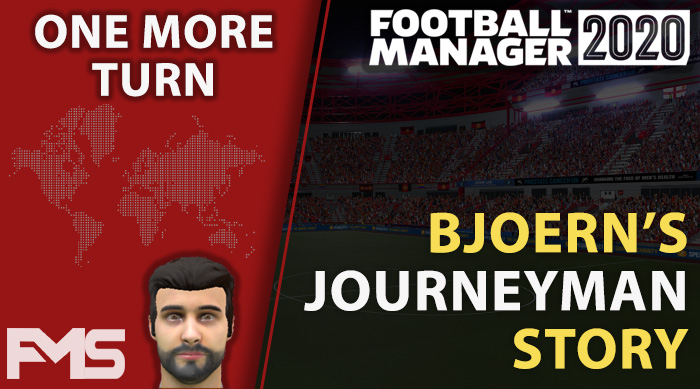 Gabriel's Diary
Buenos Aires, 28th Nov 2035. — Take that, La Pulga!
Getting Things Rolling
Welcome back to Argentina! Last time I had taken over CA Independiente and taken the upper-mid-table team to win the Argentinian Primera Division using a strikerless tactic. Could we keep the momentum?
We had about a month of winter break in June before people reported back for training in early July. As the Independiente squad had a couple of old experienced players in their ranks, I decided to focus on bringing in a few youngsters for the next season that would be good enough to have first team impact while promising to open financial opportunities a few seasons down the road.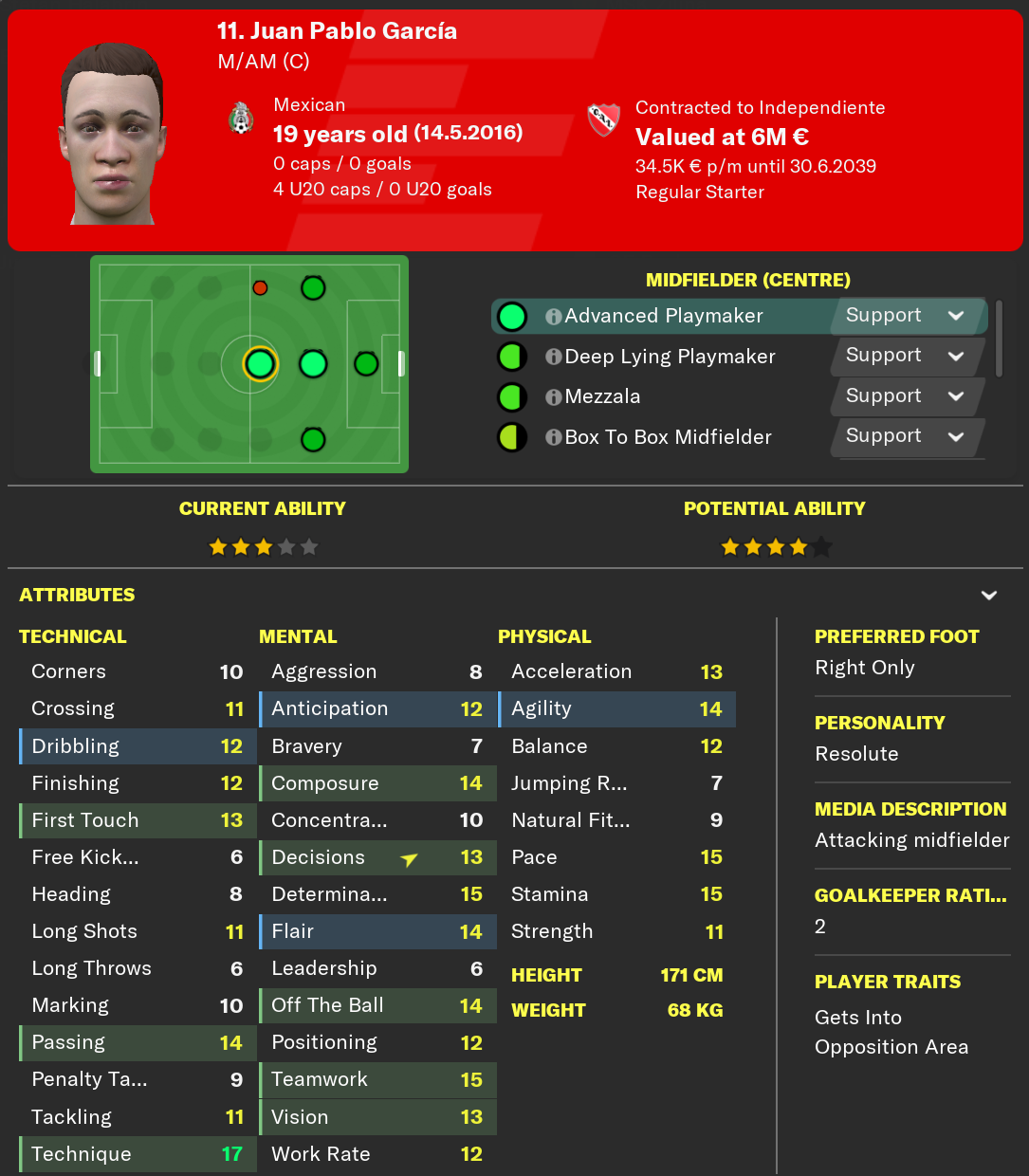 I splashed most of my transfer money (8 million EUR in total) on midfielder Juan Pablo Garcia from Mexican side CF Pachuca. While only 19 years old, he was definitely ready to take the Adanced Playmaker spot and make it his own. Unfortunately, we missed him for a couple of weeks because he was busy playing for the Mexican U23 national team all the time.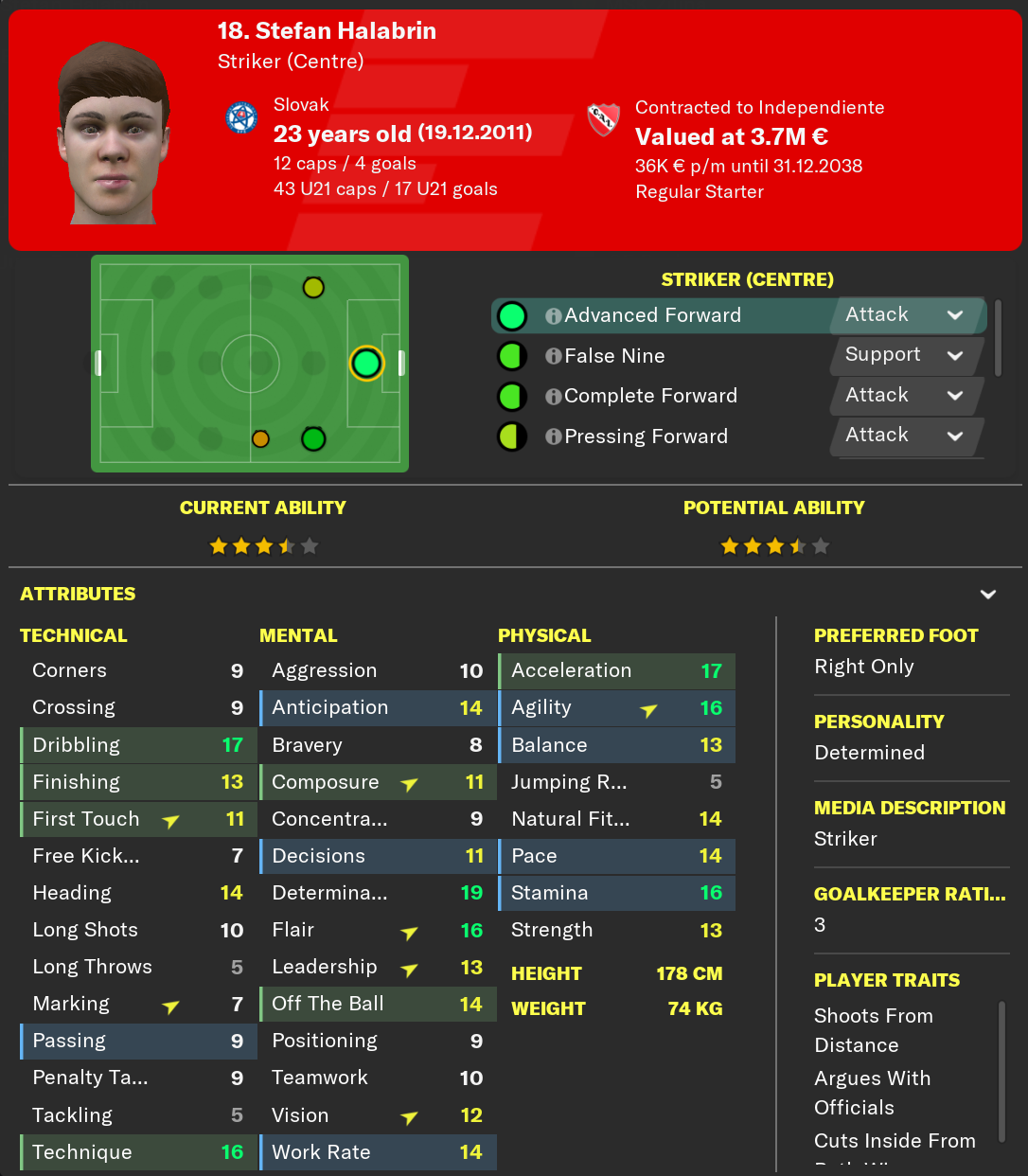 Slovak attacker Stefan Halabrin joined us from his country's MSK Zilina on a free transfer after his contract had run out. I intended to use him as a backup for Gauna on the right wing, but he soon scored important goals to earn the spot for himself.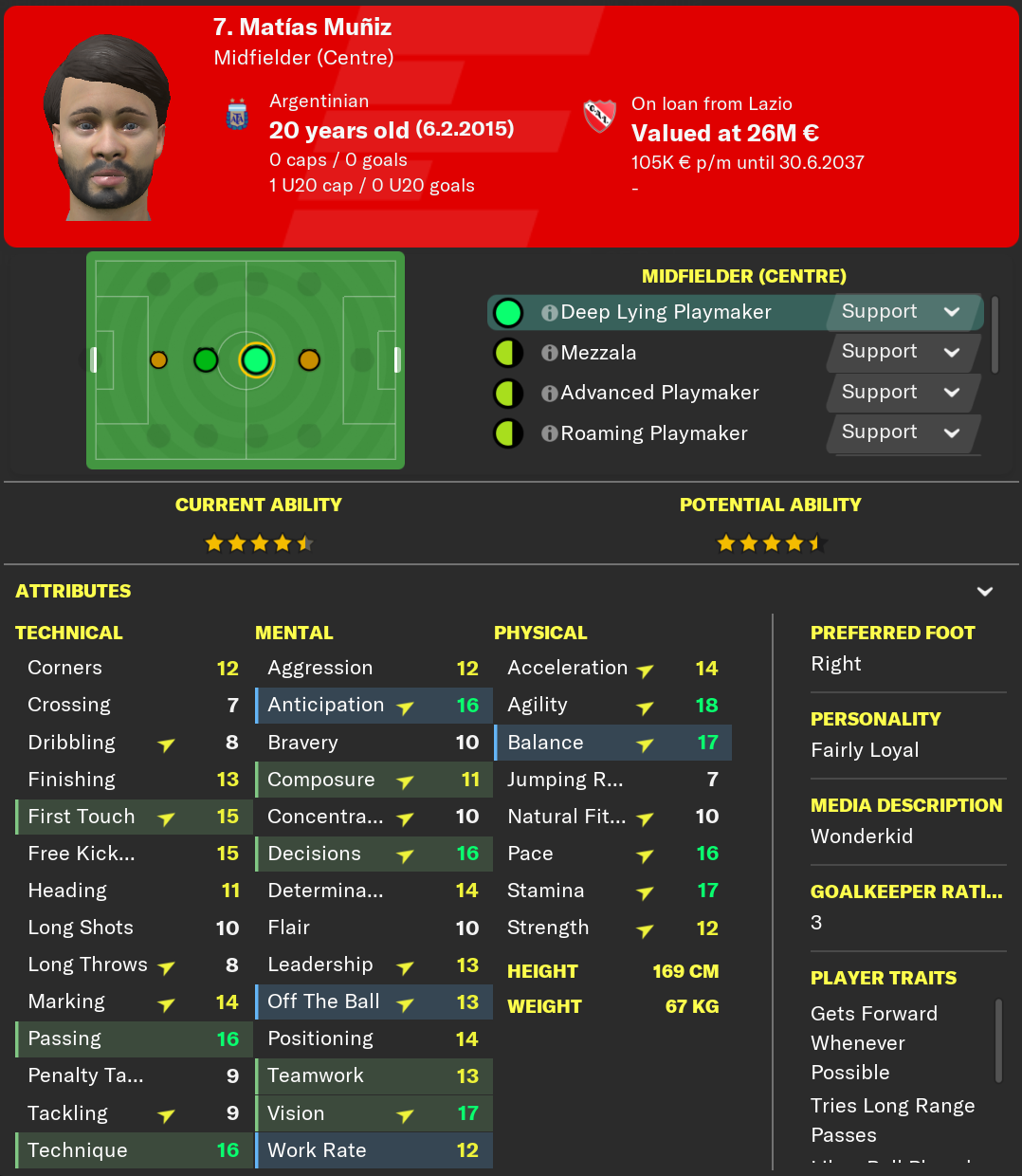 And here's the crown of transfers this season: Matias Muniz is totally out of our league when it comes to finances. And his abilities are galactic as well. Still, Lazio manager Diego Simeone was willing to loan him back to Argentina for 2 full years. I know you shouldn't build a squad around a loanee. But Muniz is just too good to pass on and will serve us well in the MEZ(s) role. And when I signed the contract, his Lazio one was actually timed to run out two years for now, in which case I could make a bid to sign him 6 months before. Unfortunately, that glimpse of hope soon vanished because Lazio extended his contract within the first month of his loan.
Alternative Preseason
As mentioned at the end of my last post I was a bit concerned about our preseason. Instead of spending a few weeks kicking the ball against some farmer teams to get into shape, our preseason would consist of a Copa Argentina match and the 3rd round of the Copa Sudamericana against Brazilian FC Sao Paulo.

I needn't have worried. We made the best off the Copa match against B-division side Gimnasia Jujuy and then – more importantly – left no doubt of our intentions when we bet Sao Paulo 4-0 at home (and 6-1 on aggregate) before they even knew what hit them.

We also went ahead with a good start in the league, beating 5 teams in a row before dropping our first points of the season in a bore 0-0 draw against Messi's San Lorenzo.
So Many Competitions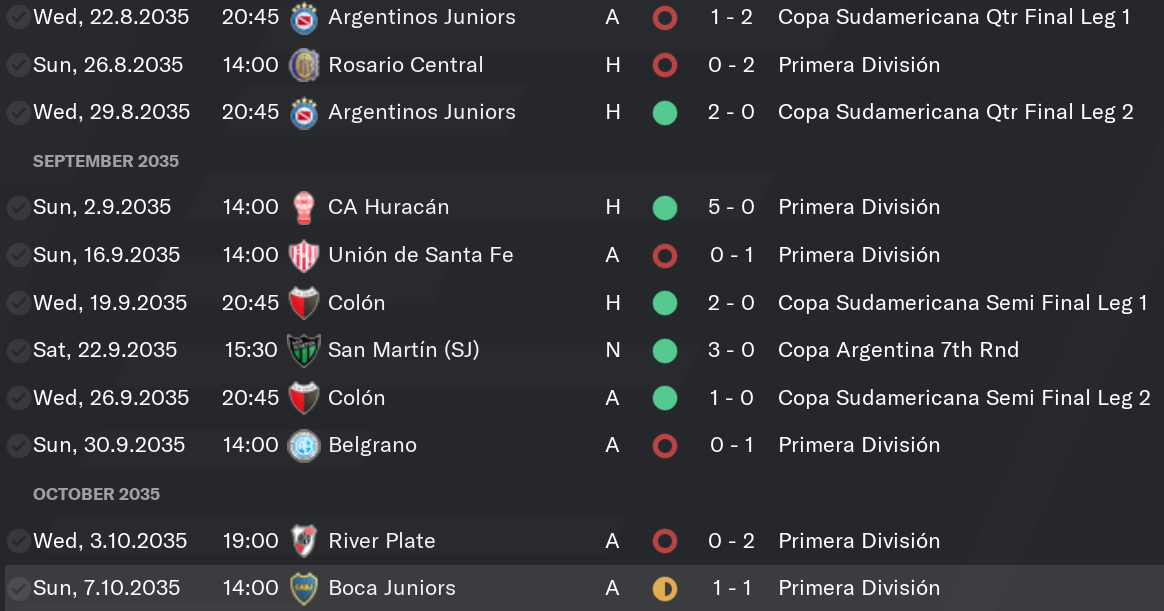 Things went a bit downhill from there. We got a bad start into the Sudamericana Quarter final by losing to Argentinos Juniors. We rested the main squad for the return leg, which led to a 0-2 in the league against Rosario. But at least we got what we wanted by beating Juniors 2-0 on return, leading to a semifinal against Colon, who we dispatched 3-0 on aggregate and thus earned our place in the Copa Sudamericana final, where we'd be playing our league rivals Belgrano. In between, we unfortunately lost a few more matches in the league against Union de Santa Fe, Belgrano, and River Plate, which made me worry about both our form as well as our chances to actually win the Sudamericana.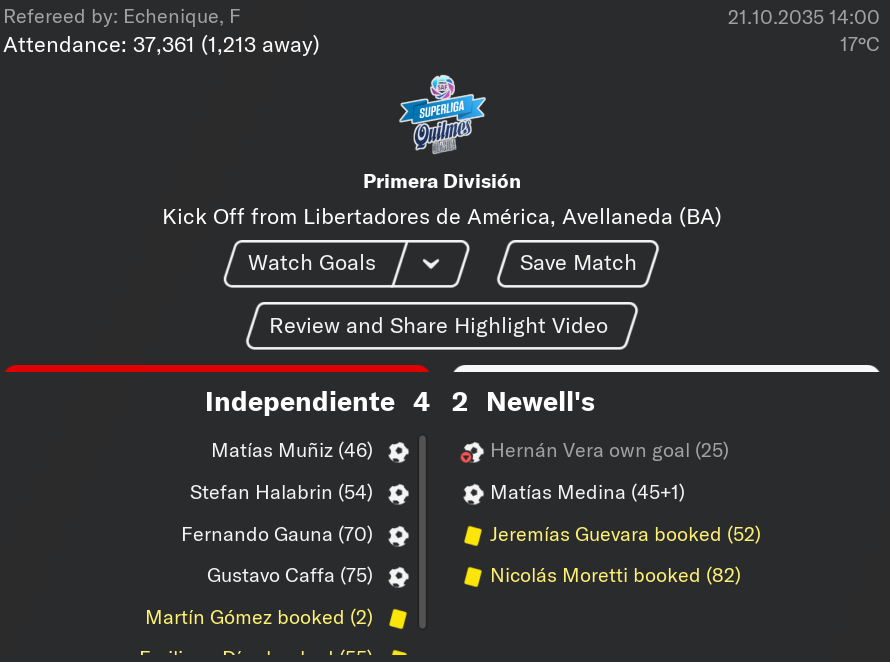 In the following match we then were down 0-2 at home against Newell's Old Boys and I couldn't resist. I screamed my lungs at the team (virtually!) and told them to start playing football again. Apparently, they regained their passion through this and scored 4 goals for a 4-2 final score in the 2nd half. And this is how we regained our form.

Not only did we stop the losing, we also breezed into the Copa Argentina semifinal by beating Tallares de Cordoba. And then judgement day arrived. Us versus Belgrano. The chance to right our recent defeat against them.

A young Slovak striker put himself into the club history of a team thousands of miles away from home. Stefan Halabrin scored the sole goal of the match, making us Copa Sudamericana winners in 2035!

Instead of celebrating, we however had to get back home, because 4 days later we'd face River Plate in the Copa Argentina semifinal. And bet them! And to celebrate this achievement, we got a final against San Lorenzo. Messi again.

And we did win the national cup! Nothing during this match really stood out. Muniz scored an early goal, young Omar Velazques made it 2-0 close to the end, and even their 1-2 didn't bother us a lot.

The midget was not amused.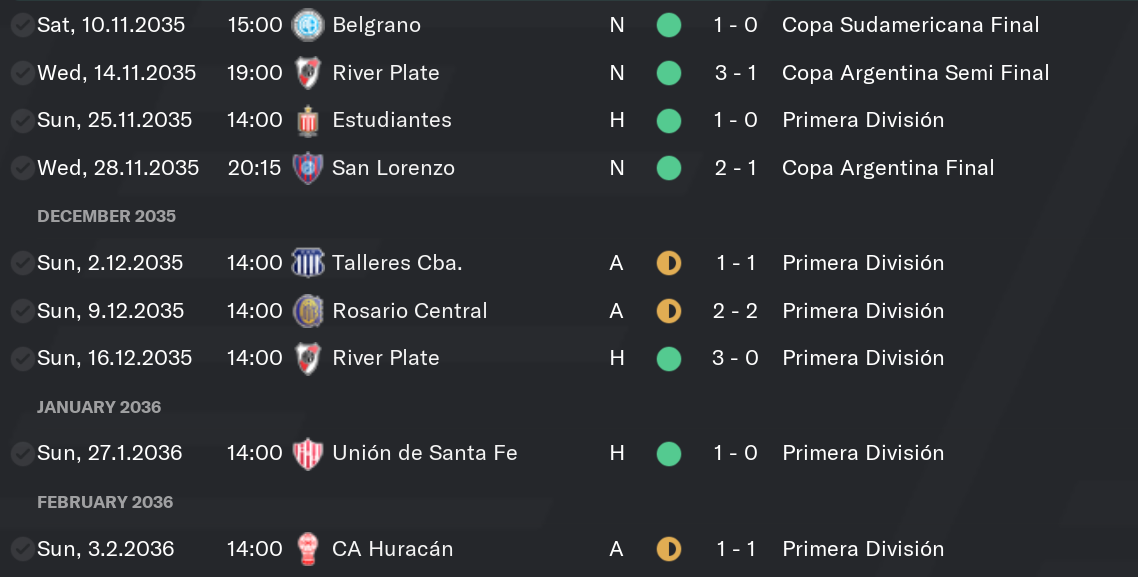 Subsequent months were less spectacular with no further cups to aim for. We won and drew a few more matches,  but no real highlight stands out. This would soon change, because early February we'd meet Flamengo from Brazil in the two-legged Recopa Sudamericana.
Win the League Again?

We won the Recopa in a dramatic fashion. After a 1-1 at home we were up against them away, but we had to wait out the final minutes in Rio when they threw everything they had at us. League form continued well into early March at which point we finally entered the Libertadores, which we had actually come here for. In the group stages we were facing Club Nacional (URU), Montevideo (VEN), and Universidat Catolica from Chile.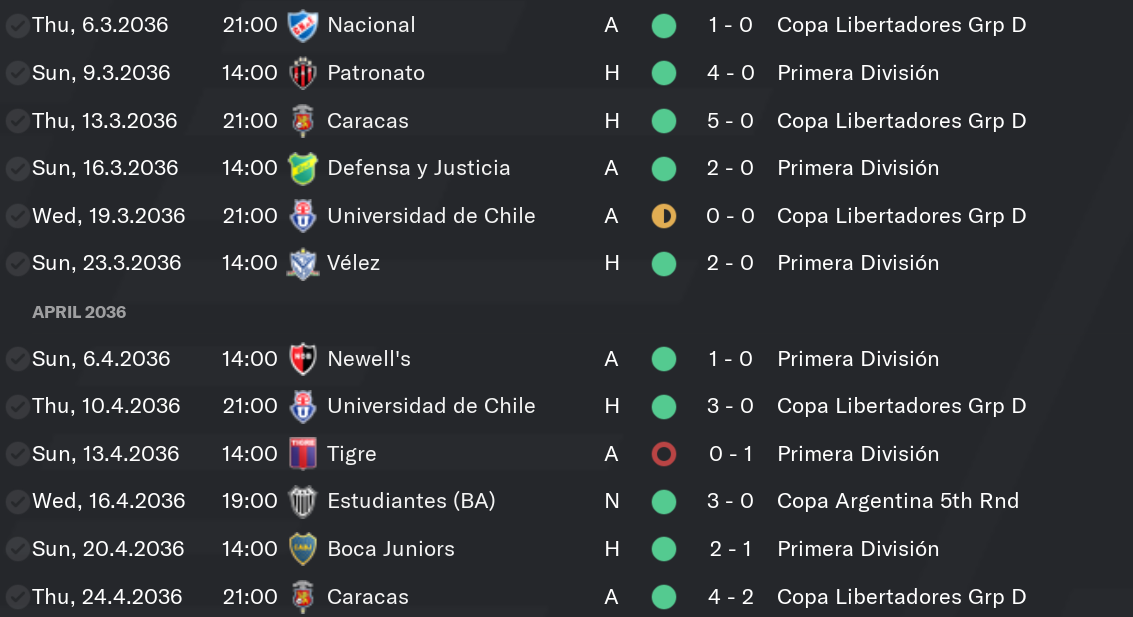 None of these teams would constitute a problem. Unfortunately, we slipped in the league by losing 0-1 away at Tigre. This finished a great run, not having lost a match since early October. And it set us up for a title race along with San Lorenzo and Belgrano.

The most important thing to spot here is: we would play San Lorenzo away on the last day of the season. Does this sound like a great final? — It sure does, although the path until then was rather a snail race than a real competition.

We lost two more matches against Belgrano (again!) and Racing. And every time I felt we had finally lost the title, but then San Lorenzo dropped points as well. And so we entered the last match of the season with three candidates for the title.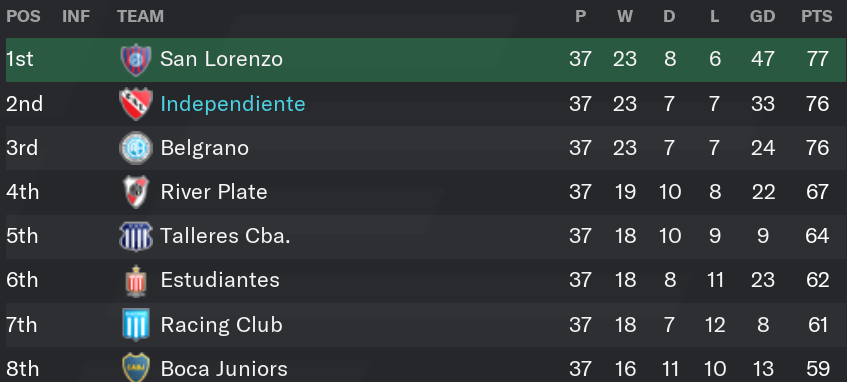 We'd have to beat San Lorenzo away to grab the title. Belgrano had to hope for a draw. San Lorenzo were in the pole position, but also needed to beat us first.

Bamm! We simply did not turn up on this day. Bonnano scored our consolation goal when we were already 3-0 down. This one time, Messi would have the last laugh.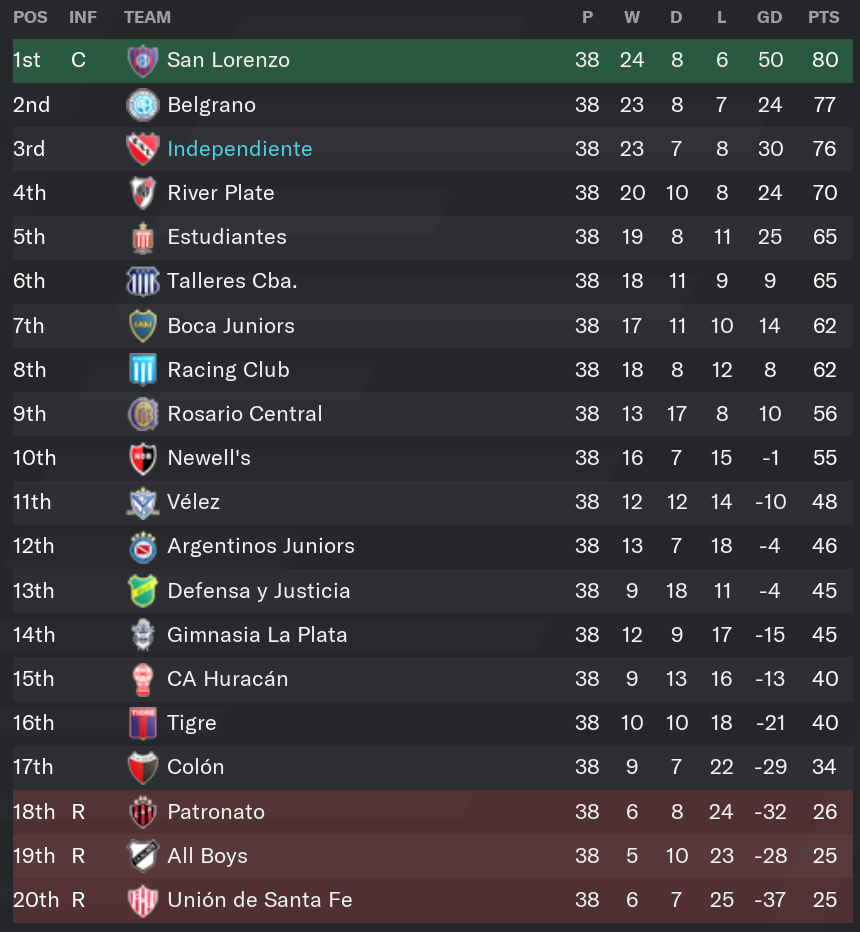 Wrap up 2036
So, one more season down in Argentina. We won the cup competitions, and set ourselves up for a peek at the Libertadores final rounds next season. But right now, there is the ultimate pain of having lost the league title on the last day. And deservedly so – we were so much worse than San Lorenzo that day. Add the fact that Messi decided to leave San Lorenzo afterwards to take the Argentinian national job. I cannot even hit back next year!
Anyway, once the pain is gone, we'll likely be proud of our achievements this year. Let's see if we can obtain the fifth Champions League title next time.

Subscribe to our Newsletter