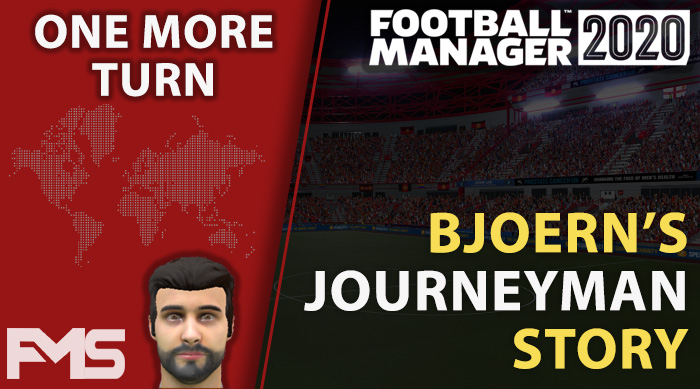 Gabriel's Diary
Pretoria, South Africa, April 26, 2028 — My mobile just got a push notification. CS M'saken managed to avoid relegation from the Tunisian First Division for another year. I still have a couple of friends over there that I exchange messages with. The internet is a small place. I'm glad for them. They've been through a rough patch since I left. 6 managers in two years. Barely jumped from relegation last year. This year at least secured safety one week ahead of schedule. It's not easy for them and my time there hasn't had any lasting effects on the club infrastructure-wise. Money is scarce in Tunisia. I tell that myself whenever I enjoy the wealth I'm seeing down here in South Africa.
South Africa is Fun!
In our last outing we had Gabriel looking for opportunities outside CS M'saken. They had finished 2nd in Tunisia and secured continental football for the coming year. But major players were leaving for little money and Gabriel felt M'saken wasn't the right place for him anymore. Luckily, a few chances popped up and after having talked to Al Ahly from Egypt as well as ES Tunis, I finally accepted an offer from Mamelodi Sundowns in the South African ABSA Premiership. I played two full seasons in South Africa so far and I must say this is one of the more enjoyable countries I've FM'ed in, for various reasons.
First of all, there are a ton of different competitions. Obviously, there is the Premiership with 16 teams, playing a regular season of 30 matches between July and May. Winner and runners-up qualify for the CAF Champions League, the 3rd placed team goes to the CAF Confed Cup. The last team is relegated, 2nd to last plays a relegation playoff in league format against the 2nd and 3rd placed teams from the National First Division. Plot twist: there are 4 periods of 8 and 7 matches each and the winner of each of these periods gets a bit of prize money.
On top of the Premiership there is a national cup competition, the Nedbank Cup. played during the 2nd half of the season. It's a regular cup with all teams from the country participating. The winner qualifies for the CAF Confed Cup.
The ABSA Premiership also runs a league cup, the Telkom Knockout. which is played in the 1st half of the season. The 16 teams of the premiership participate in single-match knockout rounds.
As those aren't enough competitions, there's yet another one: the 8 top teams of the previous season take part in the MTN8 cup. The competition starts during pre-season and runs until early October. The quarter final matches the 1st vs the 8th of the previous season, 2nd vs 7th, 3rd vs 6th, and 4th vs 5th. The semifinals are played over two legs, whereas quarter final and final are single-round matches. Riddle me this.
And for those that still don't have enough, there is the Carling Black Label Cup, an annual pre-season match between Soweto teams Kaizer Chiefs and Orlando Pirates.
Given these many competitions, feature congestion is indeed a thing in South Africa. As an example, here's my December 2027 schedule of 9 matches and such months regularly happen if you manage to keep your team in the knockout competitions.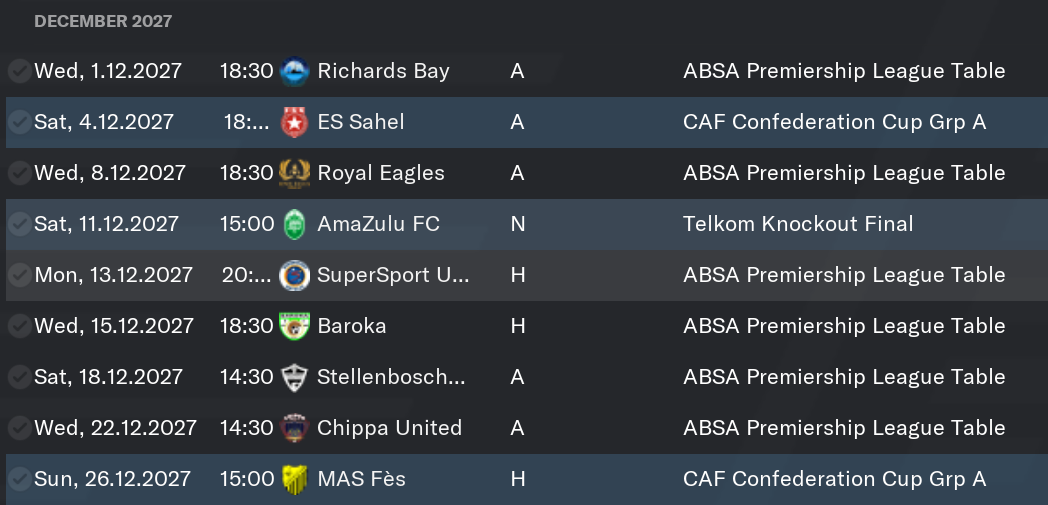 Competitions aside, the South African leagues have other benefits. Work permit restrictions exist (reflecting the struggles to get a real job in ZA as a foreigner) and are challenging: you can have 5 foreign players registered for the league. In order to get a work permit, they need to have played 60% of their national team's most recent matches. Appeals are possible for young players with huge potential. Extending a contract also extends the work permit if the player has played 70% of your team's matches last year. I didn't run into problems with this yet (focussing on younger players and my appeals all went fine), but I can see this being a problem going forward. Let's see.
Last, but not least, I enjoy team names in Africa in general and in South Africa specifically. I come from a footballing culture where teams are usually called FC CITYNAME or CITYNAME United. When I then look at my schedule where I'm playing Kaizer Chiefs, Orlando Pirates, Black Leopards, and the Royal Eagles — this is quite a change, and I think for the positive. The more conservative reader may as well chose Maritzburg United or Stellenbosch FC to stick with what he's used to. :)
Going (Sun)Down(s)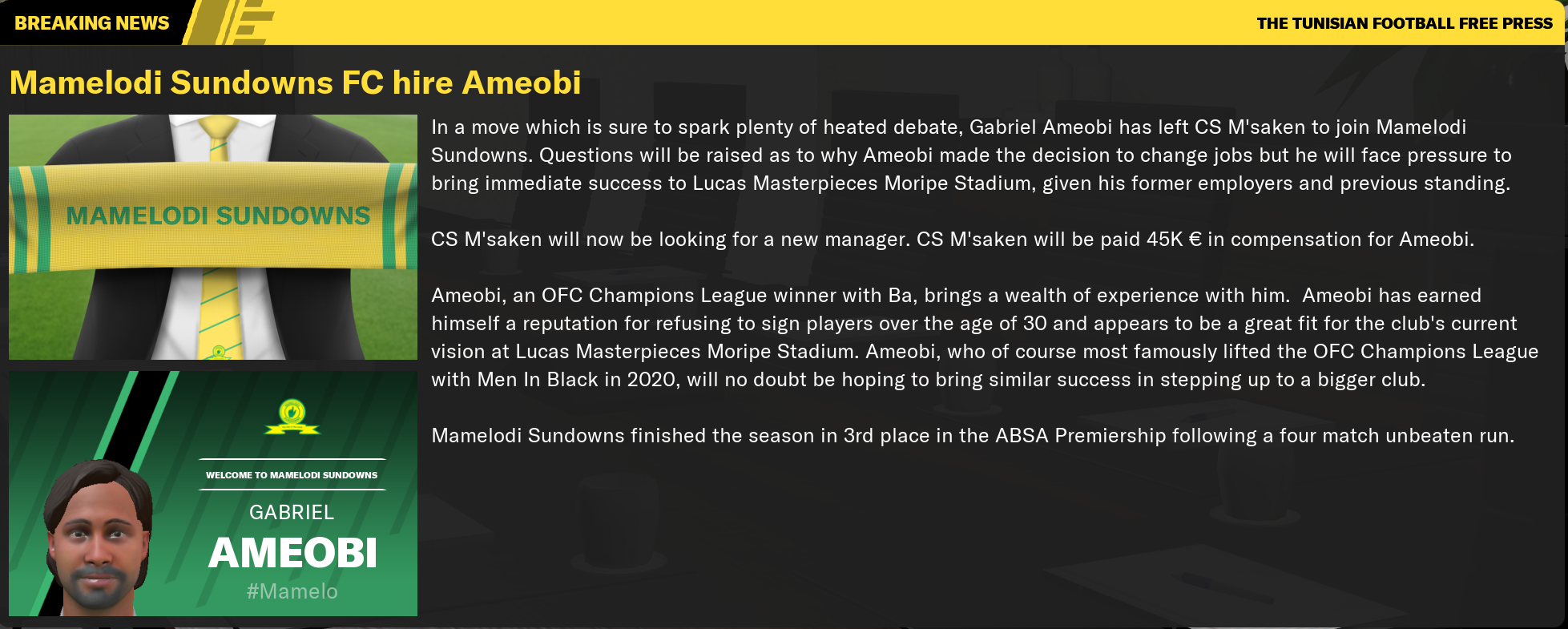 This post is going to cover my first two seasons at Mamelodi Sundowns (spoiler alert: I'm still employed by them). Why two? Turns out there are a lot of same-sames here. I took over Mamelodi after they had finished third in the 2025/26 league, won the Nedbank Cup, and lost the CFA Champions League final with 1-3 against Egyptian side Ismaily. Given they were rated the third-best team behind Kaizer Chiefs and Orlando Pirates, it was odd they were even looking for a new manager. Nevertheless, the job was available, so I grabbed the opportunity.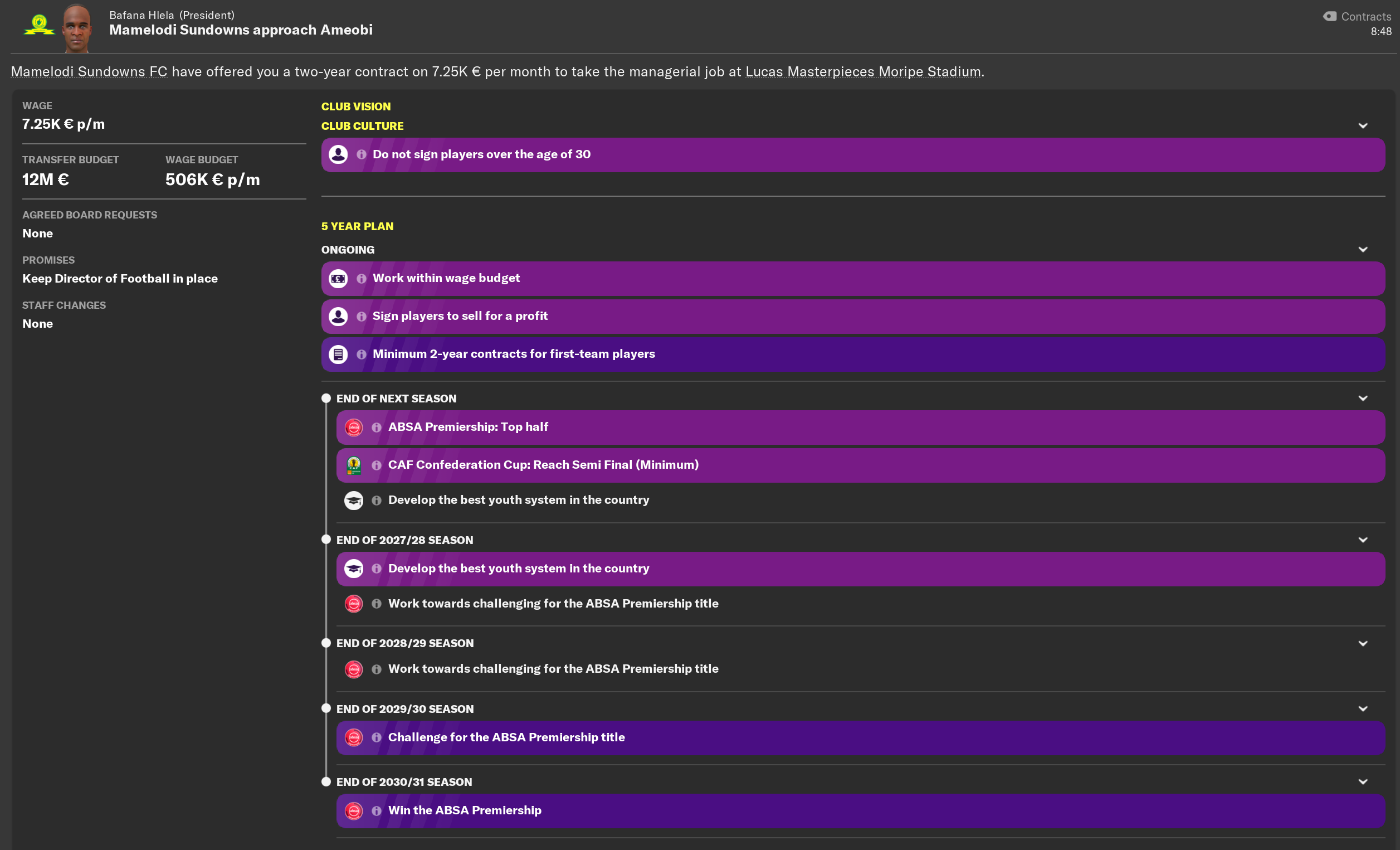 The club's board doesn't value the domestic league too much — they are only expecting a top-half finish in our first years. Instead, they are looking for cup success, expecting a semi-final in every cup competition including the CAF Confed Cup. (This got even worse in season 2 where they were expecting us to reach every final. At least they had the audacity to accept that sometimes the other teams might win as well.)
On my first day at work, I got a bit over-excited. The team was composed of mostly promising young players under 23 and media expected us to finish 3rd in the league again. On top of that the board had made available the unprecedented transfer budget of 11 million EUR and I still had nearly 200k of my 500k monthly wage budget available. So I went shopping…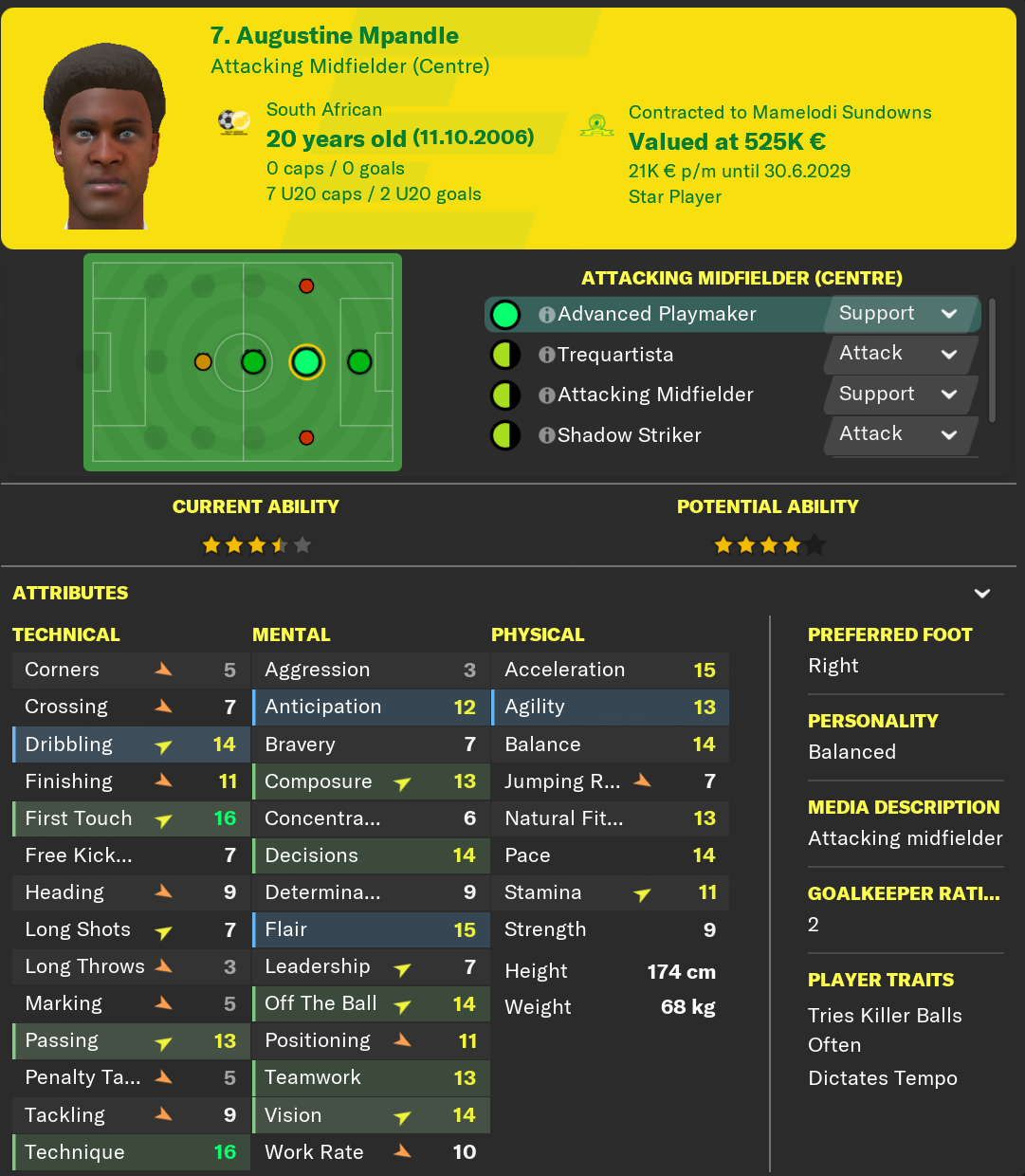 I paid Orlando Pirates 925k EUR for Augustine Mpandle. Initially intended to play him as an AMC, but later I decided to pull the team a bit back, so he ended up playing most matches as a Mezzala (A).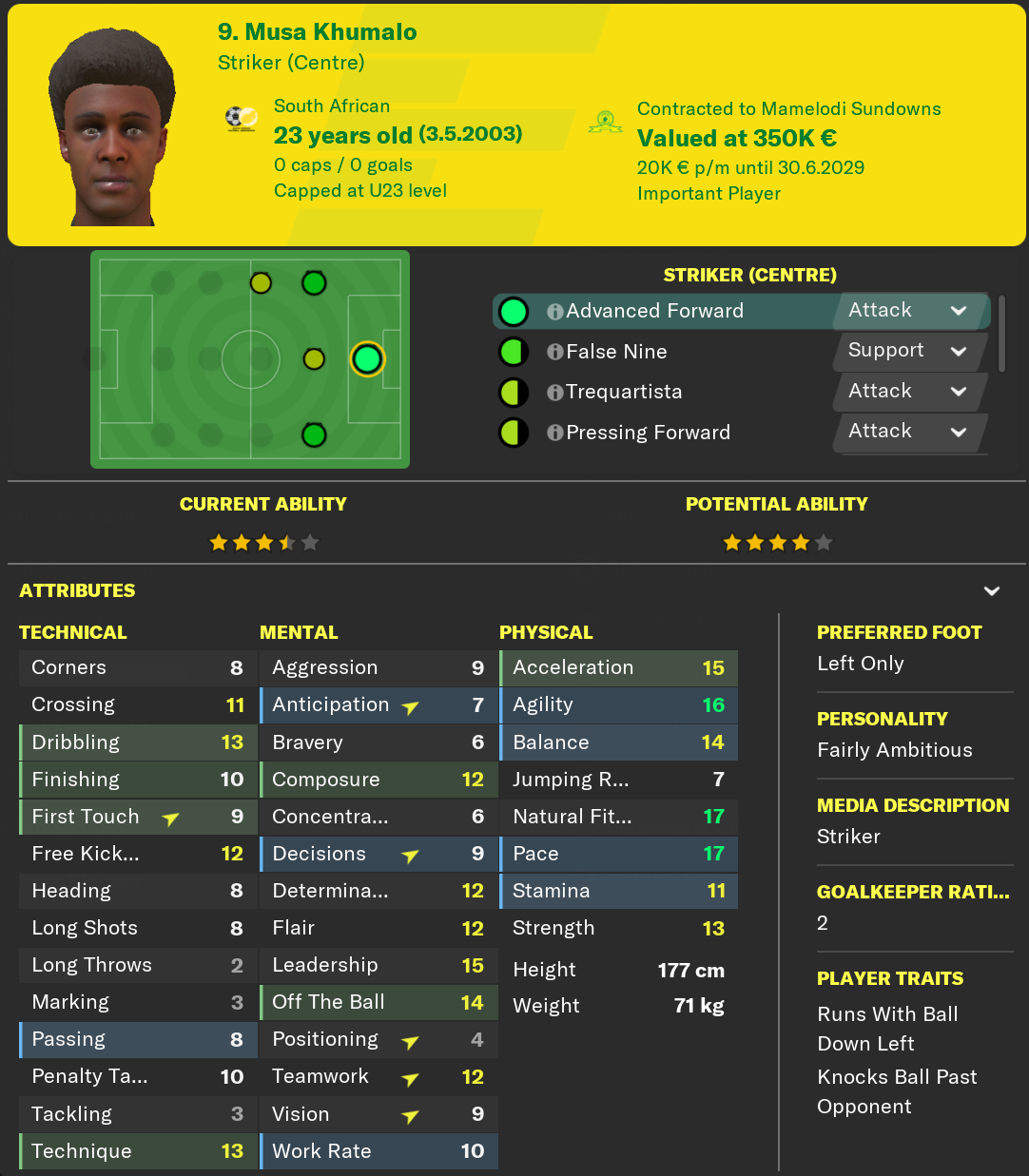 I brought in Musa Khumalo as a secondary striker for my single-striker system and paid 500k, once more to Orlando. (Mamelodi already had  a good first-choice striker at the same age and skill level). He played okay in the first season, but really took off in season two where he scored 33 goals across multiple competitions and thus became the first striker in Gabriel Ameobi's career exceeding 30 goals in a single season!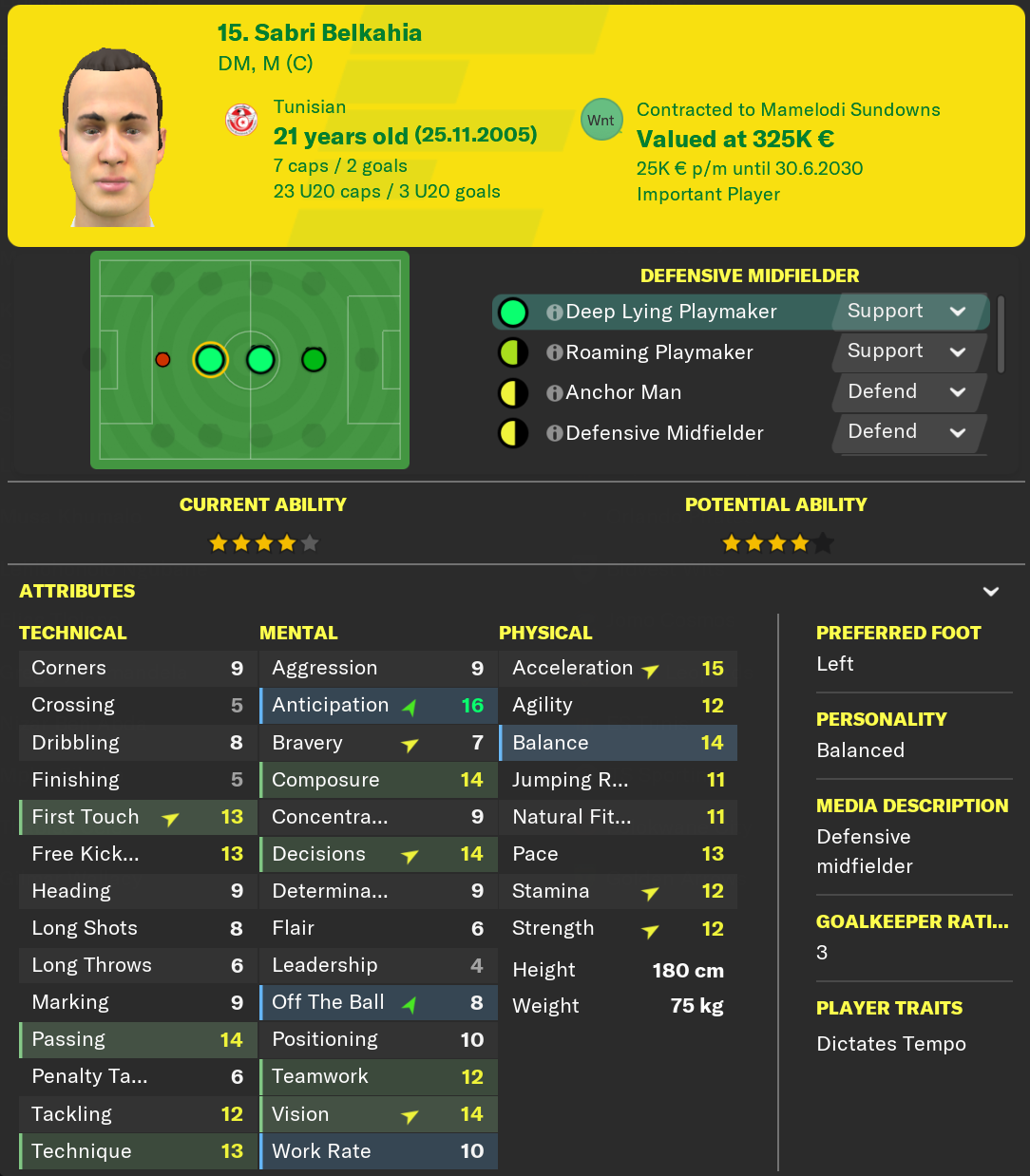 Sabri Belkahia had caught my eye back in Tunisia where he played for ES Sahel. He was the first one I tried my luck at the work permit system and easily got accepted for his sheer talent. He also only cost 400,000 EUR, which will be important a bit later.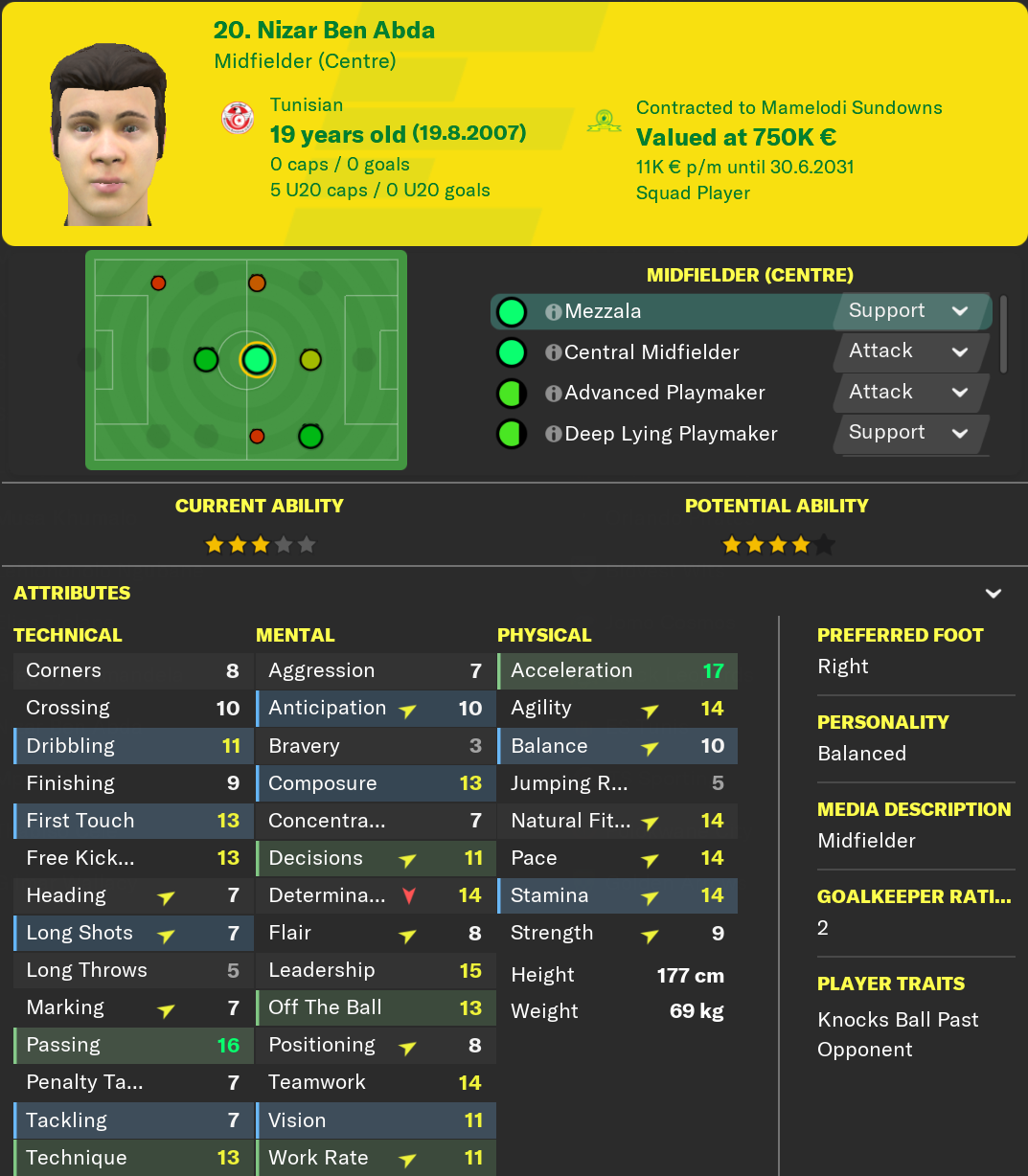 Nizar Ben Abda was Tunisian player number two, coming in for a record 1.3 million EUR from ES Tunis during my first winter break. Although his strengths were in CM, I mostly played him as an inverted winger in the AMR position and he has become an essential player. All in all I spent less than 6 million EUR out of the available budget in my first season and was quite happy with the turnout.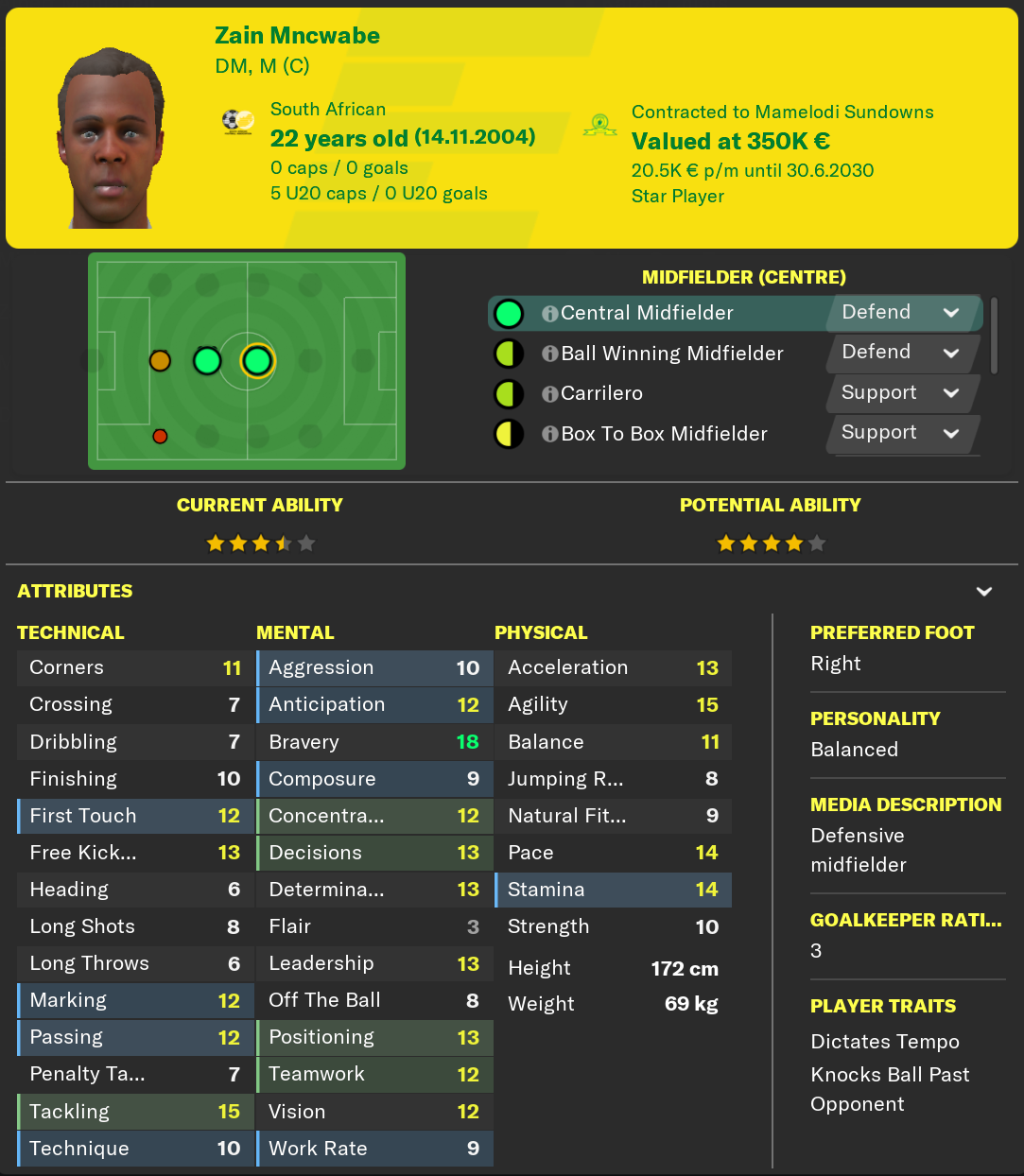 Zain Mncwabe was a player my scouts highlighted early on, but it took me a season to find a suitable spot for him in my team. I'm playing im as an Anchor Man and actually sent off another player out on loan to make space for him because he looked soooooo good. That's what happens when you have too much transfer budget….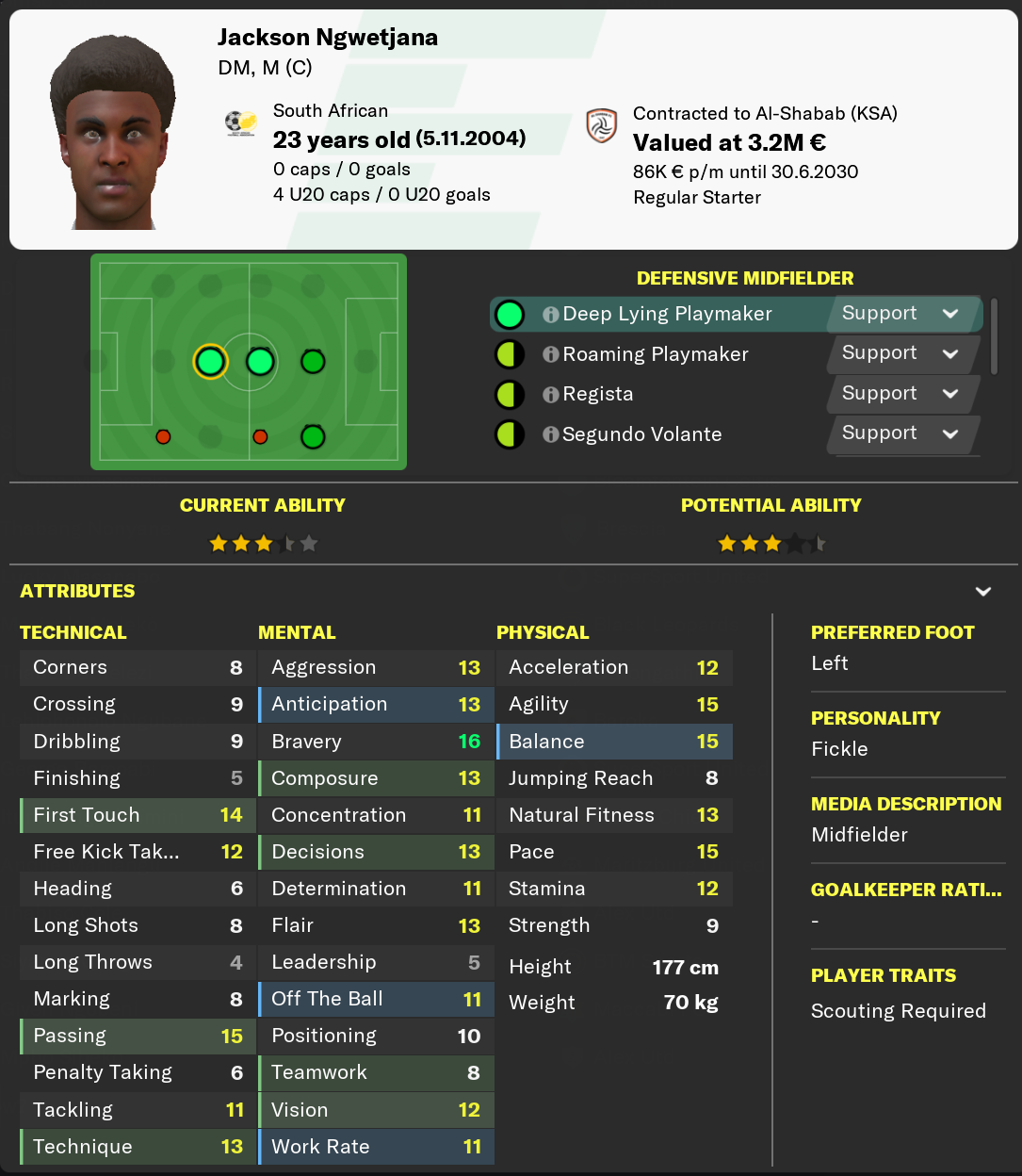 Jackson Ngwetjana was at the club when I arrived and played a great first season in playmaking positions. He requested a transfer to a bigger club (Saudi Arabian clubs are really annoying…) and I kept him in Pretoria (that's where Mamelodi are from!) by promising a title challenge. Unfortunately, we only finished 3rd in my first season at Mamelodi and Jackson felt this did not count as a challenge. (He was probably right.) So, I sold him off to Al Shabab for the first offer they came in with, and so he only brought in 325k EUR. Looking at his over 3 million price tag one year later, I feel I should have gotten more out of him.
As I was pondering who to bring in as replacement with similar skills and a similarly low price tag, my eyes flew over my scouting spreadsheet and stuck to another player that I knew very well from my Tunisian times…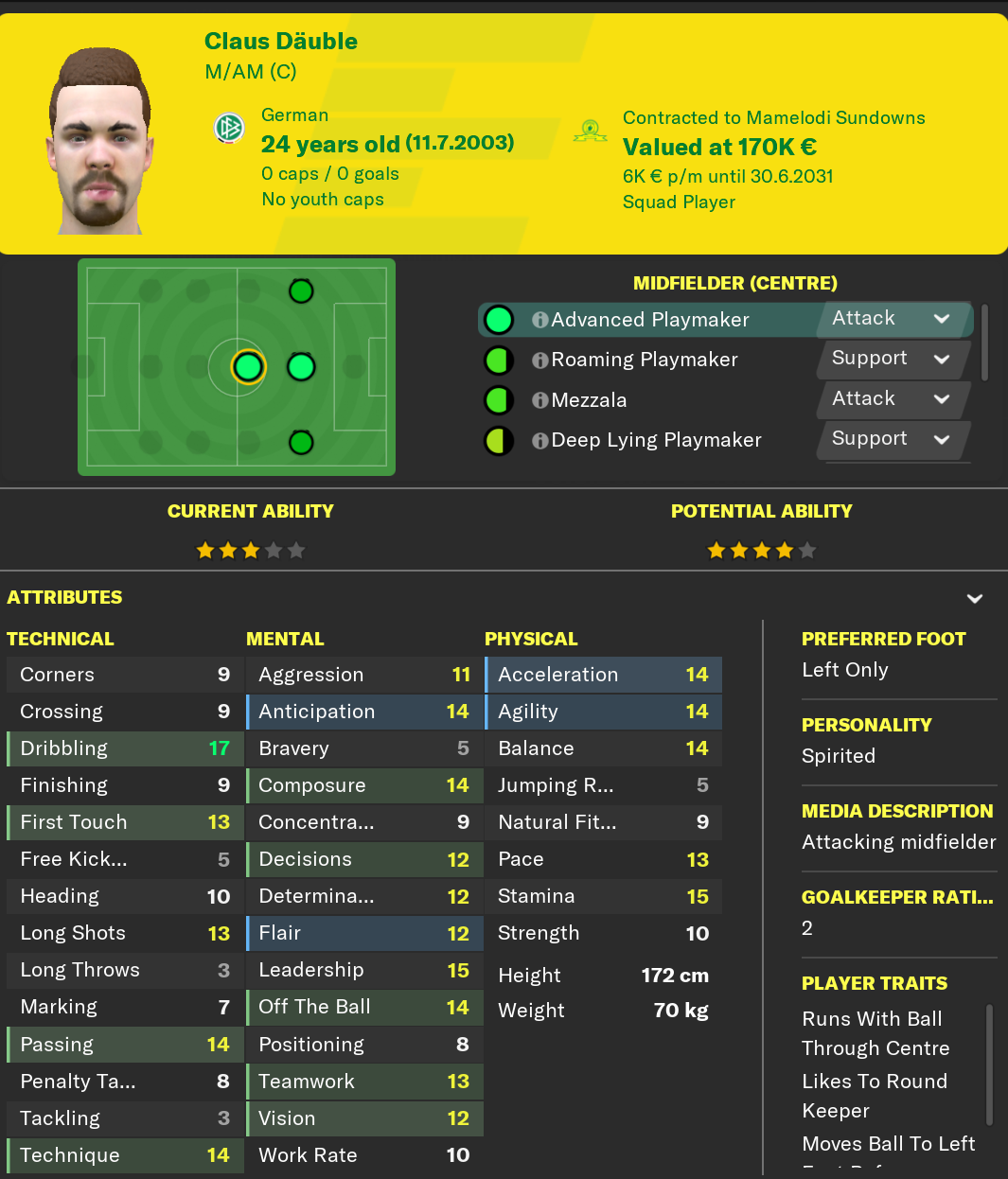 … Claus Däuble! Claus had joined ES Sahel for a year and won the Tunisian Premier Division with them. Now he was ready to move on and actually available for less than 100k EUR! I jumped on the chance to get him, especially for nostalgia reasons because we're now at our third club together. Unfortunately for him, I used Belkahia as the playmaker and him only as a backup initially. But given the feature congestion, even my backups get playing time similar to regular starters in other countries, so he was happy.
So much for the wheeling and dealing in South Africa. As I already said, we finished 3rd in our first season. On top of that we also won the 2027 Nedbank Cup with a 3-0 win over Golden Arrows!

Unfortunately, those successes weren't good enough for quite a bunch of my players and they wanted to move on. This included 3 of my central defenders, both key central midfielders, as well as a winger and a striker. As I wanted to build an even better season on top of our first season successes, I really didn't want all of my top players to leave so I rejected all transfer offers and even rejected the players when they asked to be transfer listed. Technically, that worked. I didn't have to sell them, the players went grumpy, but being mostly professionals, they didn't play much worse than the year before. (Their training ratings deteriorated a lot, but their match ratings didn't noticeably decrease.)
I had not thought of my board's expectations, though. By winter of the 2027/28 season, they became very explicit: they wanted me to sell players for a profit and here I was spending way more money on new signings again instead of making a profit in the transfer market. So in the winter break we reconsidered. Sabri Belkahia went to Bordeaux for 2.6 million (a 2.2 million profit within a year!), Augustine Mpandle went to Al Shabab for 2 million (1 million profit within a year). Defender Mabizela (not even showing him here…) raked in another 400k. So with 3 sales we made 5 million in the transfer market and satisfied our board. Also, we found pretty decent replacements all three of them for less than 1.4 million in total: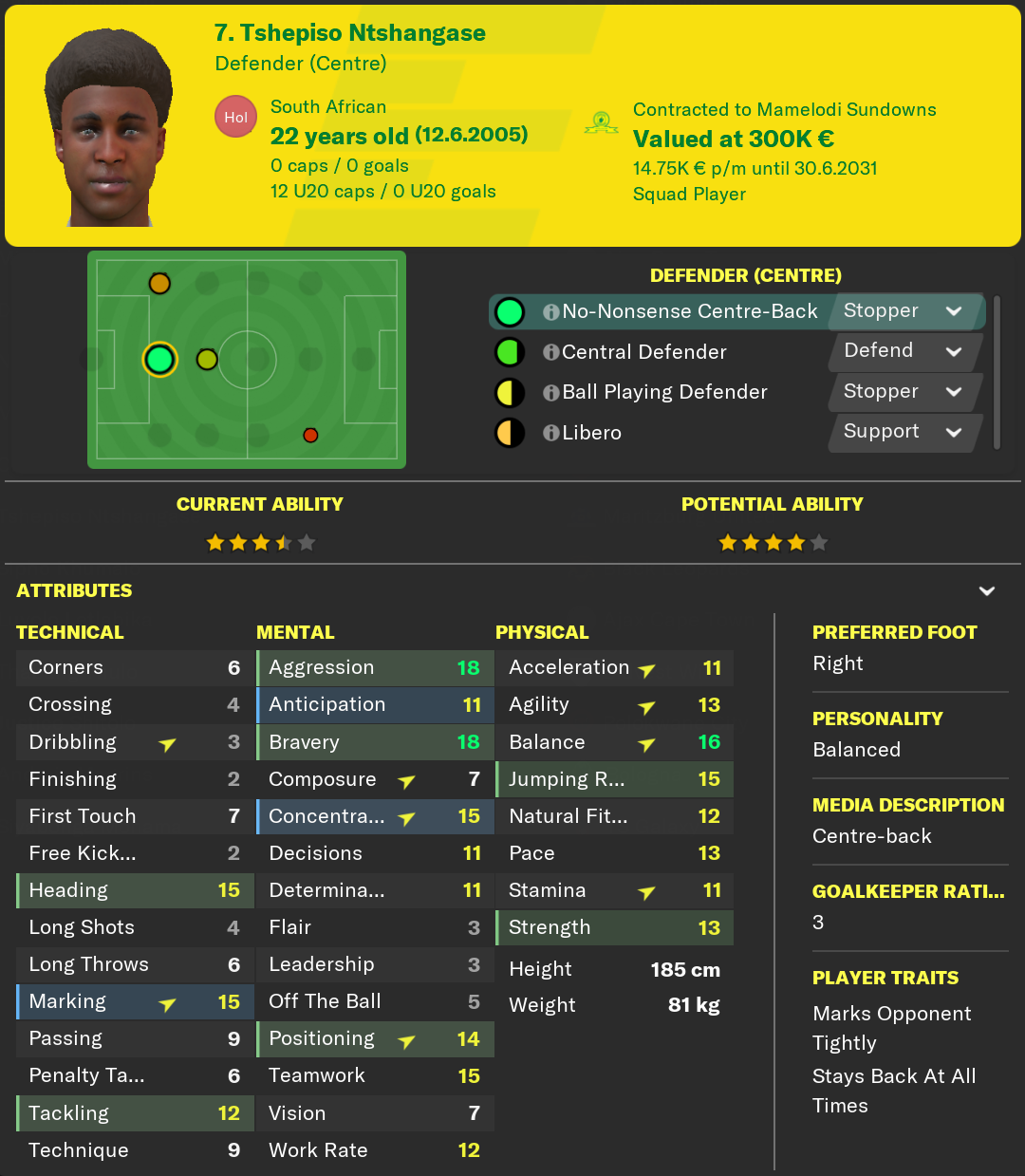 Tshepiso Ntshangase is more of a CD than Mabizela ever was and came in for 325,000 from Maritzburg United.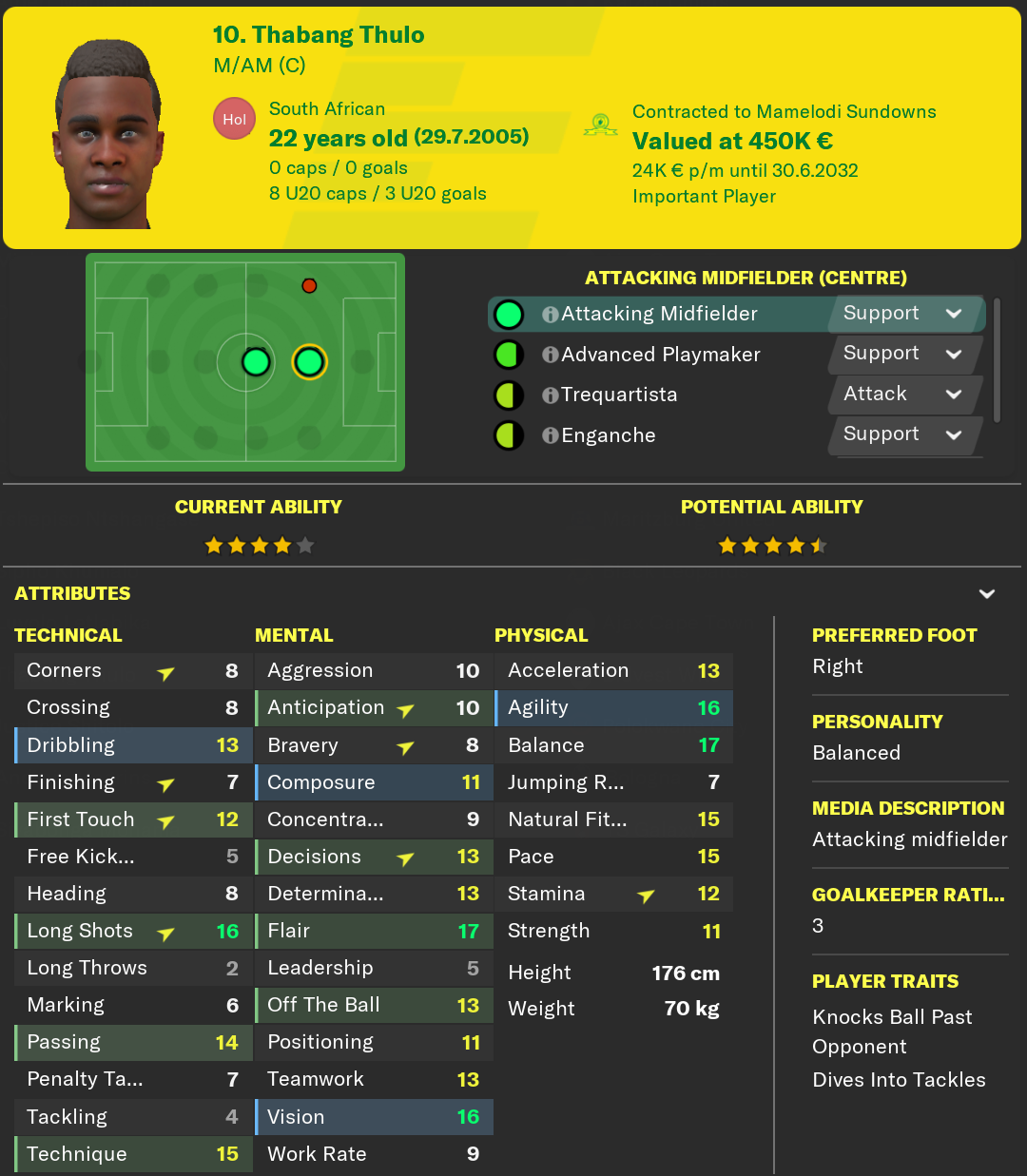 Thaband Thulo came in for 750,000 from Bidvest Wits to replace Mezzala Mpandle.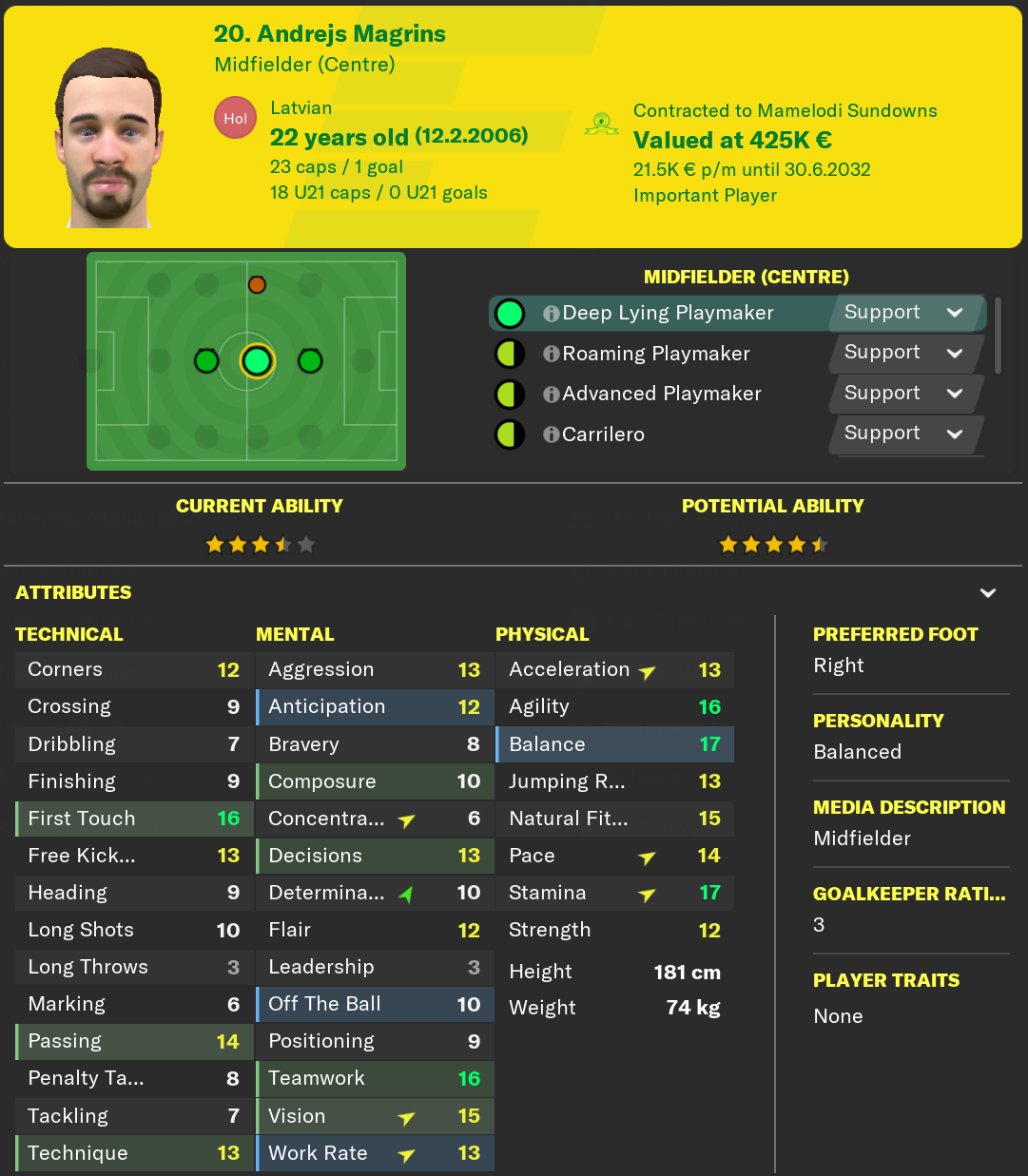 And last, Latvian national player (he actually met the 60% national team matches requirement for the work permit!) was on a bargain — Bologna let him go for 325,000 and he seemed an upgrade for the playmaking position even compared to Belkahia.
There's some lessons to be learned about managing in South Africa in all those player images: First, you want a decent scouting setup, because if things are well, players will want to leave for higher-paying leagues. There's only so much you can do about it — unless you finally qualify for a Champions League yourself. So, better be prepared and have the alternative options already scouted. Second, when starting your next youth challenge, consider South Africa. There is some talent here (and you can fill your 5 foreigner spots with great youth players from elsewhere if you want), and making a bargain seems easy as long as the richer leagues in Europe and Arabia have their eyes on you. Third, if your board insists on selling players for a profit, play along. It won't be hard if you keep points 1 and 2 in mind.
Competing in South Africa
We also played football in those two years! I'm not going to bore you with thousands of match results. Suffice to say that I had an overly offensive tactic in the beginning that earned lots of chances, but failed to score a lot. I was so concerned, that I took the liberty of asking for help from the SI community, who then pointed out my overly offensive approach. I tuned things down a bit and was fairly happy with the results I was getting afterwards. We still lost the occasional match even if we were supposed to win. But I think this was mostly due to my players just being tired of playing 50+ games in a season.
We did quite well in the national cups. We won the Nedbank Cup in 2027 and managed to be victorious in the Telkom Knockout in 2027 (season 2) as well, where we bet AmaZulu FC with 3-0. We managed another Nedbank Cup final in 2028, but lost to Orlando Pirates (0-1).
Internationally, we played two years in the CAF Confed Cup. The first year was a bit embarrassing – we easily reached the quarter final, where we met Zamalek from Egypt. We got a 1-1 away and led 1-0 in the return leg at home until they managed to equalize in the 86th minute. The game went to penalties and we lost.
We did much better in the 2027/28 season! First of all, we managed to get a record win during the qualification rounds by beating The Panthers from Kenya with 15-0. Away from home.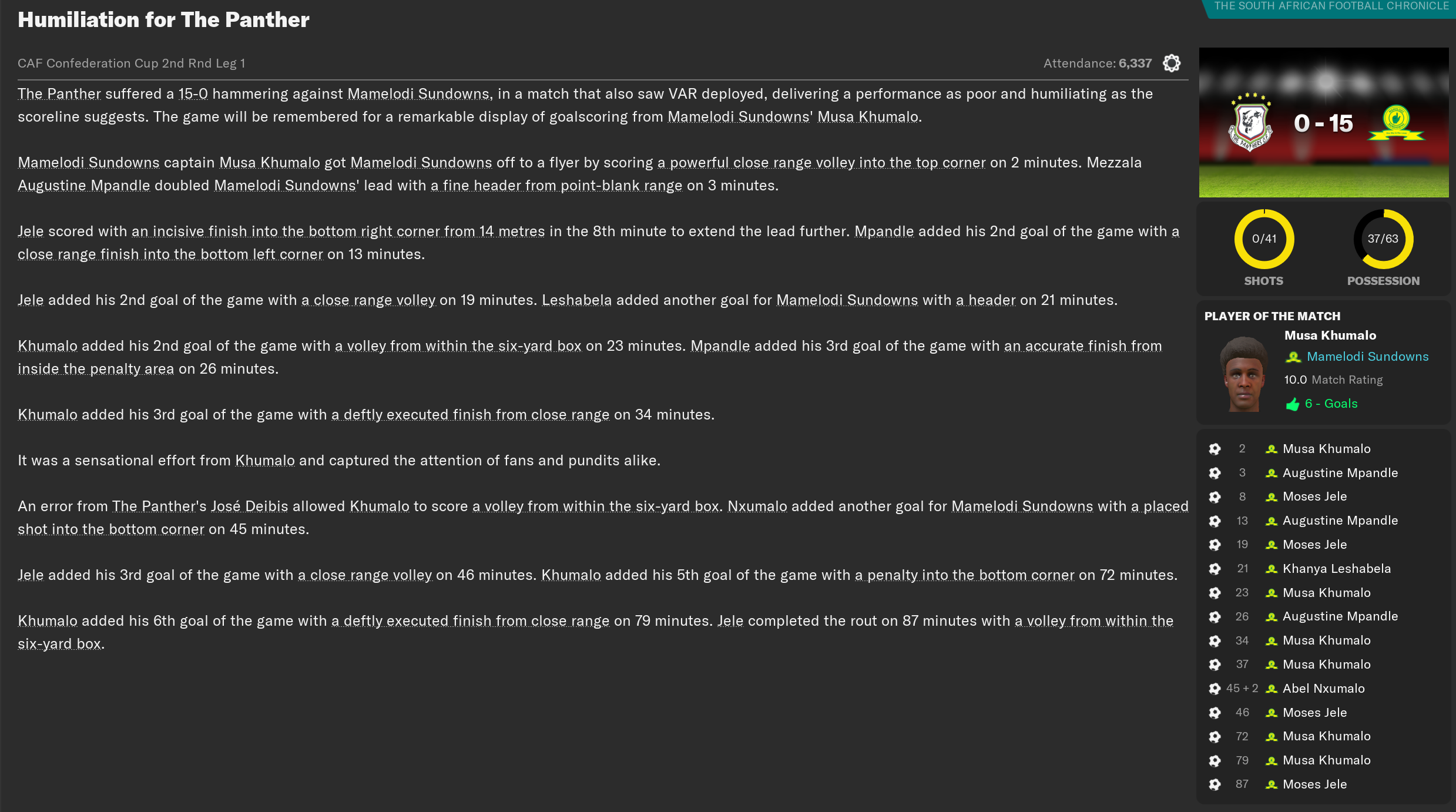 Second, we blasted through to the final, where we met Club Africain, another Tunisian team. Unfortunately, we struggled to find the goal and eventually lost the game 0-1. So, in total, we went into four cup finals over my two seasons. Won two, lost two, not too shabby.
Still, I'm trying to win a hexagon challenge here and for that we need to first qualify for the CAF Champions League. Once in, I consider us to have chances as South African teams are doing quite well in the CL, often pushing at least into the semifinals. Kaizer Chiefs even won it in 2028.
After some struggle and lots of hairs pulled out of my head, I can proudly declare that we finally managed to reach this qualification for the 2028/29 season in the best way possible: we won the ABSA Premiership! On the last day! Because we won while Kaizer Chiefs only drew their match! The 64 points we accumulated over the season are actually the highest point tally any team in the ABSA Premiership ever needed to win the league (in my 10 years of simulating in FM20). And this also means that once again, Claus Däuble has won more national titles in different countries than Gabriel Ameobi (because he won the league in Tunisia, remember?). That man is living the life!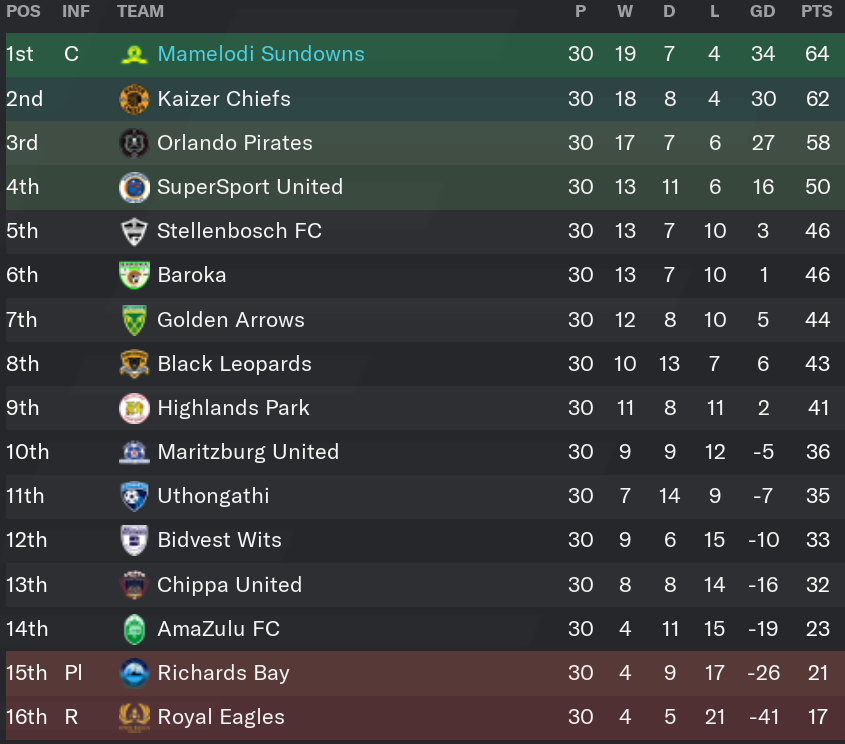 Going forward, the plan seems clear: keep the team together as possible, bring in improvements if they appear, maintain our position and go to win the CL. Where, if not with Mamelodi? I don't think I want to move to yet another African team anymore. Come on, you nickname-less Yellow-And-Greens!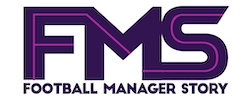 Subscribe to our Newsletter