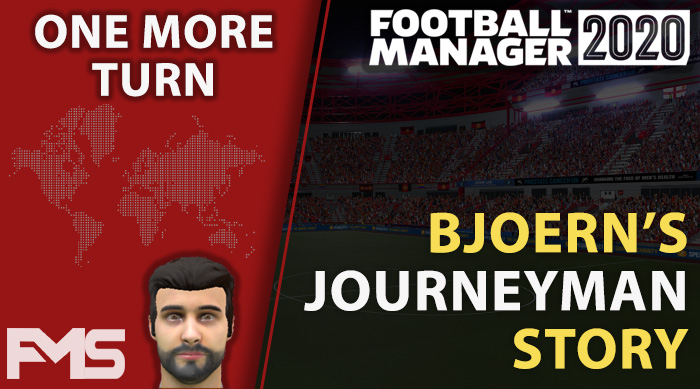 Gabriel's Diary
Alexandria, Egypt, June 2nd 2023. I'm getting more nervous every day. This unemployment is killing my nerves. I need to leave and get a job. If football doesn't show me a path back in, I'll move back to Europe and become a janitor. Or truck driver. Whatever. Just do something besides reading the news day in and out. This has been going on for more than a year now!

Egypt doesn't seem to yield chances right now. The El Hodoud debacle has burned my name and no professional club is going to take the chance with me. Luckily, I seem to have some options in Tunisia. Flying over there next week to interview with two clubs, Kasserine and CS M'saken. Nothing fancy, 2nd division clubs. But at least they are professional in contrast to some of their competition. I really don't want to manage part-timers anymore, even if that was the norm back in Fiji. (Heh, just read that Ba FC finally decided to turn professional this year. So there's this.)
The Journey through North Africa
It's been a while since my last status report on my FM20 hexagon challenge. I succeeded winning the OFC Champions League with Ba FC in Fiji and then decided to move forward to Africa. Half a season trying to save Haras el Hodoud from relegation from the Egyptian Premier League ended in a defeat. Since then, I spent a year simulating unemployment and not landing a new job. This was made more difficult by the fact that I was the victim of an FM bug where clubs would fail to recognize my reputation and experience. I am happy to report that the FM devs acknowledged and fixed the issue in the pre-Christmas patch. I then decided to cast my nets again and try finding a job in one of the North-African leagues as these tend to have most success in the continental competitions in the last years.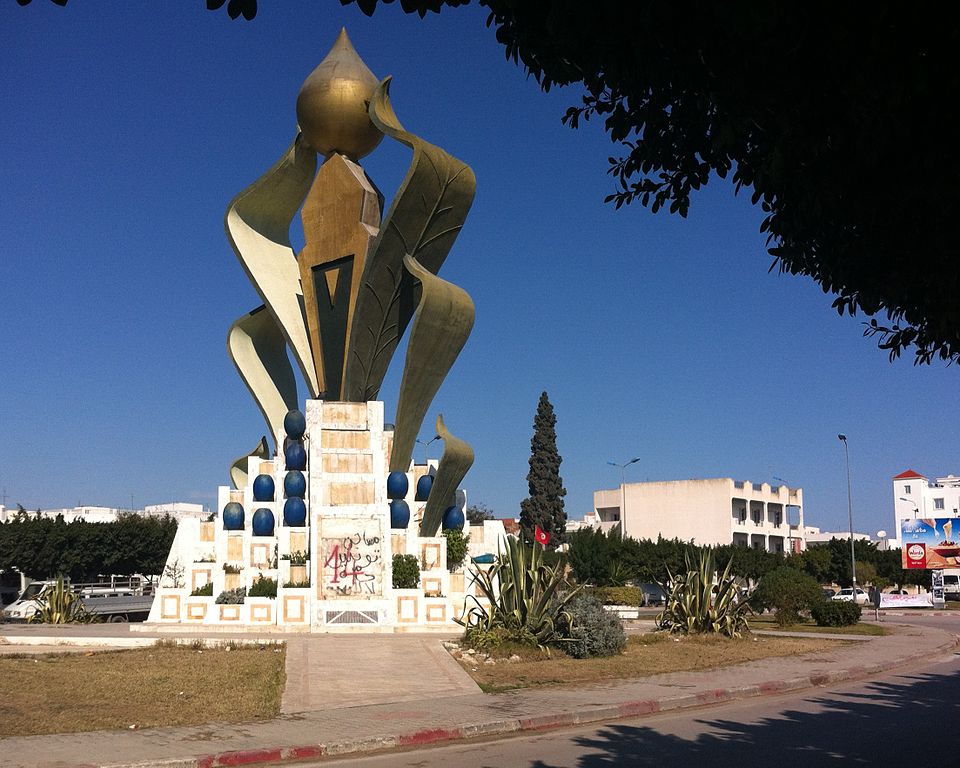 After some dabbling, I finally found a new position, managing CS M'saken in the Tunisian League Professionelle 2, Group B. Tunisia is a good location for this save as its football teams seem to be strong compared to the rest of Africa. Tunisia ranks 3rd among African national teams, and with ES Tunis, ES Sahel, and CS Sfax, the country has three clubs in the top 10 of African football clubs by reputation. ES  Tunis have won the CAF Champions League in both, 2018 and 2019. Mid-term, my ambition is to land a job at one of the top 1st division teams. But I will have to build more reputation first.
CS M'saken were going manager-less into the upcoming 2023/24 season and gave me a one-year contract. In contrast to the Egyptian job, people were even happy because my reputation was better than the club's as well as the players', so I at least earned some respect upfront. Media and board expected a top-half finish in our division of 9 teams.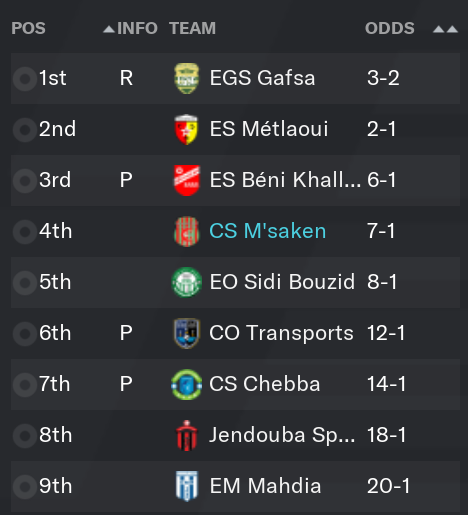 Similar to my previous job in Egypt, I found the club lacking any backroom staff. Luckily, this time there was a month and a half to sort things out before the division actually kicked off. This also allowed me to "scout" players. Without a real scouting team in place, I resorted to the favourite method of every Lower League Football Manager: I invited tens of unemployed footballers to trials at my club and this way filtered out the cream from the crop. (New in FM20: the board will not allow you to have more than 30 trialists at the club at the same time. Sounds reasonable, cannot complain.)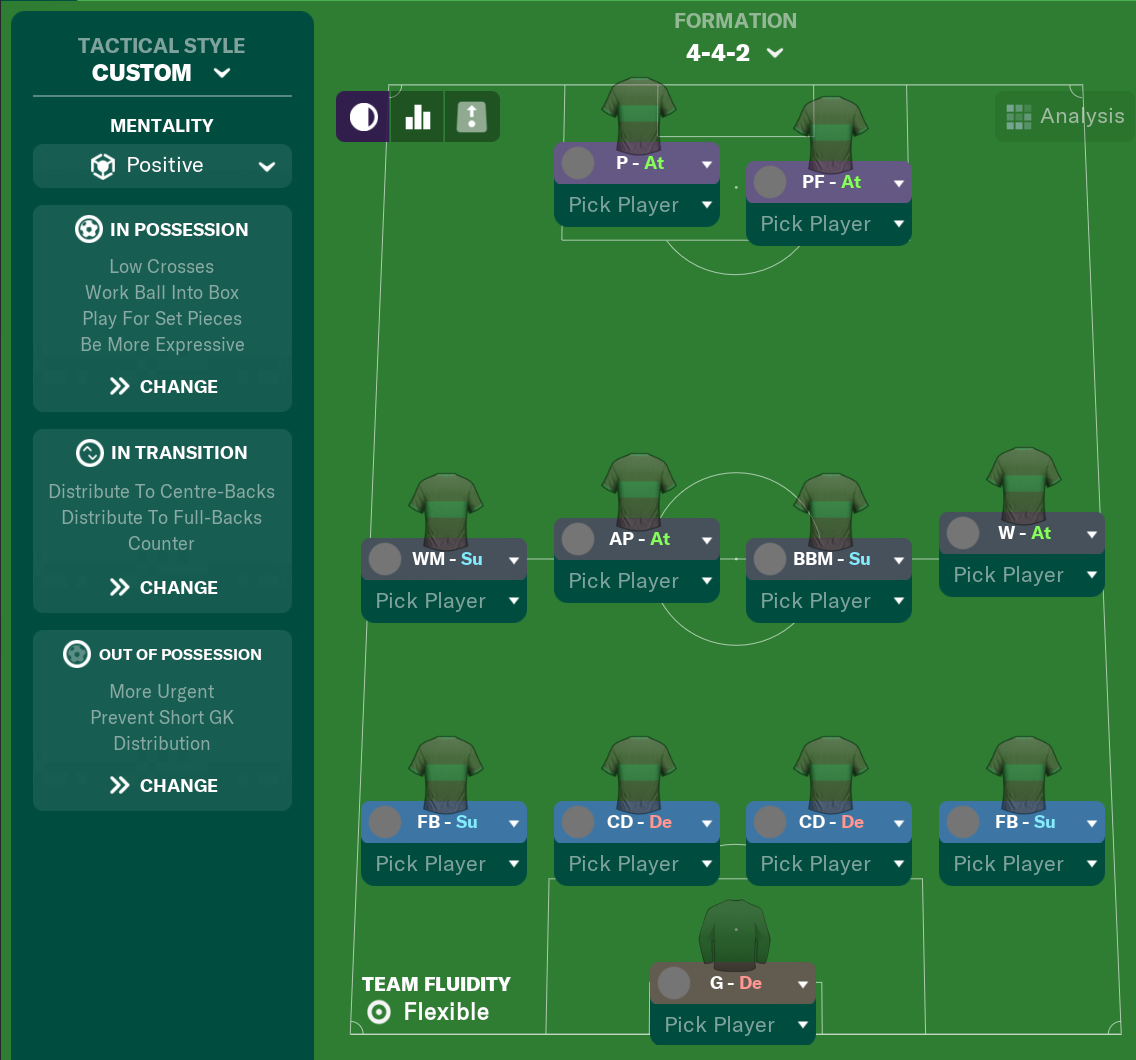 Tactically, I decided to not be too fancy and go for a variation of the common 4-4-2 to keep things simple. I defaulted to a positive mentality without giving away too much space by not pushing the defence too high. The idea was that I would have a chance to win in most games. Still, going gung-ho might not help because we are in a fairly low rep league here and players in the back are not actually what I would call reliable enough to deal with direct balls over the top. I also intentionally selected 'Work into box' and 'Low crosses' because I was unable to find a striker with decent heading ability, so I figured I'd rather go for shooting the ball with the foot.
Squad Building
After having hired a bunch of my trialists and having found the occassional gem in my youth setup, I was ready to use this tactic around a foundation built from these players: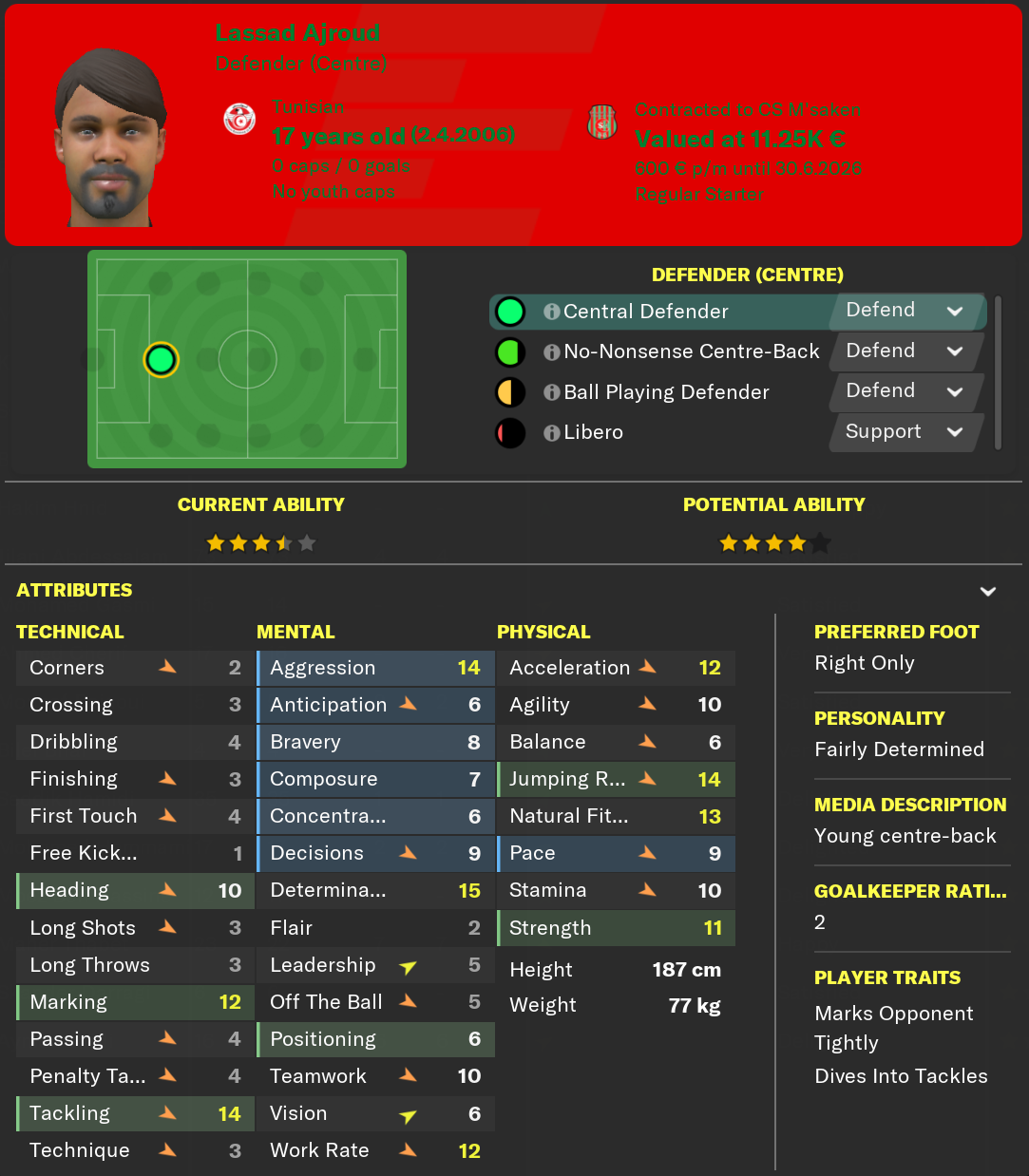 Lassad Ajroud would be leading our defense even though he's only 17. Decent technical and physical attributes for this division paired with mentals you can build upon.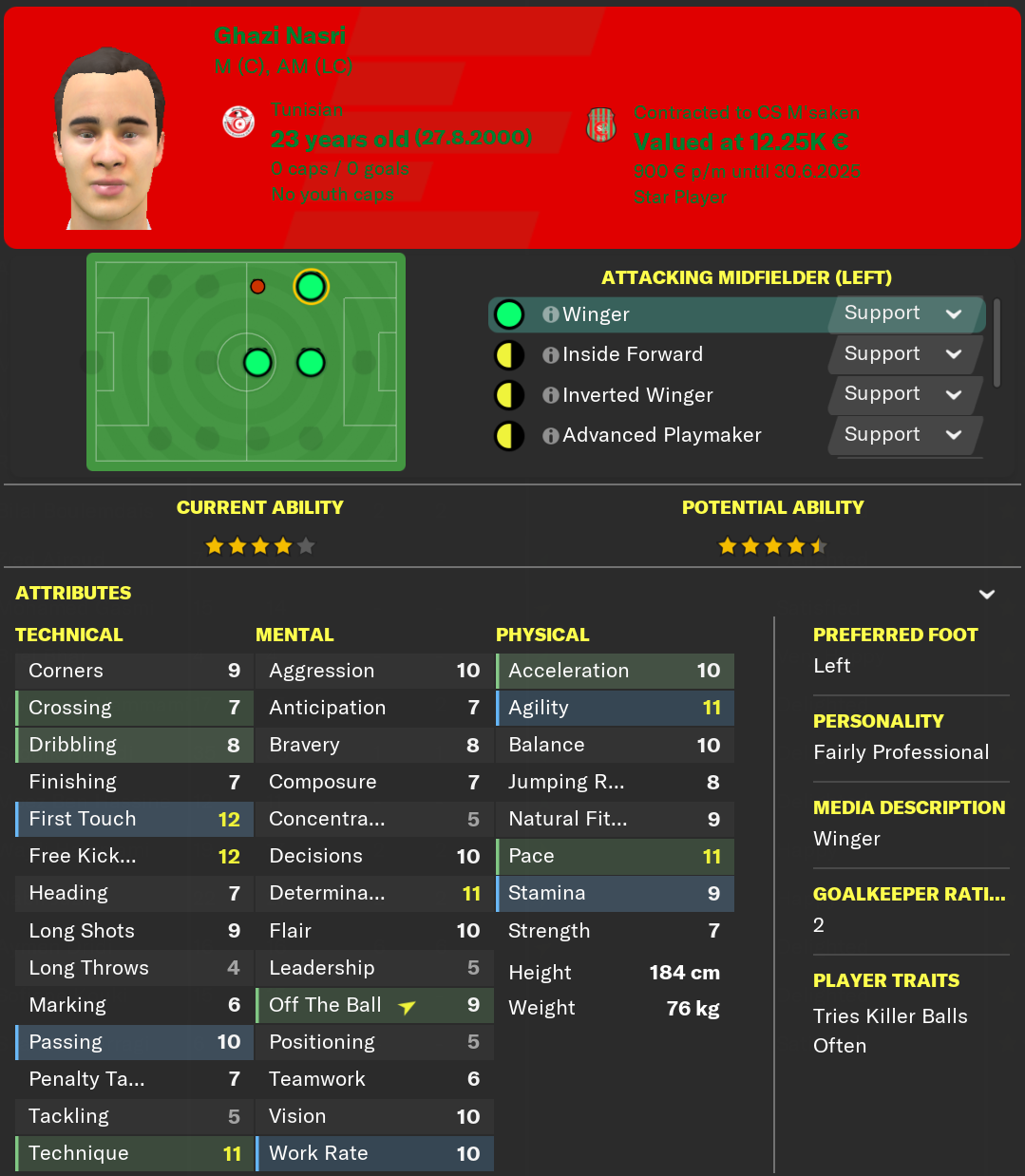 Ghazi Nasri doesn't look as exciting as Ajroud, but ended up playing a good role in the AP(a) role, setting up quite a bunch of goals in the end.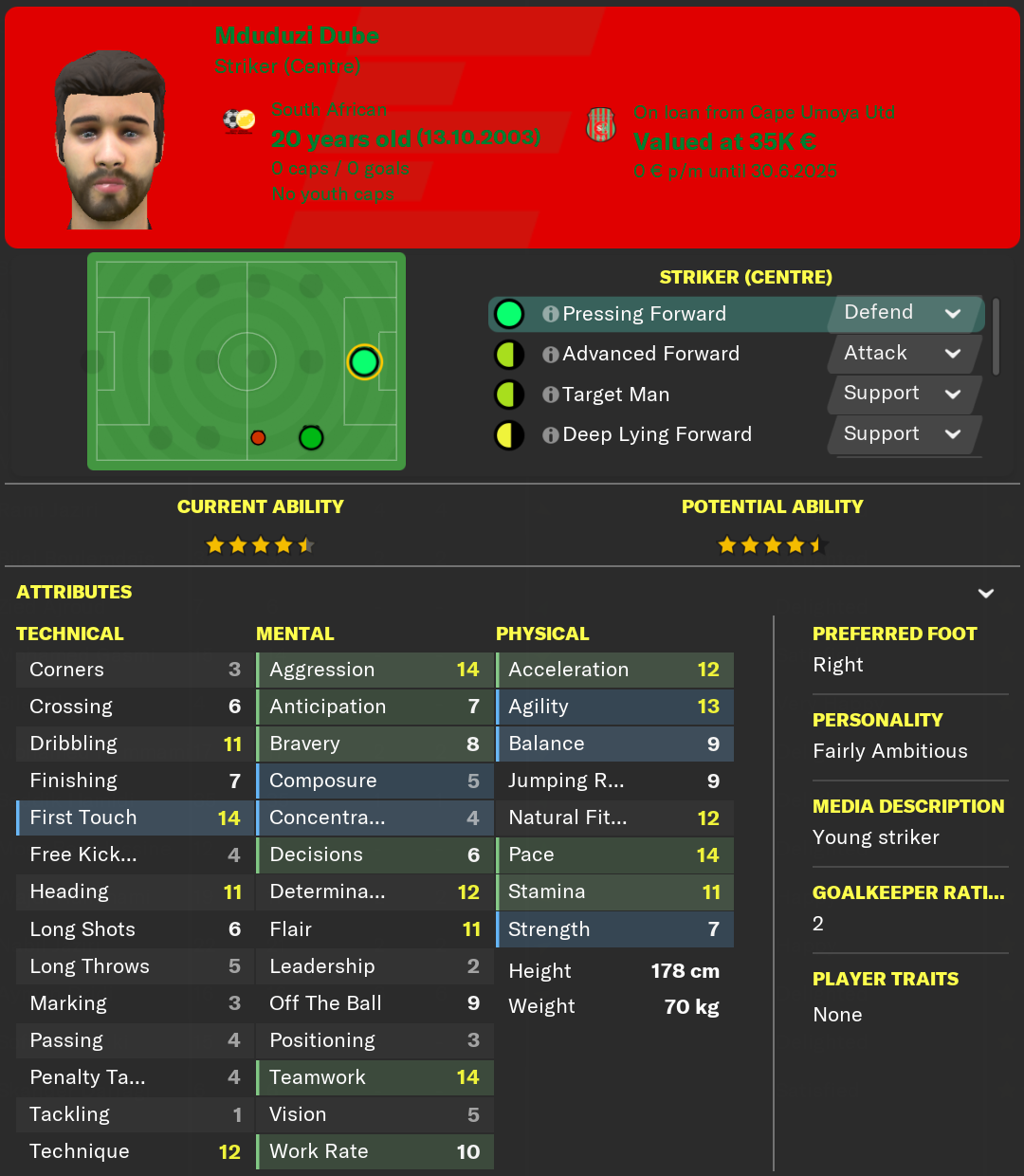 Mdudzi Dube from South Africa was available in a free in summer 2023 but decided to stay in South Africa once he had the chance instead of moving to the Tunisian lower leagues. I cannot blame him for that. Still he looked like a decent striker for this level and I was happy, when he appeared available for loan in the winter break. I immediately jumped on him and got him on loan until the end of the 2024/25 season. FOR FREE!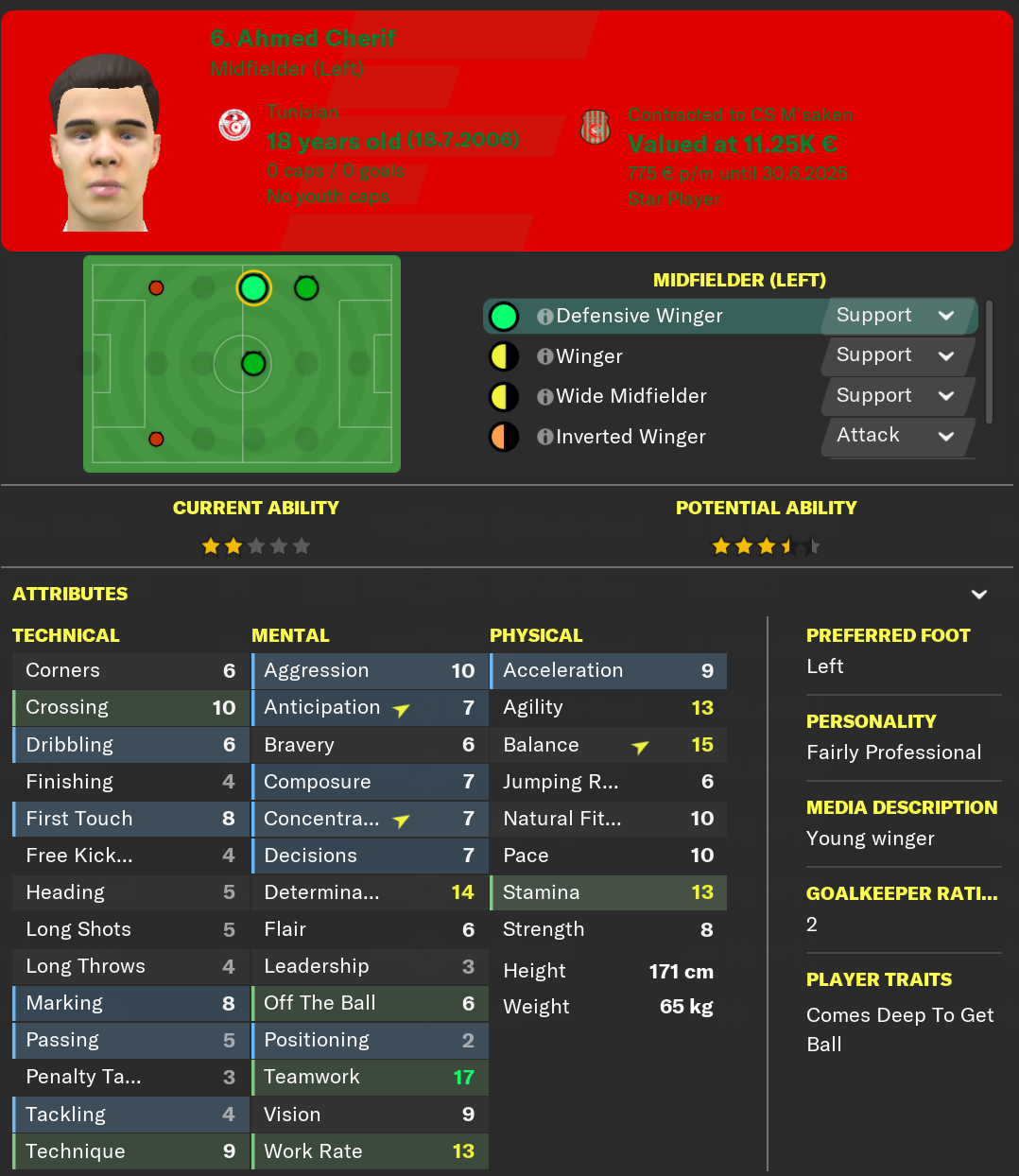 Ahmed Cherif was the best I could find for the wide midfielder role on the left. He did really well there and ended up providing most assists throughout our campagin.
How did things go?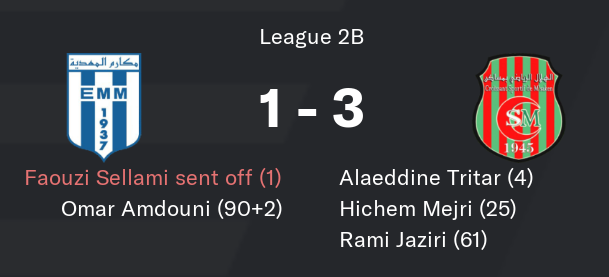 Our first match of the season was against last-tipped EM Mahdia, and we delivered to our expectations: they went a man down in the 1st minute, and we got a  never really contested 3-1 win with goals from young geniuses Aleaddin Tritar and Hichem Mejri. Things looked good. But of course, there were going to be obstacles.

My initial plan for the strikers had been to use Aleaddine Tritar as the main poacher. He was just too good (and I don't have attributes here because I failed to take the screenshot early on…). Unfortunately, on transfer deadline day my board decided that 50,000 EUR for this guy was just too good of an offer and let him go. I know that this is a common gripe FM players have with their board. And I understand the economic angle of the game and that a board needs to figure out where to get money from. But we're talking about 50,000 EUR here when a promotion to the first division might give us way more money. Nevertheless, I had no chance to convince the board and had to let him go.
Still, our remaining strikers were good enough to yield some wins before we went into the away match against Gafsa, the nominally best team of the league. I was curious how we would fare and could not have imagined the outcome in my wildest dreams. We bet them 4-1 and took the top position in the table.

Of course, this is not a straightforward story. Next match we go against last-placed Beni Khaled. We manage tons of shots, but fail to score. A bore 0-0 draw is not great, but the worst of this result is that we lose both our first team strikers for 3 to 4 months due to injury…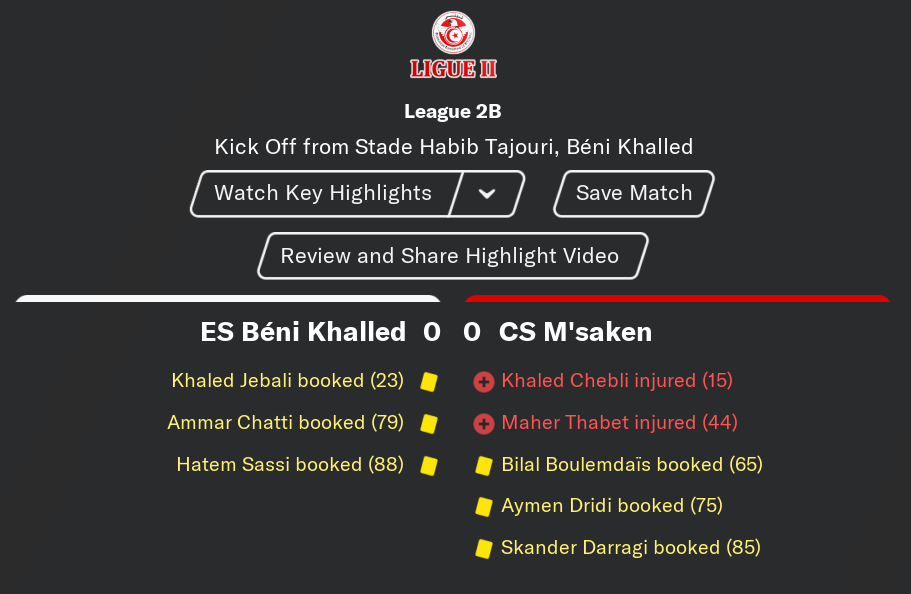 As a reaction, I do what every FM manager worth his salt would do: I panic. I find two new strikers on the free agent market and bring them in although the fans are less than happy with me.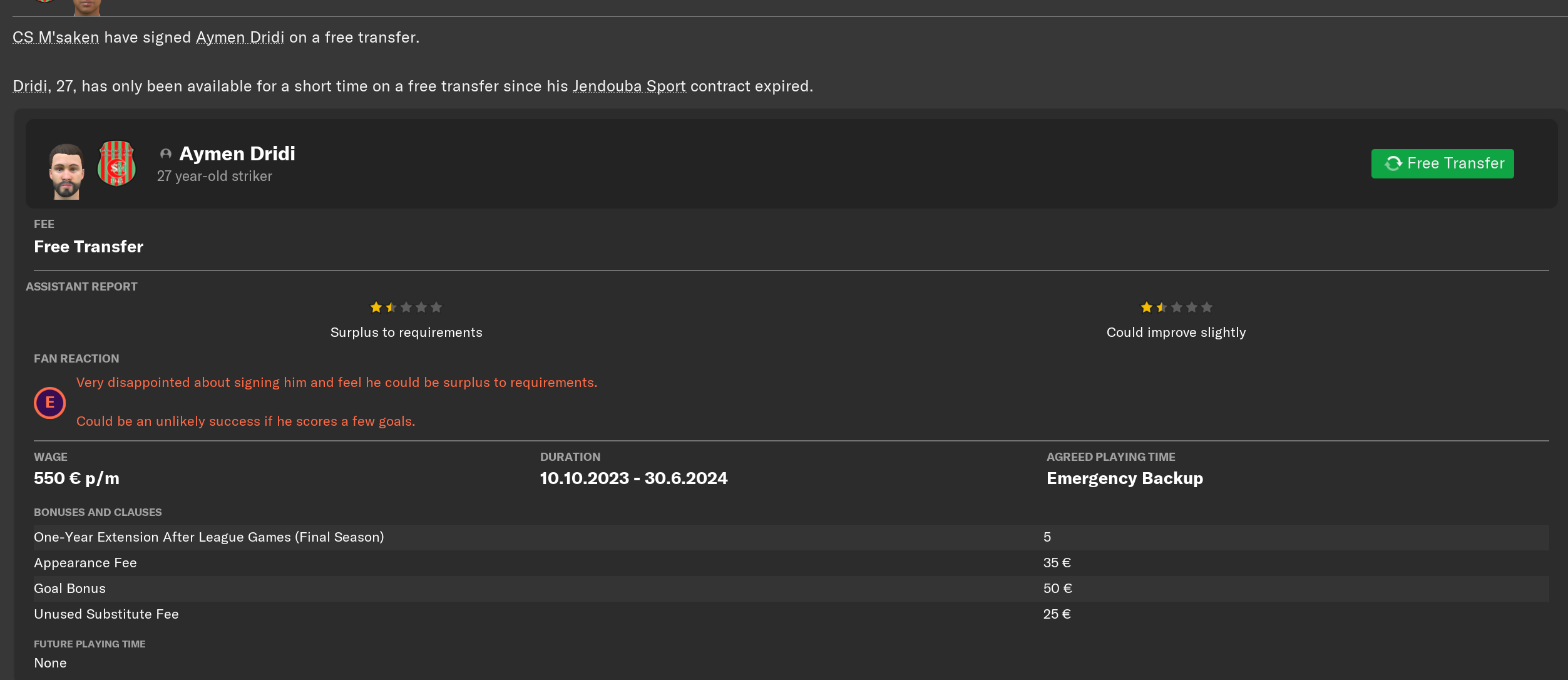 And to make the story even better, I start both of them in the next match against Chebba (because I really have no other options at this point!) and the Dridi guy goes to score three goals on his debut. (He would score only one more in the remaining 10 matches of the season, but that's a different story.)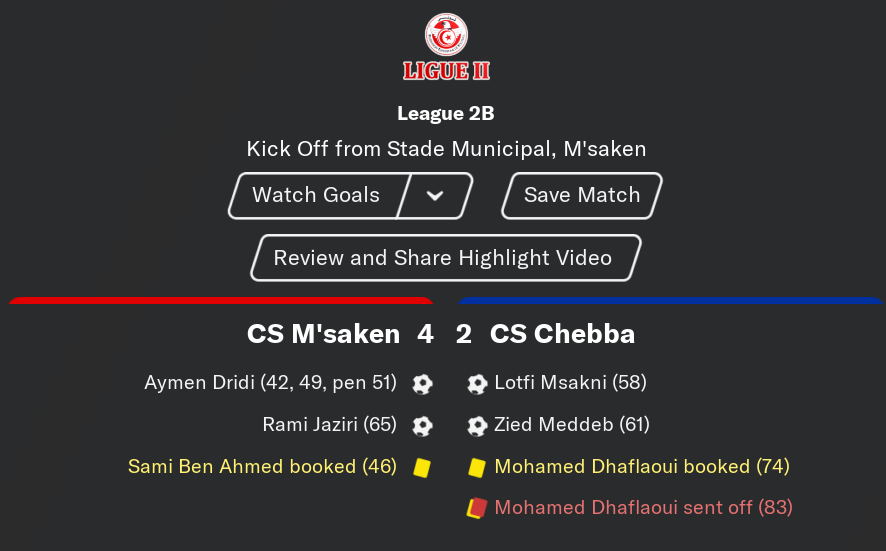 Hitting league half time, we were sitting on top of the table and had not lost a match yet. (Except for a shameful 2nd round exit in the Tunisian cup, but the board ignored that because of our great league form).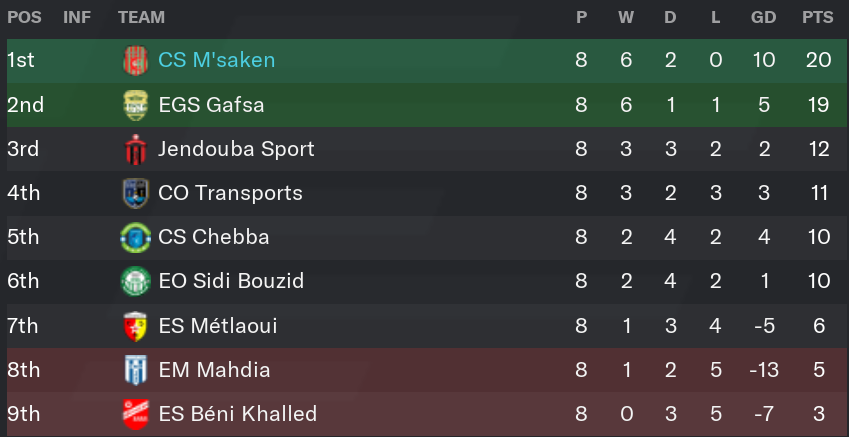 Things went a bit downhill from there and we actually lost our top spot to Gafsa eventually (although we were the only team that did not lose against them all year!). We actually lost 3 games from there. Still, we did not spiral to death but kept our cool when it mattered. We sealed promotion the the Tunisian 1st Division 3 games ahead of schedule and finished in 2nd place eventually.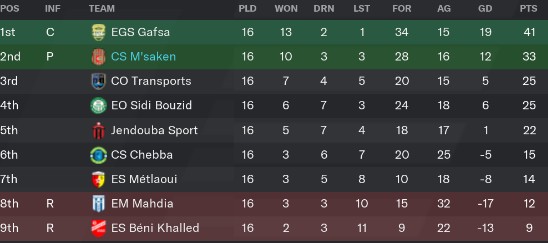 Should I stay or Should I go?
With M'saken promoted, the board wanted to extend my contract. Deep inside, I hoped for a quick way out to a bigger team and I even got a job interview at ES Tunis this summer.

Unfortunately, they decided against me. So I will be fighting relegation in the 1st division with CS M'saken next year. We will need improvements in every area of the squad (although our strikers are at least half-decent). This is going to be an interesting summer break. I'll let you know how it went next time!

Subscribe to our Newsletter