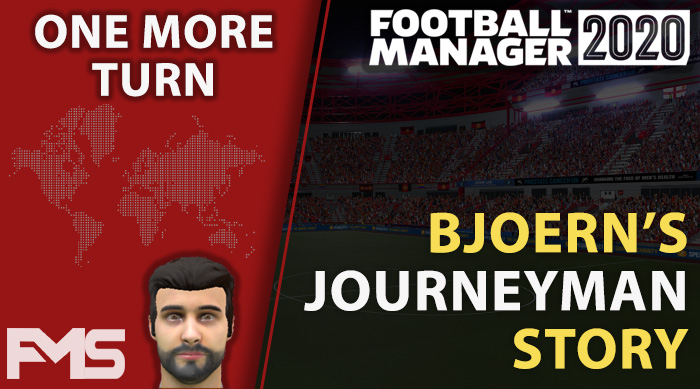 Gabriel's Diary
Buenos Aires, Argentina, April 2035 — Unbelievable. When I joined this club, we were a mid-table team. Coming from Mexico I was expecting a bit of a buildup job. But now the end of the season is near and we have serious chances of winning the title. If only this Messi guy over at San Lorenzo doesn't get his chance. Yeah, he was a better footballer than anyone at his time. Me included. But now he's surely overdoing it. First real management job after some years of youth training in Europe. And he immediately jumps into the Libertadores and wins them. I admire this. But in the league I want to see him bow to us now. We must not be defeated!
Country Songs
There used to be a time when the German football national team wasn't branding itself as "Die Mannschaft". Earlier marketing attempts were a bit futile and looking back I'd say anything between awkward and funny. One of those attempts was that for every world cup between 1974 and 1994 the team went into a studio with one of the national pop stars of the time. They then recorded a song that usually incorporated the host country of the world cup and their ambition to win, if not on the pitch, then by extending a hand of friendship to all the nations of the world. (We had to earn back some respect in the days…).
The 1978 World Cup was rather uneventful for the German team. Off the pitch, the team raised some eyebrows by mingling with former Nazi officers that used Argentina to do their Nazi things. On the pitch, the tournament was not successful at all: Germany didn't make it through the group stage for the last time until 2018). But at least, we gave our Austrian neighbours the Miracle of Cordoba (German translation: The Shame of Cordoba), a success that they are still fondly remembering to this day. And on top of that, at least Germans got this gem of a song to keep forever:
Moving South
In our last episode, we won the CONCACAF Champions League with Mexican side Tigres and thus had to move on. My next target would be either Brazil or Argentina, with the latter one becoming available 6 months earlier, so I applied with a few top clubs there. River Plate didn't even look at my resume. Boca Juniors didn't like the demands I made in the interview (my fault!). San Lorenzo and CA Indepediente were willing to actually give me the job. And while San Lorenzo would give me Libertadores football right in the first season, Indepediente had slightly more money and better facilities. So I chose to play in the Copa Sudamericana with Indepediente, while the San Lorenzo job went to Lionel Messi. And he immediately won the Copa Libertadores with them. You can't always get what you want. So this is  me against Messi now.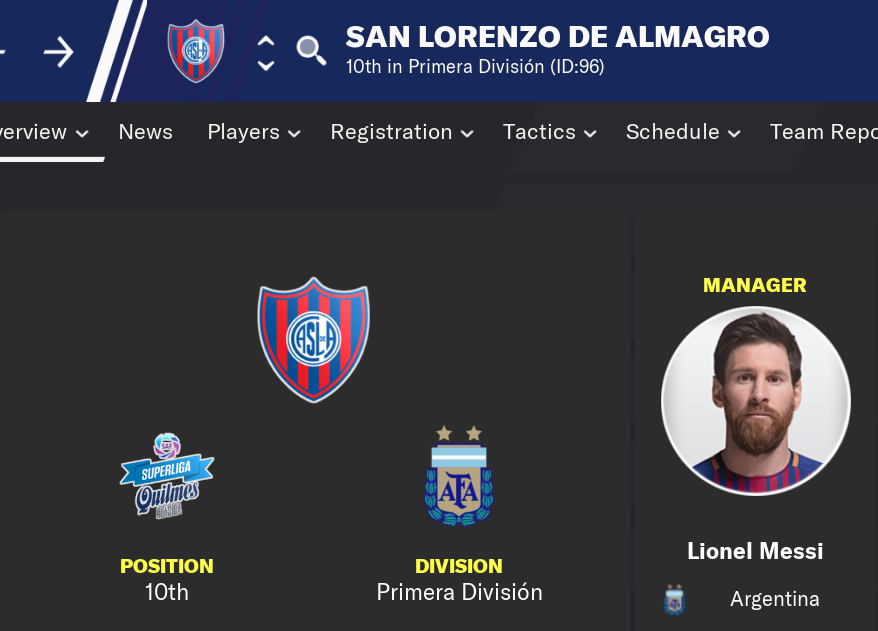 Indepediente had finished the last season in 8th place and when I joined, media predicted them to finish in these areas again. The board wanted a top half finish, which means at least 10th place in Argentina and would lead us to qualify for the Copa Sudamericana. The board also indicated they wanted the quarter finals of the Copa Argentina and the Sudamericana. However, this was something to worry about later: Argentina is the only country in South America playing August to May, everyone else sticks with the calendar year. This is also true for all other competitions, so the Libertadores and Sudamericana only kick off during the second half of Argentina's season and the final rounds are played in the first months of the subsequent season.
Life in Argentina
Fun fact: Indepediente have a lower wage (1,700,000 EUR/month) and transfer (6,000,000 EUR) budget than I had with Tigres in Mexico. Their players are also paid less, although the best Argentinian players can easily match the good players I saw in Mexico. This financial discrepancy probably explains why any Argentinian worth his salt tries to move for a European club in his twenties, only to come back in the early 30s to play a few more years at home. In contrast to Mexico, though, there is actual money in the game: Copa Sudamericana and Libertadores allow clubs to earn some extra money and as a result, finances in the Argentinian first division seem to be a tad easier than in Mexico (i.e., I don't have to frantically sell all my star players.)
A few players stood out during this season: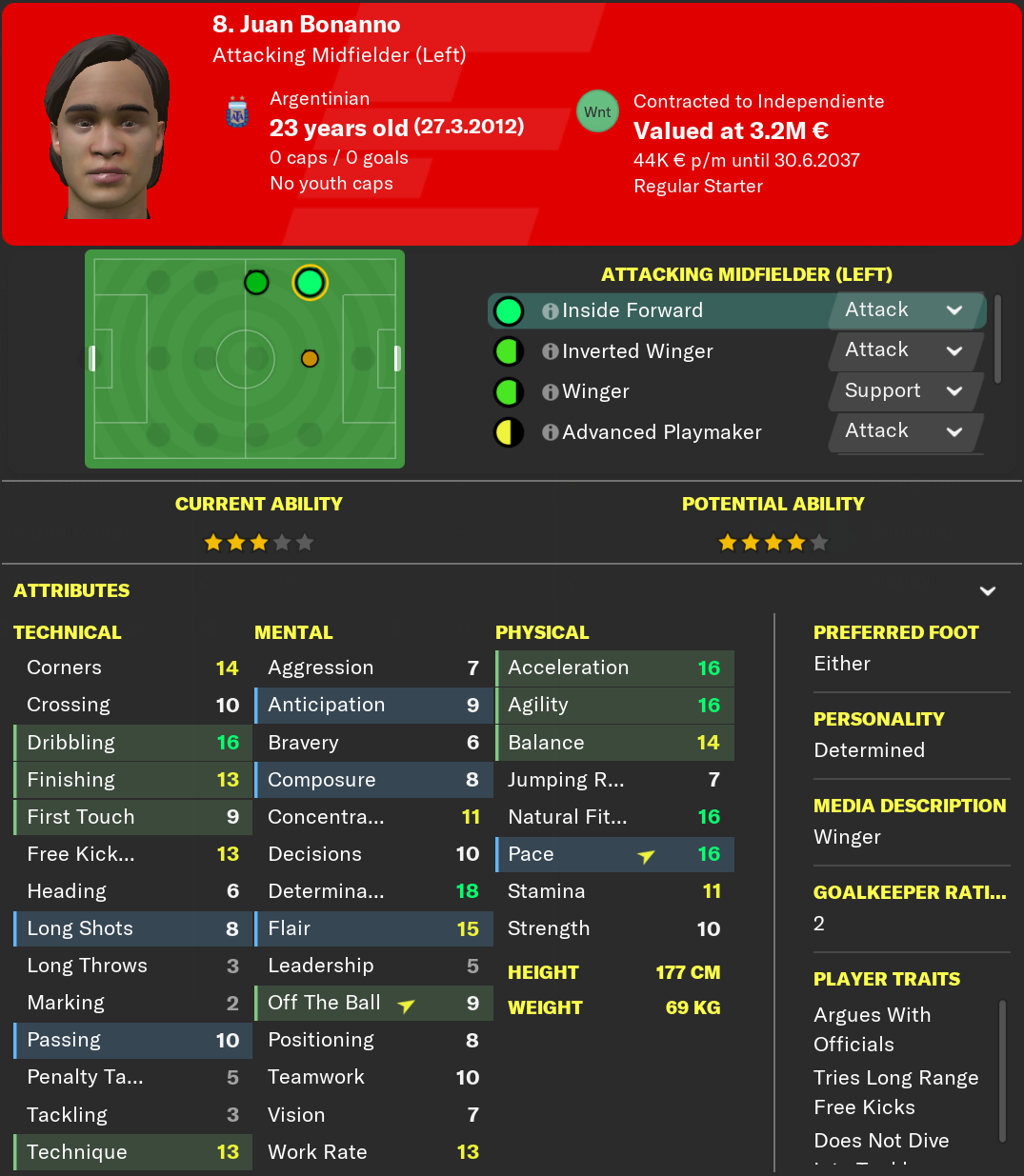 Juan Bonanno was already with the club and arguably one of their future superstars. He was set to play as an IF(a) on the left side as often as he could Unfortunately, he tends to be a bit injury prone, thus missing out a few matches here and there.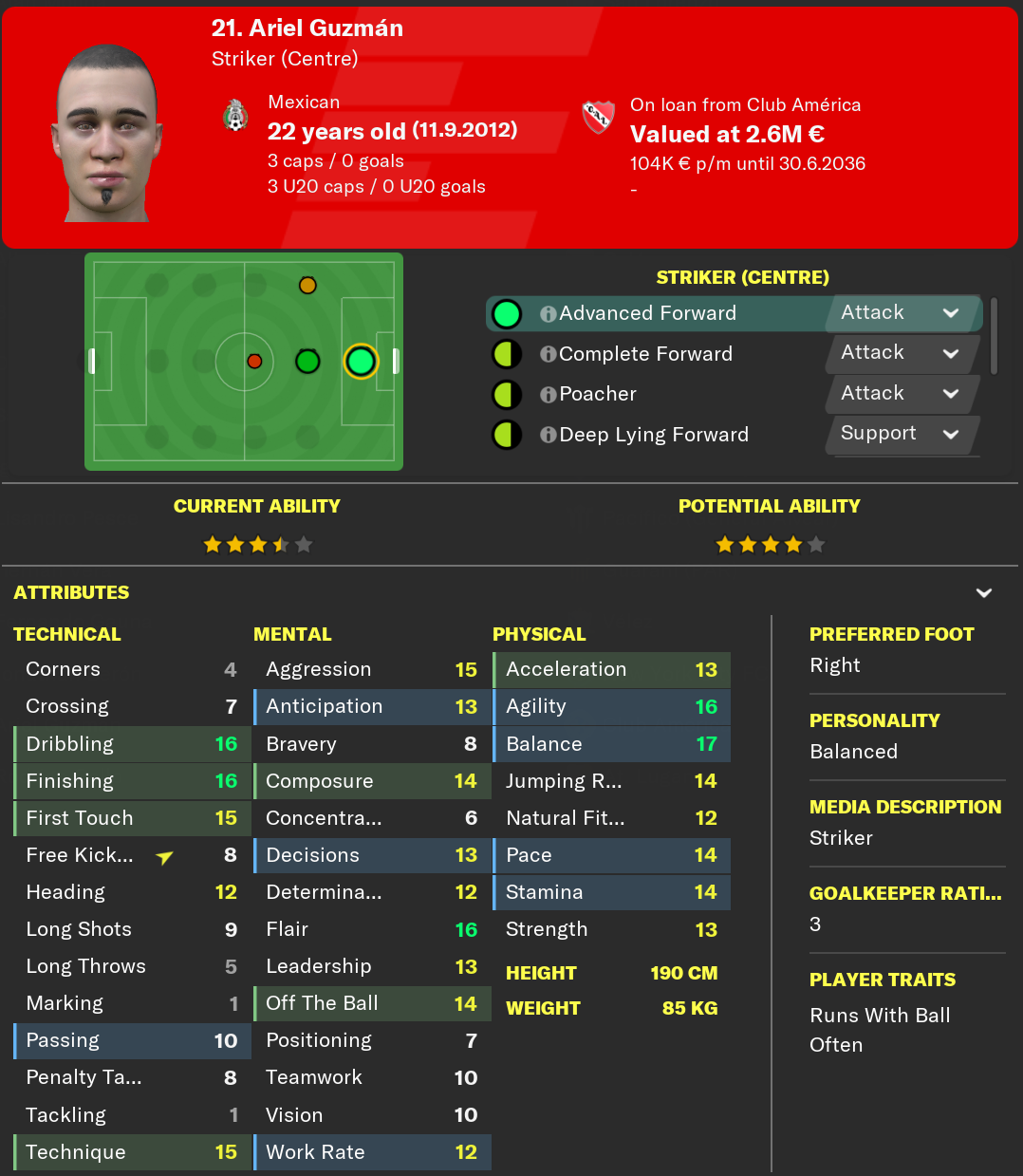 Ariel Guzman joined on a two season loan from Mexican Club America. I had already eyed his striking abilities at Tigres and now got the chance to make a move. We pay his (pretty high) salary, but in turn can avoid paying the 9 million EUR minimum release clause. I will have to find alternative options two years from now, but lets' worry about that later.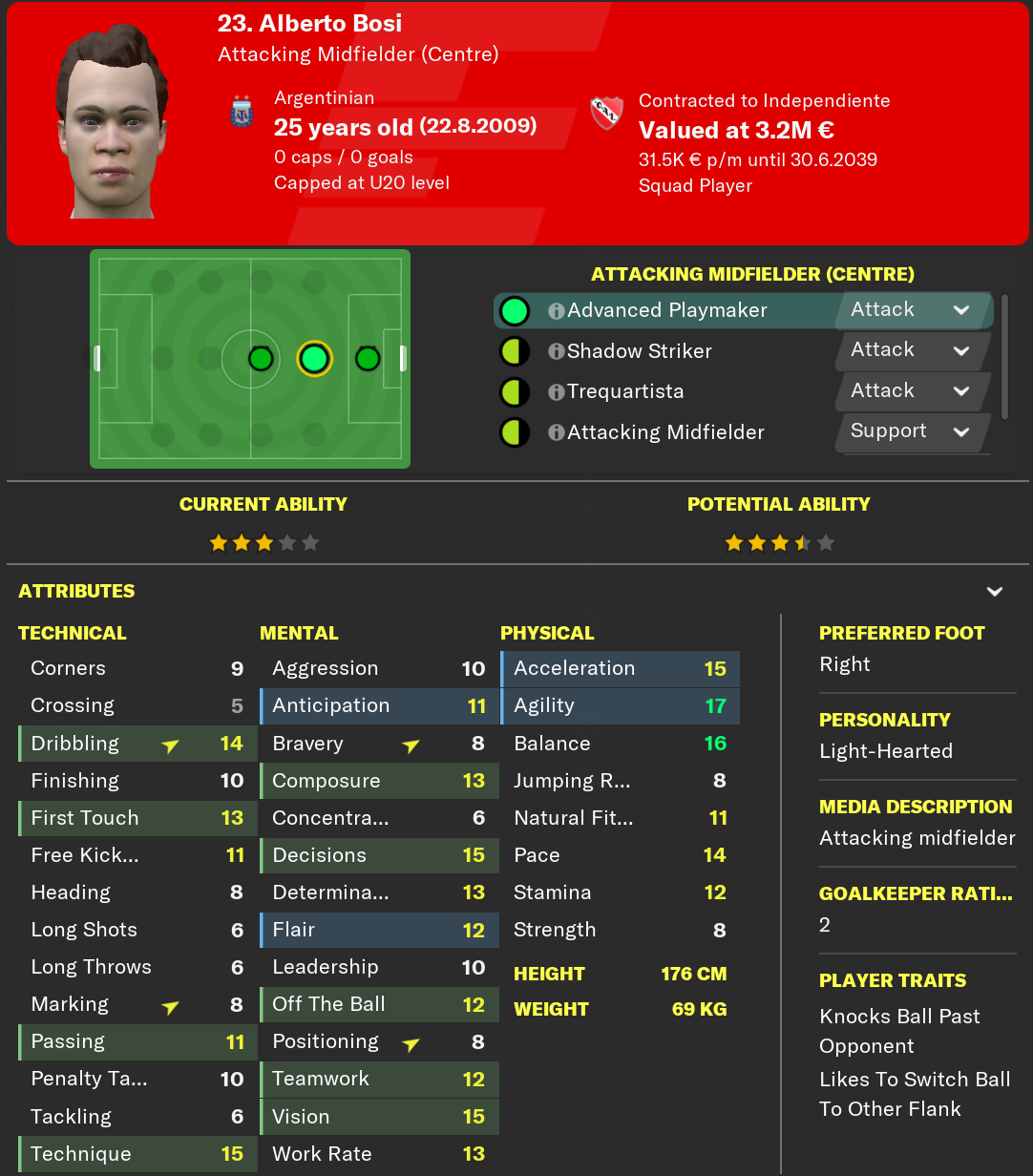 Alberto Bosi was my major signing before my first season. He joined for 1.4 million EUR from less-reputed Primera Division side Colon and would go on to play most matches in the APs role.
Tactical Tinkering
I'm not good at tactics. That's why so far I haven't bothered you with any tactical musings. You'd be much better off anywhere else.
This time is different, though. As I started out my time in Argentina there were two excellent articles involving Guido Merry,  bringbackmols, and FMCheapSeats talking about – you're guessing right – the evolution of strikerless tactics:
As my squad was fairly strong in midfield while mostly mediocre with strikers, I figured this might be another time to try setting up a strikerless system myself. It did not work very well at first. But then I reread the articles and took away a few things:
strikerless tactics need high pressing and defense lines, because due to the lack of strikers you are sitting too low otherwise, and
strikerless systems aim to really overwhelm the opposition in midfield and you can do more than just putting lots of midfielders on the pitch: play narrow, have wingers cut inside, and press as if there is no tomorrow.
In contrast to previous tactical inspirations I decided to not just copy and paste the tactics from the articles. Instead, I fielded my own variation of a 4-2-4-0 system: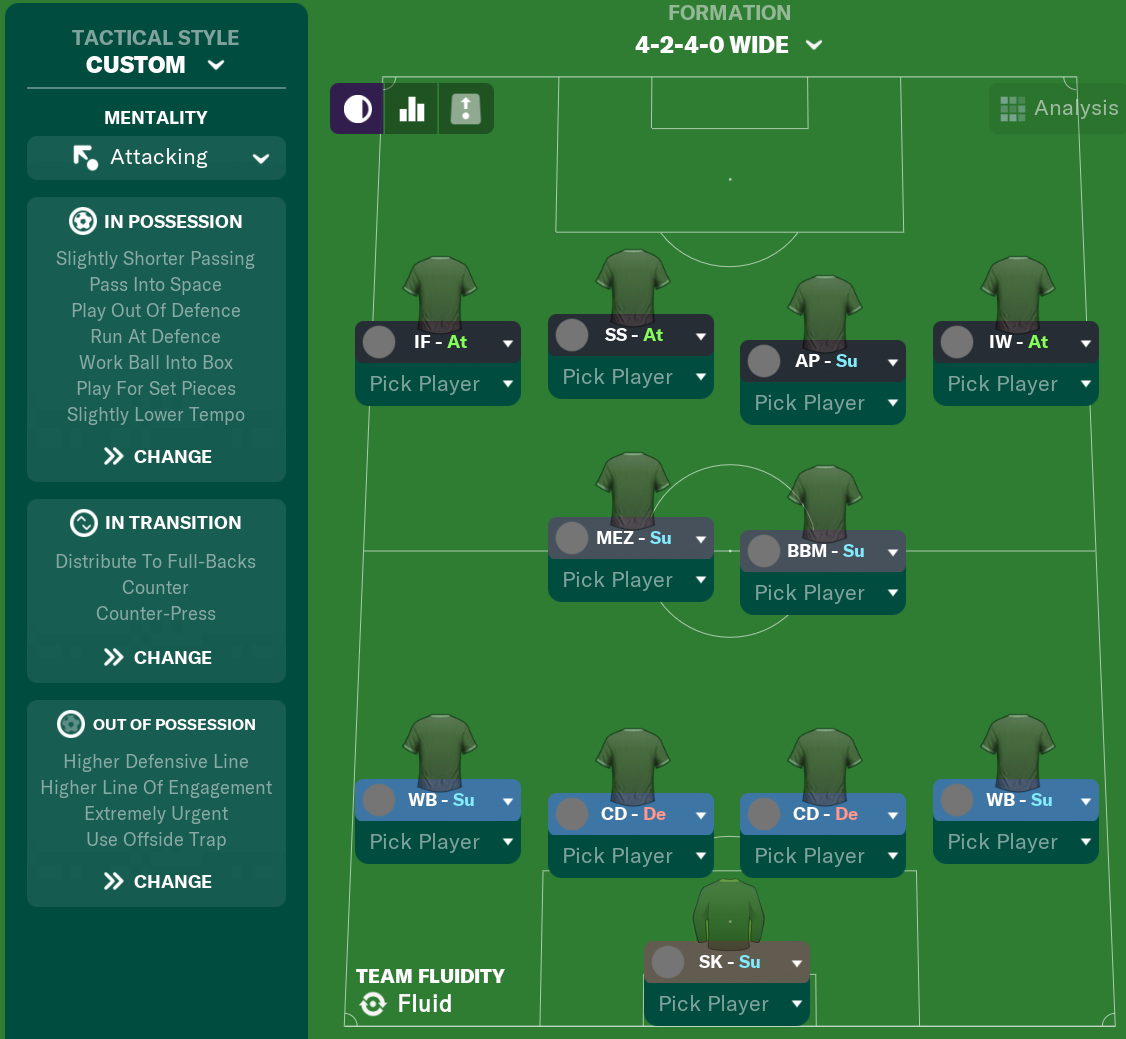 And I'm telling you all this because this system led to quite some results this year.
Playing Football in 2034/35
No continental football in the first half of the year meant Indepediente could concentrate on first division football. Fate rolled a dice and gave us River Plate as our first opposition.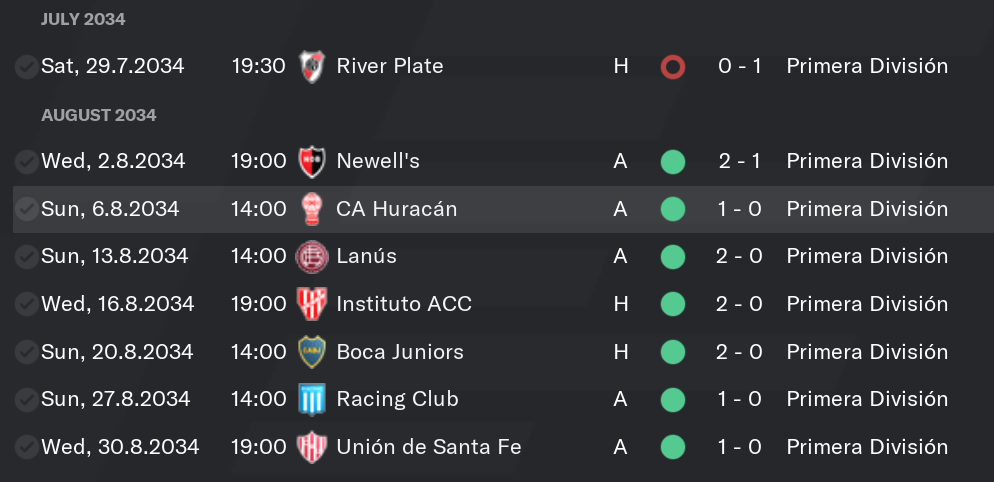 Unsurprisignly, we lost against River. But then we went on a winning spree that saw us beat Boca Juniors and Racing Club. We even topped the league after the Boca match: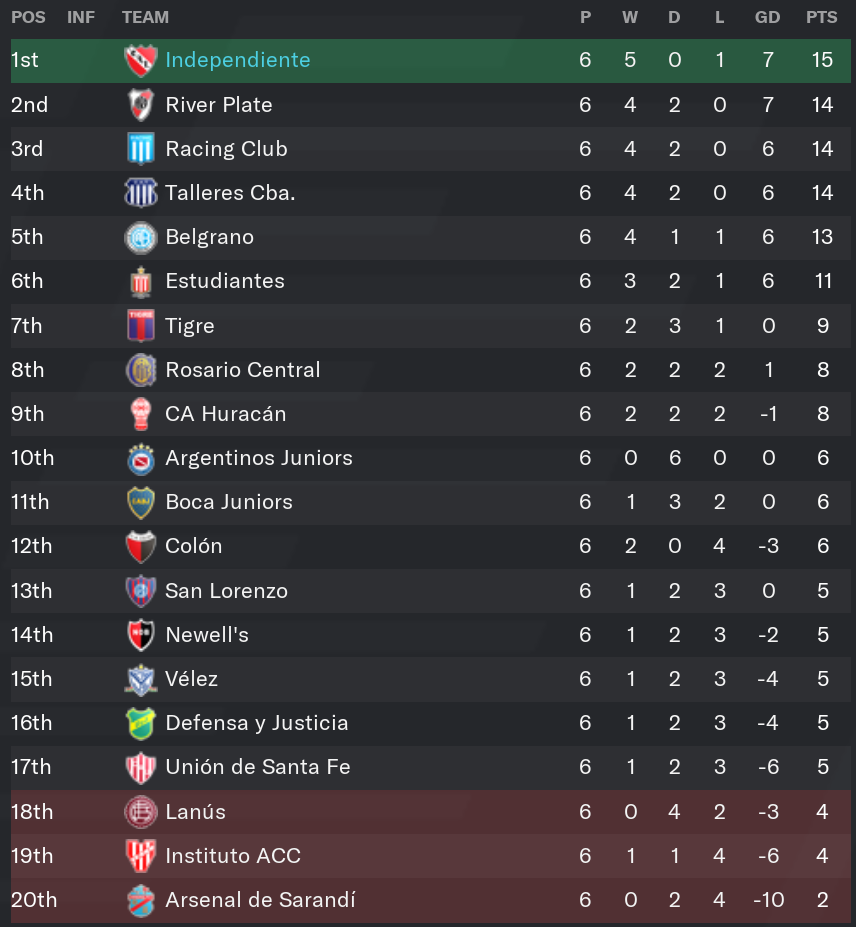 We could not carry on like this forever, so we had to concede a few draws in September and October. Still, we had not lost a match for some time.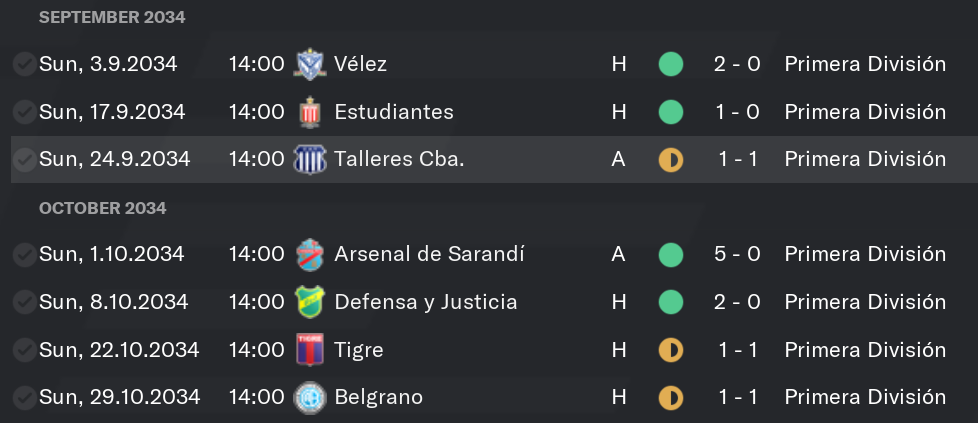 Come November, I felt our luck was running out. We barely equalized in the last minute against San Lorenzo and then went on to lose against Colon. But at least we were able to win one more game against Velez before the two weeks of Argentinian winter summer break.

I brought in two additions in the break that would turn out crucial.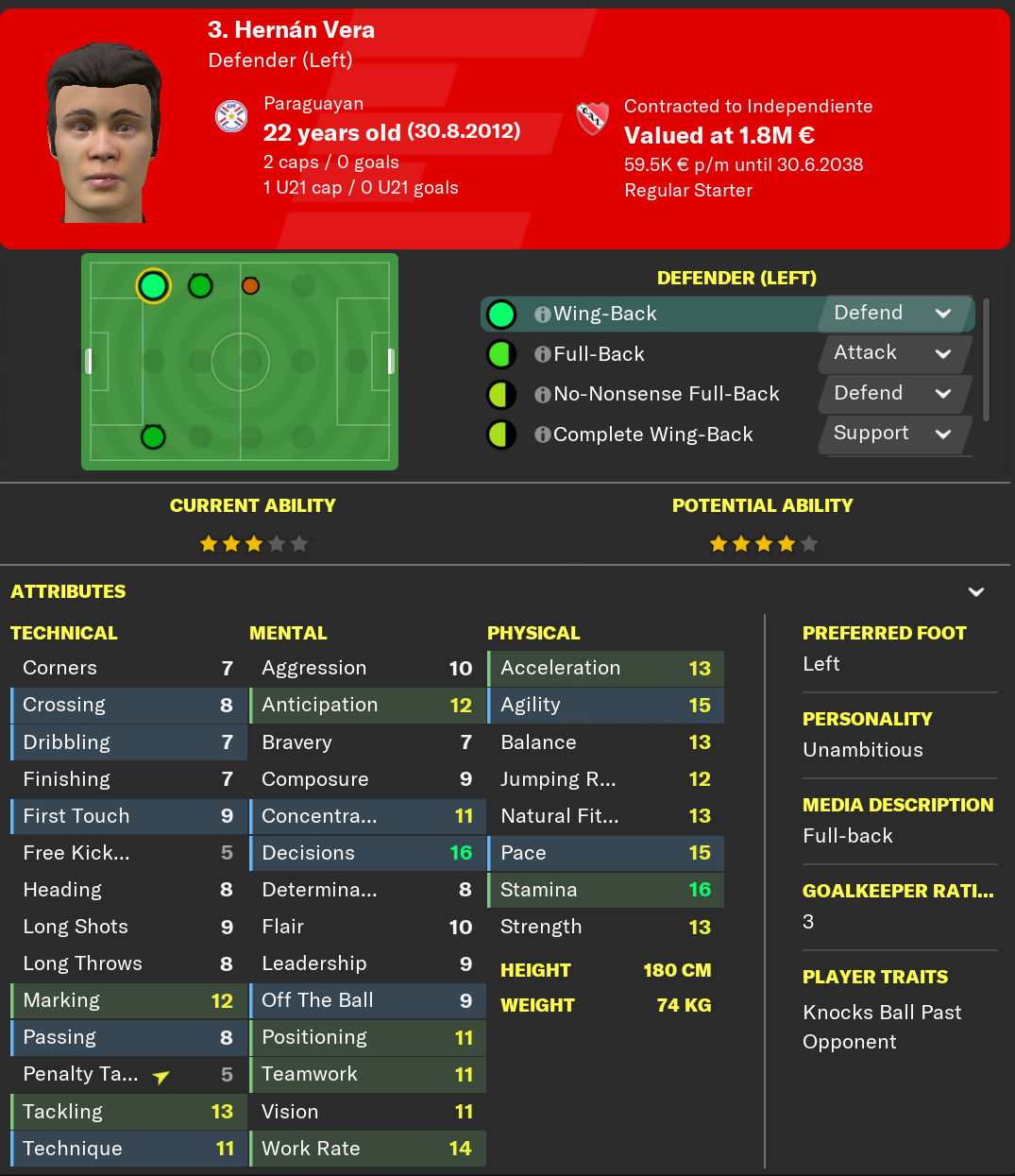 Young left-back Hernan Vera joined us for 800K from Guarani in Paraguay as we didn't have any decent leftback before.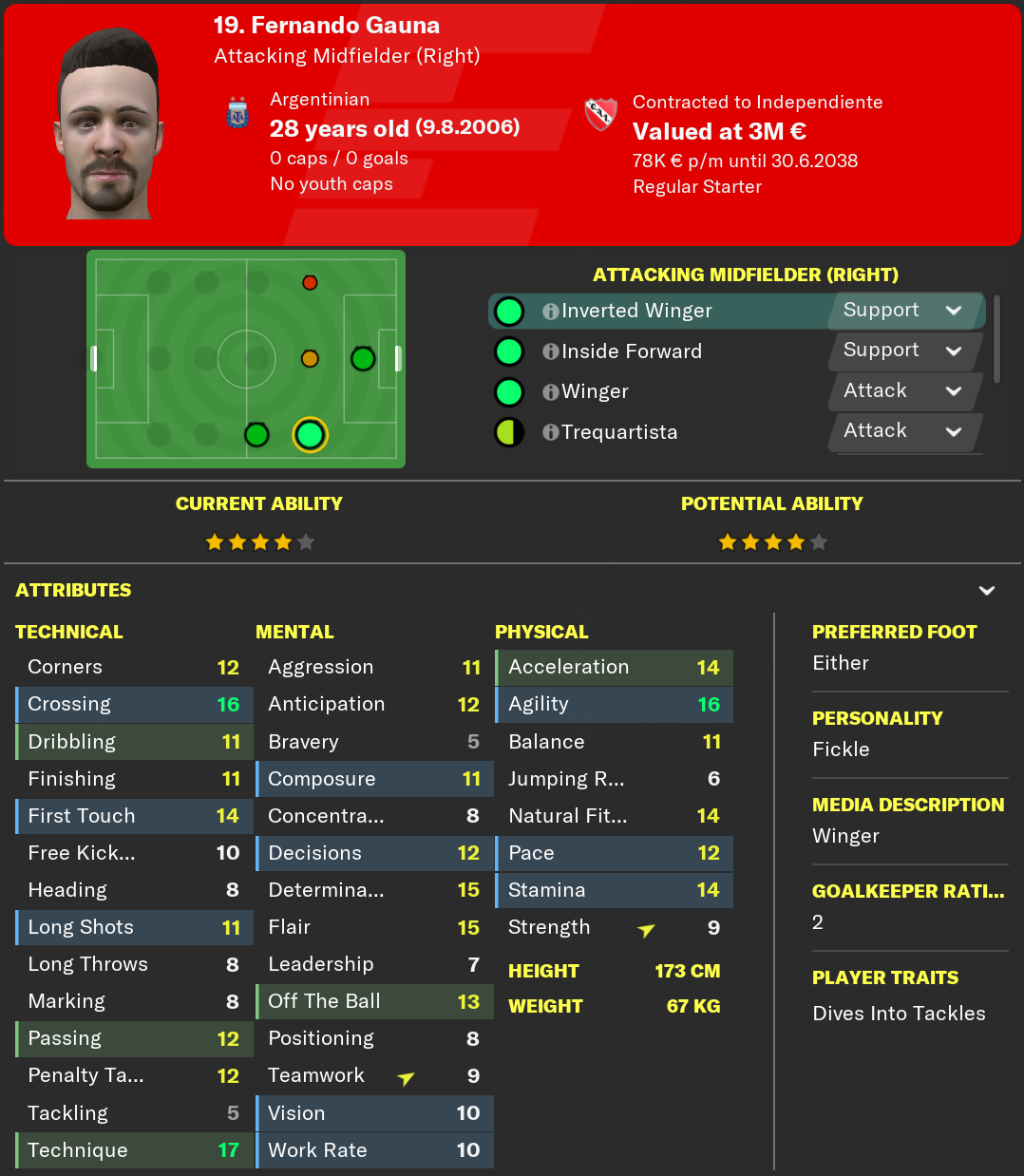 Experienced winger Fernando Gauna was unhappy at Velez and had caught my eye in our match against them. So I figured it reasonable to pay 1.5 million EUR for him. This turned out to be a great investment.

We picked up form again in the new year, starting to score more regularly. Gauna heavily contributed goals, Vera delivered a few assists as well.  In February, we also entered the Copa Sudamericana, gaining the expected 5-0 aggregate win against Monagas SC from Venezuela. The second round would be played right at the end of our season in May and we'd be facing Corinthians from Brazil. I was becoming nervous.
But before that we had to wrap up the season. Even though we lost two more matches in March, the important result is in between: we came back from a 0-2 against Messi's San Lorenzo side and ended up beating them 3-2 with two Gauna goals in the 90th and 91st minute!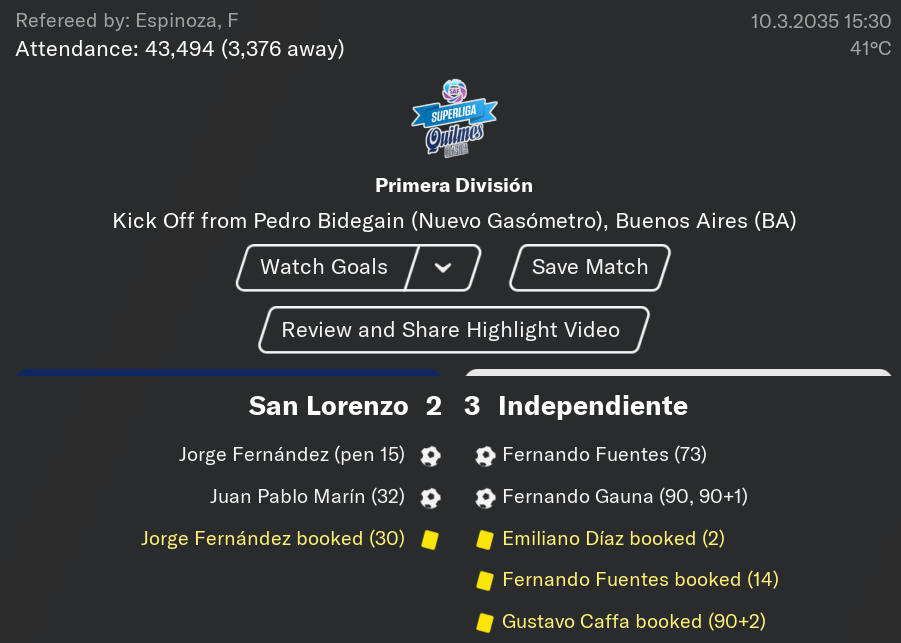 We were, right there, actually looking like title contenders.  The schedule had set us up away at Boca Juniors on the last day of the season, right in between the Corinthians matches. I really wanted to advance internationally (think of all the prize money!), so I'd rather not have to worry about the title against Boca anymore.

And we succeeded in both! We sealed the championship two matches ahead of schedule with a home win against Huracan. This allowed me to rest the first squad in the last two matches and concentrate on the Corinthians games. We also disposed of the Brazilians without conceding. It's certainly my tactics. ;)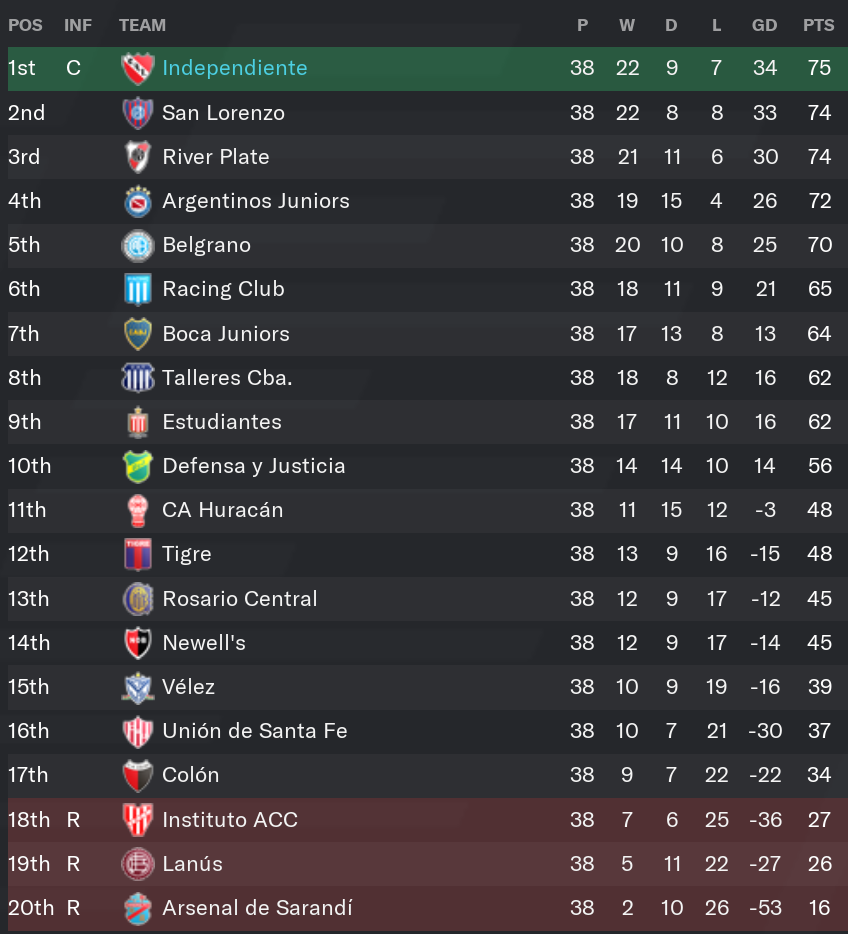 so the current summary is: no one expected us to win anything. And here we are, champions of Argentina, still in all cup competitions, and qualified for the Libertadores in 2036. Life is good down south. I'm for now ignoring the fact that there's another big Brazilian team waiting for us in the Copa Sudamericana third round and that this is scheduled in the middle of their season while we will be still in pre-season…


Subscribe to our Newsletter