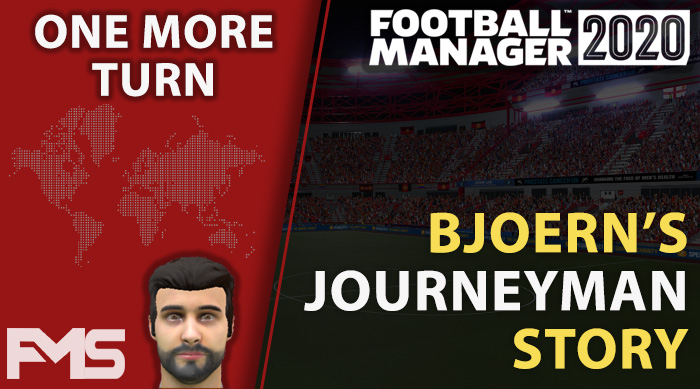 Gabriel's Diary
Gelsenkirchen, Germany, 25 August 2039. — It's been a turbulent couple of months. My exit from Milan, quickly finding a new job. Germany of all places. Transfer market madness. Doubted by the fans. Doubted by the press. Doubted myself. And now, 24 years after my dreadful exit as a Schalke 04 player, I'm going to make a return to Gelsenkirchen as the manager of the opposing team. The press have been fairly calm about it, not many faces still around at the club or in the media offices. Still, it feels strange. I have unfinished business and want to prove them my worth.
Moving to Germany
Luckily, although Gabriel's time in Italy was rather mediocre, finding a new job was not that hard. I was aiming for a side that would give me time to rebuild this time around. Borussia Moenchengladbach had been in the Champions League group stage in 38/39, but had failed in their league campaign by finishing 11th only. Thus, they wanted to bring in a new face and had a season with no European football to spare. I gladly accepted their contract proposal after realizing that their facilities were top-notch. I rejected a similarly interesting offer from TSG Hoffenheim – Moenchengladbach just had the better name and history to them.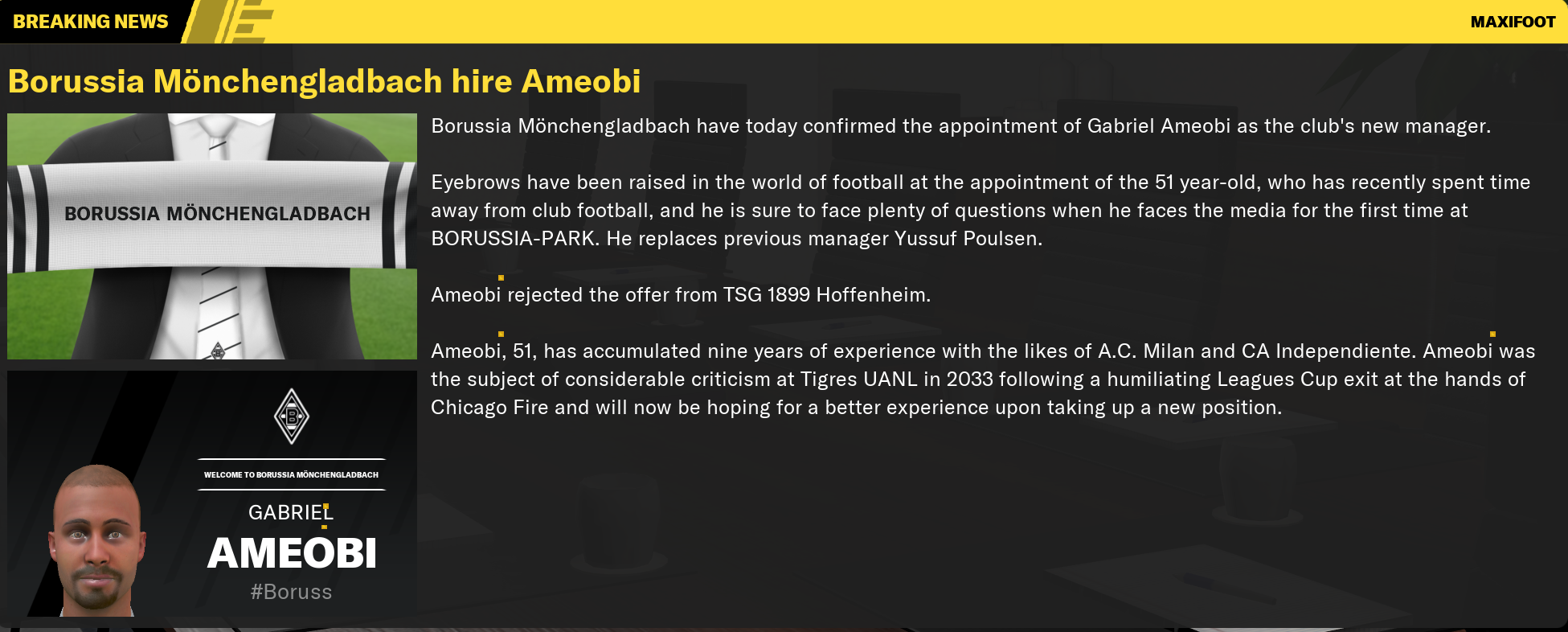 Examining the players available, I understood the mountain we had to climb. At least half of the first team players were way above 30 years old and on ridiculous wages. Rejuvenating the team while maintaining a somewhat usable team morale was the ask of the hour. Luckily, there still was some Champions League money in the bank and the board were allowing me to spend 75 million in the transfer market. At the end of the season I would have paid 158 million while raking in 127 million in transfer fees in a somewhat high player turnover.

A couple of players stand out.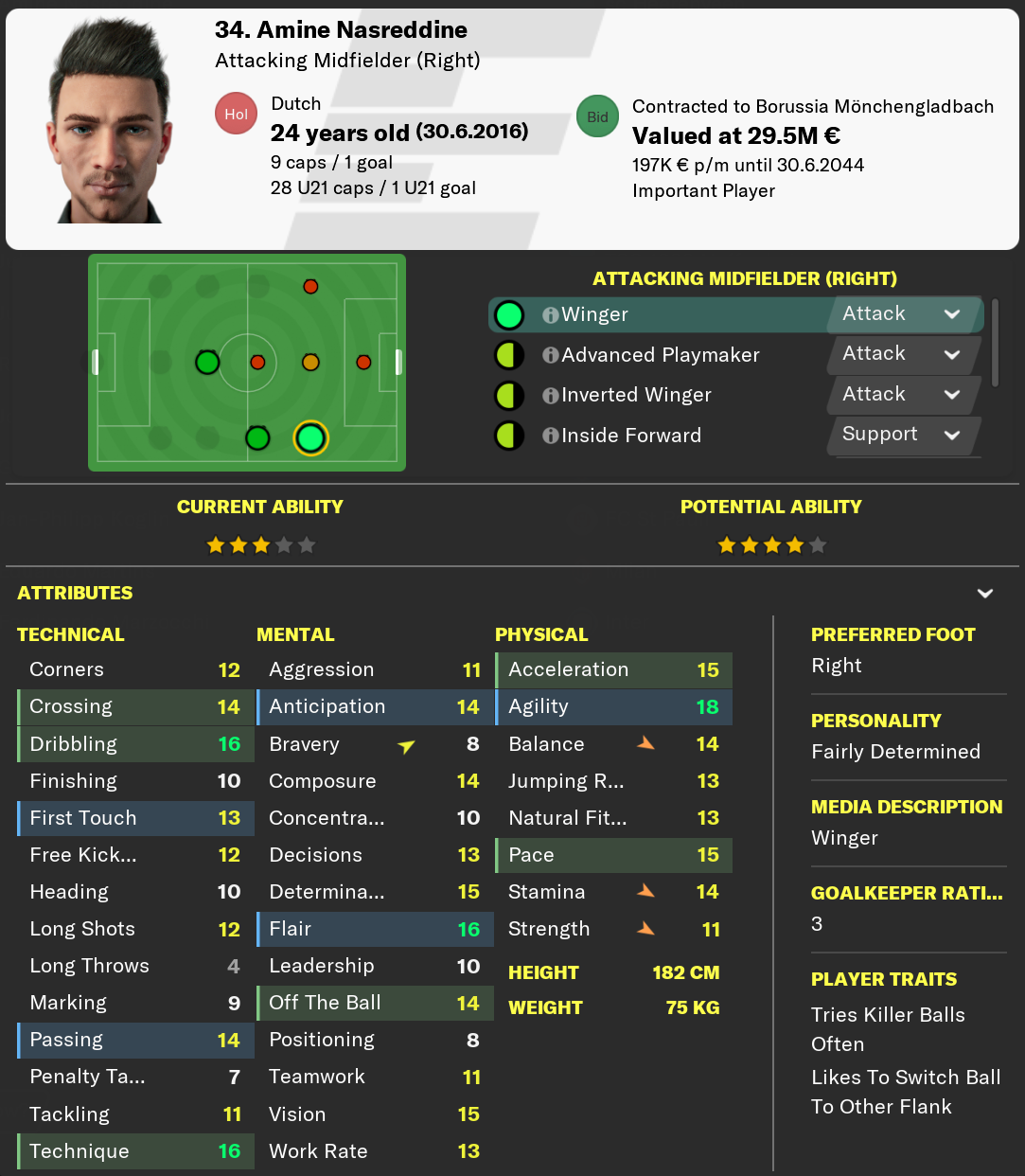 Amine Nasreddine came in on a free after his contract at Dutch side Heerenveen had run out. Together with a local youngster he would be our force on the right wing.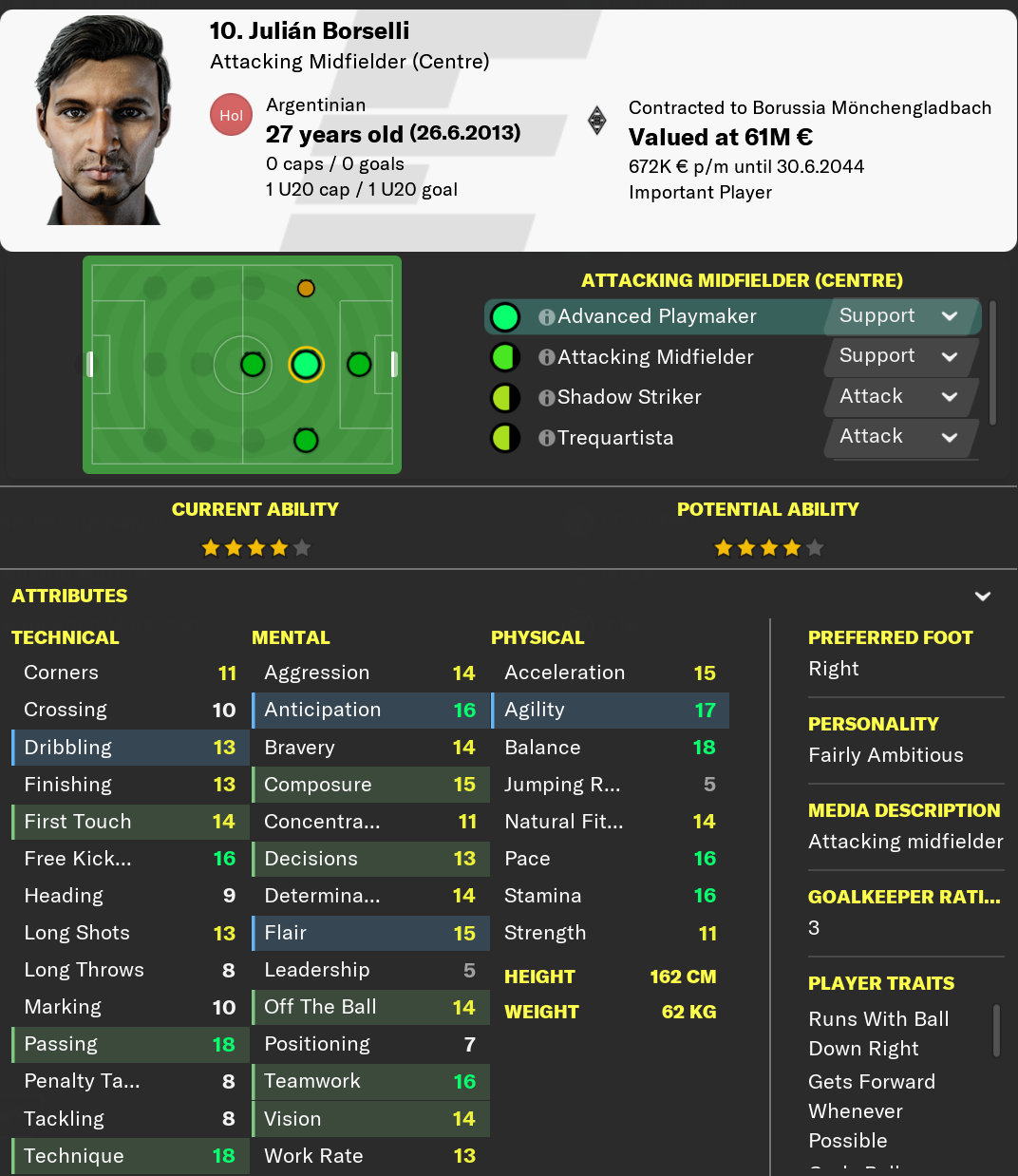 Julian Borselli had been on my shortlist for Milan already. Being an Inter player, it was difficult to get a deal negotiated. But as he wanted to leave Italy, he happily joined Gladbach when we paid the 23 million Inter wanted for him.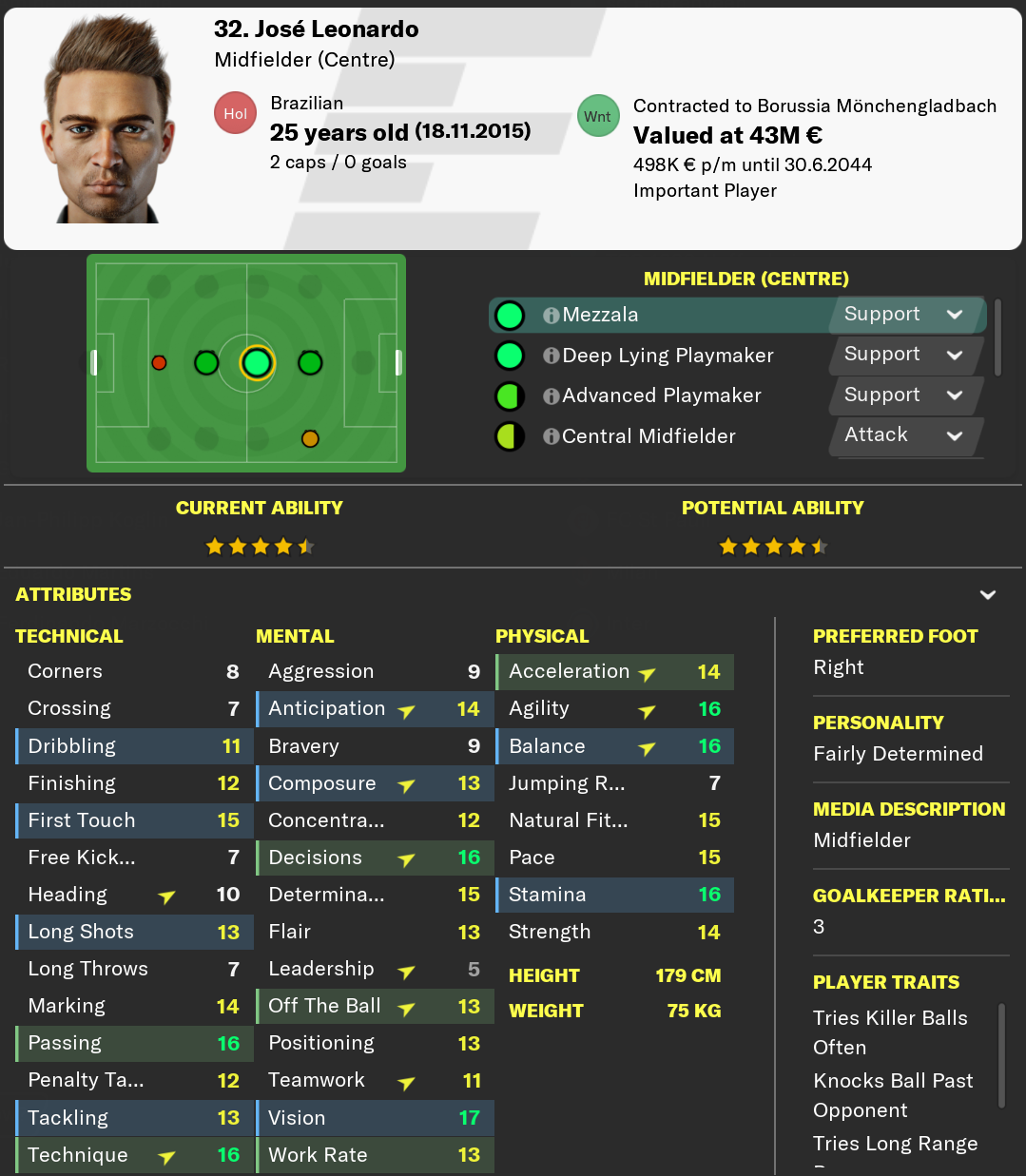 Complementing Borselli in midfield, we also brought in Brazilian midfielder Jose Leonardo, who Roma wanted to get rid of so desparately, that he only cost us 24 million.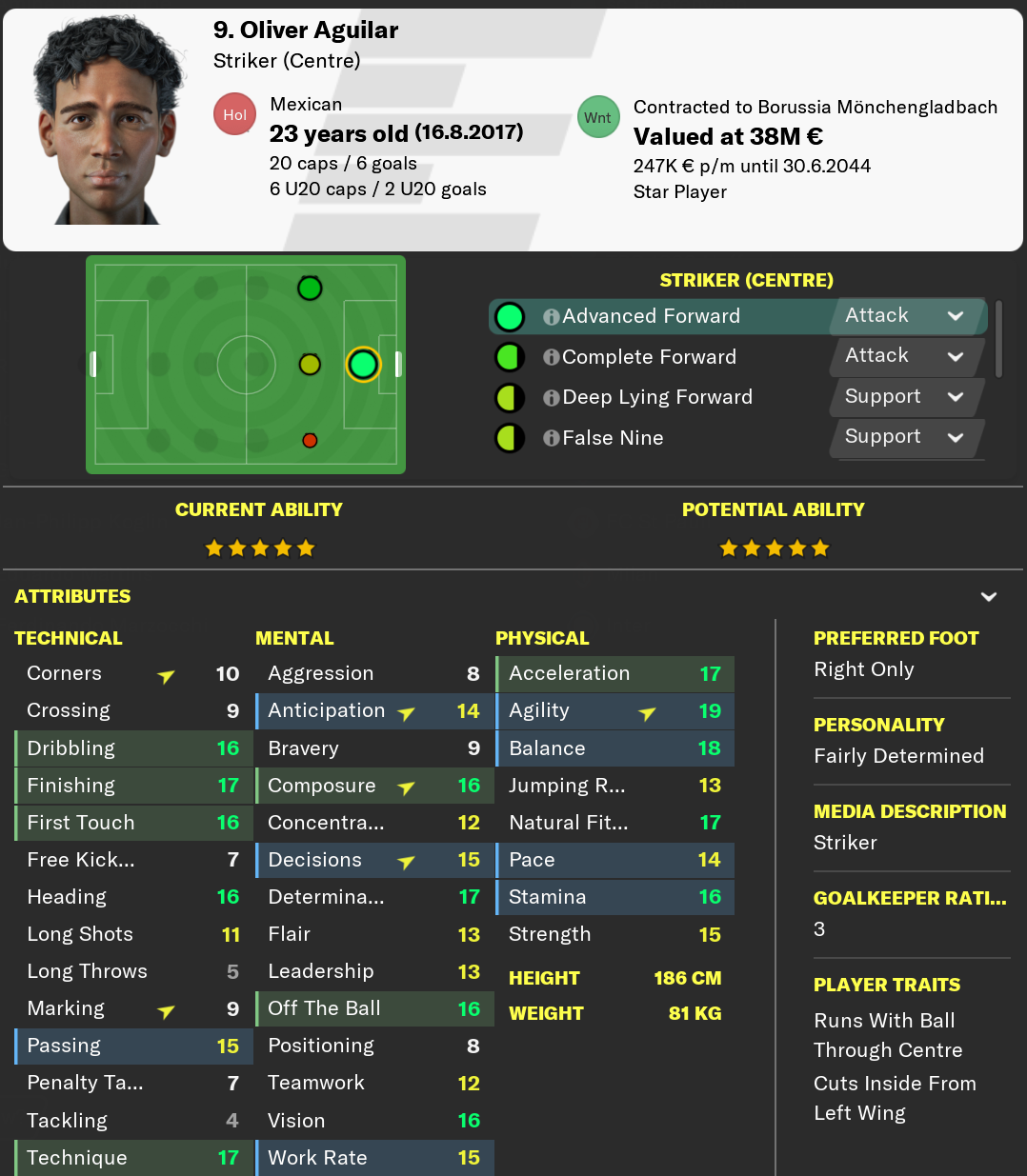 Oliver Aguilar was a controversial signing, initially. We paid his Mexican home team Guadalajara 30 million and the German press were extremely keen to point out the enormous amount of money I had spent on an unknown Mexican talent.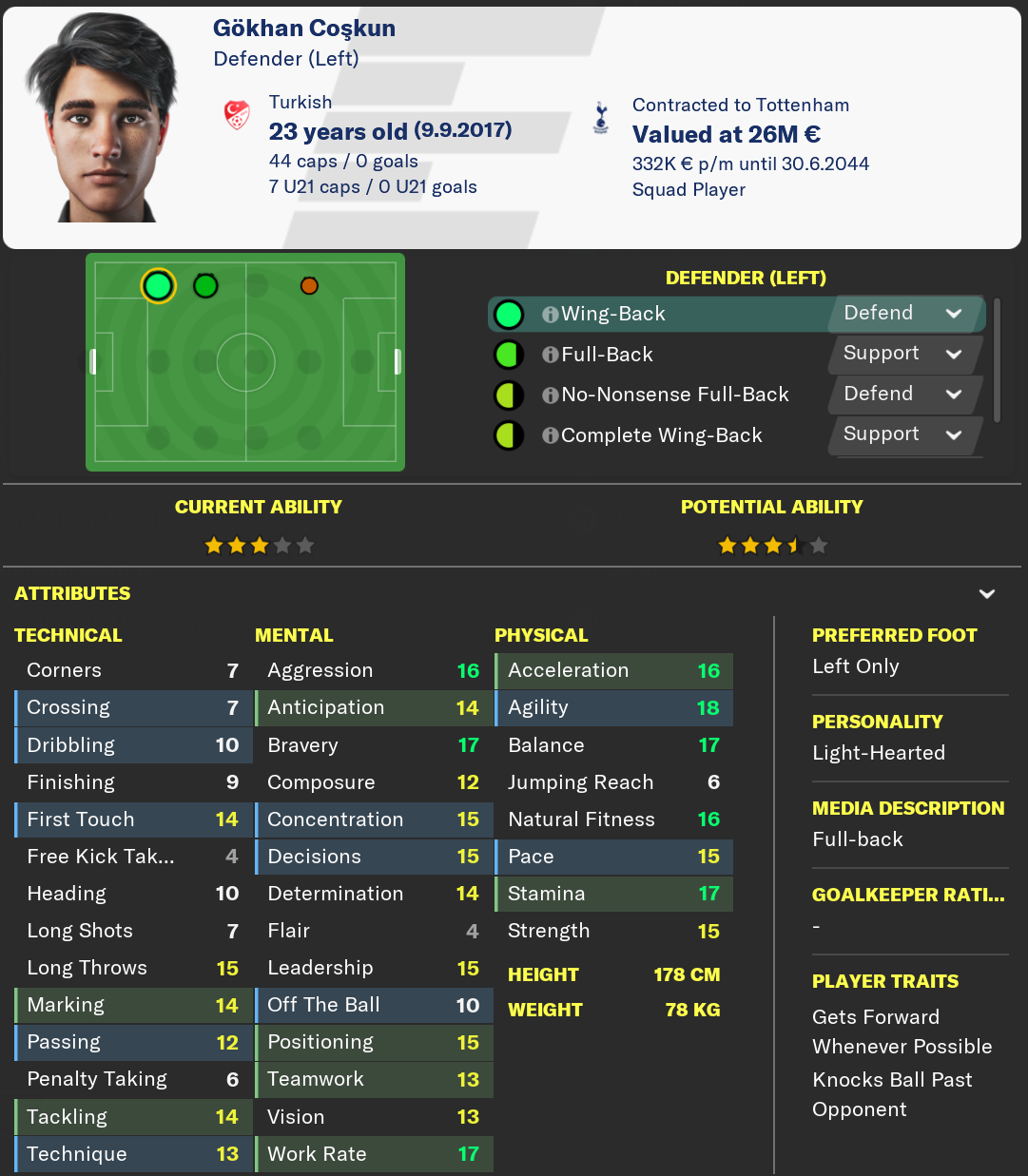 There were bad apples, as well. I brought in Gokhan Coskun in the winter of 2039 to strengthen our left wingback position. He played really well for half a season. But in 6 months in Moenchengladbach he missed team training twice and then became unhappy when I fined him a week's wages for it. The last straw was him not appearing for a friendly match in the 2040 pre-season, after which he told me he had lost his faith in me as a manager for shouting at him too much. This guy was a can of worms and had to go. We sold him to Tottenham at a loss, but at least the rest of the team weren't bothered. The friendly FM20 news generator calculated that we had spent 500,000 EUR in transfer money for each of his 14 appearances.
Back to Europe 2039/40
Given our huge amount of player changes, I expected us to take some time to get used to each other. And so it happened.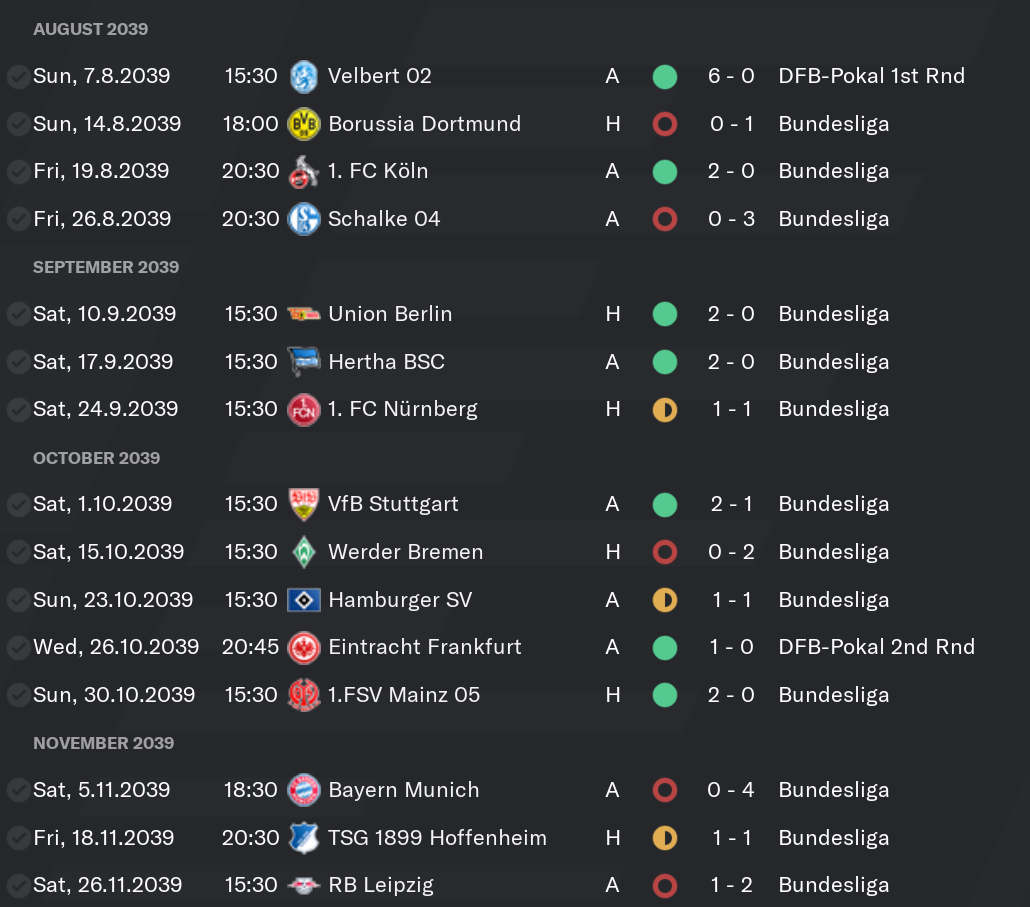 We were predicted to finish 6th, far off Bundesliga big-names like Bayern, Dortmund, or Schalke. And those teams showed us that we were not ready to match them in my first couple of months. But we at least stuck with our goal of qualifying for Europe and mostly were at or around the 6th place.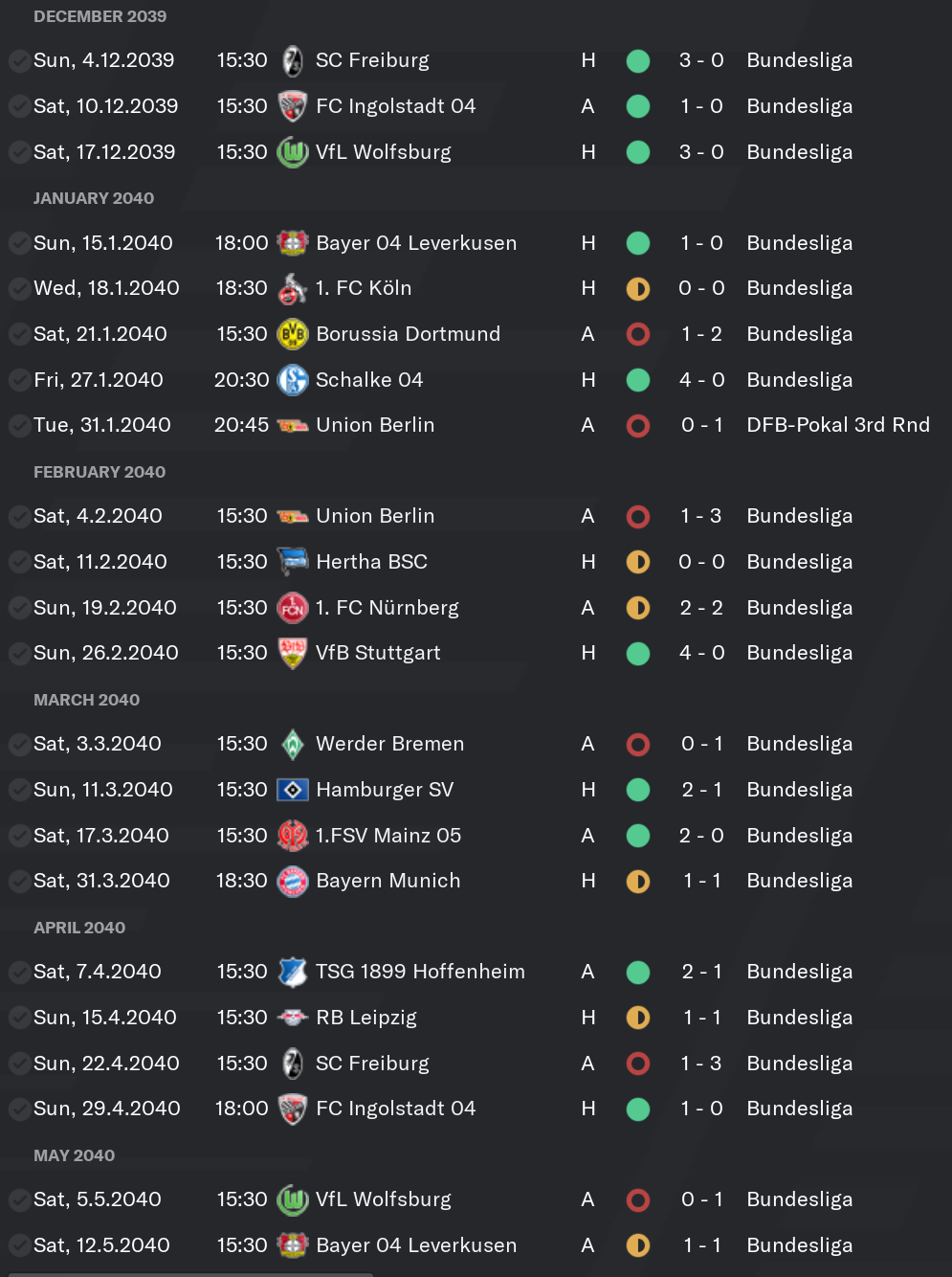 That remained the case in the rest of the season. Our best positioning was a 4th place after beating Leverkusen 1-0 in early January. However, we didn't remain in this spot and had to suffer a couple of humbling defeats, including an embarrassing 0-1 to Union Berlin exiting DFB Pokal in the third round. My proudest moment of the season however came in March, when we managed to get a 1-1 against mostly unbeaten league champions Bayern Munich. (Fun fact: Bayern still celebrated their league win on this day. 6 matches before the end of the season. That's how far away from the rest of the league they were this year.)
And Gabriel got a personal revenge of sorts as well: after beating Schalke 4-0 in January, both teams were aiming for the 6th place on the last match day. Schalke lost their game against league minnows SC Freiburg. Gladbach got a point with a 1-1 in Leverkusen and thus managed to sneak into the 2040/41 Europa League instead of Schalke. On the last day. On goal difference.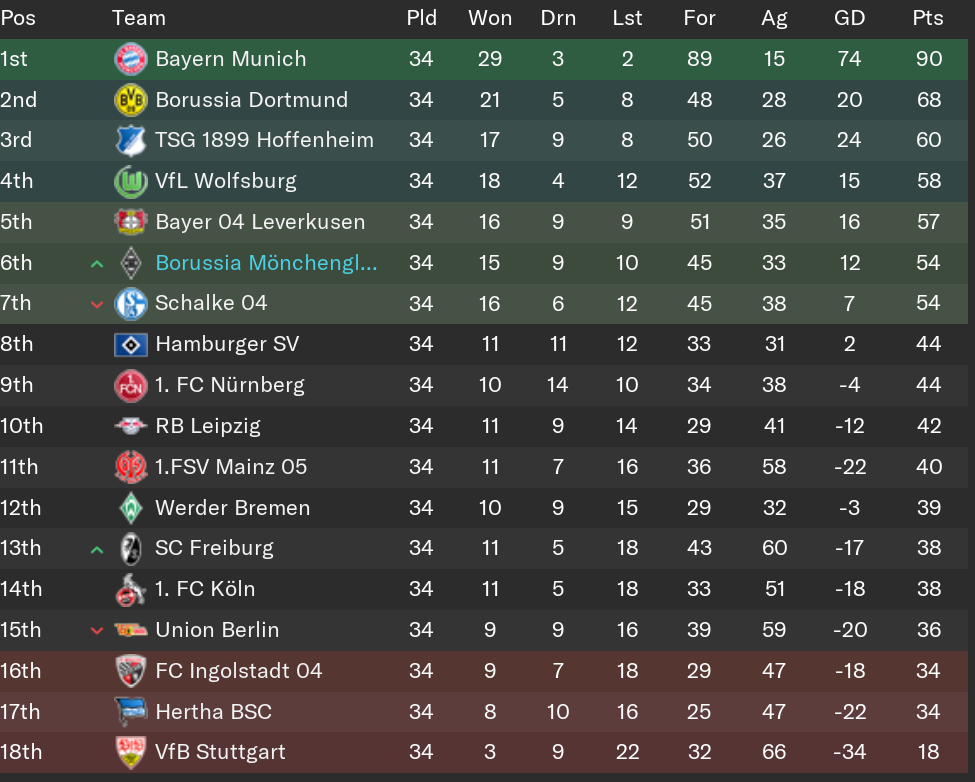 Overall, we made progress in rejuvenating the team and finished where everyone thought we would. I felt this was good enough for now. And so did others.
Two job offers from absolute top teams that would easily be in reach of the Champions League title. Pretty decent, but in the end I decided to stick with Gladbach. I wanted to show that the rebuild was going in the right direction. So I chose loyalty over a fast path to the Champions League.
On and on – 2040/41
The Moenchengladbach board were satisfied with my job so far and asked me to achieve another Euro League qualification this year. The transfer budget was certainly lower this year, but we were able to bring in another bunch of good players to continue the rebuild.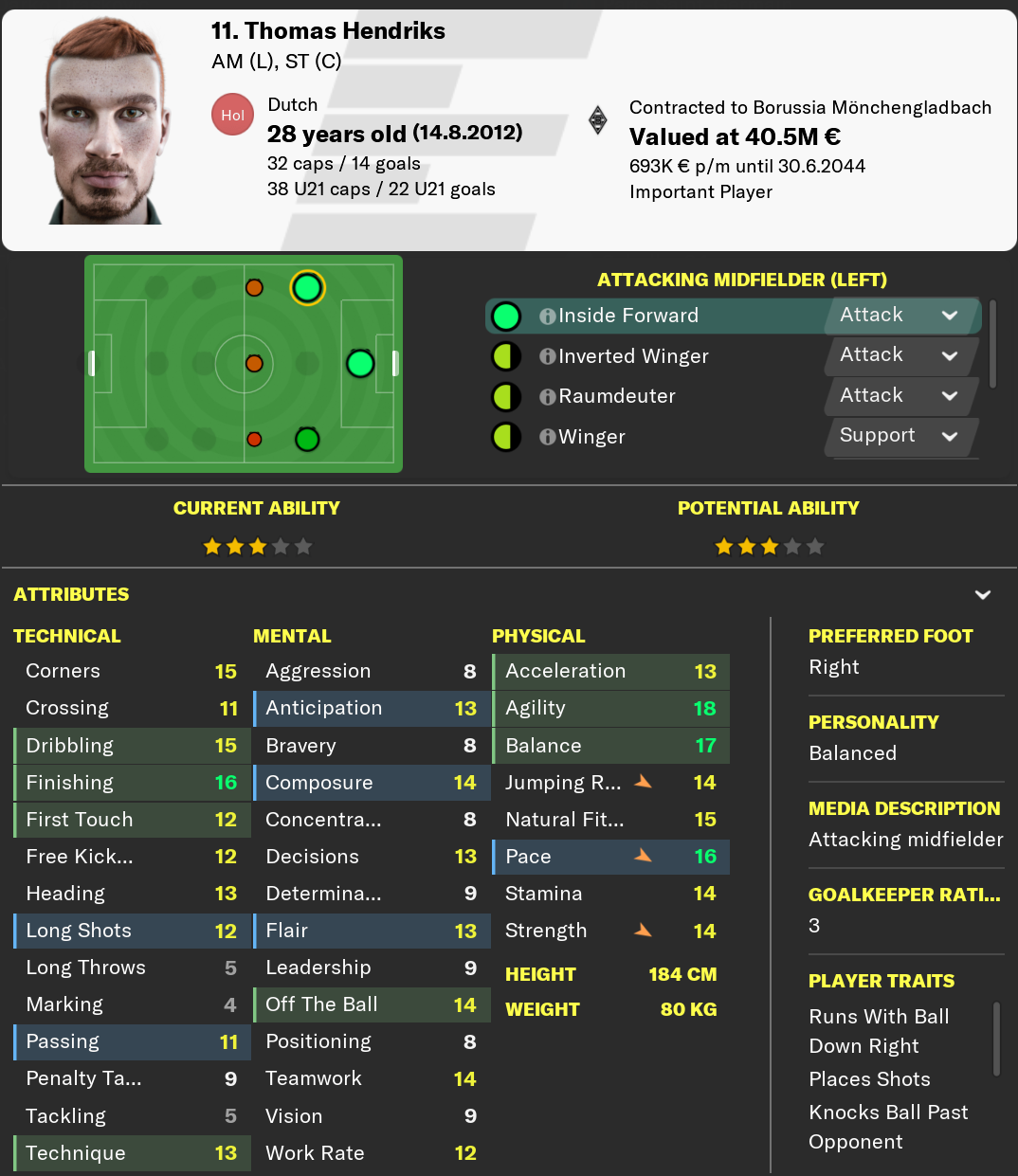 Dutchman Thomas Hendriks joined us on a free after being released from Schalke. The board were extremely happy with this signing because they had a policy of signing players from German clubs and I had so far mostly ignored it (they eagerly pointed this out in the annual review). He went on to play an important role as an IF(s) on the left wing.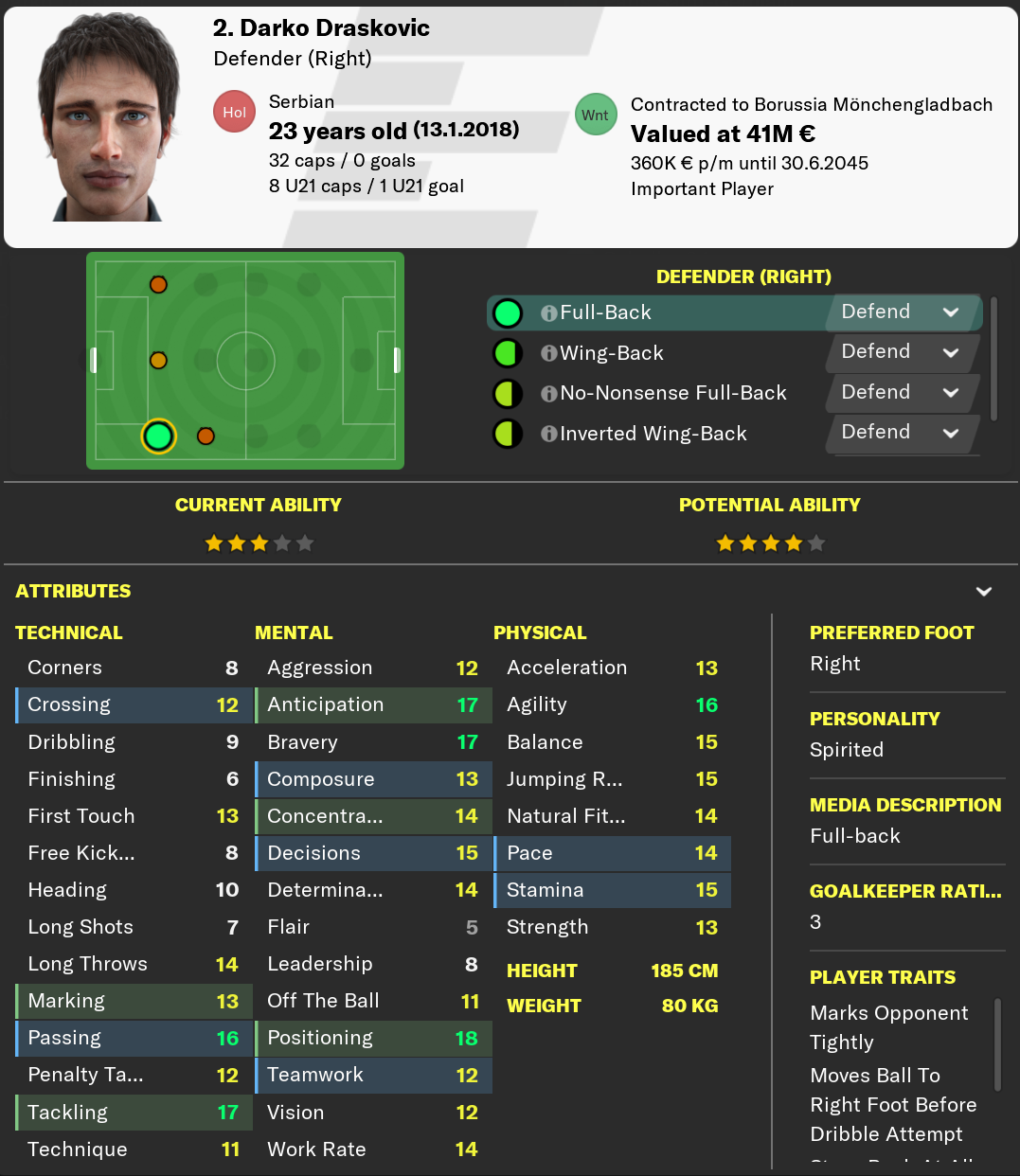 Darko Draskovic joined us from PSG for 25 million and was bound to replace our aging right-wingback. He duly delivered starting 31 matches this year.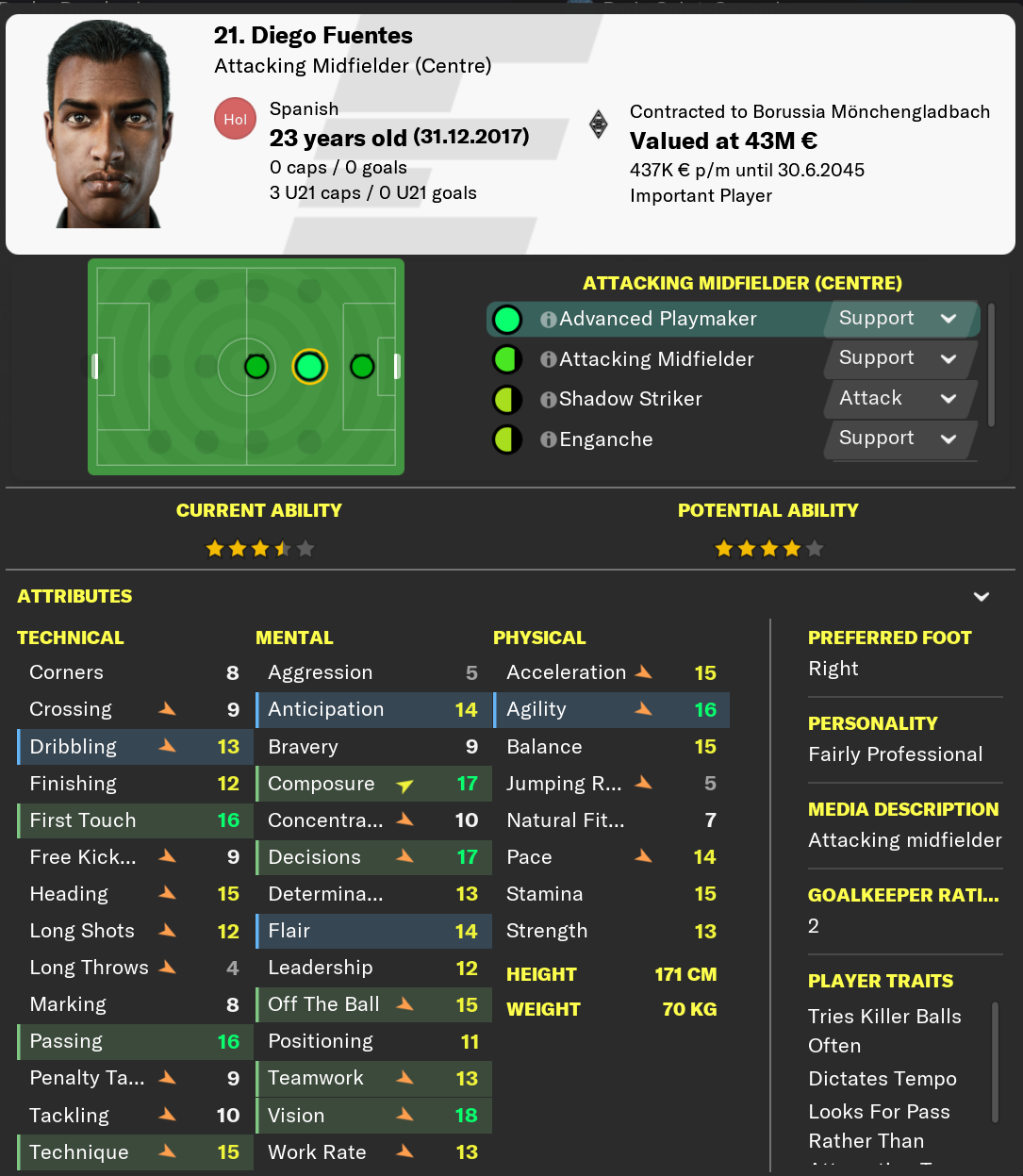 Diego Fuentes was another free signing, coming from CD Tenerife. He looked like more than a decent backup for AP Borselli. And then he became my main playmaker, because Borselli ended up injured half of the season.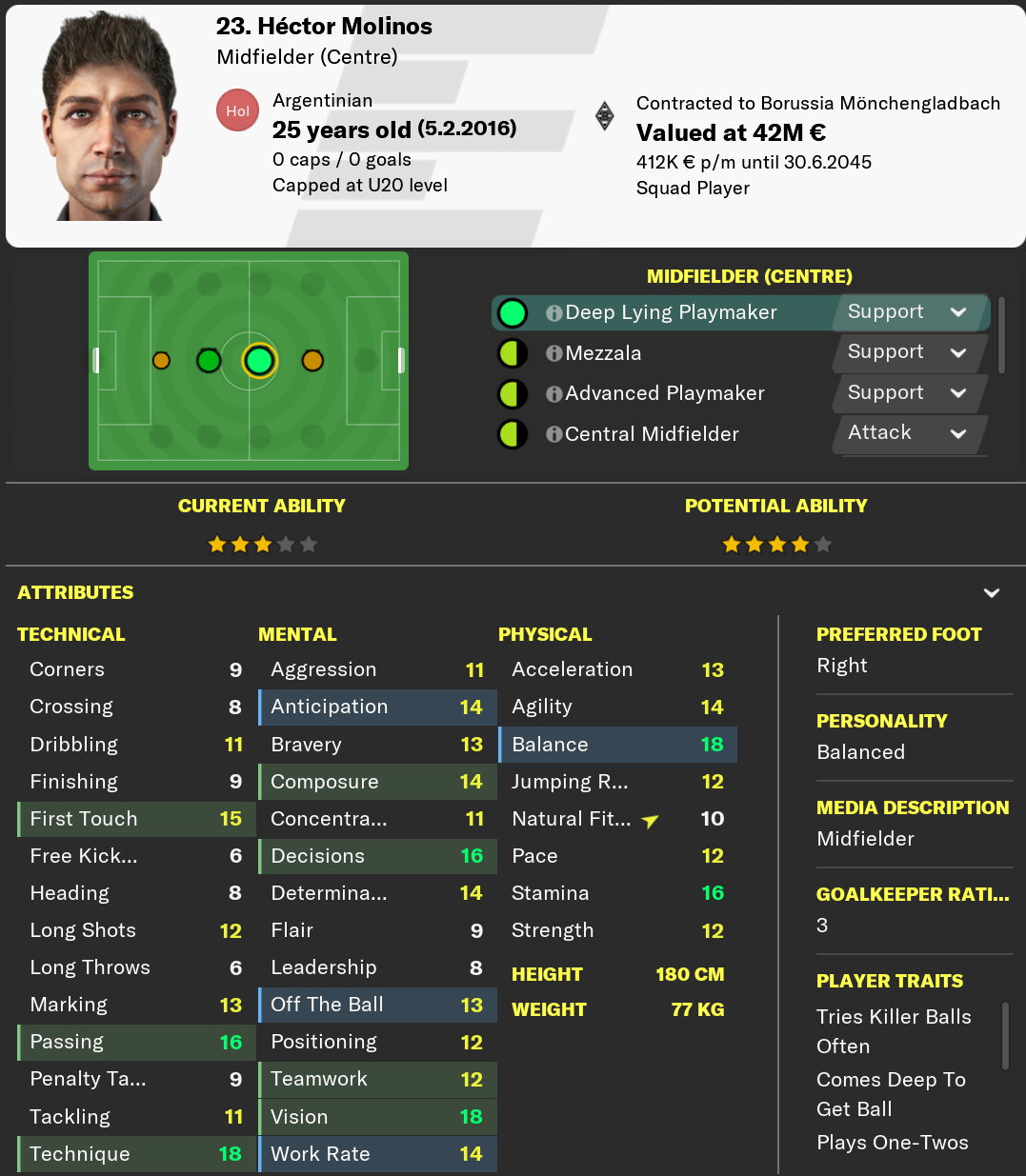 Hector Molinos was offered cheaply by Tottenham and I jumped on the offer even though I already had a decent CM with Jose Leonardo. Still, I like collecting good midfielders and wanted some healthy competition for the spot. Leonardo won that competition this year and Molinos got a bit unhappy. Still, better to have such backups as long as our money lasts.
2040/41 DFB Pokal
Let's start with the short story. We didn't last long. Again.

This time, we duly delivered in the first round, beating amateur team Bayern Hof 12-1. Imagine my upset when the 2nd round draw gave us an away match at Bayern Munich then… The game had everything – we were 2-0 down, managed to get the score to 2-2, only to lose in extra time. So, while we exited early, we at least lost to what is the best team in Germany these days and we managed to put up a fight.
2040/41 Bundesliga
At least in the Bundesliga there is no early out.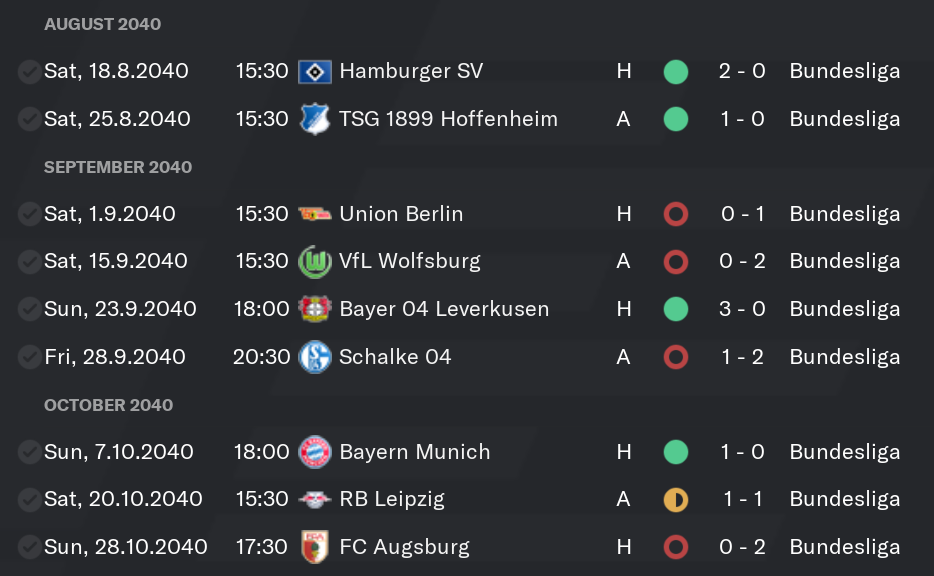 We had a few ups and downs in the first three months. Winning two matches in August seemed great, but then we lost momentum in September. We ended up beating Bayern 1-0 in October, just to follow up with less than awesome performances against RBL and Augsburg.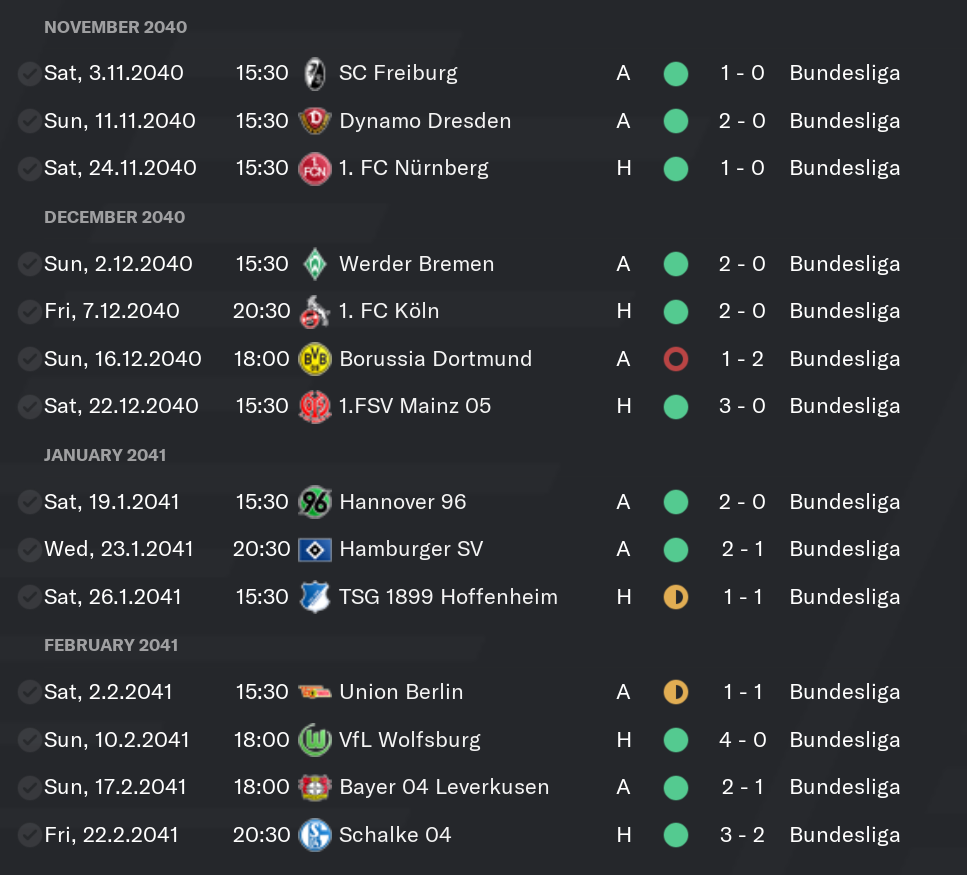 But then we really took off. We only lost one match (1-2 against Dortmund) in the next 4 months. At one point during that phase we even reached the top of the league, although Bayern and Dortmund followed suit a day later – we had just been lucky for scheduling reasons. Nevertheless, it looked like our squad had finally gelled together and performed. Some clouds appeared on the horizon when we lost 3 of our first-teamers to injury then and it showed in the coming results.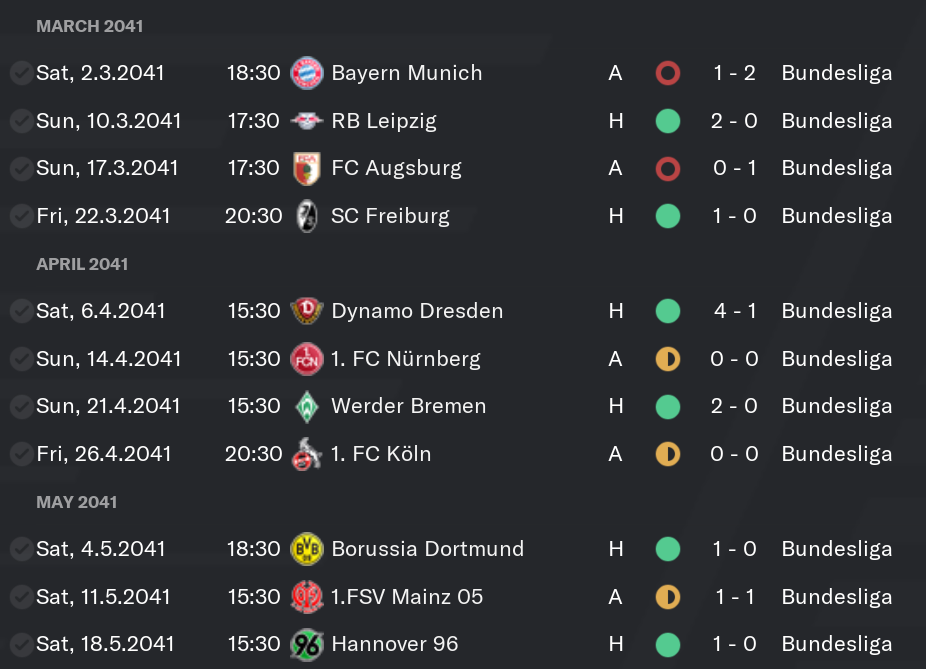 Yet another expected loss agsint Bayern, but then we also lost another match against Augsburg (they were really good this year!). Add a couple of draws that we should have won, but at least we managed another season highlight by beating Dortmund in early May and thereby delaying their championship celebrations.
Overall, we did quite well this season. Expected to finish 6th again, we managed to land a 3rd place finish and qualify for next year's Champion's League:
Europa League 2040/41
On top of our league endeavors, we were back in Europe as well! The group draw gave us a winnable group with Qarabag Agdam, Young Boys, and AZ Alkmaar.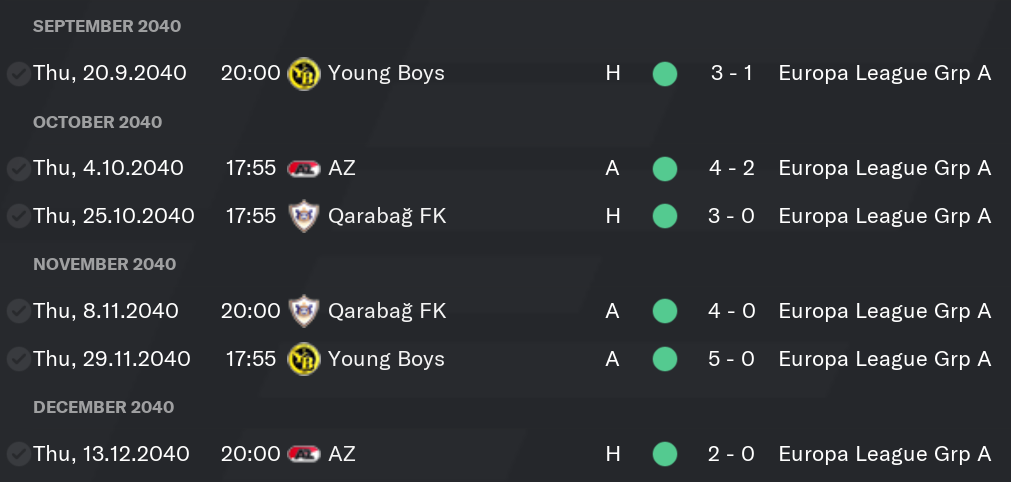 6 wins gave us a 1st place finish as well as some well needed motivation boost during our hard first months in the Bundesliga. If we expected to get an easy draw for the knockout rounds after finishing first, we were disappointed.

Fortune gave us Chelsea and we even lost the away match. We tried our all-out-attack mode in the return leg and luckily clinched a much-needed 2-0 win to give us another round against …

… Liverpool! Again. I had already faced them in my two European seasons with Milan. This time we even won our home leg 2-1. At Anfield we were already mentally preparing for extra time when wingback Draskovic put in an own goal in the 90+4th minute, sending us out of the competition.
What's next?
Champions League football secured for 41/42, an acceptable performance in the Euro League, and a not-too-embarrassing early exit out of the cup against later winners Bayern Munich. I think this was a rather productive season in Moenchengladbach. Also, I think I have built a squad for the next few years now. Not a lot of changes required. This summer I'm aiming to get someone experienced and/or skillful to cover in central defense. Apart from that, I'll be trying to keep the squad together.

Liverpool already offerred 76 million for striker Aguilar in the winter window, and given that he managed to score 30 goals across all competitions, I'm afraid someone might trigger his 102 million sell-on clause in the near future. Midfielder Jose Leonardo is also attracting other club's eyes, right winger Nasreddine is getting offers from China all the time, but they're still under value. I haven't pressed 'Continue' yet, so I'm hoping for the best. Next time I'll let you know how that went.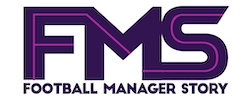 Subscribe to our Newsletter