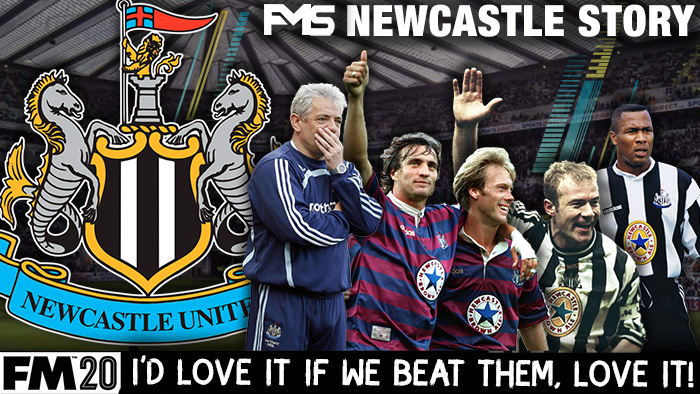 We should be happy with second and a Champions League final, yet season two left an itch I could not scratch. Losing in the Champions League final hurt, especially to Napoli and in the manner we lost. Such a bitter taste could only be cleansed by action and a vow to add quality for season three. My response? Two players costing £120 million.
The Newgen spending spree continued of course – a long term project – but my focus fell upon Ansu Fati and Max Aarons. With great strength in depth and a squad established over two full seasons the team felt stable and well gelled. We now enjoyed great strength in depth and even the fringe players should hold their own, but how would this translate on the pitch?
August to December 2021 Results – Premier League
De-void of the so called 'big boys', August to September returned seven wins from seven games. After a great start we became the team to beat, or not so the case would be. October brought maximum points including the dramatic 4-3 win at Old Trafford, before wins against Liverpool, Arsenal and Tottenham Hospurs.
The most impressive performance of all came in December, at the Etihad, as my boys demolished Manchester City 5-1. A proud moment considering the squads average age of just 22. It wasn't until December the 11th, on the South Coast my winning run came to an end. After drawing with Brighton we also dropped points at Anfield but maintained the unbeaten run, a fantastic achievement.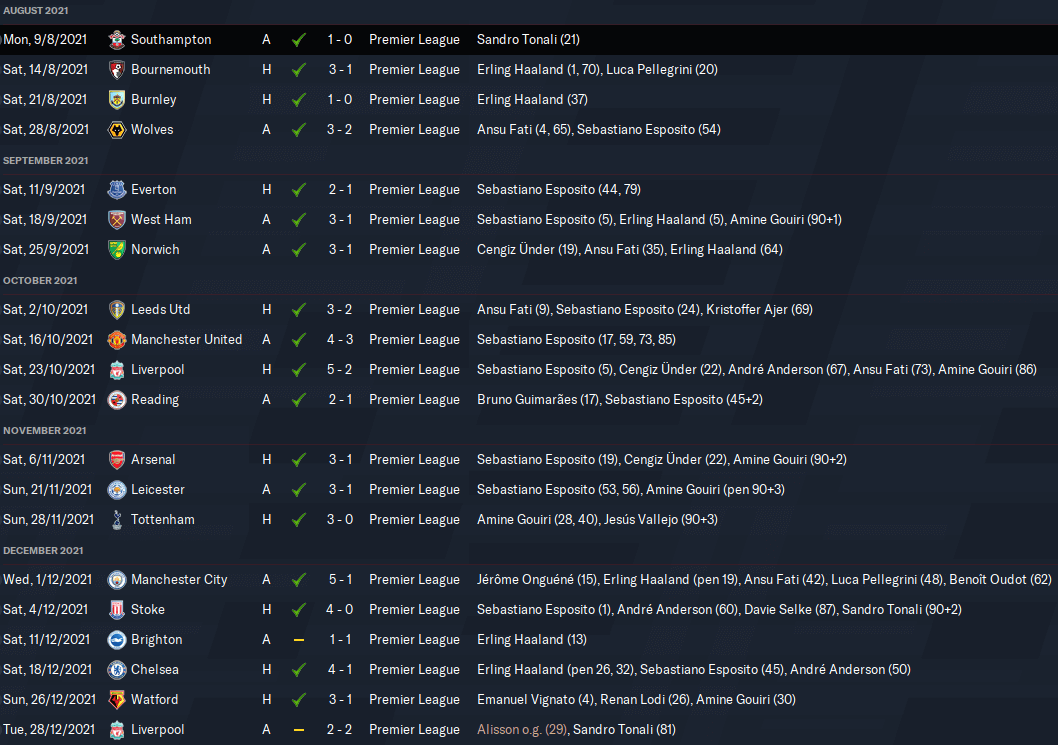 League Cup Results
I quite enjoyed this little cup run affording game time to my second string players. Gouiri performed scoring in every round including 5 against Burnley! Middlesbrough, Scunthorpe, Burnley and Leicester offered little resistance as we booked our place in the final, against Livepool.

What can I say, Jurgen Klopp is as prolific in FM as real life. My second loss of the season and at the worst possible time but well deserved in fairness. Liverpool had us dancing to their tune, soaking up that ball in behind before landing each blow with that deadly counter. Another silver medal, I am starting to get a complex about this!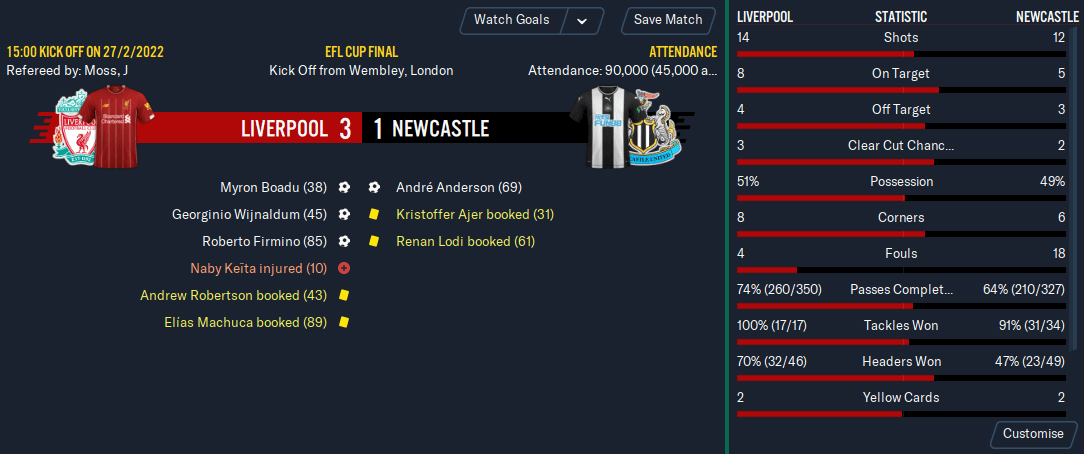 Champions League Group Stages
Remember that great start in August and September, it included the 5-0 thrashing of Inter Milan, in the San Siro. We then beat Zenit at home and FC Porto away to all but secure qualification. I used the final three games to rotate, hence the dropped points. Momentum is important but I prioritised squad morale and match sharpness.

Top spot, 15 goals, 3 conceded and a supposedly easy draw for the first knockout round, happy days.

January Transfer Window
My top priority for January was to sell Joelinton, Selke and Kluivert. All of which are surplus to requirements and hold no place in my long term plans. Wow, that sounded FMy. Joelinton left for Bournemouth, Selke for Brighton and Sheffield United took Kluivert. Almost £67 million was raised, enough to fund yet more Newgens *fist pump*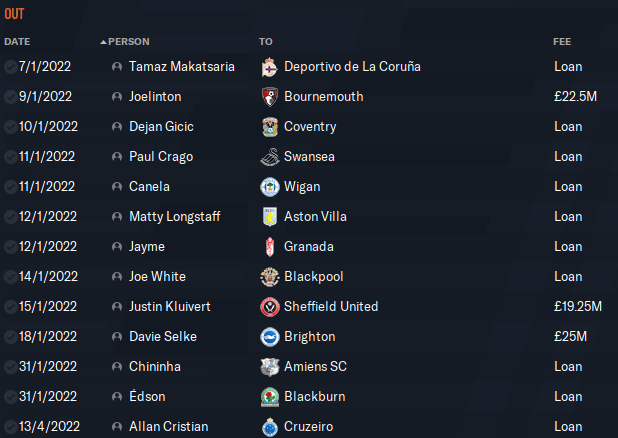 Did someone say Newgens? Don't mind if I do, here they are in all their weird, fake faced glory:
Goalkeeper – Canela will join Lomolino to contend the number one jersey. Loaned out to Wigan, a year in the Championship will do no harm. £18 million is steep but the kids got huge potential.
Defenders – We have two new recuits in defence, centre back Dejan Gicic and left wing back, Edson. Gicic joins for a measly £800K, cost being the most attractive aspect while Edson is pure talent and worth the nion £12 million price tag for his media comparison, 'the next Roberto Carlos'.
Midfielders – A mixed bag here but predominantly price orientated. Tamaz Makatsaria was free and seems a great prospect while Cininha is a pot shot for just £240K. Both will compete for the future MC slot and join a long list of talent in midfield. Despite signing two wonderkids for the left wing, I have added a third in Jayme who possess' great skill and speed.
Forwards – Finally the frontline and two extremely exciting prospects. Matias Tirao joins from Huracan for £6.5 million and is laballed the next Ramon Diaz, this kid could be the complete forward. Paul Crago is my first English Newgen costing a whopping £19.5 million and could develop very well in a number of roles.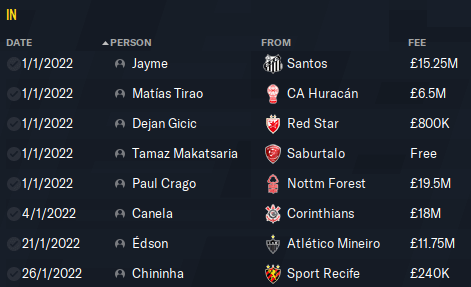 Premier League Results 2022
All good things come to an end, my unbeaten run included. The cracks began to show in January with a lack of goals before a resounding defeat to Bournemouth away. Bouncing back we won the next seven games including victory at Stamford Bridge, Tottenham's new stadium and home to Manchester City.
With the title all but won we became complacent, losing to Reading and Arsenal but finished the season in style. My favourite result was the 8-3 mauling of Wolves, we could have won by 10 or 12 in fairness.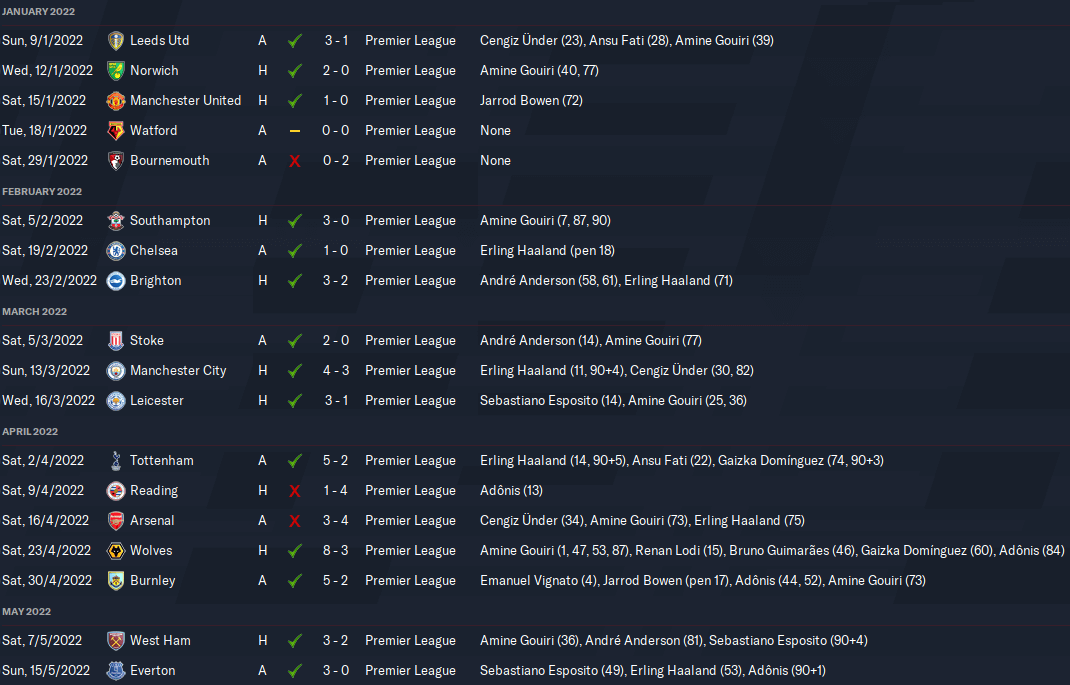 Clearly we won the league but by how many? A staggering 99 points, outscoring the league with 108 and 15 points clear of Liverpool…you can have the League Cup Jurgen!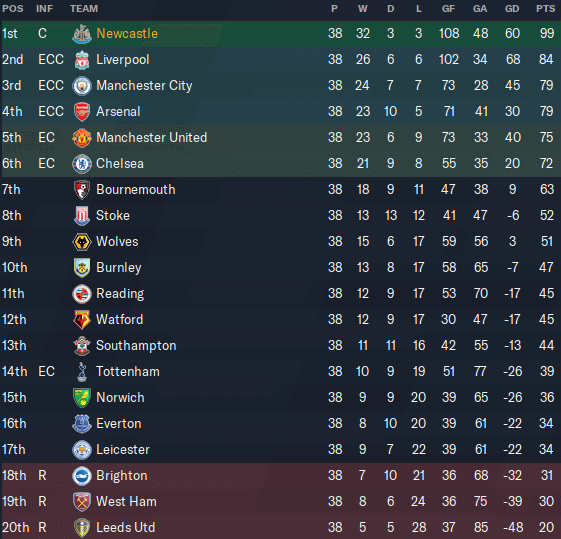 FA Cup
Another cup competition another opportunity for the 'B' team and boy did they turn up. Blackburn were beaten 5-1, Watford mauled 4-0 and Crewe destroyed 5-0. A visit to Old Trafford saw my first string XI return and with them a 5-2 thrashing.

Champions League Knockout Stage
Winning the group meant an easier first round draw as Bayern Leverkusen followed us out of the hat. A tight affair we almost lost the first leg until Leverkusen saw red, with holes to exploit we did just that scoring four times in 30 minutes to win 4-1. An uneventful second leg finished 2-1 seeing us through to the Quarter-finals.
Joining us in the final eight were Wolverhampton Wanderers, an easy draw some may say but my record against the Midlands side is terrible. This shone through during the first leg as we lost 2-1 taking an away goal to the second. What followed was quite embarrassing as we demolished Wolves 8-2 at Saint James Park, with seven different scorers.
An ageing Bayern Bunich awaited us in the semi-final and despite looking the better team we lost the first leg 1-0, away. Onto the second and only one team turned up, my boys led from the 5th minute coming away 5-0 victors. The downside? My old nemisis awaits, Jurgen!

Champions League Final vs Liverpool
Have you ever been 'FMd'? Maybe you don't even know what the term means, below is a prime example. Just days out from the most important game of the season, I lose three of my four wingers to injury! Under, Bowen and Fati all out, are you fucking kidding me! Fuck you FM, fuck you.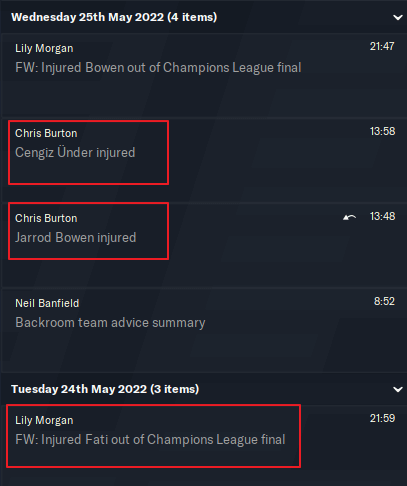 After losing the League Cup final this season and Champions League last, I couldn't bare another final day defeat. With the 4-4-2 proving successful almost all season I kept faith but felt a twinge of doubt about the injured Under forced to start and an inexperienced Vignato flung down the right.
A tense first-half saw opportunities for both sides, with Liverpool edging it and scoring from a set piece in the 24th minute. 1-0 down I felt we had a chance and sure enough regained hope from the most unlikely of players, Luca Pellegrini, 1-1.
The equalizer only seemed to piss our opponents off and what followed was a masterclass. Liverpool sliced through me like a knife through butter, the 56th minute, then 61st and eventually the killer blow on the 90th. Every attack conjured was hit with a counter blow. Deflated and pissed off I blamed the game and those ridiculous injuries. In hindsight we were beaten by a better team and tactically outclassed.
Next season this won't happen! My approach will change for the big games.

Squad & Key Performers
So many top performers but three stood out; Esposito proved consistent despite his tender age of 19 with 33 goals and 13 assists. Amine Gouiri played second fiddle to Haaland yet scored 39 goals from 25 starts while the Norwegian wonderkid scored 30 goals from 41. Why did I start Haaland over the Frenchman? Gouiri hates the big games and Haaland eats them for breakfast.
In midfield Cengiz Under scored 12 setting up 10 while on the opposite wing, Fati scored 10 assisting 8. Jarrod Bowen was impressive filling in for Under with 8 goals and 16 assists. From central midfield Andre Anderson staked his claim as number one with 10 goals and 7 assists while Bruno Guimaraes hit 4 assisting 12.
Despite the big money move for Max Aarons, Celik put up a fight for the right back position and outplayed the young Englishmen averaging 7.45 to Aarons 7.17.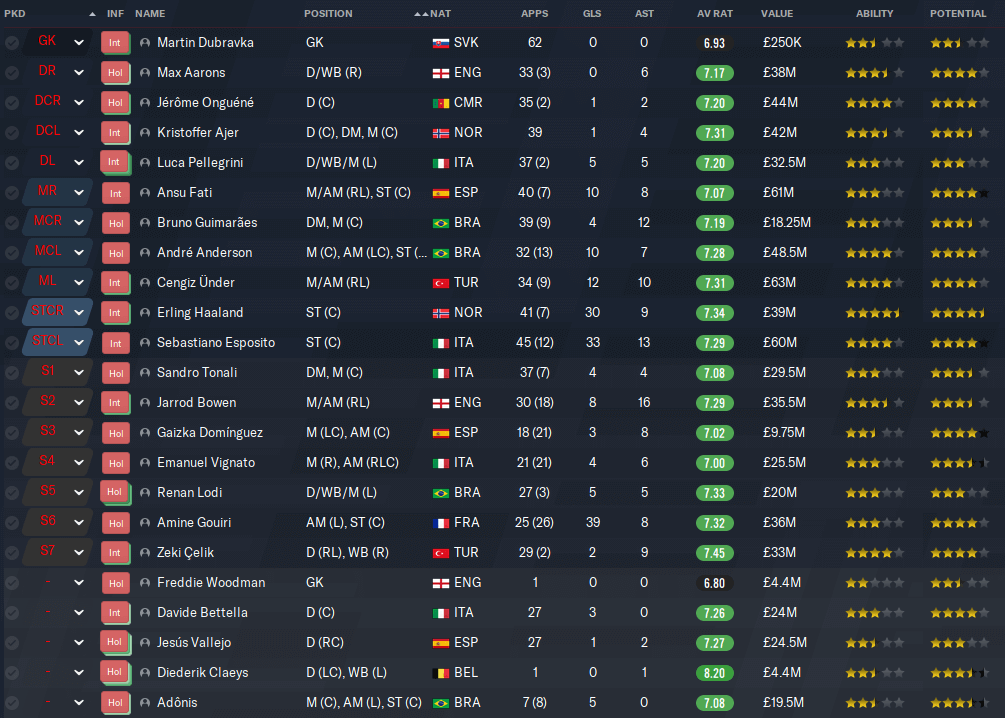 Amine Gouiri scored 23 goals in the league despite not being first choice. Almost as lethal, Esposito came second in the charts scoring 19. Despite our dominance Liverpool out created us, something I witnessed first hand.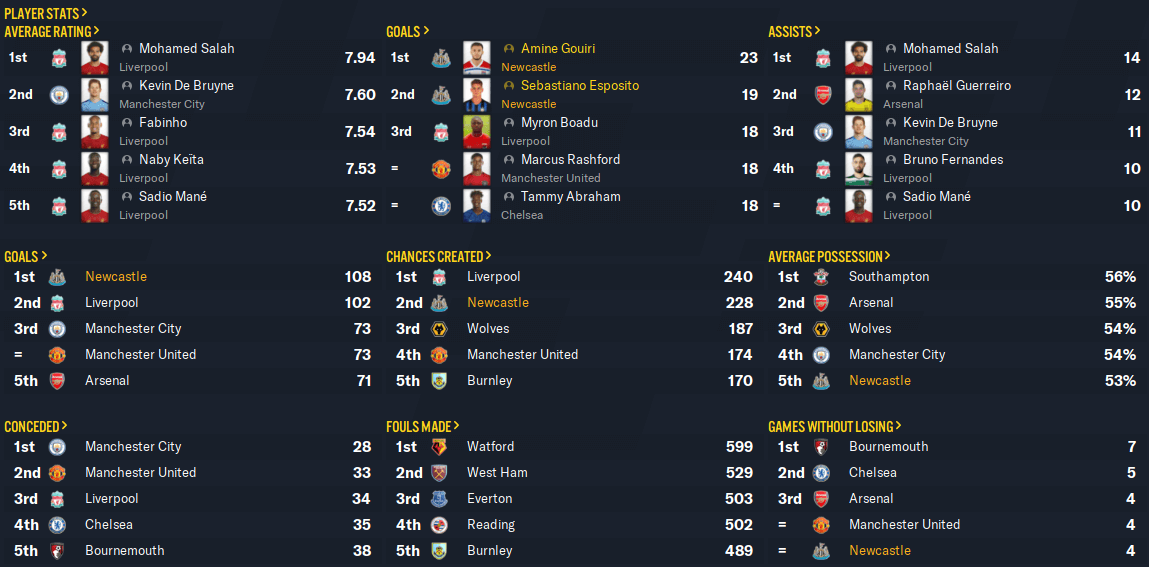 Thats all for today folks, thanks as always for reading and remember, you can catch me live streaming both this and my York City save on Twitch, follow us here. All in all a fantastic season and while the cup final curse continues, I will search for a tactical solution during pre-season. Until next time.

Subscribe to our Newsletter