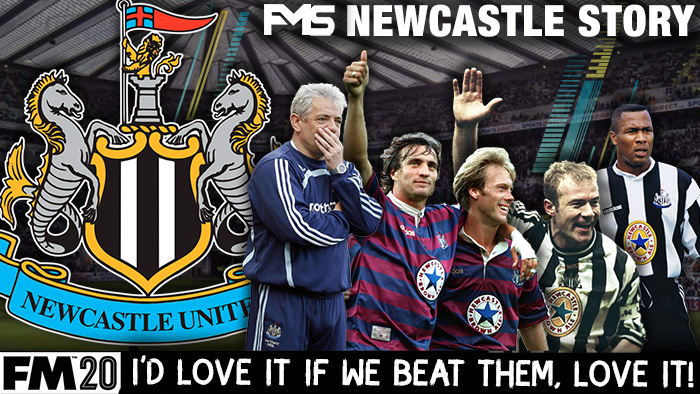 Hi guys and welcome to another episode of 'Emulating Keegan'. After an incredible second season we enter 2021/22 as Champions League and Premier League silver medalists. With one eye on the future my Newgen purge continues, but we also spent big in two positions. We now have two of the best wonderkids in FM20 and a rather light wallet.
Another Takeover!
Just one year after buying Newcastle from Mike Ashley, Alkadhi has cashed in. Jonny Beckett will provide monetary support but demand more in return.

In other news, the Premier League media prediction serves as a reminder of my squads true ability. We may possess great potential but our rivals are the finished article.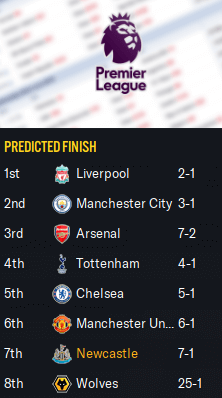 Transfer Out
The mini clearout continues with more first team departures. Saint-Maximin has not impressed from midfield, likewise Longstaff and Beltran while Yedlin makes way for our big money buy. Despite raising £45.5 million I should have added £30 million more, but Kluivert and Selke rejected offers from abroad.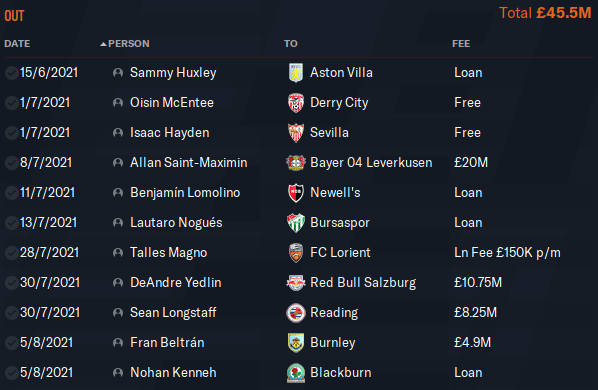 Transfers In
Just two first team additions this Summer and both come at a premium. After hours scouting I could not find any well priced, potentially world class options down the right. £119 million is a lot of cash but Fati and Aarons are worth it. The £30 million I spread across five Newgens seems good business and should attract a huge return.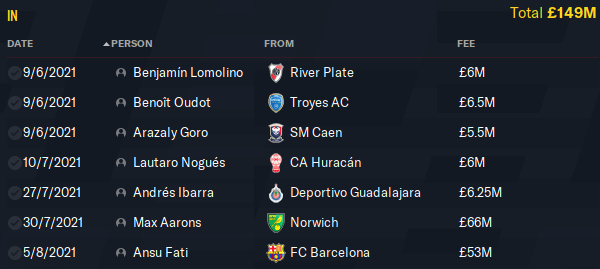 What does £119 million get you?
Love. This. Kid. Aarons is my idea of a complete wing back and I'm not referring to the role. Not many can cross, pass, tackle, dribble and posses great speed and work ethic. I am slightly ashamed of spending £66 million on a defender but you get what you pay for.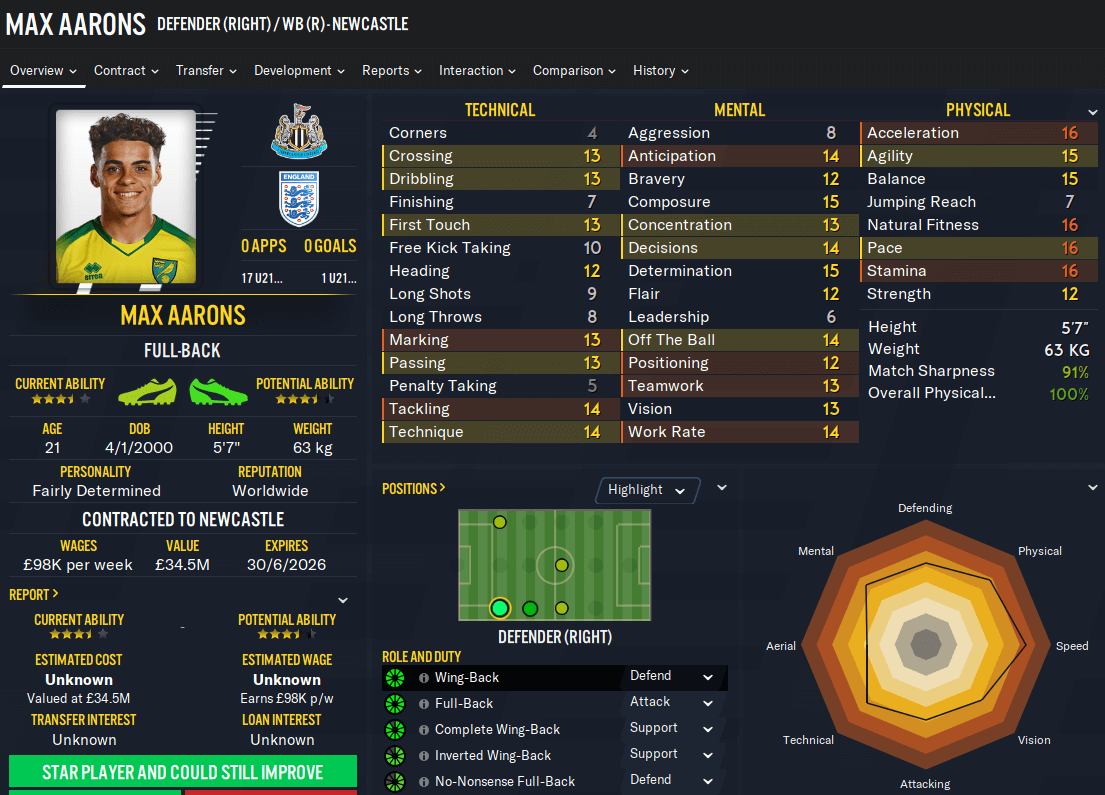 In the black and white corner, all the way from Barcelona, its Football Manager 2020's best wonderkid, Ansu Fati! With room to grow Fati is fast, can carry the ball and posses' great technique and flair. He will offer the end product we missed with Kluivert and Saint-Maximin, you can shoot me down but I consider £53 million a bargain.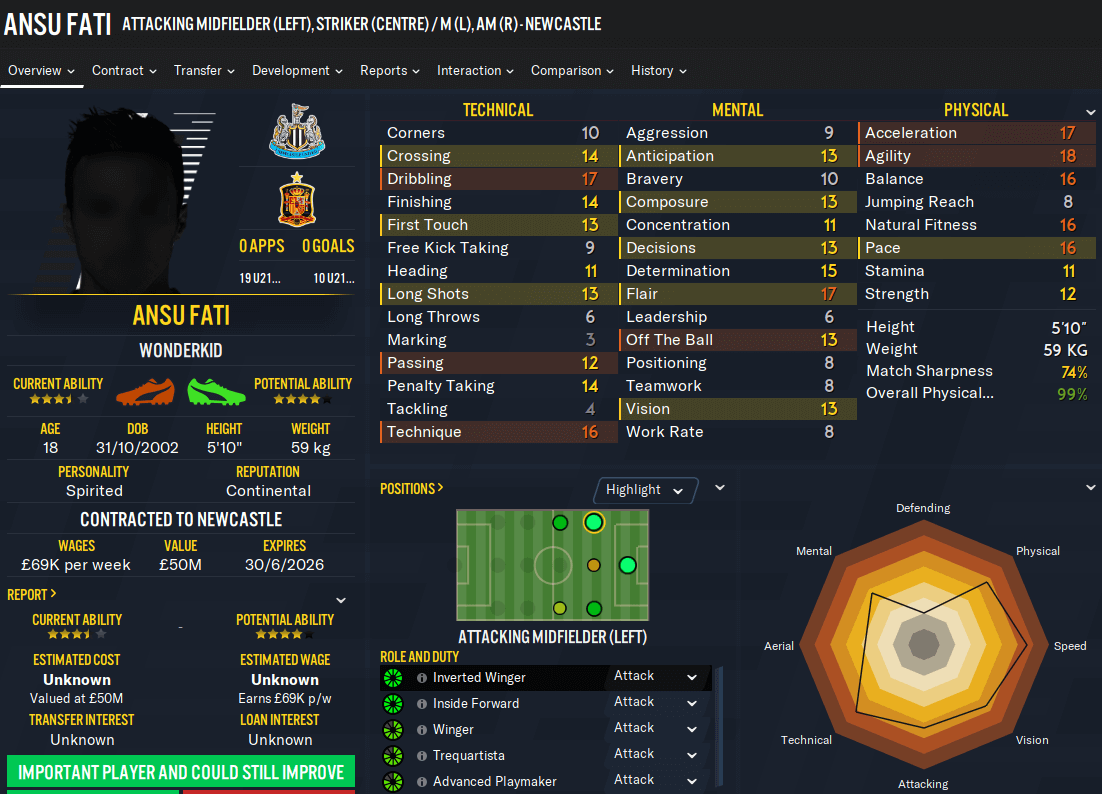 Newgen heaven
Who remembers the 'Youth To Gold System'? It entailed selling your best players at top dollar around the age of 26-27 having developed young talent for 3-4 years prior. Both Bowen and Under are 24 years old so need selling in 3 years time which means we should blood some youth now. Enter the three left footed Amigos!
Arazaly Goro – ML/AML – 16 years old
My first choice replacement for Cengiz Under is Goro, a French prospect costing £5.5 million from SM Caen. Arazaly should turn 19 when I sell Cengiz and be ready to enter the fold.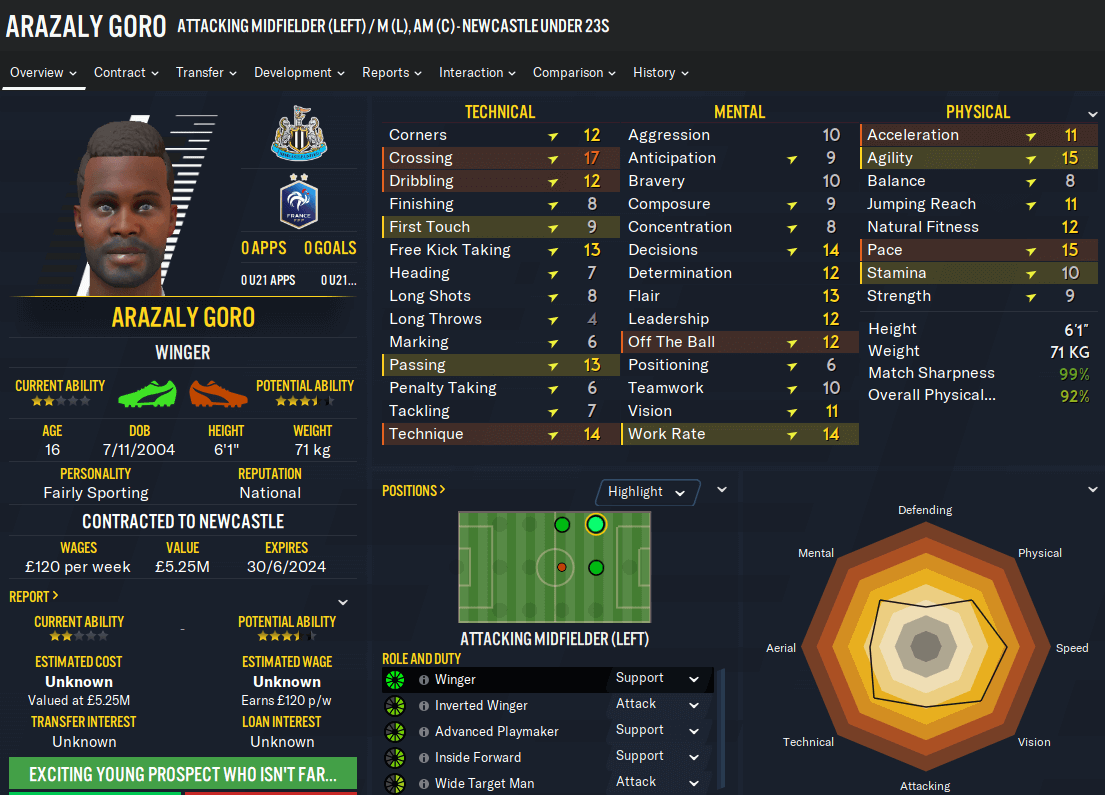 Andres Ibarra – ML/AML – 18 years old
To be fair Ibarra and Goro are of a similar standard but I think the Frenchmen may develop more. Ibarra will be 21 years old come Under's departure so may be ready sooner and already has great foundations to build on.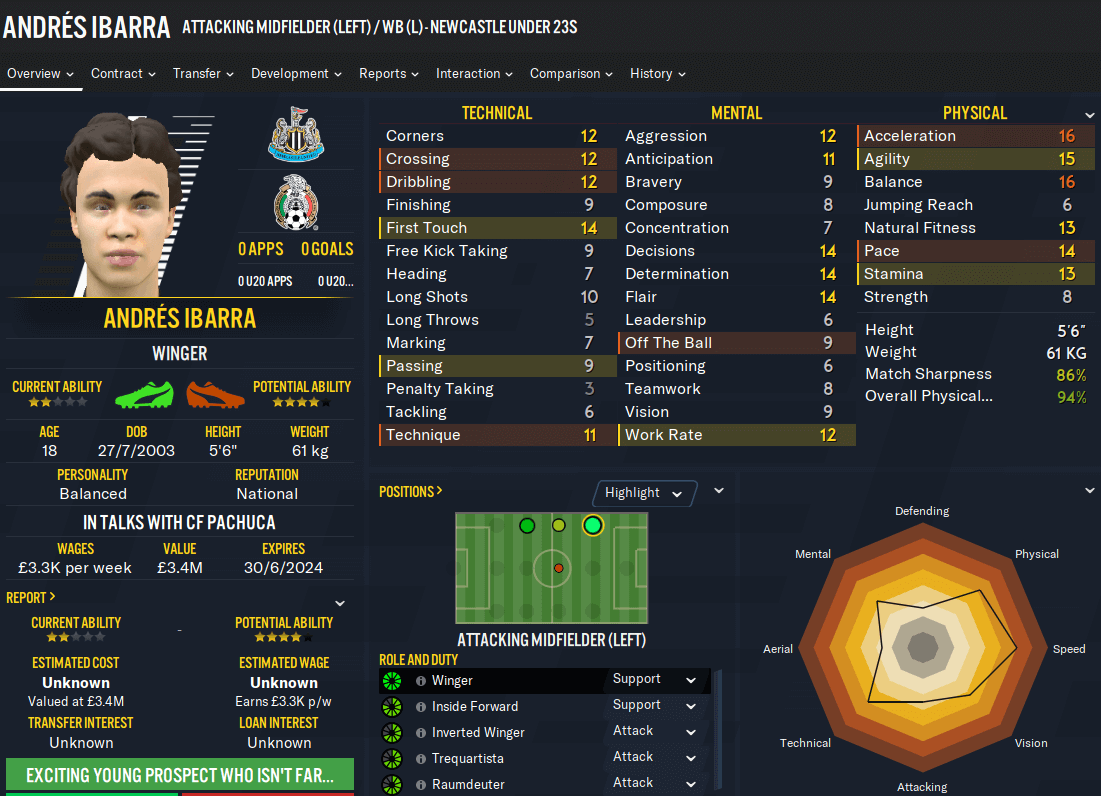 Lautaro Nogues – ML/AML – 18 years old
I am confident of at least making a profit on Nogues, his personality and speed caught my eye. Of course I don't need 3 left wingers so Lautaro is my wildcard.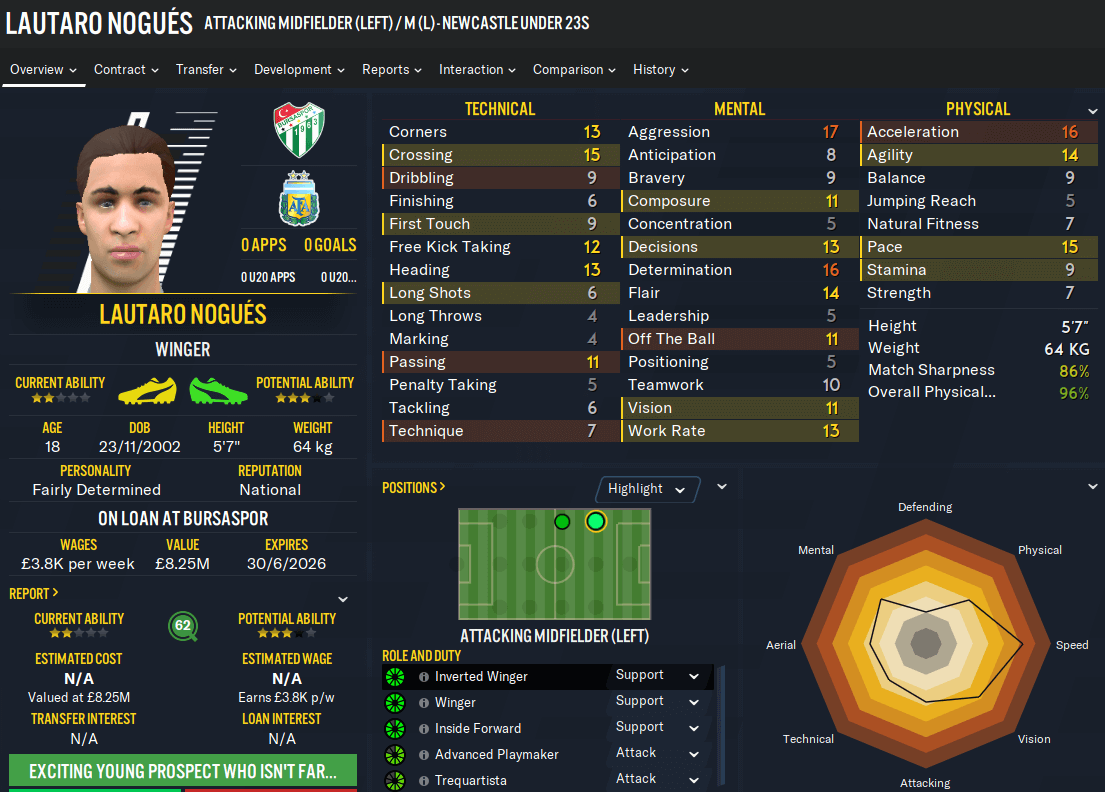 Benjamin Lomolino – GK – 18 years old
My overdue first choice goalkeeper joins in January, so Lomolino will be his backup. At 18 years old this kid has potential and can be loaned out for the next couple of seasons.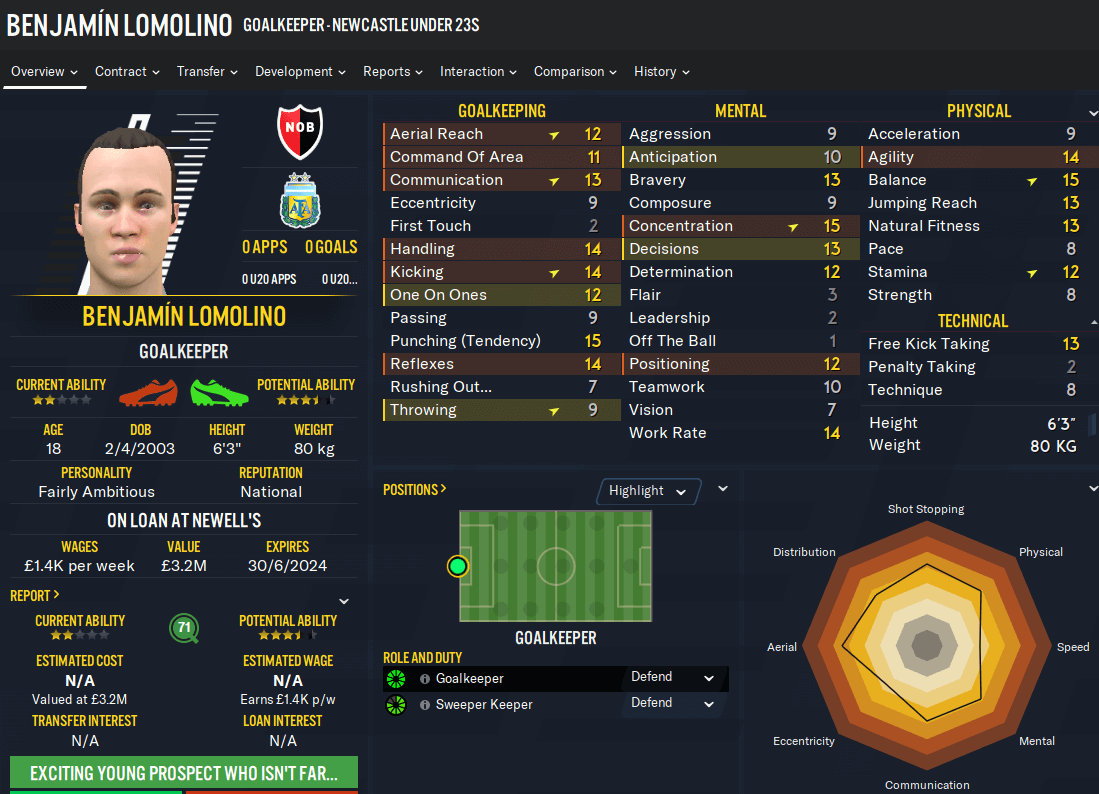 Benoit Oudet – ST – 16 years old
I need four first team strikers in rotation to allow for injuries; Gouiri, Haaland and Esposito have a long shelf life at 21 and 19 years old, Selke on the other hand does not. He will be sold in January with any luck so Adonis, returning from loan, can fill the void. Oudot will replace Haaland or Gouiri in 4-5 years time and looks a right prospect.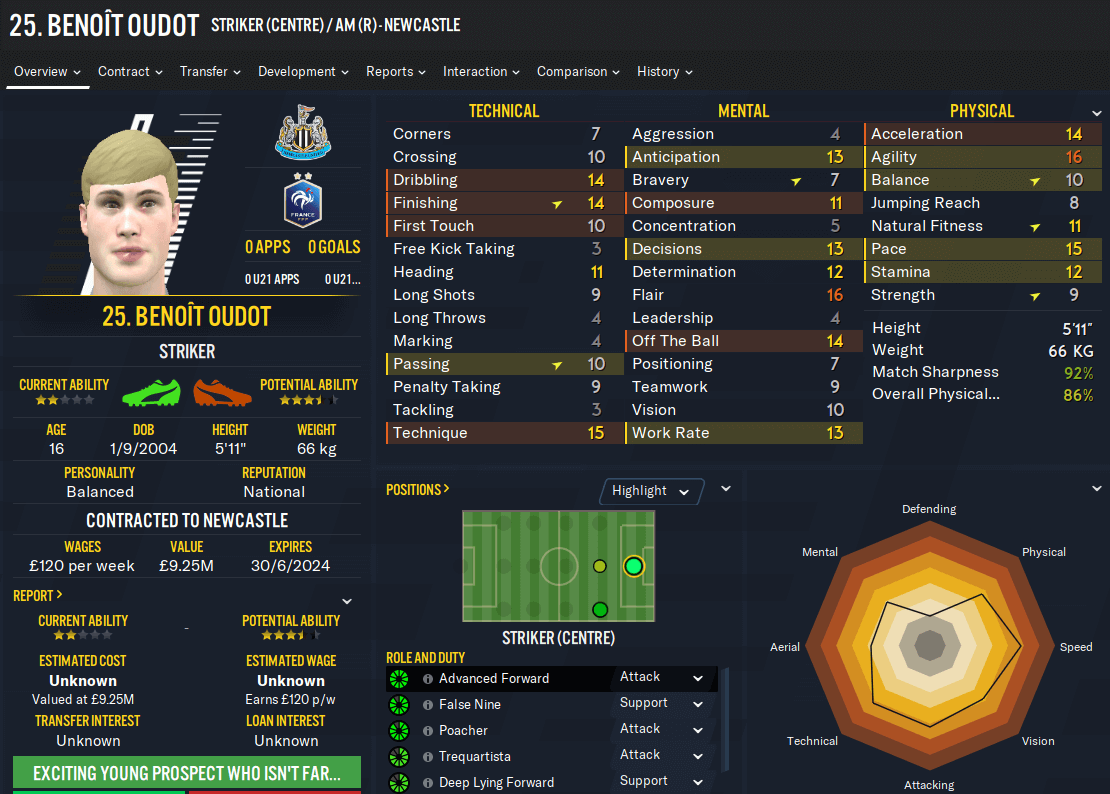 The 'Youth To Gold System' should blood young talent ready for first team duties while maximising on every players value. In theory, we can sign all the above at around £6 million as replacements for players who could sell for upwards of £50 million. Long term thinking = big profit. For those who want to read about the original Y2G in detail, click here. Can't believe I wrote the first draft in 2011!
Refining Tactics
Another season another tactic, the match engine will not beat me! Mafia 4-2-4 served us well but leaked a few too many goals and seemed to dry up come the seasons finale. Our 5-2-3 performed well in rotation but won't provide enough going forward as a default system, So what is the answer? Originally posted on FM Nation I present Duke, a 4-4-2 with attractive, attacking Football utilising that pressing style of play I prefer.
Balls over the top can be an issue so I have a deeper, counter attacking system to see matches out. If we're struggling against the ball in behind I will switch systems and hopefully a more consistent approach with one formation by and large will help.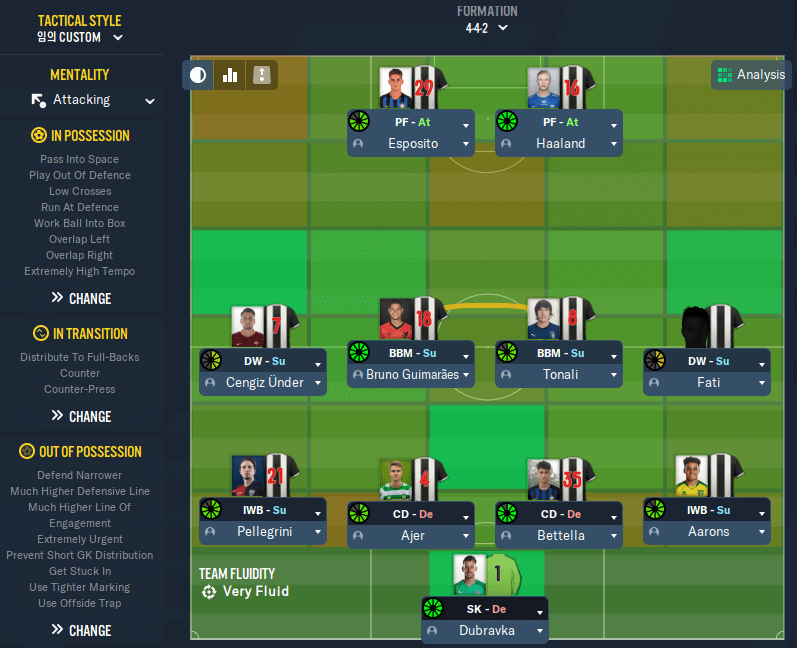 FIFA World Club Cup
To my surprise we qualified for the World Club Cup as Champions League runners up. The new format has a group stage before entering a quarter-final knockout round and begins just three weeks prior to pre-season. Despite a lack of conditioning and familiarity with the new system we performed well advancing from a group of Boca Juniors and ES Tunis.
Haaland capped off a thrilling Quarter-Final against Real Madrid with his hattrick as we progressed 4-3. Flamengo were brushed aside 4-2 before PSG recieved a thrashing in the final, 5-0. Esposito and Haaland scored 10 goals between them over the five games. A promising sign for my new system going forward.

Pre-season Results
Easy opposition but that was one hell of a pre-season. We scored 40 goals from 7 games and managed to blood a few new faces into my first team setup. Welcome Vignato as second choice MR returning from a spell on loan with Preston. Dominguez as fourth choice MC promoted from the U23's and Bettella as third choice DC returning from a loan spell with Derby.

Finances
With the bank balance dwindling I have paid off most of our transfer installments from 2019. I will be selling more players to fund the January installements and expect us to be in a decent position. As the Newgens develop we will be making money, not spending it and then you will see just what the youth to gold system can achieve.

Thats all for today folks, thank you so much for reading. If you fancy watching me play live follow us on Twitch here, I stream every Friday and Sunday night from 7pm. Next episode will be the end of season report and hopefully a title challenge!

Subscribe to our Newsletter