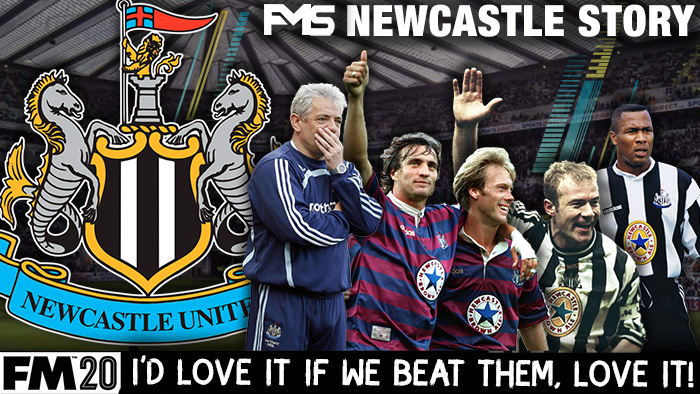 Heh guys and welcome back to season two of my FM 2020 story, 'Emulating Keegan'. Last episode saw a tense final day as Newcastle secured 4th spot and Champions League Football. Despite the great finish, I have tactical and personnel concerns for the coming year, but we'll kick things off with some big news.
Ashley Out!
I hope Baghdad-based investor, Alkadhi, can back my big plans. No early investment yet, but his opening statement is encouraging. 'Alkadhi indicated he wanted to make a difference to the fans at St. James' Park'.

In other news, we have £57 million to spend in the Summer and a wage budget of £1.6 million per week. This has not altered since the takeover.

Transfers Out
The clearout begins! With Champions League Football strength in depth will be vital. Jonjo Shelvey does not fit our new system, he moves to Sheffield Utd with the wasteful Almiron for a combined £21.5 million.
Fabian Schar is getting on and £15.25 million seemed a fair deal. The last of my squad players to leave is Sosa, I had high hopes for the left back but found a far superior relacement for a similar price.
The likes of Vignato, Gouiri and Bettella are in my future plans but not quite ready for first team Football so leave on loan.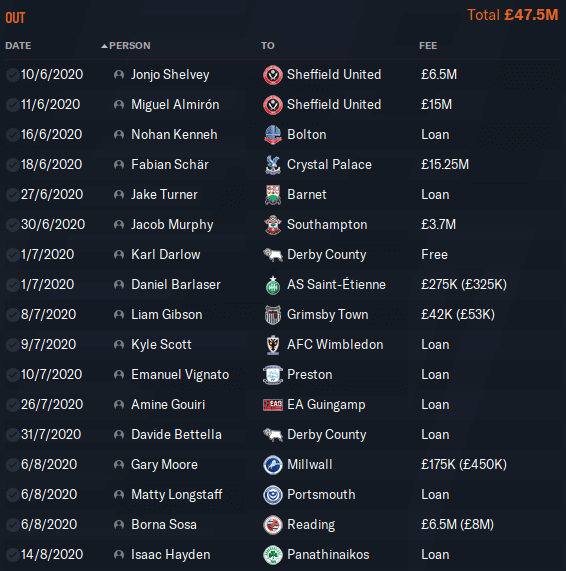 Transfers In
We'll discuss each signing in detail but first an overview of what I am trying to do.
Still to improve – My goalkeeper (Dubravka) needs addressing, alongside the right back position. Yedlin is technically poor and too old, while Krafth just doesn't possess enough quality. We have options in Central Midfield but lack that true quality and moment of magic in the final third. So plenty of work still to do, but a great start.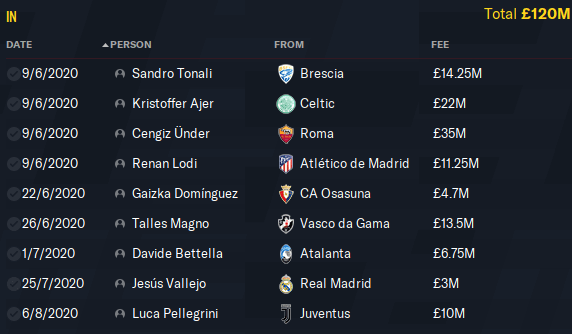 Kristoffer Ajer – DC
We need quality on the ball and Ajer is just that. Powerful in the air he can pass and bring the ball forward. Jesus Vallejo will provide cover for a very fair £3 million. Davide Bettella finally joins, a deal we confirmed last season. Departing for Derby on loan he needs more time to develop but could be an option next year.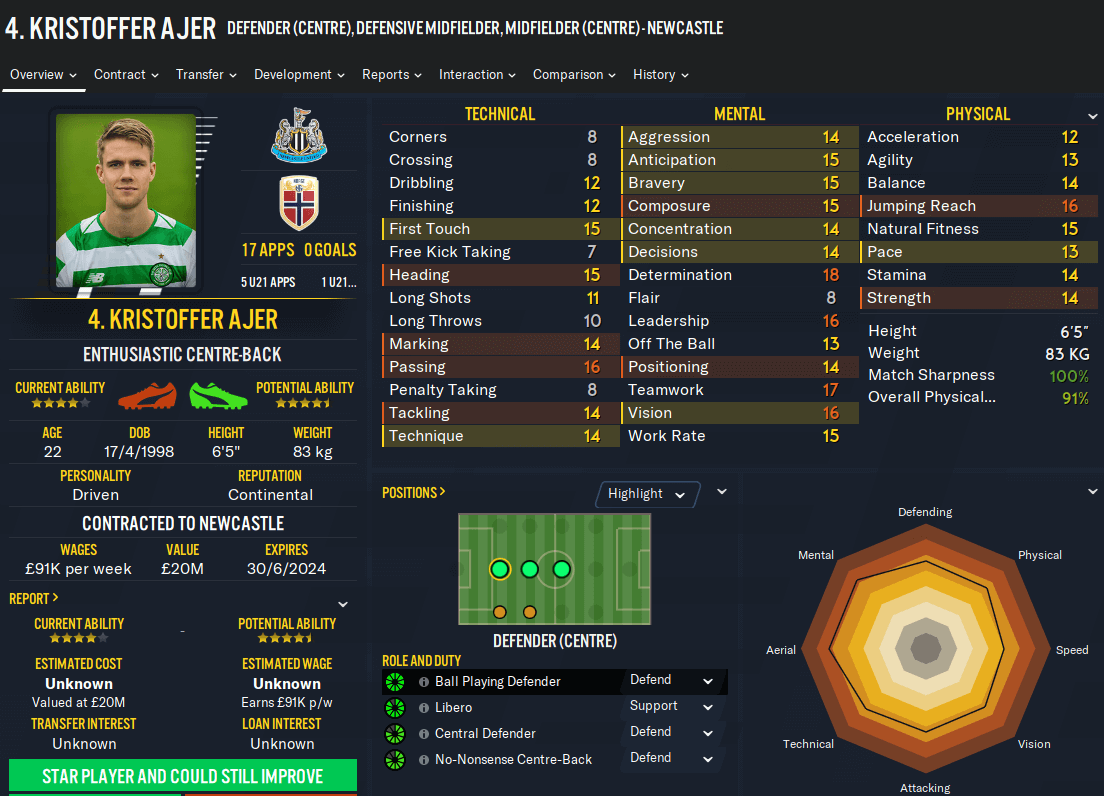 Renan Lodi – DL
We struggled for quality out wide last season. While DR remains unfixed I have found two fantastic options for the left. Joining from Atletico, Lodi is fast and exceptional going forward. With great dribbling and crossing ability he should terrorise from deep.
Those defensive stats are a concern but my second signing, Luca Pellegrini can fulfill a more defensive role. A combined £21.25 million is fantastic business.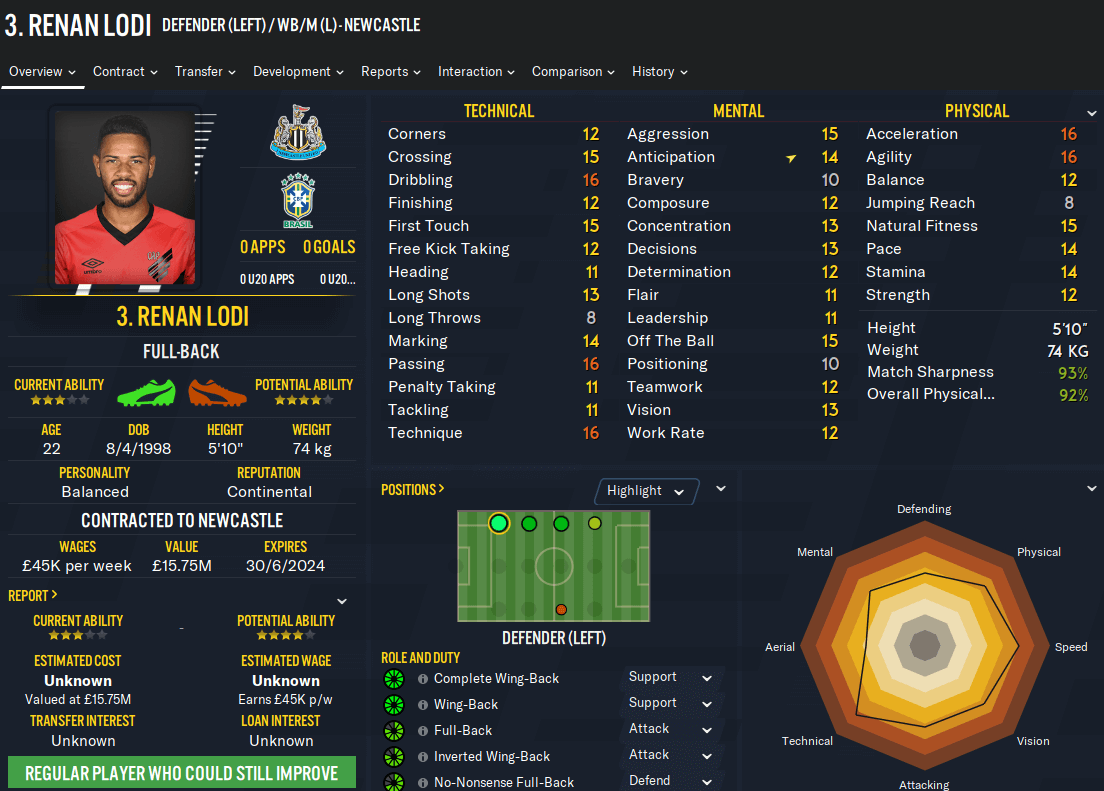 Sandro Tonali – MC
With a release clause of £14.25 million Tonali is bargain of the save for me. The complete midfielder he has no real weakness.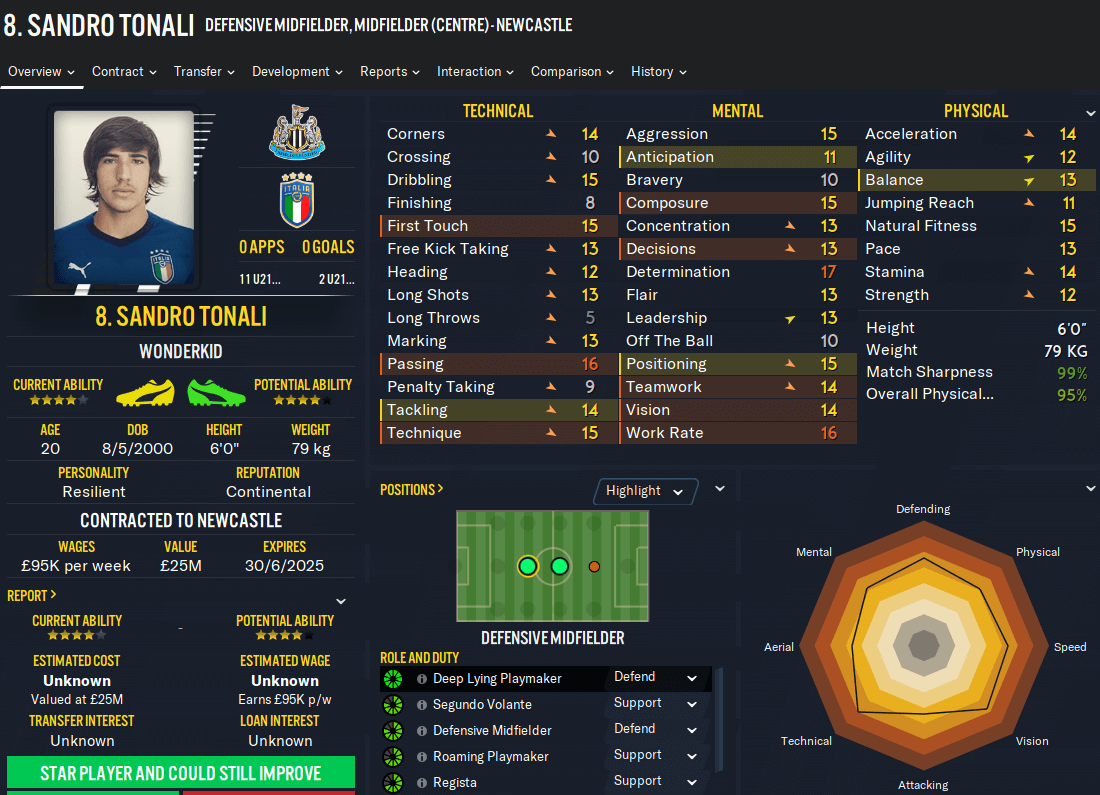 Gaizka Dominguez – Future World Beater!
Dominguez joins for a tiny fee considering his potential. I am not a fan of poor Athleticism but with a professional character and huge talent he will develop. Gaizka will be our star man from midfield in years to come.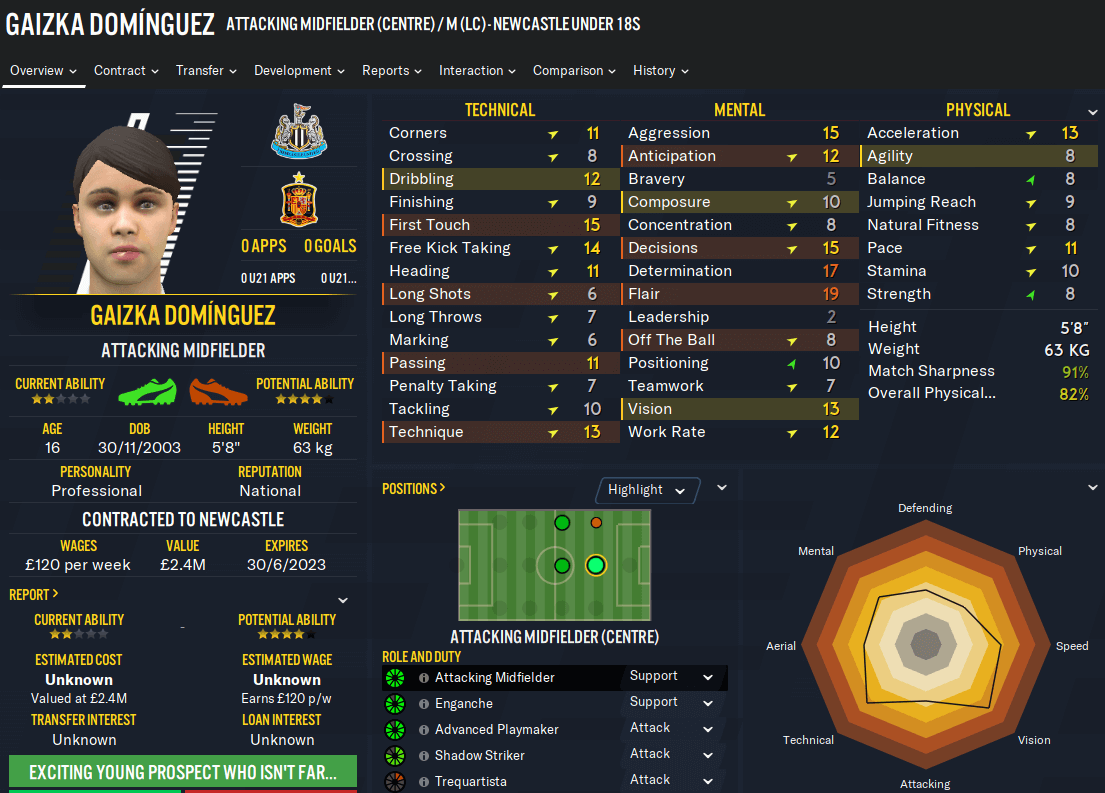 Cengiz Under – AMR
Wing play is not our forte. I lost count of the missed chances from Kluivert, Saint-Maximin and Bowen, my answer? Cengiz Under…A dear option costing £35 million.
We also took a punt on Talles Magno for the left. Costing £13.5 million the 17 year old needs time to grow and develop some speed.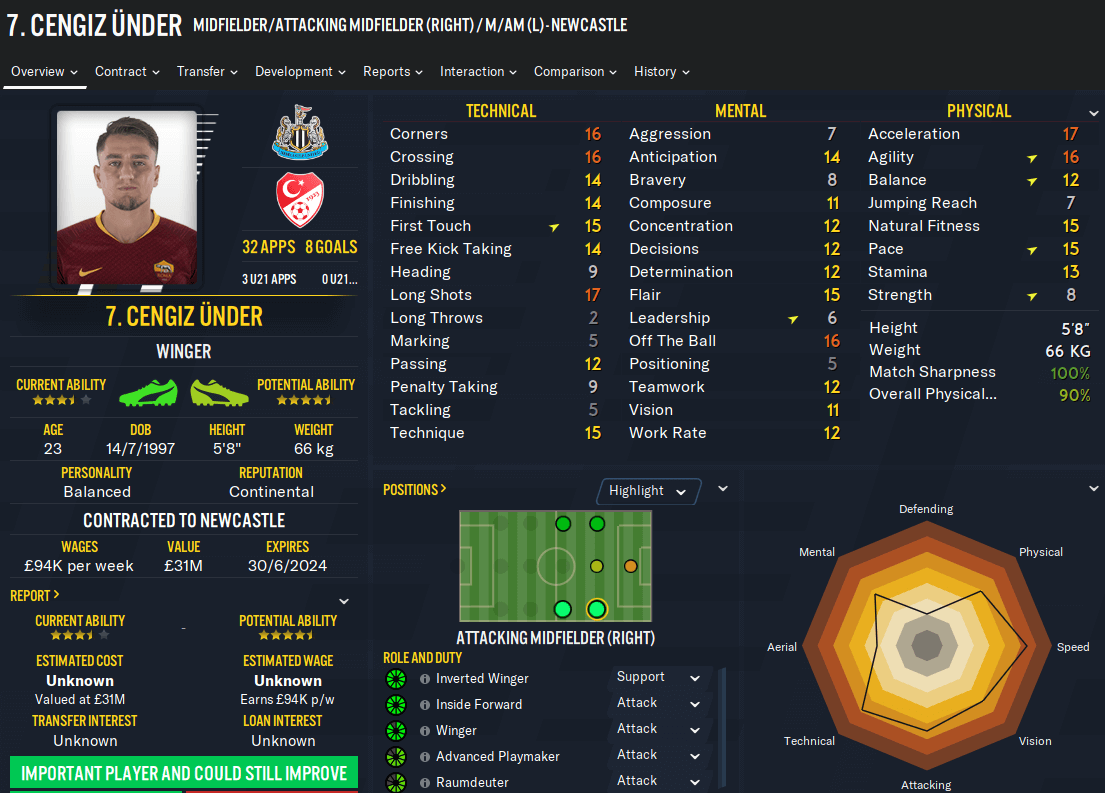 New Attacking Tactic – Mafia 4-2-4
Last seasons 4-4-2 proved inconsistent. We'd beat Liverpool at home then struggle to Sheffield United. I have now settled on a two tactic approach. You can read about this and download both systems here.
In a nutshell I will use Mafia 4-2-4 as my all out attack. This should combat those dropped points against easy opposition.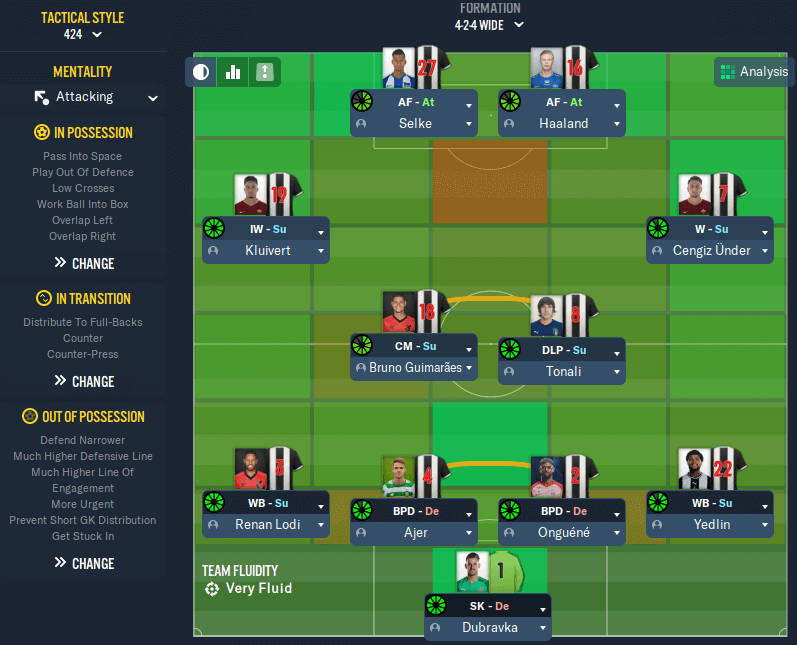 Conservative Tactic – FV Breit 5-2-3
Expecting a 4-2-4 to work all season would be ambitious. I will utilise a 5-2-3 against the big teams and for select away days. In depth reviews on both can be found here.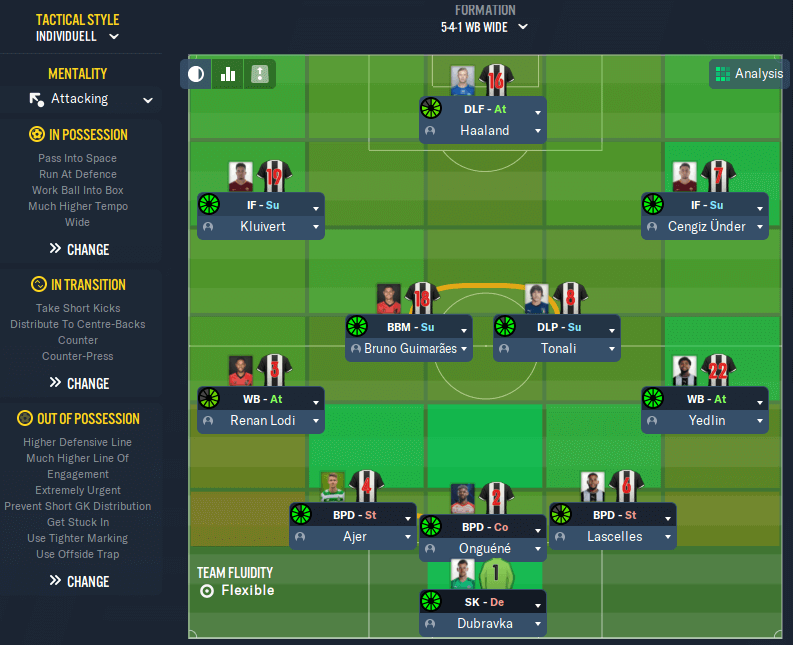 Squad
The squad is taking shape, we now have two players for every position covering both systems. With plenty of potential we also have great quality in depth and need to start adding Newgens into the mix.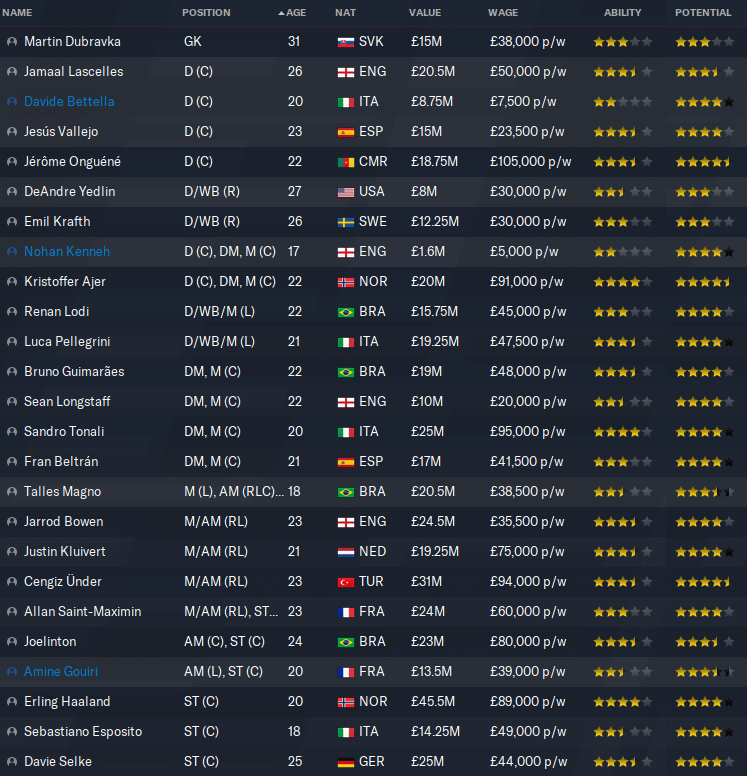 Pre-season Results
I use pre-season to bed new signings in and train fitness. Results are secondary but we are certainly scoring some goals.

Champions League Draw
To say I am excited about Europe is an understatement. This was somewhat quashed by the group stage draw. Seeded pot four we will play Real Madrid, Juventus and Shakhtar. Only a fools hope but you never know.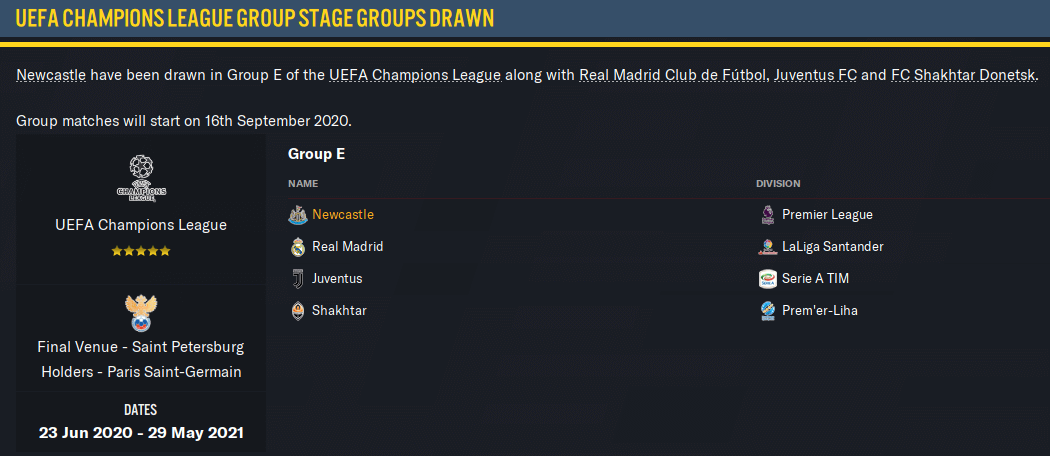 Finances
We are paying the price for last seasons transfer activity as £35 million left our accounts in July and more will follow. All considered our balance is very good. I just hope we haven't over egged the budget.

Thats all for today folks, thank you as always for reading. I have live streamed almost every game so far this season including an exciting Champions League campaign. You can catch me live on Twitch every Friday and Sunday night from 7pm, follow us here.

Subscribe to our Newsletter