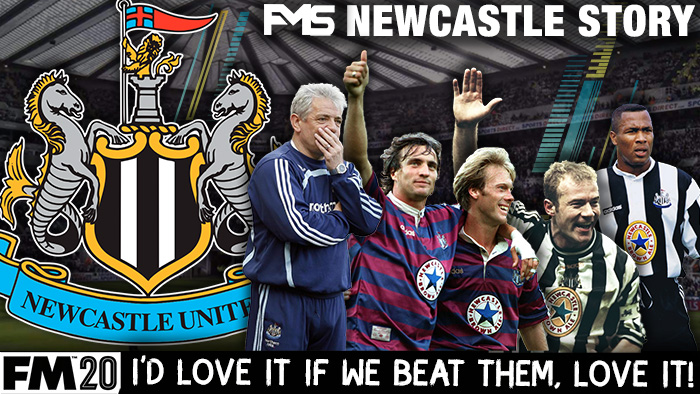 Welcome back to another episode of 'Emulating Keegan'. Last post we discussed Summer signings and a change of system, the plan was to secure Champions League Football for another season but with the added distraction of Europe I wasn't sure what to expect.
Approaching a first Champions League campaign since 2003, we drew alongside Real Madrid, Juventus and Shakhtar, the dreaded group of death!
2019 Domestic Results
A good start to the season but naivity cost us vital points. Getting to grips with the 4-2-4 and 5-2-3 we lost at home to United and away to Everton, if I'd only recognised the need for a negative approach it could have been a different story. Same goes for Wolves at home, in fact that was a pivotal game which birthed this years Football Manager guide and a complete change to my approach.
Frustrated by the dropped points I decided to document which systems and teams we struggled against. A pattern came through so going forward I opted to use the 5-2-3 against higher opposition and 3 DC's. You can read my guide above for more information but the resulting run of form was pleasing. It began with the 2-0 win vs Spurs and 0-0 draw at Old Trafford.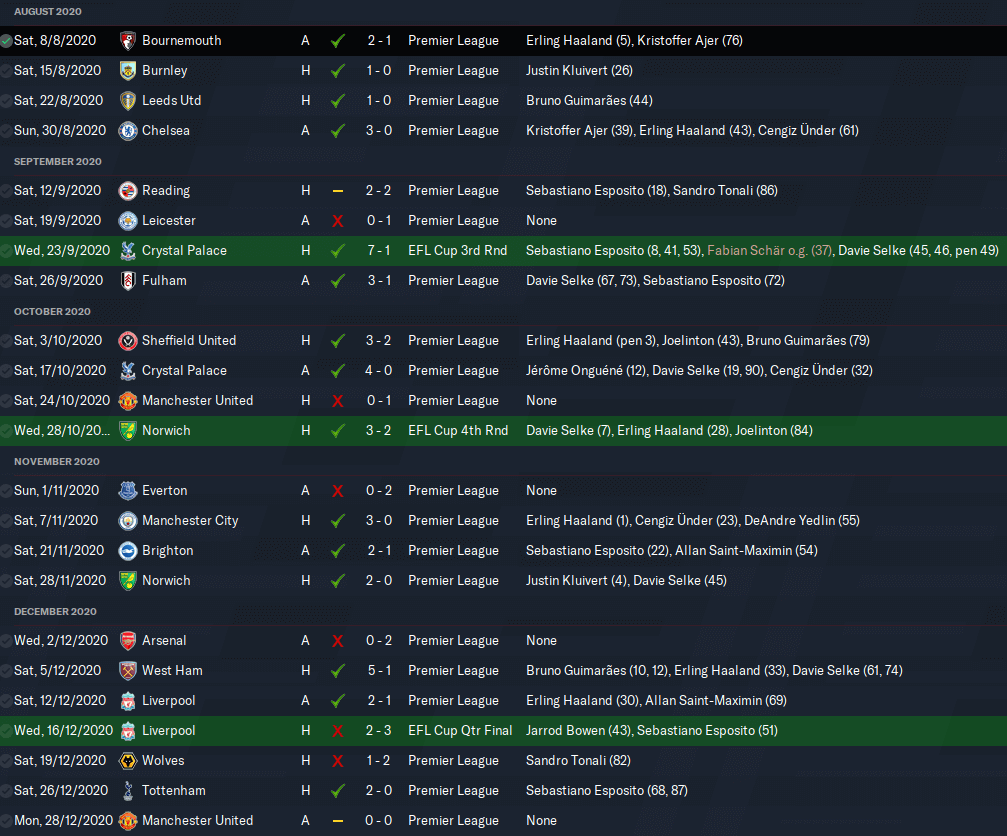 January Transfers
We discussed areas of conern last episode and in January I addressed two positions.
DR – Zeki Celik: Yedlin and Krafth are not good enough going forward, the latter leaving this Winter. Celik will do a job costing £14 million, still not ideal but he was the best I could afford for now.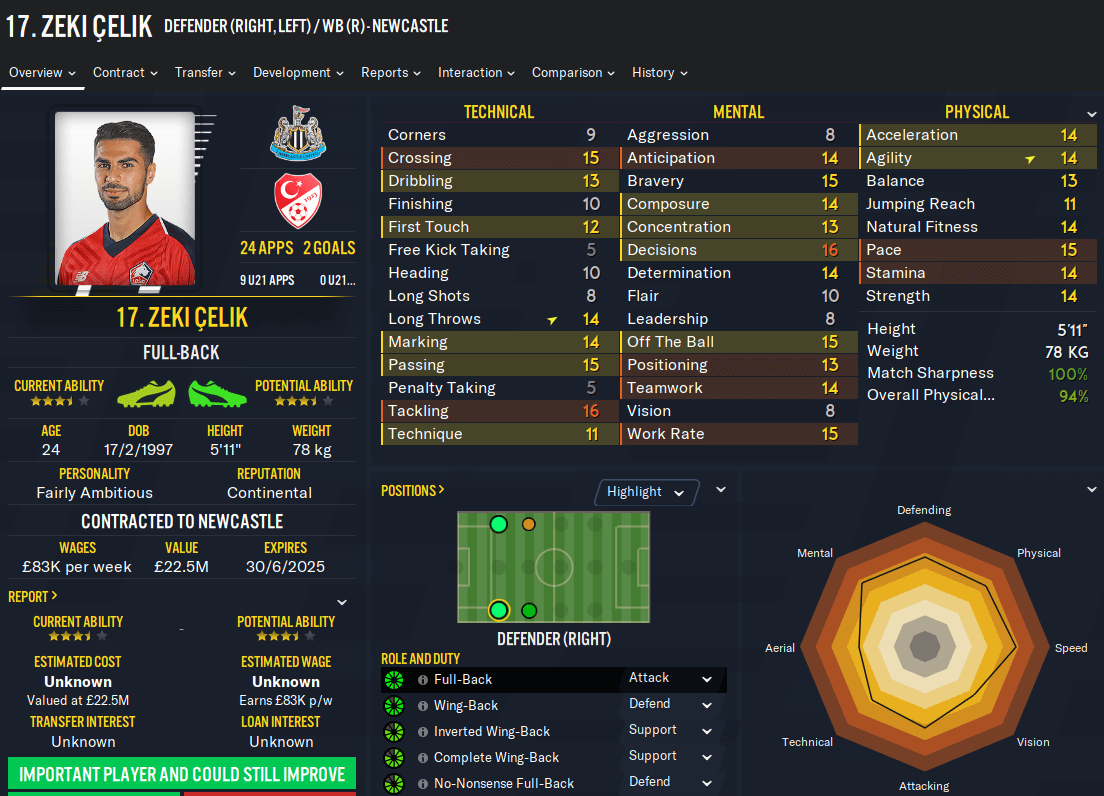 MC – Andre Anderson: We have Tonali and Guimaraes in midfield but lack a true offensive spark. Andre is more forward thinking and should add that extra dimension to the squad.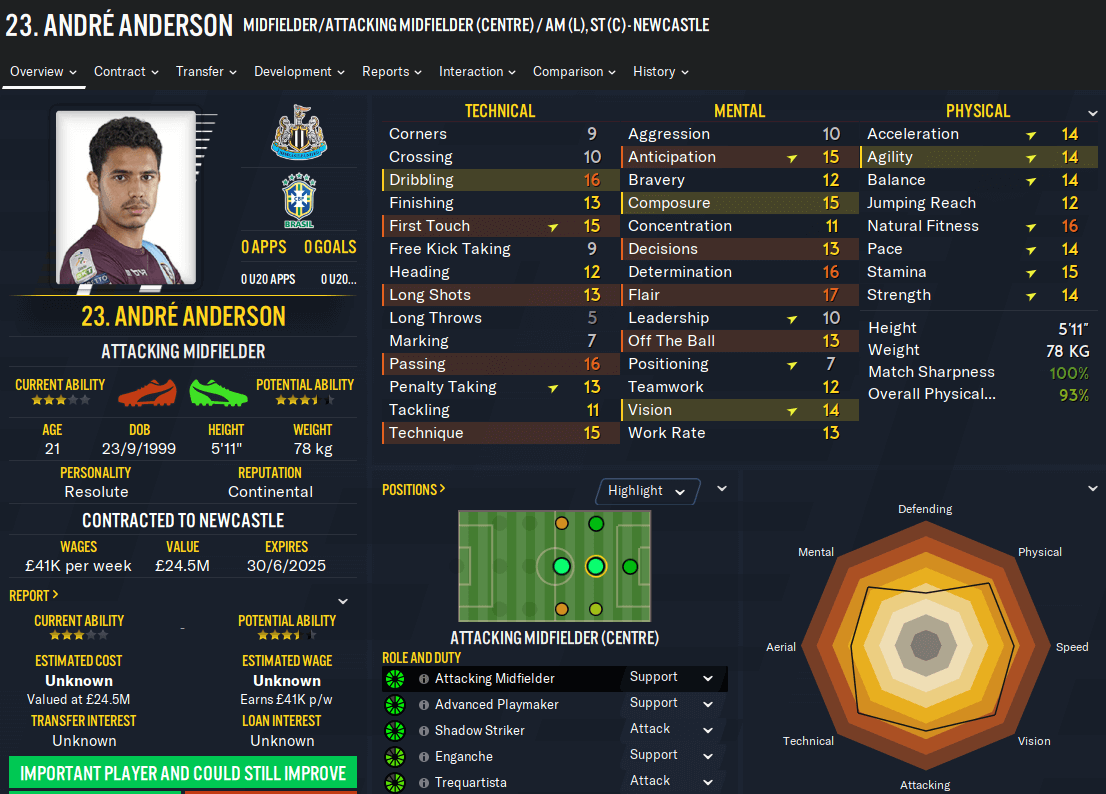 Newgens – The Futures Bright
My Newgen purge began in the Summer and continues through Winter. With huge potential these kids will be world beaters in years to come. Click the names to view their profiles, pure regen filth;
DR – Nicolas Armand – Lacking in defensive positioning Armand is just 16 years old with endless potential. Costing just £15K he is bargain of the save and probably the game for me.
DL – Diederik Claeys – A little on the expensive side at £16 million, there won't be many better left backs for the future.
MC – Sammy Huxley – We paid over the odds again – £14 million – but Huxley has so much potential and I like the attribute mix.
MC – Allan Cristian – A cheap punt Cristian is touted as the next Kaka but failed to gain a work permit. Allan will go out on loan at the earliest opportunity and cost £7 million.
ST – Adonis – A fitting name, this kids got it all. We can develop that speed but his finishing and general attacking ability could be off the charts. His work permit won't be an issue due to a price tag of £18 million.
Champions League Group Stage
Drawn from pot four we entered the group of death, Real Madrid, Juventus and Shakhtar. A 3-0 thrashing in Madrid kicked the campaign off. We then beat Shakhtar but again struggled against Juventus away, losing 5-3.
Juventus held us at Saint James Park to a 1-1 draw. Laying third three points off second with two games to go I almost lost hope. Real Madrid handed us a life line, the Toon winning 1-0, we then beat Shakhtar 3-0 in Ukraine but was it enough to secure qualification?

Yes it was! The early defeats came from tactical naivety, by addressing this we collected 7 points from the final three games but who will we face in the first knockout round? I'll give you a clue, they are from France.

Domestic Results 2020
We enjoyed a fantastic run from January through February, before fixture congestion truly FM'd us! What you can't see are the Champions League games. From the end of April we endured two days rest between almost all games and even one day in some cases.
One example of many: We played Chelsea then had one day to recover before playing Liverpool, this led into two days rest before the Champions League and a further one day break (spent travelling) before Leeds away. Ridiculous! No other team had to contend with this.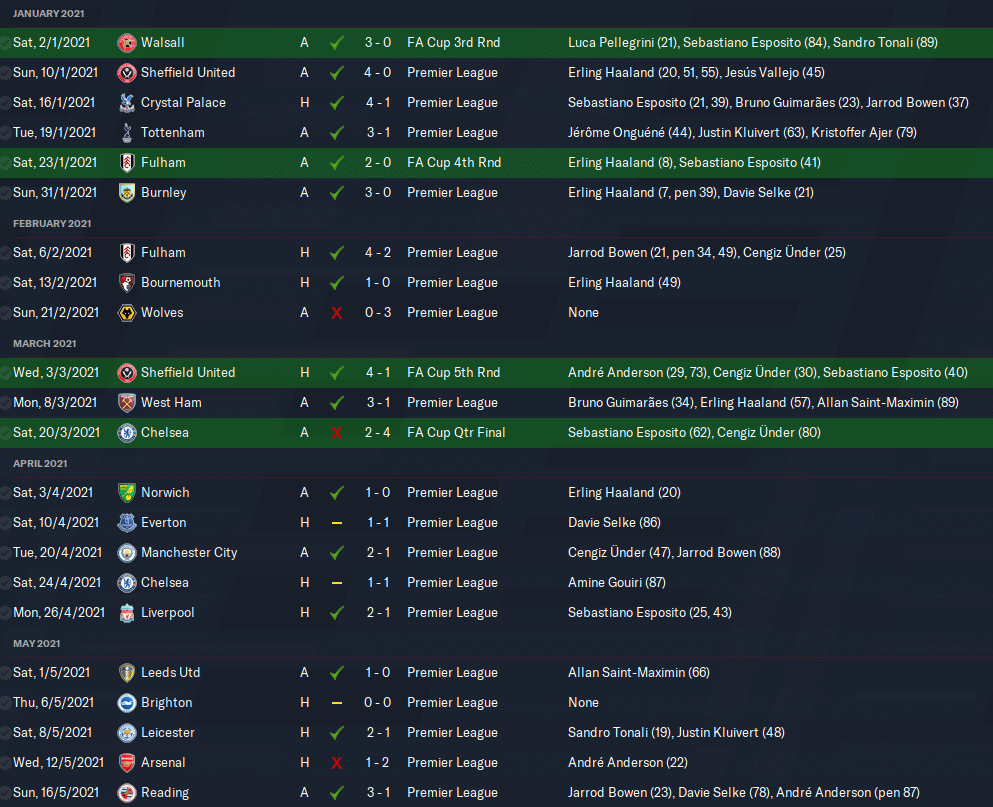 You've seen the results but what does the table look like? Livepool were untouchable, we thought until the penultimate game but couldn't keep up. I'd like to hear SI's explanation for my fixture congestion its definitely a bug and pissed me off more than the one v ones.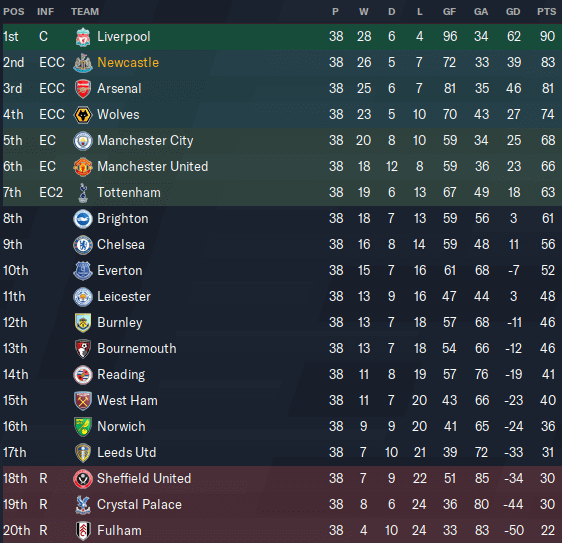 Champions League Knockouts
Despite my domestic disappointment we enjoyed a cracking run in Europe. PSG brought Harry Kane, Neymar and Mbappe to Saint James Park, but were no match for Gouiri and Bowen who secured the win. We then shocked Paris winning 2-0 away to progress 4-0 on aggregate.
Through to the Quarter-Final Manchester City offered stern competition. We struggled to a 1-0 defeat in the first leg and failed to create many chances in the second. The second-half came to life however as Newcastle marched into the final with a 2-0 victory.
Atletico Madrid are very organised and Morata clinical. Using a defensive mentality and 5-2-3 we kept them at bay in Madrid, an achievement despite the boring Football. I opted for the 4-2-4 at home and despite going 1-0 down Selke and Andre Anderson came off the bench to score in the 73rd and 80th minute. I couldn't believe it, Newcastle through to a Champions League final against Napoli who beat Livepool and Man United to progress.

Champions League Final vs Napoli
I live streamed the Champions League Final as part of a two hour session – below is the final itself – If you would like to catch me live in future we stream every Friday and Sunday from 7pm, give us a follow on twitch by clicking here. If you watch the video below, be sure to change settings quality to 1080 and enlarge to full screen.
Watch Newcastle Utd S2 | Champions League Final v Napoli from FMStory on www.twitch.tv
We started the final using FV Breit, a 5-2-3 tactic. Despite early domination I couldn't break through and Lozano scored the opener. Switching to a 4-2-4 helped adding to our clear cut chances but it was one of those days. The best team lost.
Feeling aggrieved and screwed over I could not fathom how we lost, I'm still seething now. Thats FM for you and until a new ME is announced I either accept this will happen or don't bother playing.
Those one v ones, chances in behind and players with good finishing missing sitters are starting to wind me up. Not to mentioned the screwed up fixture congestion which may have cost me the Premier League title.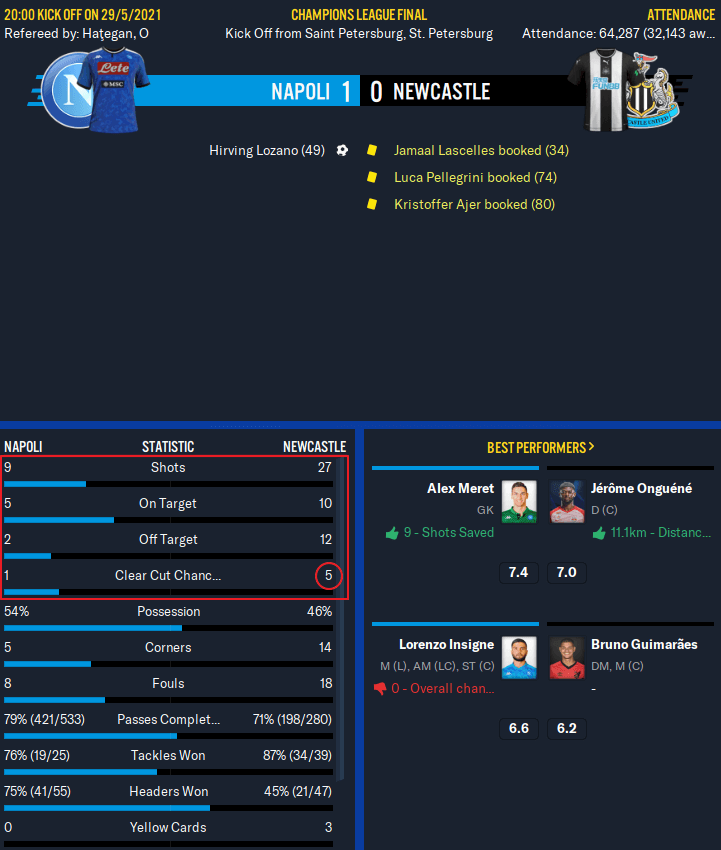 Squad and Key Performers
All in all an amazing season despite the drop in form and bitterly disappointing Champions League final. My defence were pretty solid, Ajer and Onguene came in with good ratings while Vallejo was a surpise performer.
Cengiz Under squandered many a chance but proved vital with 8 goals and 7 assists. Bruno Guimaraes and Tonali were pivotal from midield yet only scored 11 and asissted 4 between them. Andre Anderson looks promising and despite falling out of favour, Selke was my top scorer with 21 goals.
Haaland and Esposito proved frustrating at times, they should have added to the 36 goal tally which leads me to consider the system for next season…or maybe my man management.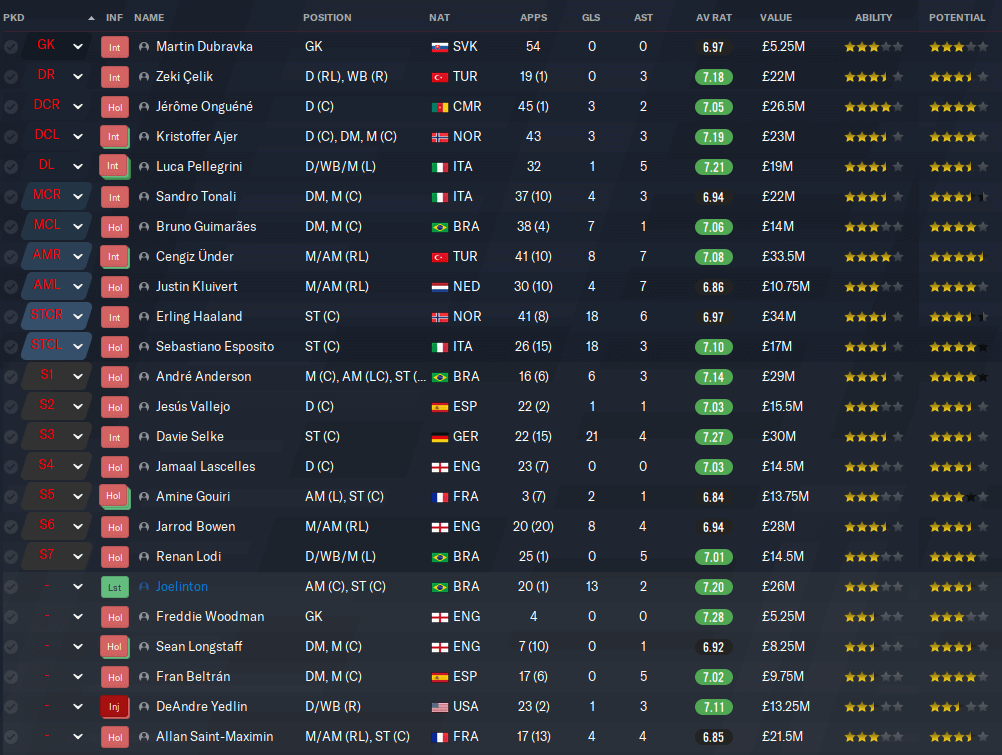 Finances
We earned massive money in the Champions League which goes a long way to paying those pesky transfer installments. I have to massive signings lined up before we wind down the spending to focus on Newgens and the future.

Thats all for today guys, thank you for reading as always and remember you can catch me live streaming on Twitch every Friday and Sunday from 7pm. Drop us a follow here. The next episode will feature pre-season, transfers, another tactical change and FIFA World Club Cup!

Subscribe to our Newsletter