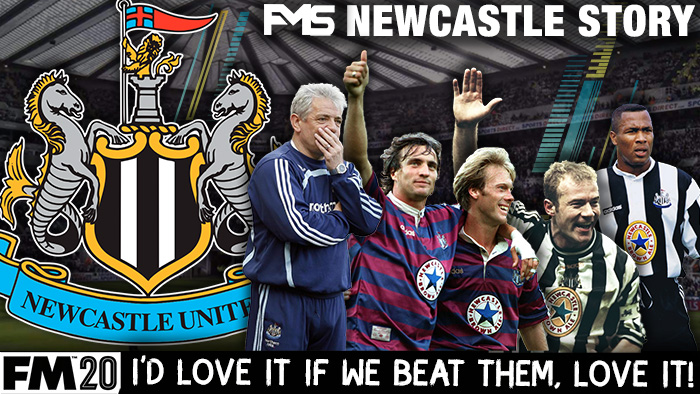 Heh guys and welcome back to my FM 2020 story, 'Emulating Keegan'. Last episode we discussed pre-season transfers, tactics and plans for the future. The goal is to challenge for Europe while emulating Kevin Keegan's attacking style of Football. Easier said than done with the current Newcastle lineup but we did sign Selke, Guimaraes and Onguene who could make a difference.
Lets see how 2019/20 progressed.
2019 Results
Our opening schedule was a horror show, Man Utd away, Arsenal at home, Southampton away before Spurs at home and a visit to Anfield! Somehow we came away with 8 points from a possible 15 and carried the form through September. October however went 'Pete Tong', the AI sussed us out and despite dominating matches we couldn't buy three points.
Normal service resumed from November resulting in a push on the top four. Joeltinton and Selke built a great relationship up top, remeniscent of Les Ferdinand and Alan Shearer.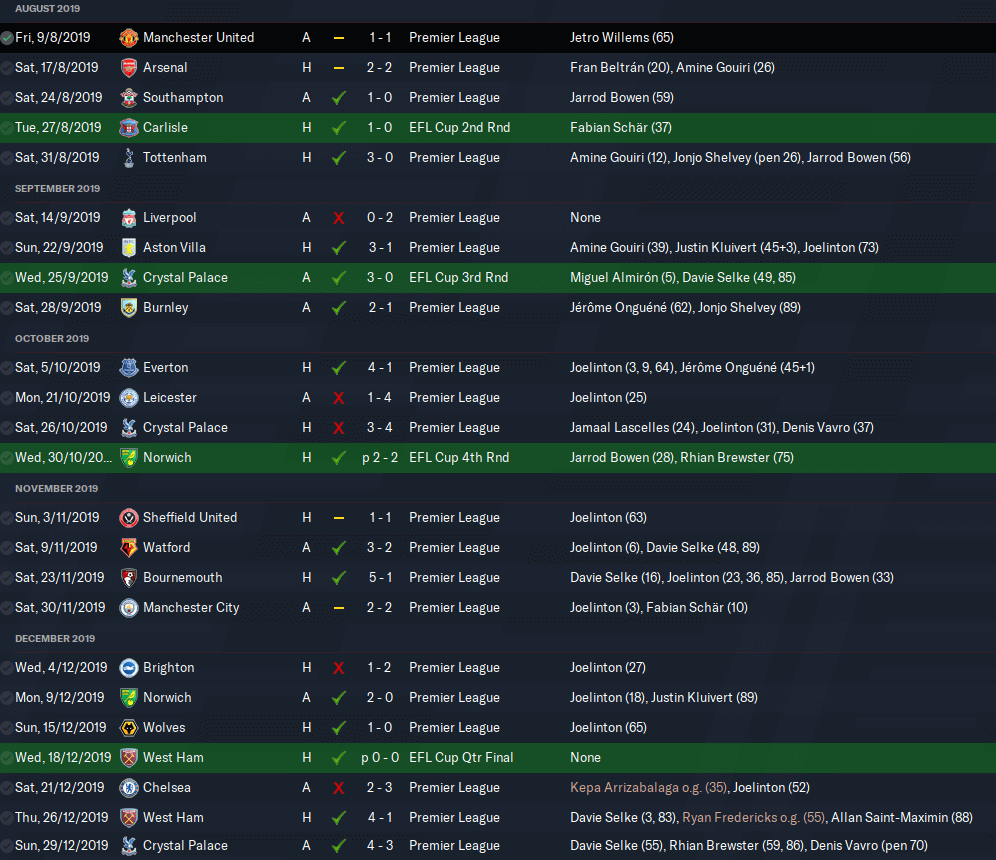 January Transfers – Buying Goals
Despite the great form my forwards are not good enough long term. I hinted at a Shearer 'esque' Winter transfer and we got it. Erling Haaland broke the bank at £66 million, the majoirty of which will be paid in installments. Is this a bad deal considering the money involved? Only time will tell but we did raise £20 million in player sales to offset a third of his fee.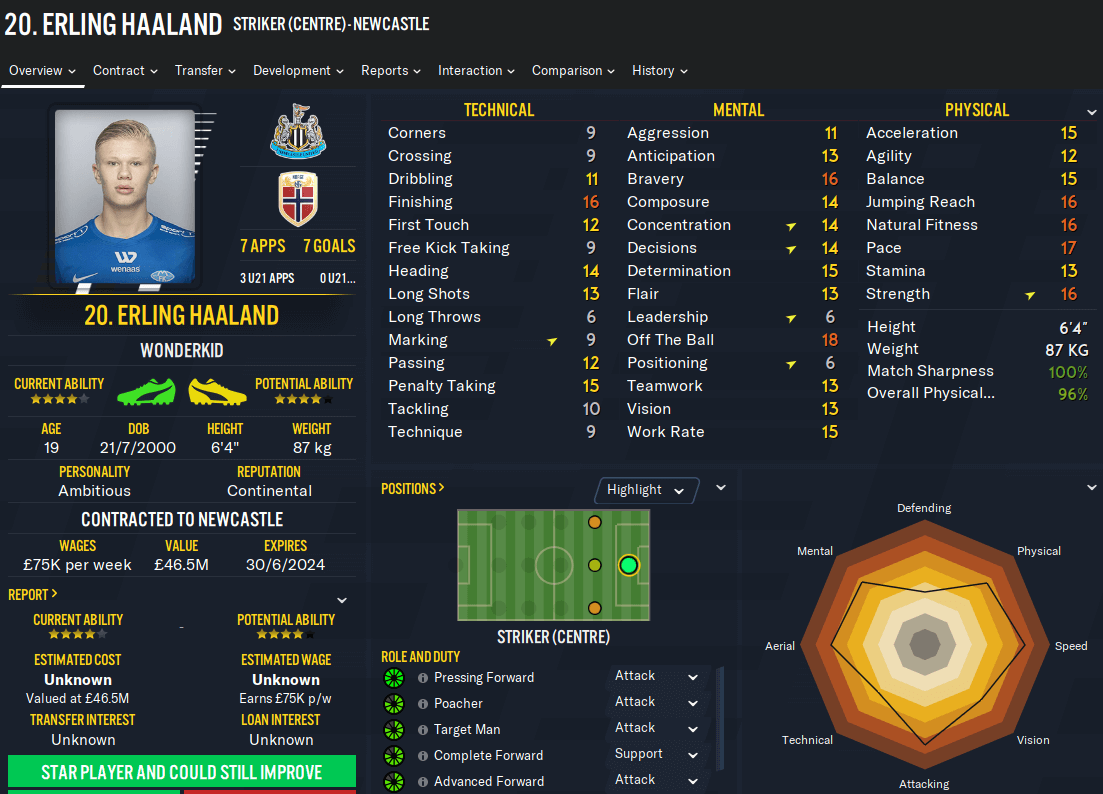 Soon after Haaland's reveal Esposito followed. One of the best wonderkids in FM20 this kid will become a legend. The finances were more favourable standing us £21.5 million.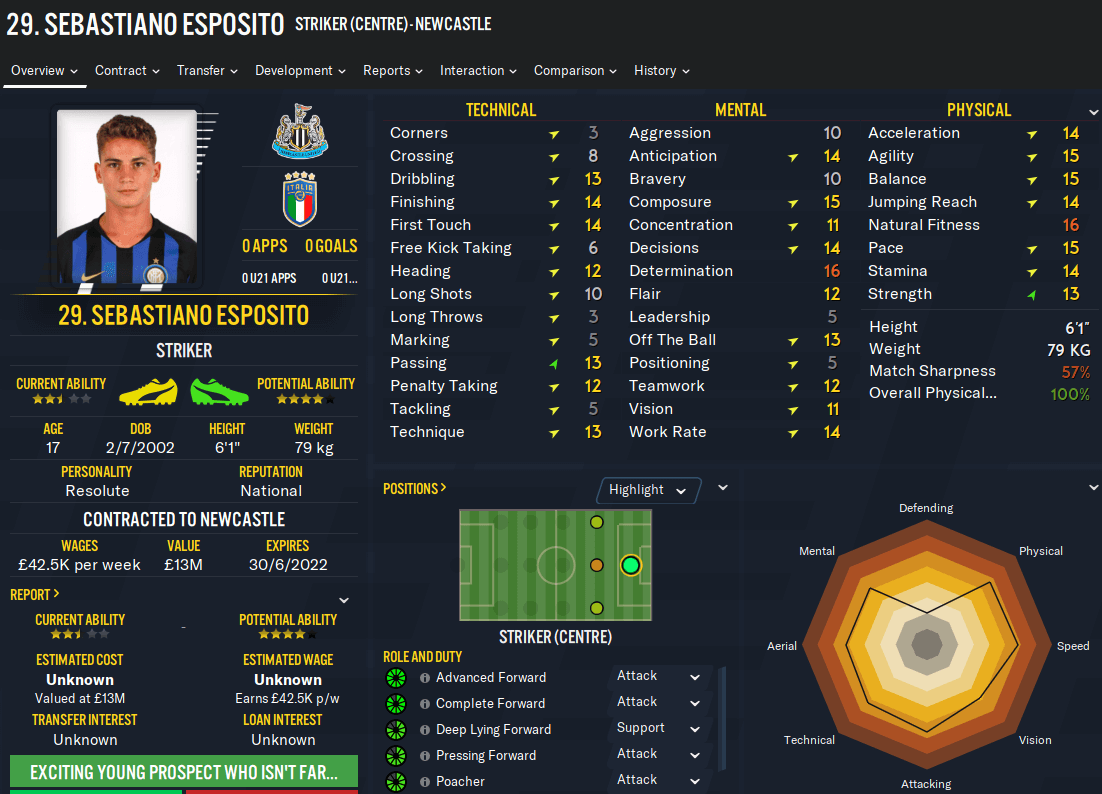 2020 Results – Did We Choke?
Oh FM, how you piss me off! We started 2020 in scintillating form, tight at the back and potent in front of goal. Even down to ten men we overcame West Ham 6-5, it was a sheer joy to watch.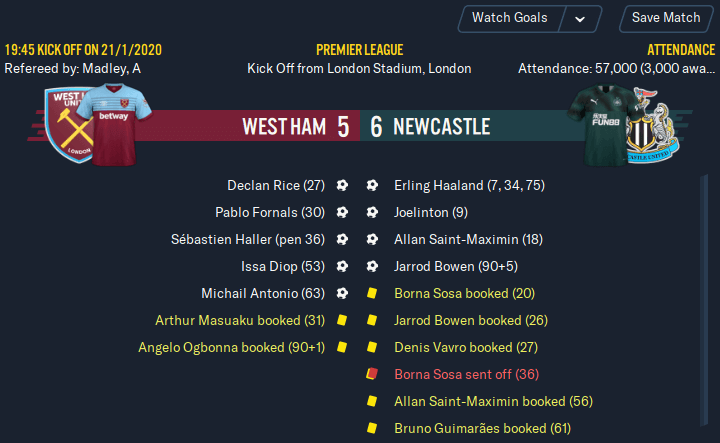 But, this is Football Manager and we all know what happened next. Sitting fourth with a ten point lead over Arsenal, surely we couldn't choke? Fixture congestion led to a weak starting XI v Norwich and two dropped points. Then Wolves bossed us at Molyneux before the inconsistent form continued. Six winnable games later we dropped 11 points opening the door for Arsenal.
With just 5 games remaining we faced Manchester City and despite going down to ten men, City equalized late on. Similar story away to Spurs before we squeezed an overdue result from Southampton. Drawing away to Aston Villa set up a final day showdown. Win and we'd secure Champions League Football for 2020/21.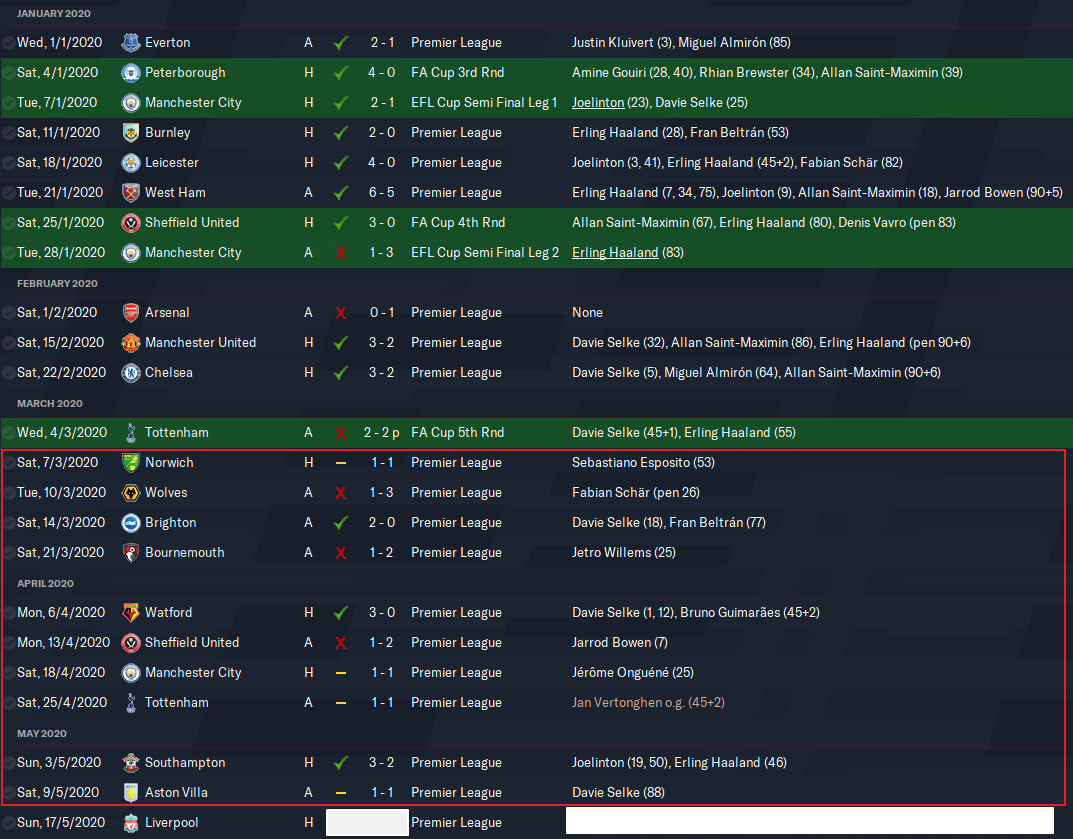 Newcastle v Liverpool – Win or Bust
Arsenal had the goal difference but trailed us by one point. Bare in mind this whole season was live streamed on Twitch (follow us by clicking here) the tension was insane. 90 mintes and six clear cut chances later the result was in.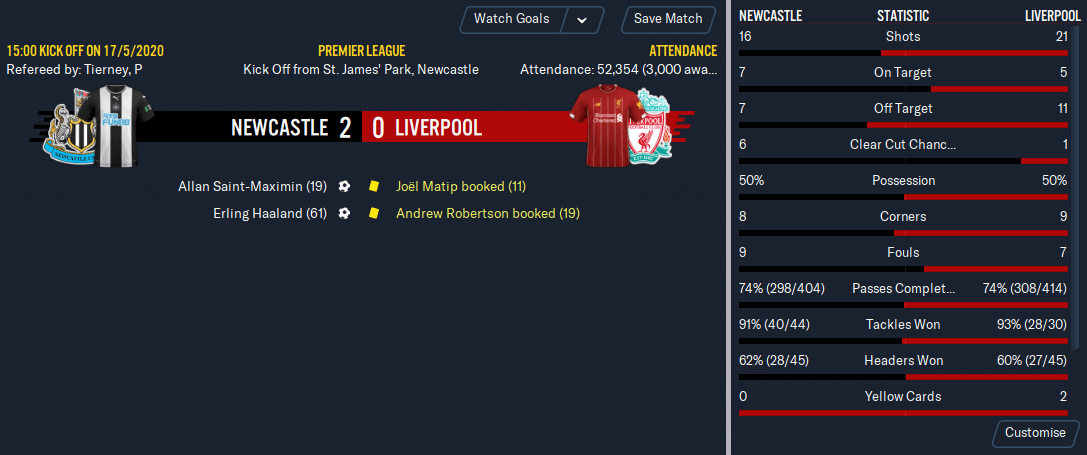 League Table
Arsenal scored late to beat West Ham but the chase was done. When you consider the current match engine and its inconsistency, I think top four is a great result. We need to address those dropped points away from home and find a way of beating the top four on their turf. Lots of tactical tweaks in the Summer and a transfer overhaul!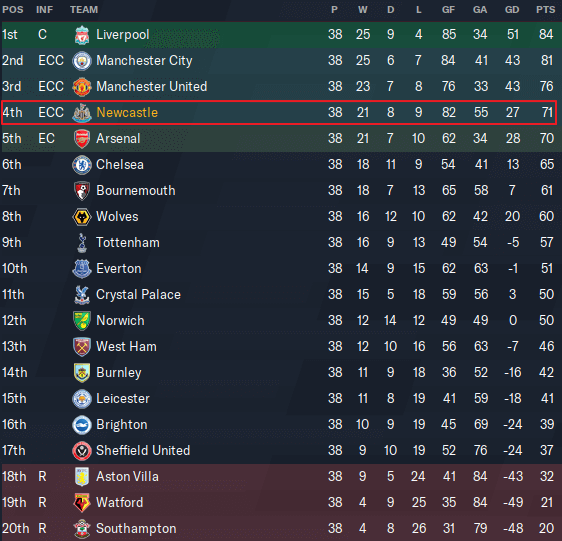 Key Games
We endured many tight, pivotal moments throughout the season, but two stand out. Saint-Maximin scored a 96th minute winner against Chelsea to secure a 3-2 win.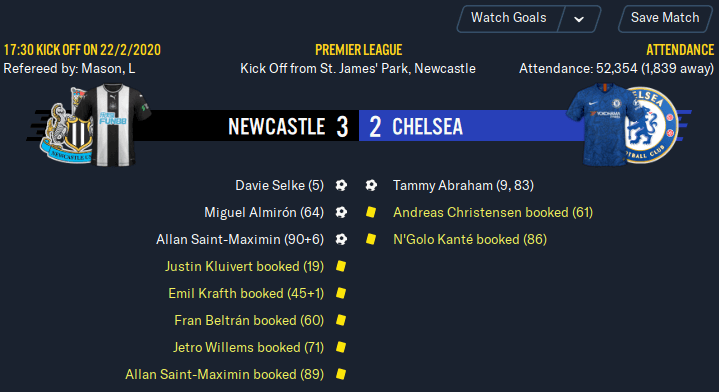 We then extended our lead in fourth to ten points with another 3-2 victory. This time coming back from 2-0 down against Manchester United. Saint-Maximin scored with 4 minutes remaining and Haaland converted a penalty on the 96th minute.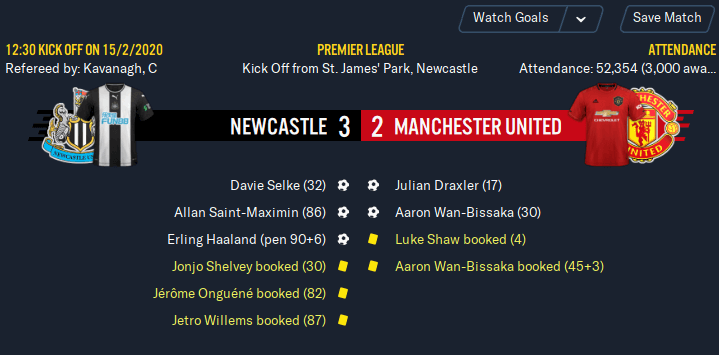 Squad
Attack was our best form of defence as all bar four outfield players got on the scoresheet. Below are my key performers and players to offload.
Defence – Schar had a solid season but doesn't suit my preference for young, hungry talent. Onguene on the other hand looks a coup for the future. My whole backline needs work though, we lack speed, aerial ability and quality out wide.
Central Midfield – Bruno Guimareas had a decent season scoring 1 goal, 6 assists and making few mistakes. Beltran added 8 assists and 3 goals but neither pairing set Saint James Park a light. Both are young and do a job but we need quality next year so expect reinforcements.
Wingers – The vain of my life, numbers definitely do lie when you consider how many chances these guys missed. Justin Kluivert scored 3 and assisted 9 while Bowen hit 6 assisting 9. Not bad but both missed chance after chance. Saint-Maximin was worse despite chipping in with 7 goals. We need at least one quality addition and departure.
Strikers – I should do two reviews here, first and second half of the season. Joelinton was brilliant scoring 22 goals, his partner in crime, Selke scored 16. Haaland scored 11 after his Winter move. I just hope they drop the duck which seems to have cursed them of late.
Players to move on – My defence needs work, Sosa was poor from left back and should depart with an aging Schar. Jonjo Shelvey does not suit my system and Almiron was found wanting from the right. We need to raise cash for some big money buys this Summer.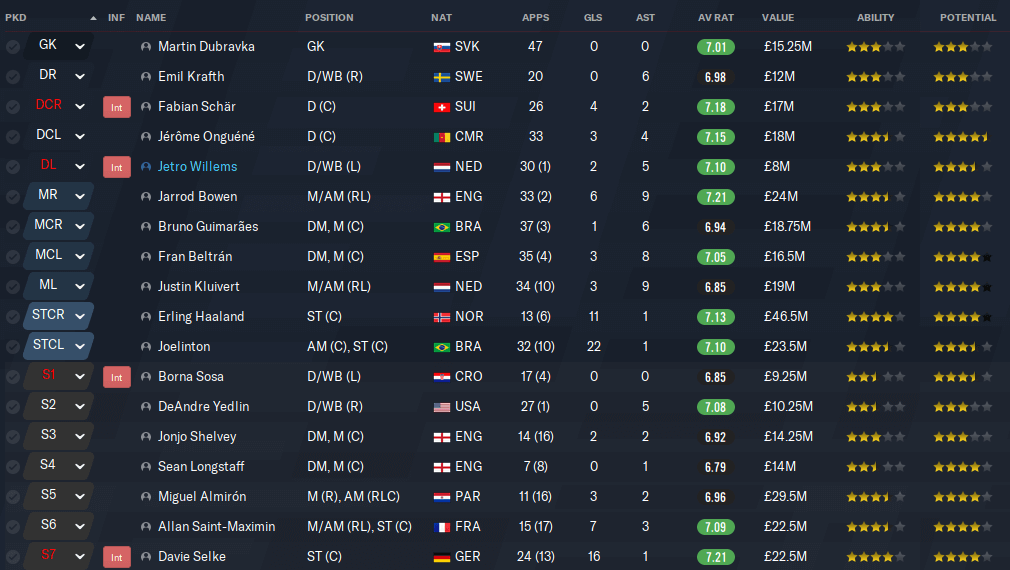 Tactics, Match Engine or Players?
Despite a great league position I am struggling with this years game. The lower leagues are easy but top flight Football is proving hard to handle. Until we get a more consistent match engine, void of one on one issues and excessive balls in behind this won't change, so what do we do?
I am trying two new tactics next season, one to dominate at home and something more secure away. The squad will see an overhaul also as I think players in unfamiliar roles are not helping.
Here is a little teaser for season two, our Champions League draw. We were pulled out of pot four alongside Real Madrid, Juventus and Shakhtar…err yeh. OK.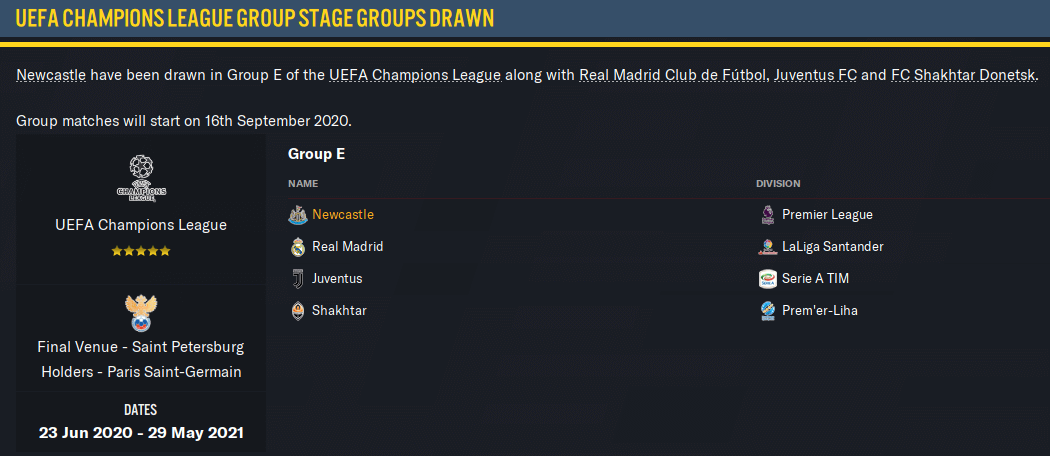 Thats all for today folks thanks for reading and please give us a follow on Twitter and Facebook for future posts. If you fancy watching this save live, follow us on Twitch here, I stream every Friday and Sunday night from 7pm.

Subscribe to our Newsletter