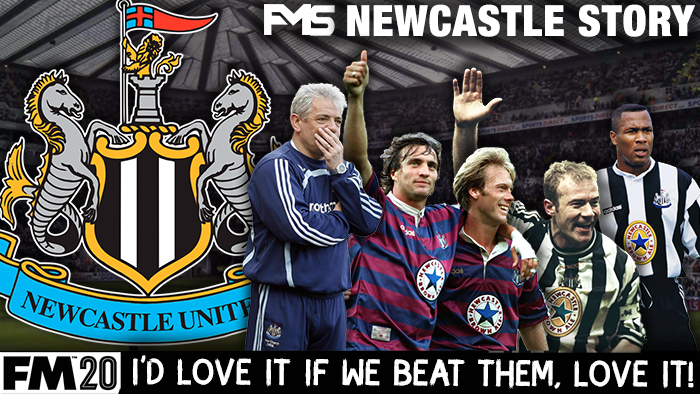 Heh guys and welcome to the first episode of my 'Emulating Keegan' Newcastle United series. I am biased, but Kevin Keegan's Newcastle were the original Premier League entertainers. From David Ginola's hair, to Shearers iconic goal celebration and Asprilla's hattrick against Barcelona. We witnessed risky, attacking Football with the motto 'you score 3, we'll score 4'.
Keegan used a traditional 4-4-2, fielding old fashioned strikers, attacking wingers and all round midfielders, famously throwing away the title in 1996.
I will emulate Keegan's style and build a team capable of this attacking Football with the added challenge of preparing for my youth to gold system. The aim is to buy young, ideally under 22.
Phase one: Build a young team capable of attacking, sexy Football.
Phase two: Implement my youth to gold system, buying young, cheap wonderkids to sell on for a huge profit.
After pleading with the board my wage budget was increased to £170K per week. My transfer budget is £20 million but using instalment offers I could stretch this further.
I will try to present episode one as an FM 2020 Newcastle team guide for those needing a little help on the player and tactic front.
Transfers Out
Almost half the squad is below par, I have begun a mass clear-out but more will follow.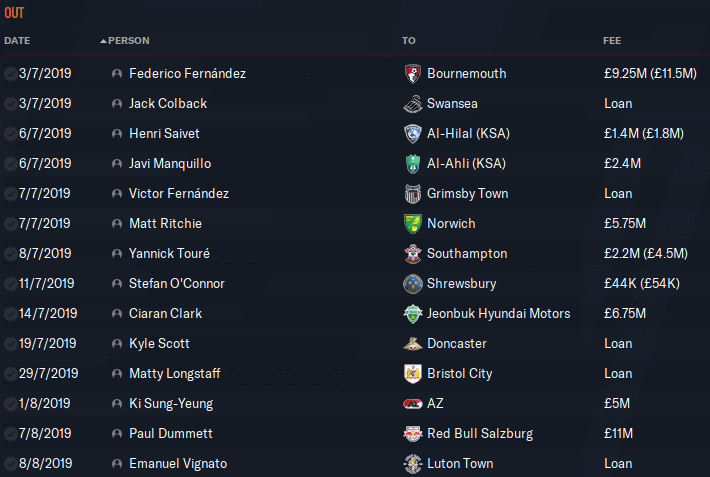 Transfers In
We will discuss the key squad members in a minute, but first the logic behind my first transfer window. The majority are under 22, I am targeting physical players with huge potential and still have budget remaining for January.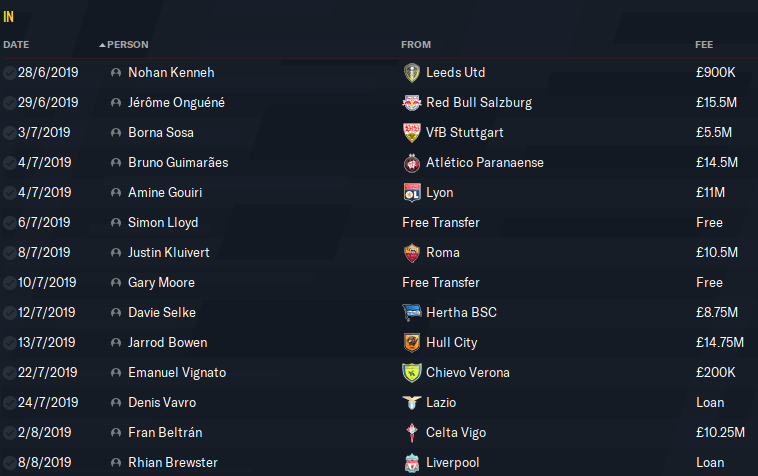 Talles Magno will join next season along with Davide Bettella. Talles is a quality 17 year old wonderkid capable in many roles and positions. Bettella a young central defender with good speed, just the type I need. We paid a combined £20 million which seems good business. Vignato was bought then loaned out, he seems a free hit for just £200K.
---
Looking for FM 2020 wonderkids? These lists will help:
---
Emulating Keegan Tactic
Our tactic is a secure, yet attacking 4-4-2 called Zeus, created by TFF. Kevin Keegan's downfall was defensive stability and a resistance to change when necessary. I want great Football but I also want success so there will be a second tactic.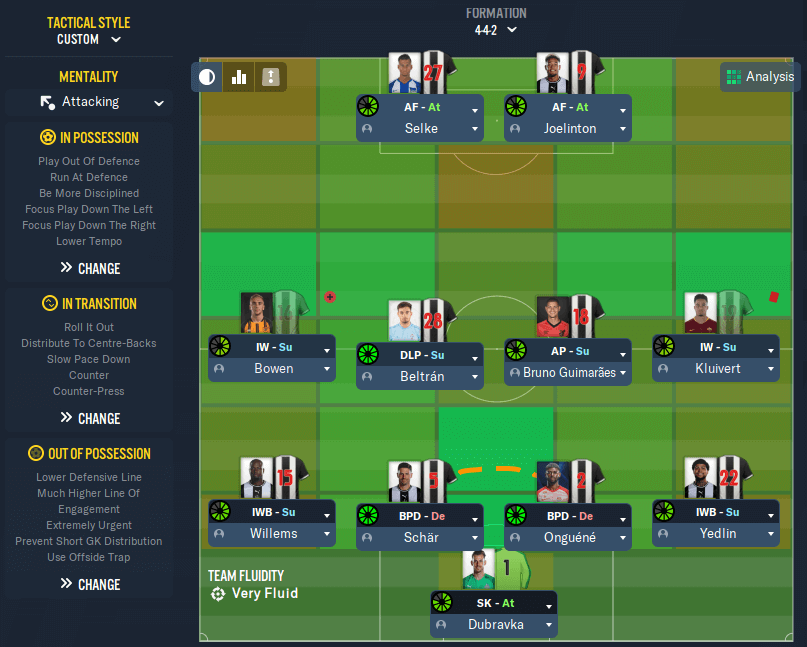 For very tough away days (Liverpool and Man City for example) I will utilise two DM's. Knaps Sicilian 442 seems pretty secure in defence and geared towards the underdog.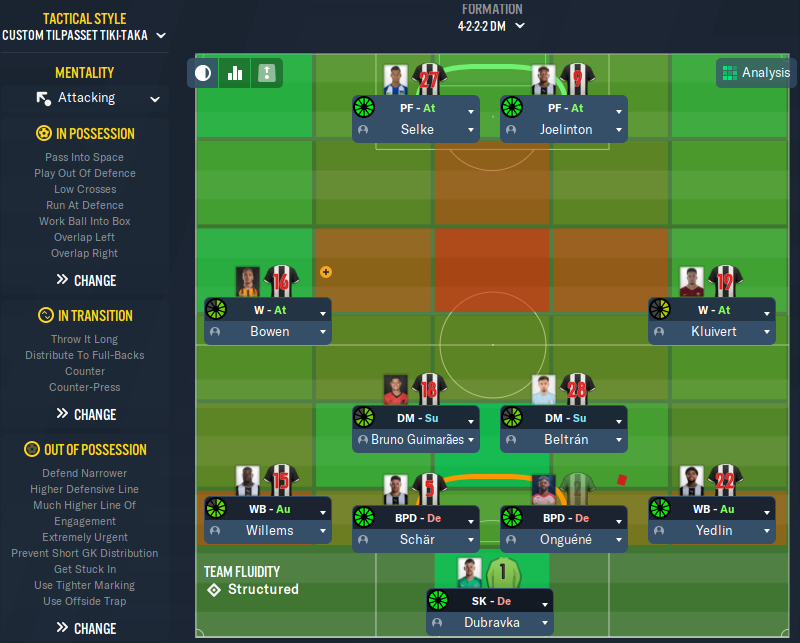 FM 2020 Newcastle Team Guide
I present to you the Toon Army; my squad from top to bottom including options for each position. The plan is to build a young team with high sell on value, a work in progress but great start.
Goalkeeper – Dubravka
My first choice goalkeeper, Darlow will act as backup. Dubravka can do a job until we sign a younger, higher quality keeper.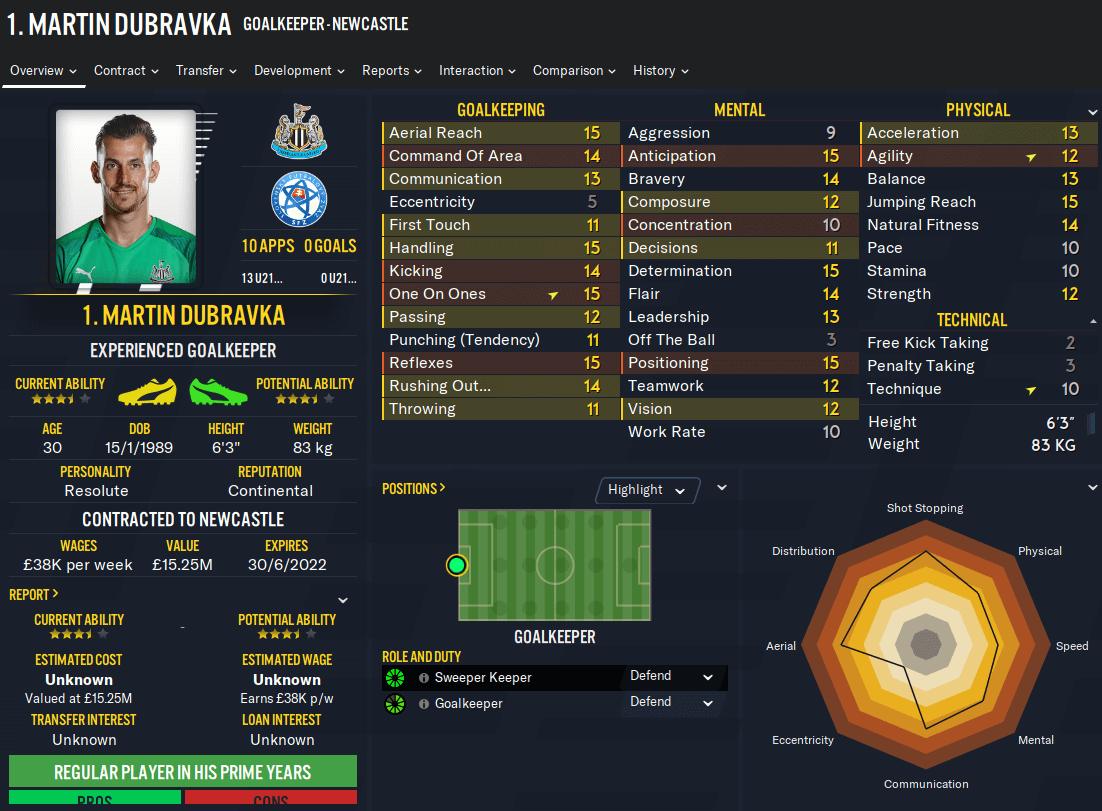 Right back – DeAndre Yedlin
Not ideal but Yedlin can do a job until next season. He lacks the attacking nowse I crave but roar speed can go a long way, we'll utilise Krafth in rotation.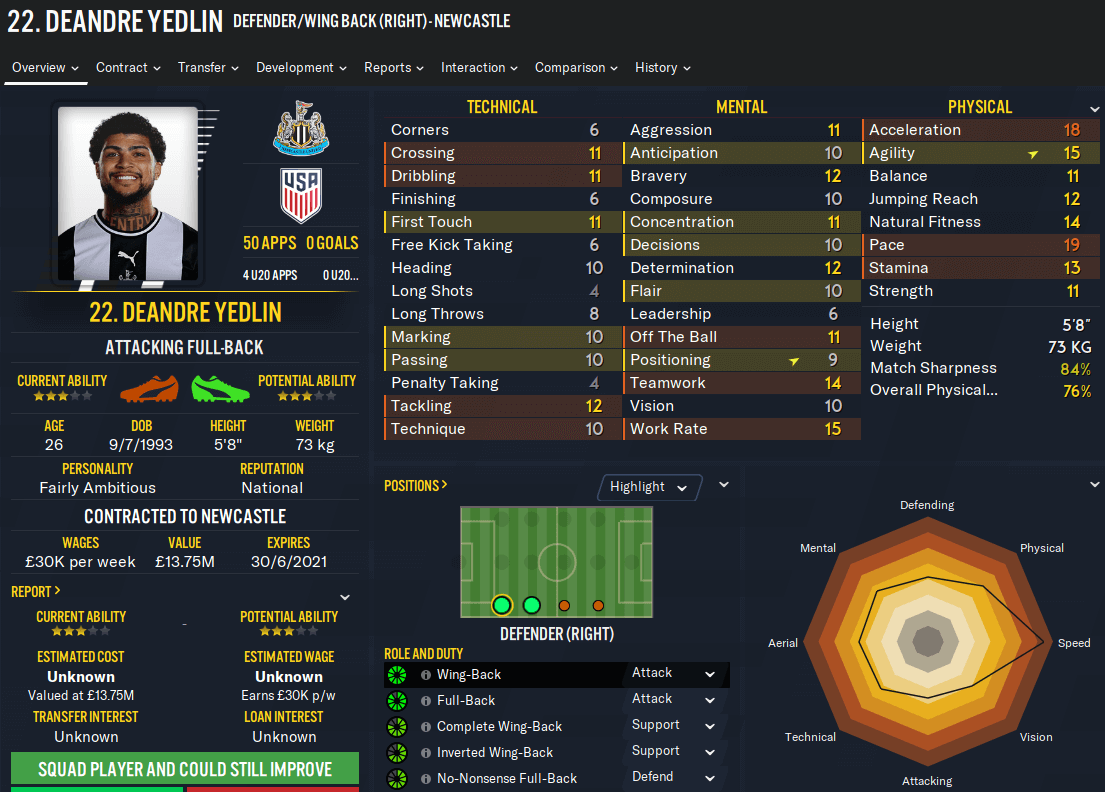 Left back – Borna Sosa
New boy Borna Sosa will play in rotation with Jetro Willems. Both are fast, technically gifted wing backs. Willems is the better option but Sosa is the future.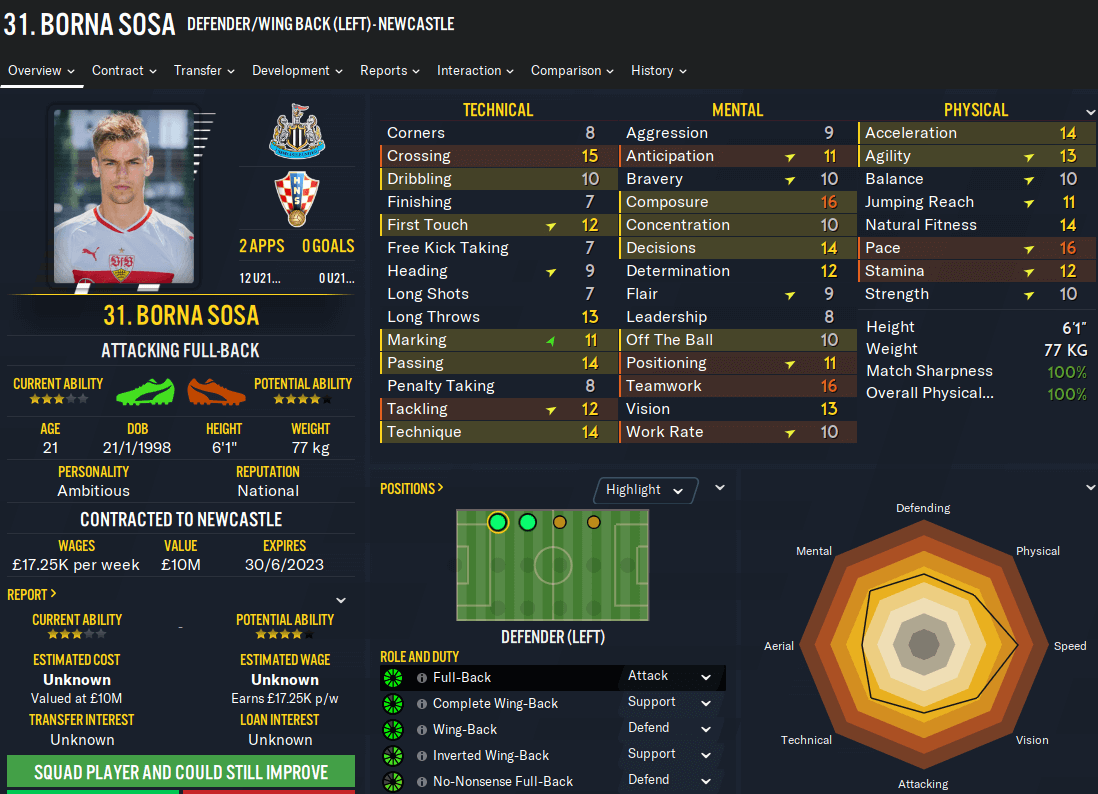 Centre back – Fabian Schar
Not the ideal age but Schar is my only natural ballplaying defender. Jamaal Lascelles will act as backup. This defence needs addressing in the Summer.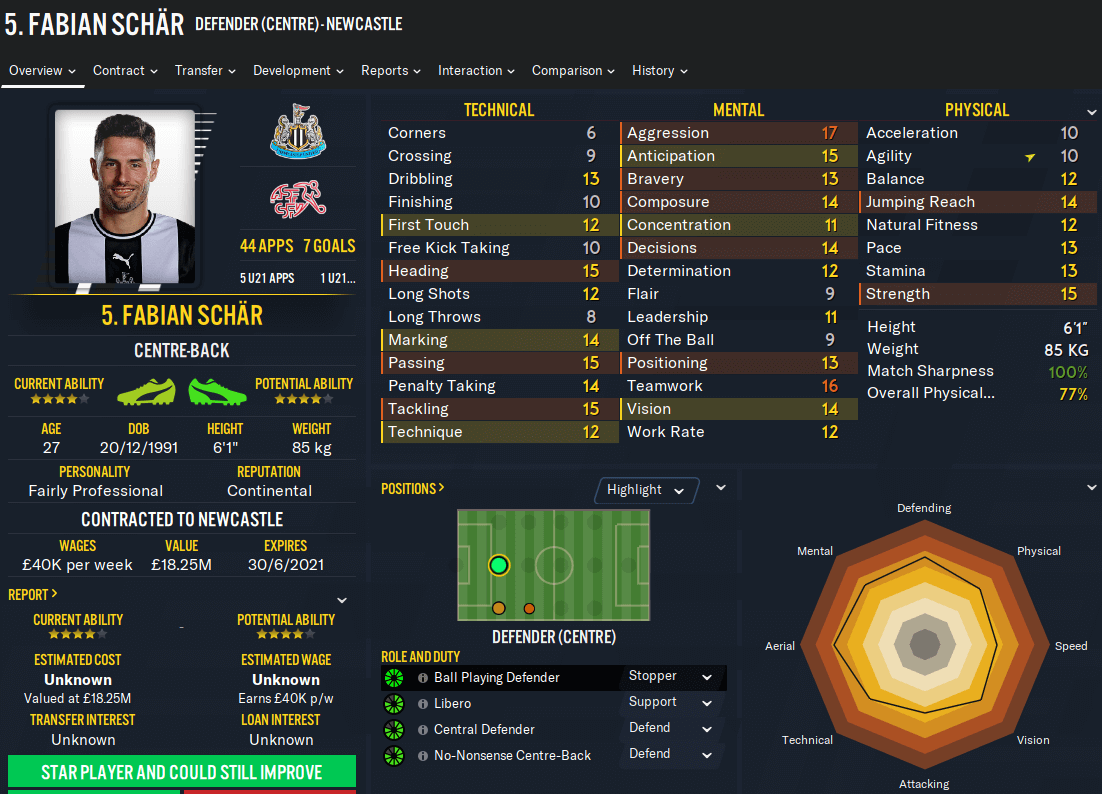 Centre back – Jerome Onguene
Candidate for signing of the season Onguene is fast, strong and good in the air. With great mentals the 21 year old has plenty of potential. I loaned Vavro as backup another great option.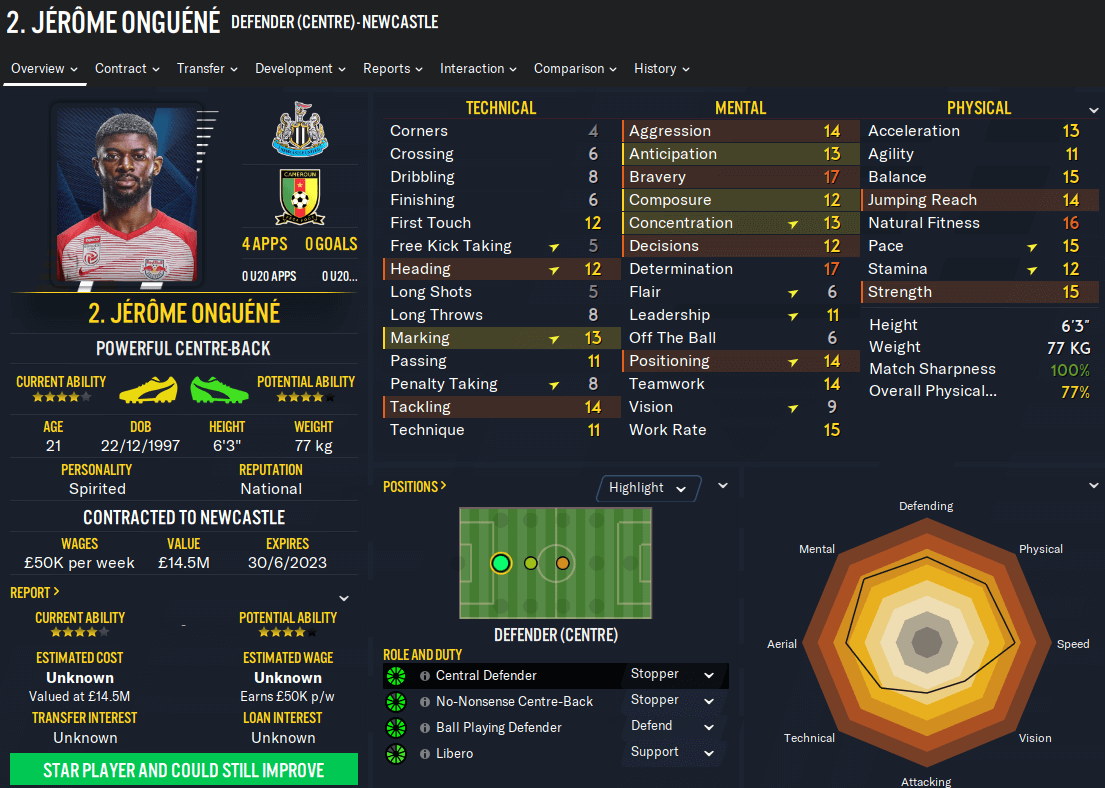 Central Midfield – Bruno Guimaraes
My favourite all round central midfielder Bruno can fill both advanced playmaker and DMC. Jonjo Shelvey will act as backup and a great impact sub I am sure.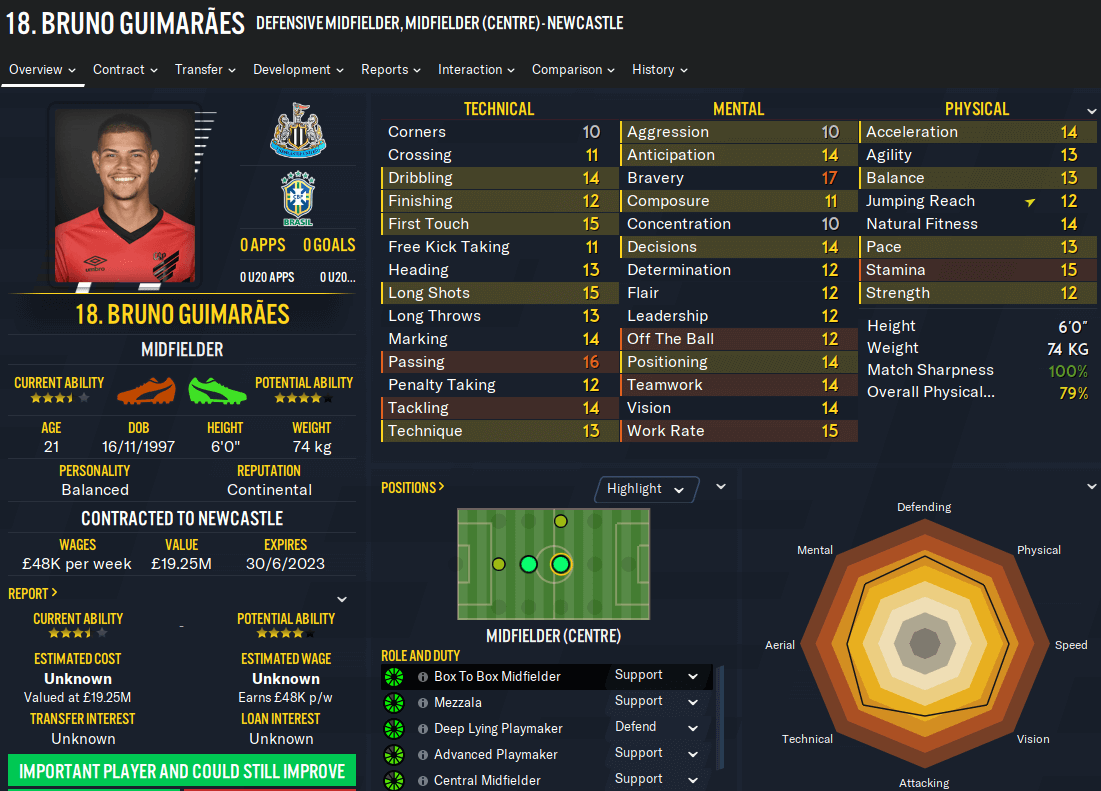 Central Midfield – Fran Beltran
Another quality addition Beltran can play deep lying playmaker or defensive midfielder. He can pass, tackle and carry the ball forward so should develop well at just 20 years old. Longstaff and Kenneh will act as backup, the latter will be developed for defence.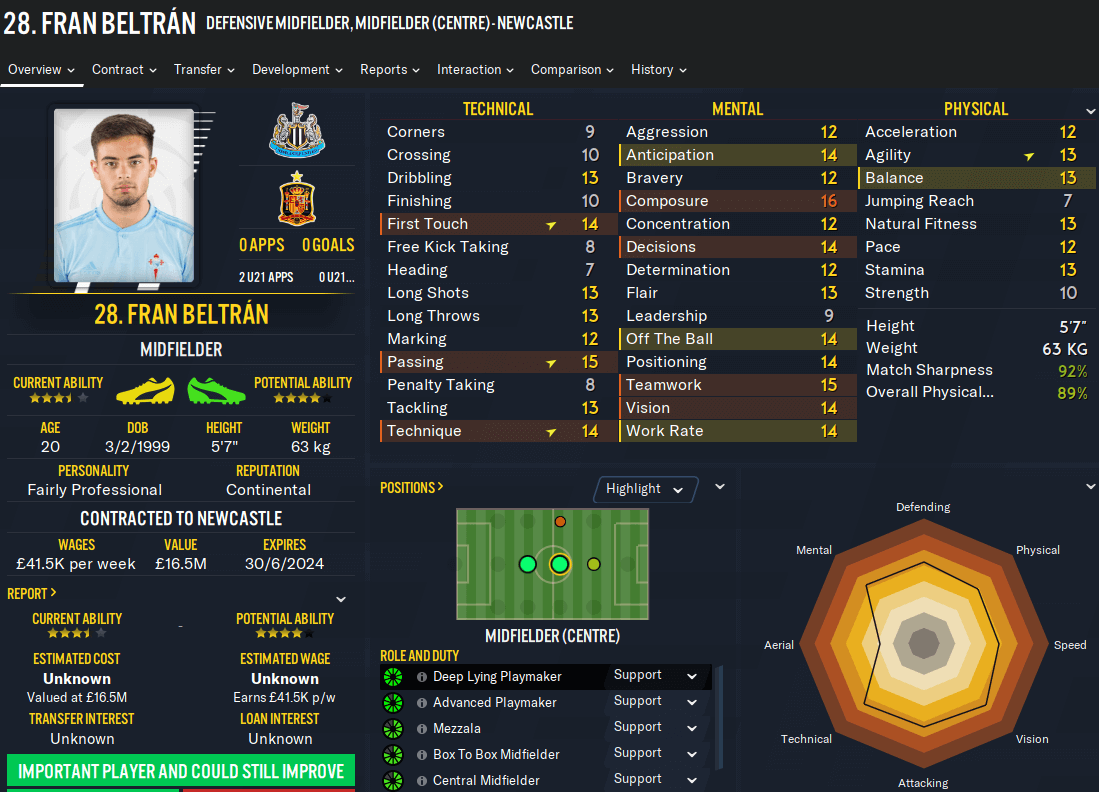 Right Wing – Justin Kluivert
Almost fell off my chair when Roma accepted £10.5 million for Kluivert. This kid should become a club legend, or sell for huge money. I will use Saint-Maximin as backup.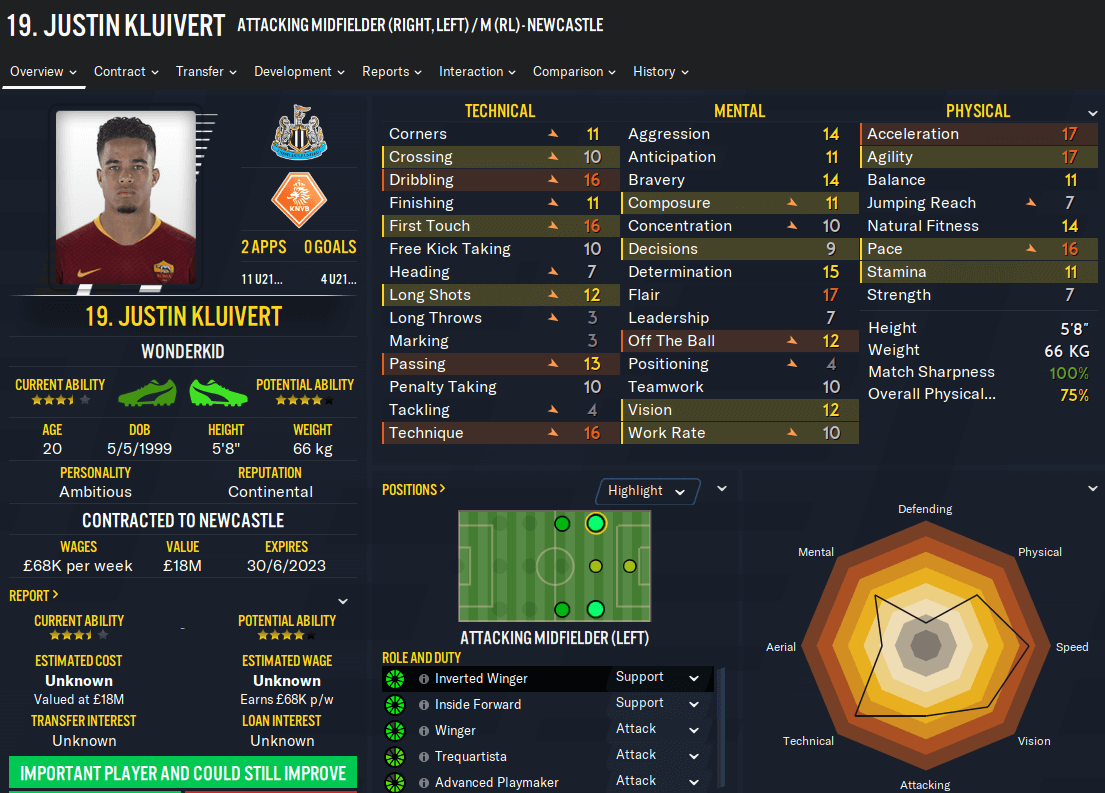 Left Wing – Jarrod Bowen
A versatile winger Bowen should reak havoc from the left, I was drawn to his finishing and more desirable characteristics like determination and work rate. Almiron will act as backup, maybe a little harsh on the Paraguayan.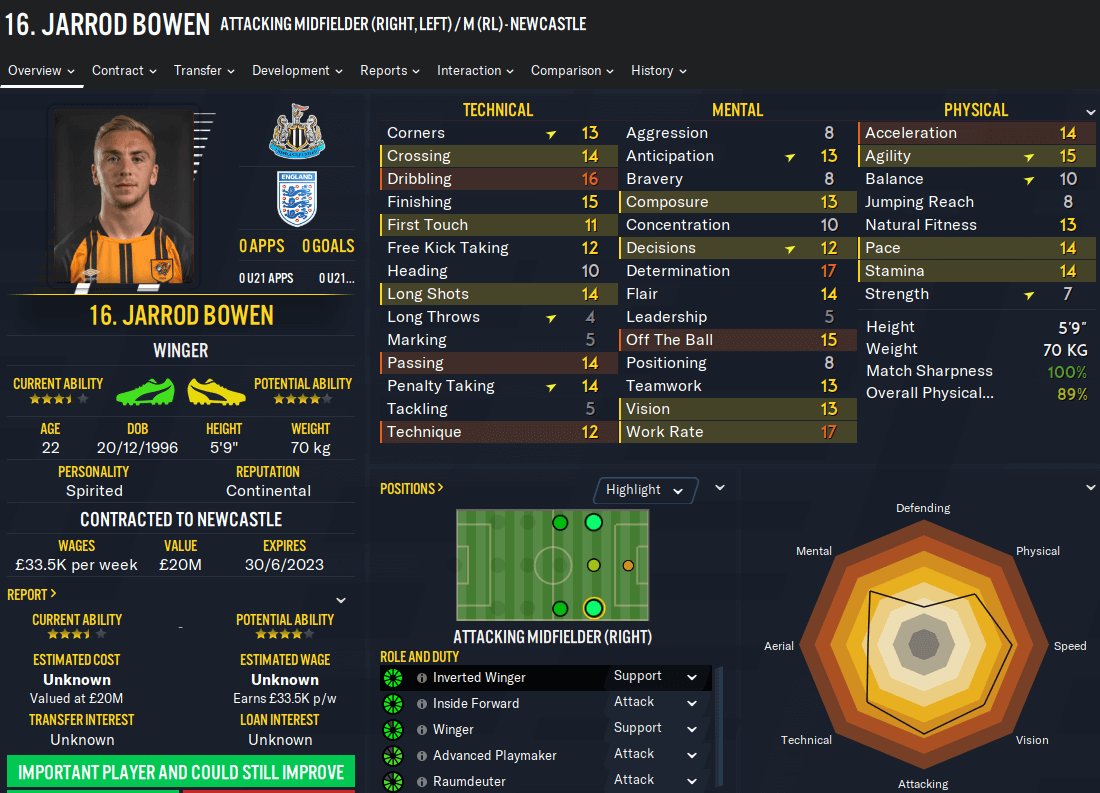 Striker – Selke
There is a bit of Les Ferdinand in Selke's physicality and aerial ability. Add aggression, bravery and work rate for a warrior upfront. I can't wait to see him and Joelinton terrorize the Premier League. Amine Gouiri is backup and a future superstar.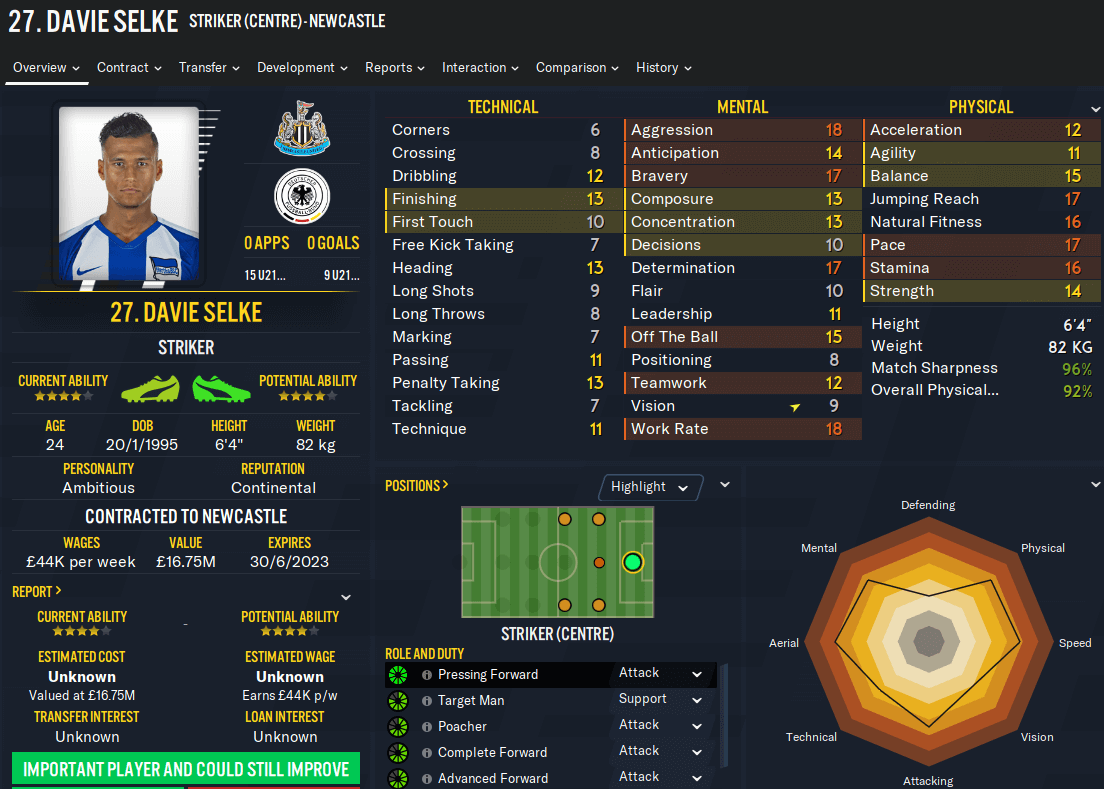 Striker – Joelinton
Joelinton is a brute but poor off the ball, dribbling and agility concerned me initially. I loaned Brewster from Liverpool as backup a player I would snap up should the opportunity arise. I still need a marquee forward and have eyes for Haaland in the Winter.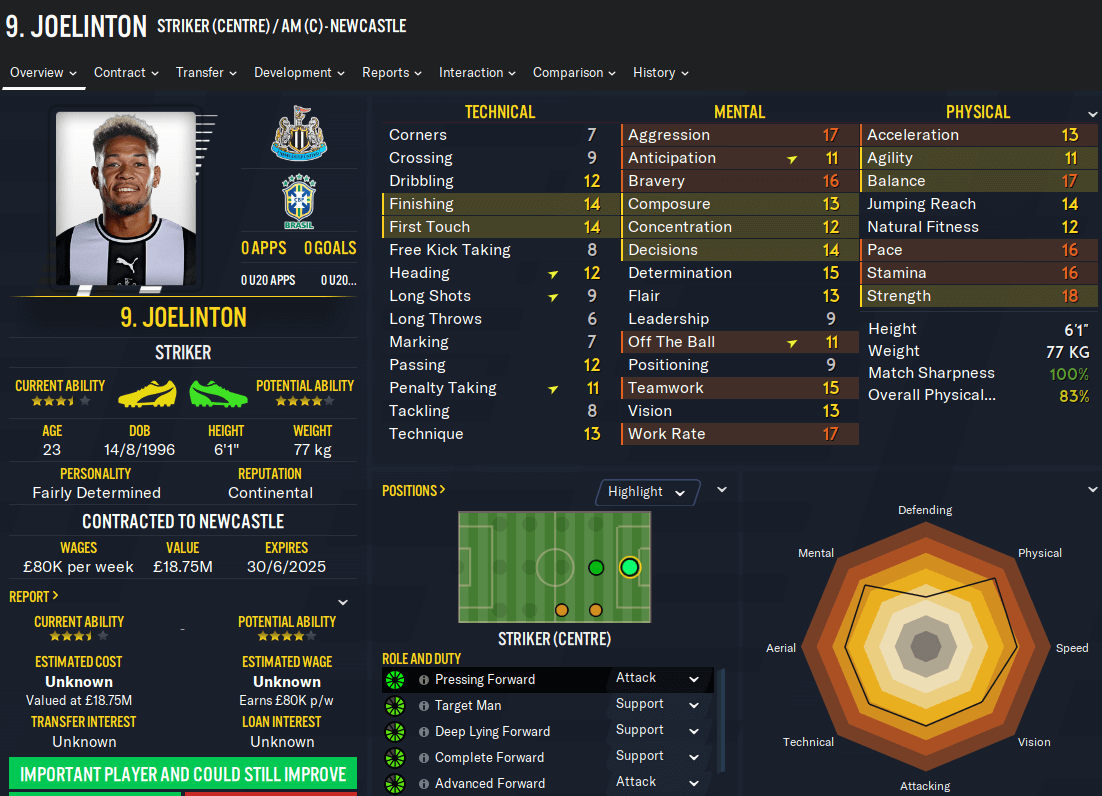 Full Squad
My squad is fit to burst, we have good cover across the field but do need to offload a few.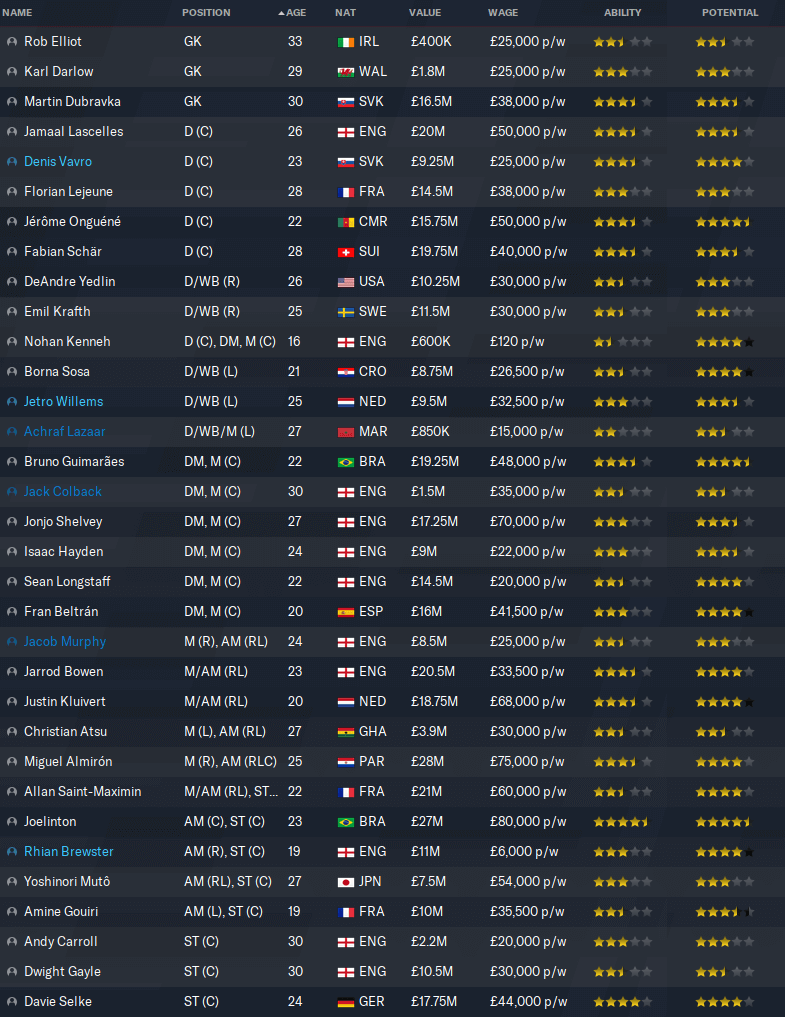 Pre-season Results
Pre-season went well! I'm not getting too excited yet but the early signs are good.

Finances
My finances look great but are misleading. Most deals will be paid in installments, so that £84 million will be chipped away over the next two years. I funded almost half these signings with player sales though so not all bad. I still have £20 million to spend and plan on making a big, marquee signing in the Winter. Hopefully a Shearer style signing.

Thats all folks, thanks for reading and if you enjoyed the post give us a follow on social media. I am also live streaming my Newcastle and York City saves every Friday and Sunday night. Follow us on Twitch for that.

Subscribe to our Newsletter