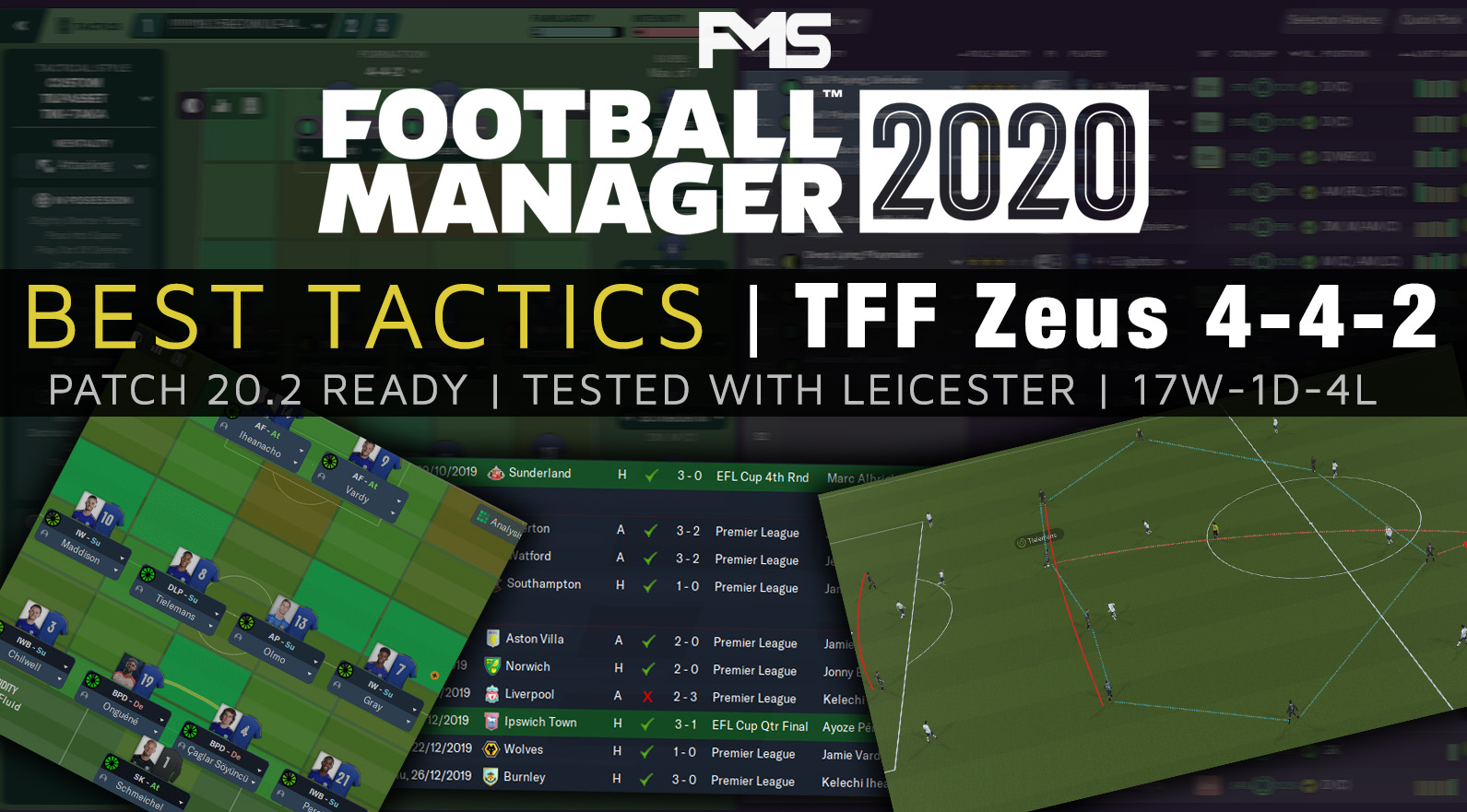 All our FM 2020 best tactics will be tested to patch 20.2 going forward. Today we analyze TFF's Attacking Zeus, a 4-4-2 which exploits the match engines over powered through pass. TFF also deploys a low line to counteract the same flaw in defence.
---
Since posting this tactic we have found a far superior system winning the top flight quadruple with York City! Created for patch 20.4. Try Knap's BEOWULF 4-4-2 by clicking here.
---
Tactics which were successful prior to patch 20.2 now face problems post hotfix, largely due to balls in behind. Hopefully we have found a solution. This system is best used with mid-table to top half teams but can be used with top sides too.
Best FM 2020 Tactics patch 20.2 – Formation
Zeus utilises advanced forwards running in behind within a simple 4-4-2. A deep lying and advanced playmaker look for the early pass while inverted wing backs and wingers offer an option out wide.
The majority are on support duty and this becomes evident in the match engine. There is plenty of movement but only the two forwards look to truly stretch the pitch.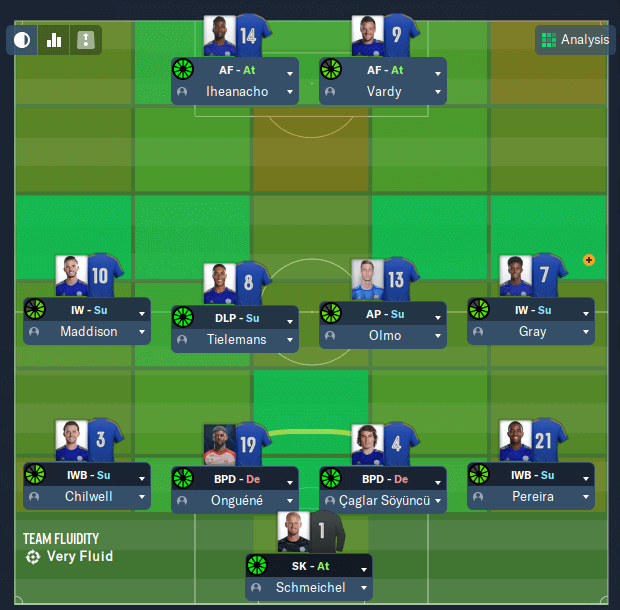 Best Football Manager 2020 Tactics New Patch – Instructions
TFF uses limited but specific instructions. Aimed at finding high, quick passes in behind a direct style is enabled. The lower tempo keeps possession, a common problem to solve with all FM 2020 best tactics exploiting the ME.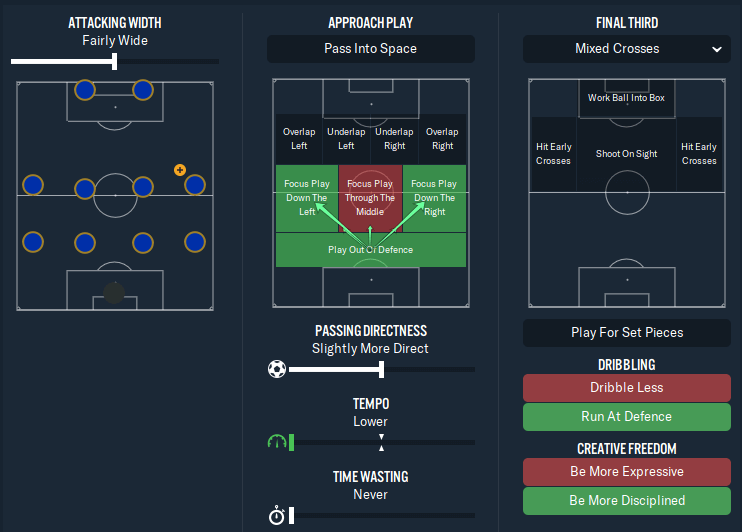 Common transition instructions are in use, other than 'slow pace down', which again helps us keep the ball.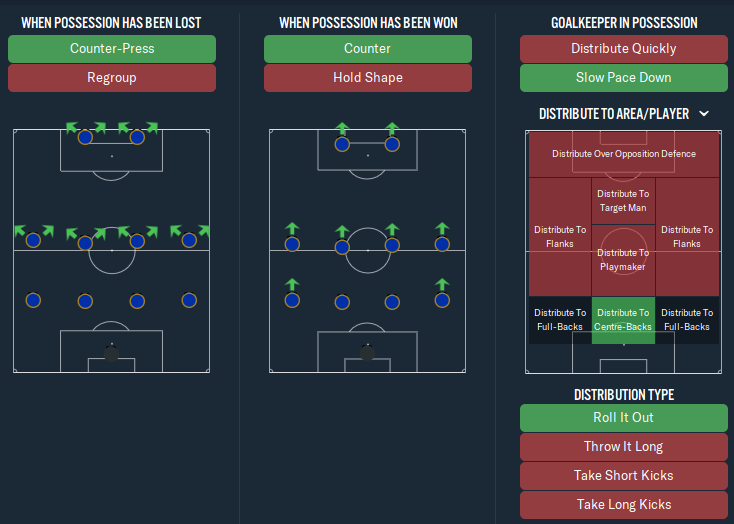 Due to the excessive goals conceded from balls in behind a lower defensive line is in use. TFF still utilises a high line of engagement to win back possession with extremely urgent closing down and individual player instructions of tackle harder. Be wary of this in match as yellow cards can easily turn to red without good management.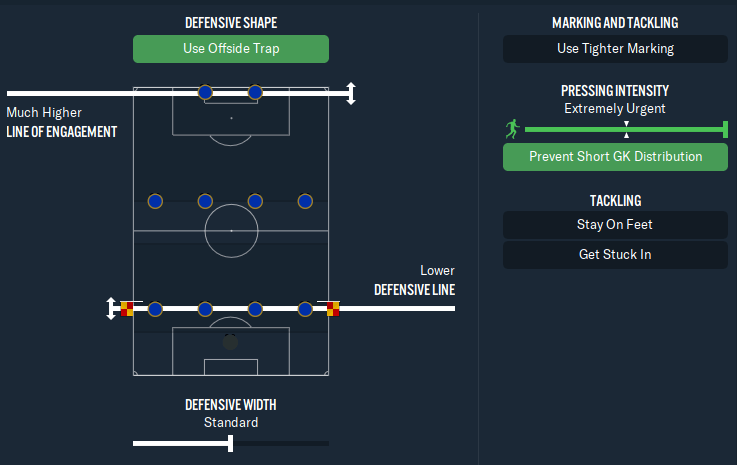 Best FM 2020 Tactics Patch 20.2 – Player Roles
GK – sweeper keeper (attack) – Due to the amount of one on ones in this years game I'd look at attributes in this area for any keeper.
CD – ball playing defender (defend) – Ideally find centre backs who can pass and fulfill the role but I'd say its more important to have a towering presence. Speed is important to counter those annoying passes in behind.
DR/DL – inverted wing backs (support) – Very important to the success of this tactic these guys overlap the wingers. Fast, forward thinking wing backs will do very well in this system.
CM – deep lying playmaker (support) – The more stationary of our two playmakers, look for players with good passing and vision, basically as the role suggets.
CM – advanced playmaker (support) – A passing maestro the AP will link up play and search for that long ball over the top to your advanced forwards.
MR/ML – inverted winger (support) – Both wingers are inverted so MR should be strong with his left foot and vice versa for ML. These guys terrorise out wide and often cut inside finding themselves in a shooting position. Technical players are important but speed will go a long way also.
ST's – advanced forward (attack) – The main goal threat good finishers are a must but speed is even more important. I found Selke, Haaland, Joelinton and Vardy a handfull here. You should look for speed, finishing and good all round physicality.
FM20 Zeus New Patch Tactic Analysis
I think its important to understand how a tactic works before clicking download. Learning its strengths and weakness' will help you in the transfer market and on match day.
Defensive shape and low line
FM 2020 best tactics have changed with patch 20.2. Previously high lines and aggressive systems were the norm but chances in behind are a real issue in the new patch. Zeus uses a low defensive line as illustrated below. The defence and midfield tuck in leaving both strikers to stretch the pitch and latch onto that ball over the top.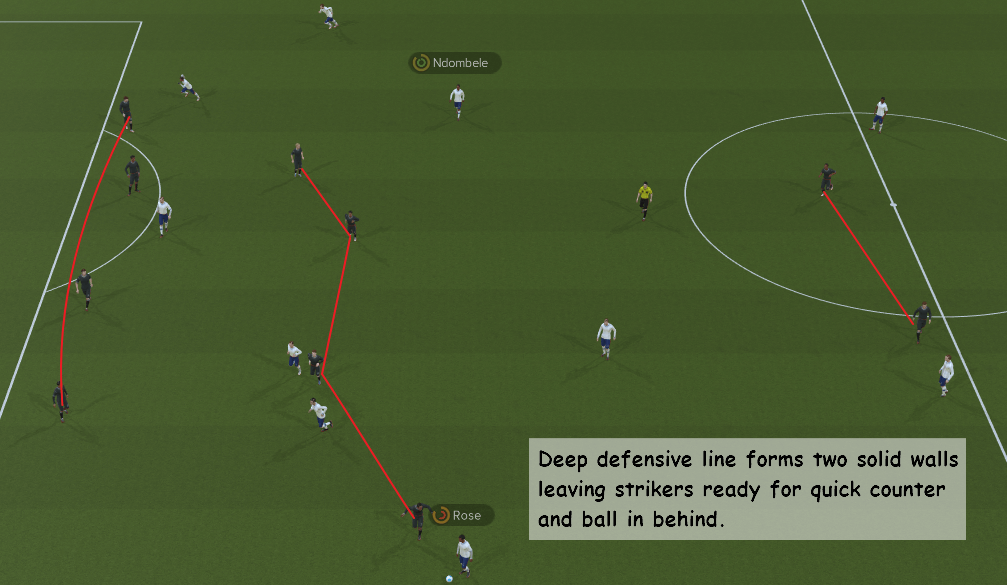 Passive Transition Shape
After winning back possession the team look for that ball over the top but won't waste possession. The image below shows my DLP finding Vardy with a direct pass but note the many other options available. We can easily work the ball across midfield or switch play.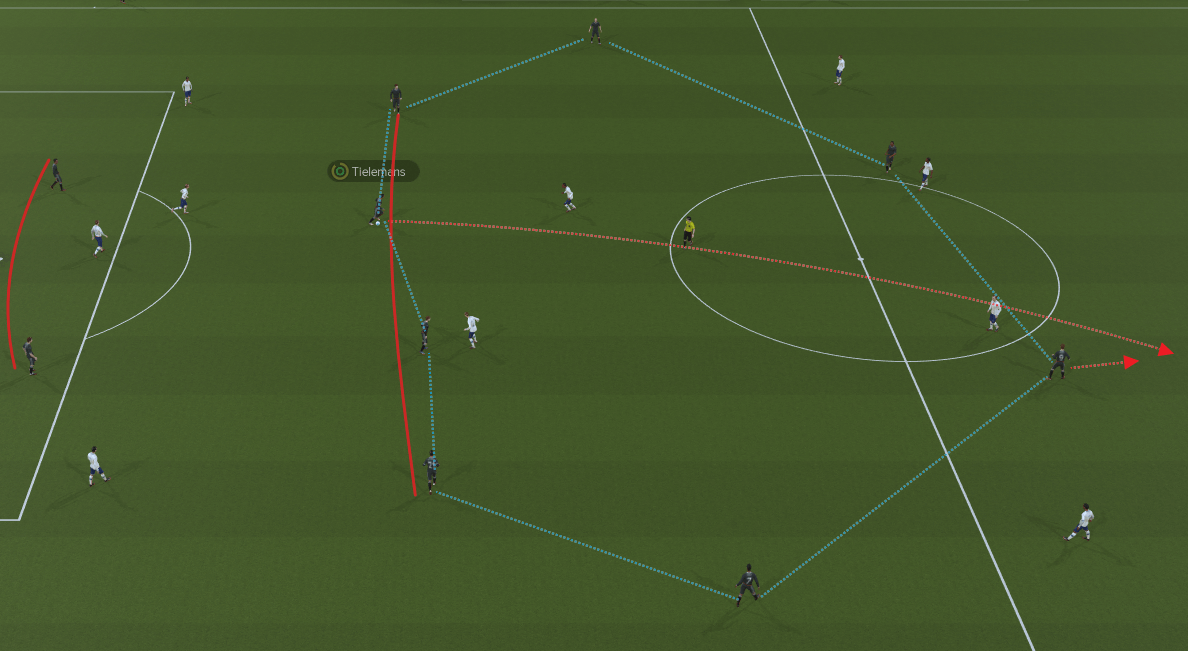 In transition and possession
Zeus does a great job getting bodies around the ball in transition. See below my ML has possession, DL looks to overlap while the MC's offer a short pass. Both strikers are primed to get in behind, a recurring theme throughout.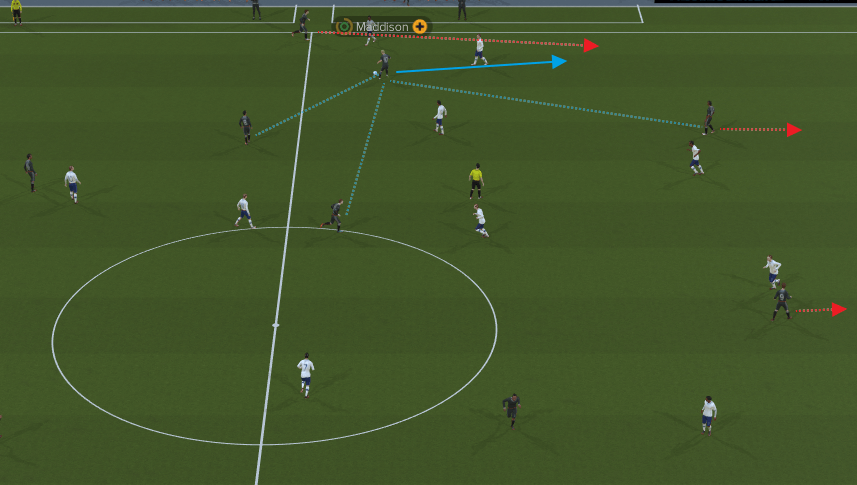 Every player on support duty looks to exploit the gaps in the final third. Tracking every run is impossible, this opens up space for your strikers and wingers out wide.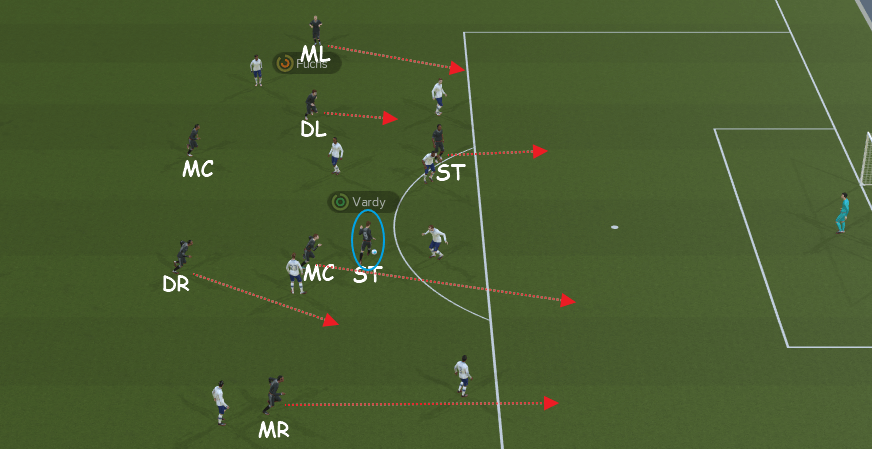 A word on mentality and tweaks
I used attacking mentality for most matches. The only time I changed was to cautious against the top teams away from home.
This is a judgement call, I don't believe in a one size fits all approach and you will have to think for yourself. If you are in front and want to kill the game off, use TFF's time wasting tactic, it can be downloaded here.
Finally, view mentality as a risk and reward formula. The more attacking you're, the more open you will be defensively.
Best FM20 Tactics Results & Table
Some good results but the losses were frustraing, I think we created 6 clear cut chances against Newcastle. Unless you are prepared to use more than one tactic in tandem this is what you get.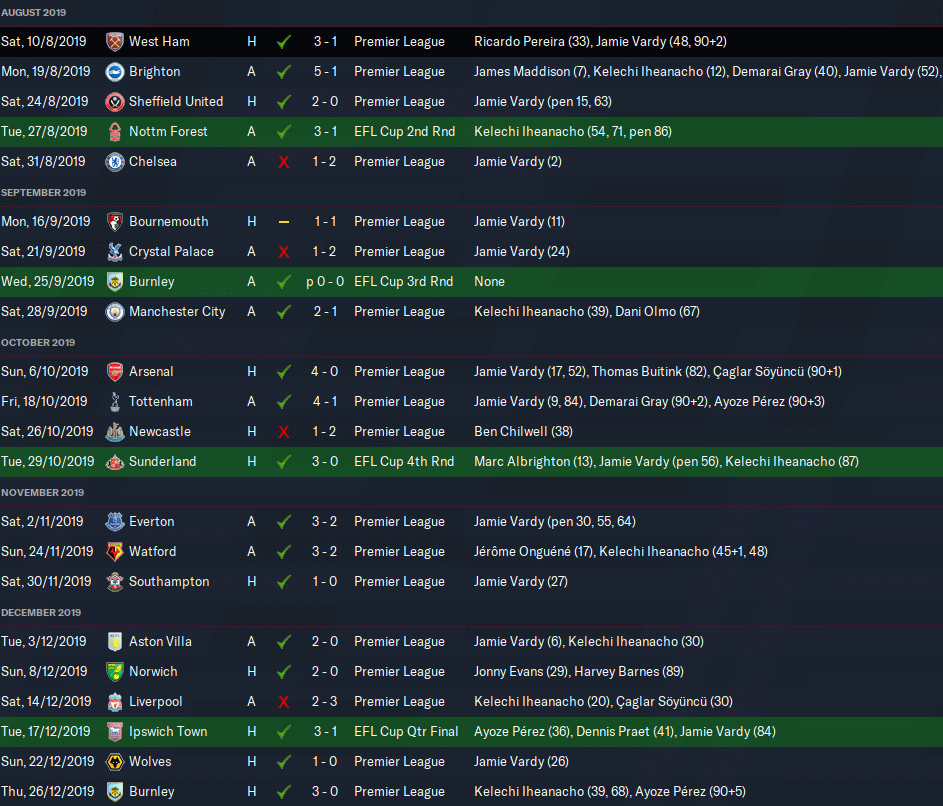 We're on a cup run and fighting against the big boys domestically, a success considering the squad. I had no strength in depth and less than optimum players for each role. Vardy is overpowered, but Gray is not ideal as an inverted winger and Maddison on the slow side.

Note chances, 126 in total way ahead of the pack. Some games we saw 7-8 clear cut chances and should have walked over the lesser opposition.

Well rounded performances throughout but the star men were upfront. Its important to find great strikers and midfielders who can assist, stats were evenly spread across my middle four.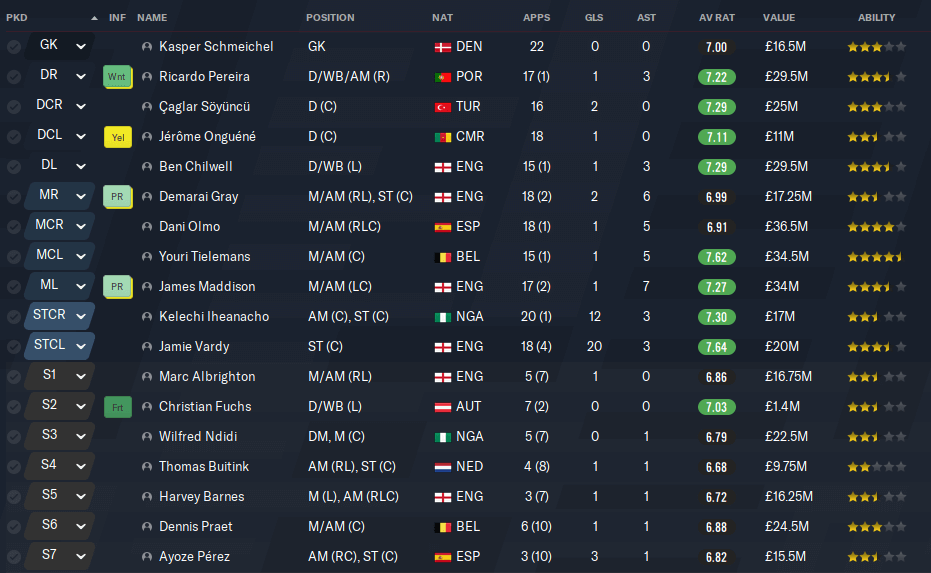 ---
Find the best FM 2020 players:
---
Best FM 2020 Tactics: Top Tips
This has been tested for patch 20.2. We cannot predict whether this will work on later patches due to potential match engine changes.
Adjust mentality to suit your team and match circumstance.
MR should be strong on his left foot, ML strong on his right.
Be wary of slow defenders, balls in behind are an issue in patch 20.2.
See games out with TFF's time wasting tactic linked above.
If 2-3 goals up switch to cautious mentality, this will preserve the players energy for future games.
As with any tactic it needs loading at the start of pre-season. Also avoid signing a whole new team unless you are experienced doing so.
I asked my Assistant to take care of training and opposition instructions. I took charge of individual training to set each player up in their specific role. This is vital, your MR and ML will probably need training up in this role.
You must get fast forwards who can finish and attacking wing backs.
Be aware you need a decent size squad. Two players per position to allow for injuries and bans if you are in Europe.
You MUST download this tactic, do not try and copy it. There are many individual player instructions and set pieces are vital.
Best FM 2020 Tactics: Download
If you would like to give the tactic a try, follow the instructions below:


1. Click the download link above and download the file.
2. For Windows put the downloaded file in this folder: Documents/Sports Interactive/Football Manager 2020/tactics. If the "tactics" folder doesn't exist you will have to create it. Windows users skip to step 2, Mac users read below.
Mac users put file in this folder: Users/YOUR Mac USERNAME/Documents/Sports Interactive/Football Manager 2020/tactics. To access your files on Mac open 'Finder', click 'Go' from the menubar, press and hold the 'alt' key to show 'library' in your menu, while still holding 'alt' click it, then go to 'Application Support' > 'Sports Interactive' > 'Football Manager 2020'
3. Now load the game as normal and enter the tactics screen.
4. In the tactics screen, click the tactic you currently have loaded then select 'load' from the drop-down menu
5. Select TFF's Zeus 4-4-2 and click load.
Thanks for reading, any social shares would be much appreciated. Follow us on social media for future posts in the series. Please feel free to leave a comment I'd love to hear how you get on. Likewise any questions.


Subscribe to our Newsletter