Hey guys and welcome to Brighton's season finale. During the last post you witnessed the Seagulls start an incredible run of form and top the Premier League table. With a one point lead in the EPL, we were also through to the Europa League knockout rounds and yet to start the FA Cup. Today will see the end of this crazy season, taking us from January to May, can Brighton secure Champions League qualification, or could we even be aiming for some silverware? Carry on reading to find out…we will start with the Europa League.
Europa League results
After waltzing through my group that included Sevilla and PSG I was drawn against Turkish side Trabzonspor. The 1st Knockout round was a breeze as Brighton cruised through 5-0 on aggregate. The 2nd Knockout round was almost as easy, seeing my side beat Spartak Moscow 9-3 on aggregate. The easy opponents soon stopped though as we were drawn against Liverpool for the quarter-final. The Merseyside club proved too strong over two legs and beat my Brighton 2-1 on aggregate.
Premier League results – January to February
Lying top of the EPL table I started to ponder what was really possible with half a season to go. The title was there, but I couldn't raise me eyes beyond the top four with such a long way to go. West Brom soon brought me back to reality at the Hawthorns, after losing the lead twice we had to settle for a 3-3 draw.  Birmingham were beaten with ease, but Blackburn proved my boggy team yet again holding us at Ewood Park 1-1.  Brighton then shocked me, I looked at the next four fixtures and expected just two points. However, we beat Liverpool 4-3, Chelsea 3-2 away before losing to Manchester United and beating Arsenal 2-1. We played the so called top four and gained 9 points from a possible 12. Now that's how you react under pressure. :) As if those victories weren't enough my boys made doubly sure by thrashing Blackpool 7-1.
Premier League results – March to April
OK so now I found myself still top of the table and with some breathing space to fifth. The Champions League was almost secure, but there was nothing between myself and Manchester United at the top. We needed a good run of form to keep our shocking title challenge alive. We started March beating Wolves 3-0, Aston Villa 3-2, Burnley 2-1 and Newcastle 2-1. Fifth placed Everton then taught us a lesson in complacency at Goodison Park, my boys were awful and paid the price losing 2-0. With morale a little damaged Brighton pulled through a tough match at home to beat Fulham 3-2 thanks to Bakambu's injury time winner.
We then started to struggle against great opposition drawing 1-1 away to Spurs, 1-1 with Man City and 3-3 away to West Ham. This bad run of form almost ruined what was a brilliant title attempt. However, my boys showed some fighting spirit to thrash Chelsea 4-1 and put our form back on track.

With only two games remaining the Premier League title race couldn't be closer. Brighton were top with 82 points and Manchester United trailed on goal difference. My free scoring style had paid off as the Seagull's held an 8 goal advantage with two games to go. Win them both and Brighton would lift the Premier League title unless United managed a miracle.
The first of these historic games came at home to Wigan and I couldn't have wished for more. Kakuta and Bakambu were incredible and helped Brighton to win 6-1. I also had one eye in the north as United won their fixture and kept the title race alive. One game to go and most certainly the most important game any of these players would ever be involved in. My opponents were Sunderland and we had the home advantage. The game may have started a little slow, but it didn't finish that way. My players were outstanding and won the match 4-0!!
That's right, Brighton won the Premier League after two straight promotions and a 7th placed finish last season. I was expecting to challenge the top four but this achievement goes beyond what I was hoping for.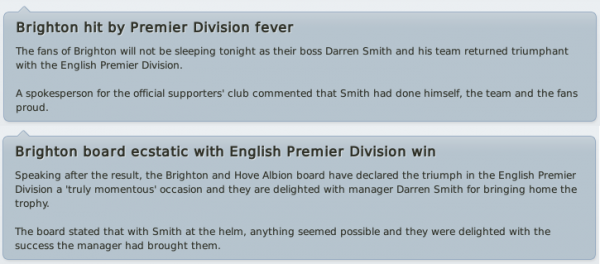 Let's take one final, fruitful look at the Premier League table. 88 points may seem like a small amount compared to what my Newcastle side notched up season in season out. But that tally would be enough to win the title most seasons, so I feel like this was a well deserved victory. My proudest part has to be goals for, we managed to net 103 goals this season which is testament to Brighton's attacking mentality.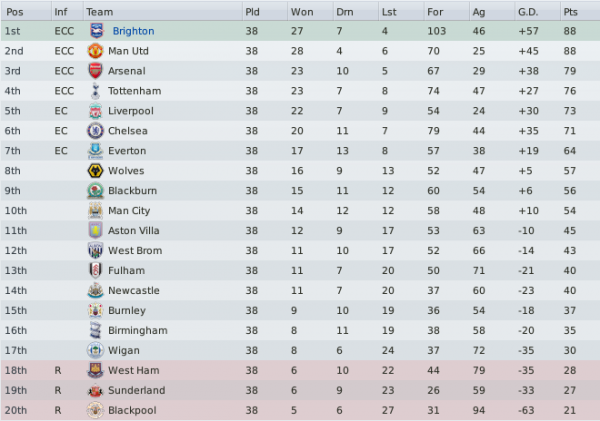 FA Cup results
You know Brighton won the Premier League, but lost out in the League Cup and Europa League. That now leaves us with the FA Cup, we started with the 5-1 thumping of Rochdale, before beating Fulham 3-0 to reach the fifth round. I was still dead set on using my weaker XI, but this didn't stop us coming from 2-0 down to beat Newcastle 3-2. Then a boring 1-0 victory away to Everton secured our semi-final spot. This was against Chelsea and I still opted to mix youth and key players in order to rest up for the Premier League. However, Chelsea seemed to have the same idea which left both sides evenly matched, my boys seemed to want it more and came back from 1-0 down to win 2-1 in the dying seconds.
We are through to the FA Cup final against Tottenham. If you want to find out the result and read my end of season summary, go to the next page.
Go to the next page to read the rest of the story.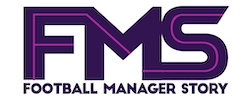 Subscribe to our Newsletter