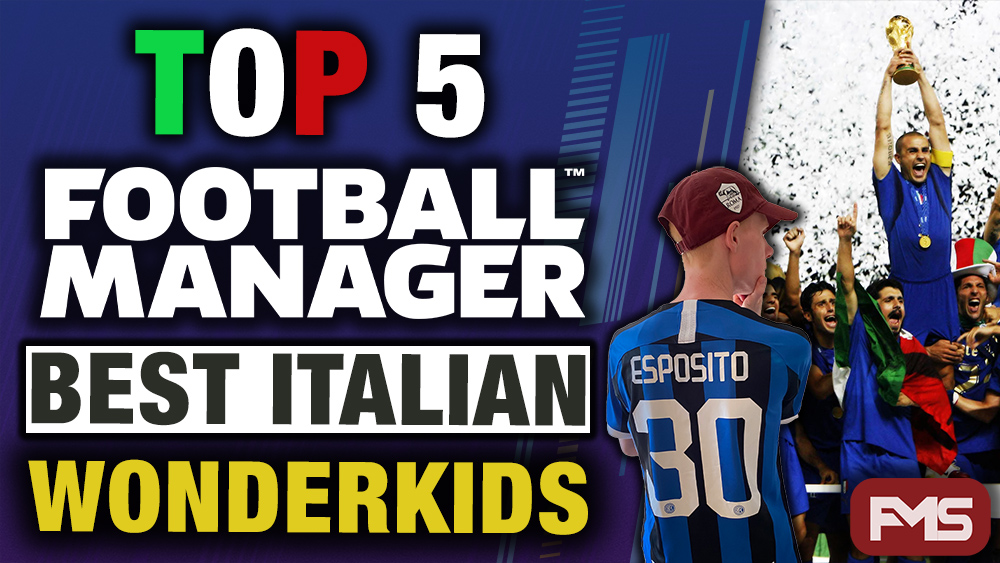 Today we're looking at the best Football Manager Italian wonderkids boasting a minimum potential ability of 140! With asking prices from £800K up to £19 million our best FM Italian Wonderkids are affordable and match the criteria below:
Under 20 years old as of July 1 start date
Italian nationality
Minimum 140 potential (Excellent top flight prospect)
Each Italian prospect would grace Europe's elite and most likely join top half Premier League clubs, enjoy!
Best Football Manager Italian Wonderkids: Top 5
5. Nicolo Armini | 18 y/o | DC | PA: -85 (140-170)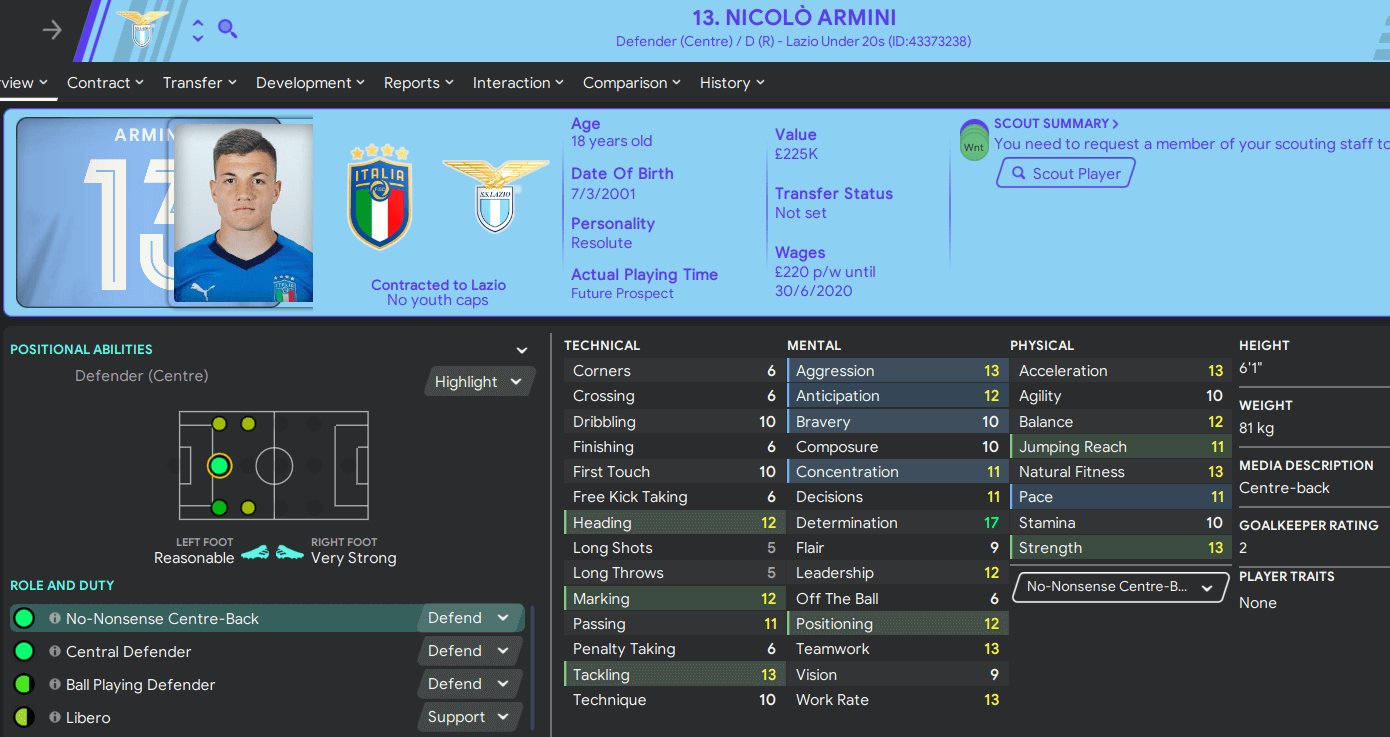 Lets begin with a centre back and one of the most talented to boot, Nicolo Armini. An FM Italian Wonderkid of the highest order, Armini could reach cult status costing just £800K but react fast, his asking price will soar upon signing a professional deal.
Despite the low price Nicolo possesses great speed, strength and all round mentals so could play a variety of roles, from no-nonesense centre-back to ball playing defender. The 18 year old lacks aerial presence but can develop this side of his game and with great determination, aggression and resolute personality he is a must buy in any save.
4. Pietro Pellegri | 18 y/o | ST | PA: -85 (140-170)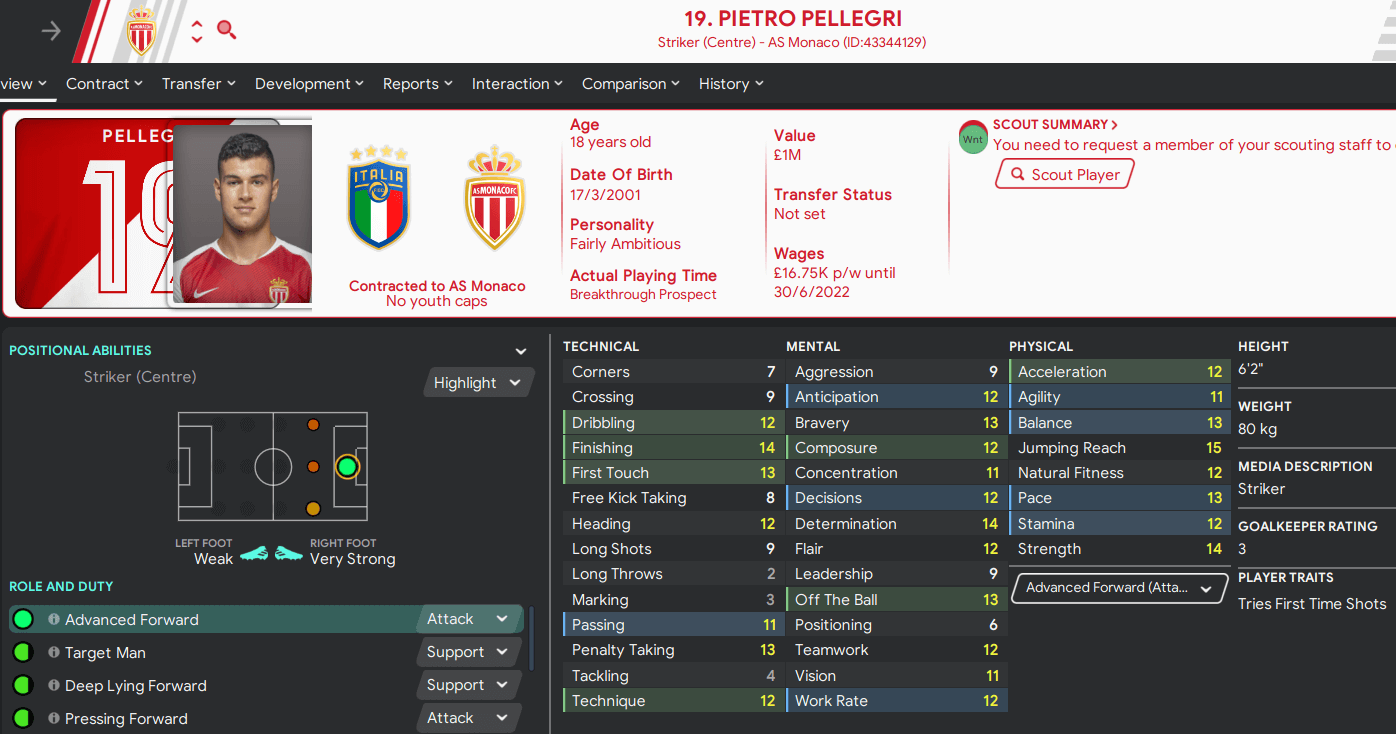 One of my favourite Football Manager Italian Wonderkids of all time, Pellegri is an absolute monster capable across all facets of the game. Monaco should sell at £6 million which is a snatch for someone who can play in behind, drop deep and dominate in the air.
With flexible PA of -85 Pietro could max out at 170 potential ability making him one of the very best strikers available. Not to mention high current ability makes high potential easier to reach. A fairly ambitious perosonality should aid development further.
3. Emanuel Vignato | 18 y/o | AMR/AMC | PA: -9 (150-180)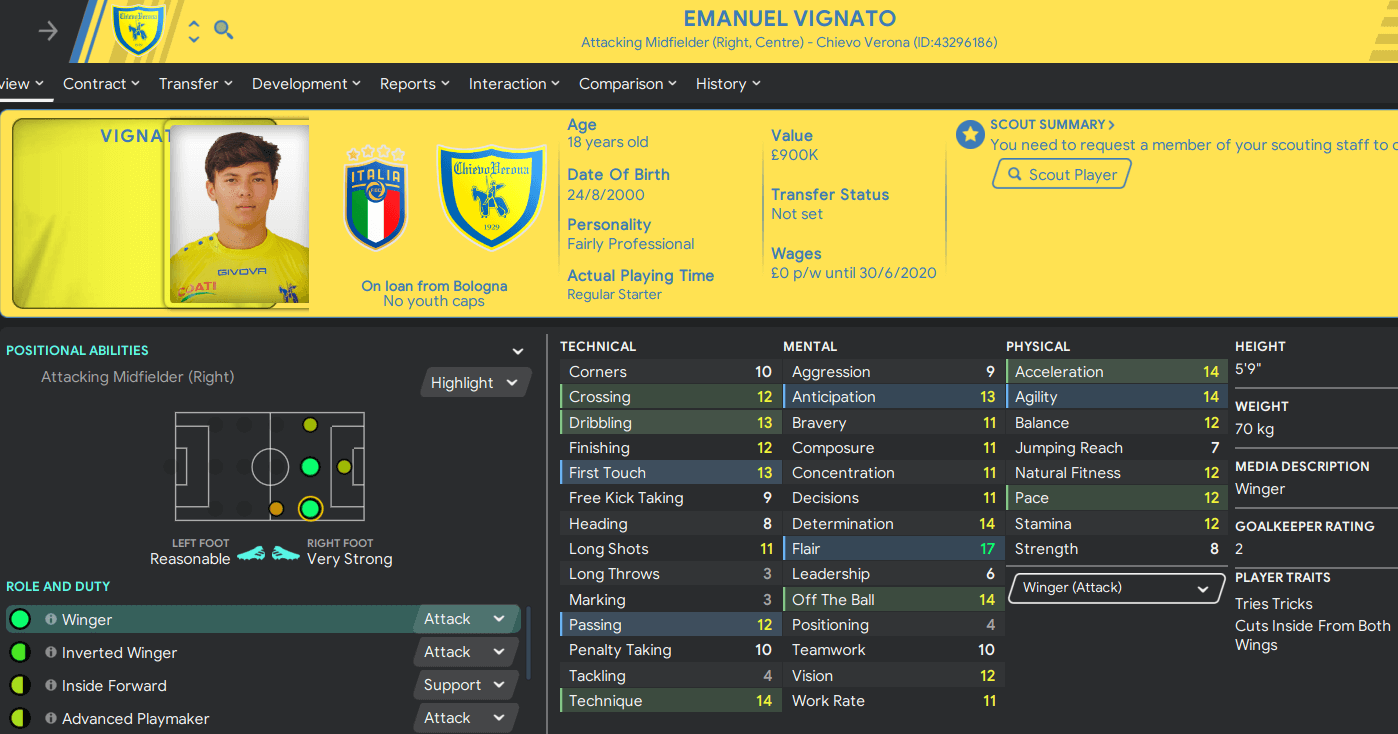 Vignato is such an underrated player, yet few Football Manager Italian wonderkids boast better potential. Flexible potential of -9 caps out at 180, that is massive and for £18.5 million I think Emanuel is great value.
Speed, flair, technique, ability on the ball, in front of goal and out wide make Vignato one of the best Italian youngsters in FM. Add great agility, movement and fairly professional personality for a rare gem indeed.
Vignato is a traditional winger and capable in rotation but could be a long term legend for Europe's elite. I would snap this prospect up quick because he is guaranteed profit.
---
Find the very best FM20 wonderkids here, presented in a rated, fully searchable, comprehensive list.
---
2. Sandro Tonali | 19 y/o | DMC/MC | PA: -9 (150-180)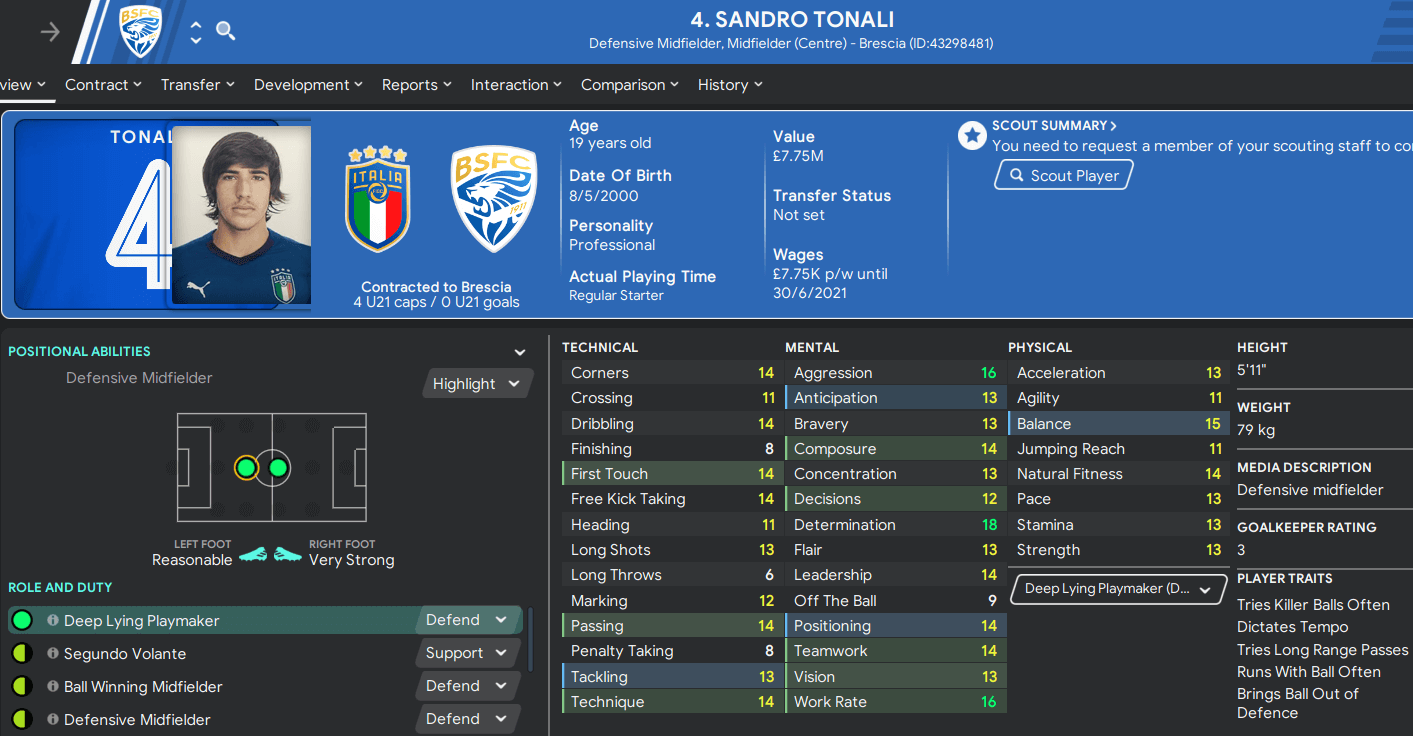 Onto the top two and a Football Manager legend, Sandro Tonali. Sandro was made popular during last years edition proving capable in every facet of his game. Not many midfielders can tackle, pass, shoot from range and dribble.
At just 19 years old Tonali possesses high work rate and dogged determination while his aggressive edge and great all round Athleticism make the Italian youngster an asset in the engine room. Add -9 potential ability and £19 million asking price for the must buy playmaker of Football Manager.
1. Sebastiano Esposito | 17 y/o | ST | PA: -9 (150-180)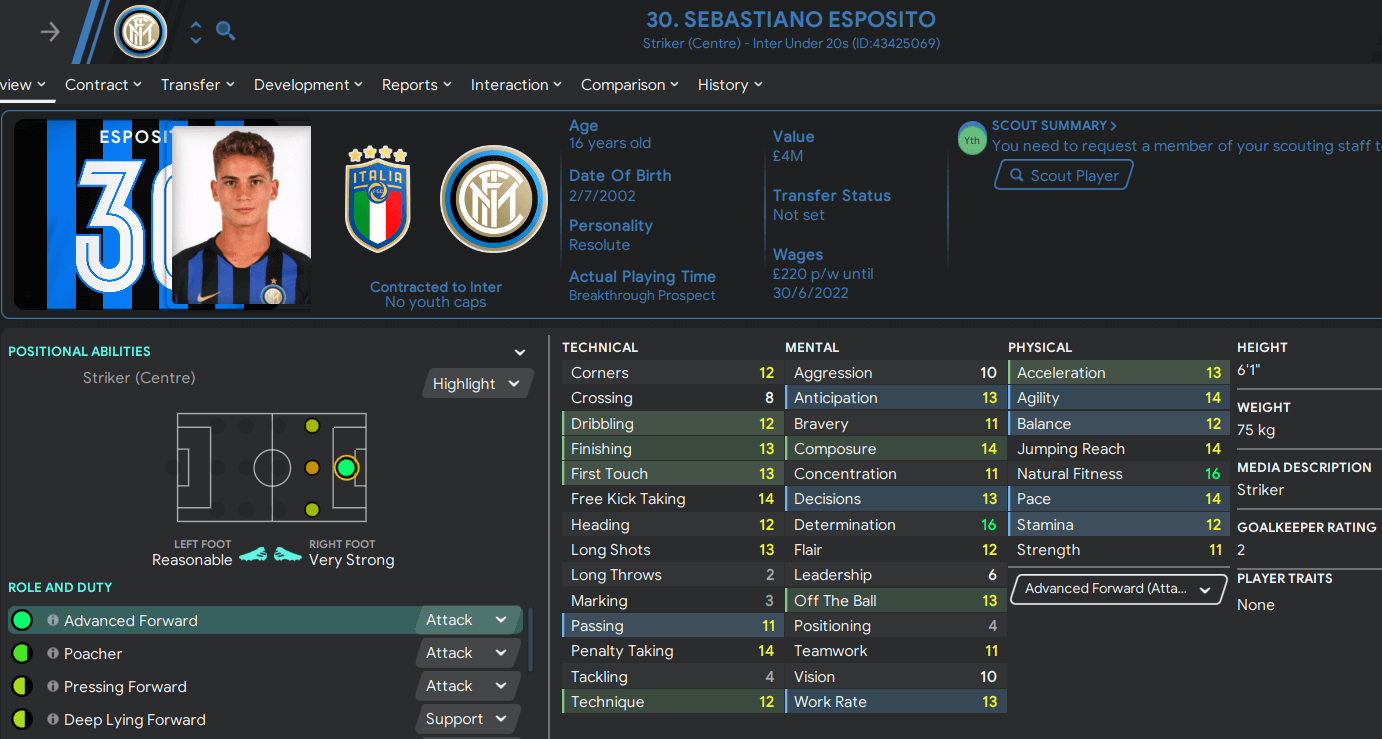 ---
Get ahead of the game with our best FM 2021 wonderkids to watch list, the most comprehensive list available.
---
My go to striker and well priced at £17 million. Esposito is much more than an attractive price, possessing speed, aerial presence, technique, ability on the ball and a deadly finish. -9 potential ability combined with a resolute personality guarantee improvement as proved to be the case in my Newcastle save.
Best used in behind as a poacher or in the channels as an advanced forward. Sebastiano anticipates play and moves well off the ball. With composure and good decision making this Football Manager Italian wonderkid is ultra reliable.

Subscribe to our Newsletter