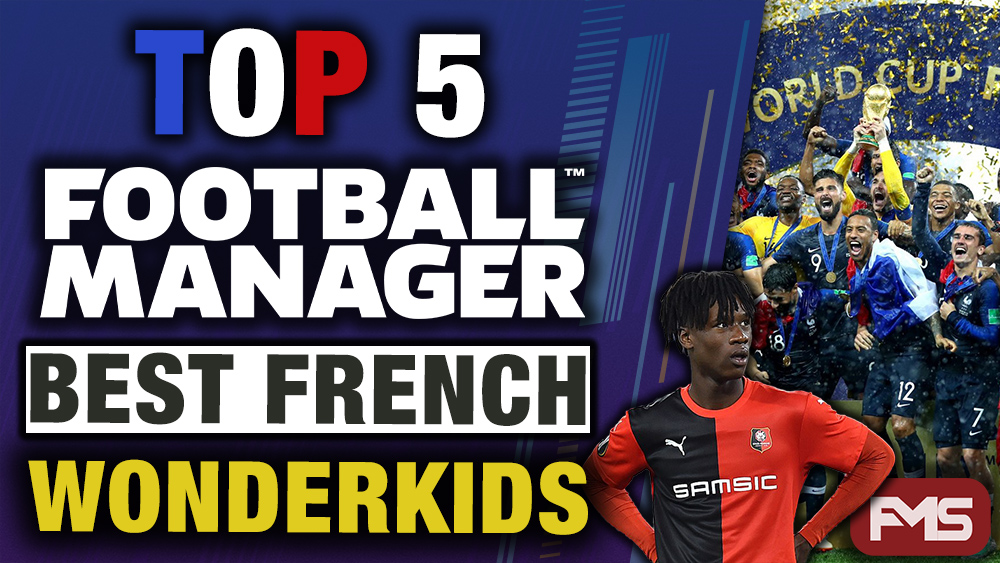 Its time for another top talents list and the best Football Manager French wonderkids boasting a minimum potential rating of 150.
With prices starting from £13 million these best FM French Wonderkids are quite expensive but should develop into worldclass players to the criteria below:
Under 20 years old as of July 1 start date
French nationality
Minimum 150 potential (Potentially World Class)
Our top 5 French talents could lift the Ballon d'Or and include a 15 year old and two 16 year olds. The future of French Football is looking very good according to Football Manager.
Best Football Manager French Wonderkids: Top 5
5. Hannibal Mejbri | 16 y/o | MC/AMC | PA: -9 (150-180)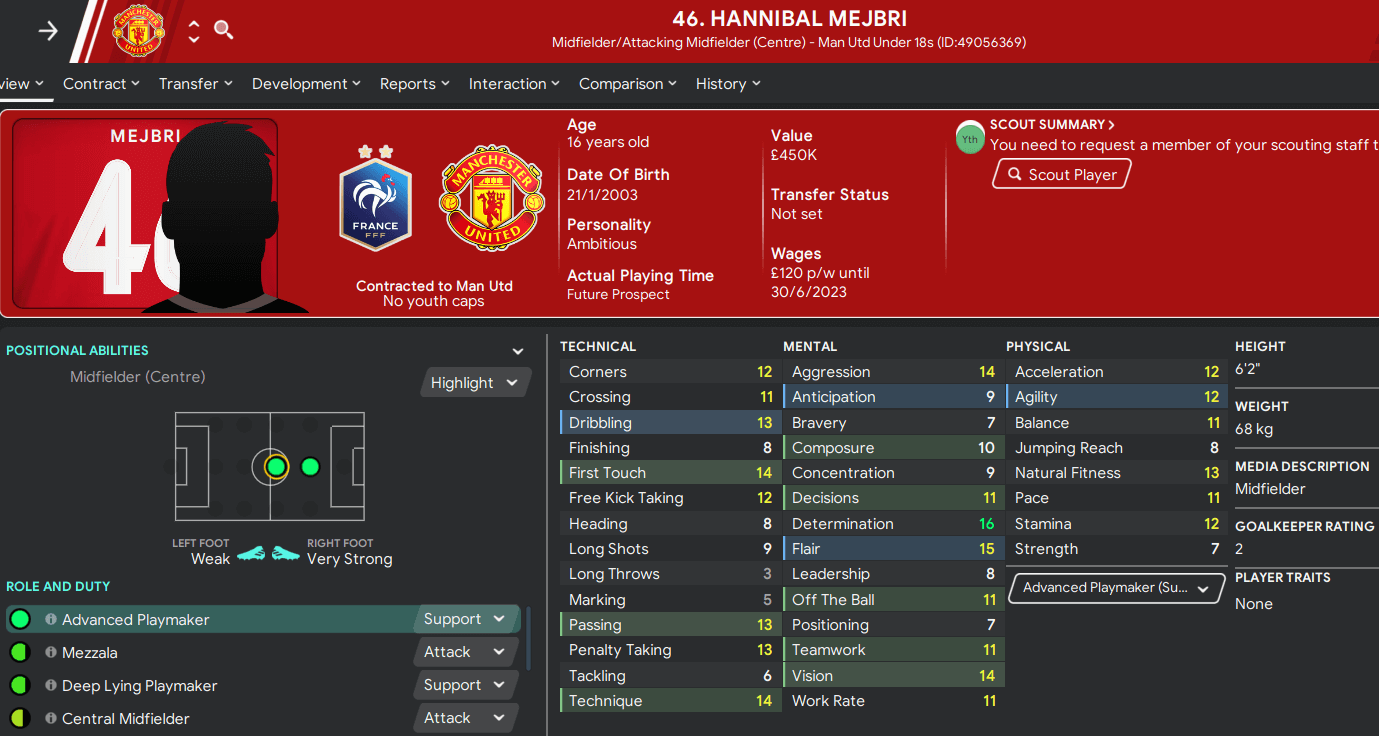 Lets begin with a Manchester United playmaker aged 16 years old, Hannibel Mejbri. Coming in at number five seems a crime for such talent but other FM French Wonderkids possess more potential OR demand a smaller fee. Mejbri will set you back upwards of £56 million, an eye watering amount.
For the hefty fee you will recieve a passing maestro with amazing technique, speed, skill and a cracking personality geared towards development. Capable from central or attacking midfield Hannibal will suit any system and should grow to not only assist but score goals.
4. Rayan Cherki | 15 y/o | AMC/AML | PA: -9 (150-180)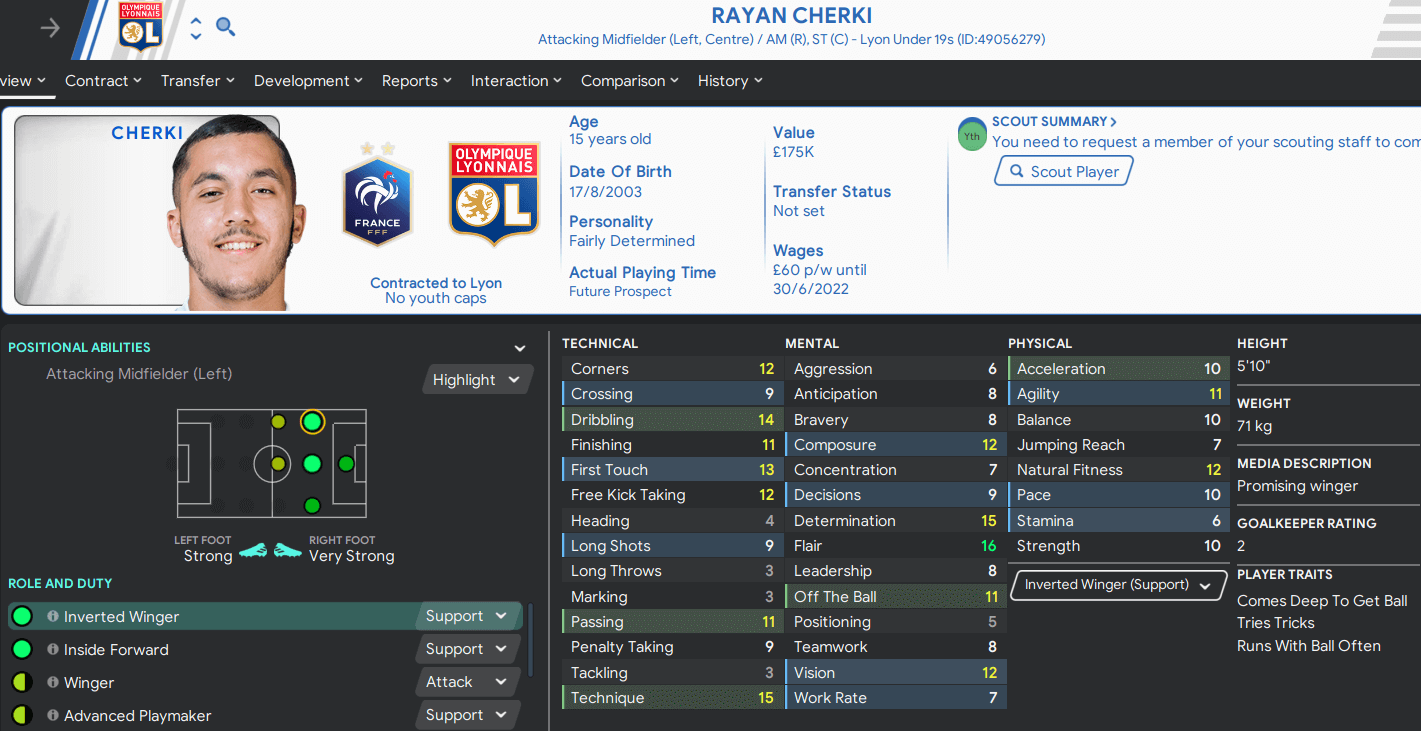 One of my favourite Football Manager French Wonderkids in this years addition, Cherki's starting profile can be deceiving. Poor physical, defensive and mental attributes make the gulf from his current ability to -9 potential beyond reach. Yet, save in save out this kid grows into one of the best attacking midfielders in FM20.
At just 15 years of age Cherki boasts a huge technical sealing with great ability on the ball, flair, determination and vision. This kid is geared up to do a job and if creating chances is your priority hes worth the long term £13 million investment.
3. Mickael Cuisance | 19 y/o | MC/AMC | PA: 168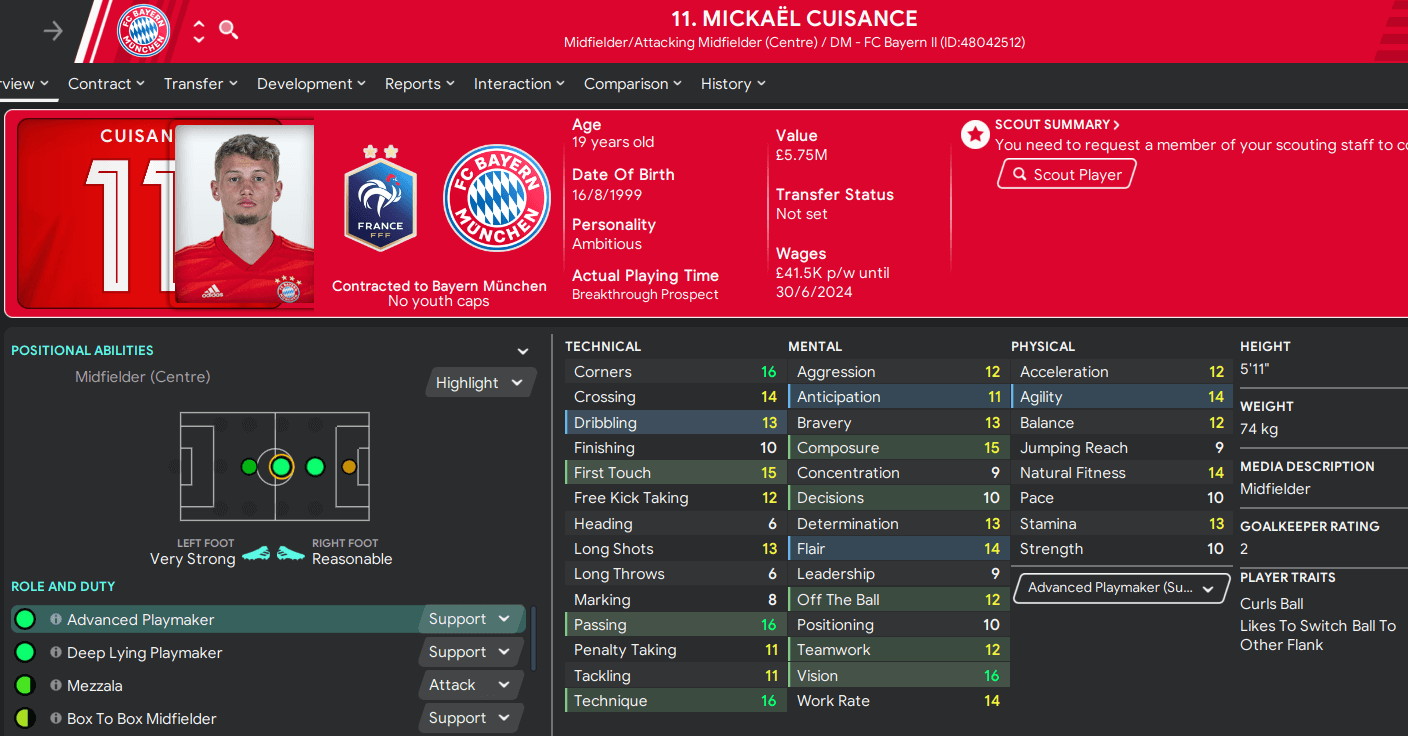 Few Football Manager French wonderkids boast more rounded attributes than Mickael Cuisance. At 19 years of age the Bayern playmaker has amazing technique, passing range, shooting ability and all round mentals while his speed and decision making can be increased with ease. £27 million seems fair for such a creative talent with fixed potential of 168.
Elegance personified Mickael has great agility, composure and flair but won't cost you on the back foot. With 14 work rate, 12 teamwork and OK defensive stats this youngster can do it all while possessing an ambitious personality.
---
Find the very best FM20 wonderkids here, presented in a rated, fully searchable, comprehensive list.
---
2. Jean-Clair Todibo | 19 y/o | DC/DMC | PA: 173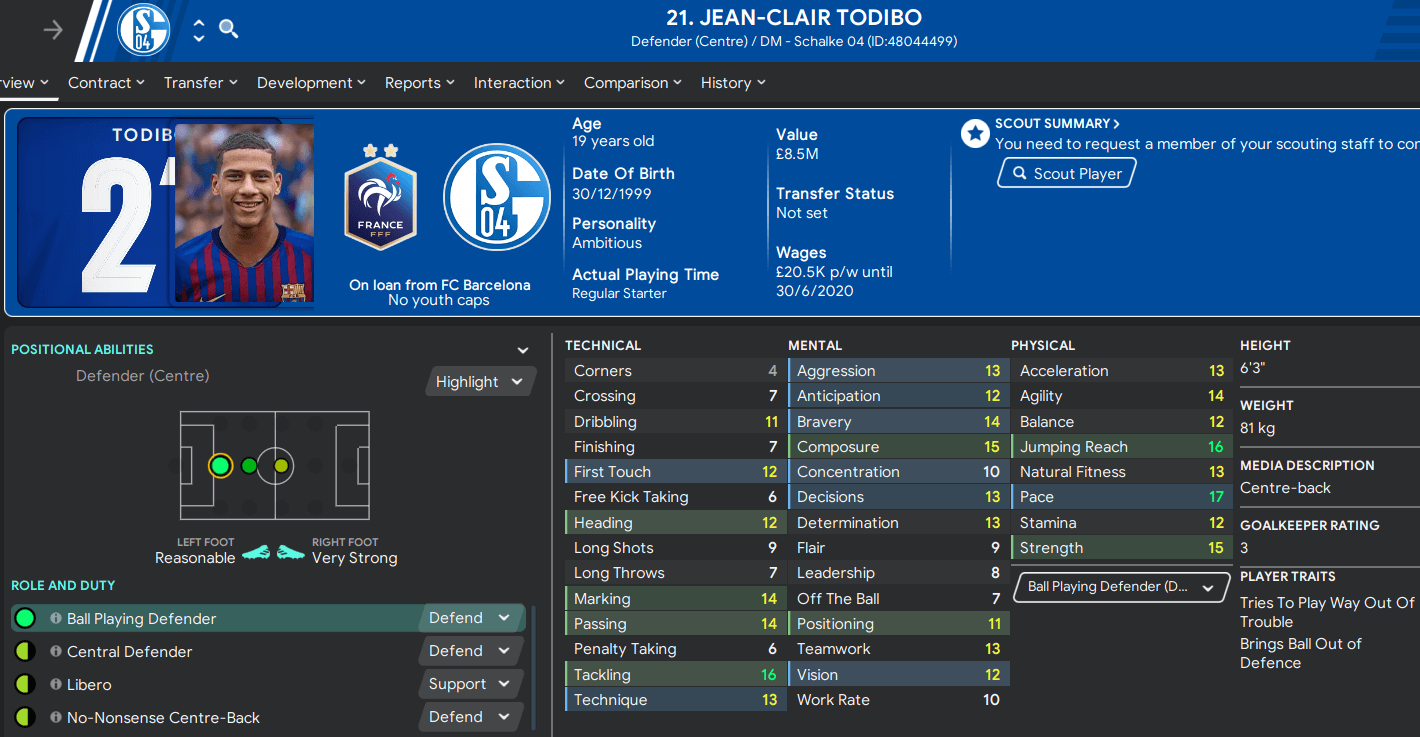 Jean-Clair Todibo is a monstreous ball playing defender on loan at Schalke with a future fee agreed of £21.53 million, some may question what Barcelona are thinking? This kid has 173 potential ability, one of the highest fixed potential ratings for a player under 20 with such rounded ability.
Todibo has no weakness boasting great speed, agility, strength and height plus good technique and passing range. I can't believe Barce would accept such a small fee for a player possessing my preferred defensive mentals of aggression, bravery and decisions. Todibo is arguably the best wonderkid centre-back in FM20.
1. Eduardo Camavinga | 16 y/o | DMC/MC | PA: -95 (160-190)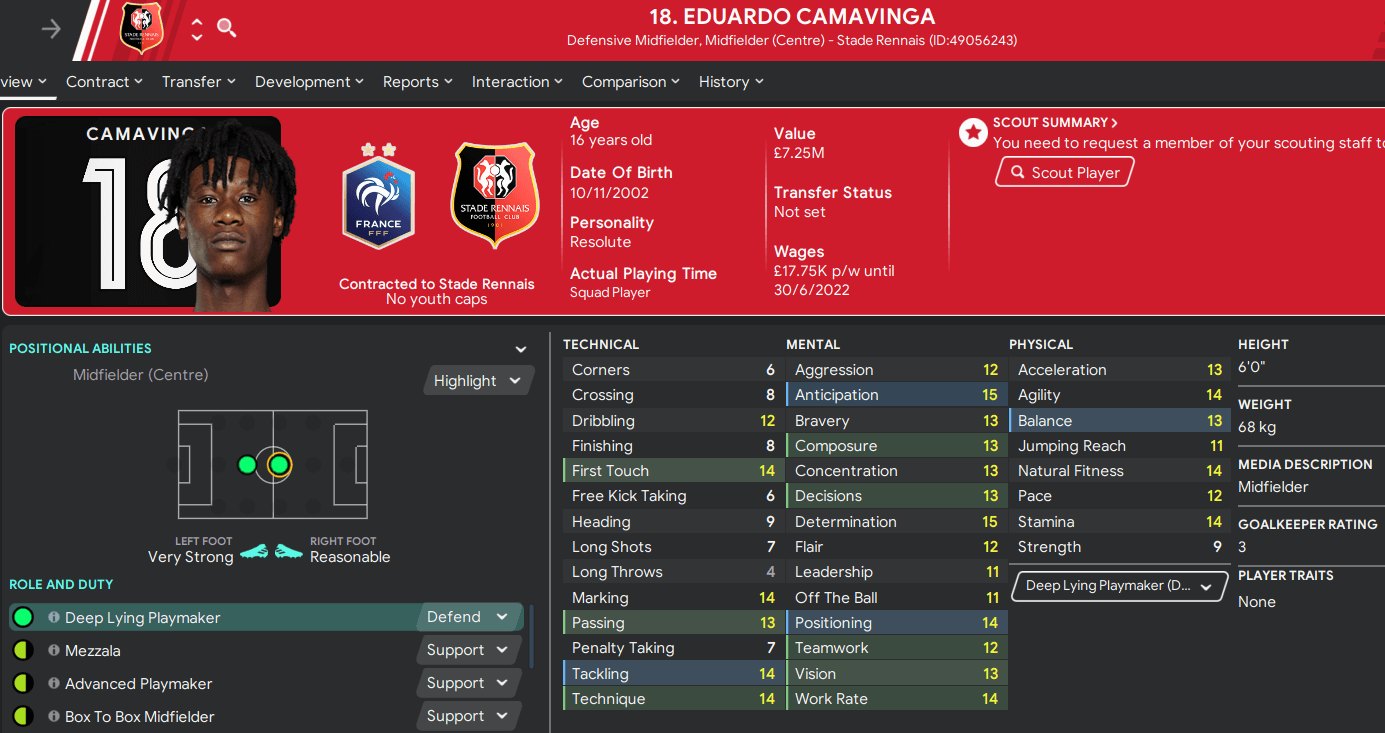 ---
Get ahead of the game with our best FM 2021 wonderkids to watch list, the most comprehensive list available.
---
For me Camavinga is the very best FM Wonderkid with ridiculous ability and maturity for his age. Just 16 years old and costing £69 million Eduardo has a potential ceiling of 190/200 with insanely well rounded attrbutes.
Best used from central midfield as a deep lying playmaker Camavinga can tackle, pass and bring the ball forward with good all round physicals and amazing mentals including work rate, determination and anticipation. I like that resolute personality and am yet to see a save where this Football Manager French wondekid falls short.

Subscribe to our Newsletter