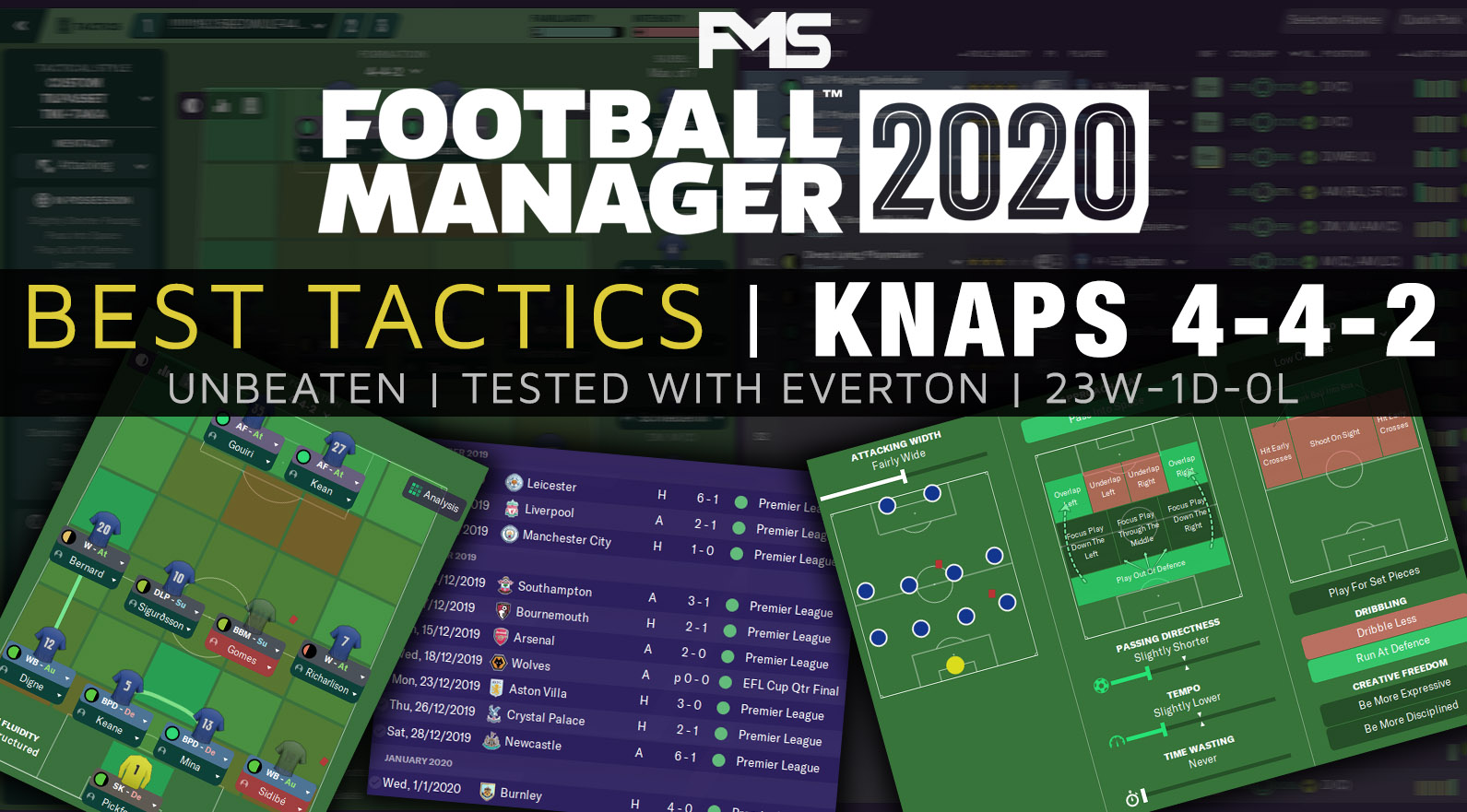 Heh guys and welcome to the first of our best FM 2020 Tactics series. Today I have a great system in the shape of 4-4-2, offering dynamic attacking Football, solid set pieces and a high pressing style of play. This comes curtesy of Knap who generally posts on the official SI forum and all credit to him for a brilliant tactic.
Origanally created for last years game, I have tweaked this Footballl Manager 2020 tactic to suit the BETA and will post further updates on this page.
---
PLEASE READ: Knaps BEOWULF has been updated to patch 20.4 and we won the treble with Scarborough Athletic and quaruple with York City find and downlaod it by clicking here.
---
Best FM 2020 Tactics – Formation
Knap's 4-4-2 enjoys a simple shape, suitable for most sides with pretty general roles. Two Advanced Forwards harras the oppositon out of possession and sit on the shoulder leaving room for both Wingers to cut inside or hug the line.
My Wing Backs are set to automatic duty but this is deceiving. With an attacking mentality they fly forward often and usually instigate the attack. With support duty both DLP and B2B stabilise from the middle while supporting the attack phase.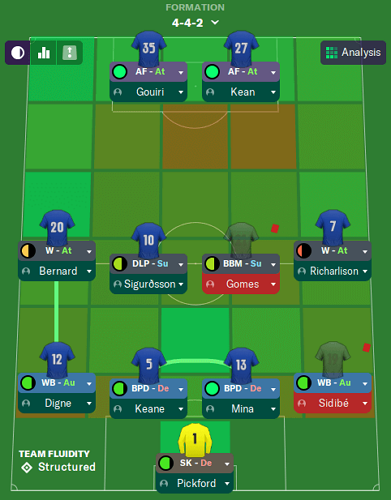 Best Football Manager 2020 Tactics – Instructions
Knap's best FM 2020 tactic has an emphasis on meaninful attacks with shorter passing, lower tempo and working ball into the box instructions. Those wing backs are asked to overlap and both ball playing defenders pass out from the back.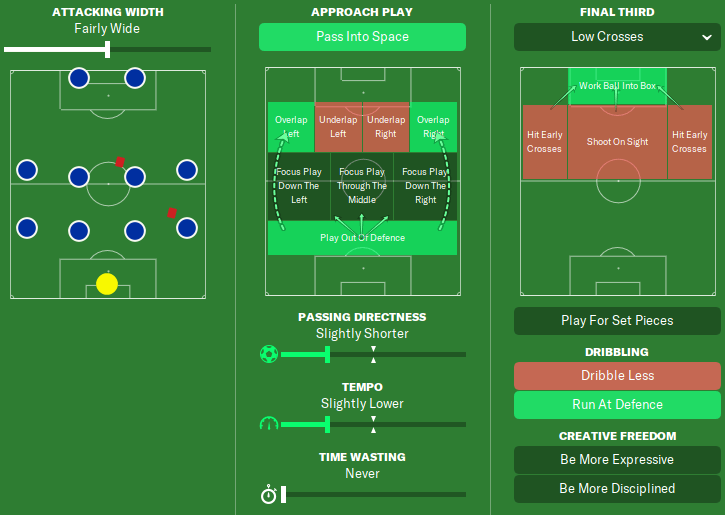 Counter and counter-press are activated, while the sweeper keeper is asked to throw out to our wing backs. As mentioned most attacks start via this route.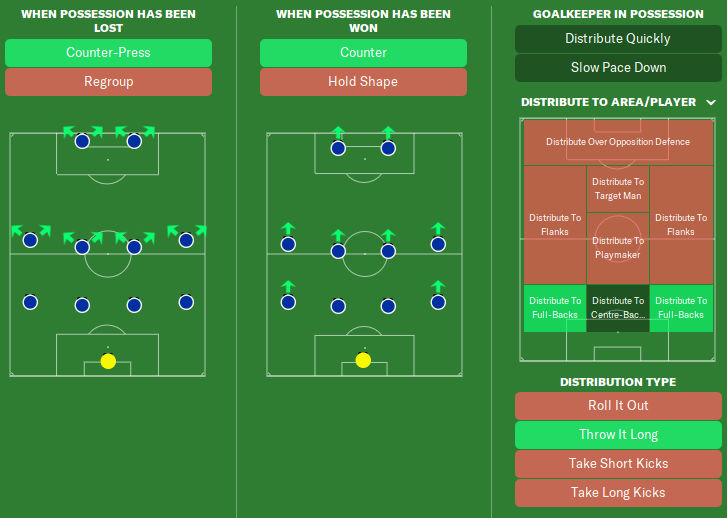 Both defensive and engagement lines are as high as possible. This worried me initially but with a focus on retention its surprisingly effective. Note: Do not try and copy this tactic, there are many specific player instructions and important custom set pieces. If you do not download this best FM 2020 tactic, it will not work.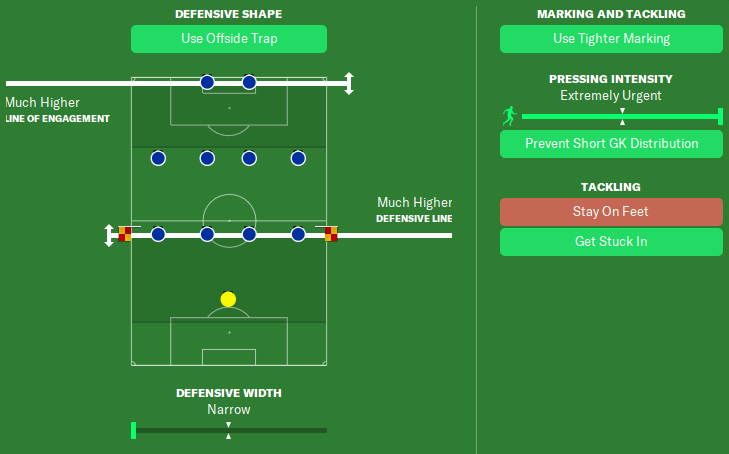 Best FM 2020 Tactics – Player Roles
GK – sweeper keeper (defend) – Due to the amount of one on ones in this years BETA I'd look at attributes in this area for any keeper.
CD – ball playing defender (defend) – Ideally find centre backs who can pass and fulfill the role but I'd say its more important to have a towering presence. Free-kicks and corners tend to leak goals in FM20. Also speed would be a massive plus owing to the very high line.
DR/DL – wing backs (automatic) – Very important to the success of this tactic. These guys overlap the wingers and instigate most attacks, they often get close to goal. Fast, forward thinking wing backs will do very well in this system. Digne was a gem for me.
CM – deep lying playmaker (support) – The link between defence and attack this is probably the most stationary role barring the obvious. We need a great passer of the ball with vision and good long shot ability will do well. Gomes and Sigurdsson worked well for me.
CM – box to box midfielder (support) – In Knap's 4-4-2 technical players are best and your CM's will get in on the goals. Andre Gomes was great for me. This guy can make the difference in those big games when chances are few and far between. I often saw Gomes arrive late to slot home.
MR/ML – winger (attack) – I deployed Richarlison and Bernard on the wings despite their very poor familiarity with the role. Both wingers act more like AM's during the attacking phase anyway. Ability to beat the man is vital, both wings are where the magic happens and these two often find themselves with goalscoring opportunities.
ST's – advanced forward (attack) – The main goal threat I used Moise Kean and Gouiri to great effect. You should look for speed, finishing and good all round physicality, I'd persoanlly love to see Haland here. I often found Kean with balls over the top and behind the line.
Knaps FM20 4-4-2 Tactic Analysis
I think its important to understand how a tactic works before clicking download. Learning its strengths and weakness' will help you in the transfer market and on match day.
Defensive shape and high pressing
The best FM 2020 tactics hold a great defensive shape when out of possession. Knap's 4-4-2 is quite unique in maintaining the shape shown below while pressing very high. I found the three lines consistent and only broken as each player pressed the ball.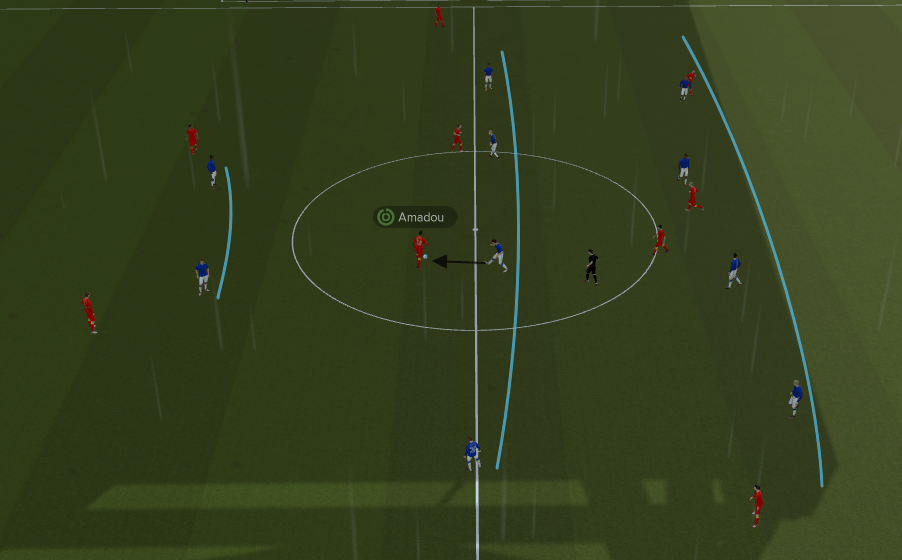 Take below, we have just lost possession and instantly both strikers are closing the space. My wingers (who cut inside before losing possession) are also applying pressure forcing the opposition into a mistake. This can leave your backline exposed resulting in clear cut chances for the opposition, but long term returns much better results.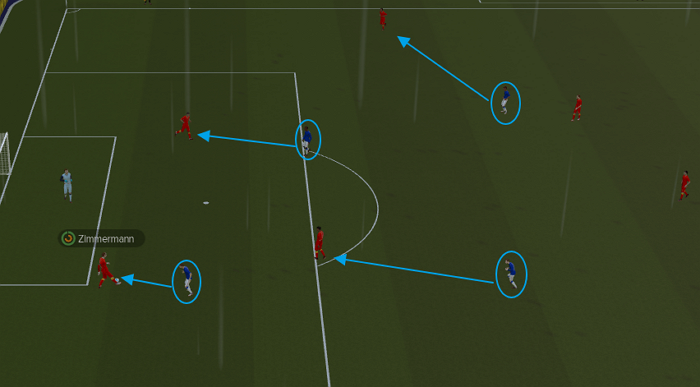 In transition and possession
Below shows my DC winning back possession and instantly finding the left back who is well advanced. The left winger cuts inside dragging any secondary midfielder away from the ball, as the strikers entertain both centre backs.
This leaves my left back in a one on one down the wing, precisely why I recommend speed and attacking full backs. Second rate players in this position hit you two fold; first the attack breaks down, then you are countered with players out of shape.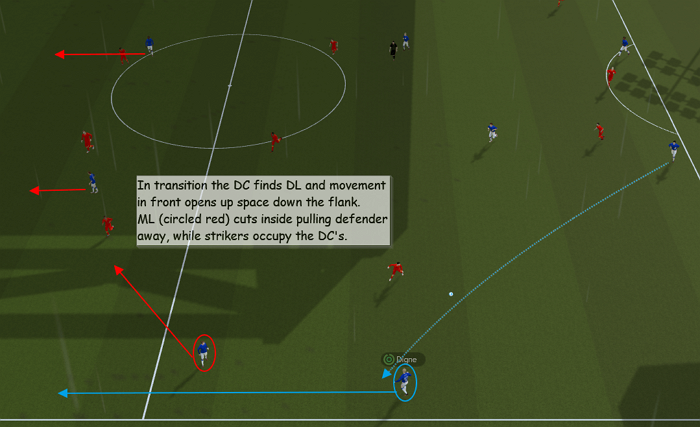 In the final third an overload is common place as shown below. Both strikers are on the shoulder with wingers in tow, the DLP is in support and my B2B has a plethora of options. This demonstrates my point about speed for forwards, goalscoring wingers and CM's that can shoot from range.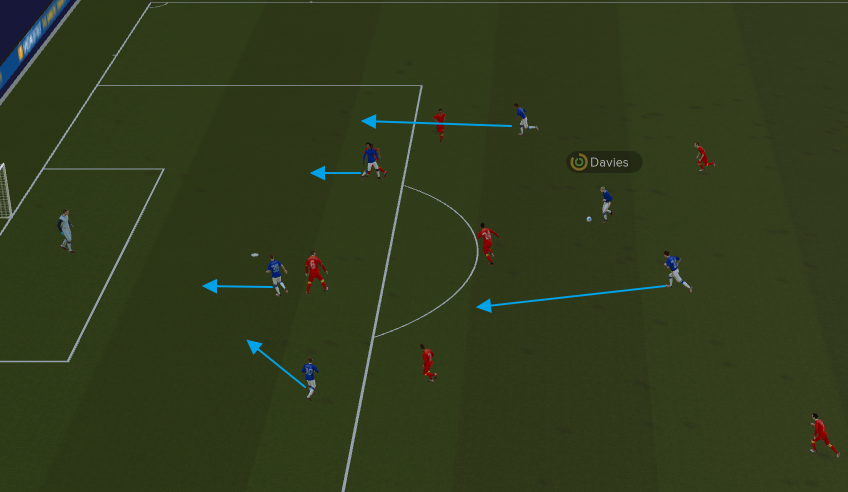 I often use match heat maps to assess a tactics success. Red areas have seen a lot of action, blue vice versa so the less reds the better. We want a nice even mix indicating a well rounded tactic not over relient in one area. Looking good on that front and again strengthens my point about the wings.
Note: A lot of that possession out wide came through my full backs. We spent very little time in the opposition box yet scored for fun, this showed true with our lack of clear cut chances. I tend to ignore the stats and watch the match engine though, its a much better indicator of a tactics success.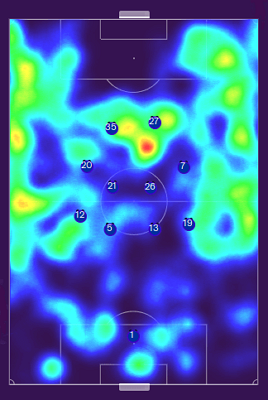 A word on mentality and tweaks
I used attacking mentality for most matches. The only time I changed was to cautious against the top teams away from home. These were specifically Chelsea and Liverpool but I also opted for cautious if two or three goals ahead, or holding a narrow lead and feeling pressured in the second half.
This is a judgement call, I don't believe in a one size fits all approach. I even downloaded a 5-2-3 by 'AD1990' for the end of tight games and away days to the very best teams. You can download that one here. I found 3 at the back handy against teams with really fast forwards who are set to dominate the game. Man Utd away, Arsenal at home fell into this category. Yet I played the 4-4-2 on attacking metality at home to Spurs, because they have less chance of penetrating us in behind.
View mentality as a risk and reward formula. The more attacking you're, the more open you will be defensively. If you are a weaker side and losing possession more often consider a more conservative mentality. I tried positive to great effect with Newcastle.
Best FM20 Tactics Results & Table
Results speak for themselves, we enjoyed a fantastic season going unbeaten in all competitions. Those games we did draw (before winning on pens) in the League Cup featured a second string eleven.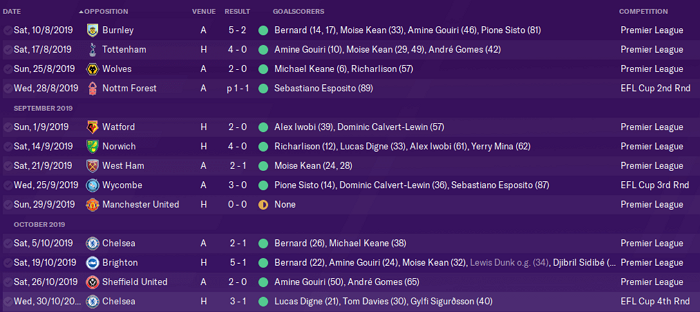 Man United matched us for the first few months but its been plain sailing since then. I was especially pleased with the wins away to Chelsea, Arsenal and Liverpool.

Finally my player performances and a mixed bag. Almost everyone chipped in on the goal front with my deep lying playmaker proving vital alongside both strikers. The likes of Richarlison missed a number of games through injury.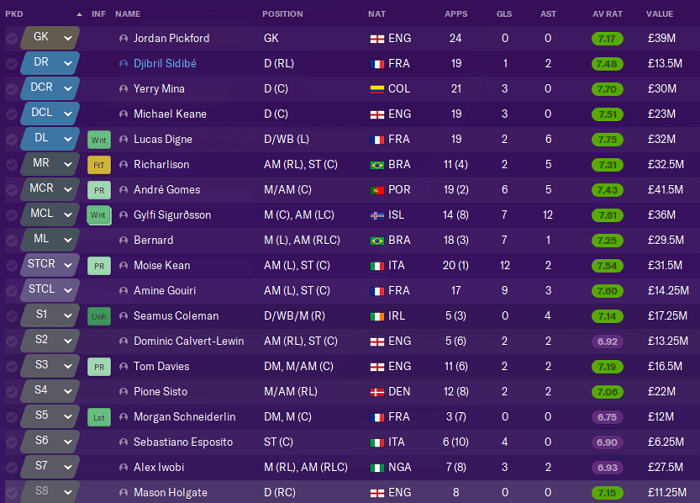 ---
Find the best FM 2020 players:
---
Best FM 2020 Tactics: Top Tips
This has been tested for patch 20.2. We cannot predict whether this will work on later patches due to potential match engine changes.
Adjust mentality to suit your team. Weaker teams may need positive or even cautious mentality.
You will concede chances, some games 2-3 clear cut chances but it gets results.
If 2-3 goals up switch to cautious mentality, this will preserve the players energy for future games.
As with any tactic it needs loading at the start of pre-season. Also avoid signing a whole new team unless you are experienced doing so. These two things will see you under perform not because of a poor tactic but because of poor management.
I asked my Assistant to take care of training and opposition instructions. I took charge of individual training to set each player up in their specific role. This is vital, your MR and ML will probably need training up in this role.
You must get fast forwards and the best wing backs at your disposal for this to work.
Be aware you need a decent size squad. Two players per position to allow for injuries and bans if you are in Europe.
You MUST download this tactic, do not try and copy it. There are many individual player instructions and set pieces are vital.
Best FM 2020 Tactics: Download
If you would like to give the tactic a try, follow the instructions below:


1. Click the download link above and download the file.
2. For Windows put the downloaded file in this folder: Documents/Sports Interactive/Football Manager 2020/tactics. If the "shortlists" folder doesn't exist you will have to create it. Windows users skip to step 2, Mac users read below.
Mac users put file in this folder: Users/YOUR Mac USERNAME/Documents/Sports Interactive/Football Manager 2020/tactics. To access your files on Mac open 'Finder', click 'Go' from the menubar, press and hold the 'alt' key to show 'library' in your menu, while still holding 'alt' click it, then go to 'Application Support' > 'Sports Interactive' > 'Football Manager 2020'
3. Now load the game as normal and enter the tactics screen.
4. In the tactics screen, click the tactic you currently have loaded then select 'load' from the drop-down menu
5. Select Knaps 4-4-2 and click load.
Thanks for reading, any social shares would be much appreciated. Follow us on social media for future posts in the series. Please feel free to leave a comment I'd love to hear how you get on. Likewise any questions.


Subscribe to our Newsletter