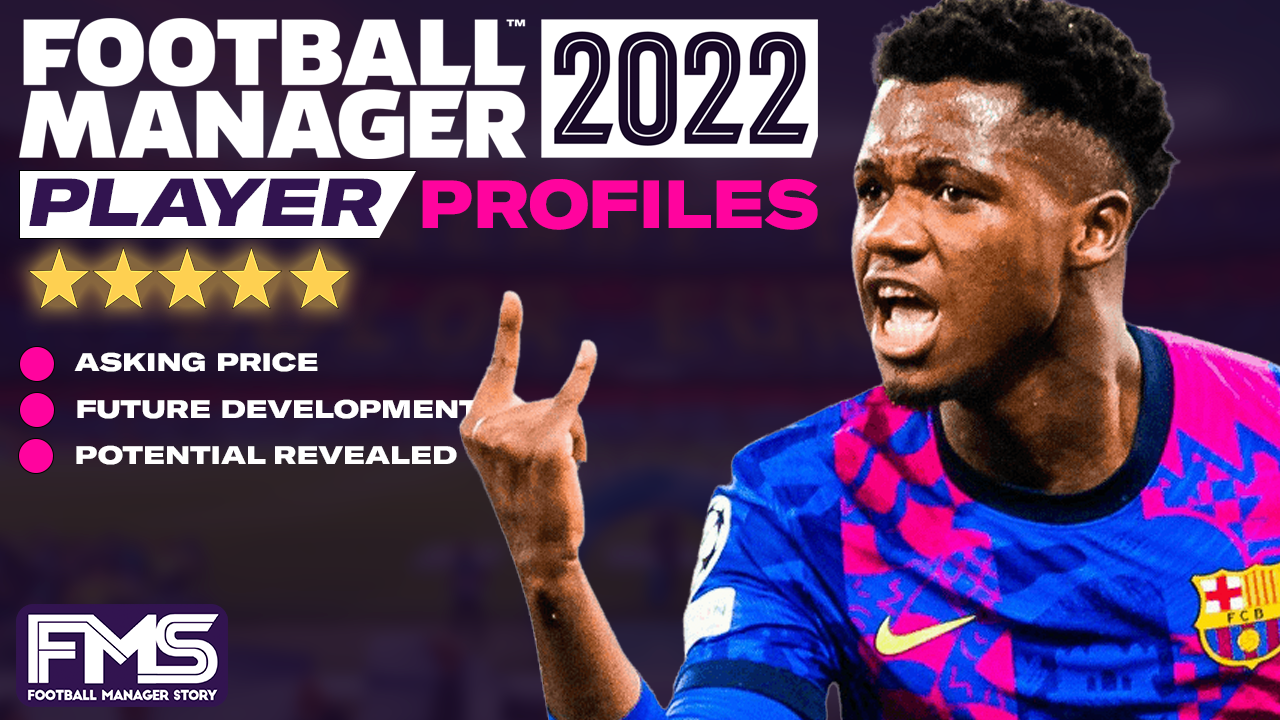 Hidden Potential: PA: 170-200
Barcelona have entered a new phase, and in FM22 Wonderkid, Ansu Fati, they have perhaps one of the best prospects in the world. The young striker/winger is the player you need to build around and the hope is, in three or four years down the line, he becomes an elite forward.
He can already dribble with the ball at his feet and has the pace to destroy most defences. Mentally excellent, his flair, determination and Off The Ball are impressive for someone so young.
Although he is naturally listed as a winger, his Technicals and Pace make him a very exciting Advanced Forward.
With already 50 games under his belt, including over 30 in La Liga, the young forward has the world at his feet and all the attributes needed to become one of the best players in the world.
Ansu Fati FM22 profile (2021)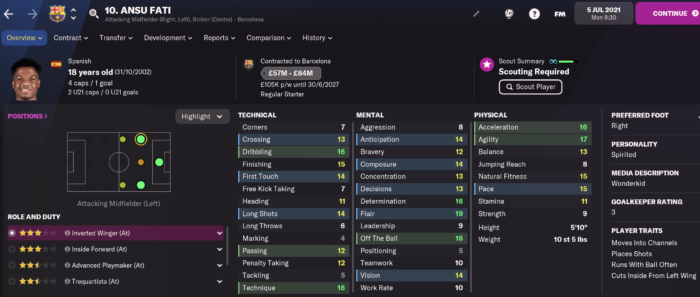 Roles: Inverted Winger, Inside Forward, Advanced Playmaker, Trequartista, Advanced Forward
He's not small, a 5'10", he has enough height and physicality to be a nuisance in the air, but it's his speed and Agility which make him a huge threat. Dribbling, Technique and Off The Ball are already at an elite level. Others, like Composure, Anticipation and Finishing are not far away.
His value is going to make it hard for anything to take him away from the Camp Nou, but if Barca can't fix their finances, maybe they could be convinced.
Ansu Fati FM22 Wonderkid 2026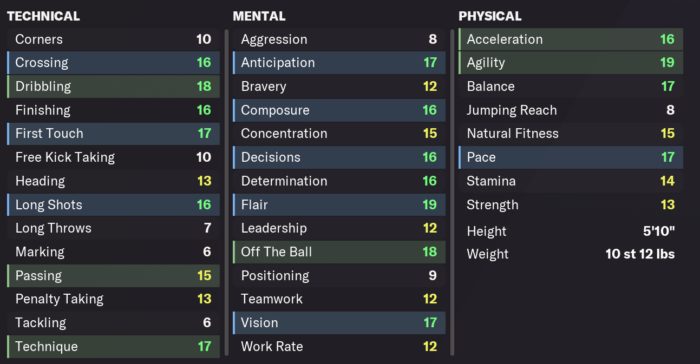 As hoped, the now 23 year old is a player of outstanding quality. So much green in those numbers it will hurt your eyes if you look for too long.
Next level for Dribbling, Finishing and First Touch – the holy trinity. He can also cross at a superb level. A rare trait for modern players. Mentally impressive, there are few players as fast and as agile.
It's quite scary that he could still improve further.

---
For all the best Football Manager 2022 wonderkids click here, from cheap bargains to world class prospects.
---
Summary
In 2026, it is great to see Fati still playing at Barcelona. Starring for the La Liga side, he is playing regular first-team minutes and scoring goals.
If he was going to be expensive before, you will now need to part with a nine-digit sum to take him from Barcelona. Not impossible, but his improvements across all attributes will make him both an excellent, but very costly signing.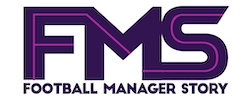 Subscribe to our Newsletter