Hello folks and welcome to Nigeria for the 2023 African Cup of Nations in Football Manager 2011! As you remember I decided to take on another international challenge after winning the World Cup with Argentina, I took the Senegal job and managed to get through the qualification group and push the team into the final tournament. I was hoping to win the trophy, that is no secret, and it would have been quite an achievement since Senegal have never won the African Cup of Nations! (they reached the final once, in 2002, but they were beaten by Cameroon).
I didn't have too much trouble in choosing the 23-man squad and that is simply because there weren't too many worthy players available. I was a bit upset though because three good players rejected my call-ups because they have French citizenship and hope to play for France one day… So, the squad is composed mainly by players that are more or less good for mid-table Championship sides, that doesn't sound too promising. However, I did have three good players which made a great right flank and a fantastic spearhead: right back Daouda Dramé, right winger Papa Diouf and striker Khouma Babacar (click on the names to view their profiles). By the way, I chose to use Darren's Manchelona tactic again, it has won me the World Cup after all :)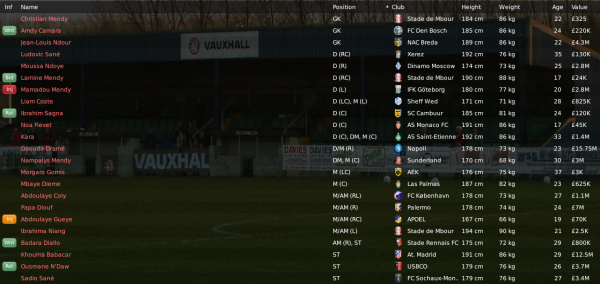 The group stage started with an easy game in theory, against Angola. It was easy indeed in the first half as we managed to take a two-goal lead at the interval but then our terrible defence and funny goalkeeper allowed Angola to pull back level! I was fearing the worst at that point but Khouma Babacar put us back in front before our left winger scored his second goal of the game to seal the result. (click here to watch the highlights)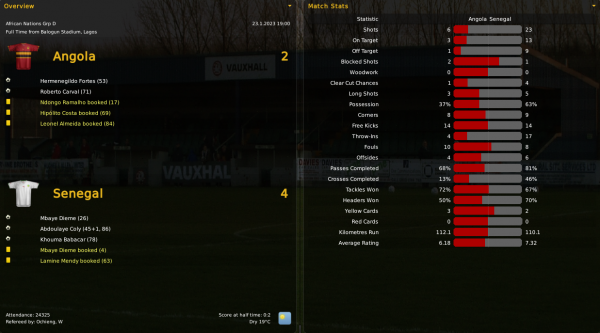 The next game was supposed to be even easier as we were facing Mozambique and this time it really was easy as Babacar bagged an early goal which allowed us to control the match. We won it 2-0 eventually and I was quite pleased since I also managed to rest Babacar in the second half. (click here to watch the highlights)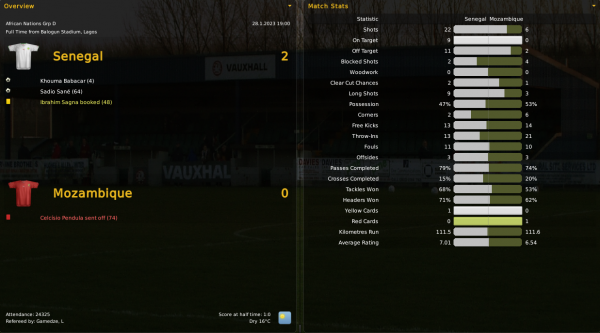 We only needed a draw to win the group at that point and that's exactly what we got against Egypt although I can safely say that we should have won that game easily. We squandered quite a few chances before Babacar finally found the back of the net four minutes from time but Egypt pulled back level after just two minutes and then parked the bus to defend that result which saw them through to the next round. (click here to watch the highlights)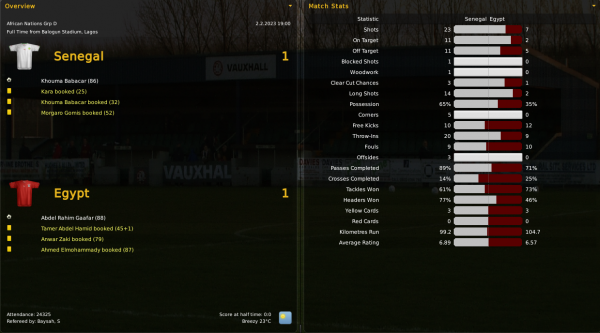 There weren't any big surprises in the other groups, maybe except host nation Nigeria ending their campaign with three straight defeats and Tunisia finishing bottom of group C. Defending champions Ivory Coast finished top of the toughest group and they were looking good for the title again.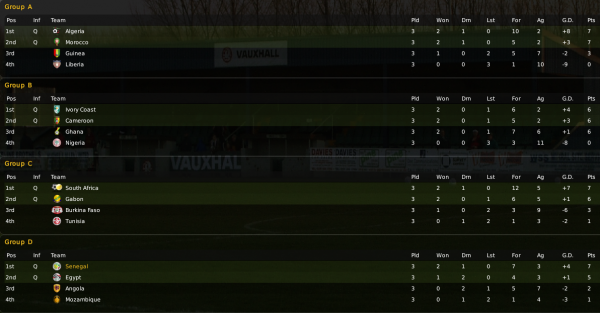 I was quite happy with the quarter final draw since we were going to meet Gabon, the team that we had already beaten quite comfortably in the qualifying group.
We started the game very well, our domination was clear and overwhelming but another display of terrible defending allowed our opponents to take the lead on 22 minutes! That changed the game a bit, our domination continued but we were no longer able to create danger in the opposition box. Things could have gone from bad to worse on 44 minutes when Gabon were denied by the post on a huge chance but my fears were eased just before the interval when Babacar slammed one home despite being hindered by a slight injury. I decided to take him off at half time and avoid the risk of a more serious injury and the decision was good as his replacement scored the go-ahead goal shortly after the interval. I did have some bad news though, my best centre back got injured and the the tournament was over for him. Babacar's injury was not serious though, I was quite relieved to hear that… (click here to watch the highlights)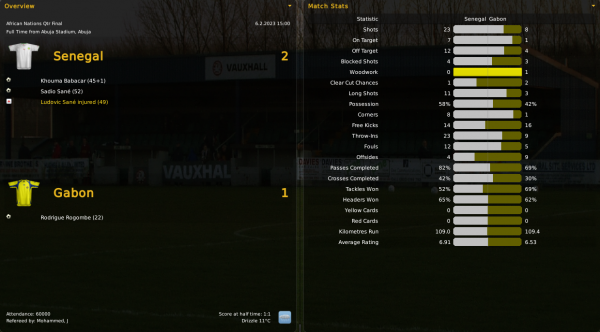 We were going to meet Algeria in the semi final, not an easy opponent at all, while Morocco pulled off a big upset by knocking out the defending champions!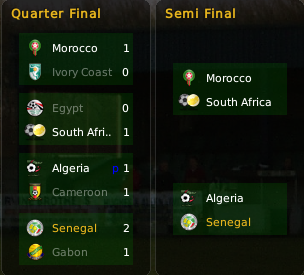 Algeria had a few well known names in their ranks like winger Ryad Boudebouz and fantastic striker Amine (contracted to Real Madrid at the moment!). In fact, we were the underdogs according to the bookmakers but that seemed to have a negative effect on our opponents, they seemed overconfident and that probably pushed them to make a huge mistake on 8 minutes as Babacar intercepted a poor pass inside the penalty area and hammered home. Algeria reacted instantly and they managed to hit the crossbar on 13 minutes but that play turned into a counter attack in our favour which Babacar coolly finished to make it 2-0! I was in dreamland! We had to hang in there as Algeria were pushing more men forward but our defence was coping with the pressure pretty well. Moreover, we had another good chance on a counter attack five minutes before the break but it fell to another player than Babacar so it went to waste… We were punished for that seconds later but we could have restored the two-goal lead on the stroke of half time… Unfortunately that chance went begging so the game was still wide open at the interval.
Both teams were looking exhausted after the break, the tactical instructions seemed meaningless on both ends. There were chances though, Babacar wasted a great one on 64 minutes and then Algeria hit the crossbar again two minutes later. We were defending pretty well, the clock was ticking in our favour, the 90 minutes were over… But injury time wasn't and Algeria managed to push the game into extra time… It was quite frustrating to concede a goal in the very last minute of stoppage time…
The extra 30 minutes were not too exciting, both teams were incredibly tired. So it all went down to the penalty shoot-out and that was quite exciting indeed… We had the first shot and it cannoned back of the crossbar, then Algeria scored, then Babacar scored for us, then our keeper saved, then their keeper saved, then our keeper saved again, then we finally scored to make it 2-1, then the Algerian blasted wide from the spot, then my lad hit the crossbar and Algeria scored! The first set of five penalties was over and the game was still tied! But our suffering came to an end shortly as my player converted and the Algerian was denied by our keeper, we were through to the final! (click here to watch the highlights)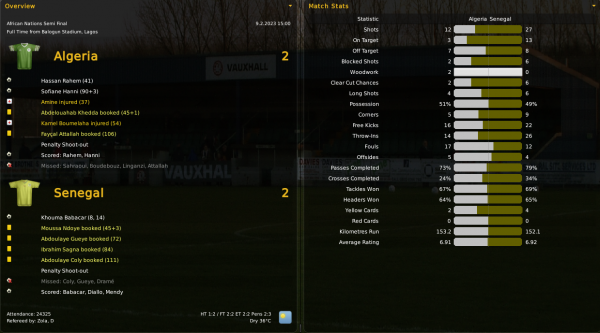 Morocco had a much easier task in the other semi final as they stormed past South Africa, I was just hoping to recover my players' fitness before the final act…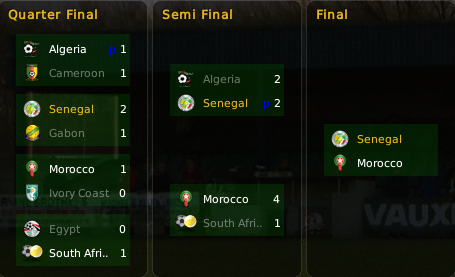 Morocco were the favourites according to the bookmakers and they seemed to be right since most of their players were contracted to top-flight European teams. Their star was midfielder Zakaria Labyad but left back Bihmoutine was also a force. As you can see they had a few players with fitness problems before the game but their problems were absolutely nothing compared to ours…

This was probably the most difficult choice for me, I think I have never spent so much time thinking before picking a starting eleven. Most of the semi final heroes were in terrible shape so I decided to send in some lower profile fit players where available and keep Babacar on the bench with the idea of sending him in after half time. My biggest problem was at the hear of the defence, I had no other options than two 17-year olds for those roles and that was a huge gamble that I had to take.

Morocco dominated the opening 15 minutes quite clearly, the difference between the two sides looked huge. They didn't create any clear chances though but that was until the first big error in our defence, they didn't forgive us and they took the lead. Then an unfortunate own-goal made it 2-0 and the final seemed as good as over. We finally reacted two minutes before the break but a big chance went begging as my striker hit the post when one-on-one with the keeper. It could have been worse though as Morocco were denied by the woodwork on the stroke of half time.
The situation was desperate so I made three changes at half time, including sending in Khouma Babacar. The decision paid off after just three minutes, we were awarded a penalty kick and right winger Diouf converted it! We started to push forward after that goal, Babacar was really driving the team forward despite his poor condition and it was him who bagged the equalizer on 79 minutes! I was so proud of that fightback but at that point we had to hang in there and hope to push the game into extra time. Well, we were very, very close… But we got punished again during stoppage time, my tired lads were simply unable to cope with the Moroccan offensive and our dream was shattered… (click here to watch the highlights)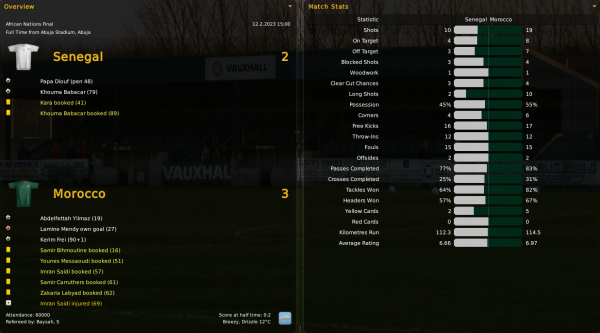 The fans and the FA were proud of our achievement, I think I was too but I wanted to win this…

So I decided to resign after the final and focus on my job at Vauxhall Motors. Thanks a lot for reading this update my friends, stay tuned for a Vauxhall episode in the coming days. Until then, let's comment on the African tournament, I'm looking forward to reading your opinions.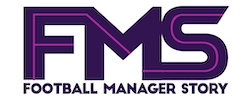 Subscribe to our Newsletter