Hey guys and welcome to season number 4 by the sea. Brighton finished last season in 7th position, I couldn't have wished for much more as my board and the media were proven wrong. What could have been an EPL relegation battle turned into success after some big signings and sensible tactics. The future looks bright and this pre-season is all about building on those foundations. I want to add more strength in numbers and make the squad even more youthful…my vision is a set of players to last the years and win together throughout their career, similar to what Sir Alex Fergusen created.
Every season starts with  a bunch of corporate suits trying to tell you what is achievable within the new season. When all the while you have your own vision but are forced to smile and nod along for they are the higher power and the ones with the money. Well my higher power was demanding  a mid-table finish, but I got greedy and offered European qualification. A little risky sure, but this guaranteed me a £33 million transfer budget and £186K extra a week for wages. I'd love to have seen their face when I aimed above them. :)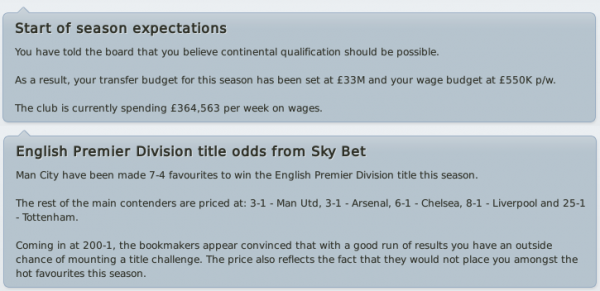 Since when were the odds of 200-1 in anyway related to a title challenge? Obviously the game has a glitch or those pesky bookies are trying to play mind games. Either way, let's move straight onto my transfers and we'll start with the players leaving Brighton.
Quite a few squad members had drifted in the wilderness after my promotion and squad overhaul. Those leaving Brighton on a free transfer fell into that category. Players like Wright-Phillips, Noone, Brandy, Ambrose, Stevanovic and Kladrubsky were either too old or just lacked the quality I was now aiming for and were therefore sold at a profit. In total the sales added up to £11  million, not bad for a bunch of misfits and oldies. :)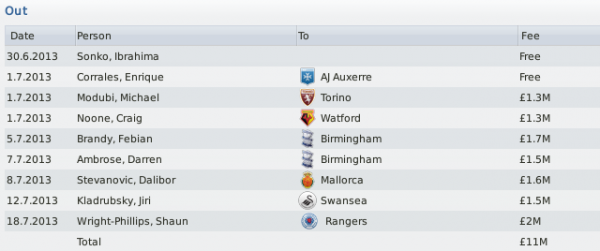 Now we move onto your favourite part, the players that joined Brighton. As always I will list these in order of position and for the first time I will show every single profile picture with a small description and explanation of their role in the team.
Michael Lumb (left back) – £4.3 million from Siena
After Corrales left due to old age I was left with Baradji who was my left back from the League One days…obviously this position needed a revamp. Enter Danish full back Lumb, this 25 year old has great general attributes and will be a first team player due to his consistency.
Micah Richards (right back) – £2.5 million from Fulham
I actually have Clyne for this position but see Micah as a more consistent performer and I needed to switch Clyne onto the left from time to time so decided this signing was necessary. Richards still has a few years ahead of him at just 25 and enjoys lightening quick pace. I will use the Englishmen as my main right back leaving Clyne to cover in all the cup matches.

Dzmitry Verkhovtsov (centre back) – £5.75 million from Bologna
With just Galeano and Spence to pick between, the centre back position needed reinforcements. I spotted Verkhovtsov and liked his general attributes but specifically his jumping and heading. The added bonus came in the form of his physical attributes and they made up for the fact that he lacks composure and concentration. This 26 year old will play alongside Galeano leaving Spence to rotate with both.

Esteban Granero (central midfield) – Free transfer from Real Madrid
This guy may not have joined Brighton if not available on a free and he will be rotated with Aissati. Having said that the 26 year old hasn't played much over the last two years and will probably improve a lot with game time, so we'll see how he develops and who knows, maybe Aissati will have some competition as the main playmaker.

Silvio Bertolucci (central midfield) – £14 million from Inter Milan
Its a reeeegggaaaaaaaannnnnnnn!! That's right my friends, this little Italian is my first regen signing with Brighton and will most probably be my best! Great physical and mental attributes, plus he has brilliant tackling, first touch and heading. At just 18 years old I believe this kid could be one of the best ball winning midfielders within five years. He'll definitely go straight into the starting line up.

Gael Kakuta (left or right winger) £2.3 million from Chelsea
Kakuta was signed purely on merit, you all saw what he became within my Newcastle save and I intend on a  repeat development. The 22 year old will start playing in my cup matches as backup to Fleck but I have bigger long term plans for the Frenchman.

Giuliano (right winger) – £13.75 million form Cruzeiro
I always like to save the best until last and Giuliano is certainly that. This 22 year old is a quality player and despite his pace I reckon Giuliano will be a terror down the right wing as my inside forward. I signed the Brazilian for his all round skills and potential…he's a definite starter this year.

You have seen all my signings and I think the squad is far stronger this year, especially technically and mentally. We have the extra bit of class and sturdiness in defence which should propel us into the top six. A had to spend £42.5 million but as you all know, I spend big for the first four years of my EPL reign then start making a profit on transfers after that…I just need to keep things under control until that time comes.

With those new arrivals my squad looks fuller and certainly stronger. The star ratings look better and with a little luck this team could be aiming for a top four finish, but that would require luck and a lack of major injuries.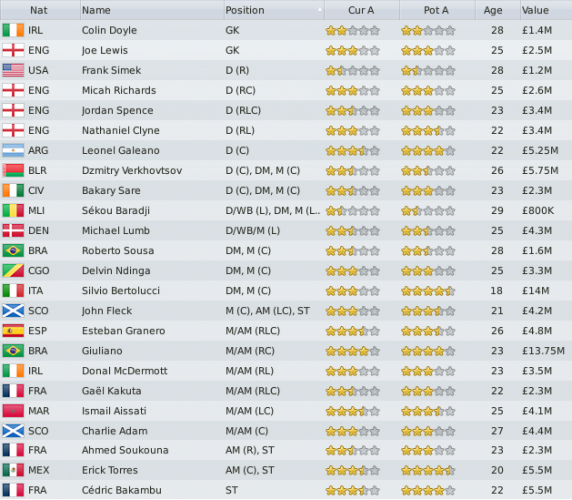 Now we move onto the surprise. I was just clicking away and considering my starting XI for the EPL season when a mystery message appeared. During the last post I toyed with the idea of European qualification. Johnny mentioned that because I finished 7th, Brighton must qualify unless a team outside of the top 6 won the FA Cup or League Cup. I never received firm confirmation of this and therefore stayed pessimistic, however….
Johnny was right, we did qualify for the Europa League and this would not only be an experience, but should help boost finances.
After an early loss to Leverkusen, Brighton won the the remaining Friendlies with ease as a shock striker staked his claim. Soukouna scored 14 goals from 8 pre-season matches, maybe I should offer the Frenchman a chance? Either way I am delighted to qualify for the last qualifying round of the Europa League. This was secured after we beat St. Pat's Athletic 7-0 both at home and away. Torres looked sharp during the second leg while Giuliano looked magical during both ties.

With the squad ready for a long old season and my pre-season preparation compete we are just left with the tenuous finances. I'm sure you're expecting some major debt and believe me, you'd be right to do so. After spending so much cash in the market Brighton are now £22.5 million in the red. This is terrible and unlike last season I expect the Seagulls to keep making a loss until the seasons end. :( You may be thinking, 'well why spend so much?' The fact is that I know what this team needs to get Champions League qualification and I think we may have almost got it. I wanted to risk that money because it will be made back when Brighton hit the top four and then its all one big steam train picking up momentum. But until you break the top four you waste time drifting around, basically going nowhere financially or in terms of quality.
Well that is all for today so I hope you enjoyed the update. Hopefully you will be back next time to see how Brighton progress through their second EPL season. Please feel free to ask any questions below and I look forward to reading your comments as always. Thanks for dropping by, but before you go please vote below for who I should manage upon Football Manager 2012's release.
Darren Smith: "Which team should I be managing in FM 2012?"
Norwich (EPL) (27%, 80 Votes)
QPR (EPL) (23%, 68 Votes)
Leicester (CH) (16%, 46 Votes)
Stoke (EPL) (15%, 44 Votes)
Derby (CH) (14%, 42 Votes)
Bolton (EPL) (5%, 15 Votes)
Total Voters: 295

Loading ...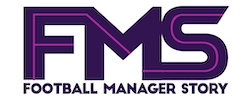 Subscribe to our Newsletter